Yards per carry is a perfectly fine shorthand in fantasy football if you are trying to dip in and out, like you're Stephen A. Smith and need something to talk about for a 30-second segment. But it's so incomplete that using it by itself for fantasy evaluation is likely to leave you lacking in some significant ways.
Today, we're breaking it down by one factor. (There are more, deeper factors, and we'll get to those, but we're starting here today.) This isn't hard and fast, but for the most part, the yards a running back gets before contact are the responsibility of his offensive line, while he is on the hook for his after-contact yardage. A running back who averages 4.5 yards before contact and 0.5 yards after contact has a great line but might not be that good himself. The inverse would be a strong running back who has some AAF rejects blocking for him. So looking at yards per carry broken down by yards before and after contact work to help isolate RB skill from line skill from, well, bad offense.
I'm taking a look at the running backs with the most notable differences in their before- and after-contact yardage in 2018 to see what we can learn. Today, we'll look at backs who got the most help from their lines. Friday, we'll look at the inverse.
Players who got the most help from their lines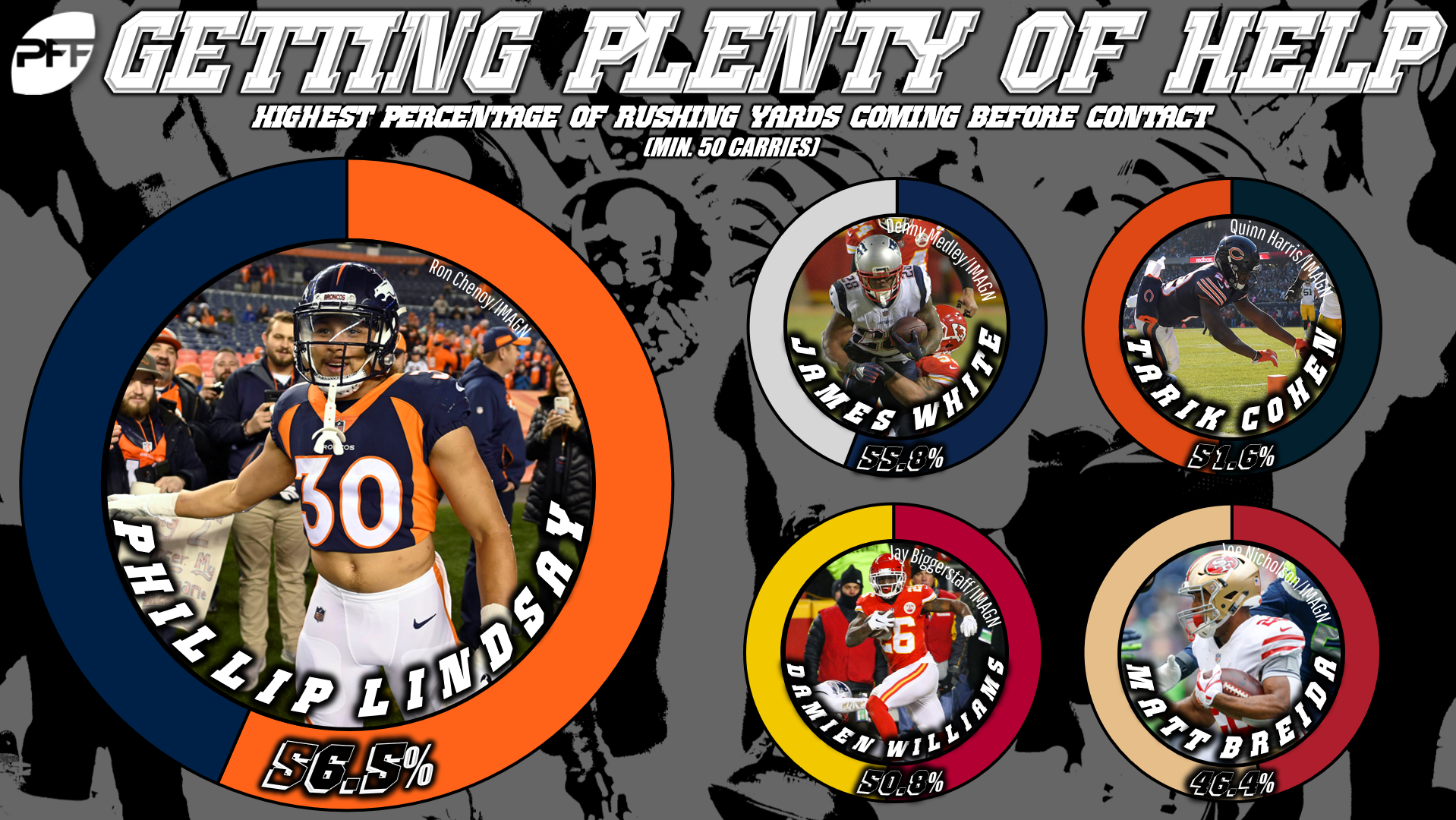 (5.40 yards per carry; 3.05 before contact, 2.35 after contact)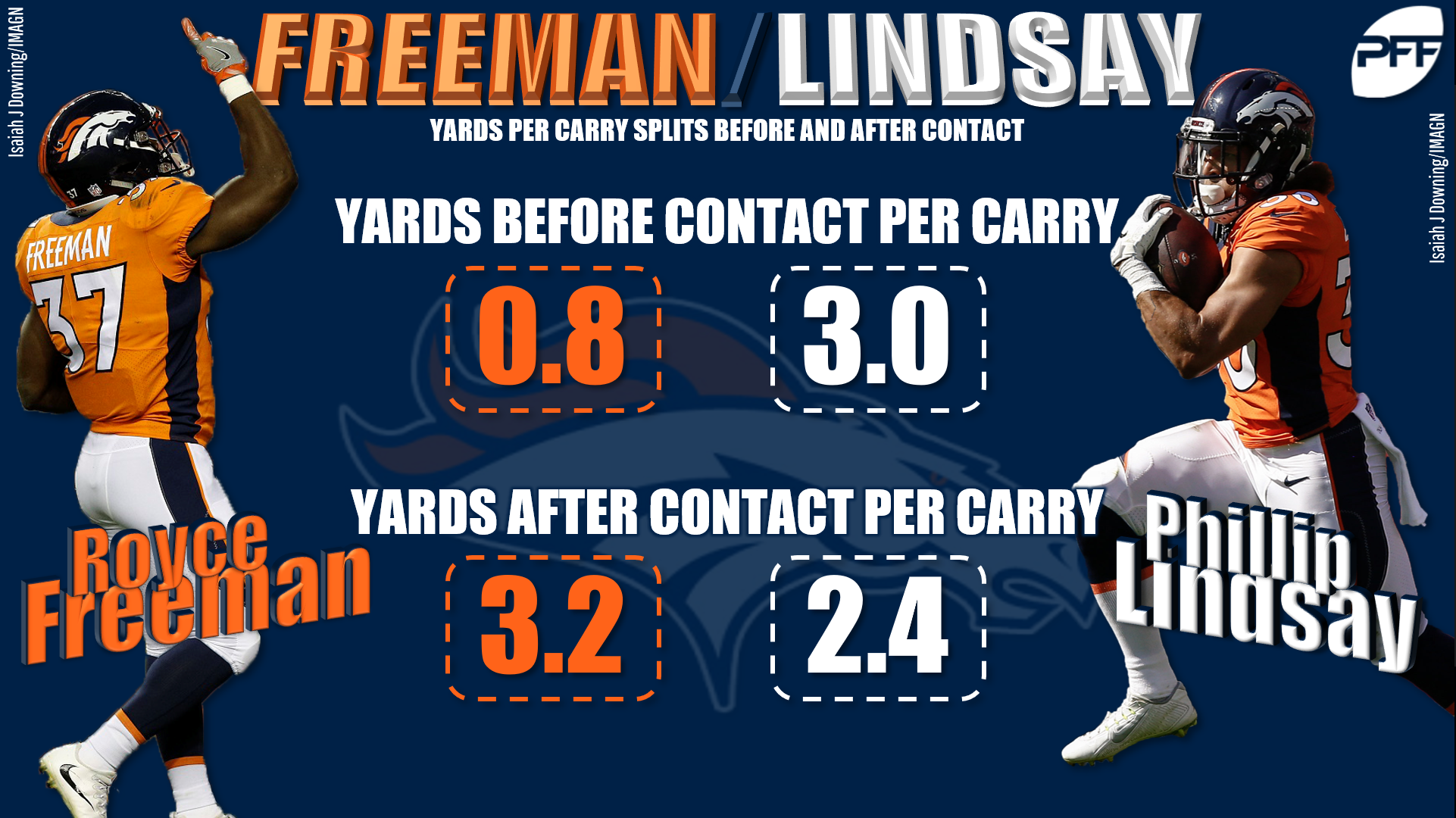 The Broncos line either really liked Lindsay or really didn't care for Royce Freeman; Lindsay averaged more than 3.0 yards before contact, while Freeman (4.00 yards per carry, 3.22 after contact) didn't even get a full yard. Their college pedigrees (Lindsay at Colorado, Freeman at Oregon) didn't display massive splits in those numbers. No player got a higher percentage of his rushing yards before contact (min. 50 carries).
What does it mean for 2019? Well, C Matt Paradis, T Jared Veldheer, and G Billy Turner — together, they played more than 2,000 snaps in 2018 — are all free agents, and while Denver might retain them, there's also the risk one or all could move on. If Lindsay's before-contact numbers drop off, through no fault of his own, after-contact average will matter that much more. Lindsay will be the Denver No. 1 back to start 2019, and will likely retain the role most of the year, but don't be surprised if Freeman sees his stock rise.
(White: 4.52 yards per carry; 2.52 before contact, 2.00 after contact)
(Cohen: 4.48 yards per carry; 2.31 before contact, 2.17 after contact)
After Lindsay, White and Cohen were second and third in percentage before contact. And it stands to reason — there are different kinds of backs. There are ball-carriers, there are pass-catchers, and there are bell cows. Ball-carriers you'd expect to get plenty of yards after contact. Bell cows, too, since they embody everything. Pass-catchers? If they were runners enough to break that many tackles, they'd move into the bell-cow territory. This is what we expect out of guys like White and Cohen, and that's not a knock.
(5.12 yards per carry; 2.60 before contact, 2.52 after contact)

Williams just comfortably set his career-high in yards per attempt (he had never before topped 4.0 yards before jumping past 5.0 this year) despite putting up better after-contact numbers in 2016 and 2017. In other words, almost all of Williams' improvement as a runner in 2018 came because his offensive line in Kansas City helped him out more than the lines in Miami ever did.
The Chiefs line did better with Williams as the No. 1 back than it did when Kareem Hunt had the job; the unit had a run-blocking grade over 65.0 twice in 11 games with Hunt as the starter, then three times in five games after Hunt was jettisoned. The starter between the two, Spencer Ware, finished 12th in percentage of yards coming before contact; Williams was fourth. If the improvements over the course of the year are for real, and Williams remains the No. 1 in 2019, his ceiling is high. But with the 2018 stretch better than one Williams had ever put up before and Mitch Morse entering free agency, plus the chance Kansas City brings in another starting option this offseason, approach Williams early this offseason with some real trepidation.
(5.47 yards per carry; 2.50 before contact, 2.97 after contact)
Jones averaged 5.53 yards per carry as a rookie, 5.47 as a second-year player. He went from 2.88 yards after contact per carry to 2.97. In short, he is who he is, and the line is as good to him as the line is. It was our seventh-ranked line at the end of the season for a reason. The team could use some guard help this offseason, but the core of the line is intact, and that should mean fine things for Jones, assuming the new coaching staff uses him in a way the previous coaching staff seemed allergic to.
(4.96 yards per carry; 2.20 before contact, 2.76 after contact)

Mixon had a breakout year, but a lot of that improvement came before contact. The Bengals line wasn't exactly good in 2018 — it finished the year 27th in our offensive line rankings — but it did help Mixon. He improved his after-contact numbers from 2017 to 2018 from 2.43 to 2.76, but before contact, he averaged 1.07 yards in 2017, 2.20 in 2018. If the line can make strides in 2019 — and the pedigree of the players brought in in 2018 indicate it should have had a better year than it did — Mixon has first-round potential.