As the NFL continues to find ways to use offensive playmakers in creative fashion, defenses need to be more flexible than ever. Versatile players are crucial on the defensive side of the ball, especially in the back-7, as they have to deal with speedy and shifty receivers, massive tight ends and sometimes offensive linemen in the running game. No player better exemplified defensive versatility this season than Minnesota Vikings safety Harrison Smith, the 2017 PFF Defensive Player of the Year.
Against the Run
The top-graded run-stopping safety in 2017: Harrison Smith.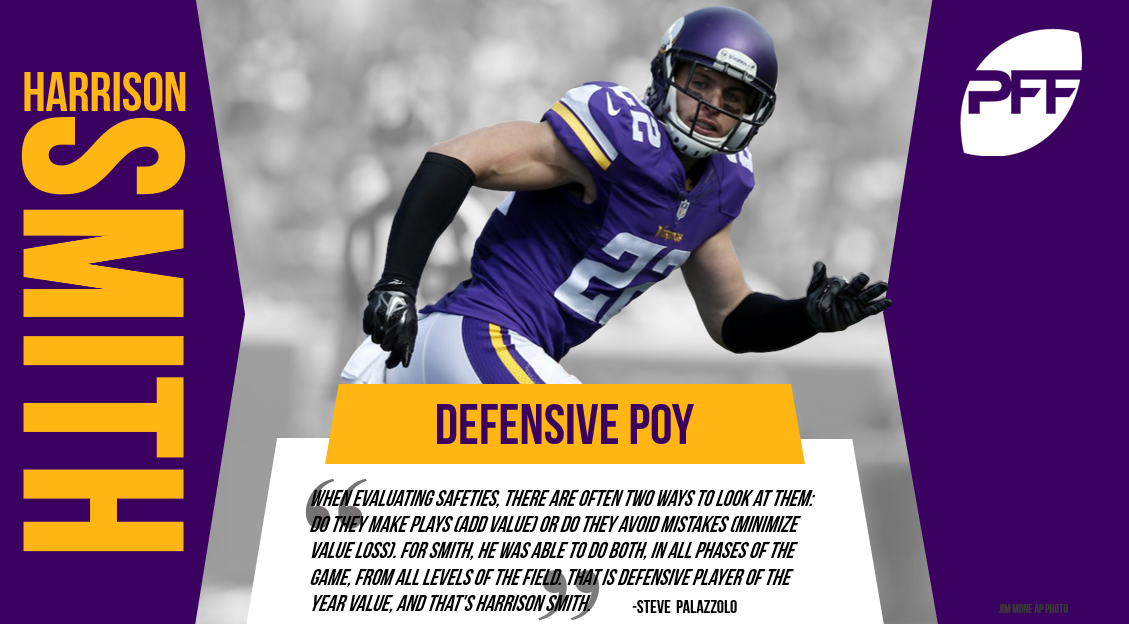 Whether playing a "quarters" look farther away from the line of scrimmage or firmly planted as an eighth man in the box, Smith was a playmaker this season in the run game. He diagnoses plays quickly and then completes the play once he gets there, as he missed only two tackles in the run game all season. When he's in the box, Smith will encounter overmatched wide receivers and even some tight ends, who he had a penchant for standing up and shedding to get in on plays. He finished 14th among safeties with a run-stop percentage of 5.0, but his work in the run game goes far beyond just tackles. Smith is willing and able to take on lead blockers or the aforementioned tight ends at the point of attack, and his value comes through in his ability to hold his gap, re-direct running backs and rarely get caught out of position. Smith finished with the 12th-highest percentage of positively graded plays in the run game, while picking up the sixth-lowest percentage of negatively graded plays. That combination of adding value and rarely losing is what led to the top run grade in 2017.

In Coverage
The top-graded coverage safety in 2017: Harrison Smith.
Much like his versatile skillset in the run game, Smith made plays all over the field in coverage for the Vikings. He has good range and ball skills as a split-field safety and even has the range to dabble at free safety in a single-high look (where more range is needed). In the two-high looks, Smith is often charged with covering receivers from about eight yards off the ball, but he has the necessary quickness to hang with them on a "two-way go," and he even managed to get his hands on multiple passes from this look.
When asked to play coverage from a box position, Smith was equally effective, whether playing man or short zones. In zone, he has a good feel for getting just enough depth to deny deeper passes coming in behind him, but he also possesses the skills to work downhill and minimize the gain on short passes. That's why Smith allowed only 6.1 yards per completion into his coverage, the best mark in the league, also aided by his missing only four tackles in coverage all season.
In addition to limiting big gains, Smith was a playmaker this season, tying for third among safeties with five interceptions and tying for fifth with five pass breakups. Whether making spectacular plays or simply capitalizing on poor throws, Smith found the football in coverage, and opposing quarterbacks had a passer rating of only 22.0 when targeting Smith as the primary defender — best in the league among safeties with at least 15 targets. Smith may not be a pure center-fielder like Seattle's Earl Thomas, but his ability to make an impact from a variety of alignments in multiple coverages is invaluable and was on display from start to finish in 2017.
Putting it all together
Smith's all-around game makes life easier on the entire Vikings defense. Every coverage can be played, defenses can be disguised and other players can play to their strengths due to Smith's ability to play multiple roles to perfection. He's no stranger to success, as 2017 represented the third year in which he graded above the elite 90.0 mark, and he has two others at 85.0-plus in his six-year career. But this was Smith's best year on record, and it translated to the Vikings defense as a whole.
When evaluating safeties, there are often two ways to look at them: Do they make plays (add value) or do they avoid mistakes (minimize value loss). For Smith, he was able to do both, in all phases of the game, from all levels of the field. That is defensive player of the year value, and that's why Harrison Smith is PFF's DPOY for 2017.
[Editor's Note: For all PFF Edge & Elite subscribers, we will be releasing our 2018 Free Agency Guide on Wednesday, January 24 with profiles, grades, signature stats and much more on all the top free agents likely to hit the open market this offseason.]