The Dallas Cowboys have locked up one of their brightest young stars.
No, it's not running back Ezekiel Elliott or quarterback Dak Prescott. As a matter of fact, Dallas' brass has looked past the offensive side of the ball entirely and agreed to terms with fourth-year linebacker Jaylon Smith, according to Ian Rapoport and Mike Garafolo of NFL Network.
The five-year deal is reported to be worth $64 million, with $35 million guaranteed and $20 million due over the next 16 months — the third-highest guarantee at this position.

Breakout Player of the Year
---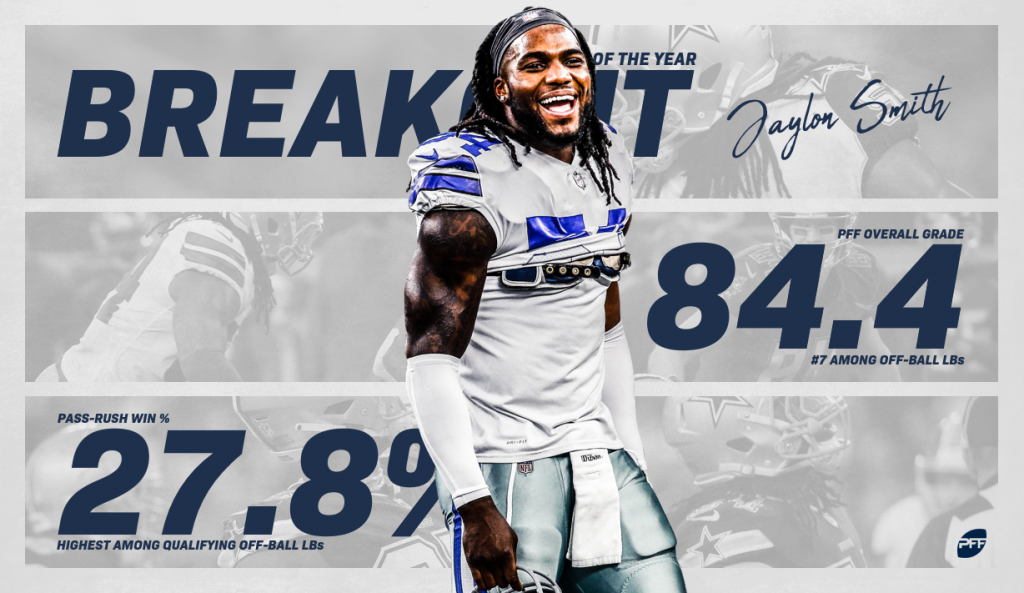 A torn ACL and MCL in his junior year at Notre Dame pushed now-Dallas Cowboys linebacker Jaylon Smith from a sure-fire first-round pick in the 2016 NFL draft to a question mark, as uncertainty clouded his future as a pro. But when the Cowboys selected him in the second round, they kept faith that the All-American and Butkus Award winner would eventually return to form, and Smith may have done it even faster than anticipated, as his performance in 2018 has earned PFF's award for Breakout Player of the Year. Read more…
The best Linebacker tandem in the NFL
---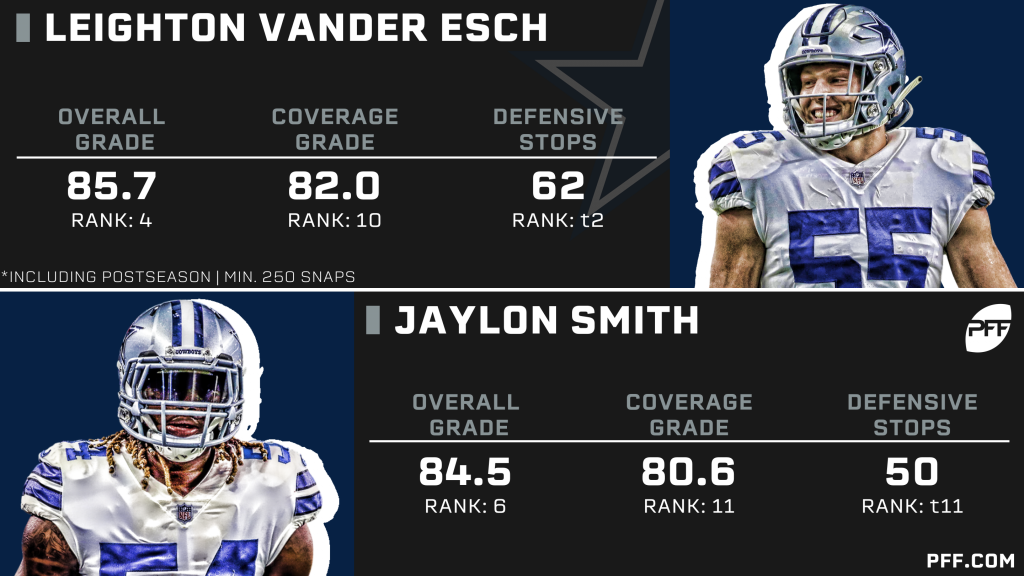 Smith & Vander Esch are easily the most talented pair at the position as their 84.4 and 84.9 respective grades ranked sixth and fifth among all NFL linebackers last year. In fact, Dallas is the only team with two top-10 linebackers. Read more…
A top-10 Player At The Position
---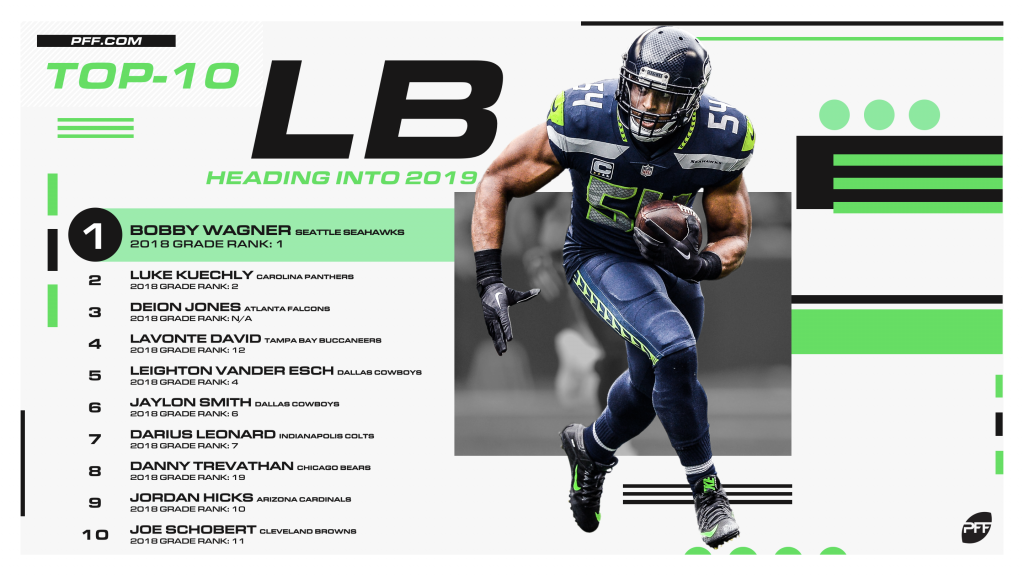 A torn ACL and MCL in his junior year at Notre Dame pushed him from being a sure-fire first-round pick in the 2016 NFL draft to a question mark, but Smith overcame those questions emphatically this year. Among off-ball linebackers with 50 or more pass-rush snaps, his 27.8 win percentage as a pass rusher ranked first, while he was one of six off-ball linebackers with 500 or more coverage snaps to allow one or fewer touchdowns in coverage. Read more…
A formidable partnership
---
No. 53 on the Top 100 Players of the 2018 season
---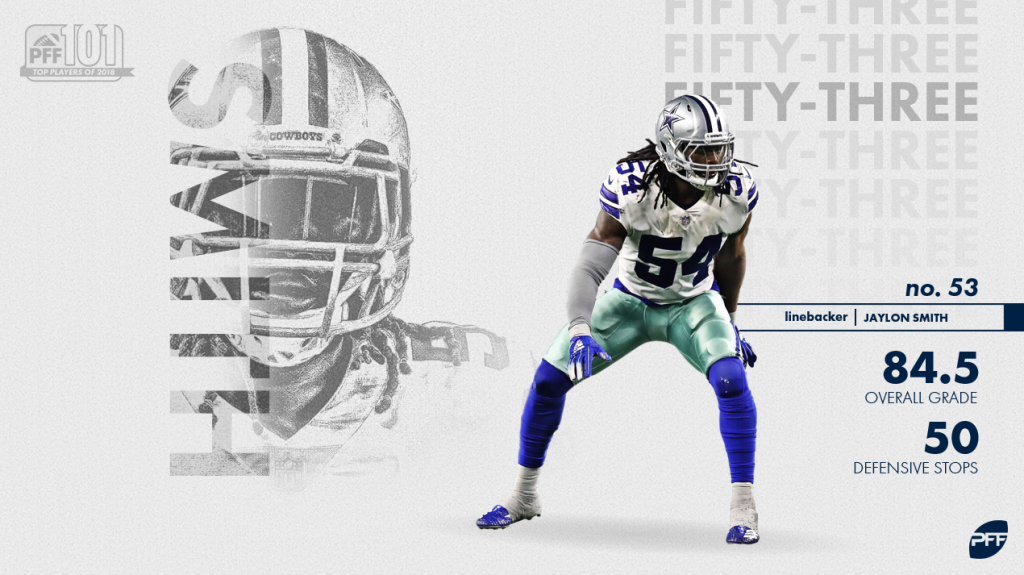 Among off-ball linebackers with 50 or more pass-rush snaps, his 27.8 win percentage as a pass rusher ranked first, while he was one of six off-ball linebackers with 500 or more coverage snaps to allow one or fewer touchdowns in coverage. Read more…
A Defensive Iron Man
---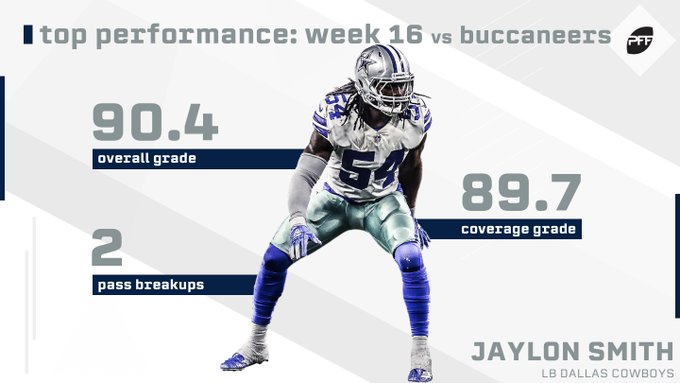 These are the NFL's iron men, the players who not only played at a high level but also barely missed a snap. To be on this list, the player must have earned a PFF overall grade over 80.0 and played at least 80% of snaps from the 2018 regular season. Read more…
A difference-maker in the pass-rush
---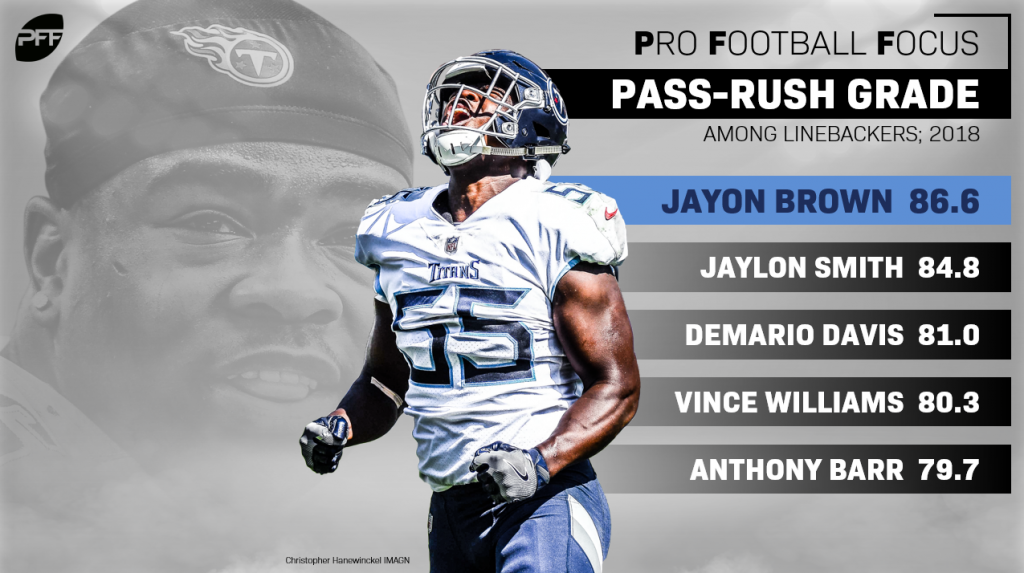 Smith took his game to a new level in 2018, recording a position-high 27.8 pass-rush win percentage and the second-best pass-rush grade (84.8). He recorded eight hurries, four hits, four sacks and an additional six pass-rush wins across his 72 pass-rush snaps. Read more…
One of the best surprises of the 2018 season
---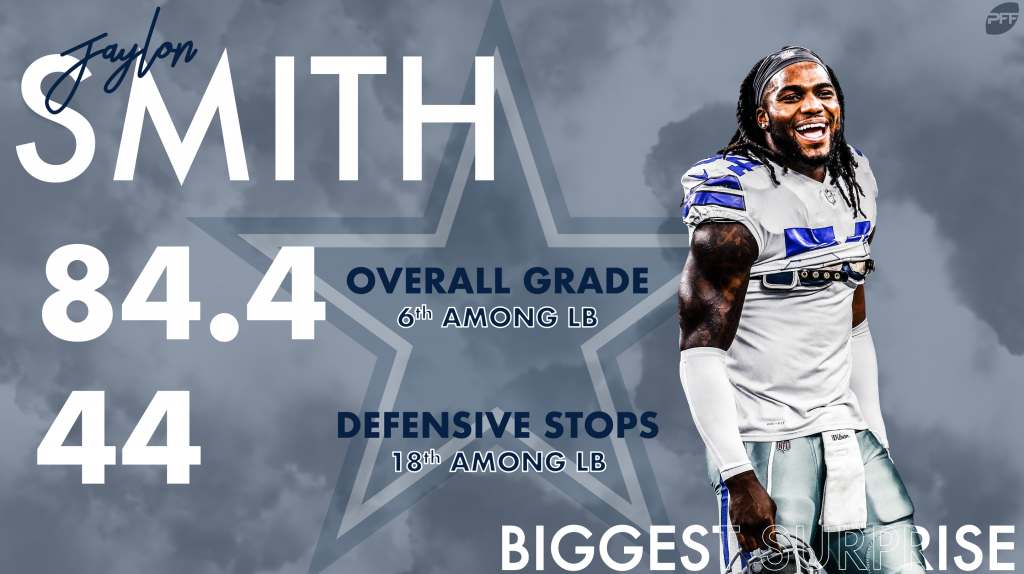 There were doctors that flat out stated he shouldn't be on a football field after the nerve damage that he suffered in his knee. At times in 2017, that very much looked like the case. His injury almost completely robbed his ability to start and stop in the Fiesta Bowl before the draft. However, 2018 was a completely different story. Smith once again looked like the player he was at Notre Dame that received top-five hype before the injury. He finished as the fifth-highest graded off-ball linebacker in all of football, excelling in all three phases of the position. Read more…
[Editor's Note: All of PFF's advanced stats and grades for every NFL player are made available in PFF's ELITE subscription. Subscribe today to gain access!]