Players in the NFL can have their snaps limited for a myriad of reasons. After all, injuries, set rotations or competition can keep a player off the field for hundreds of plays in a given season.
Not the players on this list.
These are the NFL's iron men, the players who not only played at a high level but also barely missed a snap. To be on this list, the player must have earned a PFF overall grade over 80.0 and played at least 80% of snaps from the 2018 regular season.
[Editor's note: To give a definitive perspective of each player's achievements last season, all rankings will be from a minimum of 225 snaps unless otherwise noted.]
Grade: 90.7
Defensive Snaps: 1,013
Gilmore trailed only Desmond King II of the Los Angeles Chargers in coverage grade among corners last season, but Gilmore played 212 more snaps. The Patriots corner also had 20 combined pass breakups and interceptions last season with 18 PBUs and two picks, allowing a completion percentage of just 46.7% on his 90 targets.
Grade: 90.6
Defensive Snaps: 963
Consider where J.J. Watt was a season ago. Watt returned from a broken knee cap to log the fourth-most snaps of any edge defender while earning the third-highest grade out of that group. He may not be back to pre-injury J.J. Watt, but 2018 was a step in the right direction for the former Defensive Player of the Year.
Grade: 89.7
Defensive Snaps: 1,119
Adams has quickly become one of the most versatile safeties in the NFL. He ranked inside the top five at his position in coverage grade (89.6), total pressures (22), total stops (44), and he had a solid run-defense grade of 77.1. Adams was incredibly durable last season, playing 137 snaps lined up on the defensive line, 489 in the box and another 172 in the slot. His 1,119 snaps were the most of any player on this list.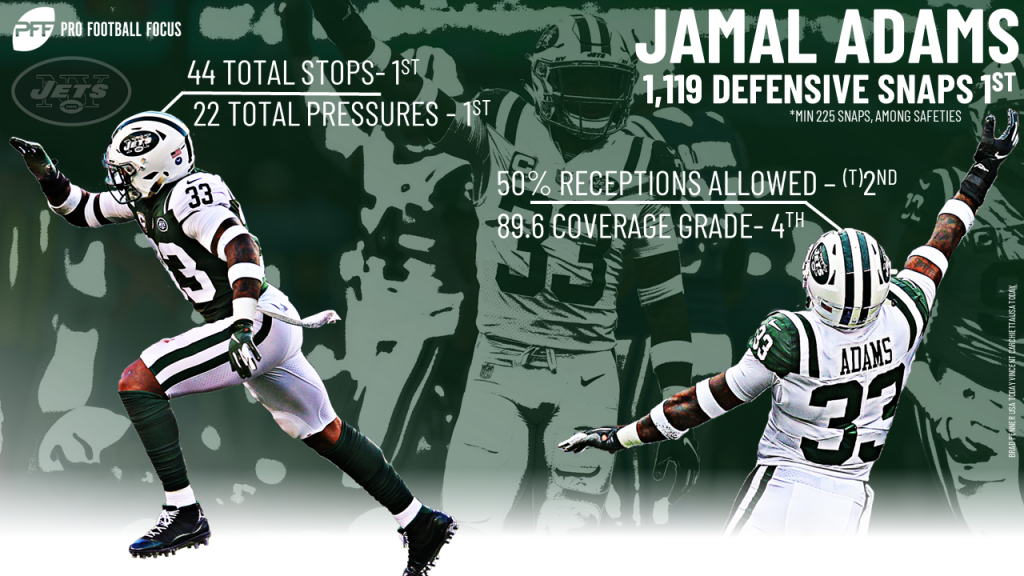 Grade: 88.6
Snaps: 1,022
In an era of platoon pass-rushers, Dee Ford hardly came off the field last season and logged the most snaps of any pass-rusher. He led the NFL with 78 pressures and led all edge rushers with a pass-rushing grade of 91.0.
Grade: 88.4
Defensive Snaps: 1,042
Byard played at every level of the field in 2018, with 372 snaps in the box, 149 snaps as a slot corner and 470 at free safety. His run-defense grade of 89.0 was second only to Harrison Smith, while his coverage grade of 82.5 was top-15 among safeties. He didn't have the raw pressure numbers that Adams did (seven pressures on 23 rushes) but also earned a 90.1 pass-rush grade.
Grade: 88.3
Defensive Snaps: 1,027
It's hard to take players like Byard, Adams and Derwin James off the field. Like the other two, James graded well in multiple categories as a safety. He was third in coverage grade at 89.7, and he finished second to Adams in both run stops (40) and total pressures (19) as a rookie. What's really impressive is that James was asked to play 200-plus snaps along the defensive line, in the box, at slot corner and at deep safety in his first season. Neither Byard nor Adams accomplished that in their first season in the NFL.
Grade: 87.0
Defensive Snaps: 1,012
Earlier this year, our very own Austin Gayle chronicled just how good Myles Garrett has been through his first two seasons in the NFL. Consider the fact that Garrett accounted for 25.1% of his team's overall pressures. That mark is good for fifth in the entire NFL and third among edge defenders, behind only Jerry Hughes and J.J. Watt. Garrett did this at 23 years old, two and half years younger than any other player in the top 10.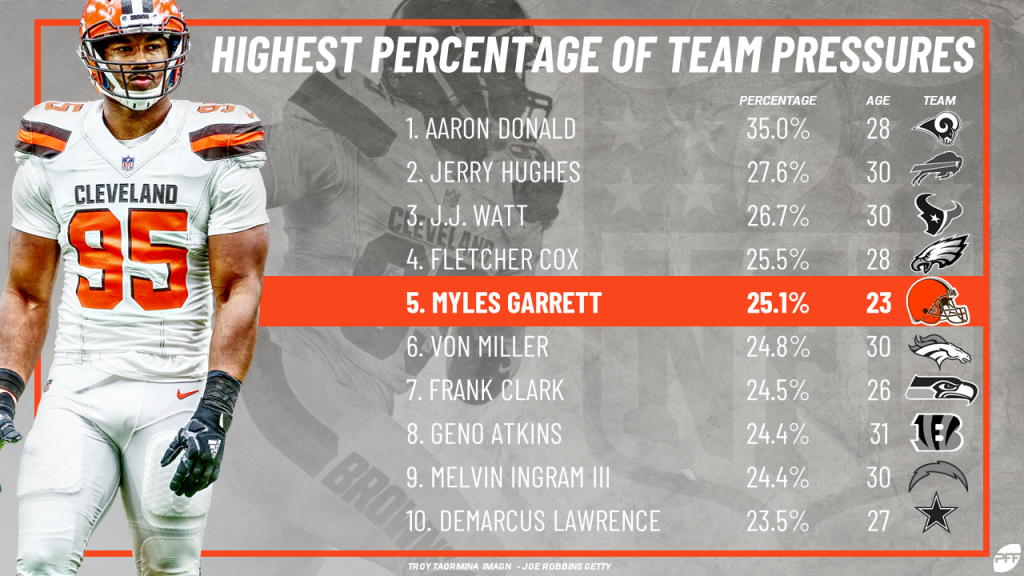 Grade: 85.7
Defensive Snaps: 985
Jackson was 14th in the NFL in coverage grade at 80.5, but he also had the added value of being a premier run defender, tallying a run-defense grade of 91.1. While that is not typically all that important for a corner, Jackson wasn't a typical cornerback last season; he played full games at safety, outside corner and slot with ease.
Grade: 84.4
Defensive Snaps: 978
It's hard for a linebacker to make the list because few are good enough in coverage to stay on the field for all three downs. Smith split the difference by tying for 15th in coverage grade among linebackers last season and coming in at seventh in pass-rushing grade at 84.8.
Grade: 83.7
Defensive Snaps: 1,155
The former Boston College Eagle has barely come off the field since his first start in Week 5 of the 2017 season. Johnson finished last season ranked seventh in coverage among safeties with a grade of 86.1; he also ranked in the top five among safeties in solo tackles (85) and stops (31).
Grade: 83.1
Defensive Snaps: 1,021
Last year was a breakout season for Byron Jones, who finished with the ninth-highest coverage grade among corners at 83.3. He allowed only 94 yards after the catch this past season, he tied for 12th in the NFL in yards per coverage snap at 0.79, and he allowed only two touchdowns on the year. He did all of this while playing the most snaps of his career. As a result, his coverage grade jumped 14.5 points from 2017.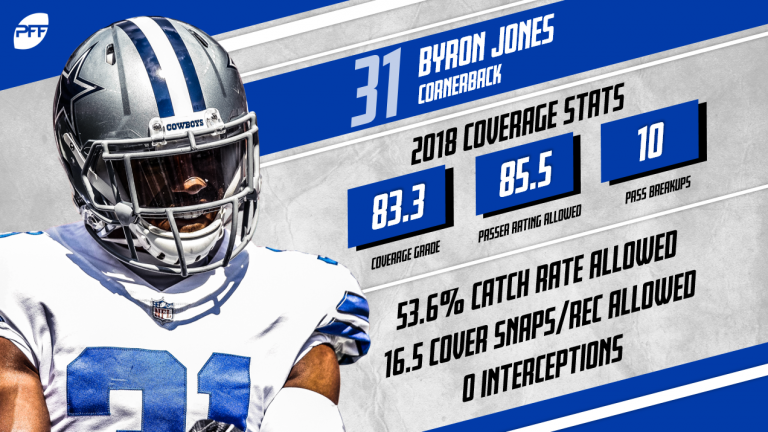 Grade: 83.0
Defensive Snaps: 1,014
Kyle Fuller earned an impressive coverage grade (84.1) last season, but what makes it more impressive is that he was targeted 105 times on the year, which was tied for the second-most among corners. His 19 combined pass breakups and interceptions were second behind Gilmore in New England.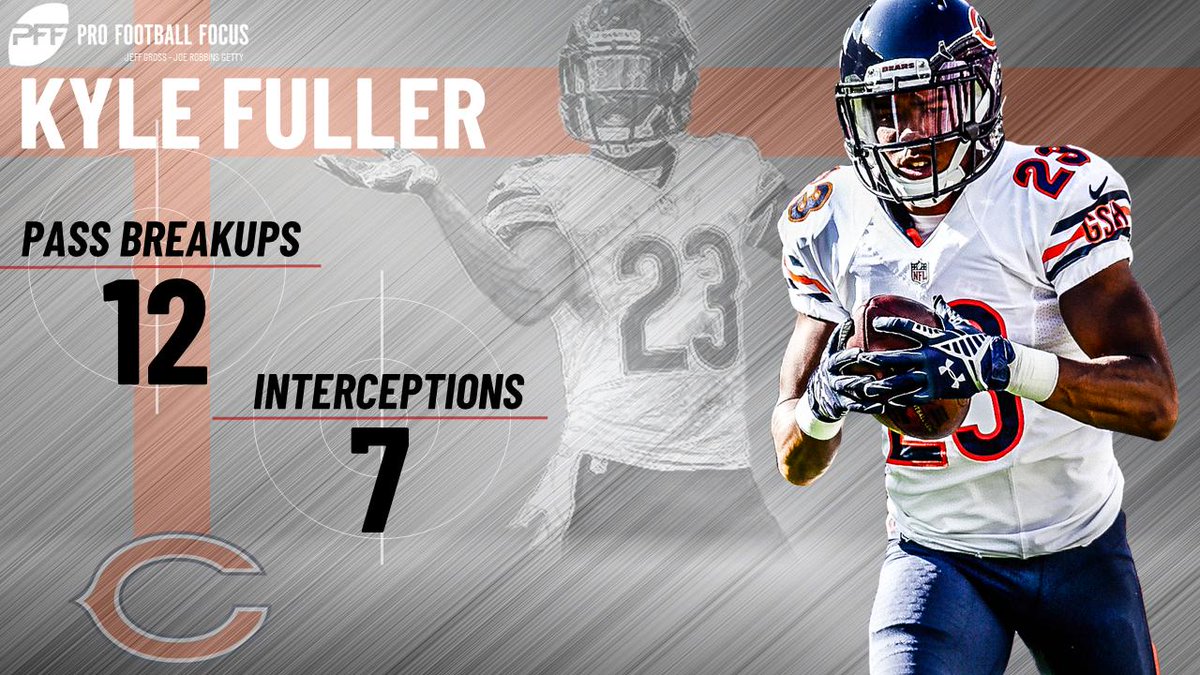 Grade: 82.9
Defensive Snaps: 1,029
Between Adrian Amos, Kyle Fuller and Eddie Jackson, the Bears ran the NFL in terms of pass coverage. Amos, now in Green Bay, was eighth among safeties with a coverage grade of 85.0; his 7.7 yards per reception allowed was tied for 10th among players at the position.
Grade: 82.5
Defensive Snaps: 1,107
Peterson is no stranger to playing over 1,000 snaps in a season, as he's reached that threshold in all but two of his eight seasons (he still played 973 in 2014 and 987 snaps in 2015). Despite all of those snaps, Peterson continued his strong play, posting the seventh-highest coverage grade among corners at 83.7. He also allowed only 364 yards last season — the second-fewest of any corner who qualified for this list.
Grade: 82.0
Defensive Snaps: 956
We were high on Darius Leonard after his exceptional performance at the Senior Bowl, and he rewarded us with a fantastic rookie season in which he led the NFL in tackles (119), tied for second in combined interceptions and pass breakups (8) and finished with the seventh-best overall grade among linebackers.