In today's NFL, the slot cornerback position is one of the most important positions in football. With the top offenses in the NFL taking full advantage of slot receivers, guys who can defend the slot well are extremely valuable. One guy in particular, who can defend the slot as well as anybody, is Desmond King II of the Los Angeles Chargers. King wasn't drafted until the fifth round of the 2017 draft, but he has blossomed into one of the best slot cornerbacks in the NFL, and he helped the Chargers earn the third-best coverage grade (91.4) last season.
Desmond King earned a coverage grade of 91.1 this past regular season, ranking first out of 131 qualifying cornerbacks. He has started his NFL career on fire, earning coverage grades higher than 85.0 in each of his first two seasons. When lined up in the slot in 2018, King allowed an average of just one yard per cover snap, tying for 11th at the position. He also allowed a lowly passer rating of 79.8 in the slot, ranking ninth. Considering King was targeted once every 6.6 cover snaps in the slot – making him the 17th-most targeted slot corner – his dominance is even more impressive.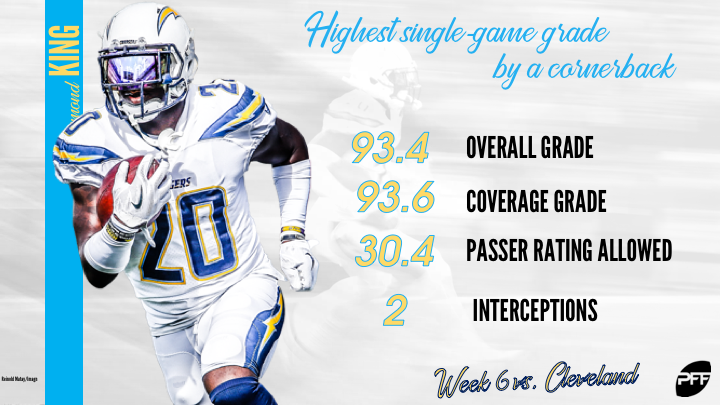 King's 2018 season was among the best seasons for a slot cornerback in the PFF era, and among every great season, there is at least one gem of a game. For King, that game was back in Week 6, in a win over Baker Mayfield and the Cleveland Browns. King earned an overall grade of 93.4 in that game, which was the highest-graded game by a cornerback in the entire season.
Baker Mayfield was starting his fourth game in the pros, and he targeted King seven times with little success, as King allowed four catches for only 34 yards. Going up against one of the best slot weapons in the NFL in Jarvis Landry made King's performance even more impressive; on his four targets when covering Landry, King allowed only one catch for seven yards and also grabbed an interception. King's tight coverage and plays on the ball were too much to handle for Mayfield and company, as he led the Chargers to a 38-14 rout and earned himself the best single-game grade for a cornerback in 2018.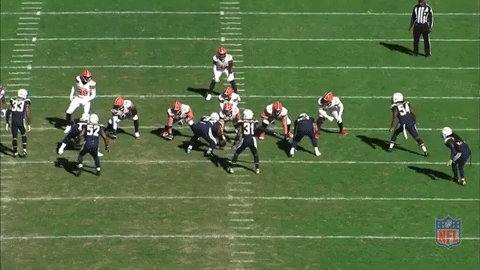 Going into the future, the Chargers have to feel confident about having a guy who can defend the slot so well, especially when the good NFL offenses are repeatedly trying to move the chains with their slot weapons like Tyreek Hill and Julian Edelman. Unfortunately for quarterbacks, King allowed just 22 first downs on his 78 targets in 2018, making King the last person you want to target if you want to keep drives alive. After all, Desmond King's performance in 2018 earned him a spot on the PFF Top 101, a list that he should continue to make appearances on if he keeps up the great play.

Read more about 2018's best games by position: