For the Seattle Seahawks, 2018 was supposed to be a down year. The 'Legion of Boom' was effectively a shell of the once-dominant defense it was named for, but thanks to linebacker Bobby Wagner, the unit's drop-off was far softer than it could've been. For a second consecutive year, Wagner was the Seahawks' highest-graded defender, pummeling running backs, shutting down receivers and missing a tackle once in a blue moon.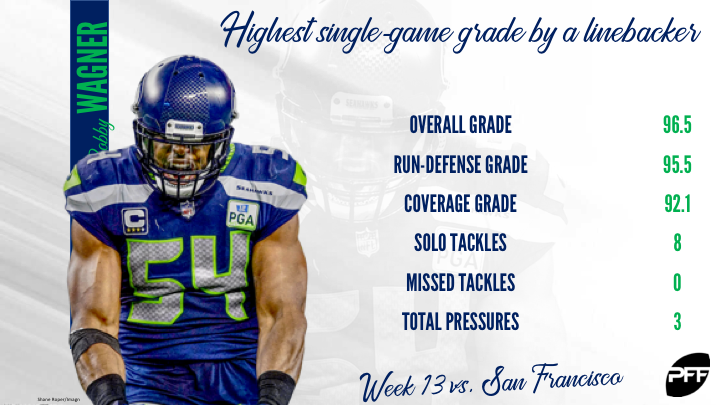 In Week 13 against the San Francisco 49ers, Wagner's all-around ability was on full display. He dominated the game en route to a 96.5 overall grade — the highest mark earned by an off-ball linebacker in 2018. It was Wagner's only outing on the season in which he earned a 90.0-plus grade as a run defender, pass rusher and coverage defender. There was no linebacker on that field — or any field in 2018 — who commanded a defense like Wagner did against the 49ers.
From a pass breakup to a sack to a fumble recovery to a pick-six, Wagner was everywhere. He faced five targets against the 49ers, two of which were against daunting tight end George Kittle, who had the most yards after the catch by anyone at his position since at least 2006. However, Wagner had no problems locking down the second-year tight end out of Iowa, notching a pass breakup and allowing just one catch for seven yards. Wagner finished the afternoon by allowing three catches on five targets for just 20 yards.
But it wasn't just a matter of limiting his competition. Wagner made them pay. His pick-six in the fourth quarter from his own one-yard line not only capped a 43-16 drubbing of the 49ers but also capped the best day from a linebacker all season.
Then there was the run-game, where Wagner was somehow even more dominant. He made just one tackle on running plays against the 49ers, but of course, he forced a fumble that he also recovered on the play. As a result of his overall success in the middle of the field, the 49ers averaged a paltry 2.9 yards per carry.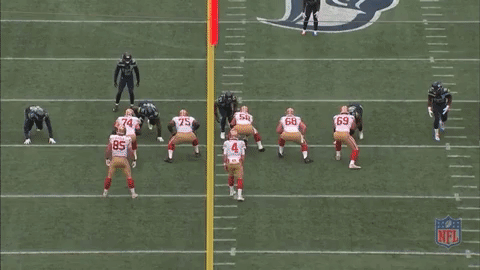 Wagner also brought heat to quarterback Nick Mullens. Coming into Week 13, he had just six quarterback pressures and no sacks. But against the 49ers, he worked his way to three quarterback pressures while also earning his first sack since Week 7 of 2017. That led to a stellar 92.1 pass-rushing grade — the only time he eclipsed a mark higher than 75.0 all season.
By the year's end, Wagner had let the rest of the NFL know that the Seahawks' defense was still alive and kicking. The former second-round pick was the league's second-highest-graded linebacker in run defense (91.8), the highest-graded tackler (91.8), the highest-graded in coverage (90.4) and highest-graded in pass rushing (88.4). You won't find a more well-rounded linebacker than Bobby Wagner, and his skillset shined in Week 13.