Prior to the 2018 season, the New York Giants gave Nate Solder one of the richest contracts for any tackle in the league. With that contract came expectations for outstanding play – something that didn't necessarily come to fruition in his first year with the Giants. In his first season outside of New England, Solder managed an overall grade of 74.1 which ranked 16th out of 35 qualifying left tackles; in other words, he was middle-of-the-road at the position.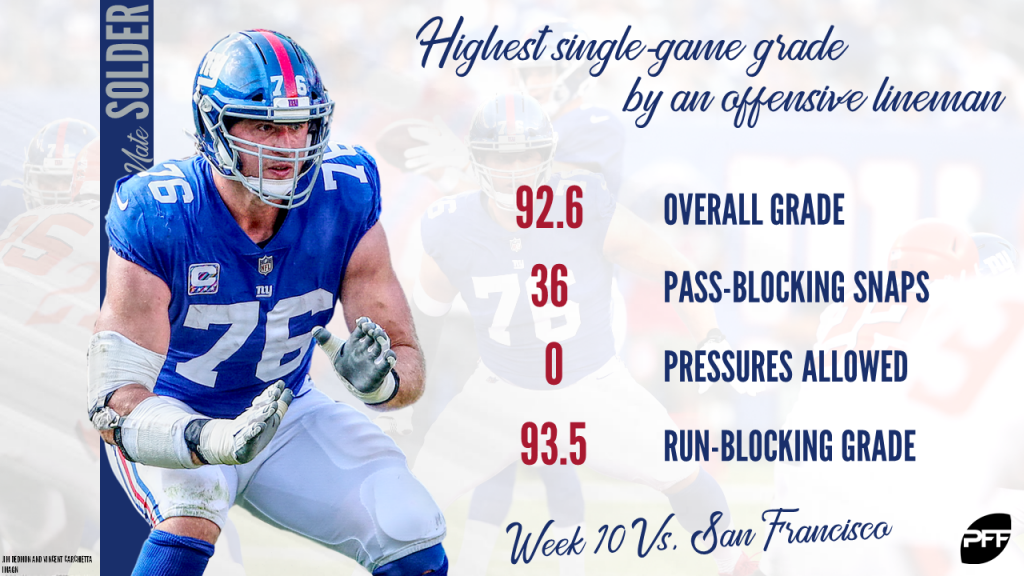 That being said, Solder did put on at least one outstanding performance that displayed why he got that contract. That performance came in Week 10 against the San Francisco 49ers when Solder picked up an overall grade of 92.6, the highest grade for any offensive lineman in a single week this past season.
Solder was a wall in pass protection against the 49ers. On 36 pass-blocking snaps, he did not allow a single pressure on quarterback Eli Manning, and while Solder was certainly helped by Manning's average time to throw of just 2.40 seconds – below his season average of 2.47 seconds – the clean sheet and 83.7 pass-blocking grade were still impressive marks. 
Where Solder really distinguished himself in that Week 10 matchup was not in pass protection but as a run blocker. He consistently got to the second level to disrupt linebackers and moved his man off the ball in double teams.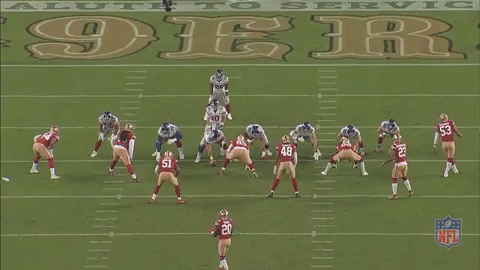 In the play above, in the first quarter, he has a clean release up to the second level and easily controls his block on Fred Warner to the inside, giving Saquon Barkley more space to do what he does best – make a cut and break off the big gain.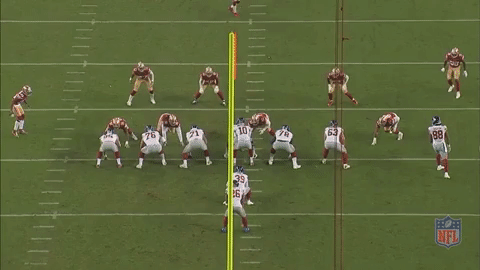 Later on, Solder just overpowered his assignment on a double team, pushing him to the second level and taking him to the ground while disrupting the path of the linebacker to Barkley.
These were the sort of run-blocking efforts that Solder made all game, and those efforts more than deserved his 93.5 run-blocking grade. It didn't show in the results, as Barkley ran for just 67 yards on 20 carries, but Solder performed at an elite level in the run game. That run-blocking prowess paired with a clean sheet in pass protection led to the highest single-game grade we saw from an offensive lineman all season. 
Honorable Mentions
The highest-graded single-game performance from a guard this season went to Marpet at 90.7 overall in Week 15. He was not unblemished in pass protection, with three pressures allowed in 29 pass-blocking snaps, but he was dominant as a run blocker. Marpet recorded a run-blocking grade of 90.8 against the Baltimore Ravens on 22 run-blocking snaps.
Coming in a game with his fewest snaps played on the season – 48 snaps in a Week 3 showdown with the Detroit Lions – Andrews turned in his best performance of the season. His 90.6 overall grade was the highest for any center in a single game this season, and he did it as a pass blocker (83.9 pass-blocking grade) and a run blocker (90.4 run-blocking grade).