Throughout the 2018 season, third-year running back Derrick Henry was a part of a thunder-and-lightning type of timeshare in the Tennessee Titans' backfield. At 6'3" and almost 250 pounds, Henry fit the big-back prototype as a perfect complement, in theory, to Dion Lewis' elusive quickness.
However, Henry struggled to get rolling for a majority of the first 12 weeks of the season. The former second-round pick topped 12 total carries in a game only twice, and his season-high rushing yard total for a game was 58 yards in Week 10. From a PFF grading perspective, Henry's 76.0 overall grade in Week 9 at Dallas was his best mark in the first three-quarters of the season, despite only seeing the field for 14 total snaps.
The Titans' running back committee approach and Lewis' playmaking ability as a receiver was keeping Henry off the field and his production limited. Going into the Thursday night match-up in Week 14 against the Jacksonville Jaguars, there were no telling signs from the team or Henry himself that he could be on the cusp of the top running back performance in the PFF-era.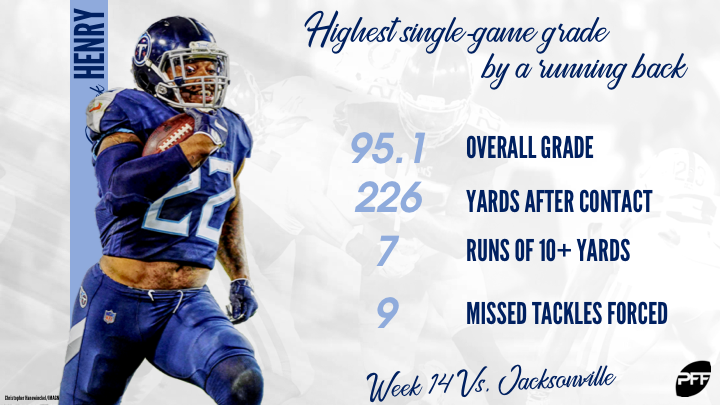 The Jaguars came into Week 14 with a record of 4-8, coming off of a lackluster 6-0 win the Sunday prior. Seemingly out of the playoff hunt and on the road in a short week, the situation was lining up perfectly for Tennessee, and Henry took full advantage of every opportunity.
Henry saw the field for only 24 of 60 total offensive snaps in the game, which resulted in 17 total rush attempts and a historical stat-line. He generated 238 rushing yards and four touchdowns, including an unforgettable 99-yard rumble for a score in which he powered through three tackle attempts with ease via stiff-arm.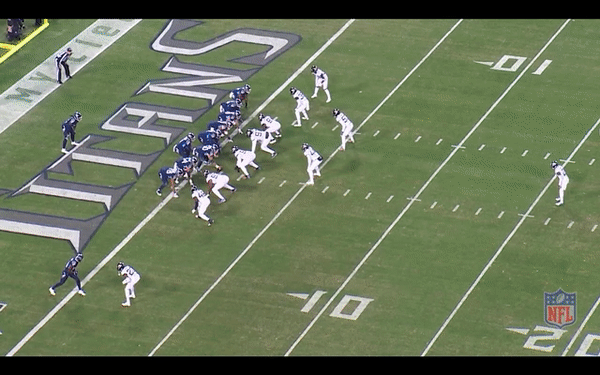 In the game, Henry had seven runs of ten-plus yards, and his nine forced missed tackles were tied for the most in a game this season. He also generated 226 of his 238 yards after contact en route to an absurd average of 13.29 yards after contact per attempt.
As a result of his performance, Henry earned a 95.1 overall grade and 93.3 rushing grade, both by far the best at the position in all of 2018. Henry's 95.1 game grade also pushed him ahead of the elite 93.0 single-game grade given to Adrian Peterson for his three-touchdown performance in Week 13 of the 2010 season with the Minnesota Vikings.
When given the opportunity, Henry was a revelation in 2018, particularly in the closing weeks of the season. The Alabama product finished as the second-highest-graded running back in the NFL with a mark of 87.0. He also ranked second in yards after contact per attempt (4.21), while tying the ageless Peterson for most missed tackles forced with (45).
Henry's outing in Week 14 could go down as one of the most impressive we've seen at his position, but his breakout game could also be meaningful in terms of his career trajectory going forward. By putting the world on notice with 2018's best performance by a running back, expect Henry to showcase his ability with an increased workload in Tennessee next season.
2018 Best Games: QB | RB | WR | TE | OL | EDGE | DI | LB | CB