Entering 2018, Seattle Seahawks quarterback Russell Wilson ranked fifth among quarterbacks in big-time throws since 2012, ahead of mainstays such as Aaron Rodgers, Philip Rivers, and Matt Ryan, among others.
And now, with the 2018 season over, Wilson is now third on that list, surpassing Tom Brady and Matthew Stafford. His climb is unsurprising given how clutch he can be, and that was most evident in his Week 8 performance against the Detroit Lions, in which he garnered the highest single-game grade for a quarterback in the 2018 campaign.

In that effort, Wilson attempted a season-low 17 passes, but he performed at near-perfect efficiency on those minimal opportunities. He had just one negatively graded throw — and even that throw was a touchdown heave to tight end Ed Dickson that was slightly off target but hauled in nevertheless.
When your worst throw in a game goes for a touchdown, it's an outing to remember.
Wilson notched a 98.0 overall grade against the Lions and tossed four big-time throws — two to Doug Baldwin and one apiece to Tyler Lockett and David Moore. He ended the game with a perfect passer rating and even managed to complete 11 first down passes on just 14 completions.
Of his four big-time throws, Wilson's best came early in the second quarter. From the pistol formation, the seventh-year quarterback used play action and rolled to his left before firing to Lockett on a corner route.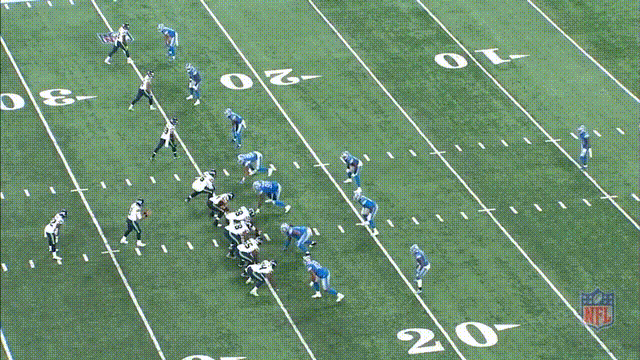 The almost-effortless toss landed perfectly in Lockett's arms, even with Lions cornerback Nevin Lawson draped over him. It was the first of three touchdown throws for Wilson, and it ignited what had been a relatively tame outing for him up to that point.
On throws of 20-plus yards to the left side of the field, Wilson was spectacular all year. He earned a 98.4 grade on such throws, including 690 yards and six touchdowns.
Against Detroit, nine completions, 143 yards and two of Wilson's touchdowns came to the left side of the field. It's an area he's dominated as of late, particularly on throws of 20 or more yards. He has produced a 90-plus grade on throws in that area for three seasons in a row.
Wilson finished his outing against the Lions with 14.6 yards per attempt average — far higher than the NFL average. For comparison, Kansas City Chiefs quarterback Patrick Mahomes never averaged more than 11.7 yards per attempt in a game. Wilson also had an average depth of target of 11.6 yards against the Lions, while the NFL average in 2018 was just 7.1.
Plenty of quarterbacks made more than four big-time throws in a game in 2018, but none were able to match Wilson's efficiency.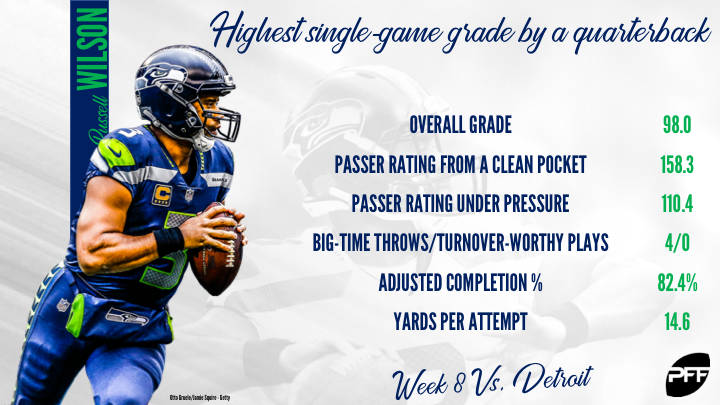 So while 300-yard performances with four touchdowns on 50 attempts are flashy, Wilson was able to get the job done with 248 yards on just 17 throws, carving up the Lions defense en route to a 28-14 victory and a remarkable 98.0 game grade.
2018 Best Games: QB | RB | WR | TE | OL | EDGE | DI | LB | CB | S