Picking out the NFL's best interior defensive lineman might be the easiest of positions to perform such a task. It comes as no surprise, then, that Los Angeles Rams interior defender Aaron Donald earned the highest game grade at the position — a feat he accomplished in Week 7 against the San Francisco 49ers.
From the box score, Donald's four sacks en route to a 95.4 overall grade immediately jump out, but the dominant anchor inside contributed in other ways as well. For starters, his 46 snaps against the 49ers were the second-fewest total he played in a contest all year, making his stat line even more impressive.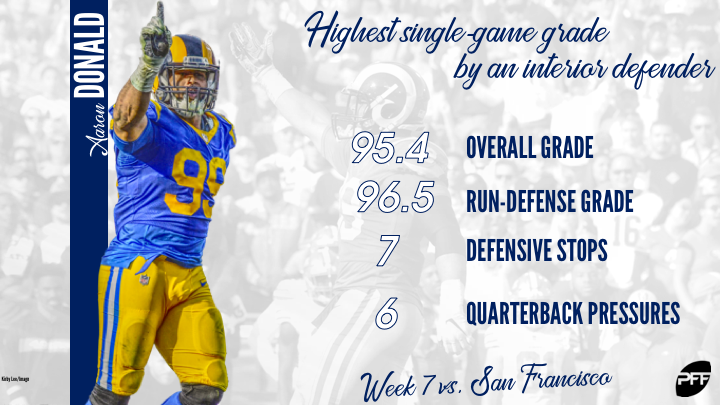 Donald worked his way to seven stops (tackles which constitute a "win" for the defense) against the 49ers, a season-high mark, and it was his work against the ground game where he made sure his muscular 280-pound frame was felt. When Donald made first contact on running plays — something he did a respectable four times in Week 7 — he allowed just 0.75 yards after contact. Simply put, if Donald got to the ball carrier, he wasn't going anywhere.
As a result, Donald earned a season-best 96.5 run-defense grade. Overall, it was one of 10 outings in 2018 for Donald in which he eclipsed a grade of 90.0 or higher — and deservedly so. Unfortunately for center Weston Richburg and guards Laken Tomlinson and Mike Person, they were largely tasked with stopping (or rather, slowing) Donald. It didn't pan out too well.
Donald's six total pressures on the day weren't anywhere near a career-best; He had just notched 12 the week prior. But they were wildly efficient, as it was the first time the fifth-year defender had accumulated four sacks in a single game.
One of them came in the second quarter on a third-and-long. Donald lined up opposite the left tackle on a simple four-man rush. He then worked inside before finding himself occupied with both Tomlinson and Richburg. It wasn't a problem for PFF's Dwight Stephenson Award winner, defensive player of the year and pass-rusher of the year. He calmly pushed Tomlinson aside before bulldozing Richburg backward into quarterback C.J. Beathard for the sack.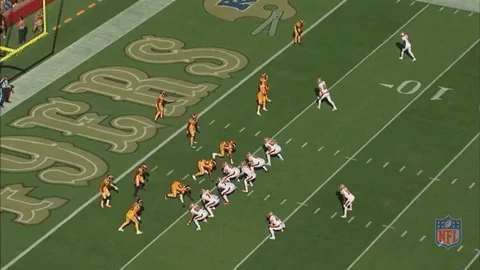 Later in the game, and perhaps the most crucial play he made, Donald blew up a first-and-goal run in the backfield. With just under 30 seconds remaining before halftime, the 49ers were looking for a splash of momentum to take them into the locker room. However, as soon as Beathard handed off to fullback Kyle Juszczyk, the play had already been snuffed out. Donald had effortlessly brushed past Person and into the backfield to drop Juszczyk for a five-yard loss.
Nothing could be done to stop the NFL's best interior defensive lineman. After Person was beaten by Donald, he pounded his fist into the ground — a reaction that neatly summed up the frustration a player like Donald can cause on any given Sunday, Monday or Thursday.

Read more about 2018's best games by position:
QB | RB | OL | WR | TE | DI | EDGE | LB | CB | S