Here at Pro Football Focus, we grade every player on every play of every game. That includes every single snap that every wide receiver took last season, and we are now looking back at the best single-week performance by a wide receiver in 2018. With that said, the highest overall grade for a wide receiver in a single week in 2018 was given to Tre'Quan Smith of the New Orleans Saints in Week 11.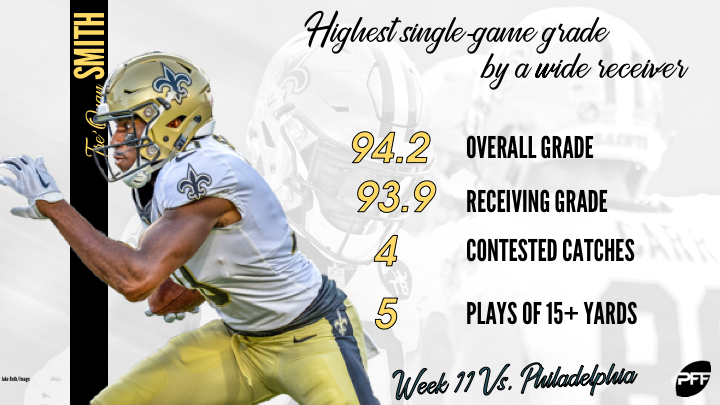 Tre'Quan Smith was a rookie for the Saints in 2018, having been picked in the third round of the 2018 NFL Draft (91st overall). The 23-year-old receiver had only three games with grades higher than 70.0, including his monstrous 94.2 overall grade in Week 11 against the Philadelphia Eagles. Smith lit up the box score, grabbing 10 receptions for 157 yards and one touchdown. On his 13 targets, Smith generated a passer rating of 142.1, which made life easy on Drew Brees.
Smith ran 30 routes against the Eagles and gained an average of 5.23 yards per route run, ranking second in Week 11 behind T.Y. Hilton (5.96). Yes, other receivers may have had better stats in a single game than Smith did, but we don't grade stats. Play after play, Smith repeatedly created separation for first downs, picked up extra yards after the catch, and came down with passes that were contested by a defender at the catch point.
Smith caught passes against five different Eagles' defenders, and it simply didn't matter who was guarding him. In particular, Smith did most of his damage against cornerback Rasul Douglas, as he caught all four of his targets against him for 75 yards (20 after the catch) and three first downs. It also didn't matter what area of the field that Smith was attacking; he didn't have more than two catches in any single area (short middle, intermediate middle, deep middle, etc.).
In addition, Smith didn't drop a single ball and thus didn't get any negatively-graded plays relating to drops. It was definitely an outlier game for Smith, but that doesn't mean he's not capable of being the next great Saints wide receiver. Standing at 6'2" and 210 pounds, Smith is big, strong, and fast and can run routes and make tough catches. He saw only 34 targets outside of week 11, which isn't enough opportunity to prove he can have more huge games like the one against the Eagles. Going into his sophomore season in 2019, he'll look to make games like the one against Philadelphia more of the norm and less of an outlier.