Antonio Brown is taking his new Xenith helmet, frostbitten feet and elite receiving talents to Bill Belichick and the New England Patriots.
Per Bleacher Report's Master Tesfatsion, Brown is signing with the Patriots. ESPN's Adam Schefter reported soon after Tesfatsion's original report that New England is signing AB to a one-year, $15 million contract with a $9 million signing bonus. He can't suit up for New England in Week 1 against the Pittsburgh Steelers, but he should see the field in Week 2 and beyond.
Brown serves as an immediate upgrade over Phillip Dorsett at outside receiver in New England. Only Julio Jones, Michael Thomas and DeAndre Hopkins have earned a higher three-year receiving grade over the past three seasons (2016-18) than Brown (91.5). Among the 119 NFL receivers with 600 or more routes run in the same three-year span, Brown ranks fifth with an average of 2.37 yards per route run.
New England's starting trio at receiver is now Josh Gordon, Julian Edelman and AB, arguably the best receiver group in football. Expect Tom Brady & Co. to take full advantage of Brown's on-field ability on their way to another deep run in the playoffs, if not a Super Bowl ring.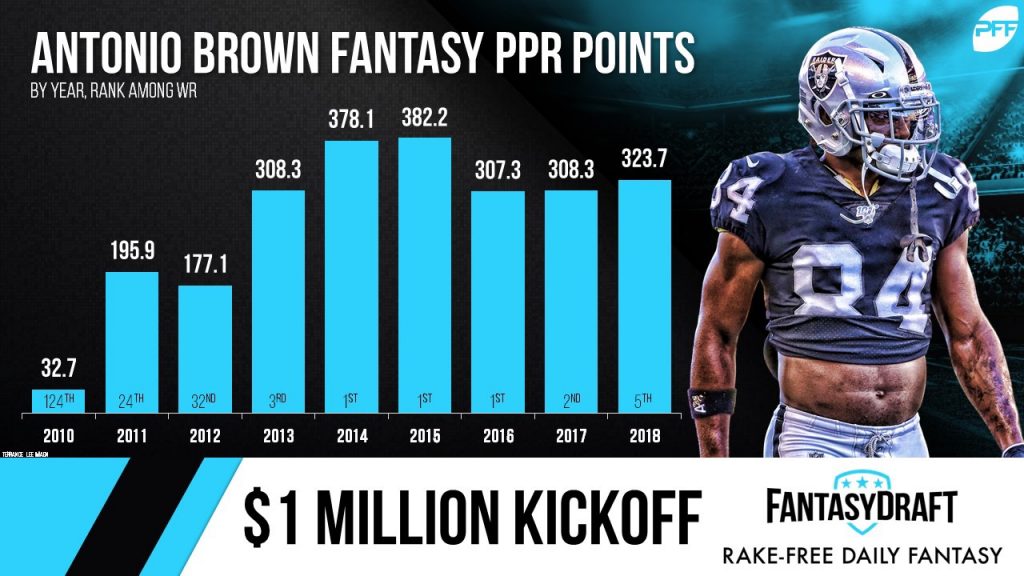 Fantasy Takeaways 
The never-ending saga continued not ending Saturday, with Antonio Brown finding a new home for the 2019 season with the New England Patriots. Fantasy football managers won't have the star receiver for Week 1 but should be excited their early-round pick will be around at all after everything that has happened the last few weeks.
Brown now joins a receiving corps that looked to be one of the weakest in the league in the summer. However, with the reinstatement of Josh Gordon, return to health of Demaryius Thomas, apparent surprise development of Jakobi Meyers and now Brown, the Patriots could not only have one of the best groups of receivers in the league, but the best they've had in their extended run as one of the league's top teams.
To reiterate, nothing changes for Week 1. Brown won't be able to play until Week 2, so the players' Week 1 ranks (Edelman was WR11 in our staff consensus rankings, Gordon WR37, and Tom Brady was QB14) hold solid. But the season-long expectations have to shift across the board. One of the things buoying Edelman's season-long rank entering the season was his role as the one known quantity in the offense, carrying him up to a high-end WR2 in the full-season rankings, but he's now just one of several big names, and arguably only the third-best receiver of the group when all is clicking. Edelman's full-season value now takes a hit, down to a high-end WR3.
Gordon doesn't see a huge shift in value, if only because so much of his future was tied up in speculation. It remains true that Gordon's upside is that of a legitimate WR1, but his floor is still a guy who barely plays given all the twist and turns of Gordon's football history. He's still fair to rank somewhere around WR30, with the specific spot mostly guesswork.
Brown hasn't finished worse than fifth in PPR scoring among receivers since 2012, including four straight No. 1 finishes in 2014-2017. Considering the mouths to feed in New England and the more run-heavy nature of that offense, his ceiling is lower than that now, and that's before considering that 2018 was in many ways Brown's worst year since becoming a superstar, buoyed by a career-best 9.1% touchdown percentage; his 79.3 overall grade was a career-worst, and his 90.4 passer rating when targeted was his lowest since 2011. From Week 2 on, he's a low-end WR1 or high-end WR2 — still great, but not the uber-elite option he was.
Brown's arrival also likely undercuts some of the upside for the Patriots running backs, particularly James White, who can't possibly be expected to do as much receiving work as he did last year. Sony Michel, though, also takes a hit, as a team doesn't have an Edelman/Gordon/Brown triumvirate and then go out and offer a run-heavy offense. Michel falls to a flex option at running back, with White a little lower, and much lower outside of PPR leagues.
The biggest winner here? Brady, clearly. He was still an excellent quarterback in 2018 for the real game, putting up his fifth straight season with a grade of 90-plus, but his fantasy upside was much lower, with Brady's pass attempts per game at its lowest point since 2013 at the same time the rest of the league was passing more often. In most leagues, he was drafted as a mid-to-low QB2, if he was selected at all. Now, with Gordon and Brown around and the promise of more passing? Brady is going to flirt with QB1 status, and his ceiling is right up there with anyone's. People who drafted Brady should be drooling now.
Final Thoughts
AB in New England isn't fair. If he plays all 15 games with Brady under center and Belichick pulling the strings, it's hard to imagine a situation where he doesn't help the Pats to yet another Super Bowl.