The 2019 NFL Draft has come and gone, and while #DraftTwitter goes through postpartum, there's a team that we cannot help but gravitate towards in the Indianapolis Colts. Currently going as +150 to win the AFC South and +1800 to win the Super Bowl, Frank Reich's squad has done seemingly everything right since they bowed out of last year's playoffs with a loss in the Kansas City snow. From avoiding any big, crippling signings during the early days of free agency, to acquiring useful veterans in Devin Funchess and Justin Houston, to completing their total and utter haul from the Jets trade this weekend with the selection of Temple corner Rock Ya-Sin, we're bullish on the Colts as a dark horse to become the next New England Patriots over the next decade. Below we outline some of the reasons.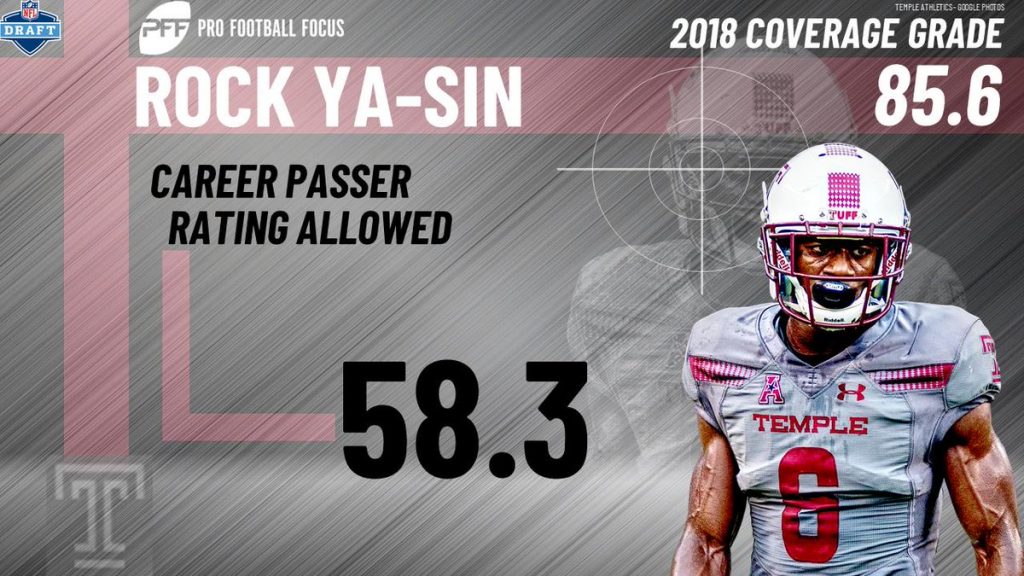 The Head Coach and Defensive Coordinator
He wasn't their first choice, but  Reich was terrific in Year 1, elevating a team that, at 1-5 and full of injuries following a Thursday Night Football loss in New England and an embarrassing loss to the Jets in New York, rattled off wins in 10 of 11 games, including two against Houston against their division foe, the Texans. From Week 7 on, only Kansas City and New Orleans generated more expected points added offensively than the Colts.
Our coaching metric, which takes into consideration a team's expected success on each play versus the success the team actually had, viewed Reich favorably in his first season in Indy, which is pretty impressive given that they were breaking Andrew Luck back into the fold after a year away, and he joined the Colts later than most head coaches get to join their team due to Josh McDaniels' indecision. He was ahead of the curve when it came to some fourth-down decisions, electing to go for it in an overtime game against Houston instead of punting – a decision that, while correct, ultimately resulted in one of their losses on their way to the 1-5 start. Another year in Indy and with Luck should only increase Reich's stature as a rising coach in this league.
On defense, Matt Eberflus did quite a bit without a lot of talent, as the Colts defense finished the year with the ninth-best EPA allowed. This is impressive enough, but considering they were 20th in success rate allowed (as defined by allowing > 0 expected points added on a play), it was clear that Eberflus squeezed substantial value from the tube by scheming turnovers (at least one in each game, including playoffs) and avoiding allowing big plays. Knowing that some of the aforementioned dynamics (namely turnovers) are unstable year-to-year and game-to-game, the Colts did not rest on their defensive improvement in the 2019 offseason. Now armored with new playmakers in Houston and second-round pick Rock Ya-Sin, and another year in the system for Darius Leonard, Jabaal Sheard and Peirre Desir, and this is a defense that, while not going to remind anyone of the 2002 Buccaneers, is good enough with which to win a championship. 
The Front Office
We already talked above about Chris Ballard's unwillingness to mortgage the future on high-priced players at non-quarterback positions. This approach has given him maximum freedom to go after value players like Houston and Funchess when they become available, enhancing the roster at the margins, which is the key to improvement once the franchise quarterback has been acquired. Ballard's also extracted value from other teams in the form of trades. Trading the third overall pick to the Jets last year, a pick that had far higher utility to a quarterback-less Jets than the well-endowed Colts, was a demonstration that the former Chiefs executive knew that the actual value curve (at the time) did not slope downward as steeply as the traditional chart would imply.
In the 2019 draft, he made similar moves, namely trading the 26nd overall pick to Washington in exchange for the 46th pick (which they would later trade to Cleveland for picks 49 and 144) and a 2020 second-round pick, moves that, by our estimates, netted them a fifth of a win over the course of the contracts for these players (and generated them more WAR than their partners roughly 55 percent of the time).
While teams like Kansas City and Chicago are going all in on winning the Super Bowl over the next couple of years, a year after the Rams did the same thing, the Colts appear to have a process in place to win over the long term. Unlike the Browns before them, this process is likely to be trusted in large part because the quarterback (see below) is in place to buoy the team whenever other things are weak.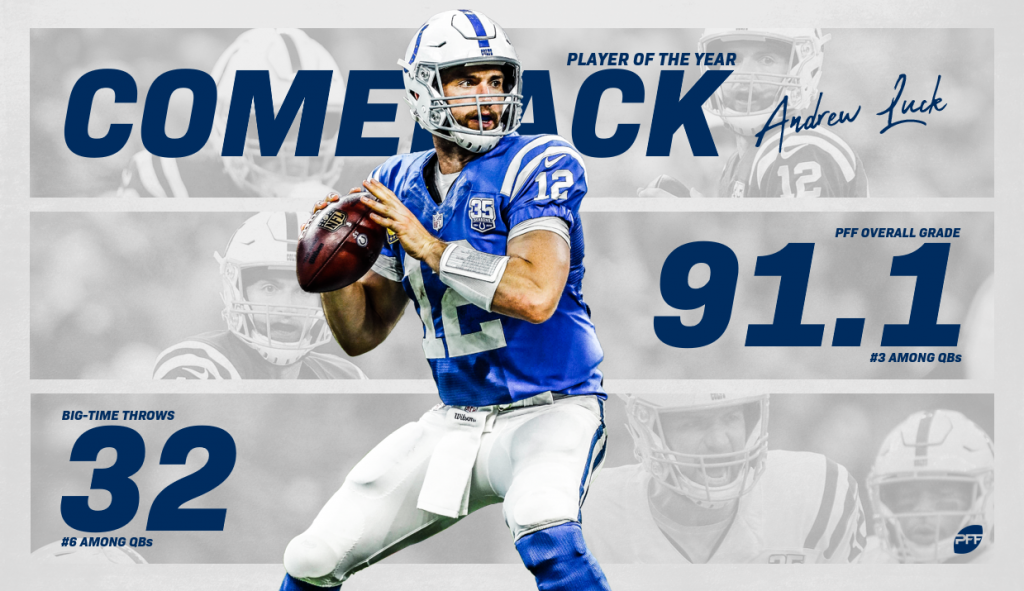 Andrew Luck
After a rough 2015 season and a shoulder injury that kept him from playing at all in 2017, there were significant questions as to whether Andrew Luck would be able to assume the role of franchise quarterback in Indy for the coming years. After a slow start (14th in passing grades through the season's first six weeks), Luck emerged down the second half, earning the third-highest passing grade among quarterbacks, trailing only Patrick Mahomes and Drew Brees during that stretch. He finished third in our wins above replacement (WAR) metric behind Mahomes and Brees, as well, and completed almost 70 percent of his passes, averaged over eight yards per pass attempt while throwing the ball in an average of just 2.46 seconds (the ninth-fastest in the league) after their 1-5 start. After needing backup Jacoby Brissett to throw a hail mary for him during a September game in Philadelphia, he was third in the league in deep passing yards (738) from Weeks 7-17, utilizing star wide receiver T.Y. Hilton and emerging tight end Eric Ebron to perfection in the process.
Luck's health and form are the biggest keys to success for Indianapolis, and while they pay a lot of money for him relative to other players, we've been able to show that for players of his caliber it's worth it. No quarterback contributed a higher percentage of his team's WAR than Luck's 35.2%. Moving forward, an offensive line anchored by left tackle Anthony Castonzo and 2018 first-round pick guard Quenton Nelson, the pressure rates that plagued Luck should be low enough for a future injury, while unpredictable by nature, to be less likely than it was earlier in Luck's career. Furthermore, with the addition of players like Parris Campbell (second in all of college football a season ago in yards after the catch), Luck should be able to get the ball out of his hands even more quickly when the situation calls for it, avoiding the body blows that were characteristic of his early career and contributed to injuries that forced him to miss team in each of the 2015, 2016 and 2017 seasons. 
Conclusion
While there are other teams more likely to make the Super Bowl in 2019 out of the AFC than the Indianapolis Colts (Kansas City and New England, for example), it's hard to argue that there is a team in a better position to compete for the next five years than Indianapolis. Ballard's process-driven handling of free agency (resulting in roughly $60 million in cap space this season and almost $100 next) and the draft (having accumulated additional 2020 picks this past weekend) have the Colts ready to make any move they find necessary in the future. Reich and his staff improved rapidly as the season progressed, and Andrew Luck looks poised to cement his status as a top-five quarterback after a rehab-free offseason in the system.
While the Colts have a modest road to the 2019 Super Bowl, with the 13th-toughest schedule according to our PFFELO power rankings, they are being respected in the marketplace with a Vegas total of 9.5 wins and +1800 odds to win the Super Bowl. These numbers, unlike a season ago, are hard to recommend betting at their current prices. Their division prop (+150) is a better bet, if a modest one, as our model has them with roughly a 42 percent chance to win the AFC South for the first time since 2014. 
This is about more than the 2019 season, though. This is about who will emerge as a powerhouse in the AFC when (if, maybe) the Patriots dynasty (eventually, maybe) ends. While there are certainly other candidates that will emerge during the 2019 season (like the Chiefs did in 2018), my money's currently on the Colts.