Washington (+7.5) didn't work out yesterday due to a missed extra point and two missed second-half calls in the secondary going against the Fighting Colt McCoys. Laying off of Atlanta (+13.5) turned out to be a good model choice, so it wasn't as complete a disaster of a day as it could have been. Alas, we're on to the weekend, and we think there are some live dogs within the slate. We picked three of them.
Our models rely heavily on our PFFELO rating system for the NFL, along with game information like where the game is played, how far a team has to travel, etc. We also fold in opponent-adjusted PFF grades into our machine learning algorithm to factor in roster changes and possible asymmetric mismatches that can occur through the course of a game.
The Minnesota Vikings (+3) lost in Chicago, and so we are now 19-13-1 on our "Lock of the Week" picks since the start of 2017 (59.4%) with four win totals pending. This week's pick will be available on PFF Greenline (which is free this weekend – click the link below) under the "Pick of the Week" tag. 
The analyses here will involve a point-counterpoint between the two of us, using perspectives that only the PFF grades and data can provide. Follow us on Twitter at @PFF_Eric and @PFF_George, and for some podcast commentary on some of these picks, and the process that goes into them, give the PFF Forecast a listen.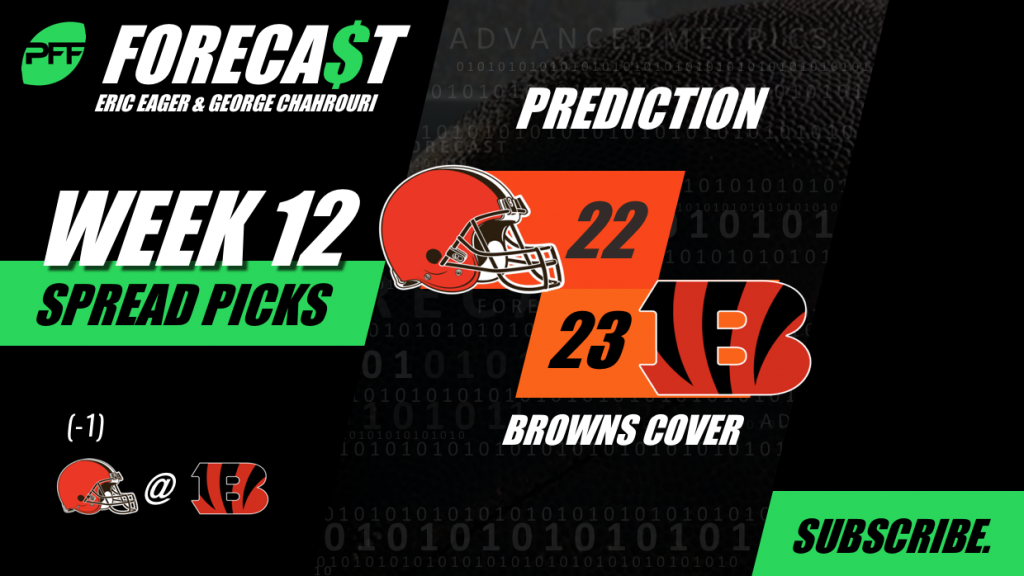 Prediction: Bengals 23-22 (Browns cover)
Point (Eric Eager): It's time. For the first time in the Baker Mayfield era, we are picking them against the spread, in this case, against our hometown Bengals. While A.J. Green returning does bolster the Bengals passing attack, the Browns defense (with fourth-overall pick Denzel Ward) has been very good this season, allowing the fifth-fewest EPA per early-down passing play. The Bengals, on the other hand, have had their difficulties defensively all around, allowing positive EPA on both early-down runs and passes. With new offensive coordinator Freddie Kitchens getting the bye week to fortify the offense around his budding star signal-caller, look for a plus performance for the Browns here in the battle of Ohio (the only battle where the loser actually wins). 
Counterpoint (George Chahrouri):
My esteemed colleague is right to mention the stellar play of Denzel Ward, who leads all cornerbacks with a 23.8 passer rating allowed when in press coverage (which he is in about 40% of the time). But this is the year of our Lord. 2018, where offense reigns supreme and A.J. Green just so happens to have the third-highest PFF grade when pressed at the line and has five touchdowns in those situations (second-most). Despite the love for the Browns offense, the Bengals are the higher ranked offense based on expected points added per play so far this season. This game is not in primetime which means the beige water pistol has a chance.
Prediction: Minnesota 25-24 (Packers cover)
Point (GC): Aaron Rodgers is a better quarterback than Kirk Cousins, and Aaron Rodgers is getting more than three points. Aaron Rodgers has to win this game. I don't think I need to say anything more, so I'll just let Kirk do the talking during his pre-game pump up speech. 
That's our quarterback.#Skol pic.twitter.com/chQHgBfhAj

— Minnesota Vikings (@Vikings) October 7, 2018
Again, I will reiterate that this game is on Sunday Night Football because of the Vikings and not the quarterback who hates his entire family.
Counterpoint (EE): Last week, for the first time ever, we picked against Minnesota, and they could never get going in a disappointing five-point loss to the Bears in which Curt Cousins threw two interceptions and Dalvin Cook fumbled away a promising first-quarter drive. Thus, fading them is the natural play. However, there are still some fundamentals that the Vikings can fall back on that have been strengths. For example, Adam Thielen is producing more than 2.3 yards every time he runs a pass pattern, while each time Cousins throws to Stefon Diggs he's generating a 107.7 passer rating. In their last marquee home game, they were difficult for the Saints to cover and likely could have been the ingredients to a win if two costly mistakes (a fumble, and an interception) had not occurred. While it appears to pain Mike Zimmer every single time he sees Kurk's pre-game speeches, trademarked phrases, food choices and overall demeanor, he's one of the best defensive playcallers in all of football, besting the acumen of the man across the field from him in Mike "steaks" McCarthy.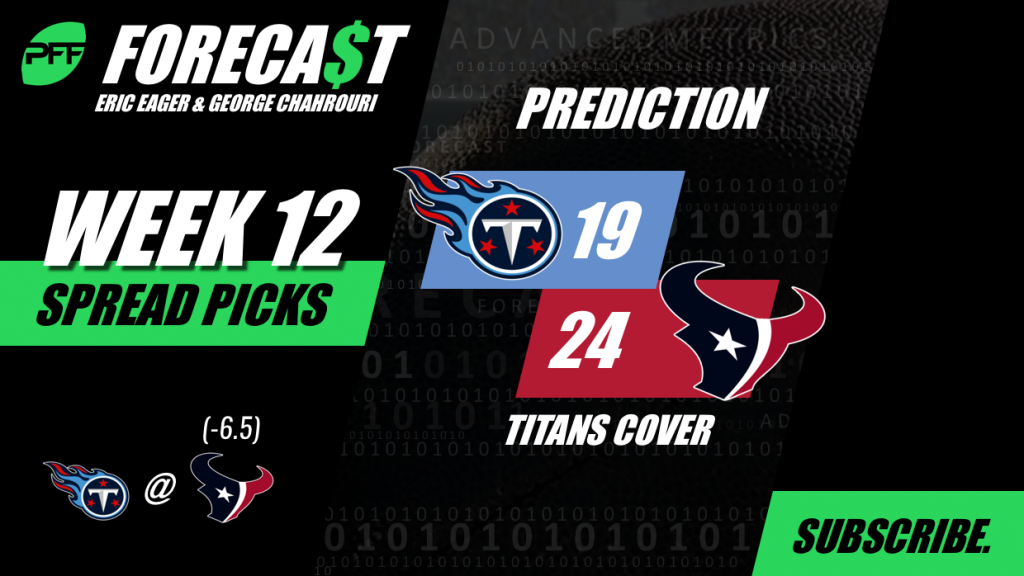 Prediction: Houston 24-19 (Titans cover)
Point (EE): Another week, another game fading Houston. The five-minute handicap is that no team that managed to lose to the Blaine Train (as Houston did in week 2) should be favored by anywhere near a touchdown in any game. However, Houston has had all of the fortune the last two months, winning consecutive overtime affairs after an 0-3 start, getting Nathan Peterman'd a week later, before winning two-consecutive two-point games where the other team had a legitimate field goal opportunity in the fourth quarter to beat them (great job, Vance). Deshaun Watson has had an encouraging second year, and DeAndre Hopkins may very well be the best non-quarterback in the NFL, but Tennessee's defense has had its moments through the season's first 11 weeks, and should be able to take advantage of Watson, who has been given a negative grade on 15% of his dropbacks and has thrown a turnover-worthy pass on 4% of attempts. 
Counterpoint (GC): If there was ever a quarterback that could fulfill Jason Witten's call to pull a rabbit out of his head, it is David Blaine Gabbert. In reality, the realm where passing is more important than defense and running, the expectation is that Marcus Marioto will play, which should be worrisome given his 26th-ranked passer rating form a clean pocket. Meanwhile, Deshaun Watson hasn't repeated his league-leading big-time throw rate from last year, but he ranks ninth in passer rating from a clean pocket at 113.9 and has DeAndre Hopkins, who is the most valuable non-quarterback (along with Adam Thielen) so far this season. The two best players in this game play for H-town, which should add a little concern for anyone hoping to see some magic from the Titans on Monday Night.