PFF previews the 14 NFL games in Week 9, highlighting storylines to watch while also taking a fantasy football and betting approach to offer insight for every NFL fan.
Headline of the game: Do the 49ers have enough firepower on offense with the latest injuries to Jimmy Garoppolo and George Kittle?
The 49ers' quarterback carousel turns yet again. It has already gone from Garoppolo to Nick Mullens to C.J. Beathard back to Garoppolo this season and now looks to be back to Mullens indefinitely with Garoppolo out with an ankle injury. A change at starting quarterback may not hurt San Francisco as much as it does your average NFL team because of their quick, short passing game and Kyle Shanahan at the reins. Just last week, we saw Mullens average 9.5 yards per pass attempt with a passer rating of 128.4 in relief of Garoppolo against the Seahawks.
He may be without San Francisco's top two after-the-catch weapons, however. Mullens will definitely be without Kittle, who is set to miss significant time, and Deebo Samuel seems unlikely to play with the hamstring injury that held him out last week. Samuel and Kittle rank first and fifth, respectively, among all wide receivers and tight ends with 50 or more receptions in yards after the catch per reception since the beginning of 2019. Those are two big safety blankets to be without, particularly with Aaron Rodgers on the other sideline.
Betting
The preseason line has completely flipped for two teams heading in opposite directions. Green Bay was at a pick 'em to start the week, but the spread quickly pushed out to 5.5 after the rash of 49ers injuries was fully understood by the market. 
It is tough to back Mullens, who has filled in admirably in the Kyle Shanahan offense, but he still has more turnover worthy plays than big-time throws. His 6.89 average depth of target (aDot) works when his receivers can add significant yards after the catch, but the Packers have allowed the ninth-fewest yards after the catch per reception in the NFL. 
Both offenses rank in the top 10 of our opponent-adjusted offensive grades, with the total holding steady despite the injury situation on both sides. Our predictive model (PFF Greenline) has a slight lean on the moneyline but needs more movement on the spread and total to offer any value.
Fantasy
Tevin Coleman's comeback didn't last long. The 49ers' back left the team's Week 8 contest after re-aggravating his knee injury and we can't anticipate him coming back anytime soon. That means the 49ers' backfield is back down to a two-man committee between JaMycal Hasty and Jerick McKinnon.
McKinnon finished the game with a higher snap share (49%) but was out-touched 13 to eight by Hasty. We only saw McKinnon play toward the end of the game with the team chasing points, as he had just one carry in the first half.
Hasty looks to maintain his role as the lead back on early downs and that is exactly what makes him enticing this week ahead of a matchup versus the Green Bay Packers' run defense.
The Packers have allowed the most fantasy points per game to RBs through seven weeks and this 49ers offense has flexed all over Green Bay in previous faceoffs. It seems like just yesterday when we saw Raheem Mostert post 220 rushing yards against the Packers in the NFC Championship Game.
Fire up Hasty with confidence this week.
Expect McKinnon to see limited touches on early downs and to continue to be used in the passing game as the team looks to limit the abuse he takes on his body.
But with no George Kittle, the 49ers might not have any choice but to feature McKinnon more due to the lack of playmakers on offense. When Kittle missed time earlier in the year, McKinnon averaged 12.5 touches and 15.2 fantasy points.
The Packers this season rank dead last in passer rating allowed (129.9) and yards per target (8.8) to the running back position.
The Packers running situation is one to avoid this week unless you're desperate. Aaron Jones has missed the last two games with injuries, and on a short week, he isn't expected back. A.J. Dillon will miss this game due to Covid, while Jamaal Williams was considered a close contact and will also miss the game. This will leave Dexter Williams as the likely primary rusher. He was a backup for the Packers last year, which led to five carries. Tyler Ervin has been used more as a slot receiver this year but could very well be their third-down back. They could also use Ervin on early downs.
The 49ers are also the best team at preventing fantasy points to running backs. The combination of the uncertainty, short week and defense all adds up to a situation to avoid unless you don't have other backs who are healthy. Outside of that, Aaron Rodgers and Davante Adams will have more trouble than usual, but that shouldn't stop you from starting them.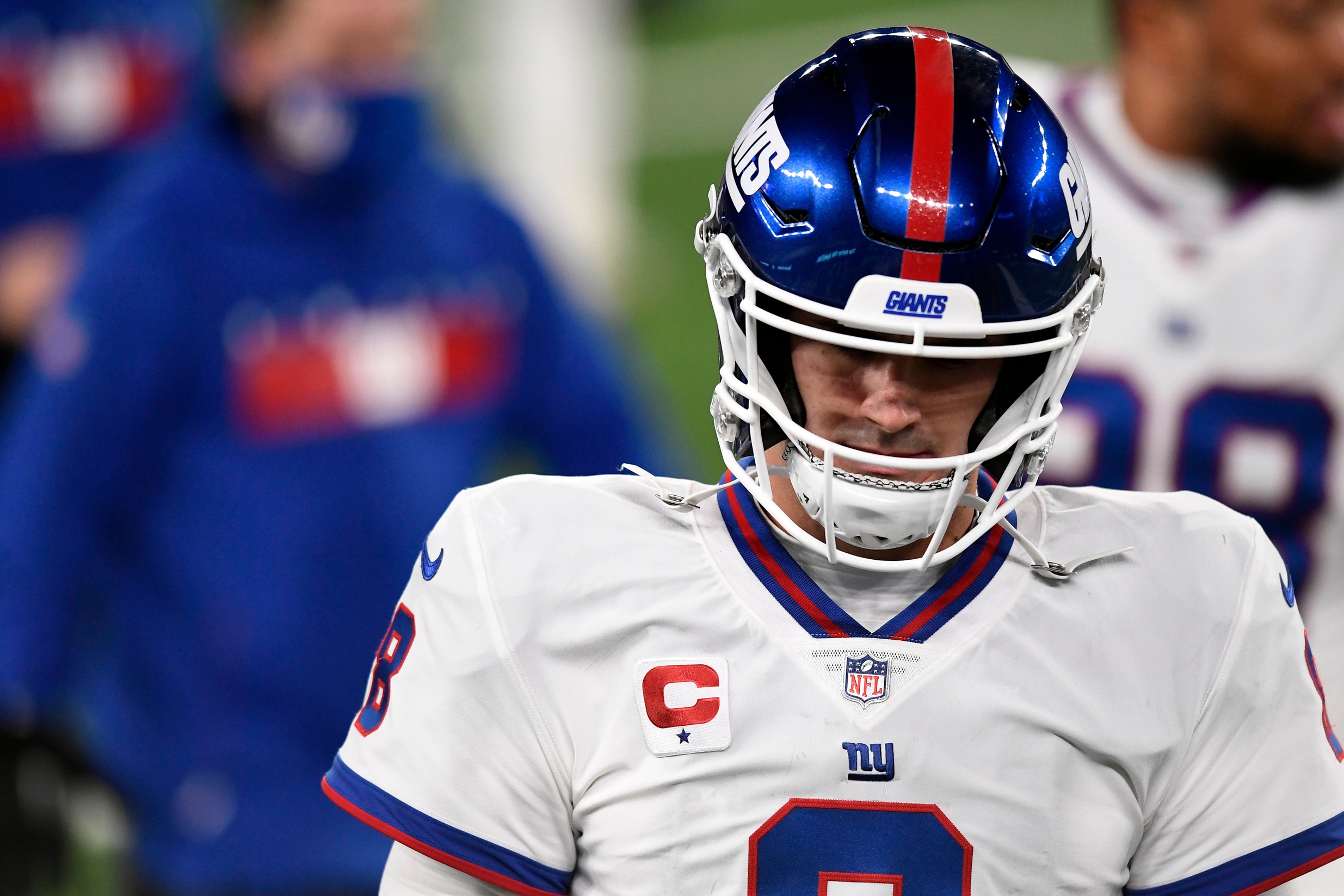 Headline of the game: Washington's defense will look to force Daniel Jones into several big mistakes
Washington's defense has been overshadowed by an inept offense, but they rank 11th in the NFL in expected points added (EPA) allowed per play this season. The defensive line gets a lot of the credit, given all the draft capital they've invested up front, and for good reason. Washington ranks eighth in the NFL in team pass-rushing grade through eight weeks, but more importantly, they rank seventh in team coverage grade. Additions to the secondary like Kendall Fuller and Ronald Darby have paid off early.
While Jones continues to show flashes at quarterback for New York, he still can't get out of his way when it comes to turnovers. His 42 turnover-worthy plays since the start of last season are tied for second-most in the NFL after adding three more to the total on Monday Night Football this past week. Washington will look to keep building on that number by making Jones uncomfortable in the pocket in this matchup.
Betting
The Giants head into a short week, with the betting market buying into their Monday night performance. The preseason line of +2.5 didn't accurately reflect how well the Football Team has played to start 2020, with the flip to -3.5 an overcorrection to the other side — the -3 is an efficient line between two of the six worst teams in the NFL by our Elo rankings. 
Both offensive units have been a disaster, as none have posted a positive EPA per attempt on either pass or rush attempts. They sit in the bottom fourth of our opponent-adjusted defensive rankings, with the market making this the lowest total game of Week 9. The 41.5 should hold for the total, but if it doesn't, a play on the over could definitely be the correct approach — for as bad as the offensive units have been, the defenses haven't been much better.
Fantasy
It's the return of tight end Logan Thomas. The Football Team's tight end has enjoyed a renaissance of sorts with Kyle Allen under center in his past two games. His yards per route run has increased dramatically from 0.58 to 1.85 in his past two games.
He is second on the team in targets (11) only behind Terry McLaurin and enjoys a favorable matchup against the New York Giants in Week 9. Not only did Thomas score 13.2 fantasy points the last time these teams met, but the Giants have also allowed the second-most yards to TEs over the past two weeks.
He is the perfect replacement for any George Kittle managers out there.
Washington is also favored by three in this game — Antonio Gibson should smash in a projected positive game script similar to what we saw him do against the Dallas Cowboys.
The Giants' running back situation has been one to avoid all season. New York has had a running back top 45 yards just twice. Each time it was Devonta Freeman gaining 60 and 61 yards, but it took him 17 and 18 carries to get there. One of those games was against the Football Team a few weeks ago, but Freeman has been hurt and might not play. Washington has been great at stopping running backs. Kareem Hunt, Ezekiel Elliott and Darrell Henderson were all held to under 50 yards rushing despite each back having 12 or more carries.
The Giants' passing game was even worse than its run game when these teams faced off in Week 6. The Giants had a total of 112 passing yards on 19 passes. No one had more than 41 yards, and no one had more than three catches. Someone will likely top 41 yards this time around, but probably not by a lot. It could be one of a few different players who get there. Washington's struggles this year have been on offense and not defense, so for the most part the Giants offensive players should just be avoided if possible.
Headline of the game: Can either of these teams show that they're real postseason contenders?
Two weeks ago, the Bears were 5-1 and the Titans were 5-0. After two consecutive losses, both teams head into Week 9 looking to show that they still can compete in the NFC and AFC, respectively.
Chicago's biggest issue remains at quarterback. Nick Foles earned his highest PFF grade of the season last week against the Saints, but the fact that 70.3 was his highest grade of the season highlights the problem rather than serving as a source for optimism. The Titans, meanwhile, have run an effective offense for much of the season while struggling to stop much of anyone on defense.
Only four teams have allowed more EPA per play this season than Tennessee. In that sense, this is an intriguing Week 9 matchup featuring strength on strength and weakness on weakness.
Betting
The preseason line of -2 was not close to reality, but the opening-week number of -7 caught a quick bounce back toward Chicago. The early-week cash and ticket percentages indicate a heavy lean from bigger bettors on the Bears, but the public seems to be siding with the Titans. Our predictive models side with the market direction, as we find value on the Bears at the current number. 
The total has been stuck to 46.5 since the open, with the cash and ticket percentages having a slight skew toward the over. Both defenses rank in the top half of the league in our opponent-adjusted defensive grades. The Titans have the second-best offense in the NFL, but the Bears have the third-worst, according to our opponent-adjusted offensive grades. There is some value to be found on all three game markets in this matchup, which provides an unmatched opportunity for Week 9.
Fantasy
The Chicago Bears rank dead last in explosive run percentage allowed (17.9%) and rushing plays allowed of 15 yards or more. Insert Derrick Henry, who ranks third in rushes of 10-plus yards and second in rushes of yards 15-plus yards.
Jonnu Smith has been a non-factor the past two weeks, but I liken him to bounce back in Week 9. The Bears have allowed the seventh-most fantasy points to tight ends over the past four weeks, and he scored 21 fantasy points the last time he played without Adam Humphries.
Smith's routes run over the past two weeks have only decreased slightly (18 vs. 22), so the usage should still be there for him to turn his targets into YAC. The Bears have allowed the second-most yards after the catch this season to TEs.
The Titans have given up a lot of yards to wide receivers in recent games. Seven different wide receivers have hit 65 yards against them over the last three weeks. Five different wide receivers have a touchdown against them. First, this is great news for Allen Robinson II, who has been a top-10 fantasy wide receiver this season but could move closer to top-five with a great performance.
Darnell Mooney could also have a breakout performance. The rookie has had at least five targets in each of the last five games. His five catches for 69 yards and a touchdown this past week against the Saints was his best game of the season. Against Tennessee, he should be able to do even better. David Montgomery is coming off one of his better games with 89 yards on 21 carries. He should remain in the RB2 range against the Titans' run defense.
Headline of the game: Kenny Golladay continues to show how important he is to this Lions offense
We've talked a lot in recent weeks about Golladay and his effect on the Lions' offense, and last week's performance against the Colts only amplified that. Golladay was coming off a remarkable performance against Atlanta in Week 7 where he earned a 90.3 PFF grade with six contested catches. He followed that up with a receptionless Week 8 performance where he left early with an injury, and that injury is expected to force him to miss this game against an exploitable group at cornerback for Minnesota.
Matthew Stafford earned just a 60.8 passing grade across Weeks 1, 2 and 8 without Golladay on the field for most of the action. He'll need to find an answer against Minnesota to bring Detroit to 4-4 and keep them in the NFC playoff conversation.
Betting
The betting market was impressed with the Vikings in Week 8, as they immediately crossed -3 on their way to -4 after an opening at -1. As of now, 66% of the cash has been on the Vikings but 83% of the tickets have been on the Lions, which highlights an early direction for both the public and big bettors in this matchup. 
Cousins has been the slightly better quarterback in 2020, with garbage-time production included in his performance. Stafford is missing his best offensive weapon, but the Lions have generated slightly more EPA per pass attempt. 
The total has dropped 2.5 points since the open, despite 94% of the cash on the over. The ticket percentage is basically even, which isn't the typical direction the total market leans toward. Both offenses rank in the top half of the NFL in our opponent-adjusted offensive grades, with the Vikings 10th in our defensive grades. Our predictive model does find value on both the spread and moneyline, as this market appears to have reacted too much to the most recent week of performance for both teams. The totals market still needs a further drop to open up any value.
Fantasy
Dalvin Cook has to be the lock-button play at running back in DFS this week. The Detroit Lions have allowed the most fantasy points to running backs this season, and it's not a case of these fantasy points coming from a few games earlier in the year.
It's been a steady slow stream of fantasy points allowed to RBs — they have allowed six different running backs to score 20 or more fantasy points.
Cook has also feasted in this spot before. Last season in two matchups against the Lions, Cook averaged 1.5 touchdowns, 23.5 touches and 112 offensive yards from scrimmage.
Irv Smith Jr. could also provide TE streamabiltiy — the Lions have allowed the fifth-most fantasy points to the tight end position over the past two weeks.
Also feel confident that Adam Thielen and Justin Jefferson will bounce back in this spot. Their prices have both dropped on DraftKings. With Cook garnering the most ownership on the main slate, they could provide great leverage.
The Lions have allowed the third-highest explosive passing play percentage (18.9%) and have faced the highest deep-ball rate (15.4%) this season.
The WR duo has combined for 14 catches on targets 20-plus yards downfield, which is by far the highest of any pair of wide receivers.
The Vikings have allowed plenty of yards and touchdowns in the pass game this season at 2011 yards and 17 touchdowns. The Vikings have also been dealing with injuries to the secondary. Unfortunately, Kenny Golladay is expected to miss this week. Even without Golladay, the matchup is good enough to consider Matthew Stafford.
Marvin Jones Jr. moves into the top wide receiver spot. His targets have increased in each of their last four games, and he's coming off of a two-touchdown performance. He's a good start this week. Marvin Hall became an every-down wide receiver in Golladay's absence. He had a great game coming off the bench with four catches for 114 yards. He's a sneaky-good play against the Vikings, assuming Golladay is out. T.J. Hockenson is up to TE4 on the season and is basically a must-start. This matchup should help him move further up the list.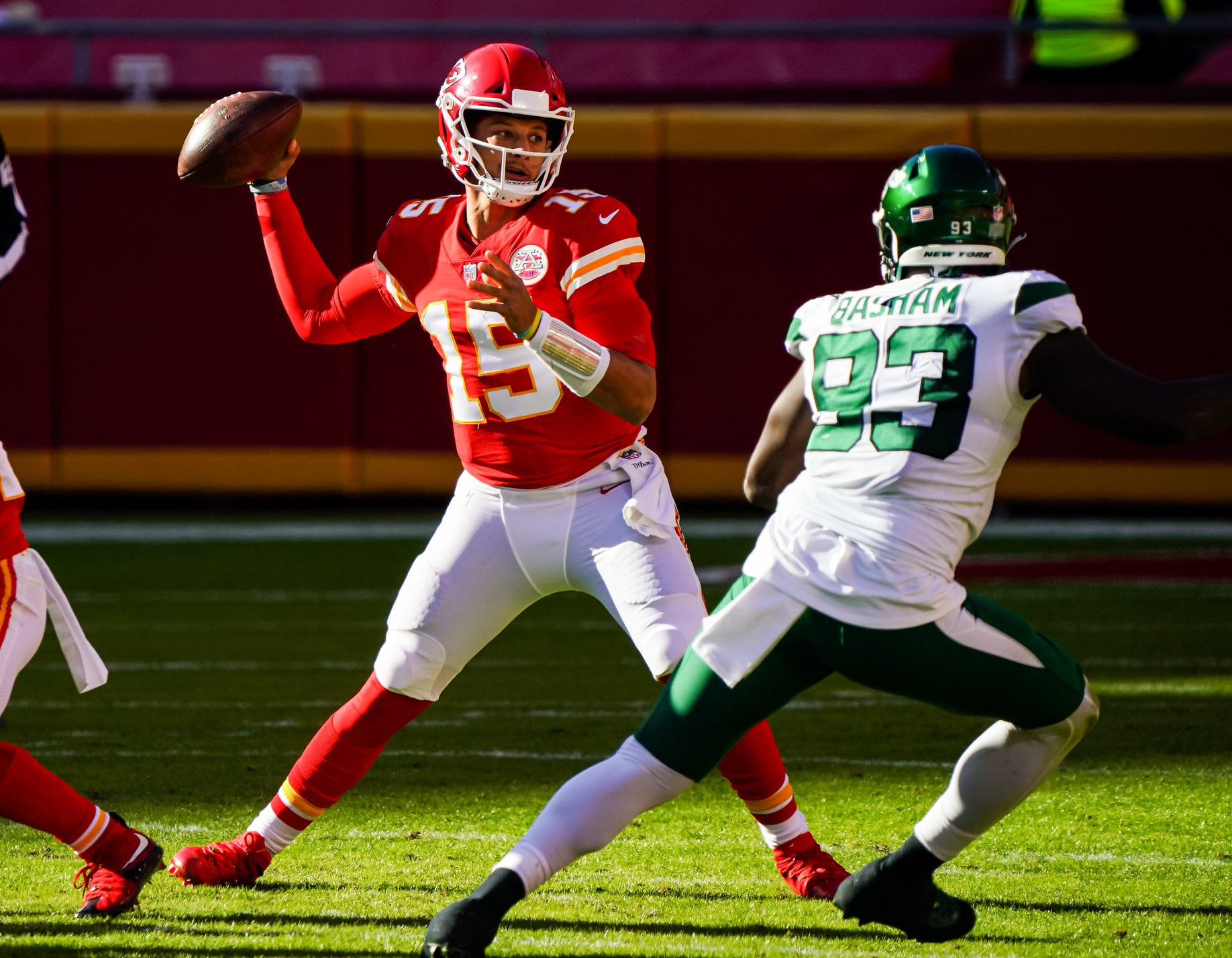 Headline of the game: The Panthers' zone coverage will face a big test against Patrick Mahomes
The Panthers have outperformed expectations defensively this season, particularly in coverage, where a first-year player like Rasul Douglas has bounced back nicely from a down year in 2019 with the Eagles. Carolina has allowed just nine receptions on passes thrown 20 or more yards downfield all year in their zone-heavy scheme, but Mahomes and the Chiefs are more than comfortable taking what they're given underneath.
Mahomes' average depth of target of 8.4 yards is in the bottom half of 32 qualifying NFL quarterbacks. Andy Reid's playcalling combined with weapons like Tyreek Hill and Travis Kelce make the Chiefs' offense extremely dangerous when it's operating on schedule and in rhythm. Even though you worry about the absurd plays Mahomes can make outside the pocket or late in the play, the Panthers need to force him into those situations. Otherwise, it may be a long afternoon.
Betting
The betting market continues to move in the direction of the Panthers, who have lost 5.5 points from the preseason number. The opening-week number of -11.5 quickly dropped down to -10.5, which isn't that significant given that only 1.2% of NFL games have landed on -11 in the past 10 seasons — -10 could be the battleground that Chiefs backers are waiting for. Our cash and ticket percentages both skew heavily toward the Chiefs, so it is possible we don't see any further line movement on the spread, which our predictive models currently find value on.
The total offered some early week intrigue, as the Forecast duo highlighted it as a play in their early week writeup. It has picked up 2.5 points since the open, and 1.5 points since the article. Our predictive model still leans toward the over but doesn't offer enough value given the line movement to make it a recommended play any longer.
Fantasy
The Carolina Panthers will be getting cornerback Rasul Douglas back, and he has routinely shadowed No. 1 wide receivers this season and helped Carolina allow the fifth-fewest fantasy points per game to wide receivers.
Last week was a Patrick Mahomes week, but because the Panthers' weakness is their run defense we should see much more productive outings from Clyde Edwards-Helaire and Le'Veon Bell.
The Panthers do their best to protect against the deep ball (fourth-lowest deep ball percentage against) which opens up space underneath. That's why no team has allowed more receptions to RBs this season than the Panthers.
The sheer amount of underneath receptions puts pressure on the Carolina defense to wrap up and make tackles. Up to this point during the season, they lead the NFL in missed tackles.
CEH ranks third in the NFL in total missed tackles forced.
Both Chiefs running backs should be in starting lineups even after a poor showing in a Week 8 blowout. The Panthers have allowed the second-most fantasy points per game to RBs this season.
The Panthers' bright spot on offense has been the wide receiver duo of D.J. Moore and Robby Anderson. Typically, one will have a good game and the other doesn't, but this week it's possible that neither plays well. The Chiefs haven't allowed a wide receiver to hit over 50 yards in the last three weeks. They have allowed the fourth-fewest yards to wide receivers at 1,029. If you have to start either one of them, know there is a higher chance they could bust than usual. This also means it's a good week to leave Teddy Bridgewater on the bench.
At running back for the Panthers, the big question is whether Christian McCaffrey is ready to play. If he is, there's a chance he and Mike Davis could split opportunities to ease McCaffrey back in. The Chiefs have given up plenty of rushing yards to running backs but only one 100-yard rusher and a touchdown every other game on average. If McCaffrey can't go, then Davis should be a relatively safe RB2 or flex play. If McCaffrey does play, then follow reports about how much the Panthers plan on playing him before making a decision on either back.
Headline of the game: Debut matchups don't get much easier than this for Jake Luton
A thumb injury will render Gardner Minshew inactive for Jacksonville this weekend, and that will give another sixth-round pick — Luton — his chance to go on an unexpected run of his own. As far as matchups go, things won't get much easier than this matchup against Houston. The Texans rank dead last in EPA allowed per play this season. Teams have been able to run all over them with a lack of difference-makers along the defensive line beyond J.J. Watt, and no team has allowed a higher passer rating than the Texans this season (124.8). The Jaguars have at least shown the ability to be intriguing offensively, and it will be worth monitoring how they come out on that side of the ball with Luton behind center in his first career start.
Betting
The trade deadline passed, with the Texans not turning into sellers as most expected. This immediately caused the line on this weekend's game to push out to a touchdown spread, with the news breaking that the Jaguars would be starting rookie signal-caller, Jake Luton. The cash percentage has been fairly split, but the tickets have been all on the road favorite in this matchup. 
Both defenses rank in the bottom fourth of our opponent-adjusted grades, which could create an appetite for points in the total market. The market movement has been in the opposite direction, sliding from 55 to open down to 50.5 on the backup quarterback news. There is an even split on the tickets in the totals market, but 77% of the cash has been on the under. There is little betting value opening up in this game, which makes for a situation to target props or avoidance entirely.
Fantasy
Jake Luton, Oregon State's finest, draws the nod at quarterback for the Jacksonville Jaguars in place of an injured Gardner Minshew. He has the arm talent to deliver the ball deep, but he relies on checking the ball down plenty.
He is at his best working from a clean pocket, as he completed 67.8% of his passes for 2,391 yards, 25 touchdowns and two picks en route to a 90.8 PFF passing grade when kept clean in 2019. When pressured, Luton completed just 35.8% of his passes for 323 yards, three touchdowns and one pick on his way to a 55.6 PFF passing grade.
What stands out about Luton is that he profiles as "risk-averse" per PFF's NFL Draft Guide. He doesn't turn the ball over too often, so that could damper the prospects for the Houston DST.
He avoids mistakes because he's got a bit of Alex Smith in him stylistically — just nine turnover worthy plays and zero fumbles last season.
Overall, the quarterback change is not good for D.J. Chark Jr., who thrives as a downfield. specialist and has been inconsistent all season. He has just one game with more than five catches.
The matchup also doesn't favor Chark, either; in this spot earlier this season, Chark had just three catches on four targets while being shadowed by Bradley Robey, who should be good for Sunday after leaving the Green Bay game with a lower-body injury.
Laviska Shenault Jr., on the other hand, had his best game against the Houston Texans, commanding eight targets for seven catches and 79 yards.
He's also averaging 4.9 yards per carry on his 11 carries this season, so that alone might make him my highest-ranked Jaguars wide receiver heading into this week. The Texans can't stop the run (second-most rushing yards allowed per game) and that has to be factored into the rookie's upside.
Shenaults' 5.8 aDOT (69th) among 70 qualifying receivers also fits perfectly with Luton's affinity to check down. Week 9 might be the breakout game for Shenault we all have been waiting for.
Most of the Texans' skill players had a good game the last time Houston and Jacksonville faced off. Brandin Cooks had his best game of the season with 161 receiving yards on eight catches including a touchdown. David Johnson also had his best game for rushing yards at 96, although he didn't score a touchdown. There is every reason to believe both can have big games against the Jaguars defense again.
A sneaky play could be tight end Jordan Akins. Akins has missed the last month due to a high-ankle sprain and a concussion but should return this week. He was a breakout option to start the season and looked good the first two weeks. He scored a touchdown Week 1, and in the second he had seven catches for 55 yards. This was all despite playing some great competition. The Jaguars have allowed the second-most touchdowns to tight ends at seven, and the seventh-most yards at 443. He could have a top-10 tight end day if he's ready to go.
Headline of the game: Limiting turnover opportunities is key for both quarterbacks
A lot gets made of Philip Rivers and his propensity to put the ball in the path of defenders on occasion. It's not without valid reason. Rivers' 42 turnover-worthy plays since the beginning of last season are tied with Daniel Jones for the most in the NFL. It's actually Lamar Jackson who has more turnover-worthy plays (12) than Rivers does (10) in 2020 alone, however. That was a major issue in the Ravens' most recent loss to the Steelers and a departure from what we saw from Jackson in 2019 where his turnover-worthy play rate of 1.8% was higher than only Russell Wilson. Both of these defenses have forced 12 offensive turnovers this season — a top-10 mark in the league — so taking care of the football will be key as both teams look to move to 6-2.
Betting
This game could have a significant impact on the AFC wildcard seeding, with both teams needing to win to keep pace in their divisional races. The market direction has been toward the home dog after their impressive performance in Week 8. The preseason line of +5 was within range of the opening weekly number of +3 before dropping down to 2.5. 
Everyone is pointing to Lamar Jackson's struggles, but his PFF passing grade is only two points shy of Philip Rivers. The Ravens offense is five spots ahead of the Colts in our opponent-adjusted rankings. The defensive units are also back-to-back, which makes the less-than-field-goal spread appealing.
Fantasy
It's been a tough rookie season thus far for Jonathan Taylor. The highly touted running back looked primed to take the league by storm after Marlon Mack went down but has been anything but advertised after several years of dominance at Wisconsin. He's the RB21 overall and the RB25 in points per game (13.1).
His PFF rushing grade (64.7) ranks 36th and he ranks 48th out of 50 qualifying backs in missed tackles forced per attempt (0.07). His saving grace might be that his fantasy output is meeting his expected fantasy points exactly, but the lack of above-and-beyond explosive runs has left much to be desired for fantasy managers.
Meanwhile, backup running back Jordan Wilkins has been balling out — his PFF rushing grade ranks 15th (75.3) and he ranks No. 1 in the league in missed tackles forced per attempt (0.33).
It will be hard to trust either player if Taylor is active against a stacked Baltimore run defense, but if it is just strictly Wilkins, he should provide fantasy value based on sheer volume.
Nyheim Hines could also provide FLEX play value because Philip Rivers targets him when he is on the field.
His target rate on routes run (29.5%) is the fourth-highest among all running backs and the Colts may need to continue to lean on him with T.Y. Hilton expected to miss time.
It's going to be tough for the Colts' wide receivers to get open against a strong Baltimore secondary, so expect Rivers to pepper his favorite pass-catching back.
Mark Andrews has largely been a disappointment this year. He's been held to less than 35 yards in four of seven games this season and didn't have a touchdown in any of those four. He has yet to have more than 65 yards in a game. This Colts defense is not the right one to turn things around against. The Colts have yet to allow a tight end to have more than 65 yards and have allowed more than 35 twice. No tight end has scored a touchdown against their defense yet. It would not be out of the question to bench Andrews this week if there is another decent option on your roster.
One of the most interesting parts of the week to look at are what the Ravens do at running back. They were without Mark Ingram II last week and facing one of the best run defenses in the league. It resulted in J.K. Dobbins and Gus Edwards having their best games of the season and the two highest rushing yardage totals against Pittsburgh this season. The Colts have also been great at stopping the run. They allowed eight total yards to running backs last week, and no one has hit the 75 rushing yard mark against them. If Ingram is back, it would be hard to trust starting any of them. If it's just the two of them again, Dobbins is probably the person to start.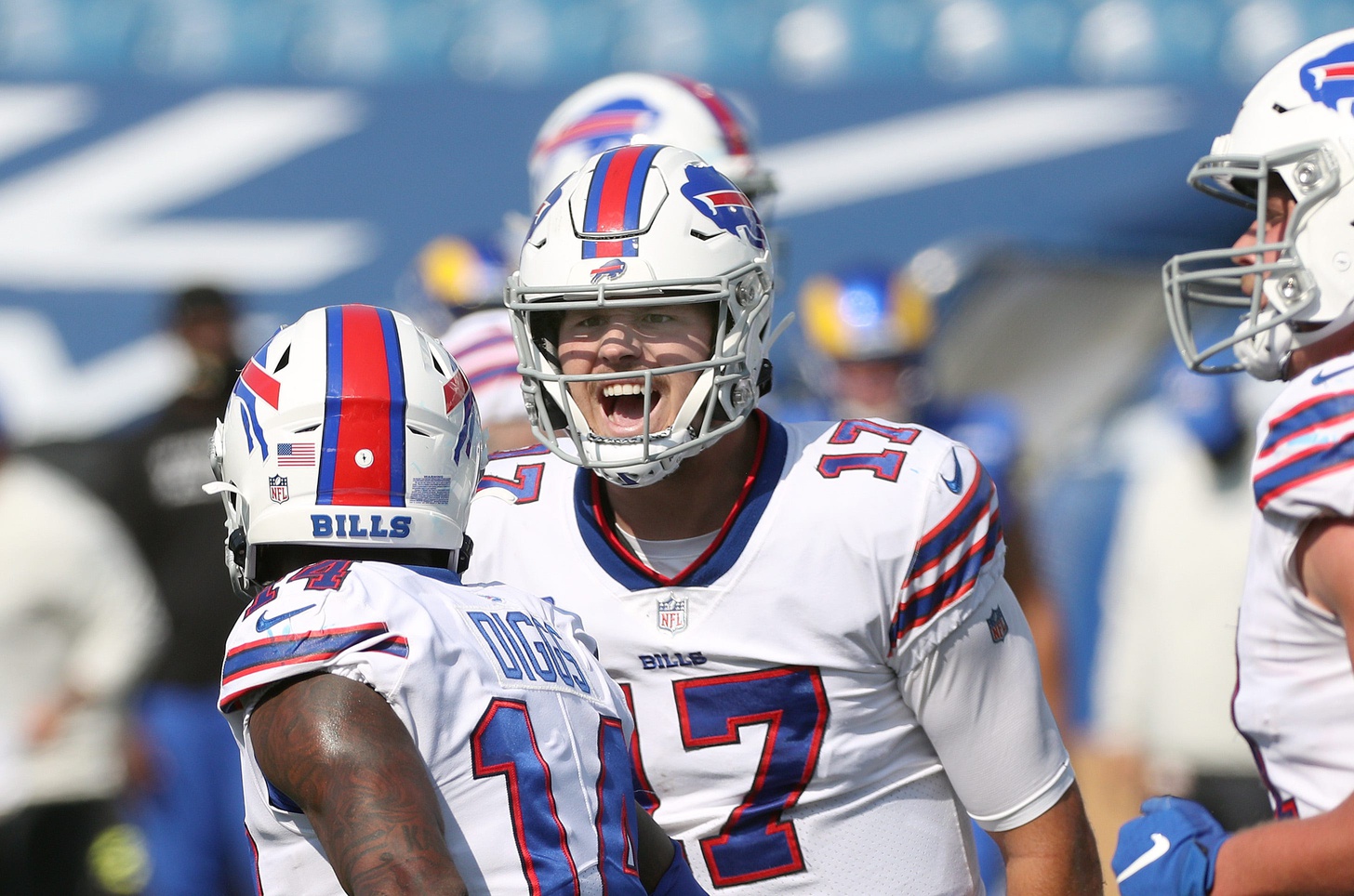 Headline of the game: Was Josh Allen's early-season play a mirage?
Josh Allen earned four consecutive PFF grades of 75.0 or higher from Week 2 through Week 5, but that number has been in the 60.0s each of the past three weeks with the Bills' offense stumbling through matchups against Kansas City, New York and New England. This is an opportunity for Allen — in a big game against a very good Russell Wilson-led Seahawks' team — to show that he can get back to the level of play we saw earlier in the season when he was cutting down on the bad mistakes from years past and improving his downfield accuracy.
For as dangerous as Seattle has been, its defense can be beaten. The unit's 7.2 yards allowed per pass play mark in 2020 ranks 27th among NFL defenses this season, but the Seahawks should be getting reinforcements in the form of Jamal Adams for the first time since Week 3. Even with Adams, it's a group that Allen needs to be able to move the ball on to keep pace with Wilson and company on the other side.
Betting
The opening week line of +1 quickly bounced to +3 before settling into +3 or +2.5, with the juice flipped. Wilson has the highest PFF passing grade in the NFL, with the Seahawks ranking first overall in our opponent-adjusted offensive grades. The betting market has bought in, with close to 75% of the cash and ticket percentages toward the Seahawks. 
This total sits at the highest number of Week 9, which doesn't portray much confidence in the Bills' 11th-ranked defense to slow down the Seahawks' offense. Our predictive model finds agreement with this number, but it does offer a signal on which side to lean on the spread. Given the lack of confidence in the Bills' defense, it doesn't seem like a quality process to assume the Bills can win a shootout game against the Seahawks.
The market percentages and line movement have been to one side, which means anytime you can get the better quarterback and offense at fewer than a field goal spread, it's a buying opportunity this late in the season.
Fantasy
Josh Allen was a "sit" in PFF's Week 8 edition of start em' or sit em' and the Bills' quarterback held up his end of the bargain. He scored just 13 fantasy points and would have nuked fantasy lineups had it not been for a rushing TD.
It's now been four-straight weeks of less than stellar play, but he's in the ultimate bounce-back spot versus the Seattle Seahawks. They have allowed the second-most fantasy points per game to opposing quarterbacks and allowed 21 fantasy points to Nick Mullens alone after Jimmy Garroppolo left Sunday's contest.
The Bills run 11 personnel at the third-highest rate in the NFL (75%), and Seattle ranks 31st in yards per attempt (8.2) in defensive coverage versus that personnel grouping.
John Brown's DraftKings price at $4,200 is enticing considering he played 81% of the snaps and ran the same number of routes as Stefon Diggs.
The Bills have been a pretty average defense this year, although they've been pretty good at stopping wide receivers and not as good against tight ends. The Seahawks' rotation at tight end makes it hard to trust any of Seattle's players there. Tyler Lockett and D.K. Metcalf are must-start players regardless of opponents, but this is a week Lockett should have a big week.
The wide receivers who have accumulated the most yards against the Bills have done so from the slot. This includes 100-yard games from Jamison Crowder and Cooper Kupp, as well as a 76-yard game from Isaiah Ford. Lockett lines up over half of the time in the slot and could be used even more than that this week to take advantage of the defense. Metcalf, on the other hand, will see plenty of Tre'Davious White. White has yet to allow more than 50 receiving yards in a game and has three games allowing five or fewer yards. White has at times shadowed opposing receivers and could shadow Metcalf in this game. All of that adds up to Lockett being the Seahawks receiver to start this week.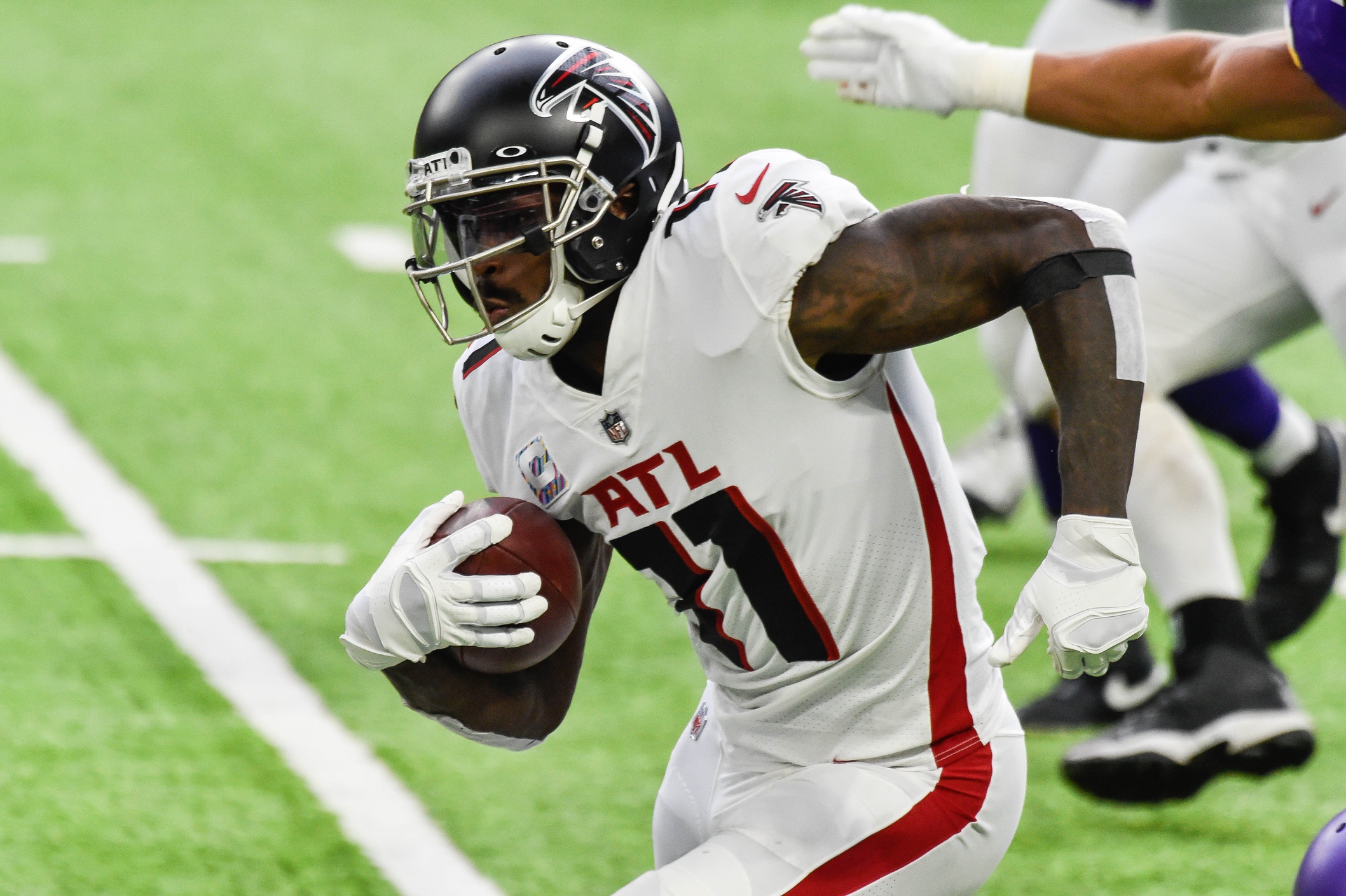 Headline of the game: Matt Ryan and Julio Jones still form one of the most dangerous QB-WR combinations in the NFL
There was discussion over the past several weeks about the possibility of trading Ryan, Jones or potentially both in advance of the trade deadline. Getting past the fact that it would be tough to make that work from a salary cap perspective, that duo showed in its Week 8 matchup with the Panthers that it is still one of the best in the league.
Jones picked up multiple chunk plays in the game, turning cornerback Donte Jackson around pretty badly at one point. His ability to make cuts and stop and start at his size is part of what makes him so difficult to contend with.
It could be a Broncos defense that is without A.J. Bouye, who is in the concussion protocol following a hit he took in last week's game. Even if Bouye plays, it should be a matchup that Ryan and Jones can win, and they'll look to keep showing that they need to be a part of the rebuild in Atlanta.
Betting
It has been a disastrous start to the 2020 season for the Broncos, with Drew Lock posting the second-worst PFF passing grade in the NFL. The Broncos have the second-worst offense, according to our opponent-adjusted rankings, and the Falcons are league-average at 15th overall. The opening week spread of -3.5 has held despite 65% of the cash and 80% of the tickets on the Broncos. 
The one bright spot for the Broncos has been their coverage unit, which ranks second in the NFL, leading them to the sixth-best opponent-adjusted defensive ranking. This hasn't stopped the total from rising three points since the open, up to 50 — behind 96% of the cash and 75% of the tickets.
The value that once existed on this market is now gone. The best approach is to take a wait and see if Lock's second-half performance can carry forward into this matchup. If it does, the Broncos could be a team that the betting market undervalues going forward.
Fantasy
There's a good chance that Calvin Ridley doesn't play in this game and that means we will likely see Christian Blake fill in as the WR3 alongside Russell Gage and Julio Jones.
He caught both his targets Thursday night and would be a great salary relief option in DFS at just 3K because he is going to play a full complement of snaps.
Gage should also see a boost in targets as he did last season when Ridley missed the final three games of the year. In those games, he averaged over seven targets per game. He is also a prime candidate for positive touchdown regression.
Only Robby Anderson, Jarvis Landry and Michael Gallup have more receiving yards than Gage (368) and have one or less receiving touchdowns. Ridley's absence leaves a gaping hole in touchdown production as he accounts for 50% of the team's receiving touchdowns.
Gage is probably more of a floor play because the Broncos have been tough on slot receivers. They have allowed the second-lowest QBR to the slot this season (79.0).
The ceiling play is definitely Julio Jones, who has smashed in games without Ridley. Last season during a three-game stint with Ridley sidelined, Jones averaged 26.7 fantasy points per game.
Noah Fant has the opportunity to have a big game against this Falcons defense. Any tight end with five or more targets against this defense has gotten 55 or more yards. Four of the five tight ends with that many targets have at least one touchdown against them. Atlanta has only faced one other tight end who was consistently drafted in fantasy drafts in August, and Fant will be the second. Fant has averaged seven targets per game and a minimum of five per game. His seven catches this past week were the most this season.
At running back, the Broncos have split playing time between Melvin Gordon III and Phillip Lindsay. Gordon has seen more playing time while Lindsay has been more productive. Rather than trying to figure out who might do better this week, it could be better to avoid both of them. No running back has hit above 90 rushing yards against them. The only backs to hit 50 rushing yards against them have been every down backs, so a split in carries will prevent either from having a great game.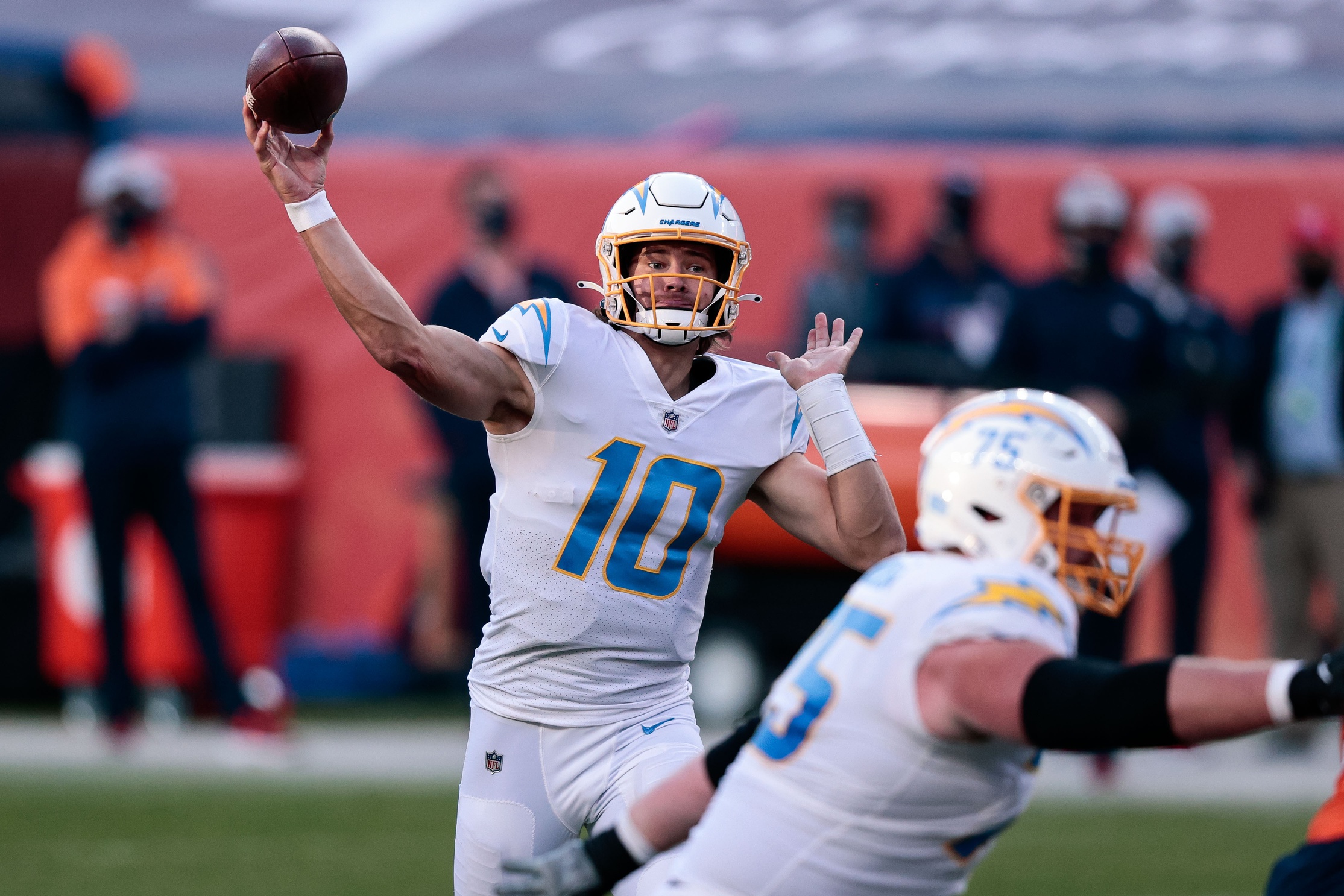 Headline of the game: Justin Herbert continues to excel in unstable areas
Herbert ranks fourth in PFF passing grade on third down. He comes in at sixth in passing grade under pressure. Only Russell Wilson has as many passing touchdowns on throws 20 or more yards downfield as Herbert (nine). All of that combines to paint a picture of fantastic play from Herbert, and he has certainly exceeded expectations coming into the year.
All of those areas are valuable areas for a quarterback to perform well in, but the issue when projecting forward is that they aren't very stable. In other words, those numbers fluctuate more often than results on early-down passes or clean-pocket passing. It leads to this question: How long can Herbert keep it rolling?
For the NFL viewers out there, hopefully it holds at least a few more weeks because the start to Herbert's career has been fun to follow.
Betting
This spread has flipped between a pick 'em and -1.5 since the open, with 78% of the cash and 80% of the tickets on the Raiders. For as good as Derek Carr has been, he sits eight points behind Herbert in PFF passing grade. The Chargers appear to have the much better defense, and quarterback, along with an overall offensive unit that sits just two places behind Las Vegas in our opponent-adjusted offensive rankings. 
Our predictive model finds no value on the spread or total. The total offers more intrigue with any sort of line movement opening up possible value. The Raiders have the worst coverage unit grade in the NFL, which could showcase both teams' deep ball capabilities. If one or two explosive plays result in touchdowns, we could see the over 53 happen quickly.
Fantasy
Since Justin Jackson has taken over as the team's leading running back in Week 5, he has averaged 14 fantasy points and 17 touches per game. That was topped off by a Week 8 showing when Jackson led the RB backfield in snaps (47%), carries (17) and routes run (16).
Troymaine Pope edged out Jackson in targets (seven versus five), but considering Jackson has been the primary pass-catching back that likely won't continue.
The Las Vegas Raiders present a good matchup for the Chargers' backfield as they have allowed the fifth-most fantasy points to the position this season.
This is also a game that Mike Williams should be used in as well. During Weeks 1-7 (excluding last week's wind game), the Las Vegas Raiders struggled mightily against outside WRs.
They rank 28th in yards per attempt (10.7) and 31st in quarterback rating (127.2) on throws to perimeter WRs. This could also create a scenario where Jalen Guyton sees additional looks considering he ran over 40 routes last week and is the clear No. 3 on the team.
He leads the NFL in yards per reception (29.0) and ranks third in YAC/reception (10.1). The Raiders rank 28th in yards after the catch per reception allowed this season (5.9). He is at the affordable price of 3.1K on DraftKings.
The Raiders have two dependable fantasy assets in Josh Jacobs and Darren Waller. Jacobs had a few rough games recently but started to turn things around last week with a 128-yard rushing performance on 31 carries. The Chargers just gave up 83 rushing yards on six carries to Phillip Lindsay last week and 119 rushing yards on 22 carries to James Robinson the week before. That all adds up to a 100-yard game for Jacobs.
Waller should also have a big game. Waller has been TE2 so far this season, and with George Kittle missing the next several games, he should stay there the rest of the season. Los Angeles has allowed touchdowns to five different tight ends despite not seeing many big name players. Travis Kelce had a nine-catch, 90-yard and one-touchdown performance against them in Week 2, and Waller can expect something similar.
Headline of the game: Whoever starts at quarterback for the Cowboys is in a whole lot of trouble against the Steelers' pass rush
Whether it's Ben DiNucci, Cooper Rush or Garrett Gilbert at quarterback this week, it's hard to see Dallas having much success on offense. Over the past three weeks without Dak Prescott, the Cowboys have allowed pressure on 38% of their dropbacks — the ninth-highest rate in the league. The Steelers, meanwhile, have generated pressure on a league-high 49% of their pass-rushing snaps this season. They attack opposing offense with both numbers and talented individual pass-rushers, something that has proven to be tough to contend with.
In other words, there should be plenty of pressure, and that's a problem for the Cowboys. They are the only team in the NFL over the past three weeks to average negative yards per play with pressure (-0.7). This is one of those matchups where it's hard to see a path to victory for Dallas.
Betting
The Cowboys have officially hit rock bottom, and they are choosing between rolling out Ben DiNucci and his 25.6 PFF passing grade or former practice squad player Cooper Rush. Either option feels like a death sentence against the No. 1-ranked Steelers defense, which blitzes and applies pressure on nearly half of dropbacks faced. 
Our predictive model does offer a lean in this matchup, but with juice already hitting the 13.5 point spread, this is an opportunity that could dissipate quickly.
Fantasy
Ezekiel Elliott hasn't scored more than nine fantasy points in either of his past two games, and the matchup for him could not get worse against the Pittsburgh Steelers' No. 1-ranked run defense. He should be viewed as an RB2 this week based on volume, because the QB situation is a mess.
Michael Gallup's 12 targets look fluky, but with the quarterback change and the fact that Amari Cooper only saw four targets, he could provide WR3/4 value at worst in a solid matchup.
The Steelers have allowed the fourth-highest yards per target (9.8) and the second-highest percentage of passing plays over 15 yards this season on attempts to wide receivers.
Cooper also has the most favorable WR/CB matchup, so he should improve after getting "slayed" by Darius Slay in Week 8.
Dalton Schultz also resurfaces as a TE streamer coming off an eight-target game, but his upside is limited in a bad matchup. Any pivots off Cowboys offensive players is highly recommended.
James Conner has been RB12 to this point, and with a few nice matchups coming up his ranking should only be moving up. That starts against this Cowboys defense, which hasn't been able to stop any running back recently. Among the seven running backs to face them over the past three weeks, six have averaged at least 4.6 yards per carry. All three starting backs in those games had their highest rushing yardage total of the season. With how big of a lead Pittsburgh could get early, Conner could be the fourth-straight back to have his best game against Dallas.
The great wide receivers for the Steelers might not be as lucky. The Cowboys allowed five 100-yard receivers in their first four games but haven't allowed any in the last three. Dallas has the third-lowest PFF coverage grade among all 32 teams, so Pittsburgh should have some success there. All three wide receiver/cornerback matchups are strong for the Steelers, so it's hard to pinpoint one particular receiver who will do well. The biggest problem is Pittsburgh shouldn't need to pass much. A Steelers wide receiver will probably do well, but the Steelers should run early and often, leaving the total number of passes low.
Headline of the game: With all eyes on Tua Tagovailoa, the Dolphins' defense is starting to take center stage
Over the past three weeks, the leader in expected points added allowed per play isn't the Steelers or the Bucs. It's the Dolphins. Granted, they had a game against the Jets in there that will always help the numbers, but San Francisco and Los Angeles have shown they can move the ball this season and were neutralized by Miami.
A healthy Byron Jones and Xavien Howard both being in the lineup is a massive upgrade over what we saw on the field for much of last season from the Dolphins. They've gotten strong play from safeties Bobby McCain and Eric Rowe, as well. Both have PFF coverage grades over 70.0 through the team's first seven games.
Their biggest task here might not be slowing Kyler Murray through the air but, rather, containing him on the ground. His 437 rushing yards this season lead all quarterbacks, and he's averaging nearly 4 yards before contact per rushing attempt. It's certainly a different kind of test for Brian Flores and his defense than the one they had last week against the Rams.
Betting
The early line movement has been toward the Dolphins, with 83% of the cash on the road dog. Some of this could be related to recency bias, as Miami played the game of its year in Week 8, at least from a defense and special teams perspective. Using this to project success going forward is not the correct approach.
These teams are closer than the current spread indicates, according to our ELO rankings, which have them separated by four places. Neither offensive or defensive unit ranks in the top half of the league in our opponent-adjusted rankings, which makes both teams appear to be overvalued by the betting market. Our predictive model finds no value on the spread or moneyline, but the total could come into play if the number or other outside conditions end up changing.
Fantasy
It's been a long and cold road up to this point, but it's finally time for Chase Edmonds to shine. Kenyan Drake won't get the chance as a revenge game against Miami due to his injury, leaving Edmonds to handle the workload.
Whenever Edmonds has gotten the lion's share of touches in the Arizona backfield, he has been a fantasy superstar. Over his career, when Edmonds has seen at least 11 touches, he has averaged 18.1 PPR fantasy points per game.
There's also a chance that PFF's highest-graded run-blocker from 2019 — tight end Maxx Williams — makes his return to the lineup. He was just activated off IR and was a big reason why Kenyan Drake was so successful running the ball last season.
It should come to no surprise that Drake's highest PFF rushing grade this season (86.6, Week 1) came in the only game Williams was active in 2020.
The Cardinals lead the league in rushing attempts out of 12 personnel (two tight ends) and the Dolphins rank 30th in yards per attempt (5.9) and 31st in explosive run percentage (19.4%) allowed from that personnel set.
On the season, the Dolphins have allowed the seventh-most fantasy points to the RB position.
The Dolphins offense will be one to avoid this week. Tua Tagovailoa had a PFF grade of 45.3 in his first start. The Cardinals defense isn't as good as the Rams, but they've still allowed a low 6.9 yards per pass which is 10th-best. Arizona had one interception over the first five games but five interceptions over the last two. They are coming off of a bye week, which should also help.
The place where the Cardinals defense is vulnerable is the run game. The problem there is Myles Gaskin has a sprained MCL and will miss the game. He had been the clear lead back for Miami, and now how the rest of the backs will be used is a question mark. Matt Breida has been the primary backup all season and would be the favorite to get most of the carries.
Jordan Howard was the goal-line back to start the season but has recently been inactive. There is a chance he will be active again with Gaskin injured, in which Breida's touchdown potential would be much lower. They acquired DeAndre Washington today, and he might not be ready to play with Covid protocols and learning the playbook, but he could also be involved. Patrick Laird and Malcolm Perry could also make things interesting. There are some players here you could take a chance on, but all of them would be risky.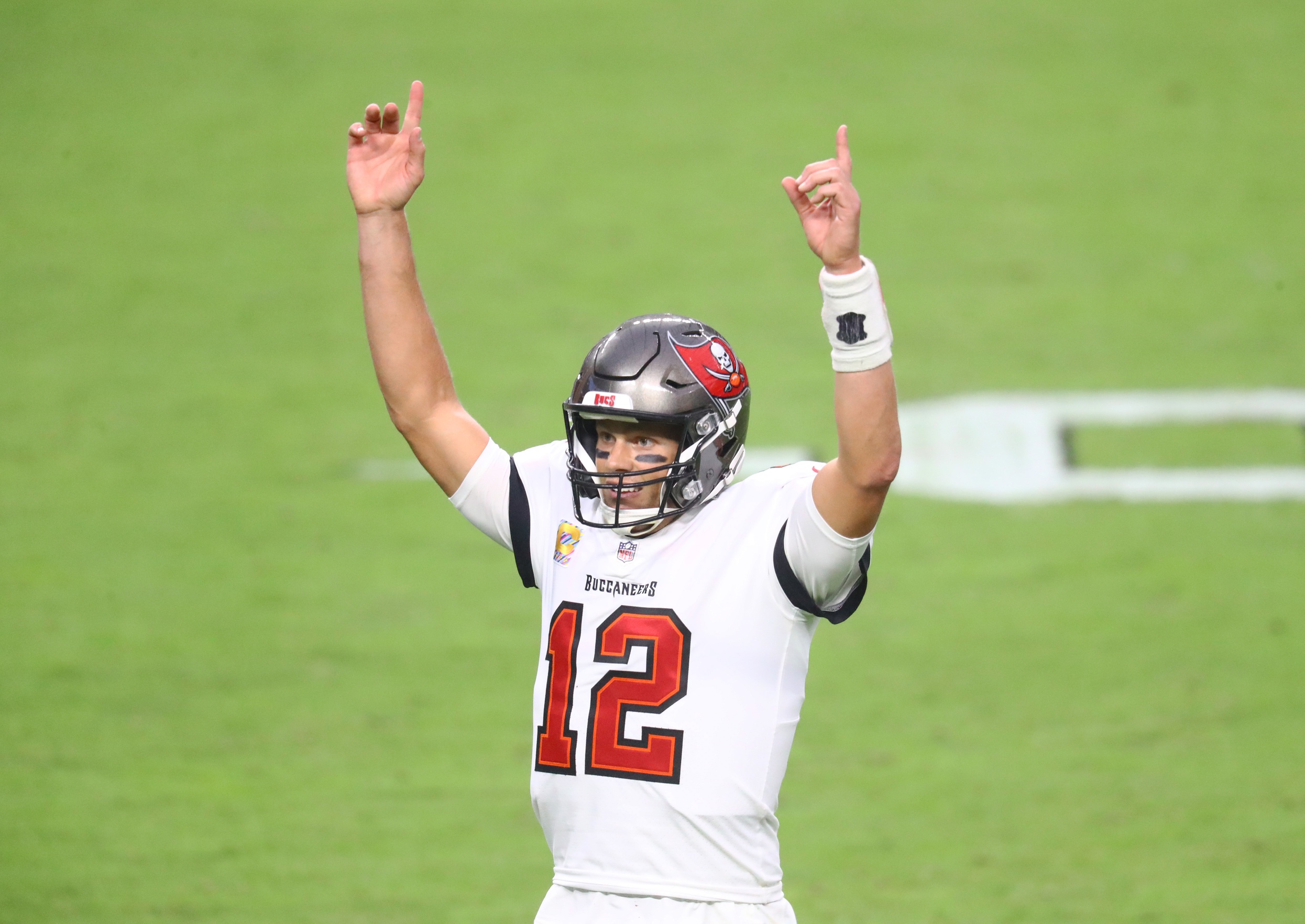 Headline of the game: The two oldest starting quarterbacks in the NFL are getting it done in different ways
Drew Brees is operating the game plan that you would expect to see from a 40-plus-year-old quarterback. His average depth of target of 6.0 yards downfield is comfortably the lowest in the NFL, and a big chunk of the Saints' passing offense relies on Alvin Kamara making plays after the catch — which he does better than anyone in the NFL.
The Buccaneers, on the other hand, are following the typical Bruce Arians downfield attack with Tom Brady at quarterback. Brady's 583 passing yards on passes 20 or more yards downfield are fewer than only Russell Wilson and Aaron Rodgers this season.
Those two will headline any matchup they're in, but there is a challenger in this particular game for the top storyline to follow. This figures to be Antonio Brown's first game of the season after he saw eight targets on 14 routes in his only game with Brady in New England in 2019. His role here is something to monitor.
Betting
The Buccaneers have a quick turnaround after their closer-than-expected victory over the Giants on Monday night. This NFC South showdown has huge playoff implications, with the Saints taking a commanding division lead if they can pull off the upset victory. The betting market doesn't think this is likely to happen, as the opening -4 spread pushed out to -5.5, after Monday Night football. The cash and ticket percentages do not coincide with the initial market movement, meaning this was more of an adjustment by the books without the market moving based on bettor information. 
Both teams rank in the top 10 of our ELO rankings — sixth for the Saints and third for the Bucs. Both offenses rank in the top quarter of the NFL, but Brady has posted a significantly better passing grade so far in 2020. Michael Thomas' return could alleviate some of the struggles for the Saints' offense, which simply has a lack of available playmakers outside of Alvin Kamara.
The total market doesn't indicate an offensive shootout, with the number dropping from 55.5 down to 51.5. Our predictive models find value on all three game markets, which makes this the marquee matchup for regular and betting intrigue in Week 9.
Fantasy
Antonio Brown is set to make his 2020 NFL season debut on Sunday Night Football and he should be in starting fantasy lineups. The matchup is great against the New Orleans Saints, who have allowed the most fantasy points to wide receivers over the past four weeks. It's hard to imagine the Buccaneers not showing off their new toy who has reportedly been living with Tom Brady.
We saw Brady target Brown on 57% (eight) of his routes run (14) in Week 2 of the 2019 season, so fantasy managers should be excited to play him in this spot.
It's also important to note that Brown played his last game as a Pittsburgh Steeler against the Saints at the end of the 2018 season and went absolutely bonkers.
He finished that game with 19 targets, 14 catches, 185 yards and two touchdowns. Against current Saints cornerback Marshon Lattimore, he commanded eight targets which he turned into five catches for 85 yards.
Dennis Allen was the defensive coordinator in 2018 and maintains that status in 2020.
Step one is you start Alvin Kamara because he's been by far the most effective fantasy running back this season, and it's not close. He starts every week regardless of who the Saints are playing.
Everyone else for the Saints is a bit of a mystery. Drew Brees only threw for 160 yards on 30 attempts in the first matchup. In general, Brees has been playing better than that week, but plenty of quarterbacks have looked bad against the Buccaneers. Jared Cook is the best bet to start outside of Kamara. He's scored touchdowns in three-straight games and has been a consistent target for Brees. At wide receiver, so much depends on who is healthy, as Michael Thomas, Emmanuel Sanders and Marquez Callaway all missed last week for various reasons.
Whoever is healthy could have a good game, but the Buccaneers have only allowed six touchdowns to wide receivers. Starting a receiver after missing time with their first game against Tampa Bay is risky.
Headline of the game: The Patriots may be heading toward a disappointing season, but they can't match the Jets in that department
The Patriots are in a spot where they need to be realistic about the situation they're in. This roster is devoid of talent at wide receiver and tight end. It seems as if they'll need a long-term answer at the quarterback position following this season because Cam Newton doesn't look like that answer.
Many of their better defenders — such as Stephon Gilmore, Dont'a Hightower and the McCourty twins — are not on the younger side. A rebuild seems inevitable, which is why it looked like there would be more trade deadline action than there was, but New England still has a clear edge in this matchup. The Jets are the worst offense in the NFL by expected points added per play and have looked inept on that side of the ball for extended stretches of games.
How early is too early to say they're on the clock in the 2021 NFL Draft?
Betting
The betting market has moved slightly in the direction of the Jets, who opened as 7.5-point home dogs before dropping down to a touchdown spread. The cash and ticket percentages both lean toward the Patriots, with few bettors still being able to stomach backing the Jets. They are 1-7 against the spread after failing to cover the widest number we have seen so far in 2020. 
The total shows that this matchup is less than appealing, as it is the second-lowest number in Week 9. Most are backing the over, with 89% of the cash and 70% of the tickets on that side. It is a tough way to wrap up Week 9, with both teams on the verge of or fully tanking already.
Fantasy
The New England Patriots made the decision a long time ago to take away the team's passing game and just let them run wild. This has been the case over the past four weeks as they have allowed the second-most fantasy points to the running back position.
By default, La'Mical Perine becomes a low-end RB3 play as the de facto "starter" on the New York Jets' offense, but Frank Gore should provide nice leverage in single-game DFS contests because he is also going to see carries.
Jamison Crowder should not be played despite his insane target volume when healthy. The Pats have allowed the third-fewest fantasy points to WRs over the past four weeks and have had success against Crowder in past matchups.
Last year, the Jets' slot wide receiver had just six catches for 51 yards in two games against New England.
Usually, not starting any Patriots running back is the best advice. Damien Harris is an exception to that rule this week. He's had 100 or more rushing yards in two of his four games and is coming off his first game with a touchdown carry. The Jets have been very good at stopping running backs the last two weeks with 126 yards on 34 carries but were consistently allowing 100 yards earlier in the season. Those two teams the Jets faced were around league average in run blocking, while the Patriots have the highest team grade in run blocking. If the Patriots can get a lead, then Harris should definitely have 100 yards.
Jakobi Meyers is one other name to keep an eye on. Due to injuries, Meyers has been pushed into the starting lineup. Over the last two weeks, he has 10 catches on 14 targets and 118 receiving yards. He should continue to be the top target in the Patriots passing game. The Jets have allowed the third-most yards to wide receivers this season at 1,513. He's probably on your waiver wire and should have a high floor in this matchup.