PFF previews the 16 NFL games in Week 2, highlighting storylines to watch while also taking a fantasy football and betting approach to offer insight for every NFL fan.
Subscribe to
Headline of the game: Cleveland is running out of opportunities to figure things out offensively
The Browns have managed to do it again. They got people to believe that this was an offense that was going to bounce back under the tutelage of first-year head coach Kevin Stefanski;  Baker Mayfield was going to get more clean pockets to work from behind an improved offensive line, and he would figure out some of the chemistry issues that showed up time and time again on the field with Cleveland receivers in 2019, namely Odell Beckham Jr.
At least, that was the game plan for the Browns. Their Week 1 performance showed no signs of those things taking place, and Mayfield earned just a 57.0 PFF passing grade behind a league-low 4.8 yards per pass attempt against the Baltimore Ravens in the opener. His accurate-pass rate of 46.9% — according to PFF's ball-charting data — was one of the lowest marks of any Week 1 starter, as well. Mayfield may have had a great career at Oklahoma and an impressive rookie season in 2018, but at some point, you have to be concerned about the cliff he's fallen off. Before long, he and the Browns will be running out of time to right the ship offensively in a competitive AFC North.
Fantasy
Joe Mixon had a disappointing first game, finishing outside the top 30 running backs in fantasy points. If there's an opponent for him to rebound against, it's Cleveland. His two best games in terms of rushing yards came against Cleveland last year, as did three of his five touchdowns.
While the Browns as a team had a game to forget against the Ravens, it was not because of their run defense. Their 80.2 run-defense grade was the best in the league, while their 85.6 tackling grade was second-best.
Baker Mayfield was the talk of the town after his lackluster opening game against the Ravens. His 10.9 fantasy points were among the lowest for starting quarterbacks, despite the relatively average matchup. Few people were starting him, but he was considered a high-upside backup option.
This is the first of three-straight favorable matchups for Mayfield. If he can't find fantasy success by the end of September, it would probably be wise to drop him.
Beckham has the potential to have a big game in Week 2, as Bengals left cornerback Darius Phillips earned a 46.3 grade in Week 1, partly because he allowed two big Mike Williams catches. The Browns should try to take advantage of that matchup.
Betting
This spread has dropped since the opening print, moving 2 points through -7 down to -6. The majority of tickets and cash have been on the road dogs, with recency bias playing a big role in the market evaluation of both teams.
The total has had the bottom drop out, pushing through the second-most-important number from a total perspective and now sitting between that and the third key number. The 43.5 should hold until kickoff, despite the cash and ticket percentages skewed to opposite sides on the total, with a high percentage of the cash now making its way to the over. Our predictive algorithms find a small play on the current spread but find no discernible edge on the current total number.
Headline of the game: Gardner Minshew appears to be tank-proof
The Indianapolis Colts were one of the most popular survivor pool picks this past weekend against Jacksonville, but Minshew made sure to send those Colts backers packing right out of the gate with a near-perfect performance in Week 1.
Minshew completed 19 of 20 passes for 173 yards and three touchdowns — good for a passer rating of 142.3. It's not as if his day was filled with deep, downfield dimes, but Minshew got the job done with short, accurate completions. His 4.6-yard average depth of target was the lowest mark in the NFL in Week 1, and he was accurate on 85% of his passes, the second-highest rate behind only Aaron Rodgers.
Many were talking about Jacksonville as one of the likeliest destinations for Trevor Lawrence or Justin Fields in the 2021 NFL Draft coming into the season — and for good reason. This is a Jacksonville roster that has lost a lot of talent over the past few seasons. Minshew continues to exceed expectations, though. One year removed from coming in as PFF's highest-graded rookie quarterback, he isn't simply going to limp to a 2-14 record and the first overall pick in the upcoming draft.
Tennessee is the better team in this one, but as Indianapolis found out last week, you can't take a win against Minshew and Jacksonville for granted.
Fantasy
The Jaguars have somewhat favorable matchups at both the running back and tight end positions this week. And given that Jacksonville didn't have a tight end with more than one target in Week 1, it's wise to focus on the running back position here.
James Robinson was one of only 14 running backs who recorded at least 16 carries last week, and he should see a significant number again against the Titans.
Tennessee allowed 24.8 fantasy points per game to running backs last year, placing them in the top 10 in fantasy points allowed. While it's not one of the best running back matchups of the week, it's still good enough that Robinson should be effective on even 10-15 carries. He should be a solid RB2 this week and can continue to be until the team's other backs get healthy.
This should be a huge week for Derrick Henry and Tennessee, as the Jaguars' defense allowed 50 fantasy points to the Colts' running backs last week. The last time Henry played the Jaguars, he had 159 yards and two scores on 19 carries. He's projected to be the best running back of the week by over a full point in standard leagues.
Betting
Jacksonville quickly laid any thoughts of tanking to rest with the biggest upset of the Week 1 slate. Bettors have now bought in, pushing this spread from an opening print of -11 down through the key number 10 to -9. It may have more movement still, with 83% of the cash and ticket percentages hitting the Jaguars. Minshew Mania is back, as most cannot get enough of the Jaguars to start the season.
The total has held steady since the open, despite a significant percentage of the cash on the over. And while both defenses rank in the bottom half of the league, the Titans failed to live up to their No. 2 overall offensive ranking in Week 1. Our predictive models find quite a bit of value on the fast-moving spread, with a small play on the total looking like a viable option, as well.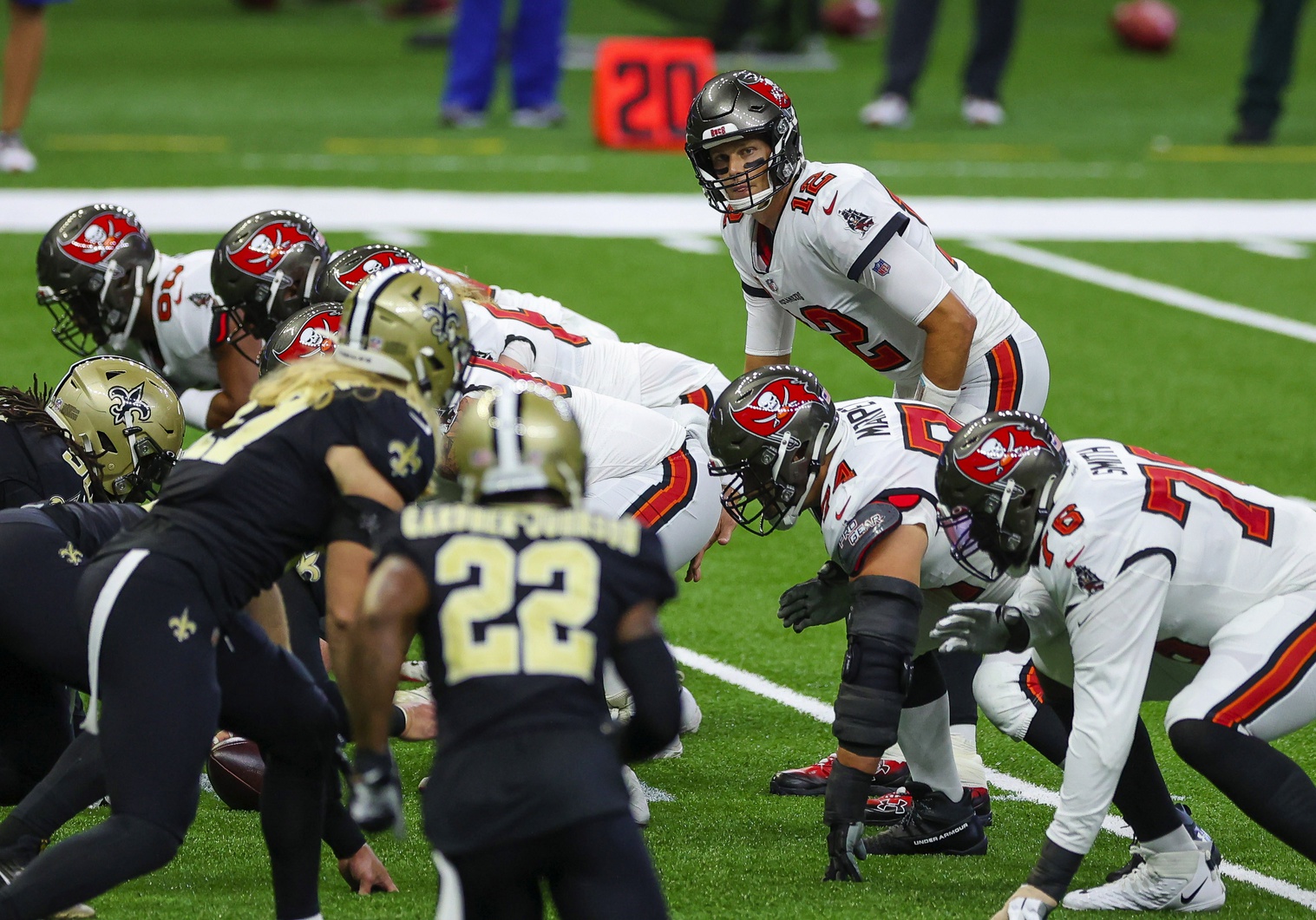 Headline of the game: It's going to take time for Bruce Arians and Tom Brady to get on the same page
I'll kick this off by saying that Brady didn't play as poorly as you probably think he did in Week 1. Yes, he had the two interceptions, but he also tied Aaron Rodgers for the Week 1 lead with six big-time throws. That's going to be part of the territory with his transition to Bruce Arians' offense. From Ben Roethlisberger to Andrew Luck to Carson Palmer, Arians has had guys who push the ball downfield at one of the highest rates in the NFL. It's not that Brady can't run that kind of passing attack, but it's an offense that doesn't resemble the one he ran in New England for so many years — one built around the short, timing passing game.
PFF's Sam Monson explored his Week 1 performance earlier this week and suggested that perhaps the Buccaneers let Brady run an offense he's more comfortable with rather than forcing him to assimilate to a scheme that doesn't necessarily suit his strengths. Where the two sides meet and how quickly they're able to gel will be one of the more interesting storylines to monitor over the next few weeks.
Tampa Bay should have success against this Panthers defense regardless of how quickly the offense is able to fully come together. Carolina projects as one of the worst defenses in the league on paper, and that's exactly where they ended up in Week 1 against the Raiders, finishing the week ranked 30th out of 32 defenses in EPA allowed per play. It's a spot where Brady and company should be able to figure things out.
Fantasy
D.J. Moore had a disappointing Week 1, catching only four of nine targets for 54 yards. He was also one of the few wide receivers with two end-zone targets, though he failed to catch either of them.
Moore should see a decent amount of Jamel Dean, who allowed four catches for 74 yards in Week 1. The opportunities should be there for Moore again, and the Panthers will need him to take advantage.
Ronald Jones established himself as the top early-down running back for Tampa Bay last week and should get plenty of opportunities to prove why he should keep that job against Carolina. Overall, the Panthers' run defense graded out at 28.6 last week — the worst mark for any team in Week 1.
Betting
Despite the narrative surrounding Tom Brady's Week 1 performance, the betting market has actually moved toward Tampa Bay, although the line movement is worth little from a value-added position.
The total has held onto the open and should be another popular game stack from a DFS perspective. The cash and ticket percentages both side heavily with the over, but our predictive models think that the current market expectation could be overstated on that side. Our model has plays on both the spread and total while giving the Buccaneers a 76.6% chance at getting their first victory with Tom Brady.
Headline of the game: Drew Lock is going to have to make plays under pressure for Denver to win
Giants quarterback Daniel Jones was pressured on more plays than any quarterback in the league last week — something that probably won't be all that uncommon for quarterbacks facing Pittsburgh — and he made a fair amount of plays in the face of that pressure. Lock will have to do the same in Week 2.
A pass rush that features T.J. Watt, Cameron Heyward, Stephon Tuitt and Bud Dupree will be a handful for any offensive line, and the Broncos have pass-blocking question marks at both tackle positions. Garett Bolles has been a below-average pass-protector throughout much of his career, and Elijah Wilkinson finished the 2019 season with just a 62.0 grade in pass protection.
In other words, they're unlikely to stonewall the edge tandem of Watt and Dupree. Considering the Steelers are coming off a game where they allowed negative rushing yards before contact, Denver might have a tough time leaning on the run game, as well. All eyes will be on Lock as he looks to lead Denver to its first win of the 2020 season.
Fantasy
It's probably time to start questioning any skill position player who is set to go up against the Steelers defense. But despite how well Pittsburgh shut down Saquon Barkley last week, Melvin Gordon III is still someone who should be started in most leagues, given Phillip Lindsay's turf toe injury. Gordon was trusted with 75% of snaps after Lindsay went down in Week 1, and any running back with that much playing time needs to start.
The Steelers' wide receivers had favorable matchups in Week 1, and that is true again this week. JuJu Smith-Schuster and Diontae Johnson both played 55 of a possible 64 offensive snaps and showed that they're in line for considerable workloads. Smith-Schuster and Johnson both had six catches last week; they combined for nine first downs.
The Broncos finished Week 1 among the top five defenses in catches allowed to wide receivers with 18. Rookie right cornerback Michael Ojemudia had a strong first game, with one pass breakup and just two short catches allowed. Johnson will see his fair share of Ojemudia, so that makes his matchup a little tougher, but Smith-Schuster should see a very favorable matchup here.
Betting
After a doubleheader on Monday night that saw these two teams emerge with opposite results, the betting market bought into the Week 1 performance of both teams, pushing the Steelers out 2 points from an opening print of -5.5 to -7.5. This number has seen an even mix of cash percentages, but the majority of bigger bettors appear to be leaning toward Denver after it crossed the key number 7.
Despite both Monday night games starting off with points, neither matchup ended up on the pregame over, which has caused this week's line to drop 2 points. Pittsburgh still has the No. 1 ranked defense according to our opponent-adjusted grades, with Denver not far behind at 11th. The question is, can these offenses perform well enough to reach this total? As always, only PFF Greenline has the answer to that question.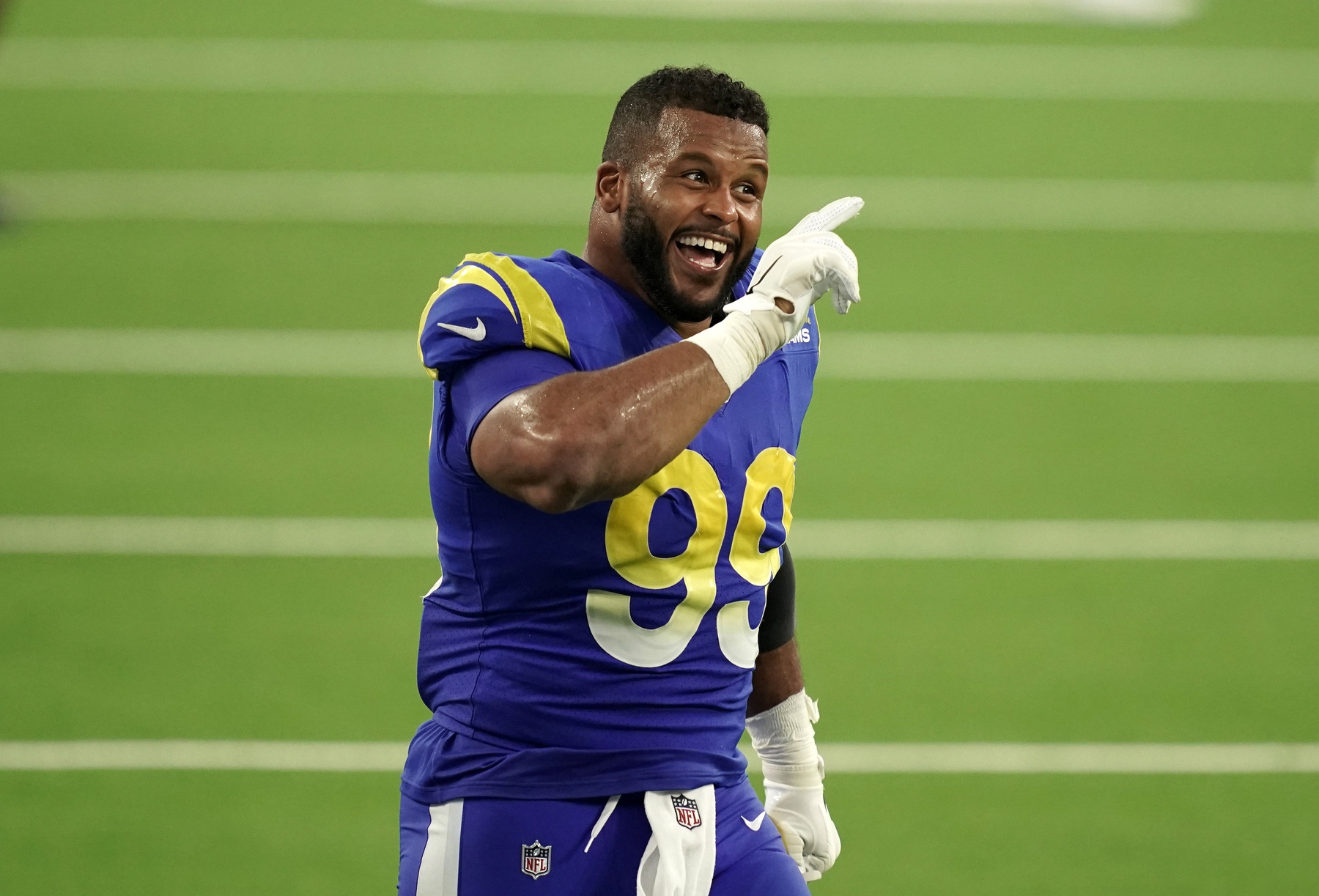 Headline of the game: Aaron Donald is not someone Philadelphia wants to see on deck
Carson Wentz was under siege in the Eagles' opener against a talented Washington defensive line — he was pressured on over 40% of his dropbacks, and the eight sacks he took were twice as many as any other quarterback in Week 1.
Philadelphia was without three projected starters on its offensive line — Andre Dillard, Brandon Brooks and Lane Johnson — and that left them thin up front, particularly on the right side. Washington was able to take full advantage, pressuring the Eagles into just 4.1 yards per pass play, 31st in the NFL.
The Rams may not be as deep as Washington is up front, but they do have a one-man wrecking crew on the interior. And Donald put on a show on Sunday Night Football against a banged-up Cowboys offensive line, racking up 10 total pressures — the most in the NFL this past week — over the course of the game. If Wentz sits in the pocket long enough, Donald will get home regardless of who is blocking him.
There's a chance that Johnson could be back for this matchup, which would give the Philadelphia offensive line a nice boost. Johnson ended the 2019 season as the third-highest-graded right tackle in the league behind only Mitchell Schwartz and Ryan Ramczyk. But even if Johnson returns, there is still reason to be concerned about how well Philadelphia will be able to slow Donald and the rest of this Rams' pass rush. Donald has the potential to put up double-digit pressures every time he steps on the field.
Fantasy
Robert Woods is the most interesting player in this matchup, as his 2.7 average depth of target was the lowest for all wide receivers with at least three targets last week, while his 14.8 yards after the catch per catch ranked first.
As a team, the Eagles recorded the highest pass-rush grade of the week on Sunday (90.0), so the Rams might need their receivers to do even more of the work in Week 2. The good news is that both of the Eagles' outside cornerbacks missed two tackles, so there is an opportunity for Woods to have more big plays after the catch.
The Philadelphia tight ends have an excellent matchup this week according to PFF's strength of schedule tool. Middle linebacker Micah Kiser was the Rams' lowest-graded player in coverage last week, making this a matchup Zach Ertz and Dallas Goedert can exploit.
Goedert led all tight ends in fantasy points Week 1, while Ertz was also able to score over 10 fantasy points. Both players should be in starting lineups this week, and if Goedert can once again outscore Ertz, it wouldn't be surprising if the former starts to take over as the main tight end in Philadelphia.
Betting
No spread has seen a more significant move coming out of the Week 1 slate than this one.
The Eagles are clearly decimated with injuries and are reeling after dropping a winnable game to the team with no name. This spread opened at more than a field-goal favorite for the hometown Eagles but has reversed heavily and now sits at a 1.5-point spread favoring the Rams. This sudden move has been accompanied by a high degree of cash and ticket percentages, but the ticket percentage of 96% on the Rams highlights a heavy influx of public action on the now road favorites.
The total has bottomed out, dropping 3 full points since the opening number with 90% of the cash finding its way under. The only question that remains — has the line movement in both markets dried up the value for any bets on this game? As always, PFF Greenline holds the answer to all betting-related questions.
Headline of the game: The 49ers receive the ultimate get-right spot
A loss to the Cardinals was not how San Francisco wanted to kick off its attempt to repeat as NFC West champions. Jimmy Garoppolo turned in one of the worst PFF passing grades of the week (49.8), and Kyler Murray connected early and often with new No. 1 target DeAndre Hopkins to move down the field against what was one of the best defenses in the league last season.
This is a spot for the 49ers to get back on the right track if there ever was one. It's hard to say if any team has a better shot at the No. 1 overall pick than the Jets do right now. Offensively, there are still too many question marks around Sam Darnold, and Darnold himself is creeping closer and closer to bust territory after putting up the lowest passing grade of any quarterback in the NFL in Week 1 (40.2). The Jets defense didn't exactly impress in the opener, either.
The status of George Kittle's knee will be a big storyline heading into this game, but with or without Kittle, San Francisco should be able to get in the win column here. It's time to panic if they don't.
Fantasy
Raheem Mostert was a star in the 49ers' offense last season, and that remains true to start this year. Because the team's top two wide receivers missed Week 1 and George Kittle suffered a knee injury that could at least hurt his effectiveness against the Jets, the 49ers will be relying even more heavily on the run game in Week 2.
The Jets' strength on defense is how good they are at stopping the run. They stopped Zack Moss on all three of his carries inside the 5-yard line last week, and their 70.7 team run-defense grade was among the league's best. Mostert should be started just because of the number of touches he'll get, but it will be interesting to see how effective he is against this defense.
The PFF Fantasy team spent a lot of time hyping up tight end Chris Herndon over the offseason, but he failed to crack TE1 status in Week 1 despite drawing seven targets. It's not surprising that he wasn't that effective against the Bills defense, though, as they excelled against tight ends in 2019. According to our strength of schedule tool, this is Herndon's best matchup in the month of September, so if there is any week to start him, this is the week.
Betting
San Francisco travels across the country and is in need of a victory against the 27th-ranked Jets. Twenty-four spots separate these two teams in our opponent-adjusted offensive rankings, with this being as close to a must-win game as a Week 2 matchup can be.
Bettors are all over the 49ers, pushing this line 2.5 points through the key number 7 after the open. Altogether, 90% of the cash has been on the 49ers, with both sharps and the public siding with the team from San Francisco. The spread appears unplayable at the current price, making this a game to avoid from any perspective.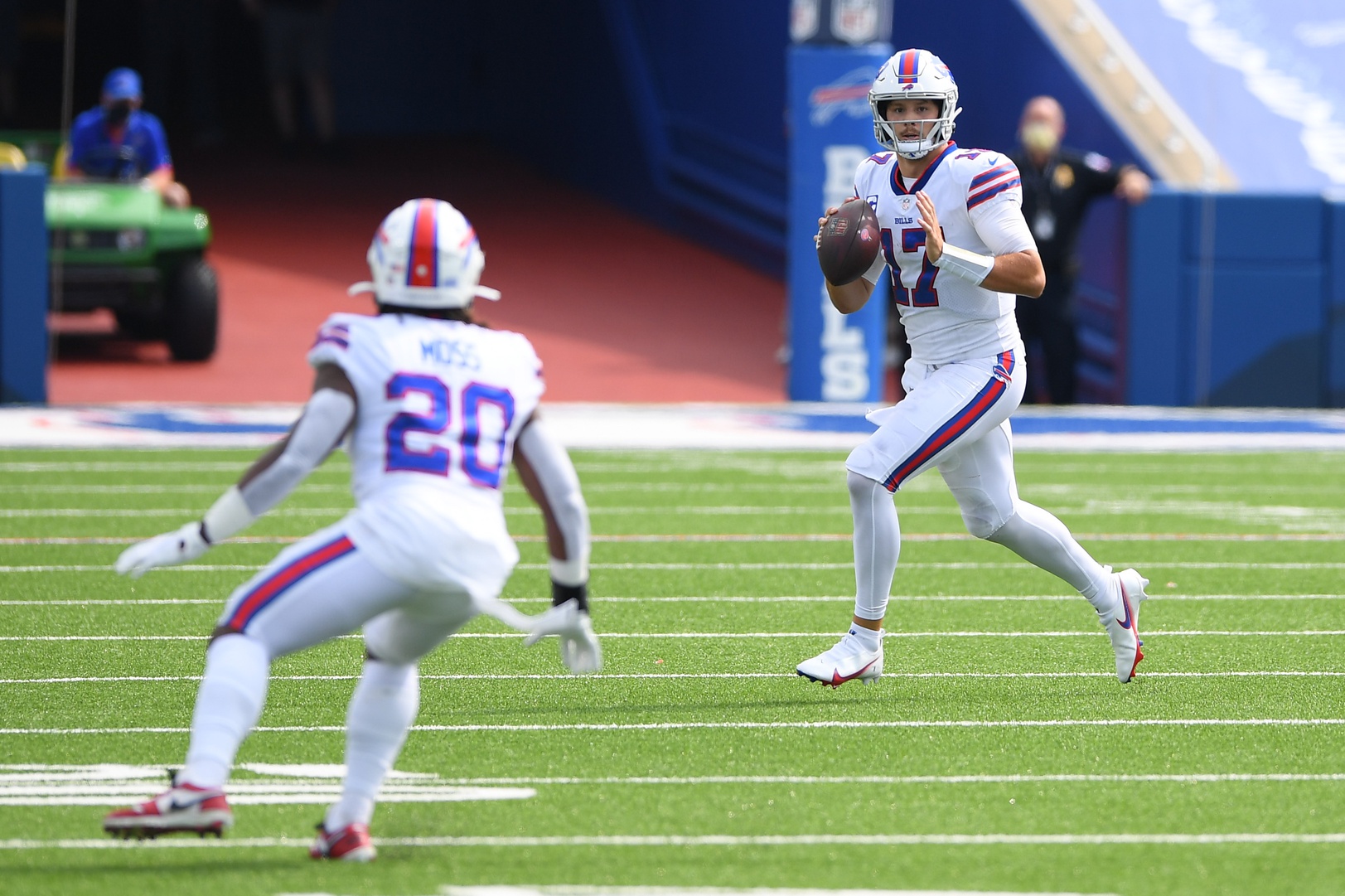 Headline of the game: Dolphins need to do a better job of limiting Josh Allen in the run game than they did with Cam Newton
The Patriots leaned heavily on Newton in the designed run game in their Week 1 win over Miami. His 13 designed runs were a personal high since 2014, and he converted seven of those into first downs or touchdowns.
This is something that the Bills may try to replicate with Allen. Fault him all you want for his accuracy issues, but Allen does bring some of the best rushing ability you'll see at the quarterback position.
The Bills tried to make use of that in Week 1 against the Jets, but Allen was ineffective on the ground, with 10 designed runs for 27 yards, two first downs and two fumbles lost. You have to imagine that Miami will make an effort to improve on their Week 1 performance against Newton, and in a similar vein, the Bills will look to draw up more success for Allen on the ground. It should make for an interesting back and forth on Sunday.
Fantasy
The weakest point for the Dolphins defense against the Patriots was their run defense. This is good news for Zack Moss and Devin Singletary, who split run-game snaps in Week 1. While Singletary saw a few more pass routes than Moss, Moss got the important goal-line carries. He failed to reach the end zone last week, but if he keeps seeing that type of work he'll punch on in soon enough. Both players have the potential to have big games.
The Dolphins have Xavien Howard and Byron Jones as their outside cornerbacks — they allowed a combined 22 yards last week. That will lead to trouble for both Stefon Diggs and John Brown. Because of that matchup, the running backs for Buffalo are even more important.
The Dolphins had one of the worst offenses of Week 1, while the Bills had one of the best defenses. That doesn't look good for this week for anyone from Miami. Preston Williams is the one player to be optimistic about — he led Miami in targets with six even though he only converted two into catches.
Williams' career best in receiving yards came in Week 7 against the Bills last year. Of his 82 receiving yards, 71 came when he was lined up against Levi Wallace. Wallace remains the cornerback opposite Tre'Davious White, so Williams could again have a big game.
Betting
It has been all Buffalo in the early week markets, with an opening field-goal spread for the road favorites pushing out to 5.5. So far, 96% of the cash and 92% of tickets highlight the skewed distribution toward the Bills, with both the sharp and general public finding agreement on what side they like.
The total has dropped since the opening number as both offenses rank in the bottom fourth of our opponent-adjusted offensive ranking. The clear separators in this matchup are the defensive units, where the Dolphins rank dead last and the Bills find themselves at fifth overall. The current numbers for all three bets do not offer value, but monitoring PFF Greenline throughout the week should lead to an opportunity if any of the prices move.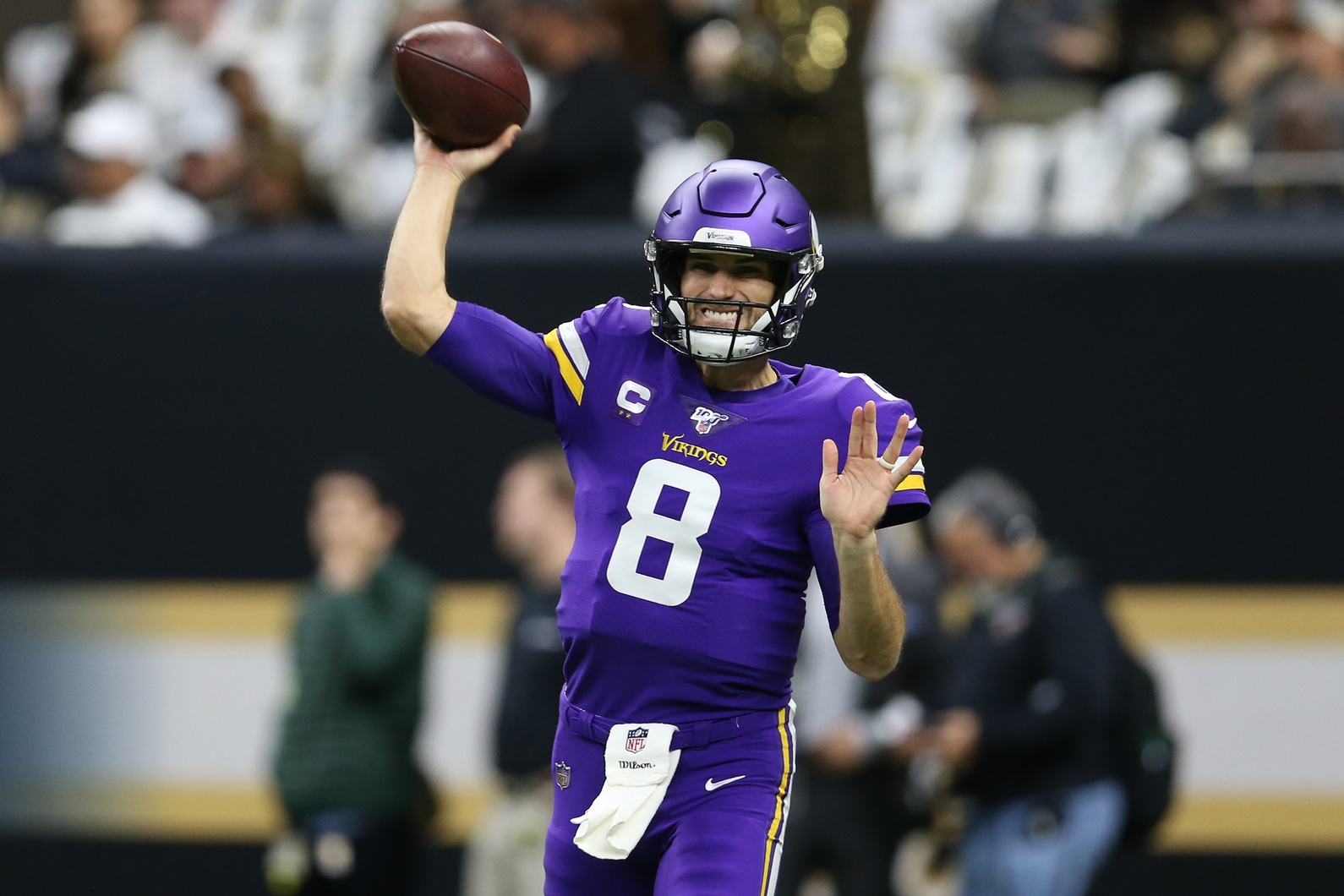 Headline of the game: Both teams look to rebound from disappointing openers
One of the biggest surprises of Week 1 was the Colts coming out and losing by a touchdown to Jacksonville. Gardner Minshew was able to move the ball on their defense with underneath passes, and the Colts offense was hurt by several Philip Rivers turnovers and an overall lack of ability to get things going on the ground (-0.377 expected points added per run play). For a team that has aspirations of winning the AFC South, it was a rough way to start the season.
The same can be said for Minnesota. Xavier Rhodes turned in a 39.3 coverage grade in his Colts debut, but the guys replacing him in Minnesota didn't fare much better. Each of Cameron Dantzler, Mike Hughes and Holton Hill allowed 80 or more receiving yards in coverage, with Dantzler being the only one in that trio to turn in a PFF coverage grade of 50.0 or higher (63.5). Their inexperience at cornerback was pinpointed as a potential weakness heading into the season, and that's exactly what it was in Week 1.
Both teams will be looking forward to getting back on the field in Week 2 to attempt to right the ship.
Fantasy
Adam Thielen was the highest-graded wide receiver in Week 1. He only had eight targets, but he caught six of them for 110 yards and two touchdowns. This week we should be able to see the peak of what Thielen is capable of.
The Colts graded out average in the secondary, but their three best players were their linebackers and slot cornerback Kenny Moore II. Thielen plays primarily outside, where he will face Rock Ya-Sin and former teammate Xavier Rhodes. The two combined to allow all six passes thrown their way to be caught for 73 yards. One of Minnesota's biggest strengths is facing the biggest weakness for the Indianapolis defense, which should lead to another huge day for Thielen. He has the fifth-best matchup for an outside receiver in the wide receiver/cornerback matchup chart.
The biggest weakness for the Vikings coming into the season was their cornerbacks, and that proved to be true in Week 1 after Davante Adams had a dominant performance against them. Holton Hill allowed seven catches on 11 targets for 87 yards.
T.Y. Hilton should line up against Hill the most. Hilton used to be a player fantasy owners would automatically start, but recently that has been a more questionable decision. He caught four of nine passes thrown his way for 53 yards. He also had a respectable three red-zone targets but failed to catch any of those passes.
The opportunities were there for Hilton in Week 1 and he didn't take advantage of them. Those opportunities should exist against the Vikings, which should lead to a big game for him. If not, then fantasy owners should be worried about his future.
Betting
Two teams coming off disappointing performances in Week 1 need to find a way to turn things around quickly or risk losing their season entirely too early. The betting market seems to give the Colts the better chance at the turnaround, with this market moving up a half-point to the key number -3 after the open. Both the cash and ticket percentages lean toward the Vikings, so it is worth monitoring whether this spread moves back to the opening print.
The total has bounced a point since the open, moving through the sixth-most-valuable number from a total perspective. Both defenses rank in the top half of the NFL, with seven places separating the Vikings from the Colts in our Elo rankings. The total offers little value at the current number, but our predictive models find value on both the current spread and total.
Headline of the game: Aaron Rodgers gets another strong opportunity to show he's still the best quarterback in the NFC North
The Rodgers revenge tour is officially underway. His game against the Vikings in Week 1 is already one of the best quarterback performances you'll see this year. Rodgers' 96.0 overall grade was the highest Week 1 mark from a quarterback since 2011, and he led all quarterbacks in percentage of accurate passes (87%) despite his throws going 9.7 yards downfield on average (eighth-highest). It's been a while since we've seen Rodgers in that kind of form, but it shows he can still be an MVP-caliber quarterback. 
His next opportunity to show he still has it is against a team and quarterback that many were getting behind heading into the 2020 season. Matthew Stafford didn't play poorly in Week 1, but he also didn't come close to matching Rodgers' performance. Now, Rodgers gets to face a banged-up Detroit secondary — each of Desmond Trufant, Jeffrey Okudah and Justin Coleman are dealing with injuries. Coleman has already been placed on injured reserve. That has to have Rodgers and Davante Adams excited. It's a prime opportunity for the 36-year-old quarterback to further prove the NFC North still runs through him. 
Fantasy
Jaire Alexander has been following opposing team's No. 1 options — including last week. That means he'll shadow Kenny Golladay if he's healthy, and if not, he'll follow Marvin Jones.
Among the running backs, Adrian Peterson is the one to be excited about. He was clearly the team's top rushing option in Week 1, seeing 14 of the team's 24 running back carries. They could rely on him even more as a rusher now that he's been with the team long enough to get acclimated. The Packers allowed 1,748 rushing yards to running backs last year — that was the fourth-most in the league. D'Andre Swift is going to have some big games this year, but it's going to take some time before we can rely on the rookie. 
For the Packers and top-graded quarterback Aaron Rodgers, the passing game should benefit in this matchup. Justin Coleman was placed on injured reserve because of a hamstring strain; first-round rookie Jeff Okudah was inactive Week 1 with a hamstring injury; and Desmond Trufant also has a hamstring injury. The Bears were able to take advantage of the cornerbacks to pull out a win, so Green Bay should be able to put up huge fantasy numbers. This is good for not only Rodgers and Davante Adams, but also Allen Lazard and Marquez Valdes-Scantling.
Betting
Green Bay looks to continue its dominance of the NFC North, but the betting market doesn't seem overly thrilled at backing the Packers in this matchup. They have dropped one-half to a full point since the opening number but have the majority of both the cash and ticket percentages. The surprising part is they have received a higher percentage of cash, so it is hard to make sense of the initial line movement in this matchup. Twenty-two places separate these two teams in our current Elo rankings.
The Packers have the 12th-ranked defense, with the Lions slotting in 17 spots behind them at 29th overall. Bettors have used this information to buy into the over, pushing the line up 2.5 points to 48.5. In addition, 91% of the cash has been on the over, which makes this game look like a popular option for DFS stacks. The Packers will have an early lead in the NFC North that should prove difficult to overcome if they can win in Week 2. Their seventh-ranked offense looks to be unbeatable early, with a revengeful Rodgers looking set to unload on the NFC. 
Headline of the game: Mounting injuries are making things difficult for Dallas early in the season
Dallas had high expectations coming into this season. Mike McCarthy replaced Jason Garrett as head coach, and the consensus was that the team had one of the better drafts this offseason. Those high expectations are somewhat tempered after a season-opening loss, though. The defeat to the Rams certainly can't be pinned on the injuries the Cowboys suffered prior to and during Week 1, but they didn't help matters. 
The most glaring case is at right tackle, where La'el Collins is beginning the season on injured reserve. Undrafted free agent Terence Steele was the surprise starter, and he had a rough go in his first taste of NFL action, producing a 49.8 overall grade. Many expected Cam Erving to draw the start at right tackle in place of Collins, but he injured himself on special teams and is expected to miss a few weeks. Dallas is suddenly very thin on the offensive line — something the Falcons will look to exploit in this Week 2 affair 
Both Leighton Vander Esch and Blake Jarwin — two players who were slated to be key contributors on this team in 2020 — also went down with significant injuries. Those absences leave the Cowboys shorthanded against a Falcons team looking for its first win this season, putting Dallas in danger of dropping to 0-2.
Fantasy
Tight end Hayden Hurst was a consensus TE1 in drafts based on Austin Hooper's numbers in Atlanta in recent seasons. He was expected to have the third-most targets behind Julio Jones and Calvin Ridley. In Week 1, it appeared he was the fourth option — Russell Gage had 12 targets to Hurst's five.
This week will be important in determining if Hurst can live up to expectations. The Cowboys allowed 14.5 fantasy points per game to tight ends last year, placing them in the top four for most fantasy points allowed. Dallas was without linebacker Sean Lee in Week 1, and Leighton Vander Esch will miss significant time with injury. The middle of the Cowboys' defense will be the best place to attack, and Hurst should take advantage of it. If the wide receivers dominate the targets again, it will be hard to start Hurst until something changes. Hurst has the second-best matchup for a tight end in Week 2, according to the tight end matchup chart.
Last week, the Seahawk targeted their wide receivers only 18 times against Atlanta. However, that limited volume led to 15 catches for 229 yards. Expect Dallas to targets its wide receivers even more. The Falcons' outside cornerbacks — Isaiah Oliver and A.J. Terrell — gave up the majority of those yards: 180 on 12 catches. This means it might not be CeeDee Lamb's week to shine, but Amari Cooper and Michael Gallup should both be in for big games.
Betting
The market has swung heavily in this matchup, with Dallas opening as 7.5-point favorites before dropping down to -4.5 for a current number. This line movement has been accompanied by a heavy percentage of the cash on the Falcons with a higher-than-expected ticket percentage still siding with the Cowboys. America's team is always a public betting favorite — plus, few are able to still stomach wagering on the Falcons. 
This game is tied for the highest total on the slate after moving up two points from the opening number. The Cowboys rank 11th and the Falcons ninth in our opponent-adjusted offensive grades, so the excitement around the over appears justified. The Falcons looked incapable of stopping the Seahawks last weekend, and most expect similar struggles in this matchup.
This should be a popular game from a DFS perspective, but PFF Greenline offers some signal on if that is the best approach based on where our projections sit. There is also a small play on the spread, but with this line continuing to move, it is better to lock up the value early in case the market is still discovering the correct price.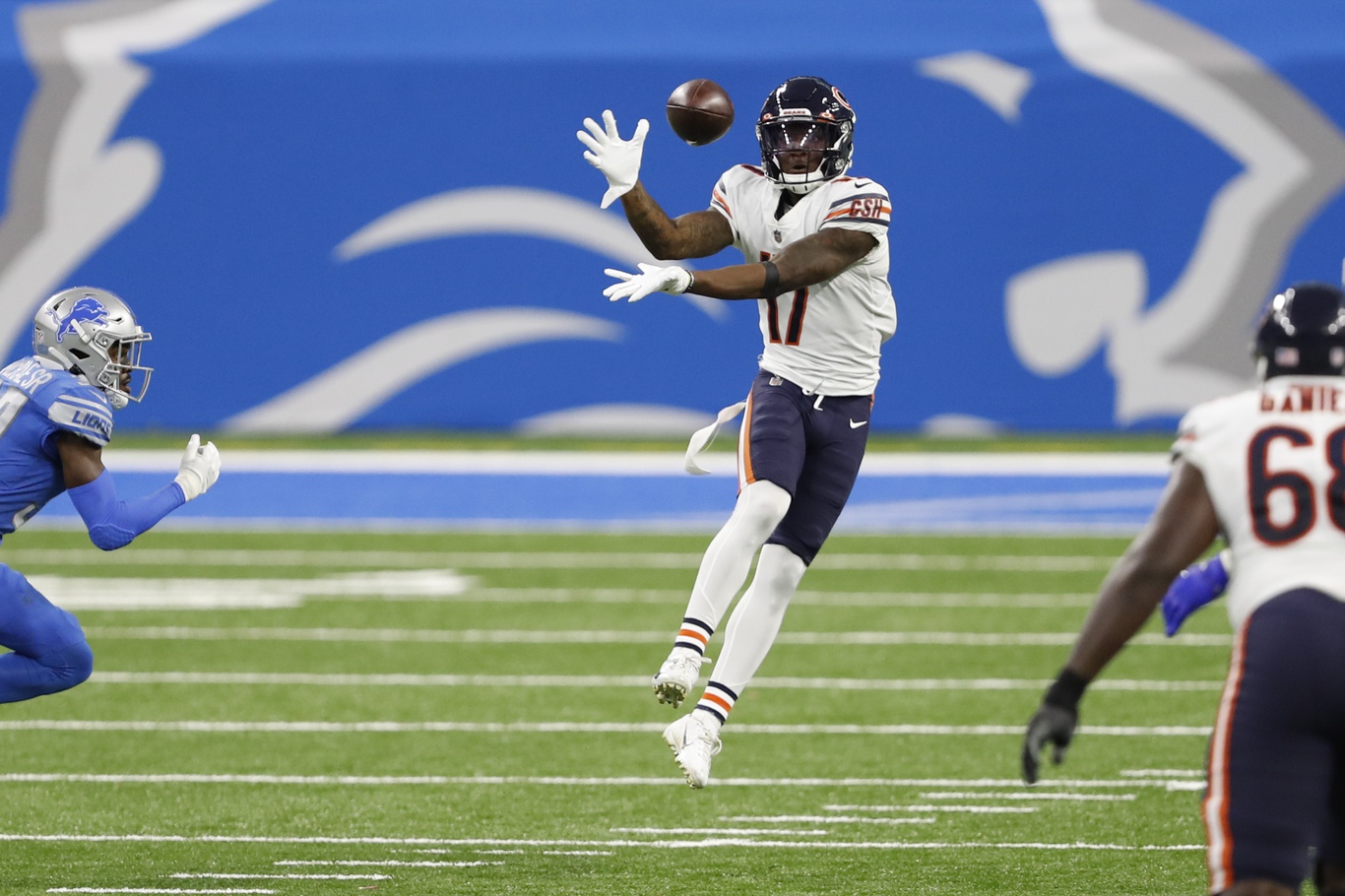 Headline of the game: Giants' offensive line has to give the team a better chance against Chicago than it did against Pittsburgh
Here are a few numbers to give you an idea of the problems the Giants' offensive line had against Pittsburgh in the season-opener: 
The Giants allowed pressure on 52.1% of their pass plays (fewer than only the Jets). 

Saquon Barkley

averaged -0.7 yards before contact per carry. He was contacted nearly a yard in the backfield on average.
That kind of production from the offensive line, both in pass protection and in the run game, is going to be tough to overcome as an offense. The Bears don't pose quite the same threat that the Steelers do up front, but they have a few elite players to deal with in their own right between Khalil Mack and Akiem Hicks. The offensive line should have some bright spots between the perennially strong performances from Kevin Zeitler and the fourth overall selection in the 2020 NFL Draft, Andrew Thomas. There weren't a ton of bright spots this past Monday night, though. Turning that around will be the Giants' top priority heading into Week 2. 
Fantasy
Week 1 was confusing for anyone rostering Giants players. Saquon Barkley and Evan Engram were expected to be fantasy stars, but both disappointed. Darius Slayton, on the other hand, had a two-touchdown performance. Those trends have a chance to continue against Chicago. The offensive/defensive line chart shows this as a more favorable matchup for the Bears than Giants. The tight end chart and strength of schedule tool also agree that this isn't a great matchup for Engram. Slayton and Sterling Shepard have slightly favorable matchups.
Anthony Miller has the third-best matchup of the week, according to the wide receiver/cornerback matchup chart. He played 91% of his snaps in the slot, which lines him up against Darnay Holmes, who had 100% of his snaps in the slot. Holmes allowed five of six passes thrown his way to be caught for 56 yards. Miller led all slot receivers in yards per route run in the slot (3.8) among those with at least 18 slot routes. If there is any week to insert Miller into your starting lineup, this is it.
Betting
These two teams are seemingly heading in opposite directions after their respective Week 1 performances. This market has some rogue numbers throughout the four-to-six point range still, but the consensus looks to be a half-point off the opening spread at -6. The Giants have seen the majority of cash and tickets, with no discernible difference in either category. 
The total has seen a full-point drop since the open, with a higher percentage of cash on the under, but the public is siding with the over. Both offenses are back-to-back in our offensive rankings at 22nd and 21st, but the key differentiator is the defenses — the Bears are 20 spots better than the Giants. Our predictive model gives the Bears a 69% win probability but sees little value in the current numbers available in the betting markets. 
Headline of the game: DeAndre Hopkins is exactly what this Cardinals offense needed, and he'll continue to show it against Washington
There was talk that Hopkins wasn't going to see the same pass-game volume in Arizona that he did in Houston. He quickly put that talk to rest with a monstrous Week 1 performance — 14 receptions on 16 targets for 151 receiving yards. With Larry Fitzgerald nearing the end of his NFL career, the Cardinals did not have a wide receiver who Kyler Murray could rely on to get open and bring down catches anywhere on the football field. Now, he has exactly that, and it makes an improving Cardinals offense all the more dangerous. 
Washington turned in a strong Week 1 performance against the Eagles, but there's reason to believe that its secondary is still susceptible to a strong passing attack. As long as Murray isn't running from Chase Young and company on every drop back — which is a possibility — Hopkins should continue to put up big numbers in this offense. 
Fantasy
Logan Thomas was a popular waiver wire addition at tight end after leading Washington in targets (8) in Week 1. He only caught four of them but had 37 yards and a touchdown. This is a great week to fire up the former QB. The Cardinals allowed 1,159 yards and 14 touchdowns to tight ends last year, both of which were the most in the league. Last week, they allowed 58 yards to tight ends despite George Kittle spraining his knee. As long as Thomas gets the targets he saw in Week 1, he will be a TE1.
The Cardinals' wide receivers have an interesting matchup against the Football Team's cornerbacks, who played better than expected in Week 1. Fabian Moreau, who played at right outside cornerback, led the way with more interceptions than catches allowed. He'll line up against DeAndre Hopkins after the wideout's 14 catches and 151-yard performance.
Christian Kirk had a disappointing Week 1, but that shouldn't be surprising after he lined up against Richard Sherman the majority of the time. He faces Ronald Darby this week, who allowed three catches on six targets for 81 yards. This week will be a good indication of whether Kirk can have fantasy value in the right matchups as the Cardinals' No. 2 receiver.
Betting
This matchup highlights two teams coming off impressive Week 1 performances, with the betting market torn on which side to back. The line has bounced between -7 and -6.5, with a heavy percentage of both the cash and ticket percentages going toward the home favorite. Depending on the spread, this could be a playable option from a PFF Greenline perspective, as the moneyline offers some potential value at the current price.  
The total has held steady since the open despite a significant portion of both the cash and ticket percentages siding with the over. Greenline has a small lean on 46.5 as a total, but these split percentages indicate a move higher could be happening shortly. This could be an under-the-radar game from a DFS perspective — both teams rank 20th or worse in our opponent-adjusted defensive rankings.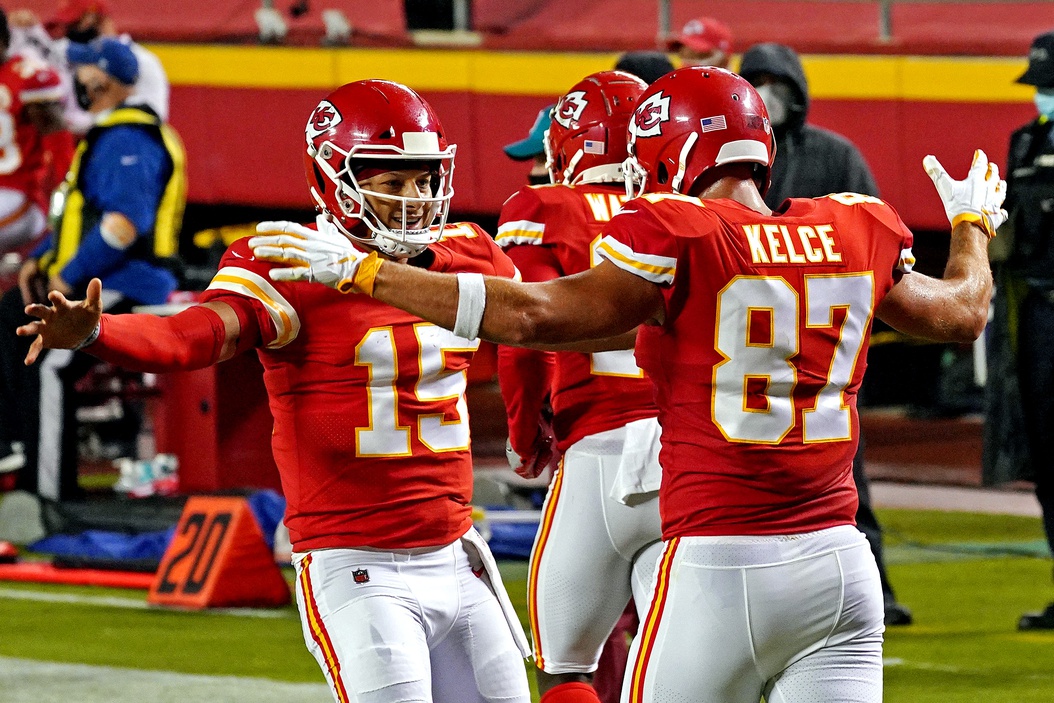 Headline of the game: The Chargers' defense is good, but the Chiefs' offense is better
The NFL should be scared of the Chiefs' offense. Patrick Mahomes produced a 67.7 PFF grade in the opening game of the season — far from a dominant performance — and the Chiefs still put up points with ease. Mahomes simply doesn't have to be dominant for Kansas City's offense to be great in Andy Reid's scheme due to the talent around him. It just so happens that Mahomes is also the best quarterback in the NFL, capable of ripping a defense to shreds within the structure and dropping your jaw when he improvises. As a unit, they're going to be tough to stop. 
Even without the injured Derwin James, Los Angeles has a defense full of talent. The Chargers did a good job of making Joe Burrow uncomfortable in his NFL debut, allowing the second-lowest expected points added per play mark in the NFL in Week 1. Joey Bosa was excellent with seven pressures, but he'll be lining up against Mitchell Schwartz instead of Bobby Hart in this matchup. In a similar vein, a secondary led by Casey Hayward Jr. and Chris Harris Jr. won't be matching wits with a rookie in his NFL debut — rather, they'll contend with Mahomes. There's not a matchup this year where the Chiefs' offense won't have an edge. 
Fantasy
If Tyreek Hill has a kryptonite, it's the Chargers. Over his past three games against Los Angeles, he's averaged 36 yards and no touchdowns. Casey Hayward Jr. has had a lot to do with that. Now the Chargers have Chris Harris Jr., who allowed only one catch for 14 yards last week. It's hard not to start Hill, but if your team has the depth at wide receiver, it's at least worth considering.
Clyde Edwards-Helaire, on the other hand, should have a big game. The Chargers allowed 28.7 fantasy points per game to running backs in 2019, second-most among all teams. Edwards-Helaire leads the league in rushing yards after the league's opening week, and he should keep his lead by the end of Week 2.
The Chiefs weren't far behind in fantasy points allowed to running backs. Austin Ekeler averaged 5.0 yards per carry and had 17 catches for 151 yards in his two games against Kansas City last year. Buy low on him now after Week 1 because this is the lowest his value will be. If he has a big game against the Chiefs, it will be much harder to trade for him.
Betting
Kansas City quickly crossed the key number 7 and has pushed out to 8.5-point favorites after opening at 6. They sit atop the NFL in our Elo rankings, with the Chargers the closest challengers in the AFC West despite being 16 spots behind. A lackluster performance from the Chargers has caused not only the spread to move against them, but also the total — which has dropped 4.5 points since an opening print of 51.
That opening number is the highest value number from a total perspective, so its not surprising to see that it went into a free fall to the downside once the movement happened. In addition, 71% of the cash percentage has been on the under, with a higher percentage of tickets still siding with the over. It is the classic sharps versus public betting setup, as PFF Greenline can offer some value not only in what direction to lean, but how to play this matchup from a DFS perspective. 
Headline of the game: Drawing the Chiefs' and Ravens' offenses in back-to-back weeks is as bad as it gets
Houston's defense wasn't able to stop the Chiefs through the air or on the ground in Week 1, turning in bottom-10 expected points added per play marks in both run defense and coverage. With the injury to Gareon Conley, an uncertain cornerback group faces an uphill battle — each of Vernon Hargreaves, Lonnie Johnson Jr. and rookie John Reid was called on for 25-plus snaps in the opener. Both Hargreaves and Johnson graded out among the worst cornerbacks in the NFL in 2019, and none of the three cleared a 60.0 grade in coverage against Kansas City to open the 2020 season. 
That should spell trouble against Lamar Jackson and the Ravens' offense. They can beat you on the ground better than any team in the NFL, and Jackson has shown himself to be one of the better passers in the NFL over the past year, as well. His 88.8 passing grade in Week 1 trailed only Aaron Rodgers and Russell Wilson, and he averaged a league-high 11.0 yards per attempt while posting a 152.1 passer rating. The Texans' best opportunity to avoid going 0-2 is for Deshaun Watson to carry them to a shootout victory because it's tough to see their defense stopping Baltimore's offense. 
Fantasy
According to our strength of schedule metric, the Ravens' wide receivers have the most favorable matchup of any receiving group in Week 2. The Texans earned a 45.7 team coverage grade in Week 1. Bradley Roby tracked Tyreek Hill, and it wouldn't be surprising if he matched up against Marquise Brown this week.
Roby allowed at least four catches in two-thirds of his games last year. Meanwhile, Brown had a very efficient five catches on six targets for 101 yards in Week 1. Brown has the second-best matchup this week, according to the wide receiver/cornerback matchup chart. In most league formats, it's probably still not worth starting Willie Snead IV or Miles Boykin, but both are interesting gambles after each had four targets in Week 1. With this matchup, they might only need four or five targets to put up big yardage totals.
On Houston's end, start Deshaun Watson and David Johnson if you have them. Jordan Akins is the sneaky play in this matchup. The one area of the defense the Ravens haven't invested big money in is at inside linebacker. Both Patrick Queen and L.J. Fort allowed three catches against the Browns. Baltimore's defense allowed a total of 19 fantasy points to tight ends last week, the fifth-most.
Akins saw 48 snaps in Week 1, which tied for third-most in a game in his career. He was targeted only twice but caught both for 39 yards and a touchdown. He's also tied for the league lead in avoided tackles among tight ends (three). He's a popular waiver wire target this week thanks to his playing time and the touchdown, and this could be a good week to fire him up.
Betting
Baltimore sits as a touchdown road favorite after opening at -6. The cash and ticket percentages have been one-sided toward the Ravens, but the higher cash percentage typically signals a move backed by big-money bettors. Our predictive model gives Baltimore a 69.3% win probability, with the current betting market undervaluing Houston in this matchup.
The total opened as the highest number on the slate but has dropped 2-2.5 points, with a significant percentage of cash hitting the under. This should be one of the most popular targets from a DFS perspective. PFF Greenline has a lean on the current total but offers some valuable signal to gauge whether this is a worthwhile play or a fade from a game stack perspective.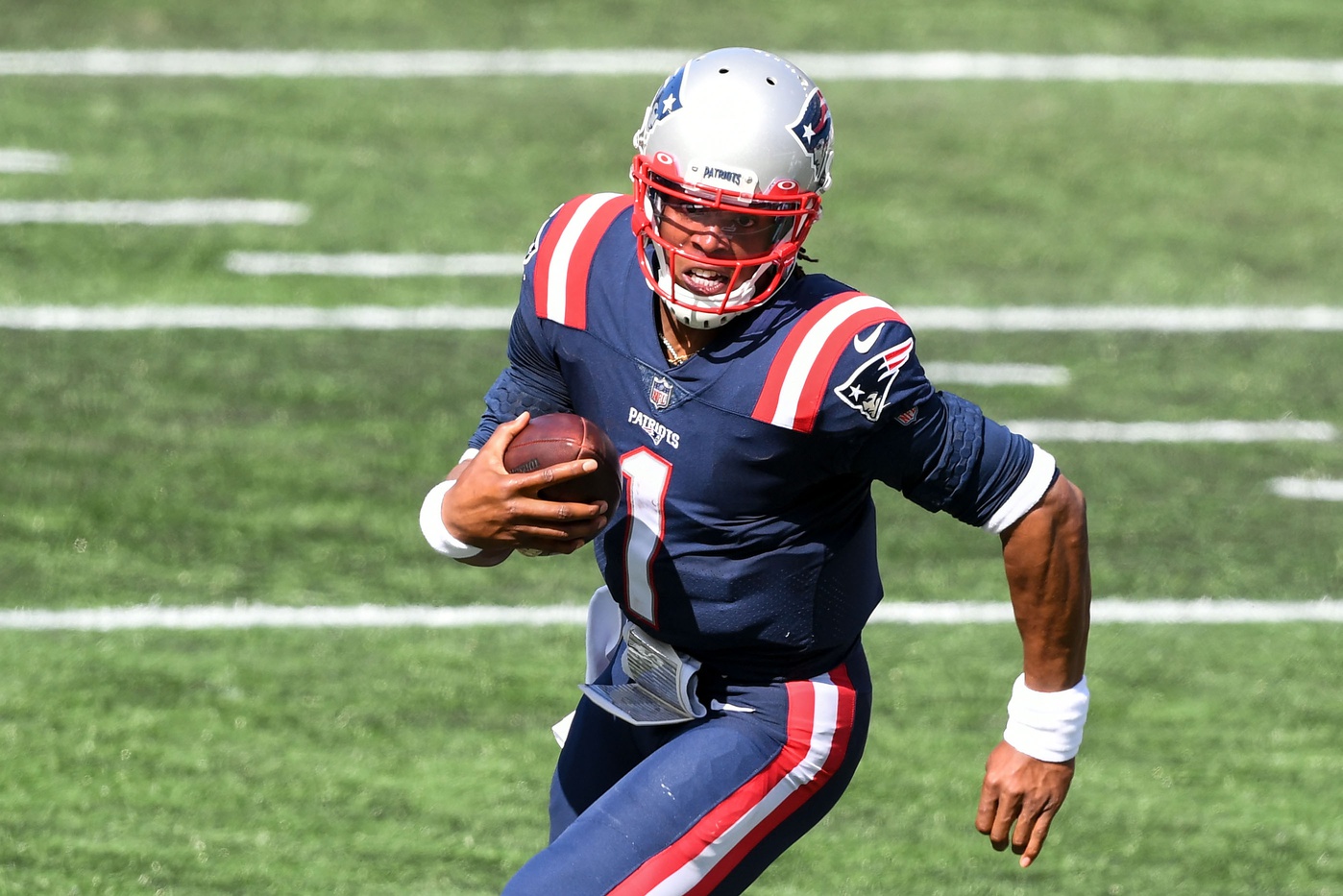 Headline of the game: Seattle needs to continue to let Russell Wilson lead this offense against a talented Patriots secondary
The Seahawks finally let Wilson go to work on early downs in Week 1. Across the 2018 and 2019 seasons, Seattle passed just 49% of the time on first and second down — the third-lowest mark in the NFL. That number jumped to 63% in Week 1 against Atlanta and 69% (first in the league) if you look at only the first three quarters. Wilson's stat line on those early down passes was a remarkable 24 of 26 for 229 yards and three touchdowns. 
Good things happen when you put the ball in his hands, and it seems as if Pete Carroll has realized he can do so on more than just third-down situations. Pass to build a big lead. Don't pass to dig out of a hole you built for yourself.
It's unlikely that Wilson will have that kind of success against a New England secondary that remains one of the best in the NFL. The Patriots lost a lot of key contributors from last season's unit, but they were able to return a sizable portion of their impressive secondary. Stephon Gilmore — the best cornerback in the NFL — leads the group. He didn't play his best game in Week 1 but still came away with an interception. 
An interesting side plot will be how well Wilson is able to attack this Patriots' secondary deep. Wilson is the best deep-ball thrower in the NFL, and both Tyler Lockett and D.K. Metcalf are more than capable of winning deep. However, New England boasts the best deep coverage cornerback statistically in the league. It's not Gilmore, either. Since 2018, J.C. Jackson has allowed just three receptions on 30 targets that came 20-plus yards downfield. This is a classic strength-on-strength matchup, and it's certainly one to watch for on Sunday night. 
Fantasy
In fantasy, the plan will be to start Cam Newton and no other Patriots player in most weeks. No running back had more than 19 snaps last week. Julian Edelman and K'Neal Harry were the only players to see more than three targets. However, this is a week where you can start Edelman.
Falcons wideouts Russell Gage and Julio Jones were among the top three wide receivers in slot receiving yards in Week 1. Part of the reason the Falcons had so many yards in the slot against Seattle was that they targeted that area frequently, and the Patriots should also target the slot a fair amount. 
Seattle has historically been a run-first offense, and New England's defense invites teams to run against them instead of pass. This means big things for Seattle's running backs, but the question is who to trust. Carlos Hyde led the team in both carries and yards at seven and 23 while also having Seattle's only rushing touchdown. There's at least a decent chance Hyde is the best running back to play in this matchup, but it's hard not to leave Chris Carson a little ahead for his playing time in the pass game. This game will be telling for how to value the Seattle running back situation in future weeks.
Betting
Sunday night once again brings us the best matchup on the slate with our seventh-ranked Seahawks at home as a field goal favorite over the fifth-ranked Patriots. The line movement being down a half-point since the open is perplexing, as the cash percentage is heavily skewed toward the Seahawks. The spread and moneyline numbers from the betting market appear out of sync with PFF Greenline, giving Seattle a 60.9% cover probability at home. It seems that if bettors are siding with the Patriots, they are doing so on the moneyline — almost 86% of the cash for the moneyline has been in the Patriots' direction. 
The total has held steady since the open, with bettors seemingly buying more into the Patriots' third-ranked defense than the Seahawks' fourth-ranked offense. It is also possible that the Seahawks' defensive performance after the addition of Jamal Adams and Quinton Dunbar highlighted that this is a unit on the rise. The cash and ticket percentages side with the over, but 44 is the second-most significant total number from a value perspective, so the expectation is that we stick to it until kickoff. 
Headline of the game: The short passing game will reign supreme in the Week 2 finale
You would be hard-pressed to find two passing offenses that keep their passing games closer to the vest than the Saints and Raiders. Over the past three seasons, New Orleans has the lowest average depth of target in the NFL (7.1 yards), and Las Vegas owns the second-lowest average depth of target (7.6 yards). The only team to throw a lower percentage of their pass attempts 20 or more yards downfield over that same time frame than the Raiders (10.3%) or Saints (10.1%) is the 49ers (8.4%). This game is going to come down to which quarterback can work the quick passing game more accurately. 
It's hard to bet against Drew Brees in that contest. Accuracy has been his calling card throughout his career. Since 2017, his 70% accurate pass rate ranks first in the NFL by over 4 percentage points. There are legitimate concerns about declining arm strength and Brees' ability to make all the throws, but he has continued to grade out as one of the best quarterbacks in the NFL over the past several seasons. The matchup with the Raiders' secondary is a softer one than Tampa Bay's, and it's fair to expect a better showing from Brees after he posted just a 57.7 passing grade in Week 1. 
Fantasy
This is a week for the Saints' fantasy stars to rebound. The Raiders' pass rush flashed in Week 1, but the Saints have historically had strong pass-blocking offensive lines. While they had some trouble with the Buccaneers' pass rush, they should be able to handle Las Vegas' unit. The offensive line/defensive line matchup chart gives the Saints' pass-blockers the sixth-biggest advantage of the week. This should provide an opportunity for all of their fantasy stars to have big games. With Michael Thomas' high ankle sprain, the Saints could rely on Emmanuel Sanders, which would make him a high-upside play.
Josh Jacobs and Darren Waller are every-week starters for the foreseeable future, but the rest of the Raiders' skill players will need a good matchup to join them. The bright side is that the Raiders' star players are in position to have big games this week. The Saints were in the top 10 for fantasy points allowed to tight ends both in 2019 and for Week 1 of 2020. New Orleans also had an average run defense in Week 1, and average is good enough for Jacobs to have a big game.
Betting
Monday night offers shootout potential, which makes the showdown slate all the more appealing for DFS players. The total has moved up a half-point despite 71% of the cash hitting the under. Once again, this is a situation where big-money bettors are taking the under while a majority of tickets have sided with the over. 
Our Elo rankings have these two teams separated by 17 places, with the Saints ranking as one of the five best offenses in the NFL. The market hasn't moved off of the open yet, but the expectation is that we see a touchdown spread at some point this week. The Saints have received the vast majority of cash and have the slight lean at the current 6.5-point spread, according to our predictive algorithm. This is a situation to monitor, as any line movement could open up value in the spread market.