PFF previews the 16 NFL games on Week 12 slate, highlighting storylines to watch while also taking a fantasy football and betting approach to offer insight for every NFL fan.
Subscribe to
Headline of the game: Deshaun Watson is playing as well as any quarterback in the NFL
Watson has earned a PFF grade of 91.3 over his last five games, the highest mark in the NFL since Week 6. It may not jump out at you, given the fact that the Houston Texans have still struggled to stack victories, but no one in the league is playing better football at the quarterback position right now.
The most important aspect of his development is that he is starting to cut out some of the negatives that came with the high-level play over the past several seasons. His 26 sacks taken are just seventh-most in the league this year after leading the NFL in that category with 105 across the 2018 and 2019 seasons, and Watson only has seven turnover-worthy plays to his name all year. Houston has a lot to figure out, but the quarterback position is not on that list.
Betting
The two defenses at the bottom of our opponent-adjusted defensive rankings kick off Thanksgiving football in a potential shootout matchup. And as a whole, these could be the two most underwhelming teams in 2020, as they have lost the sixth (Lions) and seventh (Texans) most Elo overall points this season.
The line movement has pushed the opening +1 spread out to the key number 3 behind 71% of the cash and 63% of the tickets on the Texans. The Lions look to be on the verge of firing Matt Patricia after an offensive performance that made the Panthers' defense look good for just the second time this season.
Right now, 56% of the cash and 66% of the tickets have been on the over, which has caused the number to move up half a point from the open. The question becomes whether the Lions anemic offense can finally put forth a quality performance against the worst secondary in the NFL. Our predictive models (PFF Greenline) don't necessarily see that playing out, with a slight lean toward the over, but it's nowhere close to finding enough value to make it a viable betting option. Betting options exist on the spread and total, but with that market continuing to move, make sure to monitor Greenline as we approach game time.
Fantasy
The Detroit Lions rank dead last in fantasy points per game to the running back position, so fantasy managers need to look past Duke Johnson Jr.'s past two box scores and start him on Thursday. 
Johnson still commanded five targets in Week 11 — tying a season-high — and Deshaun Watson missed him on a deep target that would have resulted in a big play. 
The Lions have allowed the second-most rushing yards and the most targets to the RB position over the past five weeks, so I think we should see an uptick in pass-game usage for Johnson, especially with Randall Cobb sidelined. He played a season-high in snaps (albeit only three) from the slot, and that trend could continue now that Cobb has been placed on IR. 
Jordan Akins also falls in the tight end streaming radar this week. He balled out in Week 11 — six targets, 83 receiving yards — and from Weeks 7-10, the Lions gave up production to teams that work tight ends in the passing game. They allowed the third-most targets, fifth-most catches and the fourth-highest passer rating (133.8) over that period.
The Lions' offense looked lost without key offensive personnel, as Matthew Stafford failed to lead his team to any points for the first time in his 11-year career. His 5.4 yards per attempt was by far the worst of the season, so this needs to be a get right spot for him against a Houston Texans defense that ranks 31st in yards per attempt allowed (8.4) since Week 6. 
Marvin Jones Jr. should be in starting lineups regardless of Kenny Golladay's availability. He leads the team in targets over the past three weeks, and the Texans rank 31st in yards per targets to WRs the past five weeks. 
Jones was also on the unfortunate end of an illegal formation penalty that wiped off a 51-yard touchdown pass from Stafford, which explains his meager showing of four catches and 51 receiving yards in Week 11.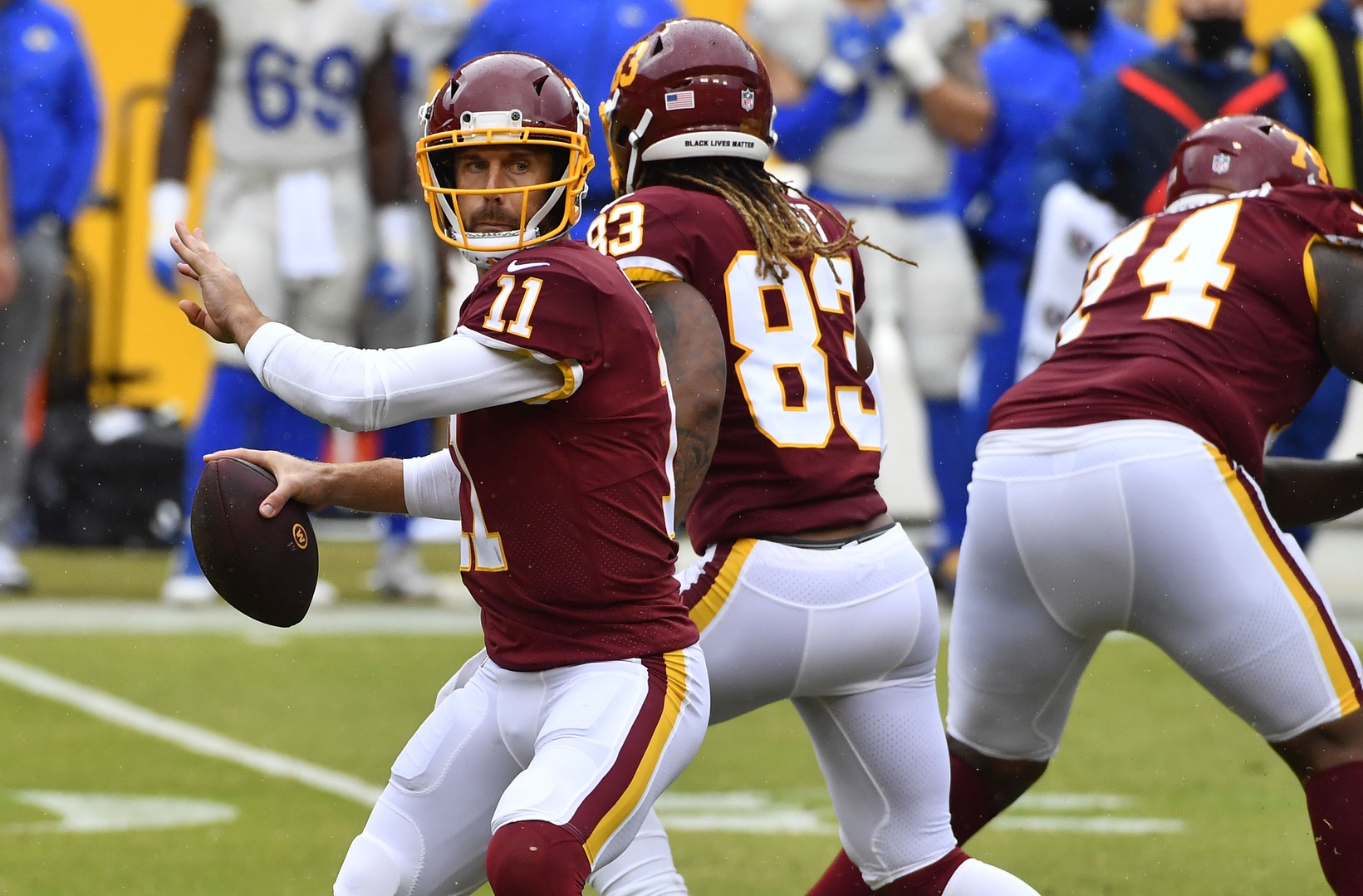 Headline of the game: Which backup quarterback gives his team a better chance at winning the NFC East?
With both of these teams coming off Week 11 victories and the Philadelphia Eagles continuing to struggle with Carson Wentz at the helm, this game — like almost all NFC East games this season — carries significant importance when it comes to the playoff picture. It will largely come down to which reserve quarterback can orchestrate the best performance.
Alex Smith and Andy Dalton are now both over 200 offensive snaps on the season. Smith has earned a PFF grade of 65.7 for his efforts, while Dalton sits at 59.5 — hurt by a dreadful two-game stretch in Week 6 and 7 in which he didn't clear a PFF grade of 55.0.
Dalton did look better this past week against an exploitable Vikings defense, however. The question on Thanksgiving becomes whether he can carry over some of that momentum against a Washington defense that ranks fourth in the NFL in expected points added (EPA) allowed per play.
Smith will have a slightly easier time of things against Dallas, and his play is also on the rise — coming off a season-high 73.3 overall grade in Week 11 against the Bengals. It might not be the best product the NFL has to offer, but the stakes should add some intrigue to this game.
Betting
Bettors are quickly piling onto the Cowboys after their most recent performance, with this spread moving from a pick 'em out to +3. The cash and ticket percentages on both the spread and moneyline have been completely one-sided. This could be a slight overreaction to their most recent performance, as our predictive models lean toward Washington. Further line movement is required to make the Footballers a viable play on the spread.
The total has dropped one point from the open, which doesn't fit into the narrative that bettors were buying into Dallas because of their improved offense last week. The cash and tickets lean with the market movement, as both offenses rank in the twenties in our opponent-adjusted grades. PFF Greenline indicates that this could be a spot to fade, as both coverage units have struggled through recent performances.
Fantasy
The last time these two meet, Antonio Gibson had his first 100-yard game of the season. He rushed for 128 yards on 20 carries and added a rushing touchdown for good measure. The rookie running back should be able to duplicate his performance versus the Dallas Cowboys, who have allowed the second-most rushing yards to RBs this season.
Among running backs with at least 100 carries, Gibson has a PFF rushing grade of 82.1— seventh-best and second to only James Robinson among rookie RBs.
Tight end Logan Thomas was able to post a solid fantasy outing in Week 7 versus Dallas — four catches for 60 yards and a touchdown — but the QB change to Alex Smith has hurt Thomas' production. He has just a 14% target share, a 7.3 aDOT and just one target inside the 10-yard line with the established veteran as the team's signal-caller.
When Kyle Allen was under center, Thomas saw a similar target share but earned a 10.2 aDOT and saw two end-zone targets. His upside has been sapped, making him a less enticing tight end option.
Since returning from the bye in Week 9, the Washington Football Team has not been the same strong defensive unit at stopping the run. They rank 29th in yards before contact per attempt allowed (1.9), 24th in explosive run play percentage allowed (15.3%) and 23rd in yards per attempt allowed (4.6). 
Those numbers rank worse than how the team started the year: 18th in yards before contact per attempt allowed (1.6), ninth in explosive run play percentage allowed (10.9%) and 13th in yards per attempt allowed.
This bodes well for Ezekiel Elliott, who is coming off his first 100-yard game of the season. Elliott posted his worst fantasy performance of this season the last time these teams played (6.10 fantasy points), but the OL was in utter shambles in that game (no Zack Martin) and Andy Dalton got hurt. 
Last week, the team reshuffled the OL; Terence Steele was wisely benched (46.9 PFF grade), Martin moved from right guard to right tackle and Connor McGovern started at RG. That change resulted in the team finishing the week as PFF's fifth-highest graded run-blocking unit (73.2). Running to the new and improved right side of the line proved successful.
The Cowboys averaged 7.2 yards per carry running up the right side of the formation. Washington has allowed the third-most rushing plays of 10-plus yards from runs directed from the right.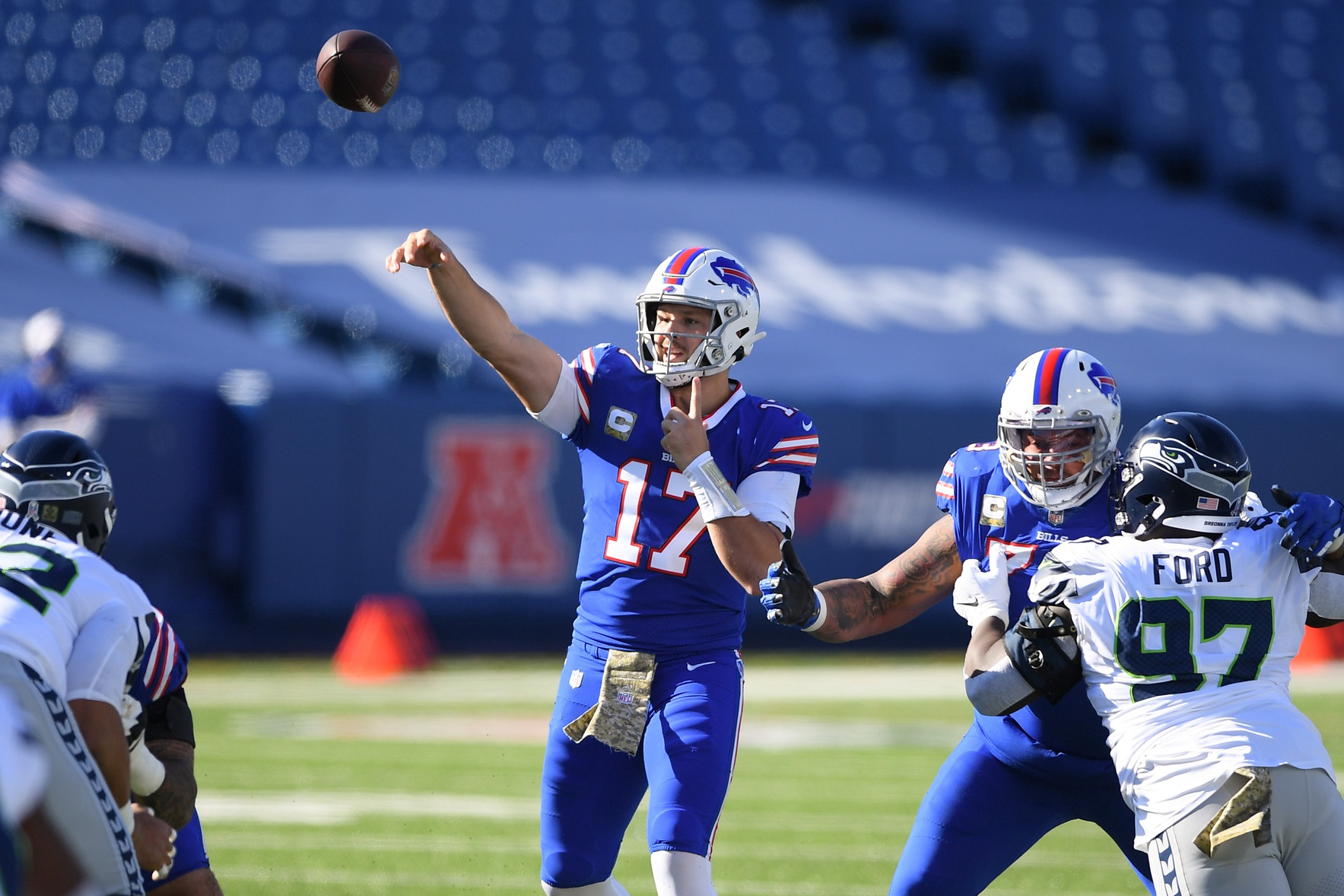 Headline of the game: Two of the best arms in the NFL meet in Buffalo
When you're talking about physical tools and raw talent at the quarterback position, Josh Allen and Justin Herbert have some of the best to offer in the NFL. Despite concerns for each coming into the season, credit is due for the level of play both QBs have shown this year. Allen currently ranks eighth in the league in PFF passing grade, while Herbert doesn't fall too far behind at 14th — they're both among the top half of NFL quarterbacks.
One intriguing matchup to keep an eye on in this game is how each quarterback fares under pressure. The Bills and Chargers generate pressure at the sixth- and seventh-highest rates in the league this season, respectively, and both Allen and Herbert have found some success when under pressure. Herbert's 100.2 passer rating under pressure ranks first among qualifying quarterbacks, while Allen's mark of 85.0 ranks sixth. Whether under pressure or from a clean pocket, it's hard to see these two quarterbacks not entertaining on Sunday.
Betting
The Chargers continue to be overlooked by the betting market, as they have received the majority of cash in just two of their 10 games this year. This is once again the case in their matchup against the Bills, who have received 71% of the cash and 75% of the tickets so far this week. The market has adjusted half a point for the Chargers, who opened at +6 but now sit at +5.5.
Both teams sit in the top half of the NFL in our opponent-adjusted defensive grades, with the Chargers sixth overall. The betting market still likes points to be scored, as the 53.5 is now the third-highest total after moving up four points from the open. Our predictive models find no real value on any of the markets, with further line movement needed to open up betting value.
Fantasy
Kalen Ballage put together a third straight solid week of fantasy production playing the role of the Los Angeles Chargers' bell-cow back. He had 23 touches for a second-straight week — with Austin Ekeler's return still uncertain, fantasy managers should have confidence going right back to Ballage.
His 2.8 yards per attempt in Week 11 gives us unwanted memories of 2019 Ballage, but keep in mind the Jets boast PFF's fifth-highest run-defense grade (72.4). The Buffalo Bills rank 32nd (33.4) — it's dead last by a vast margin. 
Mike Williams is one of the more volatile wide receivers in fantasy land, so this might be a spot where he's better off on the bench. He ranks third in the NFL in aDOT (17.3) and the Bills have faced the lowest percentage of deep passes this season (6%). It's also worth noting that No. 3 wide receiver Jalen Guyton ran more routes and played a greater percentage of snaps than Williams in Week 11. 
John Brown got banged up in the team's loss against the Arizona Cardinals in Week 10, so his injury status needs to be monitored up until game time. We have seen Josh Allen heavily rely on Cole Beasley without Smokey Brown playing at full strength. 
In those seven games, Beasley has averaged six receptions and 15.5 fantasy points per game. The matchup from the slot also favors the Bills' crafty wideout — the Chargers rank dead last in yards per target on passes to WRs in the slot. 
L.A. has also been run over by running backs the past four weeks, allowing the seventh-most rushing yards to the position. The Bills' backfield seems to be trending toward Zack Moss as the team's RB1, so he can be used in a pinch. The Chargers have allowed six rushing touchdowns in the past four weeks, so look for Moss to make fantasy managers happy with a score on Sunday. 
The Bills are home favorites, and the game has a projected total north of 53 points which usually results in positive EV for running backs on that team.
Headline of the game: How do the Ravens attack Pittsburgh's defense in Round 2?
The Ravens' offense as a whole has been one of the bigger disappointments across the NFL this season, but they were able to move the ball successfully against the Steelers back in Week 8. Their 5.9 yards per play that week — which ranked fifth among all offenses in Week 8 — remains the highest single-game average that Pittsburgh has allowed this season. Still, the four turnovers killed any chance of a Baltimore W.
Things will look a little different for this matchup, namely due to the injury to tight end Nick Boyle. With Boyle sidelined last week, the Ravens used two-TE sets on fewer than 10 offensive plays for the first time all season. Some of the beef on their offense will be replaced with speed — something that may actually play to their strengths offensively. Baltimore has averaged 5.2 yards per play on runs outside the tackles this season (second in the NFL) compared to just 4.4 yards between the tackles (13th). None of that matters if Lamar Jackson and company can't do a better job of taking care of the football, though. That will be priority No. 1 on Thanksgiving night.
Betting
The betting market quickly bought into the Steelers on the -1 open, crossing 3 before settling at -4. Some of this could be a Covid-related concern, as the Ravens are dealing with at least some levels of exposure. This could be pertinent information that is worth waiting on before locking in a bet for the Thursday nightcap.
Our Elo rankings have these teams back-to-back in the top five, but market preference suggests that the Ravens continue to be overrated. One reason why we could be so far off from the betting market viewpoint is that our grading hasn't painted Ben Roethlisberger in the most positive of lights. The Steelers sit at 26th in our opponent-adjusted passing grade, with their rushing attack ringing in the lowest-graded unit in the NFL. There is no question they have the league's best defense, but relying on that consistently as we get later in the season could be a recipe for disaster. No team has gained more Elo points over the course of the season than the Steelers, so it is possible we started at a lower point of evaluation than we should have.
Fantasy
Lamar Jackson hasn't been the same difference-maker in fantasy football this season as he was in 2019, but that doesn't mean he's trash. He still can offer some semblance of fantasy value because of his ability to run. 
Since the team's bye week, Jackson has averaged 13 carries and 57 rushing yards per game. It's that type of usage as a rusher that makes the reigning MVP a startable commodity even against the Pittsburgh Steelers, who have allowed the fewest fantasy points to quarterbacks this season. 
It's important to note that Jackson's 18.8 fantasy points against Pittsburgh in Week 7 were well below expectation — his expected output was 29.6 fantasy points. That's the most for a QB against the Steelers in the past two years. 
PFF's Mike Renner wrote a great piece about whether or not the book is out on how to stop Jackson. One of the major takeaways is that the Ravens' quarterback struggles versus man coverage. In Lamar's two career starts versus the Steelers, they have run just under 19% of their coverage snaps from man coverage.
Ben Roethlisberger had been on fire entering Week 11, averaging 25 fantasy points per game in plus-matchups against the Dallas Cowboys and Cincinnati Bengals. He had an equally desirable matchup last week versus the banged-up Jacksonville Jaguars, but his 17.7 fantasy point showing is a reminder that his fantasy ceiling will be limited to what he can do with his arm because he adds no value with his legs.
Fantasy managers should have no issue benching Roethlisberger against the Ravens, who rank second in the NFL in yards per attempt allowed (6.6) and third in explosive pass play percentage allowed (12.1%). 
Eric Ebron should be started confidently because of Baltimore's weakness to defend TEs out of the slot. The Ravens have allowed the second-most catches and most receiving yards to tight ends lined up in the slot this season — I expect the Steelers' to deploy their big TE there often on Thanksgiving night.
When these teams met in Week 8, Ebron played a season-high 61% of his snaps from the slot. And over the team's past four games, he trails only JuJu Smith-Schuster in catches from the slot among Steelers pass-catchers.
Headline of the game: The Falcons' defense is in trouble against Las Vegas
Though the Raiders weren't able to knock off the Chiefs for a second time, they did make a statement with their performance this past week. This team — and particularly their offense — can be dangerous. Derek Carr is coming off back-to-back 90.0-plus PFF grades, opening up the downfield passing attack that many have wanted to see the Raiders operate for some time. Against the Chiefs, Carr went 7-for-11 for 132 yards, two touchdowns and an interception on passes thrown 10 or more yards downfield.
Atlanta, meanwhile, continues to have no answers on defense. They just got picked apart by a Taysom Hill-led Saints offense and now rank 30th in the NFL in EPA per pass play allowed ahead of only the Jets and the Jaguars. This is a spot where Carr should be able to carry over the strong play that we've seen from him the past few weeks.
Betting
People are crowning Carr with the most impressive loss of 2020 after he went toe-to-toe with Patrick Mahomes for the second time. This caused quite the reaction in the betting market, with the opening pick 'em spread quickly pushing out to +3. Some of this could also be related to the awful display of football by the Falcons, who made Taysom Hill look like a Hall of Fame quarterback.
These offenses are closely linked in our opponent-adjusted offensive grades, but both rank in the bottom half of the NFL. The betting market expects this game to turn into a shootout, as it is tied for the highest total in Week 12. Our models don't find value on any of the three betting markets, but this should be a quality spot for fantasy opportunities.
Fantasy
Derek Carr came out of his shell on Sunday night, throwing for 275 yards and three touchdowns after only managing a trio of scores in his previous three games combined. Since Week 4, Carr owns PFF's second-highest passing grade (87.0) behind only Deshaun Watson, so fantasy managers should be extremely confident in sliding him in against the Atlanta Falcons. 
They gave up over 24 fantasy points to Taysom Hill in his first career start, and they have allowed seven different quarterbacks to throw for 300 or more yards. 
That means high-end production is in the future for Darren Waller and Nelson Agholor. Atlanta ranks 29th in yards per target to tight ends and 31st in deep pass percentage (22.3%) allowed to wide receivers. 
Waller ranks second among all TEs in targets and Agholor leads the team in catches of 20 yards or more. Henry Ruggs III leads the team in deep targets (11) and is second in the NFL deep ball rate (42.3%), but he just isn't involved enough to be more than anything than a DFS dart throw. 
Matt Ryan and the Falcons' offense operates at full capacity when Julio Jones is healthy. Jones' availability is already in question, making it extremely difficult to plug Ryan into lineups this week especially considering all the other QB streamers available. 
Todd Gurley II failed to find the end zone in Week 11 and predictably busted hard. That probably won't be the case versus the Las Vegas Raiders, who rank 29th in PFF run-defense grade and have allowed the second-most rushing touchdowns to running backs this season. 
Gurley has also scored five touchdowns this season in games when Jones has been injured or inactive. 
Hayden Hurst ran a full set of routes on Sunday but caught exactly zero passes on three targets. His aDOT on those targets was 20.3, so at least he was being targeted downfield — that means fantasy managers should go back to him versus the Raiders. They have faced the most targets of 10-plus yards to tight ends this season. 
Headline of the game: Philip Rivers' quick release is going to make it next to impossible for Tennessee's pass rush to get home
The only reason that Rivers doesn't have the quickest time to throw in the NFL this season (2.38 seconds) is that we're seeing a historically quick time to throw from Ben Roethlisberger in Pittsburgh (2.18 seconds). Rivers' fastest average time to throw of the season actually came two weeks ago in the first matchup against Tennessee, when he got rid of the ball in 2.08 seconds on average and went 29-for-39 for 308 yards, a touchdown and no interceptions.
We know that Rivers is not the most mobile of quarterbacks at this stage of his career and that that assessment is putting it kindly. Therefore, getting pressure would be big for the Titans, but the combination of Rivers' quick release and the fact that Tennessee has generated pressure on just 27% of their pass-rushing snaps this season (25th) makes it hard to see them getting home here. They'll need to lean on their coverage to get the job done against the pass and hope the rush gets home for at least a few impactful QB pressures.
Betting
The early-week line movement has favored the Titans, who have received 87% of the cash and tickets so far. Both teams are coming off quality performances, but the lookahead line of -4 highlights that the TItans had the more impressive performance last week.
The Colts don't do anything great, but they do everything well. They rank sixth in our overall Elo rankings, two spots ahead of their current market-implied ratings. Our team spread ranking would make this game a -2.5 point spread on a neutral field, which was the preseason number for this matchup. It is highly unlikely that we get to or cross -3, so opportunities should be available throughout the week to back the Titans.
Fantasy
The Colts and Titans matchup from two weeks ago on Thursday Night Football gave a strong indication of how this game could end up.
Derrick Henry has scored a rushing touchdown in six of his last eight games, with the Colts game being one of the two games he did not. Henry ran for 103 yards last time, which is right around average for him but was the most allowed by the Indianapolis defense this season. It would not be surprising if Henry fails to hit 100 yards this time around unless the Titans can gain and maintain a lead.
The Titans receivers were not so lucky. Corey Davis was the only Titans player with more than two catches and the only one with more than 21 receiving yards. Davis ended up catching all five of his targets for 67 yards. A.J. Brown should be in starting lineups because he has scored a touchdown in his last six games that weren't against Indianapolis — he has too much upside despite the matchup.
Michael Pittman Jr. is the player to start for the Colts. Pittman's first 100-yard game of his career came against Tennessee. He followed that up with 66 yards and a touchdown last week against a good Packers defense.
The biggest question comes at running back, where Nyheim Hines became the Colts' lead back two weeks ago, but Jonathan Taylor led the team this past week. The best solution for the week is probably to start either one of them if you have them. Jordan Wilkins' role in the offense has consistently been on the decline since his breakout game a month ago. This is mostly a two-man backfield now, and the Titans' defense has allowed plenty of fantasy points to running backs.
Headline of the game: Can the Vikings produce offensively despite the potential loss of Adam Thielen?
Thielen was placed on the reserve/Covid-19 list following this past week's game against Dallas — a monstrous performance from Thielen himself with eight receptions for 123 yards and two touchdowns, which included an impressive one-handed grab in the end zone. Minnesota needed Thielen to be one of the best wide receivers in the NFL following the trade of Stefon Diggs, and he has been just that this season. His 90.0 overall grade ranks third in the league. If he did test positive rather than getting put on the list as a "close contact," the Vikings will likely be without Thielen for at least two games.
The good news is that Minnesota also has one of the two wide receivers with a higher PFF grade than Thielen this year — the rookie, Justin Jefferson. He has been everything the Vikings could have hoped for in his first season, leading the league with 3.16 receiving yards per route run. At this point, defenses are well aware of the kind of impact he can have, so it will be worth monitoring how Carolina's zone-heavy scheme ends up handling him if Thielen does get ruled out. More pressure would certainly go on Jefferson to carry the load offensively.
Betting
The betting markets were delayed in releasing a line for this matchup, but with news that Teddy Bridgewater is in line to practice, a line of -4 has been locked in. Bridgewater is worth 3.5 points above replacement but two points behind Kirk Cousins in this metric. The Vikings look like a team the betting market is high on, but our Elo rankings have them in the bottom half of the league.
Cousins is sixth in PFF's opponent-adjusted passing grade, which doesn't account for the garbage-time situations that he has mostly thrived in. The Vikings have gone over in seven of their 10 games, but the total has actually dropped half a point since the open. Our predictive model is close to finding value in the total but needs some further line movement or injury situations to be confirmed before finding value.
Fantasy
Running backs have gained 180 or more yards four times so far this season. Two of those games were by Dalvin Cook, including his 206-yard and two-touchdown performance against the Lions three weeks ago. Another one of the four was Ronald Jones against the Panthers. Cook has the second-most 100-yard games this season with five, while Carolina has allowed three 100-yard performances. Everything adds up to Cook potentially being the best running back of the week.
This makes it a little harder to trust the Vikings' wide receivers. Adam Thielen is coming off back-to-back games with two touchdowns, but he had only five catches for 65 yards over the two prior weeks because Minnesota focused on the run game. Justin Jefferson has 221 receiving yards in the last two weeks compared to 90 yards the two before. If Cook dominates as much as he should, the potential Pro Bowl receivers are likely to have quiet games.
Minnesota's biggest weakness has been in the secondary, where they have given up the second-most touchdowns to wide receivers on the season at 17. Twelve of those passes have come in the red zone — not on big pass plays. The Panthers' wide receivers have not scored a lot of touchdowns in the red zone, but Curtis Samuel has been their clear target once they've neared the goal line. He has caught eight red-zone passes while the rest of the wide receivers combined have caught six. Samuel's catches have led to 62 total yards and two touchdowns. Samuel has scored a touchdown in four of his last five games, so he is a decent bet to score a touchdown again.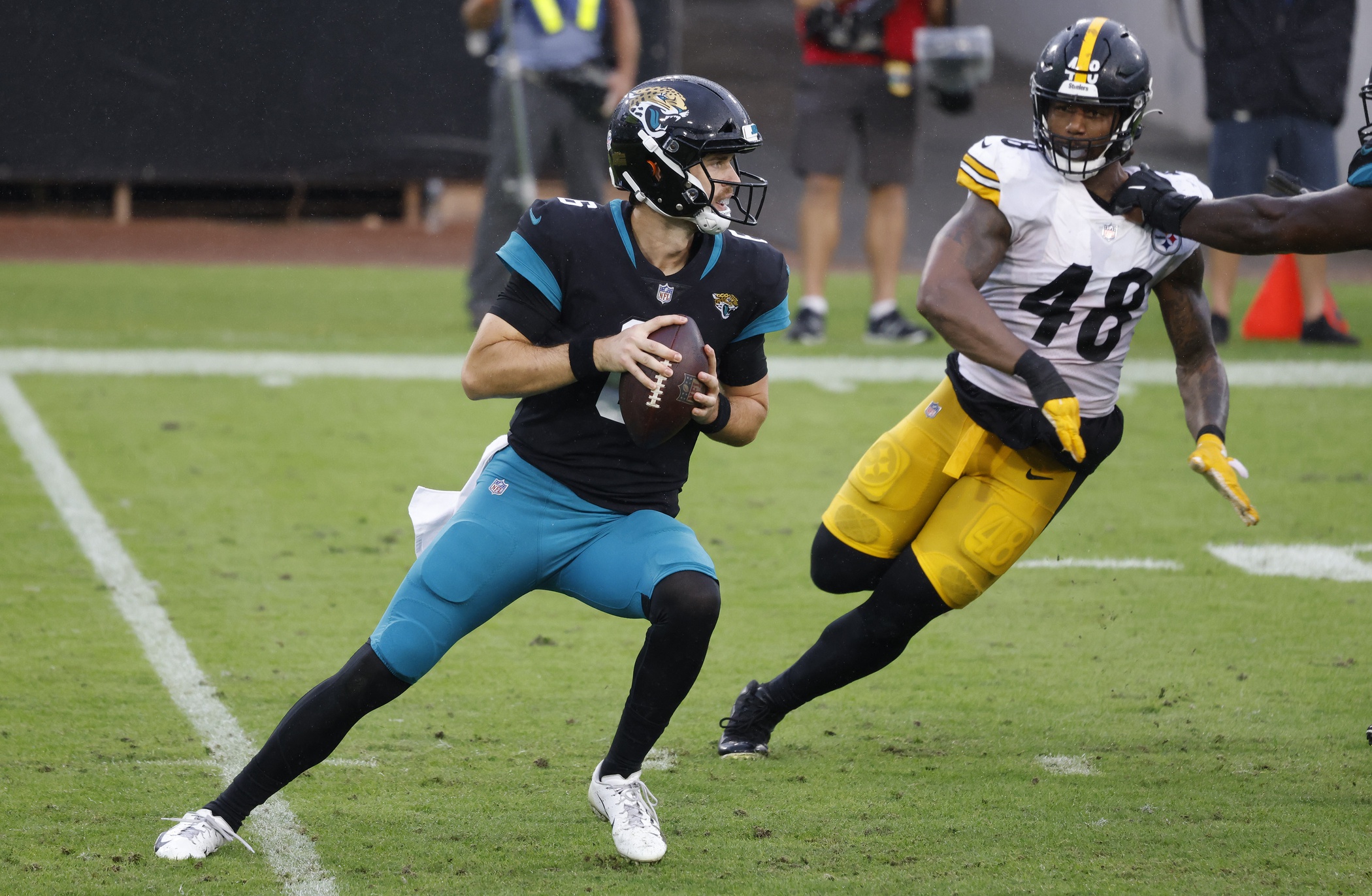 Headline of the game: The Jaguars are guaranteed a shot at a top quarterback in the 2021 NFL DRAFT if Jake Luton keeps playing as he did against Pittsburgh
If the NFL season were to end today, the Jaguars would have the second overall pick in the draft, and it's hard not to see that pick turning into a player they hope becomes their franchise quarterback.
There were moments where it looked like Gardner Minshew might become that quarterback, but those moments proved to be fleeting. Jacksonville turned to the sixth-round rookie Luton following an injury to Minshew, and he has looked far from the long-term answer — particularly so this past week against the Steelers.
Granted, it's one of the more difficult matchups for a young quarterback in the NFL, but Luton produced a PFF grade of just 27.1. Only 39% of his passes were charted as accurate, and he coughed up a remarkable six turnover-worthy plays on fewer than 40 dropbacks. The bright side for the Jaguars is that losses equate to wins at this point of the season, and it's hard to see too many teams stringing together more losses than Jacksonville to close the year.
Betting
Luton is firmly at the replacement level for our spread points above replacement for quarterbacks. The Jaguars have generated -0.41 EPA per pass attempt with him behind center; he has twice as many turnover-worthy plays as big-time throws, and his positive and negative grade percentage is at a similar differential.
The market seems uninterested in testing +7, with both the cash and ticket percentages leaning slightly toward the Jaguars on the spread. The Browns have been a popular play on the moneyline, as most assume the Jaguars are in full-tank mode at this time.
A 2.5-point line movement on the total is the second-best movement on a total for Week 12. The cash and ticket percentages being evenly split doesn't adequately address the reason for this line movement. There is little betting value in this matchup, but further movement always has the ability to present new opportunities.
Fantasy
The Jaguars have allowed plenty of fantasy points to every offensive position, so teams can take their pick for where they will attack. The Browns will start the game running frequently and will be successful. This should give Cleveland the lead and allow them to run it even more at the end of the game. Ten different backs have gained 80 rushing yards or run for a touchdown against the Jaguars defense so far this season. Both Nick Chubb and Kareem Hunt have been given at least 10 carries each in every game both have been healthy. They are both must-starts here.
Every quarterback to start against Jacksonville has thrown at least one passing touchdown — the average is over 2.0. Baker Mayfield probably won't end up as a top-12 fantasy quarterback this week if they end up running the majority of the time, but he should have a high floor if you're looking for a safe option.
Jacksonville isn't in a great position to take advantage of the Browns defense. James Robinson has been the one constant for the Jaguars offense this season. Robinson has two runs of 10 or more yards in each of his last five games. His biggest problem has been a lack of rushing touchdowns with two over his last seven games. The Browns defense has allowed the sixth-fewest fantasy points to running backs this season.
Cleveland has given up plenty of fantasy points in the pass game. Myles Garrett will miss this game due to Covid-19, and Denzel Ward is expected to be out with a calf injury. Rookie Jake Luton has been handling the Jaguars QB duties recently, and he has the lowest PFF grade for quarterbacks with at least 100 dropbacks. There is a chance Gardner Minshew comes back this week. The Jaguars' wide receivers are high upside plays but also have very low floors.
Headline of the game: Can the Bengals compete without Joe Burrow?
The situation for Burrow in his rookie year was not ideal. Cincinnati's offensive line is one of the worst in the NFL, and it led to plenty of hits each week on Burrow. His 32 sacks taken on the season are fewer than only Carson Wentz, and his 43 hits taken are a top-five mark at the quarterback position, as well. And one of those hits ultimately ended his season.
Despite all that, Burrow had given this offense some juice and made them a unit that couldn't be taken lightly. His success in the intermediate range, in particular, provides reason for optimism moving forward. His 92.5 passing grade on those throws of 10 to 19 yards downfield trails only Russell Wilson, Patrick Mahomes and Aaron Rodgers.
Needless to say, his injury makes the Bengals' offense significantly less dangerous. Backup Ryan Finley produced a 29.3 overall grade in three starts a season ago — somehow managing to record no big-time throws and 10 turnover-worthy plays. Last week in relief, he went just 3-of-10 for 30 yards and an interception with four sacks taken. The Giants aren't exactly an intimidating matchup, but the NFL tape we have on Finley makes it hard to see Cincinnati putting up many points.
Betting
We have the game of the week on one end of the spectrum, and we have this matchup on the other. These teams are back-to-back in our ELO rankings, with both slotting into the bottom five for teams in 2020. This game has the lowest total of the weekend after a 1.5-point drop from the opening 43.5. 
The lack of intrigue in this matchup is obvious, but our predictive models actually find value on both the moneyline and total. There won't be much fantasy opportunity, so betting intrigue is the only reason to tune into this matchup.
Fantasy
Start the New York Giants' defense. The NYG DST was featured in my waiver wire piece for Week 12 because the Bengals' new starting quarterback Ryan Finley is a turnover machine. In three career starts last season, Finley has 10 turnover-worthy plays and has been sacked 11 times. 
Fantasy managers should also feel great about starting Wayne Gallman Jr., who is the RB7 over the past five weeks. Devonta Freeman is on IR and the Bengals rank dead last in explosive run percentage allowed (19.8%) over the past four weeks. 
In Week 11's injury cheat sheet, Geno Atkins' return to the defense gave the green light to buy the Washington ground game. With the veteran back in the fold, the Bengals gave up 165 rushing yards, the second-most in Week 11. 
The Bengals have also been terrorized by opposing wide receivers over the past four weeks due to all the injuries in their secondary. They have allowed the fourth-most fantasy points to WRs, making Darius Slayton a startable option in Week 12. 
With Finley under center in Week 11 the targets were broken down as follows:  Tee Higgins (four), Drew Sample (two), Tyler Boyd (two), A.J. Green (two). Losing Joe Burrow is a huge downgrade for this entire offense, so tread lightly with Bengals wide receivers moving forward. 
In limited action last season, Finley's top targets were: Boyd (22), Auden Tate (16) and Alex Erickson (15). Boyd is the only wide receiver in play, and his finishes last season with Finley in PPR were WR30, WR21 and WR88. The Bengals' running backs combined for just nine receptions, making it extremely difficult to trust Giovani Bernard despite the fact that the team shifted to a run-heavy approach (43% run rate) when Finley took over last season.
This is shaping up to be an ugly two-man split between Bernard and Samaje Perine, so it's best to pivot for better options. We could even see the Bengals just wave the white flag and rush Perine into a stacked box 20-plus times on early downs. Last year, Joe Mixon saw carry totals of 30, 15 and 18 in Finley's three starts.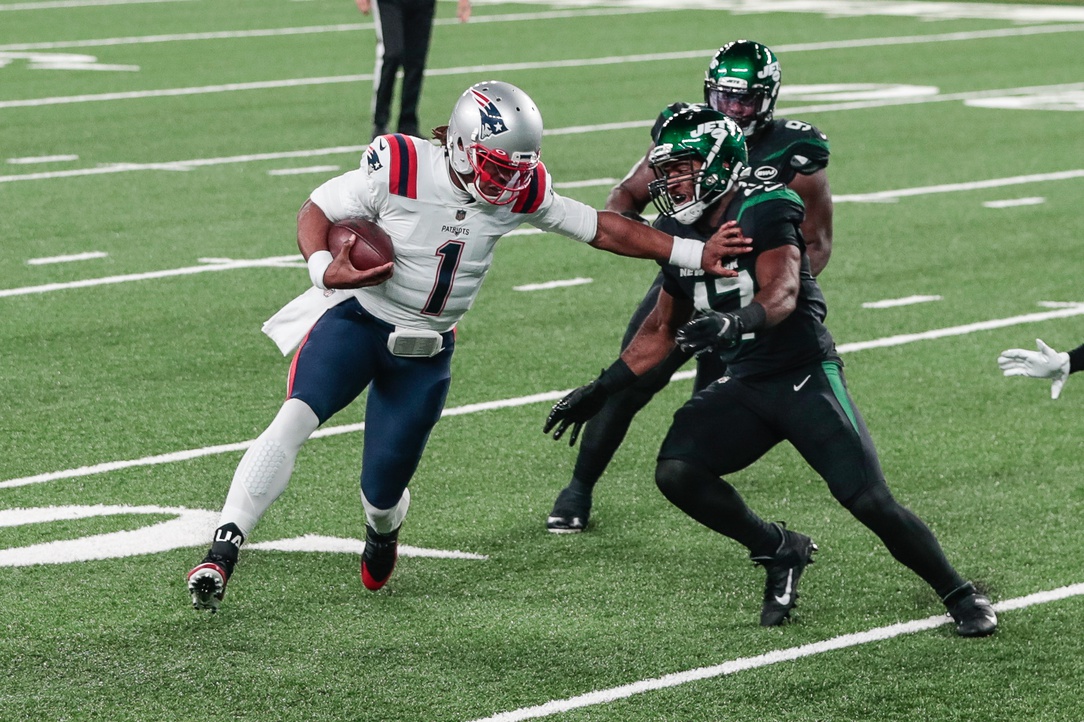 Headline of the game: The run game may take center stage in New England
These are two of the top three offenses in the NFL in expected points added per run play this season. The Cardinals come in at first (0.063), while New England ranks third (0.030). It's the two quarterbacks and the threat they pose on the ground that makes these rushing attacks effective.
Kyler Murray and Cam Newton's contributions on the ground have come in very different forms this season. Murray has been about as effective a runner as any player in the NFL, and it's nearly impossible to get a hand on him around the line of scrimmage. On the season, he's averaging a league-high 4.3 rushing yards before contact per attempt. Newton, on the other hand, is one of the game's premier short-yardage runners. Twelve players have 20 or more rushing attempts with 2 yards or fewer to pick up for a first down this season, and Newton's conversion rate of 86% in those situations leads that group.
Both can get the job done through the air, as well — setting up what should be an entertaining matchup in Week 12.
Betting
One of the teams with the biggest contrast in our market-implied rankings and our ELO power rankings is the Patriots, who continue to be overvalued by the betting market. A correction could be occurring this week, as the Patriots have moved from a pick 'em spread out to plus-2. Some 77% of the tickets and 71% of the cash have been on the Cardinals, who have the better quarterback in this matchup, according to PFF passing grade. 
Both defenses rank in the bottom-fourth of the league in our opponent-adjusted defensive grades. The betting market has an expectation for points, with the total climbing 1.5 points from the open. A play on the spread and total are both neutral value, with the latest line movement causing the value to disappear from both markets.
Fantasy
Christian Kirk didn't hit the jackpot in Week 11 versus the Seattle Seahawks, with just four catches for 50 yards on six targets. Still, he has now seen at least six targets in four-straight weeks and the matchup versus the New England Patriots provides the perfect spot for him to go kaboom. In the past six weeks, the Patriots rank 32nd in yards per target, 32nd in explosive pass play percentage allowed, and 31st in deep pass attempt percentage allowed (27.4%). 
Kirk leads the Cardinals in deep targets this season (13). 
Chase Edmonds led the RB backfield in snaps in Week 11, but Kenyan Drake commanded the lead in touches (15 versus eight). Drake was also involved in the passing game for seemingly the first time all season, giving more confidence to fantasy managers to start him Week 12.
The Patriots currently rank 25th in PFF run-defense grade, so Drake should be able to have his way running the football with the Cardinals presumably playing with a lead as 2.5-point road favorites. 
The Arizona Cardinals have allowed the second-most fantasy points to WRs over the past four weeks, so do not fret about Jakobi Meyers' poor performance in Week 11. He still ranks fifth in the NFL in target rate on routes run (25%) and frequently spends time in the slot, ensuring he won't fall victim to a Patrick Peterson shadow coverage.
The Cardinals have faced the third-most targets to slot WRs this season.
Headline of the game: Tua Tagovailoa gets a chance to redeem himself against New York
One of the more interesting decisions of this past weekend was head coach Brian Flores' decision to bench Tagovailoa in just his fourth NFL start while Miami looked for any kind of spark to come back against Denver. The Dolphins had gone 3-0 in Tagovailoa's first three starts, but he had not been as impressive as fellow rookies Joe Burrow and Justin Herbert early on.
His 57.6 PFF grade on the season reflects that. Still, he had shown some things to build on — particularly in that Week 9 game against Arizona — and it seemed like the Dolphins had completely turned the reins over to Tagovailoa. That's what made the decision to bench him so surprising. You don't see teams bench their franchise quarterbacks in games that are within reach.
Tagovailoa gets just about as good a matchup as he could have hoped for to turn things around. The Jets come into Week 12 ranked 31st in expected points allowed per pass play. It's a game where Tagovailoa should be able to build some confidence, but also one where another shaky performance would start to become concerning.
Betting
Bettors have little interest in backing either one of these teams. They are the two squads with the fewest number of games where they had the majority of the cash percentage. The early-week direction is buying into the Dolphins despite their disappointing performance last week. They have received 63% of the cash and 77% of the tickets, which indicates bigger bettors are once again backing the Jets to start the week. 
The spread has dropped half a point to the ever-important plus-7, and indications are that we hold here until kickoff. PFF Greenline finds some betting value on the spread, but the rest of the markets look unplayable at the current numbers.
Fantasy
Salvon Ahmed Szn continues in South Beach even with Matt Breida back and healthy. Ahmed led the backfield with 17 touches in Week 11 and should continue to be the go-to-guy for Miami in Week 12.
The Jets' defense was previously noted as having a strong run defense, but Ahmed's involvement as a receiver the past two weeks (seven targets) should get him to double-digit fantasy points. New York has allowed the third-most receptions to running backs this season. 
DeVante Parker should feast in this matchup — the Jets' secondary is scary bad. They rank dead-last in PFF coverage grade (37.0), and that's because the team is trotting out an abysmal combination of defensive backs: Lamar Jackson (48.3 grade), Arthur Malet (33.5 grade), Ashtyn Davis (49.7) and Bryce Hall (59.5). 
Malet was tasked with covering the slot last week in place of Brian Poole, which is why Keenan Allen went nuclear. The Jets' slot corner allowed a 154.6 passer rating when targeted. 
Malcolm Perry (90%) and Mike Gesicki (73%) lead the Dolphins in snaps from the slot over the past two weeks. Since Week 8, the Jets have allowed the league's highest passer rating to slot WRs (146.1).
It's been back-to-back down weeks for Jamison Crowder with the emergence of Denzel Mims in the lineup, but the matchup dictates that Crowder is firmly in play. They have faced the fifth-most targets to the slot since Week 8. 
Mims can also be called upon as a WR3 option a week after he led the Jets in targets (eight) and all players in air yards (241) in Week 11. He has commanded a 31% target share the past two weeks, and that's worth betting on even in a tough WR/CB matchup versus Xavien Howard. 
Howard's numbers are inflated because of his six interceptions (don't start Joe Flacco), but the INTs are an indication that teams aren't afraid to throw his way.
Headline of the game: How does the Taysom Hill experience look against a step up in defensive competition?
By all accounts, Hill's first start at quarterback was successful in the Saints' win over Atlanta this past week. Hill finished the game with a 79.5 PFF grade and over 10 yards per pass attempt. The obvious advantage to having him in at quarterback is that his athleticism gives coach Sean Payton the opportunity to employ a more diverse run game, but the more promising takeaway from last week is that Hill was able to operate the passing game at a proficient level. Granted, New Orleans was facing a porous Falcons' defense and the Saints limited his straight dropbacks, but it was a strong debut for Hill.
Things will get a little bit tougher this week against Denver and defensive coordinator Vic Fangio. The Broncos have a top-10 expected points allowed per play figure in the league this season, and you can be sure that Fangio will have his defense ready to defend Hill better than Atlanta did. The question now is whether Hill and Payton are up to that challenge and how the Saints' offense looks against slightly more resistance.
Betting
The initial line movement toward the Saints was short-lived after a test of minus-6 resulted in the line correcting to the opening number of minus-5.5. This is one of the most difficult matchups to evaluate this weekend, with both teams coming off impressive victories, but how much of that was influenced by poor performances from their opponents?
Drew Lock has the 33rd-best PFF passing grade this season and actually sits half a point below Taysom Hill in our spread points above replacement. This makes it tough to back the Broncos unless you buy into Vic Fangio and his third-ranked defense giving Hill trouble. The total market seems to buy into this narrative, with the number dropping two points from an opening 45.5. Our predictive models lean away from this line movement, with the only viable bet being over 43.5 points in this matchup.
Fantasy
The Broncos defense is quite average — its one strength might be stopping tight ends. They haven't allowed a tight end to score a touchdown since giving up a pair in Week 1. Jared Cook should only be started in very favorable matchups where he has touchdown upside — this is not one of those matchups.
Taysom Hill can also be put in starting lineups. Hill was QB3 this past week and led the position in fantasy points per dropback at 0.88. His 90.9 adjusted completion percentage was third-highest in the league. Hill's rushing ability gives him a high floor.
Melvin Gordon III and Phillip Lindsay are both players to avoid this week because the Saints have been excellent against the run. Half the teams to face New Orleans haven't had one back rush for 40 yards. The Saints have allowed a league-low three touchdown carries to running backs, and no RB has managed 50 receiving yards. They've only allowed one touchdown reception to backs. If one of the two Broncos backs played in over 70% of offensive snaps, then it might be OK to start them knowing the ceiling is low. With them splitting time, this matchup is too difficult to overcome.
Noah Fant is coming off his best game in terms of receiving yards since Week 2, so he is probably the safest play among Broncos. Both Tim Patrick and Jerry Jeudy have put up big numbers in recent weeks. Marshon Lattimore typically does not shadow receivers, but he will naturally line up more often against Jeudy. Patrick is more likely to have a big game, but either one could put up some decent numbers.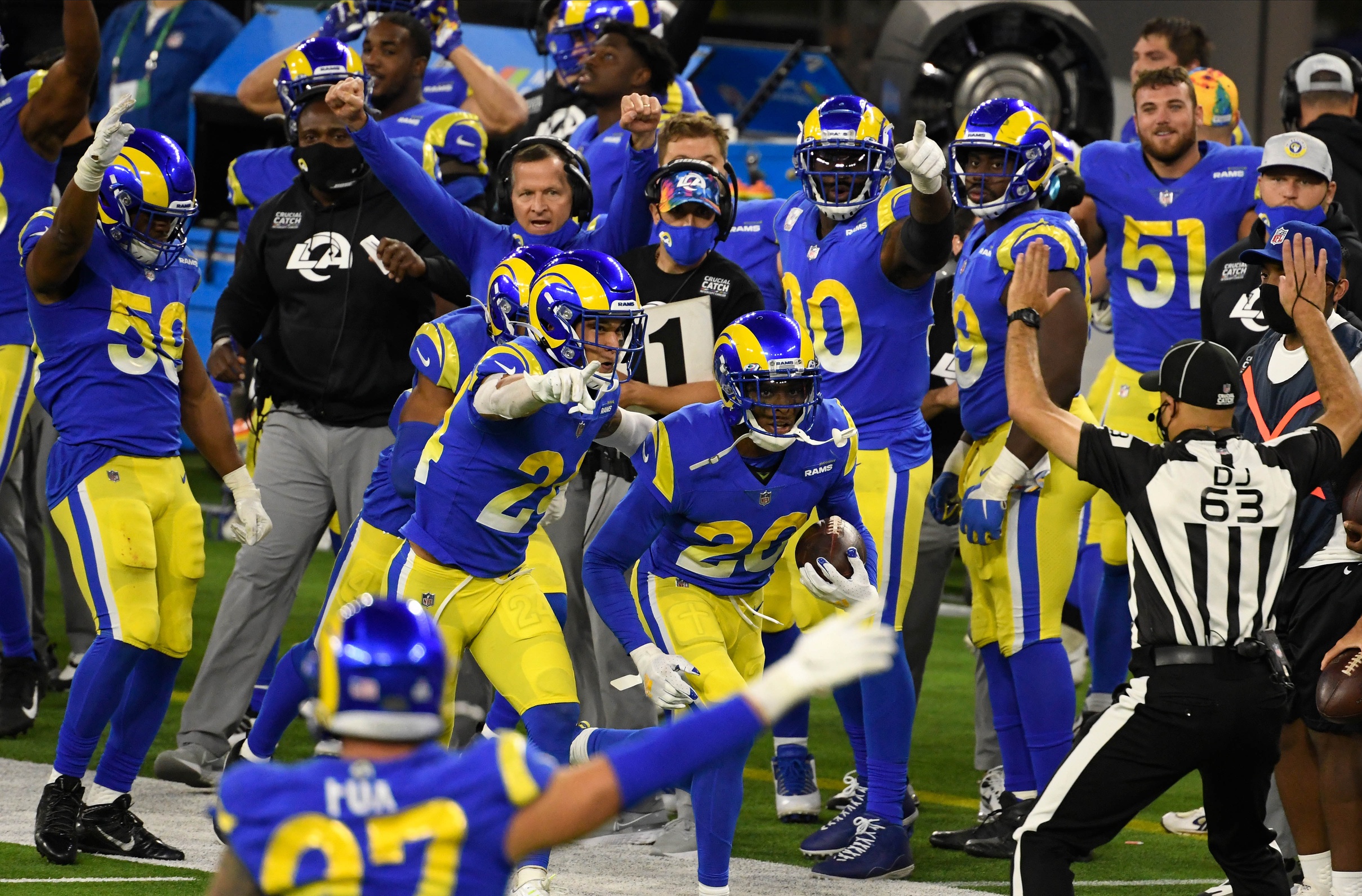 Headline of the game: The Rams defense poses a very bad matchup for Nick Mullens and San Francisco
Mullens has earned PFF grades of 50.0 and 44.4 in his past two starts against the Packers and Saints, and his play under pressure has been one of the bigger issues. The 49ers are averaging just 3.1 yards per play under pressure with Mullens at quarterback, and he has thrown just one touchdown pass compared to four interceptions while under pressure.
Unfortunately for San Francisco, the Rams come into this game with one of the best defenses in the league — one that gets plenty of pressure from Aaron Donald and company. Their 37.5% pressure rate as a team ranks fifth in the NFL this season, and they're more than capable of forcing Mullens into some of the mistakes he's been prone to make throughout his career. Getting the ball out quickly will be a priority for San Francisco in this contest.
Betting
The Rams are coming off a quality performance on Monday night, but the market appears to have reacted negatively to their performance. The minus-7.5 spread has dropped to a touchdown differential despite 72% of the cash percentage being on the Rams. This appears to be a spot where bettors are targeting the moneyline for the 49ers, who have received the majority of the cash and ticket percentages on that bet. 
Nick Mullens sits in the range of quarterbacks who are worth only one spread point above replacement. Passing has been the only detriment to the 49ers, as they rank in the top half of the league in all other opponent-adjusted grading categories aside from passing. 
Bettors anticipate a defensive struggle, with this total dropping two points since the open. It's now tied for the fourth-lowest total in Week 12. Our predictive model finds no value after the line movement, but a further drop could unearth value. There are value plays on both the spread and moneyline, which offers intrigue in this NFC West matchup. 
Fantasy
The Rams and 49ers played in Week 6, and George Kittle was the difference in that game with 109 receiving yards and a touchdown. The Rams have continued to be vulnerable against tight ends, partly because they've been great against every other position. Jordan Reed re-emerged as the 49ers' lead receiving tight end before the bye week. Reed's 2.21 yards per route run ranks fifth among tight ends with at least 20 targets on the season. He could be used even more than usual to attack the Rams' weakest point.
It's possible that both Raheem Mostert and Tevin Coleman could be back to boost the 49ers' run game. Los Angeles allowed 70 or more yards to running backs in each of the first three weeks of the season, but no one has hit that mark since then. It is possible that San Francisco splits carries between two or three backs while easing players back into action. This is a situation to avoid.
The Rams also have a three-person running back by committee against a good run defense — also a situation to avoid. Darrell Henderson is the only running back to rush for over 63 yards against the 49ers all season, but that was a game without Cam Akers when Malcolm Brown had a season low in carries.
The 49ers have also been excellent against tight ends. They have only allowed four tight ends to manage 25 or more receiving yards against them. Tyler Higbee and Gerald Everett were two of those four players, but it will be hard for them to repeat. The best play might be at wide receiver where both Davante Adams and D.K. Metcalf have recently put up huge numbers against them. That point might be moot if Richard Sherman is back.
Headline of the game: What happened to the Buccaneers' downfield passing attack?
Across the first six weeks of the season, Tom Brady had a 95.7 PFF passing grade and a 108.1 passer rating when targeting players 20 or more yards downfield. Over the past five weeks, those numbers have dropped to 31.3 and 25.3, respectively.
Brady has nearly as many interceptions (three) as completions (four) over that stretch on his 24 deep attempts. It looked as if he was assimilating well to Tampa Bay's downfield passing attack and avoiding pressure, but that has changed of late. The Chiefs' defense is not the best of matchups to try to get a deep passing game on track, either.
Since the start of last season, Kansas City has allowed a 29% completion rate (2nd) and a 49.8 passer rating (1st) on passes 20 or more yards downfield. We've seen the Raiders have some success against them in that department this season, but few others have been able to get over the top of them. Given how important that is for the Buccaneers' offense, that chess match will play a big role in who comes out on top in this game.
Betting
The game of the week has lost a bit of its luster after the Buccaneers continue to collapse in prime-time matchups. Their most recent performance caused this spread to reopen with the hook added to the key number 3 after sitting at 2.5 on the lookahead line. This was heavily influenced by 65% of the cash and 73% of the tickets on the Chiefs, who are simply in a different tier than every other team in the NFL. That is clearly the result of Patrick Mahomes, who is worth 10 spread points above replacement — 1.5 points more than the next closest quarterback.
The total has added 3.5 points since the open and now sits at the highest number for Week 12. Any continued movement will open up value on the total, but the spread looks unplayable, according to our predictive models.
Fantasy
The Buccaneers' defense has been one of the most well-rounded of the season, but their weaknesses match up with the Chiefs' offensive strengths. Tampa Bay has allowed a below-average 12.9 fantasy points per game to tight ends. Travis Kelce averages 19.8 fantasy points per game, so he should be putting up his usual solid numbers. The Buccaneers defense just allowed two wide receivers to rack up a combined 275 yards against them on Monday night. If Tampa Bay couldn't stop Cooper Kupp and Robert Woods, then it will have problems stopping Tyreek Hill. The rest of the wide receivers have been in too much of a rotation to trust, with snap counts varying from one week to another. 
The one area to avoid is running backs, where Tampa Bay hasn't allowed a running back to top 44 rushing yards since Week 2. Clyde Edwards-Helaire is seeing a higher percentage of playing time compared to recent weeks, but it will be very hard for him to be effective against this defense.
The biggest weakness of the Chiefs' defense is their run defense. The hard part with the Buccaneers is knowing which running back you can trust. Ronald Jones ran for 192 yards two weeks ago and then took the backseat to Leonard Fournette on Monday night. The game script will likely involve Tampa Bay being close or behind. Jones has played in over half the snaps and has nearly double the carries when Tampa Bay is either tied or winning over the last five weeks. When they are losing, Fournette plays double the snaps and gets more carries. That adds up to Fournette potentially having the bigger game of the two.
Headline of the game: The Bears can't continue to rely on their defense to keep them in games
The Bears' offense has been an unmitigated disaster this season. The Jets are the only reason why Chicago's offense isn't the worst in the NFL. Their 4.6 yards per play rank 31st in the league, as does their -0.1 expected points added per play. Whether Nick Foles or Mitchell Trubisky is at the helm, the quarterback position has not given them nearly enough, posting a league-low 6.2 yards per pass attempt from a clean pocket.
Additionally, their offensive line has been one of the worst in the league, grading out as the 30th-ranked team in pass blocking and generating a league-worst 0.8 rushing yards before contact per attempt. Outside of Allen Robinson II and some talent at wide receiver, there's not much for this group to hang its hat on.
Yes, the Bears' defense remains one of the best in the NFL. But that doesn't matter when their offense is as bad as it is. A team can't rely on its defense to continuously provide short fields and score themselves, particularly against the Packers and Aaron Rodgers.
Betting
Head coach Matt Nagy is remaining coy about who will start at quarterback for the Bears on Sunday. Either option looks like a possible disaster, but sometimes when you are dealt rags, the best approach is to offer as little information as possible. The betting market has responded by pushing the initial line movement in the Bears' direction despite a majority of the cash and tickets on the Packers. Our predictive models find value on the spread and moneyline, but this is a spot to monitor PFF Greenline up to game time. 
The Packers have the fourth-best opponent-adjusted passing grade and could be the most balanced team in all of football, with all units ranking in the top half of the NFL. Aaron Rodgers is the third-most valuable quarterback, according to our spread metric. Meanwhile, Foles barely registers above replacement-level. 
The total has dropped half a point from the open, as both defenses rank in the top half of the NFL in our opponent-adjusted grades. Cash and ticket percentages lean against the market movement, with our predictive models finding no value at the current total.
Fantasy
The Bears' biggest weakness on defense has been stopping tight ends. No tight end has put together a huge performance against them, but they have consistently allowed good games. Nine tight ends have either gained 50 or more yards, scored a touchdown or both against them.
Robert Tonyan is the man who will do his best to take advantage of Chicago's secondary. He is coming off his fourth game of the season with five or more catches. He was the first tight end all season to score a touchdown against the Colts' strong defense. Tonyan has been great at making sure his targets are converted to catches. His catch rate of 88.9% is the best for tight ends with at least 25 targets and he has not dropped a pass. He has not done much after the catch, but that has not stopped him from being TE6 on the season. As usual, you can start the rest of the Packers' star offensive players despite the Bears' defense.
The Bears' pass game should largely be avoided this week. It is unclear who their starting quarterback will be with their top two options both hurting. Allen Robinson II will probably be tracked by Jaire Alexander, and the Packers have been great at preventing fantasy points to tight ends. David Montgomery is expected to come back, and this is a matchup where he should have a huge game. Green Bay has given up the second-most fantasy points to running backs this season. Part of that is because they have given up a lot in the passing game to backs, and Montgomery hasn't accomplished much as a receiver this season. He will not be able to fully take advantage of the Packers' defense, but he is still Chicago's best bet for a big game on offense.
Headline of the game: Jalen Hurts' chance in Philadelphia may be coming sooner rather than later
Carson Wentz played better this past week than the box-score stats may indicate, but the season as a whole has been a prolonged disappointment. When you're a quarterback leading the NFL in interceptions (14), dropped interceptions (10) and fumbles on sacks (7), there's a problem.
He is simply giving the defense too many opportunities to flip possession, and on top of that, his 25% uncatchable pass rate ranks second-worst in the league to only Drew Lock. At some point, the Eagles have to see what they have in Hurts if they want to compete in the wide-open NFC East.
The Eagles haven't used Hurts much at all as a passer, but he did earn 90.0-plus passing grades in 2018 on limited snaps with Alabama and 2019 as the starter for Oklahoma. Seattle's defense is one that Wentz should be able to pick apart, but if he coughs the ball up multiple times yet again, a move to Hurts could be in the cards.
Betting
It has been one-sided betting action to start the week, with everything pointing toward the Seahawks in this matchup. The plus-3 opening number had little chance of holding after how poorly Carson Wentz played last weekend. He now sits in the same tier as Andy Dalton and Alex Smith in our spread points above replacement, and he has a worse passing grade than both this season. 
The lone bright spot for the Eagles has been their pass rush, which ranks third in our opponent-adjusted grades. They will need to dominate against our top-ranked offensive unit, as Wilson's passing grade drops by almost 25 points when pressured compared to passing from a clean pocket. If they can't apply pressure and Wilson eliminates the occasional poor decision, this game will turn into a blowout. 
Fantasy
Carson Wentz has not played well, but that hasn't stopped him from putting up decent fantasy numbers. He's been QB10 on the season when you ignore the first two weeks when he was particularly bad. The one cure to any quarterback facing a rough time is facing the Seahawks defense. Every team to face Seattle has put up over 300 yards passing and/or two passing touchdowns. Wentz can be a top-10 quarterback again this week.
Travis Fulgham also welcomes this opponent. He's coming off of back-to-back games with one catch for 8 yards. They were both against relatively tough opponents, but any wide receiver needs to be doing more with 11 targets. The Seahawks have allowed the most fantasy points to wide receivers and rank sixth at preventing points to tight ends. This should be a game where Fulgham can go off rather than one where the tight ends get all of the production.
The Eagles have been an above-average team at preventing fantasy points to wide receivers, but they've become a little more vulnerable in recent weeks. Six wide receivers have gained 65 or more yards against the Eagles defense, and three of them occurred in the last two weeks.
D.K. Metcalf and Tyler Lockett are both more talented than the receivers who beat the Philadelphia cornerbacks recently. Both could pick up plenty of yards. The Eagles haven't allowed a touchdown to a wide receiver since Week 7, so even though the Seahawks' wide receivers should get plenty of yards, they might not end up scoring.
Philadelphia's biggest strength has been stopping the run, so it might be best to avoid whoever is starting for Seattle, whether it's Carlos Hyde or Chris Carson.