A player's injury status can have a significant effect on both real-life and fantasy football. Maybe most importantly at this time of year — at least for some — is that injuries have a major impact on fantasy football rankings and fantasy football free agent strategy.

Click here for more PFF tools:
Rankings & Projections | WR/CB Matchup Chart | NFL & NCAA Betting Dashboards | NFL Player Props tool | NFL & NCAA Power Rankings
---
Each week, PFF injury analyst Mario Pilato will comb through the official injury reports for each game and give updates and analysis for fantasy-relevant players. Injuries are fluid, so be sure to stay up to date by following @PFF_Mario on Twitter.
Murphy-Bunting suffered a dislocated elbow late in the first quarter during Thursday Night Football. Luckily, he did not suffer any other damage besides the dislocation. I expect him to be placed on IR and miss the next three to four weeks.
Gallup left in the third quarter with what was first reported as an ankle injury. Further information has come out revealing he suffered a calf injury. I believe he suffered a Grade 2 calf strain — RTP (return to play) is 3-6 weeks. 

N/A
N/A
Becton went down with a serious knee injury in the third quarter. His foot got stuck in the ground and his knee was rolled up on. Betcon suffered a dislocated kneecap, sprained MCL, and will undergo arthroscopic knee surgery to clean up the joint.  He will miss six to eight weeks but will be effective when he returns.
Joyner injured his elbow early in the first half. The injury and severity is unclear. He will undergo further evaluations in the coming days.
N/A
Okudah left the Week 1 game in the second half with an apparent Achilles injury. A Monday MRI confirmed the worst: The second-year cornerback suffered a torn Achilles and will miss the 2021 NFL season.
Aiyuk did not receive a target all game. There are whispers that this was due to injury and not performance. His hamstring could have been bothering him, but it is not smart to play someone on a lame hamstring. Hopefully he didn't do more damage to it — his participation in practice needs to be monitored this week.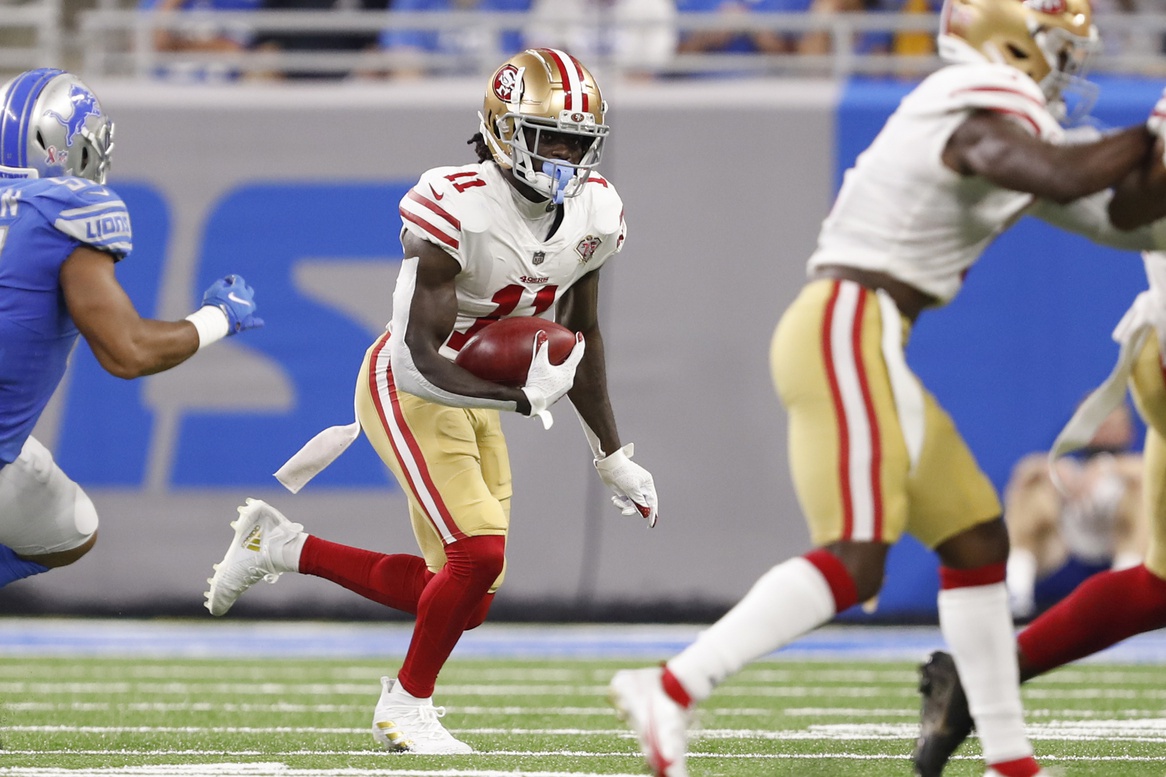 Verrett tore his ACL in the fourth quarter of his Week 1 matchup with the Detroit Lions. He will undergo surgery and miss the remainder of the season.
Mostert injured his knee in the first quarter and did not return to the game. He was dealing with a knee sprain during camp, and I believe this was just an aggravation of the injury. Typically, the term "knee sprain" refers to an MCL sprain. Depending on severity, it can be a week or two or up to eight weeks.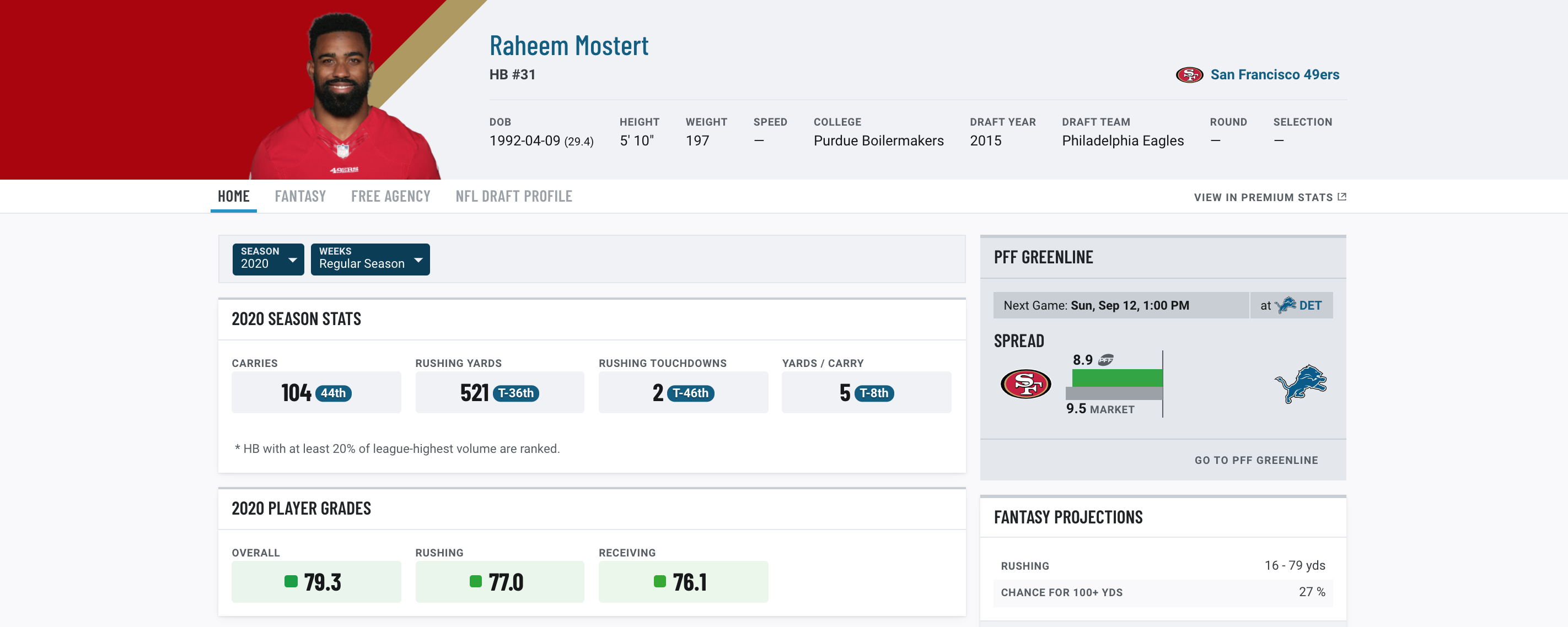 N/A
Pocic sprained his knee in the fourth quarter. As with Mostert, this could be an MCL sprain that will cost him a week or two or up to eight weeks.
Eskridge suffered a concussion in the fourth quarter. He will enter the five-step protocol and will have to clear the protocol in order to play in Week 2.
Penny aggravated his calf injury on Sunday. I believe he is suffering from a Grade 1 strain, RTP 7 to 10 days.
N/A
Adderley (shoulder) and Bulaga (back) suffered injuries early in Sunday's game. The severity and specific injuries are unclear. Further tests will be done in the upcoming days.
Fitzpatrick hurt his hip in the second quarter, suffering a hip subluxation. Reports suggest he not suffer any fractures, which is great news. Typically when the hip dislocates, it will damage the labrum. If he needs his labrum repaired, he will be out anywhere from four to six months. There is also a risk of Avascular Necrosis (AVN), which basically means death of the bone tissue due to lack of blood supply from trauma. If Fitzpatrick is lucky enough to of escaped other damage he can comeback this season.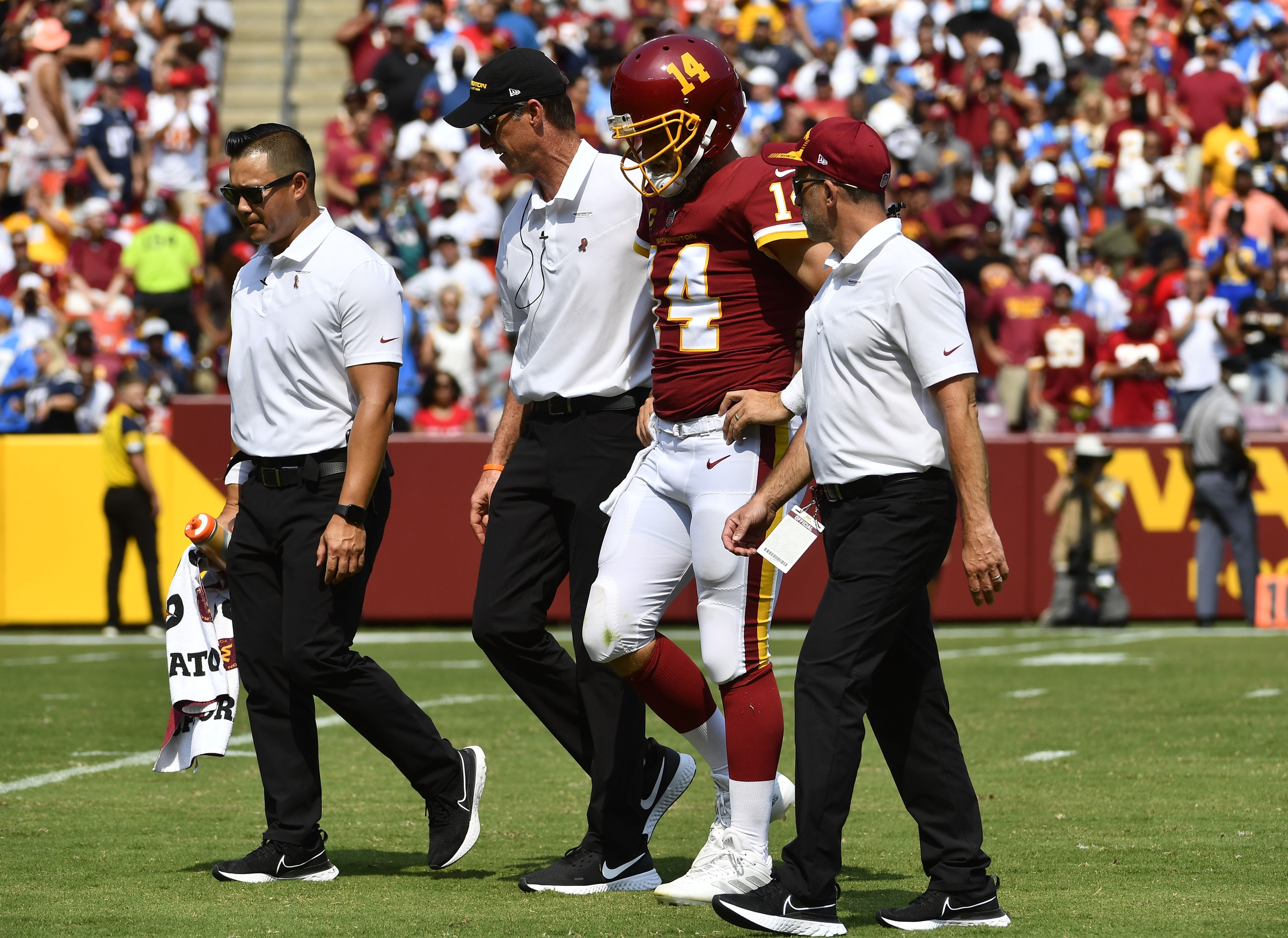 Wills exited the second quarter with an ankle injury. I believe he is suffering from a Grade 1 ankle sprain, RTP 1 to 3 weeks.
Brown suffered a calf injury in the first quarter. I believe he suffered a Grade 1 strain, RTP 7 to 10 days.
Savage injured his shoulder during Sunday's game. It is unclear the type and severity of the injury. He will undergo tests in the coming days.
I believe Lattimore tore the UCL in his thumb. He will undergo surgery to repair it. I do not expect him to miss much time — maybe a couple of weeks.
Consensus Fantasy Rank: WR35
Jeudy was carted off of the field in the third quarter. It is remarkable he didn't suffer a dislocated ankle. The reports suggest he escaped with a high-ankle sprain. RTP for Grade 1 sprain = 2 to 4 weeks, Grade 2 sprain = 4 to 6 weeks, and Grade 3 sprain means surgery. There are two different types of surgery, which are the tightrope procedure (Tua) or screws (MT). Tightrope RTP is 3-6 weeks and screws average RTP is 4.7 months. Regardless of the severity, he won't be the same player until next season.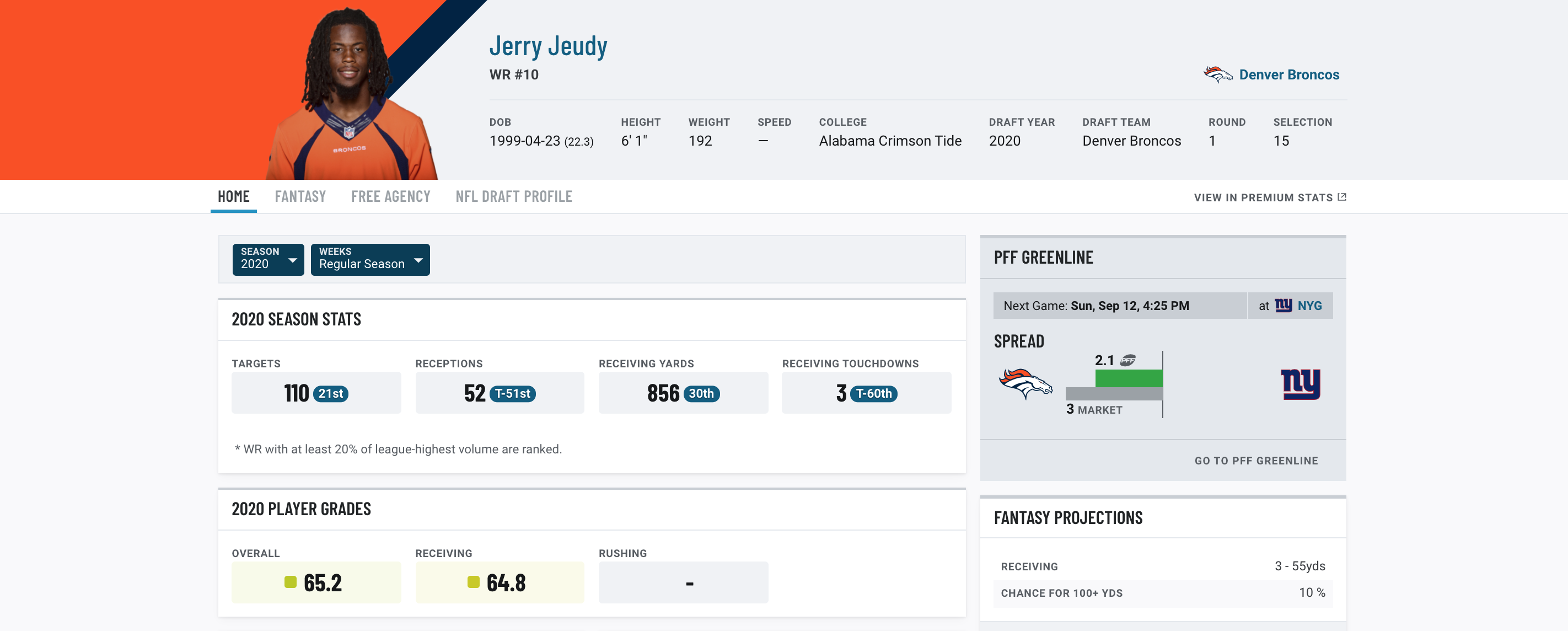 Peters injured his quad and did not return to the game. I do not believe he will be out for an extended amount of time.