Garett Bolles made the leap from a player best known for drawing penalties across the first three years of his NFL career to second-team All-Pro in 2020. Wyatt Teller, PFF's highest-graded guard last season, joined him on that second team after earning a PFF grade of just 58.1 over the first two years of his career. Those kinds of third- or fourth-year jumps among offensive linemen aren't all that uncommon.
In his study on learning curves by position, PFF's Timo Riske found that offensive linemen typically don't reach their full potential before Year 3 or Year 4. The table below, pulled from a recent follow-up to that piece, further highlights that point.
Compare the percentage of total wins above replacement (PFF WAR) by players at each position under 25 to the percentage generated at 30 or older.
| | | |
| --- | --- | --- |
| Position | % of total WAR generated by age 25 or younger | % of total WAR generated by players at age 30 or older |
| WR | 45% | 18% |
| TE | 40% | 19% |
| RB | 58% | 8% |
| LB | 42% | 18% |
| CB | 43% | 16% |
| S | 41% | 19% |
| OT | 25% | 29% |
| iOL | 27% | 27% |
| ED | 33% | 22% |
| DI | 37% | 22% |
The offensive line is the only position group to earn an equal or higher percentage of WAR at 30 or older as they do at 25 or younger. No other unit comes as close.
The main takeaway from those findings is that it's not time to panic if your favorite team's rookie or second-year offensive lineman has hit some speed bumps to begin his NFL career. Many young offensive linemen just need time to develop physically and technically under NFL coaching. 
With that in mind, here are five offensive linemen — one at each position — who have an opportunity to take significant steps forward in their career next season. 
Williams has played just over 600 offensive snaps across his first two seasons after Cincinnati selected him 11th overall in the 2019 NFL Draft. The Alabama standout missed the entirety of his rookie campaign in 2019 with a shoulder injury. He saw his first action as the team's starting left tackle in 2020 but started just 10 games, missing time with neck and knee injuries. 
New (and old) Bengals offensive line coach Frank Pollack spoke recently about that missed time and what he expects of Williams next season after Cincinnati elected to pass on tackle early in the 2021 NFL Draft.
"Really, last year was his rookie year. It's always a learning curve for every rookie," Pollack said via Bengals.com Senior Writer Geoff Hobson. "I'm real excited about teaching him some new things that he can add to his toolbox. He's a smart player. He's very technique-aware. He takes pride in being a technician."
HE SENT ME HIS EXCEL DATA ???????????? pic.twitter.com/odSNxu0d4C

— Austin Gayle (@PFF_AustinGayle) April 10, 2019
As shown above, this is a guy who took to Excel to chart moves and pass-rush wins for all of his opponents while at Alabama. He's a self-proclaimed "perfectionist" when it comes to technique. 
In an interview with PFF prior to the 2019 NFL Draft, Williams said of his arm length concerns, "The shortest path to somebody is directly to them, you know, directly to their center of mass. So, for me, if we're talking an inch or ⅝ of an inch or whatever we're talking about with arm length, you can easily overcome that by just shooting your hands inside."
That emphasis on technique helped him to a 70.1 PFF grade in his 10 appearances last season. That number isn't overly impressive on the surface; it ranked 25th out of 38 qualifying left tackles across the NFL. However, it ranked second among six qualifying rookie or second-year left tackles behind only Mekhi Becton. Williams' grade was also the highest on Cincinnati's offensive line. Young offensive tackles have certainly made worse debuts.
The clear area for growth in 2021 for Williams is as a run-blocker, as he ranked below the 20th percentile in the percentage of positively graded run blocks. Those are the plays where the offensive lineman creates movement along the defensive line and opens up holes for the running back. Williams recognizes it's an area to improve. 
"I did a decent job of playing defensively, playing not to get beat and not to get beat very often," Williams said in a recent interview. "But I don't think I did a very good job of being more aggressive and bringing the fight to the defense. I was playing more reactionary. That's the thing I'm working on this year. Being more aggressive. Bringing the fight to them."
He has a chance to push into the upper half of starting left tackles if he does that and is finally able to stay healthy next year. 
Risner was one of the best offensive linemen PFF has charted at the collegiate level. As a four-year starter for Kansas State from 2015 to 2018, Risner rattled off overall grades of 87.9, 88.2, 89.3 and 90.7. The last three of those seasons came at right tackle after he began his career at center in 2015. 
There was talk about potentially moving Risner back out to right tackle following the injury to Ja'Wuan James, but the decision to sign Bobby Massie should mean that Risner remains at left guard in 2021.
Considering Risner flipped from right tackle in college to left guard in Denver, the first two years of his NFL career have been solid. He has started all 32 games at left guard over the past two seasons, ranking 27th among all guards in PFF's Wins Above Replacement metric. His 63.2 PFF grade over those two years finished 24th among 42 qualifying left guards in the league. 
PFF lead draft analyst Mike Renner detailed Risner's power as a run-blocker leading up to the 2019 NFL Draft by pointing out, "When he gets his hands locked in on guys, he is winning that rep." 
However, Risner has graded out much better as a pass-protector than run-blocker to begin his career. Over the last two seasons, Risner has graded in the 82nd percentile of all guards in pass-blocking grade on true pass sets. He has graded below the 60th percentile at the position on both gap and zone run plays. 
Another year removed from the position switch from right tackle to left guard and another season under the tutelage of Mike Munchak, one of the league's best offensive line coaches, could lead to a third-year breakthrough for one of the top offensive linemen of the PFF College era.   
If we were to assign odds for each of the five players in this piece to develop into a high-end starter next season, Pocic's odds would be the longest. 
The former second-round pick is entering his fifth year in the NFL and has yet to record a PFF grade above 60.0. If you give a quick google search for Seattle's biggest needs entering the 2021 NFL season, you'll see the center position featured on a number of lists. Yet, Seattle has shown confidence in Pocic, a former second-round pick out of LSU, as the starter.
It's impossible to ignore the role that injuries have played early in his career. 
| | | |
| --- | --- | --- |
| Season | Snaps Played | PFF Grade |
| 2017 | 639 | 50.4 |
| 2018 | 296 | 45.9 |
| 2019 | 91 | 43.3 |
| 2020 | 993 | 59.8 |
Pocic got through the 2017 season healthy, drawing 11 consecutive starts at left and right guard to close the season. He then started the 2018 season at left guard before he was sidelined with an ankle injury. In 2019, Pocic once again started the year at left guard, but he spent most of the season on injured reserve with a neck injury.
He finally got through a relatively full season as the starter last season for Seattle. While it wasn't a standout campaign for Pocic, it was comfortably the best of his career. 
That's noteworthy because it was also his first starting opportunity at center — where he played his best football at LSU. His strengths in PFF's scouting report were:
Good awareness and understanding of center position

Fires low off the ball, especially for a 6-foot-7 center. Puts him in good position for reach blocks and makes him a good fit for a zone-blocking scheme.

Showed ability to block man on man in pass protection from center position. Rarely beaten cleanly right off the snap.  
Some continuity as the starter at his best position entering the NFL may mean that Pocic looks a lot less like a "weakness" next season than he appears to be right now.             
Hunt played nearly 3,000 offensive snaps across his impressive four-year career at Louisiana, and there was a nearly even split across the guard and tackle position in those four years. He recorded 1,420 snaps at guard (where he started in 2016 and 2017) and 1,519 snaps at tackle (where he started in 2018 and 2019). 
PFF's Mike Renner viewed him as one of the top tackle-guard converts in the 2020 NFL Draft — a strong candidate to return to the position where he began his collegiate career. However, a lack of quality starting tackle candidates in Miami led to Hunt starting the year at right tackle. And he ended up comfortably outplaying first-round left tackle Austin Jackson in that role. Hunt's 65.8 overall grade on the season was over 10 points higher than Jackson's 52.3 grade as a rookie. 
Hunt now has an opportunity to kick back inside to guard following the team's decision to trade Ereck Flowers, potentially setting the second-year offensive linemen up for more success in 2021. His size, power and flexibility are likely better suited inside as a run-blocker. Moving to guard also minimizes some of the concerns Hunt showed against edge rushers with plus speed and quickness last season.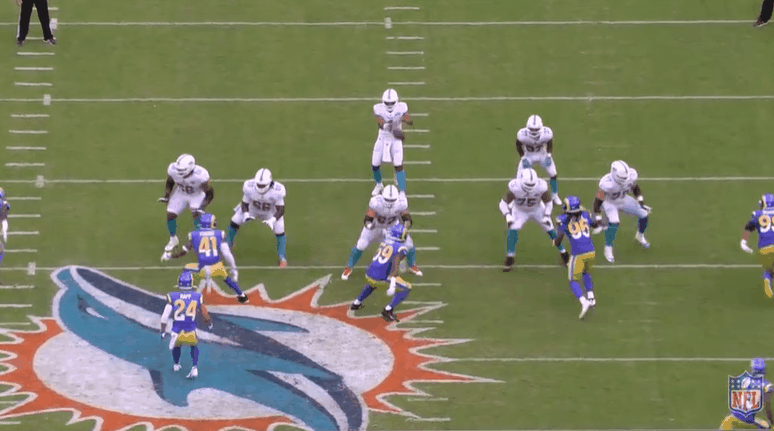 The rep above against Leonard Floyd is one such example. Hunt finished the 2020 season ranked in just the 40th percentile of all offensive tackles in pass-blocking grade on a per-snap basis, but he did finish above the 70th percentile in run-blocking grade on both gap and zone runs. 
Sliding into the starting right guard spot should better highlight his skill set on what Miami is hoping will be an improved, young offensive line.    
You want to see young offensive linemen progress from season to season early in their careers. Taylor went in the opposite direction last year for Jacksonville. 
After playing reasonably well as a rookie in 2019 and making his way onto PFF's All-Rookie team, Taylor saw his overall grade fall over seven points in 2020. His pass-blocking grade falling from 69.0 to 51.8 was the driver in that decline. Taylor's 8.4% pressure rate allowed in 2020 finished ahead of only D.J. Fluker, Jack Driscoll, Jesse Davis and Trey Pipkins among qualifying right tackles. 
The quarterback situation was far from ideal in Jacksonville last season, which didn't help matters along the offensive line. Taylor at least showed average play as a pass-protector during his rookie season, and there is reason to believe he can get back closer to that level in 2021. 
Taylor's skill set as a run-blocker has always been his biggest strength, though. He graded out higher as a run-blocker than as a pass-protector in each of his first three seasons at Florida. And though he hasn't quite delivered as a run-blocker with the same consistency in the NFL, the flashes are there.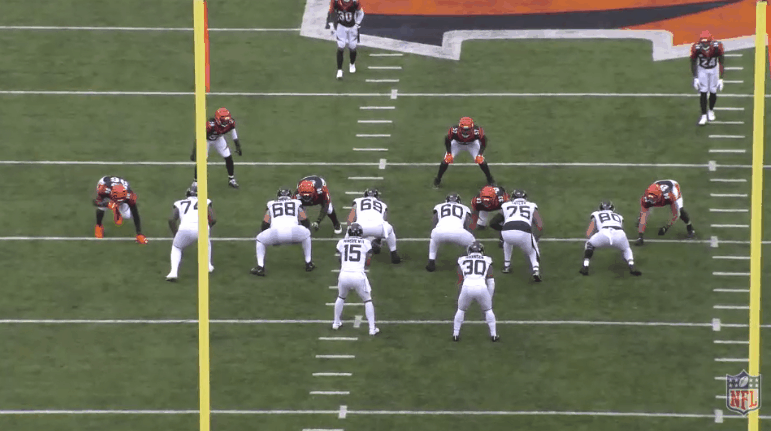 As is the case with many young offensive linemen, consistency will be key for Taylor making the leap in 2021. He at least has the tools to do so.