For some in the business of evaluating draft prospects, the jury is still out on Alabama tackle Jonah Williams. Some still don't have him as a top-20 player in this class; others are overly concerned with his 33 5/8" arms and have him playing guard at the next level.
Pro Football Focus, on the other hand, has drawn a line in the sand littered with mixed opinions and made its verdict. Williams is not only the best offensive tackle in the 2019 NFL Draft, but he's also the fourth-best player in this year's class. His on-field production at right and left tackle across 2,748 offensive snaps with 'Bama speaks volumes, as does his unparalleled commitment to preparation and improvement.
"The goal is to just be as consistent as possible," Williams said in an April interview with Pro Football Focus. "Everyone loses reps, and my goal is to lose as few as possible… You kind of have to hold yourself to a different standard as a [offensive] linemen as far as consistency."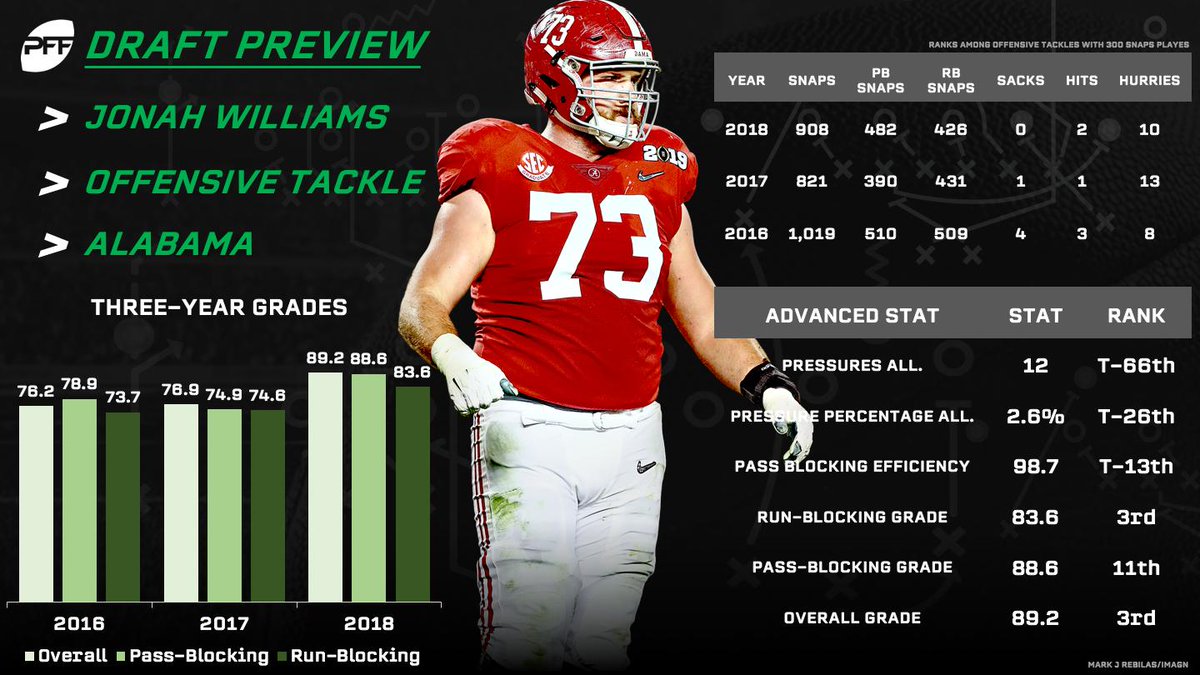 Williams set the standard for college-level offensive linemen in 2018, earning career highs across the board at just 20 years old in 2018. He finished the year ranked second in overall grade (89.2), eighth in pass-blocking grade (88.6) and tied for second in run-blocking grade (83.6) among qualifying tackles in the 2019 class.
And he had all of that production with arms falling less than an inch short of an arbitrary threshold, an unbelievable feat to some – an easily obtainable one for Williams.
Starting at right tackle as a true freshman in the SEC isn't easy, so Williams had to learn the tricks of the trade quickly. Knowing his arm length put him at a disadvantage, he started to prioritize inside hand placement in the run game only to find out inside hands work just as well in pass protection. He applied the technique to all parts of his game and flourished as a result.
"The shortest path to somebody is directly to them, you know, directly to their center of mass," Williams said. "So, for me, if we're talking an inch or 5/8 of an inch or whatever we're talking about with arm length, you can easily overcome that just by shooting your hands inside.
"Obviously, it is advantageous to have longer arms. I understand that. But I think you can overcome a lot of that."
Williams allowed just 12 total pressures (10 hurries, two hits) across his 466 pass-blocking snaps in 2018, ranking tied for eighth in the class in PFF's pass-blocking efficiency metric (98.7) and tied for 13th in pressure percentage allowed among the class' offensive tackles with 300 or more pass-blocking snaps on the year.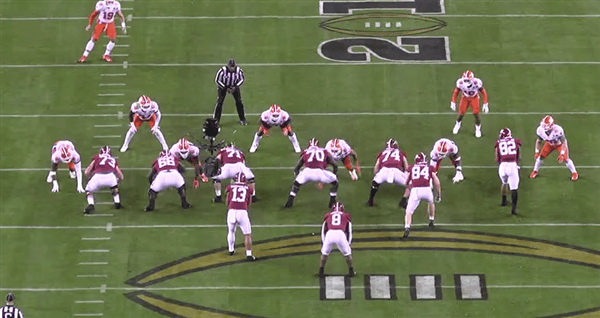 Isolating his pass-blocking snaps to just true pass sets, Williams and his inside hand placement allowed only six total pressures (three hurries, three hits) across 193 snaps in 2018. He ranked third in the class in pass-blocking efficiency (98.4).
Williams' success in pass protection also stems from his game-week preparation. Before each game, he watches every pass-rush snap of his upcoming opponent and charts his total rushes, moves used, and pass-rush wins in Excel. He then uses the charted information to create spider charts that detail what his opponent does best so he can tell his scout team to come at him with his upcoming opponent's best move.
"I'd always watch a ton of film on guys, and I would take notes on them," Williams said. "But it just never felt— I never had those numbers. And that's something I respect about you guys. You have the numbers. And no matter how simple or how complex the numbers are, the numbers are the numbers.
"If a guy is winning 70% of his reps when he does something, then I better freakin' be working on that move, you know, and be asking my guy in scout team to do it and be doing research on how I can combat that move."
As I said, unapparelled commitment to preparation and improvement.
Williams also watches a lot of his own film, calling himself a "perfectionist" to the point that it's "painful sometimes." He takes notes on his own film before game-week practices and brings his notebook to the field to connect the film to improvements in his technique on the field.
Now removed from the Crimson Tide's game weeks, Williams is working with future Hall-of-Fame offensive tackle Joe Staley – who has shorter arms than Williams, by the way – to improve his footwork, weight distribution, and independent hand usage.
Williams has traded Excel spreadsheets and notebooks for independent sessions with Staley. He hasn't stopped refining his craft, and you can bet on him continuing to do so at the next level. But he doesn't want to just be the smartest, most-prepared guy on the field, either. He knows the position takes more than that; he knows NFL coaches expect more than that.
"I just don't want to be put in a box," Williams said. "I just don't someone to say, 'Oh, this guy is just a technician.' I want to be a nasty [offensive] lineman. I want to play physical. I want to finish… I'm not like just some soft, cerebral guy that just thinks all the time."
Equal parts nasty and cerebral, Williams shouldn't have to nor will he worry about being put in a box at the next level. He'll be too busy burying his opponents with spreadsheets and notebooks in hand.