Few teams boast the roster depth in key areas quite like the Los Angeles Chargers, as they feature one of the league's best groups of offensive playmakers as well as one of the league's deepest secondaries.
That's a good foundation, but their 2020 success comes down to quarterbacks Tyrod Taylor and Justin Herbert. Taylor has multiple years of good play under his belt, though the 2018 version with the Browns was not good in a limited sample. Taylor can hold down the fort as a game manager, and that may actually be preferred given the strength of the secondary.
The offensive line is a perennial problem, as is the interior defensive line, but the Chargers have a roster that is going to be competitive every week and could do some damage in the AFC West with good quarterback play.
Subscribe to PFF's EDGE or ELITE subscriptions to get access to the following tools, charts, etc. 
– All Premium Article Content
– Fantasy Football Rankings & Projections
– Fantasy Football Draft Guide, Cheat Sheets & Advanced Stats
– Fantasy Football Mock Draft Tool (DraftMaster)
– Fantasy Football Strength of Schedule Matrix
– NFL Player Grades
– NFL Premium Stats
ADDITIONS/SUBTRACTIONS
Additions/players brought back:
T Bryan Bulaga (signed for three years, $30 million)
G Trai Turner (via trade)
TE Hunter Henry (franchise tag)
RB Austin Ekeler (re-signed for four years, $24.5 million, $15 million guaranteed)
CB Chris Harris Jr. (signed for two years, $20 million, $7.5 million guaranteed)
DI Linval Joseph (signed for two years, $17 million)
Losses:
T Russell Okung (via trade)
QB Philip Rivers
RB Melvin Gordon III
S Adrian Phillips
LB Thomas Davis
QUARTERBACK
The last time we saw Tyrod Taylor he had a rough go of it for the Browns, but he was a solid starter during his time with the Buffalo Bills. Taylor is one of the league's best at avoiding turnover-worthy throws, but that comes in exchange of taking too many sacks. Playing behind a poor offensive line is worrisome, but it would also be wise for the Chargers to take advantage of Taylor's rushing ability to keep defenses off-balance.
Of course, sixth overall pick Justin Herbert was drafted to be the future for the Chargers after a solid career at the University of Oregon. Herbert has a big arm, and he throws the ball up the seams well, but he didn't develop as planned at Oregon — both his touch and his short-area accuracy need work. The lack of development is the biggest question mark; Herbert once looked like a potential No. 1 overall pick but his game leveled off and he landed as a fringe first-round prospect on the PFF Draft Board. Still, the tools are there, and the path to success for Herbert may lie in allowing him to flip the field with his big arm. Given the unique offseason circumstances, this could be a perfect opportunity for Herbert to sit and learn, especially if Taylor plays as he did in Buffalo.
RUNNING BACK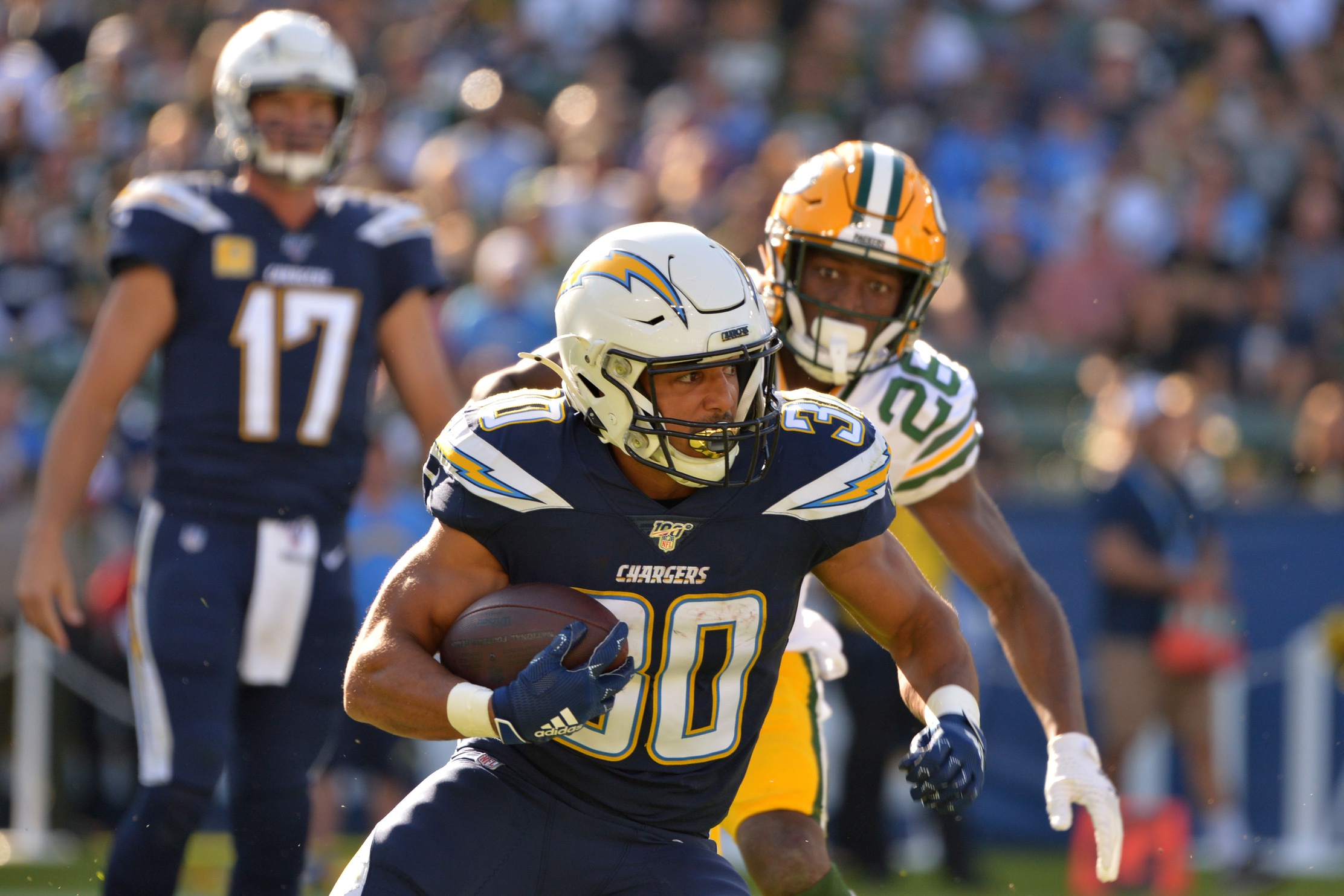 Melvin Gordon's departure means that there will now be more opportunities for Austin Ekeler to shine. Ekeler re-signed to a multi-year deal this offseason, and he has the fifth-best overall grade among running backs since 2017, at 90.4. Most importantly, Ekeler also has the top receiving grade (94.0) at the position. He's been outstanding with the ball in space and can create mismatches all over the formation.
Backup Justin Jackson has shown well in his two years, and he averaged 6.9 yards per carry on his 29 attempts last season. The Chargers also add fourth-rounder Joshua Kelley, who has sub-4.5 speed but mediocre college production.
This unit will come down to whether Ekeler and Jackson can handle a bigger workload after producing in part-time roles.
WIDE RECEIVER
The Chargers have a good pairing at the top of the depth chart in Keenan Allen and Mike Williams, but the big question for this group is who will emerge as the No. 3 option. Allen is one of the best route-runners in the league — he's been open on 58.6% of his single coverage targets over the last three years, good for 15th out of 62 qualifiers. Allen is slick at the line of scrimmage and at the top of the route, and he does his best work at the intermediate (10-19 yard) level, where his 601 yards ranked fourth in the league last season.
Williams does not separate nearly as well as Allen, but he's great at the catch point and tied for seventh with a contested-catch percentage of 50% over the last three seasons. His 471 yards on deep (20-plus yard) throws ranked fifth in the league a year ago. Beyond Allen and Williams, it's a wide-open competition for the No. 3 spot. Fifth-round pick Joe Reed is a project as a route-runner, but he's dynamic with the ball in his hands. Seventh-round pick K.J. Hill is the opposite, as he has excellent separation skills on underneath routes, though he's a mediocre athlete for the position. The rest of the Chargers depth chart has combined for 33 career receptions and the No. 3 spot is one of the Chargers' biggest question marks heading into the season.
TIGHT END
If Hunter Henry can stay healthy, he has top-five potential among tight ends. Henry posted an 85.7 receiving grade as a rookie in 2016, an 86.7 mark in his second season and then played just 14 snaps in 2018. He was then limited again last year, playing just 12 games.
Henry still graded at 73.2 overall, good for 14th in the league. He wins at all levels of the field and quarterbacks have a passer rating of 132.3 when targeting him, which is more than 10 points better than any tight end in the league since 2016.
The backup is Virgil Green, a run-blocking specialist who takes on the more difficult, in-line blocking assignments. Green is not much of a threat in the passing game — he's never caught more than 22 passes in a season — but he's performed his backup role well during his nine years in the league.
The rest of the depth chart includes Stephen Anderson, more of a "move," H-back type, and 6-foot-8 Donald Parham, a third-year project out of Stetson College. The Chargers need a full year of Henry to maximize their pass-game potential, and if he stays healthy, they'll have one of the more productive tight end units in the league.
OFFENSIVE LINE
The line has been an issue for the Chargers for several years, and they haven't had a pass-blocking grade that ranked higher than 26th since 2014. There will be changes heading into 2020, however, as left tackle Russell Okung was traded to the Panthers in exchange for right guard Trai Turner, and the Chargers signed right tackle Bryan Bulaga in free agency.
Bulaga has battled injuries throughout his career, but he's one of the NFL's best when healthy; he proved that last year with a 77.1 overall grade that ranked 15th among tackles, and he allowed fewer than two pressures in nine games — the same number achieved by all Chargers tackles.
The left tackle spot remains worrisome, with Trent Scott, Sam Tevi and Trey Pipkins all in the mix to start. Scott's 52.6 pass-blocking grade last season was worse than all but six other tackles, while Tevi's mark of 58.0 wasn't much better. Pipkins, on the other hand, is a 2019 third-rounder who graded at 63.3 overall on his 251 snaps last year, but he's still a project at this point in his young career.
Turner will start at right guard, and his 63.9 overall grade was only slightly better than the 63.6 that last year's starter, Michael Schofield III, put up in 2019. The hope is that Turner can get back to his previous form when he was a mauling run-blocker and one of the best pass-protecting guards in the league from 2014 to 2017.
Left guard Dan Feeney has struggled in his three years as a starter, with his 51.0 overall grade ranking just 83rd out of 88 qualifiers. And center Mike Pouncey returns after playing only 305 snaps last season, though he also comes with a fair amount of concern, as he has not graded above 70.0 since 2015 with the Dolphins.
Backup guard Forrest Lamp could finally be in the mix to push for playing time, but he's played just 394 snaps — including the preseason — since being drafted in the second round of 2017. The Chargers look like a bottom-tier offensive line once again unless they get massive improvement from their young players.
DEFENSIVE LINE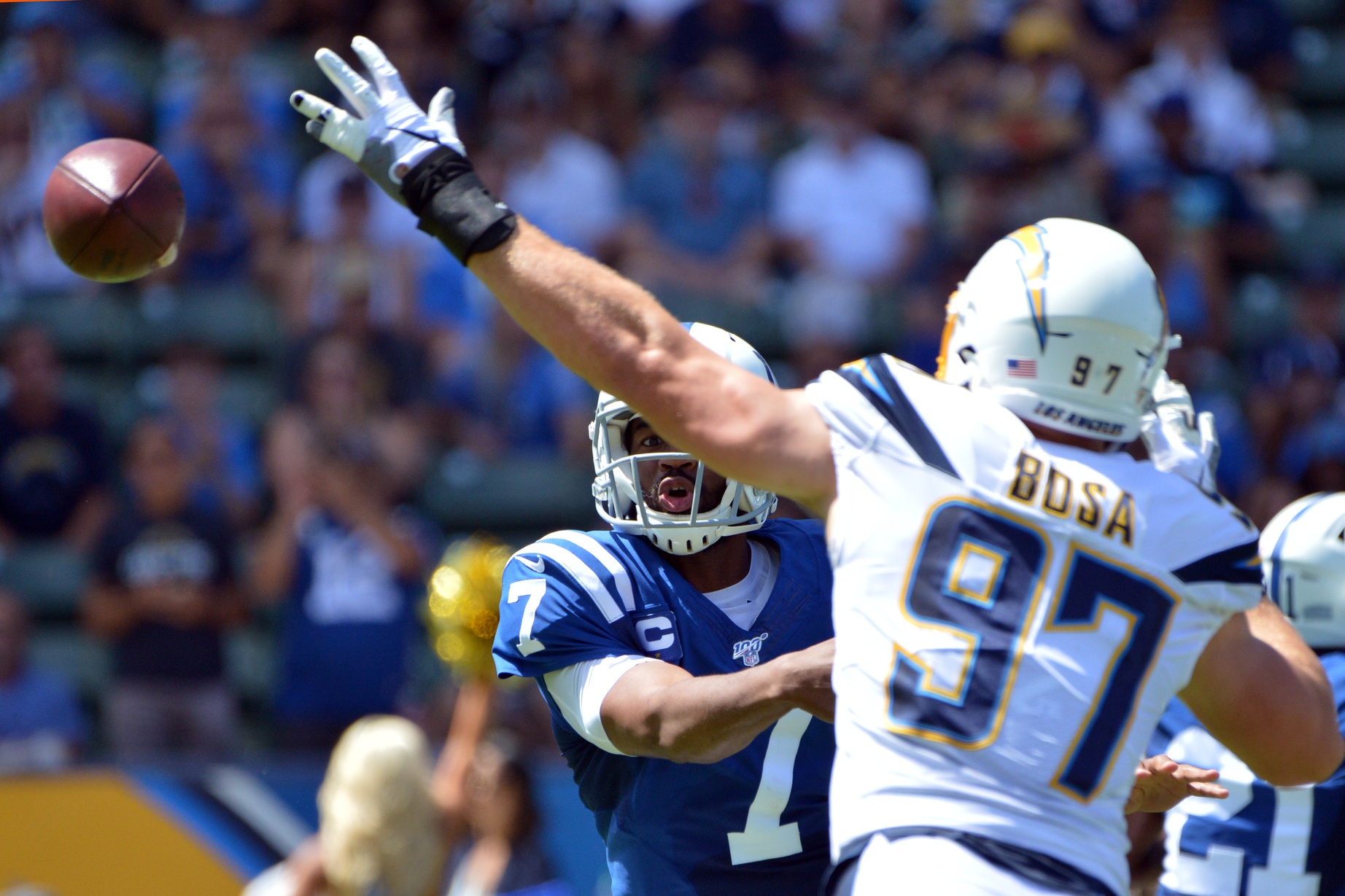 The Los Angeles Chargers still have one of the NFL's best pass-rushing duos in Joey Bosa and Melvin Ingram. They combined for 119 total pressures last season in what was a relatively down year for Ingram. The interior of the Chargers' line has been the issue in recent seasons, and they will be hoping that Linval Joseph helps shore up that group.
Joseph has been one of the best nose tackles in the NFL during his career with the Giants and Vikings but is coming off his lowest PFF grade (69.5) since 2011. Joseph's impact as a pass-rusher has slipped over the past couple of years, but of more concern is that his run defense — which was virtually peerless at his best — also slipped to merely above-average in 2019.
The Chargers will look for Jerry Tillery to show signs of life and avoid being labeled as a total bust. As a rookie, he earned just a 35.5 overall PFF grade and managed only 10 total pressures from 186 rushes. Tillery was incredibly productive in college and a first-round draft pick, but there have been no signs he can be that player at the next level yet.
Justin Jones and Damon Square both saw significant playing time last season and return to the team, but neither graded better than average. Uchenna Nwosu will be hoping to continue his development and steal playing time on the edge after impressing on limited snaps over his first two seasons in the league. Last year, he notched 21 total pressures and even made a couple of plays in coverage. He could give the Chargers a useful rotation if he improves further in Year 3.
LINEBACKER
The focus for Chargers linebackers this year is improving a coverage grade of 53.5 that ranked just 23rd in the league last season.
They have a slew of options, starting with first-round pick Kenneth Murray. Murray was a coveted linebacker at the time of the draft but still comes with some question marks after grading in just the high 60s over the last two years at Oklahoma. He brings excellent athleticism to the middle of the field — he ran a 4.52 40-yard dash and showed excellent explosion on his jumps — and he can be a weapon when covering running backs. It's just a matter of improving his zone-coverage skills, which were just a step slow in college.
Denzel Perryman continues his up-and-down career for his sixth season with the Chargers after posting three grades in the 50s and two in the 70s. Perryman does his best work in the run game, though he missed a career-high 15 tackles last season.
The Chargers added Nick Vigil to the mix after four years with the Bengals, though his career-high overall grade of 60.0 back in 2018 isn't particularly something to write home about. Malik Jefferson is another former Bengal who will be competing for playing time after seeing just 11 snaps in two years. Jefferson is another player who is better in the run game and could contribute on early downs.
Then there is 2019 fourth-rounder Drue Tranquill, who posted a solid 66.6 grade on 382 snaps as a rookie, the same exact grade as 2018 fourth-rounder Kyzir White, who played 372 snaps. White is in line for more snaps given that he's a former safety who performs well in the underneath zone concepts the Chargers employ.
This unit has several intriguing options, and its performance will be critical. The Chargers are strong on the defensive line and in the secondary, and the linebacking unit is needed to give them a complete defense.
SECONDARY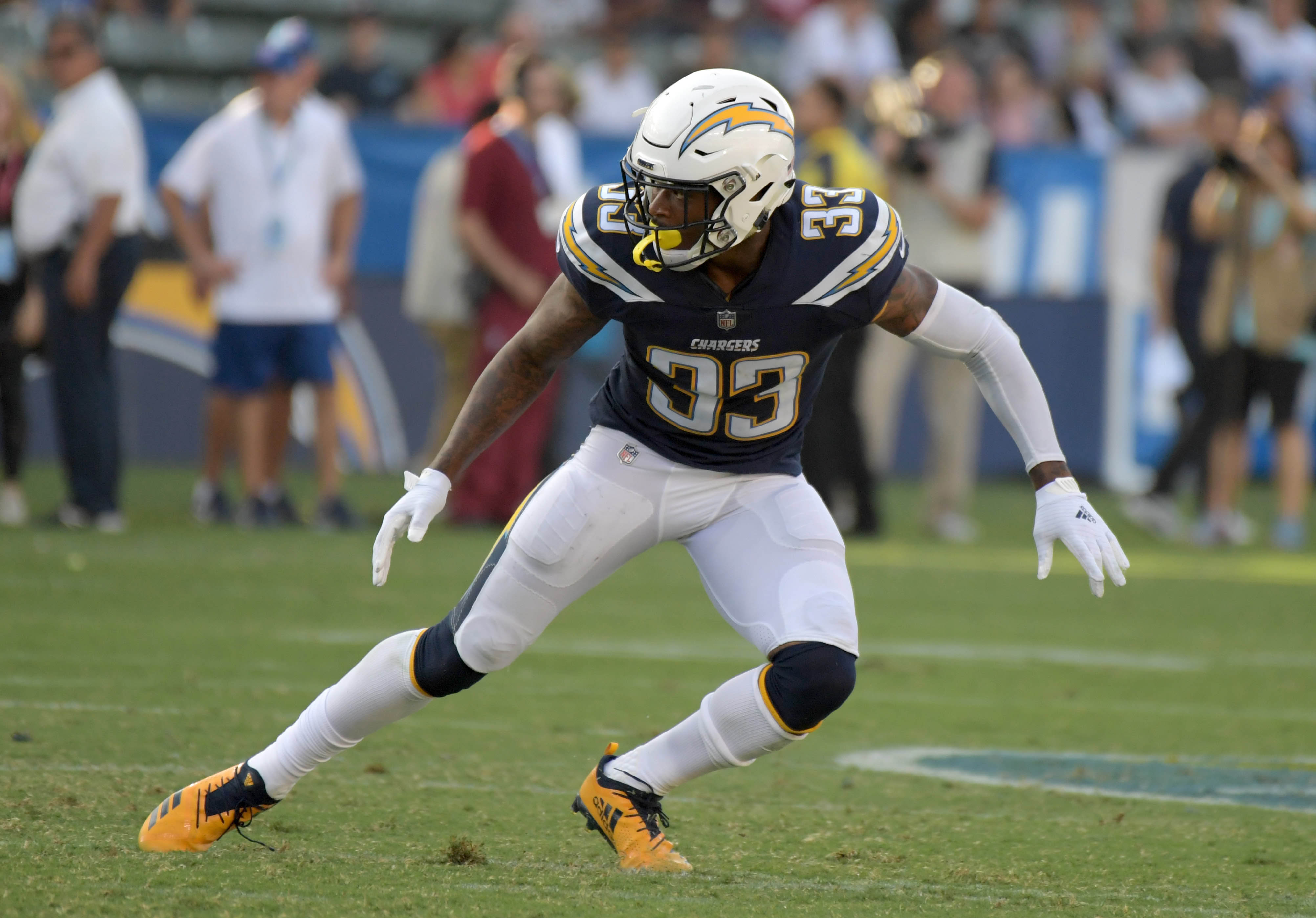 The Chargers are assembling an all-star group of defensive backs that could do something very special in 2020.
Chris Harris Jr. comes on board from the Broncos and will likely be allowed to go back to the slot, where he has been at his best throughout his career. That will likely push Desmond King II to safety, where he will team up with Derwin James to give the team one of the most dynamic playmaking duos in the NFL. King can obviously also defend the slot while Derwin James can basically do everything else — and that includes rushing the passer, where he has four sacks and 26 total pressures in a little less than one and a half seasons of NFL action.
 Casey Hayward Jr. is one of the league's most underrated players, but he has been a true stud during his NFL career. Over the past decade, nobody has recorded a higher forced incompletion than Hayward. He has been as good as any No. 1 cornerback in the game. 
The only question mark in this secondary is the other starting spot at corner. Last season, Michael Davis and Brandon Facyson split those duties, but neither earned a PFF coverage grade north of 60.0. One of those players needs to take a significant step forward in order to avoid being the weak link in an otherwise rock-solid chain. 
Nasir Adderley may struggle for playing time unless the team uses a lot of sub-packages with three safeties, but he has rare coverage skills for a deep-lying free safety and does bring something to the table the rest of the group doesn't specialize in. Altogether, this Chargers group is one question mark away from having a truly fearsome unit.
The annual need for an all-around interior presence remains, and Tillery must show that he can be the disruptive force that he was at Notre Dame. Tillery had just 10 pressures on 186 rushes and struggled mightily in the run game as a rookie. Perhaps the silver lining is the way Tillery's career at Notre Dame progressed, as he started slowly before putting together a strong junior year and a dominant pass-rushing senior season. The Chargers need Tillery to figure it out quickly, given the lack of other options up front.
DRAFT CLASS REVIEW
The Chargers finished with a six-player class, highlighted by two first-rounders in QB Justin Herbert and LB Kenneth Murray. Herbert landed in a good situation given the playmakers, though he needs time to develop. Murray's athleticism adds even more intrigue to the Chargers' back seven, though he also has parts of his game to tidy up, particularly in zone coverage. Fifth-round wide receiver Joe Reed will make plays with the ball in his hands while seventh-round wideout K.J. Hill could be the steal of this class as a strong route-running slot receiver.
BEST BET
This stellar defense cannot be questioned, but does that lead to 8 wins? The bettors who are backing the over will be feeling that the longer Tyrod Taylor can hang onto the starting job, the better. Things look dicey according to our simulation, which projects the Chargers to fall short of their win total by one whole win. The odds they fail to make the playoffs sit at -200, but our simulation still finds value with that line. The Chargers could be a team to fade all season.