Draft season is upon us and, as always, the quarterback class is the hot topic of discussion. LSU's Joe Burrow leads the conversation, as he accomplished the improbable and catapulted his draft stock from late-round/undrafted prospect to first overall. Alabama's Tua Tagovailoa isn't too far behind and, despite the health red flags, should still be a top-five lock. After those two, though, the quarterback class takes a bit of a dip. Justin Herbert (Oregon), Jake Fromm (Georgia), Jalen Hurts (Oklahoma), Jacob Eason (Washington) and Jordan Love (Utah State) are the only other notables in the class, but none look like early first-round picks.
Out of that group, Herbert has been crowned as the next best on the table. Quarterback-needy teams such as the Los Angeles Chargers at No. 6, the Indianapolis Colts at No. 13, the Denver Broncos at No. 15, etc., may opt to overreach for the Oregon Duck, but should they? As a true freshman in 2016, Herbert impressed after being tabbed the starter mid-season and topped it the following year by producing an elite 90.5 grade in his limited action (a broken collarbone caused him to miss a handful of games). He then regressed in 2018 to near average, setting up for a sort of prove-it year in 2019.
Herbert's 81.9 overall grade this season ranked just 27th at his position and is sixth among the group of seven quarterbacks mentioned earlier. While the Oregon Ducks as a whole got better year over year, Herbert did not.
Justin Herbert wins above average over last three seasons
| | | |
| --- | --- | --- |
| Season | Game total | Wins Above Average (WAA) |
| 2017 | 8 | 0.438 |
| 2018 | 13 | 0.429 |
| 2019 | 13 | 0.395 |
(2019 does not include Rose Bowl and ranked 81st among all FBS players)
Herbert has won people over on some of his tight passes to receivers running to the sideline. PFF has a powerful database and the ability to pull up the results on such throws that were horizontal and outside the numbers — Herbert had attempted 62 such passes and produced the third-highest grade. Most of those throws came when Herbert was in rhythm, an area where he excels. He's great when getting through his progressions, but it gets ugly as soon as he is knocked out of rhythm, as he ranked 75th in PFF passing grade.
Herbert's ceiling makes him an intriguing prospect and is a big reason why he'll likely be the third quarterback off the board. We saw it every now and then in 2019, but it was more consistent in 2017. It all starts with the power he has in his arm, as he can throw it deep downfield as good as anybody. From a clean pocket, Herbert has the highest accurate pass rate in the 2020 draft class throwing 20-plus yards downfield. Though if the clean pocket collapses, Herbert becomes increasingly volatile. Among 129 qualifying quarterbacks this season, Herbert ranked 124th in negatively graded play rate under pressure. You can see his panic in a collapsing pocket, an area where a first-round quarterback really shouldn't be losing his poise. He'll try and create outside of the structure but will toss up some desperation heaves and, in turn, produced the 47th best accurate-pass rate among 66 qualifying quarterbacks.
While Herbert has thrown some great deep balls when clean, there are still some accuracy problems present across the board. Quick, short passes have been Herbert's nemesis this season, ranking 64th in the FBS in accurate-pass rate on throws in 2.5 seconds or less and traveling just 1-9 yards. On throws of 19 yards or fewer when clean, Herbert has thrown the fourth-most incompletions that were faulted to him — whether it was an overthrow, underthrow, ball in front or behind, etc. Regardless of the scenario, he owns the second-highest rate of such throws among the top seven quarterbacks in the 2020 draft class.
Highest % of attempts resulting in a QB fault incompletion
| | |
| --- | --- |
| Jordan Love | 17.3% |
| Justin Herbert | 15.3% |
| Jake Fromm | 15.0% |
| Jacob Eason | 14.5% |
| Tua Tagovailoa | 12.0% |
| Jalen Hurts | 11.1% |
| Joe Burrow | 6.3% |
(Among the top quarterbacks in the 2020 class)
Perhaps even more alarming is that Herbert had the most incompletions faulted to him when throwing to a receiver with open separation and on his first read. He's been known to lock in on his first read far too quickly and far too long. Sometimes it turned out fine, sometimes it did not — and the PFF database shows that. Passing to his first read, Herbert has the sixth-worst negatively graded play rate but the seventh-best positively graded play rate.
Herbert has also been heavily criticized for poor performances in big games. Arguably the three biggest games of Herbert's 2019 season are the following: Week 1 vs. Auburn, Pac-12 Championship vs. Utah and the Rose Bowl vs. Wisconsin. All three were among his four worst single-game grades of the season and combined to make up a 58.2 overall grade. Some may see the traditional box-score stats — he has thrown for 3,456 yards, 32 touchdowns and just six interceptions — and believe that he's a great quarterback, but you should never trust the box score. He has had the second-most yards (806) and the most touchdowns (8) that have come from targets behind the line of scrimmage.
PFF data scientists Eric Eager and Ben Brown wrote about how PFF College's WAA metric maps to draft position, and Herbert seems to fit the glove of the exact scenario they mentioned. The quarterback position is about three to four times as valuable as any other at the top of the NFL draft, but that doesn't mean you should overreach on one sitting in the middle of the first round.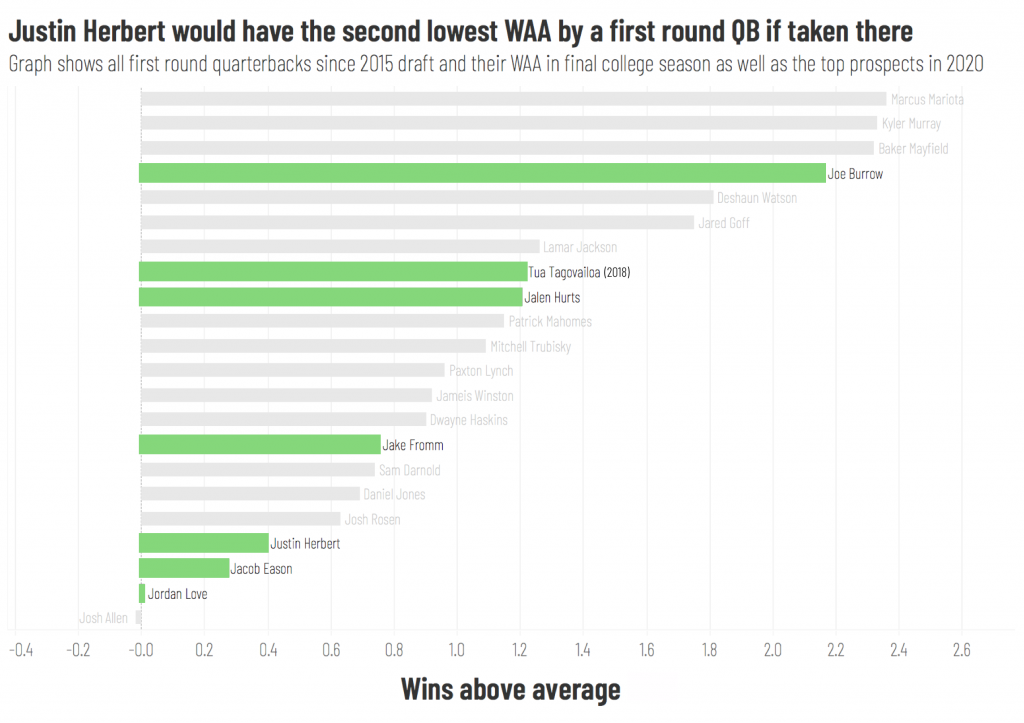 Justin Herbert looks the part at 6-foot-6, and his cannon of an arm and unmatched velocity are hard to ignore, but his accuracy and pocket presence have been subpar at best against Pac-12 defenses. There's a lot of potential with Herbert, but to pick potential over what's been proven isn't the best way to go.