The Baltimore Ravens were the model franchise when it came to using every edge to win games in 2019.
From building their offense perfectly around Lamar Jackson's skill set to playing a unique brand of aggressive defense to attacking fourth downs with a winning mentality rather than a not-to-lose one, Baltimore maximized its season en route to a 14-win campaign. Of course, they eventually lost in the divisional round to the Tennessee Titans, and the question is whether they can duplicate 2019's regular-season success.
The pieces are in place, with Jackson's Year 3 development being the most important component when it comes to remaining among the class of the AFC. The Ravens remain strong in the right areas, and this year they're looking to get over the playoff hump after first-round exits in each of the last two seasons.
ADDITIONS/SUBTRACTIONS
EDGE Calais Campbell (via trade)
EDGE Matthew Judon (franchise tag)
C Matt Skura (original-round tender)
CB Jimmy Smith (re-signed for one year, up to $6 million)
S Anthony Levine (re-signed)
G D.J. Fluker
DI Derek Wolfe
Losses:
DI Michael Pierce
S Tony Jefferson (cut)
CB Brandon Carr
TE Hayden Hurst (via trade)
DI Chris Wormley (via trade)
QUARTERBACK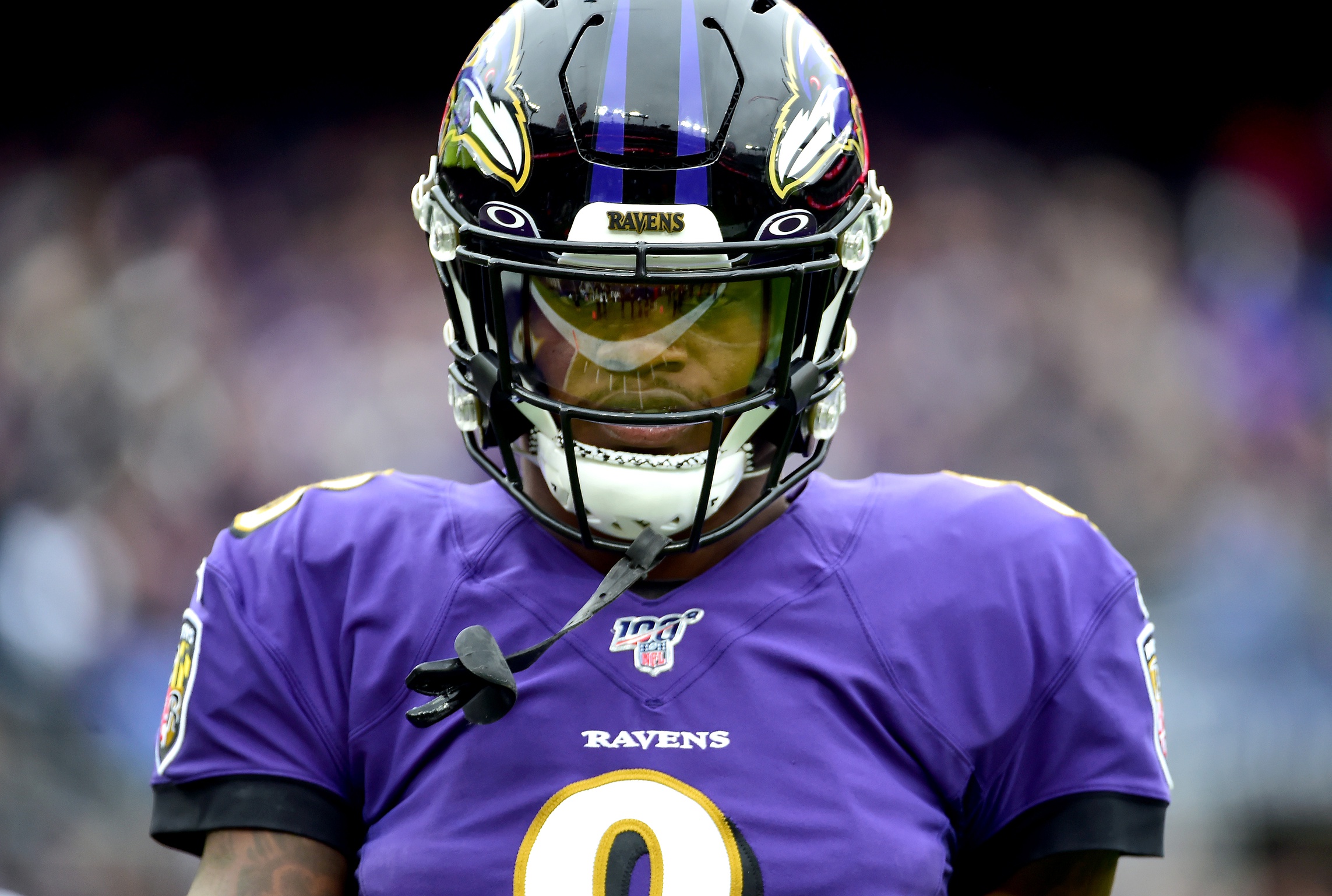 Here's what I said about Lamar Jackson after the 2019 season:
Outside of Ryan Tannehill, Jackson made the league's biggest stride as a passer as he improved from a second-to-last ranking in catchable pass rate to 15th. The Ravens have built a perfect system to take advantage of Jackson's unique skill set, and he subsequently led the league with 776 yards on designed runs with another 430 yards coming on scrambles. But it was Jackson's improvement as a passer that turned the offense into the league's best during the regular season. The threat Jackson presents as a runner creates better pass-blocking situations while also putting defenders' heads on a swivel when trying to find the ball in the designed run game. It all adds up to an efficient run game and more open throws in the passing game. Jackson also cut down on his turnover-worthy plays, which is even more impressive given how often he handles the ball.
It may be difficult for Jackson to duplicate his incredible statistics from a year ago — a touchdown rate of 9.0% is just not sustainable — but he'll still be one of the league's most dangerous quarterbacks. His improved accuracy puts defenses in a bind, and the next step will be passing in come-from-behind situations where the conditions are less favorable.
The rushing ability gives Jackson a high floor in any given game, as he can make up for bad days as a passer with chunk plays on the ground, and that gives the Baltimore offense a strong baseline to work from.
RUNNING BACK
The Ravens have extracted high-end production from multiple running backs over the last two years, with Gus Edwards averaging 5.2 yards per carry in 2018 to Mark Ingram II averaging 5.0 last season.
Ingram runs downhill with a violent style that fits Baltimore's run-first approach, and his 0.19 missed tackles forced per attempt ranked 14th in the NFL in 2019. He was also the top-graded receiver among Ravens running backs last season, grading at 78.0 to rank 11th among qualifiers.
Edwards is once again back in the mix, and he may have found a sweet spot as a complementary piece after tallying 136 carries in 2018 and 145 last season. He'll compete with 2020 second-rounder J.K. Dobbins, who is a strong all-around prospect who has the vision, cutting ability and pass-game acumen to make an immediate impact. Dobbins may be used more in the passing game right away, but was a big-play machine on the ground in college, with his 31 carries of 15-plus yards leading the nation last season.
Justice Hill rounds out the group, and while he did not show well as a rookie, he's sitting on 4.4 speed that is a scary proposition if deployed within this Ravens offense. Baltimore made a strength even stronger this offseason, and they added even more versatility to the offense with the addition of Dobbins.
WIDE RECEIVER
Speed is the name of the game for the Ravens' receivers, starting with 2019 first-rounder Marquise Brown. A true downfield weapon from the slot, Brown showed his big-play ability right away with an 83-yard touchdown in Week 1. Brown averaged 1.83 yards per route last season — 29th out of 129 qualifiers — and he should have even more big-play opportunities this season.
On the other side, Miles Boykin has 4.42 speed to go with a 6-foot-4 frame, and he showed flashes as a rookie despite grading at just 58.9 overall. The Ravens added even more speed in the third round of the draft with Texas wideout Devin Duvernay, who ran a 4.39 at the scouting combine. Duvernay projects to the slot due to his strong hands and after-the-catch skills, and he gives Baltimore another explosive weapon for defenses to worry about.
Willie Snead IV may still see time in the slot, but Duvernay will see as much time as the gameplan dictates. Baltimore may not have the best all-around receiving corps, but they have a group of field-stretchers and mismatch-creators who fit their big-play offensive style.
TIGHT END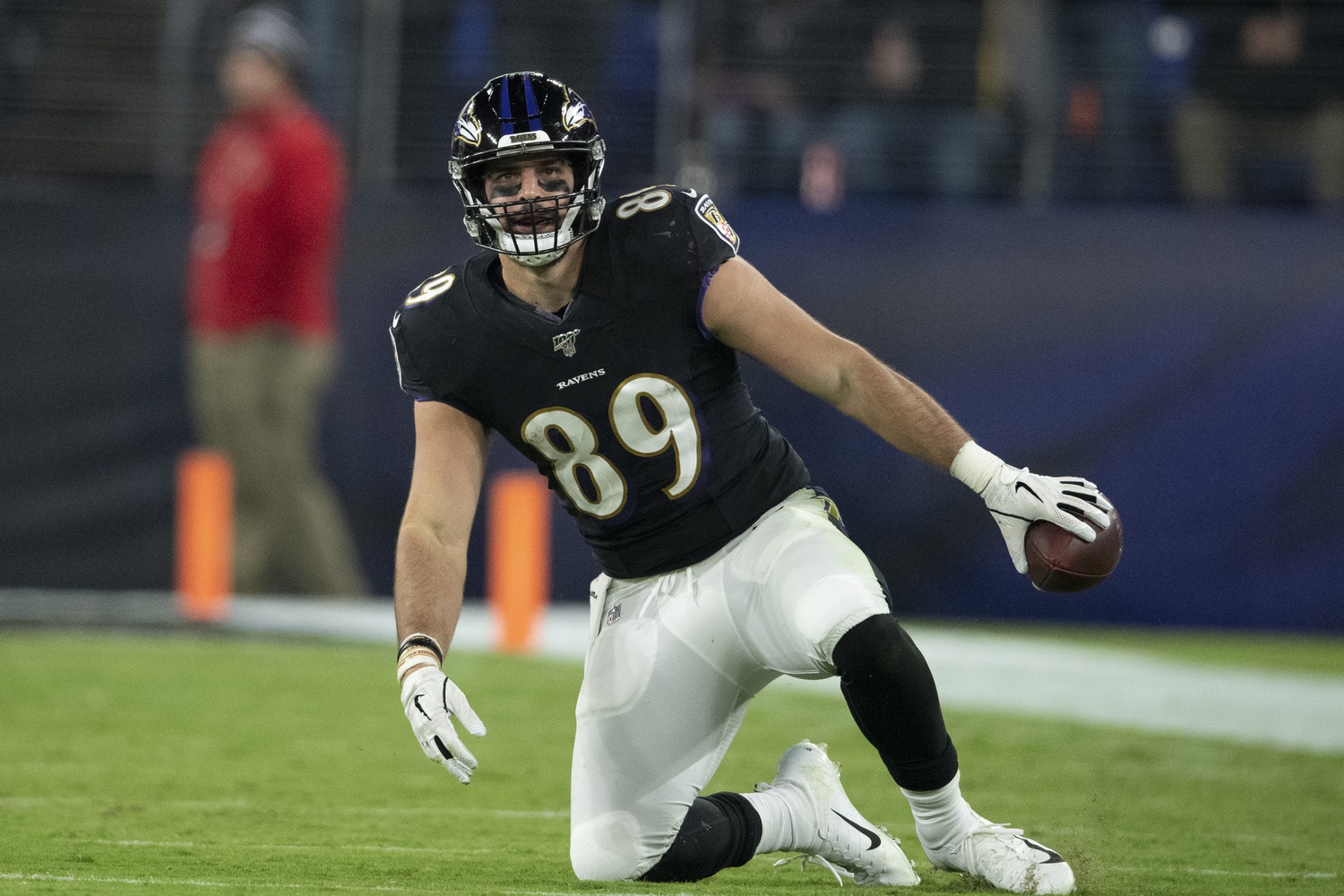 Only Philadelphia's tight ends caught more passes than Baltimore's group, as the Ravens featured the position heavily and got 30-plus catches from three different players.
Mark Andrews broke out to post the position's second-best receiving grade during the regular season (90.2), and he's now averaged an impressive 14.0 yards per reception in his two years in the league.
While Andrews established himself as one of the best receiving weapons at the position, Nick Boyle also set career highs with 31 catches for 321 yards and posted the fifth-best run-blocking grade in the league, at 75.4.
With Hayden Hurst and his 500 snaps moving on to Atlanta, there's room for a third tight end to emerge from a remaining group that contains Charles Scarff, Eli Wolf and Jacob Breeland, though these three players have yet to take an NFL snap.
Most receptions from tight ends, 2019 regular season
| | |
| --- | --- |
| Team | Receptions |
| Eagles | 163 |
| Ravens | 132 |
| Raiders | 130 |
| Rams | 114 |
| Chiefs | 114 |
OFFENSIVE LINE
The Ravens finished with the second-best offensive line last season, ending third in run-blocking grade and first in pass-blocking grade. Left tackle Ronnie Stanley continued his progression, leading all tackles with a 92.8 pass-blocking grade while allowing only 10 pressures on 543 attempts. Stanley also ranked first in pass-blocking grade on true pass sets and had the lowest percentage of negatively graded plays in the run game. He has firmly established himself as one of the league's best. On the other side, right tackle Orlando Brown Jr. isn't as nimble as Stanley, but he's gotten the job done since the Ravens drafted him in the third round in 2018. Brown engulfs linebackers and moves linemen at the point of attack, but he still lets defenders get into his pads at the point of attack in the run game. That led to a 59.6 run-blocking grade that ranked just 47th out of 89 tackles last season. However, Brown has been an effective pass blocker, ranking 11th in that area with an 83.3 grade last season.
On the interior, the Ravens must replace retired, future Hall-of-Famer Marshal Yanda, who was still one of the NFL's best last season. Veteran D.J. Fluker will get the first shot, and he was once one of the better run-blocking guards, but he's not a lock after three straight years grading in the 50.0s. Baltimore has drafted guards in the fourth round in each of the past two years — Ben Powers and Ben Bredeson, who were both better pass blockers than run blockers in college. Third-round pick Tyre Phillips brings a more physical presence at 345 pounds, so this line doesn't lack developmental options. At left guard, Bradley Bozeman is the expected starter after a solid 63.8 grade that ranked 35th out of 83 guards last season.
Matt Skura starts at center, where he earned a 68.7 grade last year before going down with an injury, good for 16th among centers. This should be one of the best offensive lines in the league once again, aided in part by Lamar Jackson's ability to open up the offense, but they'll miss Yanda's all-around game up front.
DEFENSIVE LINE
The Ravens continue to make smart personnel decisions that should make a significant impact on their team. They said goodbye to Michael Pierce this offseason but replaced him with Calais Campbell — who is arguably the best run defender in football — and all it cost them was a low-round draft pick. Campbell has had four straight seasons with a PFF grade above 90.0 despite playing multiple different positions along the defensive line for Arizona and Jacksonville. He will move back inside for the Ravens, where he should prove to be an upgrade over Pierce, albeit one who is getting on in his career.
Derek Wolfe brings plenty of experience and solid play to the table. He has notched at least 20 total pressures in all but one of his NFL seasons and has earned good PFF grades against the run in every season since 2013.
Brandon Williams remains, and he needs to return to his best play after seeing his run-defense grade drop 10 grading points in 2019. His defensive stop total dropped by a third, and he didn't make the same impact of years past.
Baltimore's edge rushers are still a question mark, but this team — the most blitz-heavy team in football — schemes up pressure better than any other in the league. Matthew Judon led the team in sacks, total pressures and pass-rush grade a season ago, but he was still just 18th in the league in the latter category.
Last year's third-round pick, Jaylon Ferguson, will have a chance to improve on the 30 total pressures he had as a rookie, and first-year player Justin Madubuike will have a chance to add some pressure from an interior alignment, but this is a defensive front that will once again have to rely on the scheme and blitz to maximize their pressure rate.
LINEBACKER
Ravens linebackers saw the field on a league-low 815 snaps during the regular season as they de-emphasized the position and loaded up on defensive backs instead.
The draft shows that the linebackers will have a bigger role for Baltimore in 2020, however, as they drafted LSU's Patrick Queen in the first round and Ohio State's Malik Harrison in the third. Queen is a modern-day, athletic linebacker who flies around the field making plays against the run and in coverage. He does need to clean up his run fits and tackling, but Queen has just over 1,000 snaps of experience under his belt, so he has plenty of room to grow.
Harrison is more of a throwback, and he's coming off an impressive 87.1 grade against the run last season. L.J. Fort returns after a solid 270 snaps in which he graded at 73.5 last season, but Josh Bynes and Patrick Onwuasor both move on, leaving about 900 snaps of playing time for the rookies and Fort to fill.
Baltimore looks better in the long term at linebacker, and they may take a big step forward this season, as well.
SECONDARY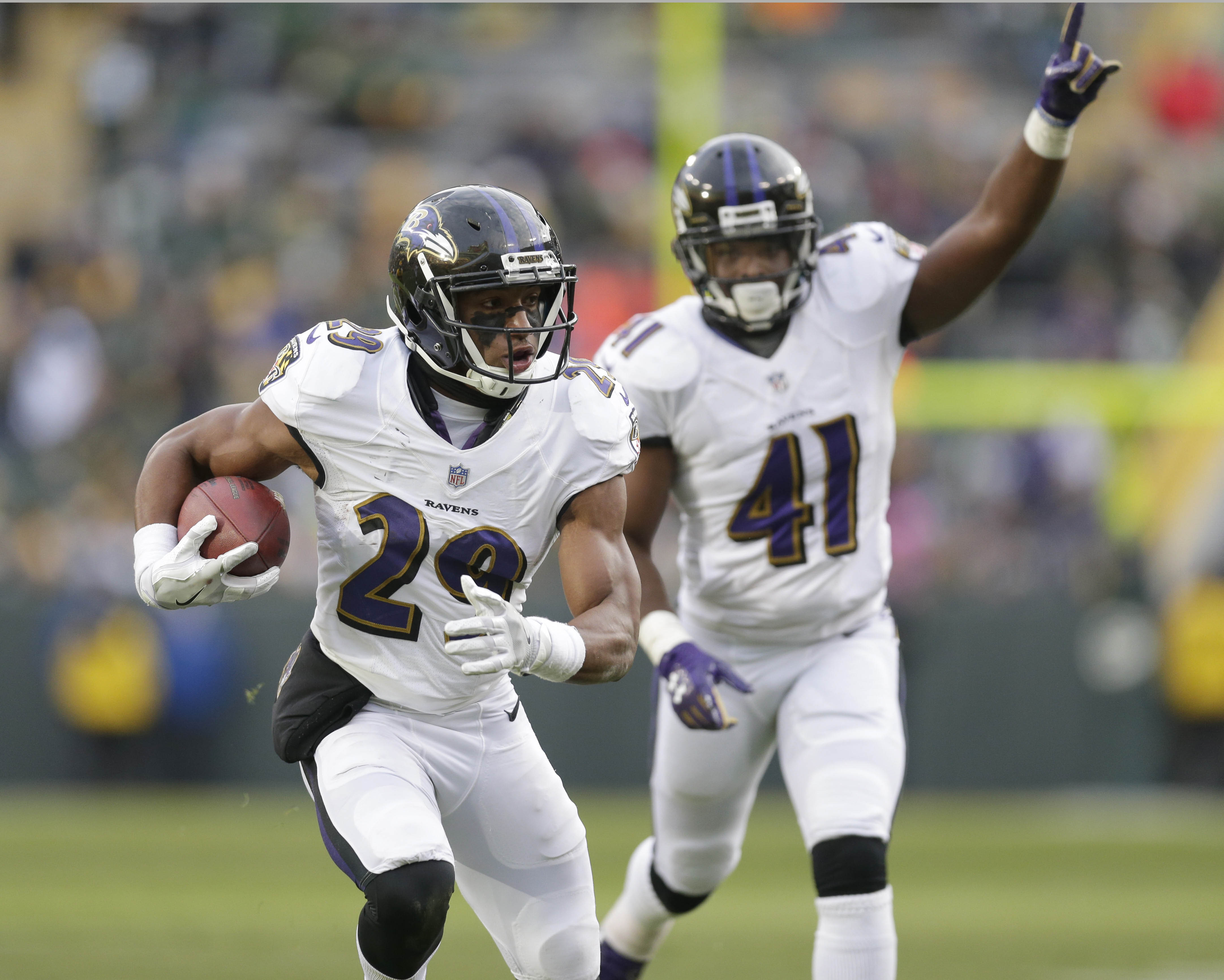 The Baltimore Ravens have a talented and versatile group of defensive backs, but they also have a defensive scheme that uses them to attack unlike any other in football.
The Ravens led the league in blitz rate last season (41%), but they also led in the percentage of six- and seven-man rushes. Six different defensive backs on the team rushed the passer at least 15 times, with safety Chuck Clark being sent to attack 106 times over the year, the most among defensive backs in the league.
Marlon Humphrey is one of the best corners in the league in man coverage, with only Stephon Gilmore having a higher PFF grade in single-coverage situations last season. Humphrey, Marcus Peters and Jimmy Smith represent one of the best corner trios in the league, while Tavon Young will be hoping to make it back from injury and contribute.
The cornerback group is also backed up by talented safeties. Earl Thomas III has been the prototype for the single-high free safety for his entire career, but he has been given more opportunities to line up all over the field in Baltimore. Thomas blitzed more times his first year with the Ravens (57) than he did the previous seven years combined (36). And while his all-or-nothing style of play can sometimes leave some holes — particularly in run fits — he is still a playmaker and changes the dynamic on defense and what offenses need to worry about.
The Ravens have an elite defense that has been built back to front, with resources plowed into the secondary as more and more evidence surfaces as to the importance of coverage.
DEVELOPMENT NEEDED: JAYLON FERGUSON
Ferguson ranked near the bottom among rookie edge defenders in both overall and pass-rush grade, as he picked up 30 pressures on 287 rushes. That number isn't bad, but 11 of them were late in the down, and his pass-rush win rate of 10.0% ranked just 91st out of 110 qualifiers.
The Ravens need more players who can win one-on-one matchups up front, and the 2019 third-rounder will be a crucial part of the defensive line rotation.
DRAFT CLASS REVIEW
Baltimore hit on several positions in their 10-player class, starting with the revamped linebacking corps of Patrick Queen and Malik Harrison. Both players have a path to see the field early.
The offense got some love, too, with J.K. Dobbins expected to join the running back rotation while Devin Duvernay's speed will play well in the Ravens' offense. Keep an eye on Day 3 picks WR James Proche and safety Geno Stone, who were both productive college players.
BEST BET
Expectations are sky-high for Baltimore in betting markets, as they have the second-lowest odds to win Super Bowl 55. Our simulation has the same odds as the implied probability from betting markets, which currently sits at 12.5%.
Our simulation sees one less win then their 11.5 team total, which makes for an enticing bet. Even more enticing is Lamar Jackson's rushing prop, which sits at a historic 975.5 total. Higher than all but nine running backs, the under is one of the best available player props left on the board.