Now that we're down to the final month of the 2019 NFL season, it's time to consider the candidates for the upcoming Associated Press NFL Coach of the Year Award. In the past, this award has often gone to first-year head coaches who had taken their teams from worst to first. However, this thought process has typically ruled out some well-deserving and well-experienced coaches, some of whom had helped their team overcome adversity to enjoy season-long success. With that said, my pick for the 2019 NFL Coach of the Year is none other than the Baltimore Ravens' John Harbaugh.
A coach who was once on the brink
Even before last season's playoff loss to the Los Angeles Chargers, Ravens fans were calling for John Harbaugh to be replaced. Teetering with a 4-5 record with seven games remaining, Harbaugh desperately inserted rookie quarterback Lamar Jackson into the starting lineup where he helped the Ravens win six of their last seven games. During that seven-game run, Jackson helped lift the Ravens' running game to a seventh-ranked 0.037 EPA per rush attempt, but during the same time, the Ravens' passing game lagged far behind, managing just -0.058 EPA per pass play which ranked 24th among the league's 32 outfits.
The wild card playoff game at M&T Bank stadium saw the Chargers' defense crowd the line of scrimmage with four defensive linemen and a fifth man on the edge of the line in the form of their star safety, Derwin James. In all, the Chargers employed seven defensive backs and they elected to play a mix of single-high man-to-man and a Cover-3 zone concept, which stifled the once-effective running game and forced Jackson to beat them through the air — and he couldn't. Jackson ended the game with his second-worst rushing grade (52.3) and the second-worst passing grade (48.0) of his short tenure as the starter, while the Ravens' offense as a whole stumbled to a season-low team offense grade of 51.3. This was a glaring signal to Harbaugh that something had to be done; his offense had been figured out and neuralized in the biggest game of the year.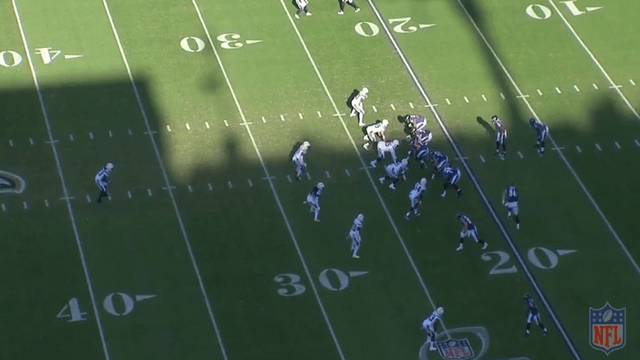 A moment of clarity
John Harbaugh had an epiphany upon the conclusion of the 2018 season, which led him to say goodbye to his good friend Marty Mornhinweg and hire his new offensive coordinator, Greg Roman, to help rebuild the offense and tailor it to the unique talents of Lamar Jackson. And Harbaugh's decision to jettison veteran signal-caller Joe Flacco and go all-in with Jackson has led to a dramatic turnaround in offensive production.
Harbaugh's bold move was to take advantage of Jackson's once-in-a-generation talent and allow his quarterback to do what he does best — run the football.
Last week, PFF's Sam Monson carefully explained how Michael Vick — a player to whom Jackson has been routinely compared to due to his dynamic rushing ability — was forced to play in a West Coast system that didn't truly take advantage of his potential as a runner. When Vick broke the quarterback rushing record in 2006, roughly 73% of his record-setting 1,038 rushing yards came from unplanned or undersigned runs, and he had only 49 designed runs that season in total. In contrast, Jackson has an eye-popping 122 designed rushing attempts next to his name entering Week 16 — 62 more than the next closest quarterback — and he currently ranks third among all offensive players league-wide in PFF rushing grade (90.0). Jackson's 713 rushing yards from designed running plays ranks 21st among all offensive players, and his 43 runs of 10 or more yards rank first among the same group.
Through 15 weeks, Lamar Jackson's designed-run rate of 76.7% more than doubles Vick's designed-run rate of 27% in 2006. So as Jackson rewrites the record books, he is more than validating Harbaugh's gutsy move to make a radical change in offense, and credit should be given to Harbaugh for building the offense around Jackson's generational rushing ability, which is something the Atlanta Falcons failed to do with Vick.
After building the rushing attack around Jackson, the Ravens' offense has been transformed into one of the most potent rushing attacks we've ever seen. Thus far, the team has generated a first-ranked 0.136 EPA per run play, which ranks third among all offenses during the PFF era, which dates back to 2006.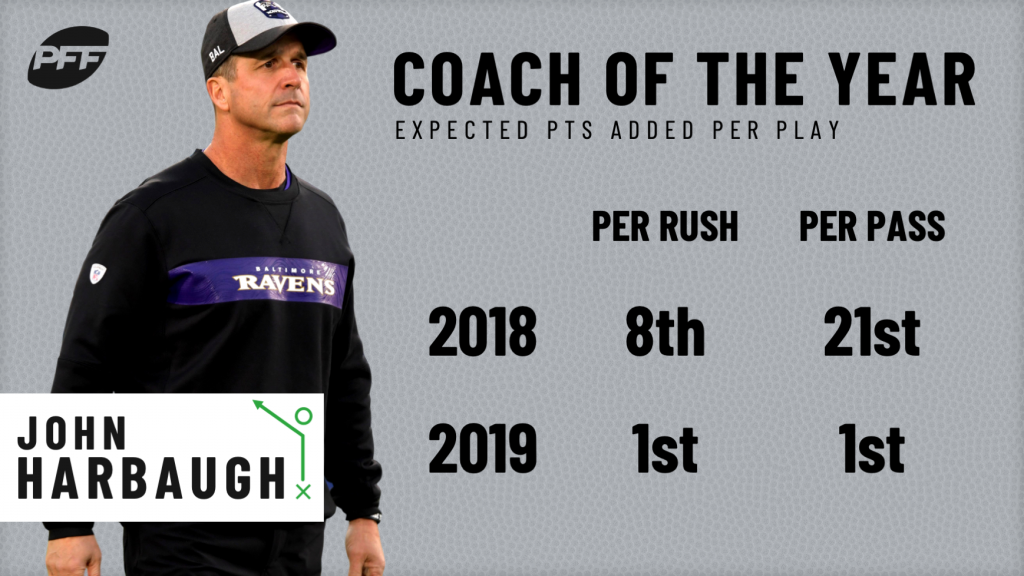 Making life easier for his quarterback as a passer
The best coaches have the ability to make average players good and good players great, and Harbaugh is doing just that by using Lamar's exceptional talents to achieve greatness for his quarterback and his team. In addition to building an offense around his rushing ability, Harbaugh has allowed Greg Roman to utilize the play-action passing game to create greater separation for receivers downfield while at the same time helping Jackson to improve his passing efficiency from inside the pocket, and all of this has come without Jackson being asked to do too much.
By now, we know that the play-action passing game opens up holes in the defense by sucking up defenders towards the line of scrimmage, and that opens up passing lanes in the defense that wouldn't have otherwise been there. The Ravens have taken advantage of this by calling play-action on a league-high 35.5% of dropbacks, where Jackson has completed 86 of his 131 attempts for 1,000 yards, 14 touchdowns and zero interceptions, all good for a ninth-ranked passer rating of 124.2.
And while Jackson is more than capable of racking up rush yards outside the pocket, the scheme itself has been designed to create easy, in-pocket passes to the tight ends and runnings backs, allowing them to generate yards after the catch. Entering Week 16, Jackson's average depth of target is 9.4 yards downfield, which is lower than seven other passers this year, and 57.8% of his pass attempts have been thrown to a receiver with at least a step of separation, which is better than 14 other quarterbacks. Marquise Brown (74.1) is the only Ravens wide receiver with a grade above 70.0 or higher; the team's highest receiving grades are owned by tight ends Mark Andrews (90.1) and Hayden Hurst (80.7) and running back Mark Ingram (83.3), and the latter group's receiving yards (1,566) and total yards after the catch (762) far exceed the combined total accumulated by Ravens wide receivers. The tight ends and backs also account for 33 explosive plays of 15 or more yards compared to 30 such plays generated by the wideouts.
This tailor-made system has made Lamar Jackson a better passer from the pocket. He is currently PFF's third-highest graded quarterback on throws inside the pocket and his 24 touchdown passes from inside the pocket are second-most in the NFL. He's thrown just eight turnover-worthy plays all year despite throwing 392 passes, and he's put the ball in a perfect location on 19.2% of his passes (8th), per PFF's quarterback charting data.
He's crafted an offense that keeps everyone guessing
This system takes full advantage of Jackson as a dual-threat in the backfield as both a runner and a passer, and it starts with his ball-handling at what is called the mesh point.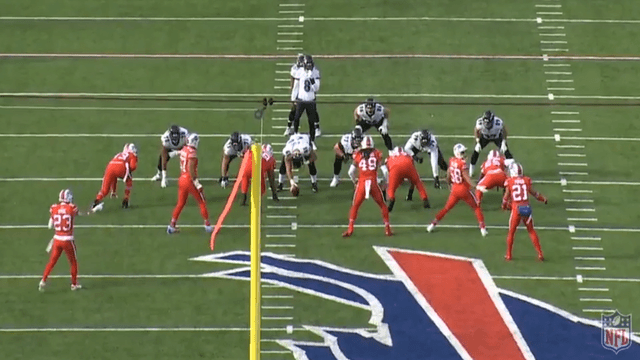 Watch closely as the defenders must operate with a moment of hesitation as they read through the mesh point to determine who has the ball. When Jackson sticks the ball in the belly of Mark Ingram, this is the moment of truth we call the "mesh point" because all key defenders must hesitate before they determine who has the ball. After Jackson reads edge defender Jerry Hughes, who comes down the line to take down Ingram, he pulls the ball out and quickly races to the outside where he will use his speed and great blocks by his tight ends, Nick Boyle and Mark Andrews, to outrun Bills linebackers Matt Milano and Tremaine Edmunds. The play-action pass system uses the mesh point to buy more time for blockers to gain leverage on defenders in the run game and it gives Lamar Jackson the fraction of a second that only he needs to be off to the races.
So far this year, Baltimore has utilized this "option" look on 36.9% of their rushing plays, which is by far the highest rate in the league. They've also averaged 6.2 yards per carry on these plays, which is the highest rate among teams who've attempted at least 10 read-option attempts.
The mesh-point moment provided by the play-action system will also create enough hesitation to allow for greater separation by receivers in the passing game. 
For example, in the play above, the moment of hesitation is caused by a reverse play-action movement where Jackson will turn his back to the defenders while carrying out his play fake. Safties Micah Hyde and Jordan Poyer, who should be locked in man-to-man coverage on both tight ends, will hesitate while trying to locate the ball. During this time, they will lose sight of their coverage on Hayden Hurst, who runs a scissors route with fellow tight end Nick Boyle. As a result, Hurst gains the level of separation that is common with the play-action pass game.
He's been a great decision-maker
John Harbaugh has not only made his quarterback a better player, but his in-game strategy has proven to be a difference-maker. He has embraced the enlightenment of data analytics and leveraged his new-found perspective to help his team become the league's most productive team during the most critical, high-leverage times in the game — third and fourth downs. Entering Week 16, no team has more successful third- and fourth- down plays than the Ravens (95); they are tied for first in the NFL with the Dallas Cowboys for the most yards per late-down attempt (7.0) and they've generated 0.421 EPA per late-down play which is first in the NFL by a comfortable margin.
Specifically looking at fourth downs, of the 21 times that the Ravens have attempted to get the edge on their opponent by going for it, Harbaugh has decided "correctly," based on PFF's expected points model, on 16 of those attempts, which is the most of any coach this season. With the dynamic offense at their disposal, they've also recorded the league's highest fourth-down conversion rate at 76%. 
So far this season John Harbaugh's Ravens have already beaten the Patriots, Texans, Seahawks, Rams and 49ers to grab hold of the No. 1 playoff seed in the AFC, and the more you peel back the layers on Jon Harbaugh, the more you can appreciate the critical chess-like moves he's made to turn his team into a contender.
Each week and every season, an NFL head coach must find a way to give his team the edge and find the best pathway to victory. John Harbaugh appears to have had a stroke of genius by using the combination of analytics and the lethal talents of Lamar Jackson to change the game.  He's won my vote as the NFL 2019 Coach of the Year.