The year is 2018. The 0-16 Cleveland Browns are the proud owners of their second consecutive No. 1 overall pick. We are on the eve of the NFL draft, and no one, still, has even the slightest inkling of who Browns general manager John Dorsey is going to take. All spring, Dorsey has been playing his cards as close to the vest as possible, and even personnel people around the league don't know who the Browns plan on taking with the first pick.
A personnel executive told me today that he thinks the Browns pick Sam Darnold No. 1 because "he's the only one worthy of it. Period."

This exec also thinks 5 QBs will go Thursday night.

— Josh Weinfuss (@joshweinfuss) April 25, 2018
One of the reasons it's been so easy for the Browns to smokescreen the rest of the league is that there's legitimately a handful of quarterbacks who — depending on who you talk to — are seen as worthy of the first overall pick. You have Wyoming quarterback Josh Allen, who looks the part at 6-foot-5, 240 pounds and has a rocket arm. Then there's USC's Sam Darnold, who played NFL-caliber football as a redshirt freshman. UCLA signal-caller Josh Rosen seems to have cooled as an option, as he never quite lived up to his billing coming out of high school. Finally, there's Heisman winner Baker Mayfield, who has dominated on the football field but checks in at a meager 6-feet tall and has question marks about the system he played in under Lincoln Reilly. Another Heisman winner's name never seems to come up in discussions about number one overall, though, as Lamar Jackson is no lock to even go in the first round tomorrow.
Now, here we stand almost two years later, and the class that was billed as one of the best of all time has mostly failed to live up to the hype. The class made history by being the first time ever that four quarterbacks were selected in the top 10 of the draft, but that's about where that history has ended so far, as the supposed home-run class has looked more like a single that could be stretched into a double. There's likely only one quarterback who you'd describe as a sure-fire franchise guy at the moment, but that doesn't mean the others haven't shown flashes.
Let's take a look back at how we ranked them at the time:
| | | | |
| --- | --- | --- | --- |
| PFF Draft Board Rank | Player | School | PFF Grade |
| 1 | Baker Mayfield | Oklahoma | 94.6 |
| 2 | Sam Darnold | USC | 83.3 |
| 6 | Josh Rosen | UCLA | 82.4 |
| 19 | Lamar Jackson | Louisville | 87.3 |
| 25 | Mason Rudolph | Oklahoma State | 88.3 |
| 35 | Josh Allen | Wyoming | 66.1 |
In reality, they went in this order: 
| | | | |
| --- | --- | --- | --- |
| | Player | Team | Pick No. |
| 1 | Baker Mayfield | Cleveland Browns | 1 |
| 2 | Sam Darnold | New York Jets | 3 |
| 3 | Josh Allen | Buffalo Bills | 7 |
| 4 | Josh Rosen | Arizona Cardinals | 10 |
| 5 | Lamar Jackson | Baltimore Ravens | 32 |
| 6 | Mason Rudolph | Pittsburgh Steelers | 76 |
As with most draft rankings, there's a good deal of regret to go around. Heck, the Cardinals admitted as much when they dealt Rosen for a second-round pick after only one season. But with two years worth of tape now, let's throw out those college evaluations and re-rank these quarterbacks based on what we've seen from them since they got into the NFL.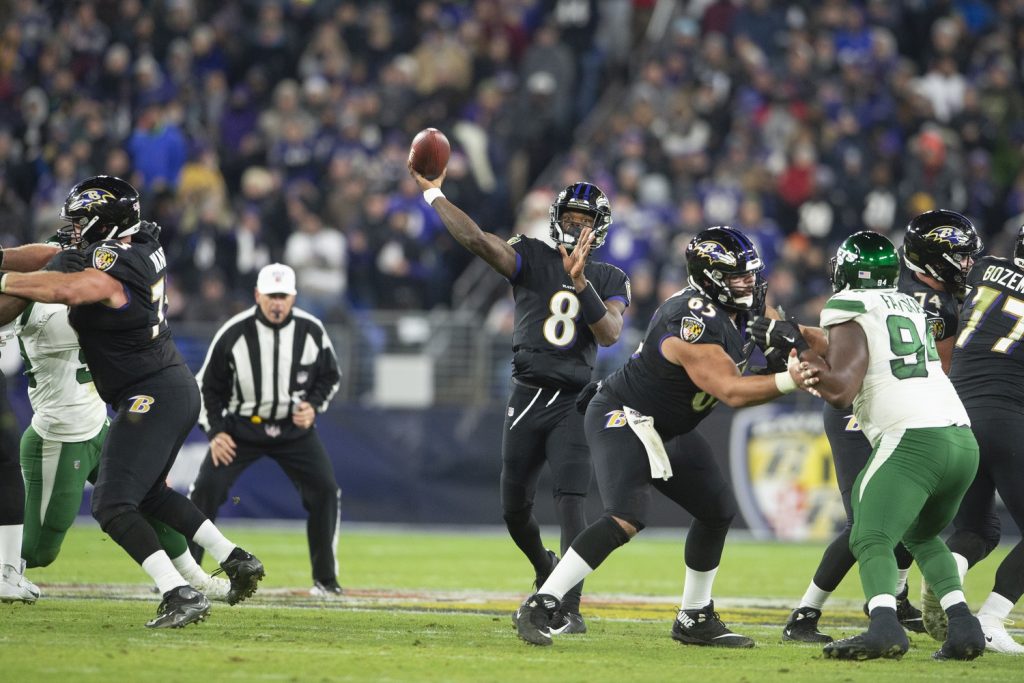 © Tommy Gilligan-USA TODAY Sports
1. Lamar Jackson
I think the biggest thing that scared so many away from Jackson at the time was the newness of what he brought to the table. We even made the caveat in his player writeup that he could succeed 'with the right offensive coordinator.' The offense that was going to best suit Jackson's skillset not only didn't exist at the time in the NFL, it had never existed. For a league that's been historically hesitant to innovate, Jackson proved too innovative for many quarterback-needy teams.
What I think many failed to account for was simply how special Jackson is with the ball in his hands. He got lumped in with running quarterbacks even though we've never quite seen anyone else at the position close to him other than Michael Vick. Tyrod Taylor is a running quarterback; Jackson is an explosive playmaker who just so happens to play quarterback. In fact, only Josh Jacobs and Alvin Kamara have broken more tackles per rushing attempt than Jackson this season, and that kind of ability has completely altered the fronts and coverages the Ravens' offense sees on a weekly basis. Even when teams do get the perfect play call against Jackson, it often comes down to one-on-one matchups in space, and Lamar wins those matchups more often than not. The Ravens' 97.3 expected points added on the ground are more than double that of the next best rushing offense in the NFL this year.
All that would add up to a good offense even without Jackson's massive improvement as a passer, but with it, the Ravens have been a league-leading juggernaut. Only 48.4% of his attempts last season were deemed accurate via our quarterback charting data — the worst figure in the NFL. This year, he's jumped up to 55.9%, and while that's still far from great for the position, it's more than good enough to continually move the chains with how dominant their run game has been. You can call him a scheme-specific player all you want, but when that scheme produces 33.5 points per game, I couldn't care less about Jackson not being able to run your West Coast offense.
2. Baker Mayfield
While year two has been nothing short of a disaster for Mayfield and the Browns, we've still seen more than enough quality tape to put him comfortably at number two on this list. His rookie season was truly one of the best we've ever graded at the position over the past decade-plus. That year he earned an 80.5 passing grade and had the third-most big-time throws in the NFL (40). This season he sits with a 71.0 passing grade and a middling 24 big-time throws. 
So, where did it all go wrong? While there's a ton of possible reasons, ultimately, Mayfield regressed in several critical aspects of the position. Most glaringly, he's been far less accurate down the football field. Downfield throws were something he excelled at every step of the way from Oklahoma to his rookie year in Cleveland, which makes his regression all the more head-scratching. However, no one ever peaks as a rookie in the NFL unless it's because of injury. Even if it didn't happen this year, we'll see the quarterback we saw back in 2018 — and likely an even a better one — at some point in the future.
 3. Sam Darnold
For all the licks he's taken in the media this season over getting mono and seeing ghosts, Darnold could have very easily had the Jets in the playoff hunt if he didn't miss time. New York is 6-6 in games Darnold has started this season, and if you took away the disastrous performance against the Patriots, he'd own the second-highest passing grade in the class this year — and he's done it all behind the sixth-worst pass-blocking line in the NFL.
With all that being said, Darnold still leaves us wanting a lot more from a consistency perspective, as he has produced at least three turnover-worthy plays in four of his 12 games this season. And when things go south for him, they can be borderline painful to watch, though that's nothing new for Darnold, as he had a ridiculous 30 turnover-worthy plays during his final year at USC. While we've seen his big-time throws take a bump from 16 last year to 20 already this year, it's not been near enough to justify the lows. While the situation hasn't helped, Darnold still has a long way to go before he's declared a true franchise guy.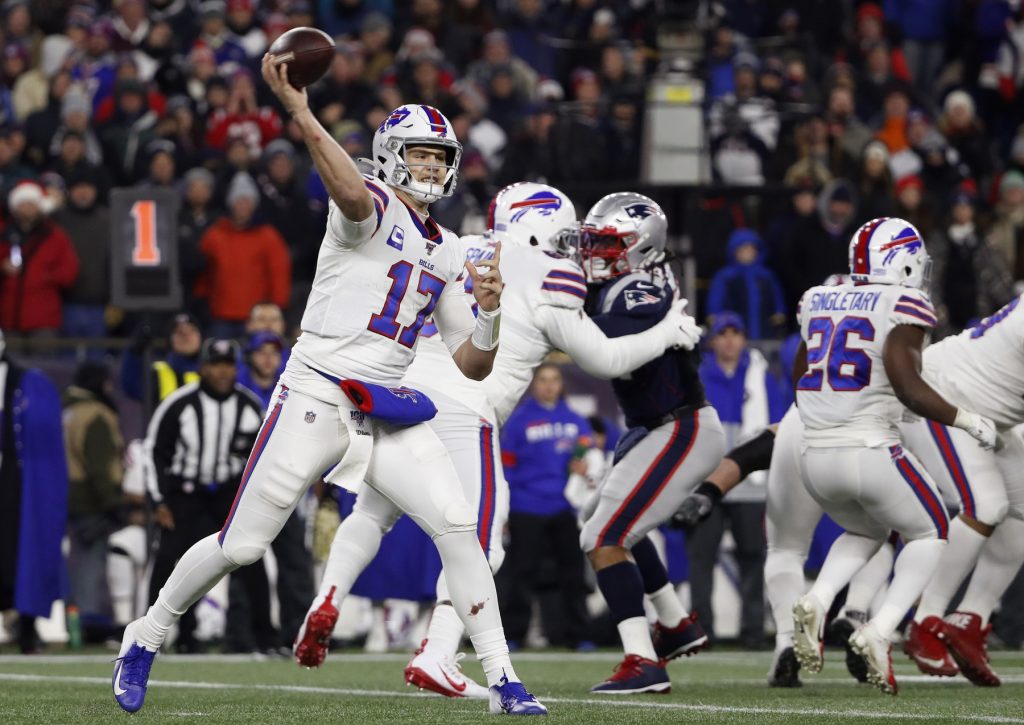 © Winslow Townson-USA TODAY Sports
4. Josh Allen
Unlike some others on this list, Allen has seen his arrow point decidedly upward from year one to year two, and he's deservedly moved up our rankings over the past two seasons. His underneath and intermediate accuracy has seen a considerable bump year on year. Only 7.9% of his passes that were targeted 1-19 yards downfield were charted as perfectly placed last season, but this year, that number is 20.4% — higher than anyone else in the 2018 quarterback class. His accuracy, combined with his playmaking ability with his legs, has been a massive value-add to the Bills' offense — especially in the red zone.
The worrisome thing is that Allen has still never been able to truly open up the offense as a passer. In 26 career starts, he's never had a single 300-yard passing game. A big reason why is the lack of big plays, as his deep-ball accuracy has been all over the place this season. Despite his improved play, Allen has fewer big-time throws this year (13) than he did even a year ago (17), and the former ranks 26th among all quarterbacks in the NFL this year. He's only completed 26.9% of his targets 20-plus yards downfield — the fourth-worst in the NFL — and that's the opposite of what you'd expect for a player with that kind of arm strength.
 5. Josh Rosen
While he's only 22 years old and has played behind two of the worst offensive lines in the league, Rosen hasn't flashed much in the way of encouraging play. In 16 career starts, Rosen has only one single-game passing grade over 70.0 (average). Of all players with at least 100 passing attempts this season, Rosen had the highest percentage of throws charted as uncatchable and inaccurate (32%). You can blame his situation all you want, but Rosen hasn't overcome it in any meaningful manner to this point in his career.
6. Mason Rudolph
Not only has it been ugly for Rudolph, but he doesn't even have the excuses that Rosen has. While Rosen got benched for Ryan Fitzpatrick, Rudolph got benched for a rookie UDFA, and his six big-time throws compared to 15 turnover-worthy plays this season is the worst ratio for any quarterback with at least 250 dropbacks. The redeeming qualities in Rudolph's performance this season have been few and far between.