If you believe in momentum, it's hard to think of a franchise that had more of it than the Cleveland Browns heading into the 2019 season. Their No. 1 pick looked like the first franchise quarterback in their renewed team history, they promoted the offensive coordinator who had been given a large portion of the credit for the turnaround, and they made blockbuster deals in the offseason to add a No. 1 receiver along with a top edge-rusher. The proverbial and literal stars were aligned.

That is, until the Tennessee Titans blew the doors off the Browns in Cleveland to open the season. The offense looked out of sorts then, and after similarly getting blown out this past weekend against the Arizona Cardinals, it's clear that the early-season woes have yet to be resolved. While so many around the NFL make moving the ball through the air look easy, the Browns have accomplished the unenviable task of making it look difficult despite having a talent-laden roster. How did they get here and more importantly, how do they fix it? I'm glad you asked:
The Offensive Line
This was always going to be an issue. When you can cut your starting left tackle on the eve of the NFL season and have him not get claimed by any other team, odds are the offensive line won't be great. With the Browns owning PFF's 18th-ranked pass-blocking grade on the season, though, this reason has been vastly overblown. Baker Mayfield isn't the first quarterback in NFL history to deal with poor tackle play, but there's no doubt that it adversely affected his play.
His poise in the pocket was one of his most impressive traits as a rookie. Last season, Mayfield converted pressure to sacks only 16.2% of the time — ninth best among starting quarterbacks.
Baker Mayfield's pockets presence has impressed me more than anything else this season. Big reason for that is because it wasn't that good at Oklahoma

— Mike Renner (@PFF_Mike) August 30, 2018
This year, that number has jumped to 20.2% — fifth-worst among starting quarterbacks. After charging Mayfield with five sacks and 15 of his total pressures last year, we've charged him with seven sacks and 23 total pressures this year. Great quarterbacks have the ability to mitigate offensive line issues with pocket presence and decision making. But this season, Mayfield has only made his front-five look worse.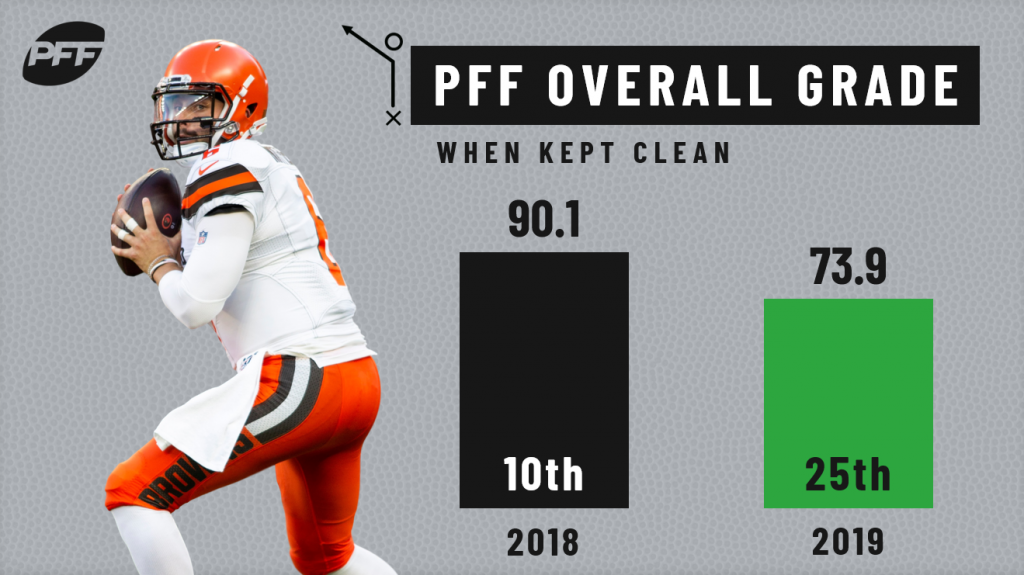 The Receivers
What was supposed to be one of the most talented groups in the NFL has looked anything but through 14 weeks. The chemistry — or lack thereof — has been the most glaring issue. Mayfield and his receivers simply haven't been on the same page, with balls clanging off their hands and into defenders' waiting arms seemingly on a weekly basis. Mayfield's 18 turnover worthy plays this season are the 10th most, but he has the third-most INTs (17). This is largely because he has the most unlucky interception-to-turnover-worthy-play rate in the NFL. He's had seven picks were he wasn't downgraded at all — the fifth-highest total of any quarterback in the last five seasons.
While luck has certainly bounced against the Browns, a good deal of this still falls on Mayfield's plate. He admitted himself that he was force-feeding Odell Beckham Jr. and Jarvis Landry early in the season. Landry (30) and Beckham (27) rank seventh and 12th, respectively, in contested catch opportunities this season. Those are already career-highs for both players. They also both have over 100 targets past the line of scrimmage while no one else on the roster has even 20. Between a lack of chemistry and Mayfield pressing to get them the ball to his wideouts outside the normal flow of the offense, it's no surprise that the unit hasn't lived up to the offseason hype.
The Scheme
When it comes to true 'schemed' production in the passing game, the Browns have actually been one of the best in the NFL. They've been far and away the league's most prolific RPO attack. Mayfield has gone 42-of-52 for 405 yards on RPOs, which leads the NFL by 14 completions and 158 yards. Only Lamar Jackson and Jimmy Garoppolo have averaged more yards per attempt on such plays than Mayfield's 7.8. They've also been one of the league's most prolific screen games, (not counting RPOs) racking up 424 yards (second most) at 7.0 yards per attempt (11th).
Now, there is certainly more to scheming a passing attack than screens and RPOs  — and one could even play devil's advocate and argue that the Browns' reliance on them took Mayfield out of the rhythm of the offense  — but that's a lot of easy yards being gained by the young quarterback.
What hasn't been schemed well is the Browns' play-action game. Mayfield has the fifth-lowest completion percentage off play-action passes in the NFL this season (60.4%). While they used it well for deep shots last season, with an average depth of target 13.0 yards downfield, those haven't been there nearly as much this year, with an average depth of target only 9.8 yards downfield. And that's with one of the league's most electric deep threats in Beckham. Scheming more favorable looks downfield off play-action should be priority number one for the Browns' coaching staff this offseason.
Baker Mayfield
Ultimately, while the situation may not have been perfect in a number of different aspects, it was the Browns' dropback-passing offense that proved to be the primary problem. And that falls squarely on Mayfield's shoulders. On five- and seven-step drops (or shotgun equivalents) with screens removed, Mayfield's accuracy was a shell of itself from 2018. Only 52.1 percent of his targeted passes this season on those throws were considered accurate, per our charting. Only rookie Dwayne Haskins was worse among quarterbacks with at least 100 such dropbacks. In 2018, that number was 62.3% — top five in the NFL. His rate of perfectly placed passes plummeted from 24.6% (2nd) to 16.5% (18th). We saw that inaccuracy on full display this past week again as Mayfield airmailed Beckham on a simple post route for a pick.
Our ball.

????@P2 pic.twitter.com/ajF5mwOKwG

— Arizona Cardinals ⋈ (@AZCardinals) December 15, 2019
Whether it was due to lack of trust in his offensive line, not being on the same page with his receivers or unease with the play calls, it's impossible to say what the main issue is without getting inside Mayfield's mind. What's not impossible to say is that Mayfield isn't improving in the facets a young signal-caller usually makes progress in — he's headed in the opposite direction. If the offense is going to fix the problems from this season, it starts with Mayfield.