Quarterback is the most important position on the field — and it's not even close. Rarely do we see a team successfully win without an average-at-best quarterback. And if they do, it's likely a result of a great supporting cast that isn't sustainable long-term. As we enter into the 2020 NFL offseason, let's analyze every NFL team's quarterback need:
[Editor's Note: All EDGE and ELITE subscribers have full access to our free agency database, including rankings, grades, PFF WAR, contract projections and more! Subscribe today!] 
Very High — needs a new quarterback like we all need air to breathe
Cincinnati has made it widely known that former franchise quarterback Andy Dalton is on his way out the Queen City, likely through a trade. The Bengals brass gave 2019 fourth round pick Ryan Finley essentially a three-game tryout midseason last year, and that couldn't have gone much worse as he posted a 28.2 passing grade in that stretch with zero big-time throws and 10 turnover-worthy plays. Luckily for them, they own the first overall pick in this year's draft that has the best quarterback PFF College has ever graded in Joe Burrow. Over 60,000 player seasons have been recorded in college football since 2014, and Burrow's 2019 season was far and away the most valuable in PFF's wins above average (WAA).
Most valuable players in the @PFF College era in PFF wins above average:

1. Burrow (2019) – 2.95
2. Mariota (2014) – 2.36
3. Murray (2018) – 2.33
4. Mayfield (2017) – 2.32

Friendly reminder that Burrow's 2019 season was stupid good and unlike anything we have ever seen. pic.twitter.com/UrvnZDOLVB

— Anthony Treash (@PFF_Anthony) February 6, 2020
The Dolphins entered the season with their fans and folks in the national media preaching how they should tank for Alabama quarterback Tua Tagovailoa. Miami head coach Brian Flores had other plans. The infamous "Fitzmagic" started most of the season for Miami and wasn't terrible by any means, producing the second highest grade of his career in the PFF era at 76.5 and leading the Dolphins to five wins. While he was good, Fitzpatrick was at his ceiling this past year, and he isn't getting younger as he turns 38 next season. They also traded for 2018 10th overall pick Josh Rosen, and he saw no signs of improvement in his limited time on the field by producing just a 47.1 passing grade on his 128 dropbacks. Miami lucked out with Burrow breaking out and Tagovailoa suffering an injury that makes it likely the Dolphins will be able to snatch him up in the draft. His two-year PFF grade was the second highest in college football the past two campaigns, and he was one of the most accurate in that timespan by posting the second lowest uncatchable pass rate.
It's been reported that the Chargers are moving on from veteran quarterback Philip Rivers, which leaves them with Tyrod Taylor and 2019 fifth-round pick Easton Stick. Taylor wasn't too bad as the starter in Buffalo from 2015-17 when now Chargers head coach Anthony Lynn was with helped coach him for a couple seasons (2015-16), posting PFF overall grades from 75.6 to 78.4, but he never took that next step to top-10 level and played poorly in his few starts with Cleveland in 2018 and threw just six balls in 2019. Easton Stick might have something as a he posted a 91.1 overall grade in his last collegiate season with North Dakota State in 2018, but he nor Taylor are enough to go all-in with. They are primed to dip into the free agent market, and Marcus Mariota might be their best fit.
Kyle Allen's 49.7 overall grade was the worst by a quarterback in 2019. He owned a big-time throw to turnover-worthy play ratio of 20 to 34 — that is #notgood. A healthy Cam Newton is the best option on roster. He proved that in 2015 when he was among the five best quarterbacks in PFF grade and in the first half of 2018 when he was 11th in grade. It's a big if when analyzing Newton's health, and if he isn't back to his norm, he's a liability on the field. They could hone in on Justin Herbert seventh overall, but don't be surprised if the Panthers take a year to rebuild and wait for Trevor Lawrence or Justin Fields in 2021 with a package of Newton or a guy like Teddy Bridgewater at quarterback.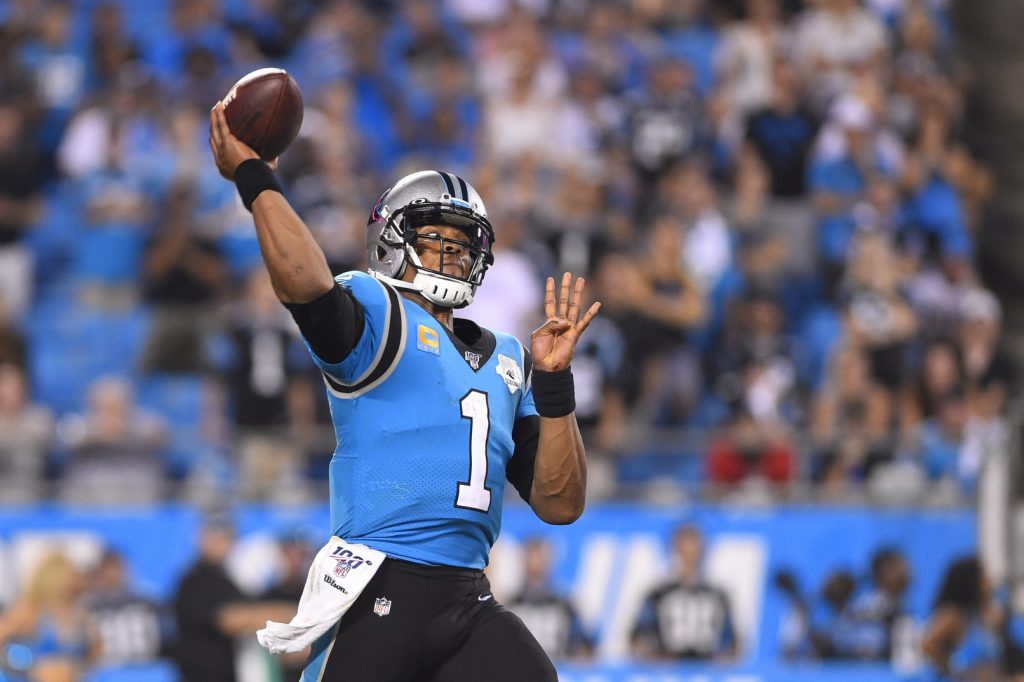 High — their current starter is on the decline or has yet to prove themself, no time for caution
We are all still waiting for Mitchell Trubisky to take that next big step that Bears fans swear is coming. In his three career seasons, Trubisky has failed to crack the 25th percentile at his position in PFF overall grade. His accuracy has been unlike all other NFL quarterbacks in a bad way, throwing the lowest rate of accurate passes on 10-plus yard passes. In order to take full advantage of the talented roster around him, Chicago has to make a move for a quarterback to compete with Trubisky — perhaps, Andy Dalton.
Jacoby Brissett was given a chance to lead the Indianapolis Colts in wake of Andrew Luck's retirement, but he failed to seize that opportunity after ranking 29th of 32 quarterbacks in PFF grade this past season. Removing passes behind the line of scrimmage, Brissett ranked second to last in uncatchable pass rate. Indianapolis is in a similar situation as Chicago and can make a move for a veteran quarterback this free agency or in the draft.
Among 32 qualifying quarterbacks, Mason Rudolph was second to last in PFF grade, and if Devlin Hodges were to qualify, he'd be last. Ben Roethlisberger had a pretty significant surgery performed on his elbow after Week 2, and he wasn't coming off his best year in 2018, either. In fact, it was his lowest-graded season passing since 2008, as he threw the fourth highest rate of uncatchable passes when targeting the sticks. Considering his injury, decline in play when he was healthy and turning 38 this March, a fresh face will need to be in the Pittsburgh quarterback room here shortly.
Is Tom Brady doing this all for leverage, or does he actually want to leave? We don't know the answer to this question right now, but regardless, New England needs to start working on their quarterback for the post-Brady era. Obviously, a Brady return to New England would be great news considering he was still one of the 12 best quarterbacks last season in passing grade.
After his subpar showing in the Super Bowl, many are beginning to question whether or not Jimmy Garoppolo has "it." Garoppolo wasn't actually as bad as a lot of people think — he finished 13th in PFF grade. He executed Kyle Shanahan's offense quite well by improving his grade rank to fifth on passes of 2.0 seconds or less and fourth on play-action passes. Considering this was his first full season as a starter, there's still a lot Garoppolo has to prove — but there's no reason to give up on him now. As Kevin Cole broke down, he offers more upside than you probably think.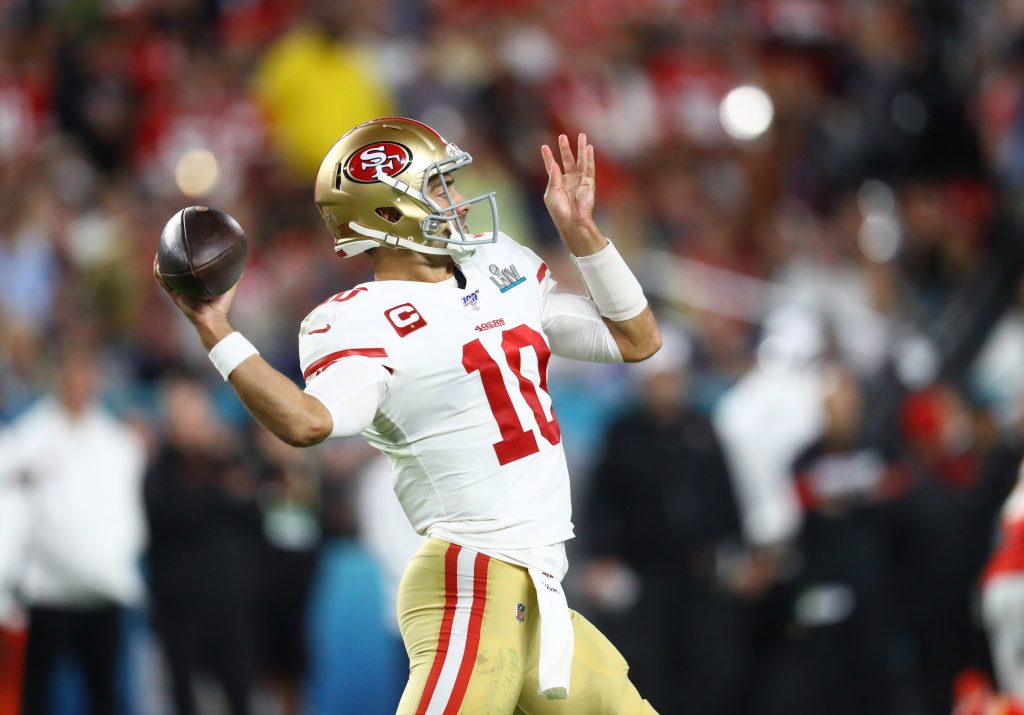 From 2009-2014, Aaron Rodgers was undoubtedly one of the NFL's best quarterbacks. From 2015 to now, Rodgers has been good, but inconsistent and not at the same level he once was. That said, Rodgers was still the seventh highest-graded quarterback in the NFL this past season and generated the third highest big-time throw rate. Rodgers took a step back as far limiting negatively grade plays, though, ranking 16th of the 32 starters. We aren't saying he needs to be replaced right now by any means. Rather, it's time to start thinking about what the plan is in the post-Rodgers given his slow drop-off and age.
In 2019, Matthew Stafford was having the best year of his 11-year career — built through airing out the ball — before going down with a season-ending injury after Week 9. He had an 82.4 overall grade, which at the time was the ninth best at his position, and also had the highest big-time throw rate by a significant margin. His replacements, Jeff Driskel and David Blough, weren't even in the same ballpark as Stafford, ranking 29th and 33rd of 35 qualifying quarterbacks in PFF grade from Week 10 and on. Stafford's injury is a bit of a concern, and both Blough and Driskel verified that they aren't winning too many games for the Lions if Stafford goes down again.
It's pretty remarkable that Drew Brees hasn't graded lower than 81.9 in the 14 years of PFF's grading. Brees finished the 2019 season with an elite 90.6 overall grade and was once again the most accurate quarterback in the NFL after posting an accurate pass rate over three percentage points higher than anyone else (67%). His future is reportedly in question as he contemplates retirement as a 41-year-old free agent this offseason, and if he does opt to end his career, the Saints are ready to have Taysom Hill as their new guy. That could be a disaster or a big success — we have barely seen him play significant snaps at quarterback in the regular season. Bringing in someone to compete alongside Hill is clearly the safer option.
Matt Ryan had his second lowest-graded season of his career in 2019 but still played better than over half the league's quarterbacks. The accuracy is still there with Ryan, as he had the lowest rate of uncatchable passes when targeting the sticks in 2019, but there were major issues when under duress. Atlanta's pass-protection was far below average last season, ranking 25th in team pass-block grade. Ryan couldn't overcome that, as he tied for the third most turnover-worthy plays under pressure. The Falcons can still extract some solid quarterback play from Ryan, but his age should be making them look for the future sooner rather than later.
It's still up in the air as to whether or not the Buccaneers will bring back Jameis Winston. But if they do, they'll have a quarterback who has ranked among the five best in positively graded throw rate in each of his five career seasons AND in the bottom 10 in negatively graded throw rate. Winston's decision-making is incredible to watch — over the past two years, he's thrown 37 interceptions to his first read, which is 12 more than any other quarterback. Even if Winston does return, it'd be a surprise they don't try and bring a guy in to compete with him and light something under him.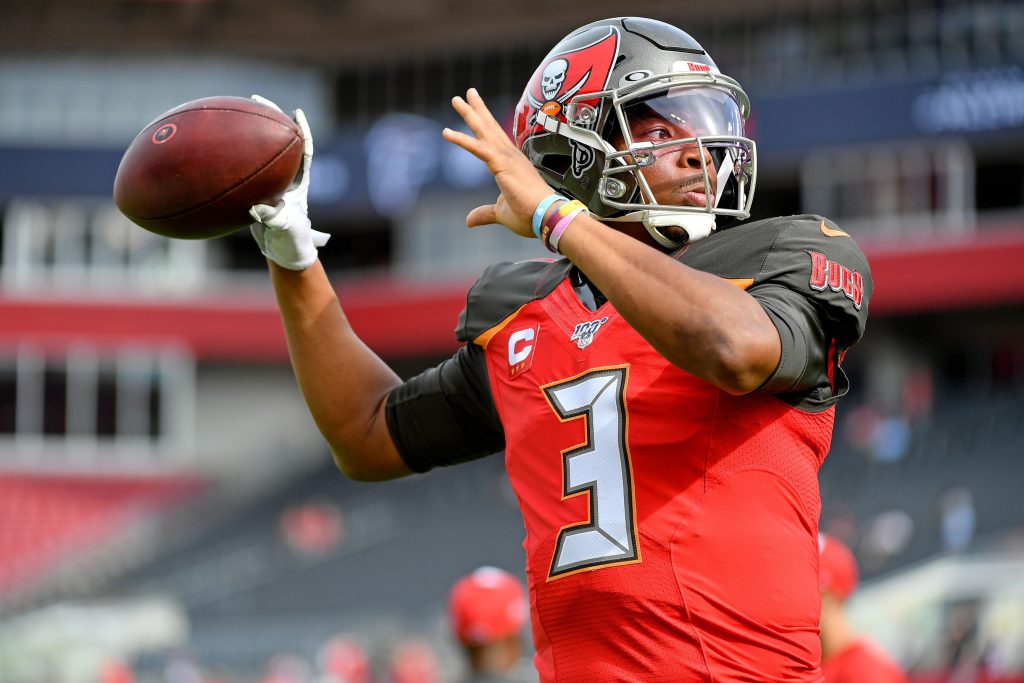 Still evaluating — in limbo, keep your eyes open
Josh Allen improved some from a passing perspective but took a big step back with his rushing. Even with the marginal improvement, he still has the lowest two-year passing grade over the past couple of years. Allen's 2019 was interesting to look at — his short and intermediate passing was actually pretty good, as he owned the ninth best passing grade on throws less than 19 yards. But his deep passing produced the lowest passing grade in the NFL by a significant margin. He ended up owning the worst negatively graded play rate in the NFL. He improved in the areas he needed to, but Allen still has a lot of work to do.
Sam Darnold has yet to really take that next step forward in his career — he owns the fourth lowest two-year passing grade among those to play both seasons. Like Allen, Darnold has had major problems with his deep ball, ranking just one spot ahead of him in two-year grade on 20-plus yard passes. He has an accurate pass rate on those passes that ranks second worst in the NFL and 13 percentage points below the league average. He's been accurate on the short passes, but you can't be a playmaker without the downfield touch.
Drew Lock had one decent game in his five starts. That came in Week 16, when he had an 81.2 overall grade. But he also had an abysmal performance in there too in Week 15, when he had a 27.9 overall grade. All in all, his overall grade when starting from Weeks 13-17 ranked just 28th of the 32 starters. Most of his production came from his receivers after the catch — he didn't throw the ball deep too often, but when he did, it was far below average as he produced a 51.8 grade and a 44% completion rate when throwing 10-plus yards.
The good news for Daniel Jones is that he led all rookie quarterbacks in big-time throw rate. The bad news is that he recorded the second worst turnover-worthy play rate, even one worse than Jameis Winston's. Jones had a difficult time holding onto the football when pressure was coming — he had the most fumbles by a quarterback this past season (17). Jones did own the seventh highest accurate pass rate when throwing into a tight window, so there were some positives in his play. Still, there were too many opportunities he gave to the defense.
Dwayne Haskins had a rough start in his first few game appearances but turned it around in his second start, eventually becoming the eighth highest-graded quarterback in passing grade from Weeks 11-16. His pocket presence is a massive concern, as he converted pressure into sacks at the second highest rate in the NFL (33%). Not to mention, his accuracy rate under pressure would be the lowest in the NFL if he had qualified. Haskins had a lack of deep passing and was inaccurate when he did decide to launch it. If he doesn't improve in this facet, Washington might have to start forming Plan B if they hadn't already.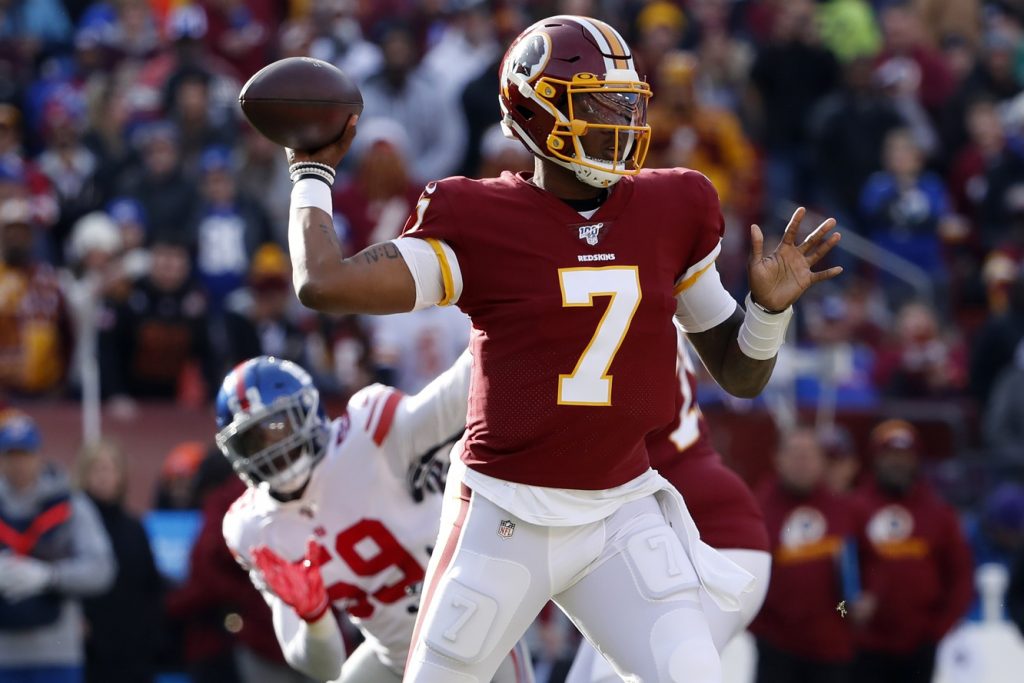 Kyler Murray had a fairly inconsistent rookie campaign and ended up ranking tied for 25th in PFF overall grade among quarterbacks. One thing that did stand out when watching Murray was his deep passing. He owned the seventh highest passing grade on throws of 20-plus yards and threw a damn good over-the-shoulder ball, as he owned the fourth best grade on those throws with 15 big-time throws and one turnover-worthy play. A big concern of Murray's 2019 season was how poorly he performed when in a clean pocket. His grade in those scenarios was the second worst in the NFL. Most of those poor passes when clean came when he threw quickly, so hopefully an improved pass-blocking unit can give him more time to throw.
One of the most disappointing 2019 seasons of any player belongs to that of Baker Mayfield, who went from an 83.7 grade in 2018 to a 73.5 mark in 2019. The strange part of Mayfield's 2019 was how much his accuracy dipped from the year prior — his rate of accurate passes thrown 10-plus yards downfield was eight percentage points lower. The scheme Mayfield was in wasn't necessarily the best, either, particularly in the play-action game. Perhaps the addition of Kevin Stefanski may have Mayfield return to form and be the top-10 quarterback we all thought he was.
Medium — could use one if an option presents itself, but doesn't need to be actively looking for a starter
Carson Wentz has had his fair share of highs and lows in his four-year career, with numerous injuries, strings of elite play and moments of below-average play. He improved on his 68.3 passing grade in 2016 to record the eighth best two-year passing grade when on the field in 2017-18. In the first six weeks of the 2019 season, Wentz was tied for first in PFF overall grade with Russell Wilson at 90.6 but was just 25th from Weeks 7-17 with a 61.7 grade. Philadelphia doesn't need to be looking for a starter, but they certainly need to be looking at a backup given Wentz' injury history.
Derek Carr has been getting a lot of slander about his on-field performance in 2019, but it wasn't nearly as bad as what some might think. His 81.2 passing grade was the ninth best and was reminiscent of his 2015 and 2016 seasons when he had the sixth-best two-year PFF grade among quarterbacks. It took him a couple of years to get back to that form from his broken fibula suffered at the end of 2016, but Carr has proven he is every bit of a top-12 quarterback in the NFL.
Jacksonville is in a unique situation at the quarterback position — they signed Nick Foles to a four-year, $88 million contract after he led the Eagles to a Super Bowl title in 2017 and to the Divisional Round in 2018 while filling in for Carson Wentz and found a gem in the sixth-round in Gardner Minshew. Being limited to just 128 dropbacks this past season due to injury and then a subsequent benching, Foles had just a 65.0 overall grade. Minshew had bad fumbling problems but was a far better passer and the highest-grade rookie quarterback. On 20-plus yard throws overall, Minshew had the third highest passing grade and had the third lowest rate of uncatchable passes thrown. The Jaguars are sitting comfortably with their situation for now, but we still need to see more out of both Minshew and Foles in 2020.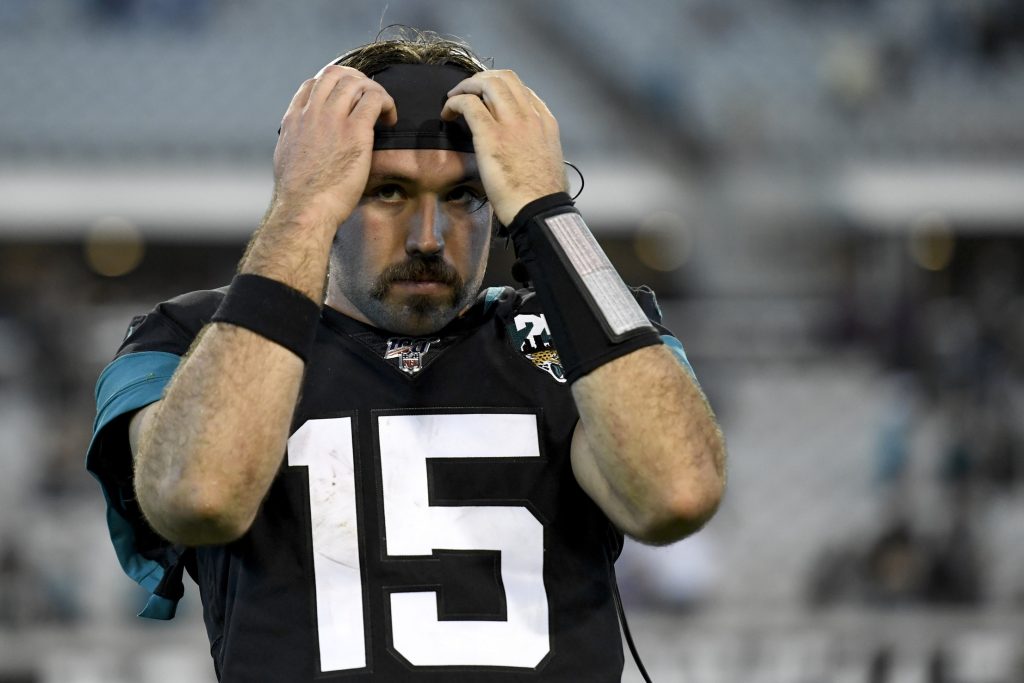 He didn't come back from a significant injury or anything of that nature, but you'd be lying if you said Ryan Tannehill wasn't the Comeback Player of the Year. When he was with Miami in 2018, Tannehill had the third worst passing grade in the PFF era (42.4). This past season with Tennessee, Tannehill finished the regular-season as the highest-graded passer in the NFL (91.0). Tannehill was also efficient, posting the highest positively graded play rate among all quarterbacks in 2019. In other words, he likely earned himself a fat contract from Tennessee.
There's no question Jared Goff took a big step back in 2019 — he lowered his overall grade from 84.3 in 2018 to 72.4 in 2019. That said, he was still the fourth most valuable quarterback of 2018 and remained in the top 15 this past season. Goff produced the ninth best big-time throw rate and managed to give the defense numerous opportunities to make a play, as he ranked 23rd in turnover-worthy play rate. The Rams are in the medium need at quarterback for now, but only time will tell if Goff can bring back what we once saw from him last season.
Kirk Cousins had himself a career year in 2019, producing an 85.4 passing grade that was the fifth best in the NFL. Minnesota's then-offensive coordinator Kevin Stefanski, who is now the head coach of the Cleveland Browns, was one of the NFL's best play-callers in PFF's coaching metric and utilized play-action passing to extract the best of Cousins, who had the second highest passing grade on those plays. Assuming they run the same offense with Gary Kubiak now calling the offensive shots, there shouldn't be much reason to worry about Cousins for the time being.
As shown on the PFF free agency rankings page, Dak Prescott was one of the three most valuable quarterbacks of the 2019 season. A contract extension or the franchise tag is inevitable for Prescott, who is a free agent this offseason, but there is some cause for concern in doing this, as his 2017 and 2018 passing grade ranks were just 21st and 19th, respectively. Kellen Moore might have brought the best out of him in 2019, as he was one of the best play-callers in the NFL — the good news for Prescott is that the new McCarthy regime kept Moore on staff. The more optimistic sign that he may continue to play at his 2019 level is that most of his production wasn't from volatile scenarios. For example, Prescott had the fifth lowest rate of negatively graded throws from a clean pocket on the year.
Low — searching for backups in the case of injury disaster
The Chiefs won Super Bowl LIV largely because they had Patrick Mahomes on their roster. Taking quarterbacks out of the question, they had the 18th most valuable roster in the NFL. Mahomes, who has posted back-to-back elite 90.0-plus PFF grades, is going to command a big pay day. We saw backup Matt Moore fill in for him due to injury for a few games in 2019, and he wasn't all that bad, generating a 63.3 grade in that stretch. With Moore hitting free agency this March and turning 36 next August, a new backup for Mahomes might be the route to go. though.
The NFL's MVP, Lamar Jackson, had one of the best year-to-year improvements from 2018 to 2019, taking his overall grade from 56.5 to 90.1. He has Robert Griffin III and Trace McSorley backing him up, and both carry a rushing skillset. That quarterback room seems to be the most locked up of any NFL team heading into next season.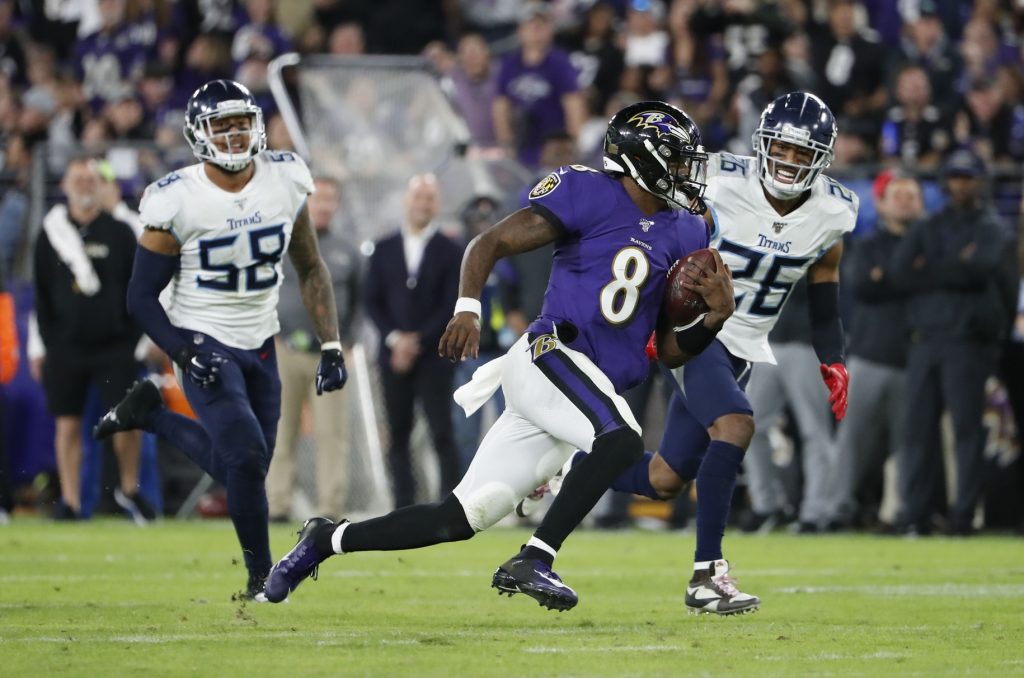 The biggest knock on Deshaun Watson is how much pressure he invites (second most pressures forced by a quarterback in 2019). He can make some good plays under pressure, but he has his bad moments, too — Watson had a big-time throw to turnover-worthy play ratio of 14 to 14 when pressured. That being said, Watson was one of the best downfield passers in the NFL this past season, as he owned the second highest rate of accurate passes thrown 10-plus yards downfield. Watson's two-year PFF overall grade is sixth best in the NFL — he's only getting started.
While Lamar won the NFL MVP, the PFF MVP went to Seattle's Russell Wilson. Wilson's two-year PFF grade is behind only Brees and Mahomes, and his performance in 2019 was particularly special, as he was the most valuable quarterback player in PFF WAR by over a full win. His deep ball this year was near perfect — no one touched him in PFF grade when throwing 20-plus yards downfield, owning a big-time throw to turnover-worthy play ratio of 40 to one. Seattle's time to win is now, and the quarterback position should be the last thing on their minds.