Each year's post-Super Bowl hangover usually coincides with another annual tradition: allocating blame to the players and coaches on the losing team. This year's unlucky target for football pundits and fans is the San Francisco 49ers.
Many were quick to pin the disappointing loss on the play-calling and strategic blunders of head coach Kyle Shanahan. The other major target of derision has been the 49ers' quarterback, Jimmy Garoppolo.
Garoppolo is either a system quarterback or definitely not a game manager, depending on who you talked to leading into the Super Bowl. And our opinions haven't improved following a disappointing performance in the world's biggest spotlight.
The question posed now is whether Garoppolo has the ability to lead the 49ers to the promised land going forward, even after failing while surrounded by a strong running game, a top-notch defense and a scheme guru for a head coach. USA Today's Steven Ruiz went as far as to suggest that the best way for the 49ers to improve this offseason is to trade Garoppolo and bring in another veteran quarterback.
Garoppolo is a particularly difficult evaluation as a 28-year-old who has started less than two full seasons' worth of games, but how we should view Garoppolo's limited NFL performances will determine how confident we should be that he can eventually return to the Super Bowl and finish the job.
BAYESIAN UPDATING
In this analysis, I'm going to go through the passing grades per dropback for Garoppolo and his potential replacements and forecast them going forward. We'll form forecasts for their true passing ability in terms of grades and EPA by properly weighing results and priors, or pre-NFL expectations, based on their respective draft positions. The technique used is called Bayesian updating. I laid out a more detailed explanation about the methodology behind this analysis in a prior article when I applied it to the 2017 quarterback class.
GRADE FORECASTS
Our forecasts will give us a framework for viewing Garoppolo versus the similarly aged yet more experienced quarterbacks who could replace him. For the purpose of this article, I'm going to downplay the possibility that quarterbacks nearing the end of their careers, like Tom Brady or Philip Rivers, are realistic options for a 49ers team with lots of young talent and a potentially long championship window.
With Garoppolo, I'm projecting potentially available quarterbacks Cam Newton, Teddy Bridgewater and Jameis Winston, all of whom have been mentioned as potentially better options. All have been in the NFL long enough to have an established track record but not so long as to have only a year or two of remaining usefulness.
Applying Bayesian updating to each dropback for the quarterbacks gives us a "best guess" forecast for true passing grade for each quarterback going forward, along with ranges of outcomes that reflect the confidence we should have in our assessments. The plot below shows the progression of the passing grade Bayesian forecast for each quarterback.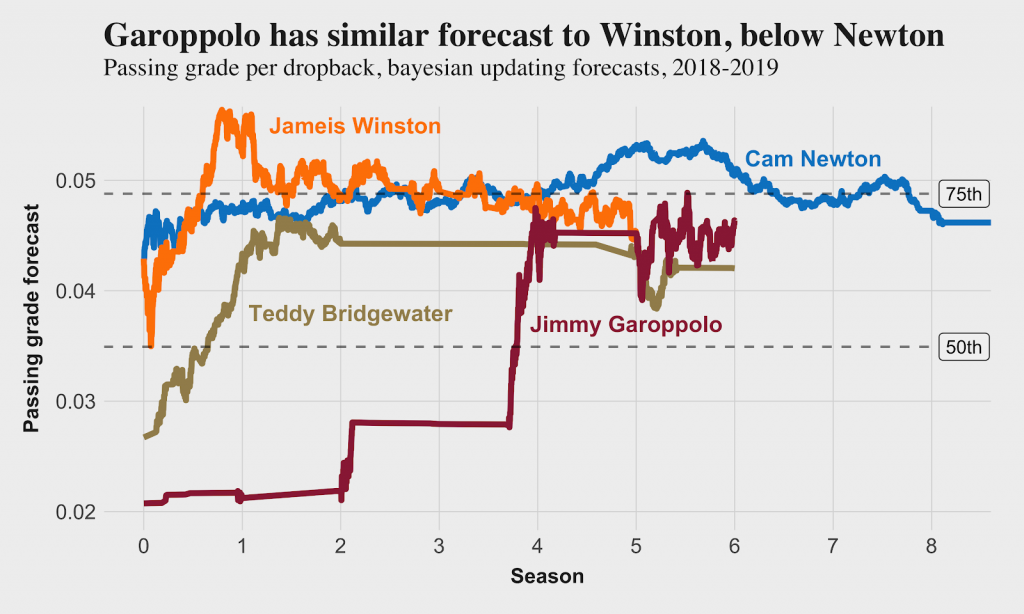 The first thing you'll notice with the forecasts is how low Garoppolo starts in comparison to the rest because he was a later second-round pick.
Quarterbacks drafted outside of the first handful of picks typically struggle in the NFL, and the respective starting positions for Garoppolo and Bridgewater reflect that fact. Even so, you'll see that the forecast can change quickly, even on a limited sample, if a quarterback performs well beyond their draft position.
Free for 7-days. Subscribe to continue reading and unlock
All premium content with the best insights + analysis in the game
NFL Draft Guide, Big Board + Mock Draft Sim
Fantasy Draft Kit and Nathan Jahnke's award winning rankings
Bet smarter with PFF player mismatches and expert betting insights
NFL and CFB player grades and premium stats
Unlock all PFF data trusted by all 32 NFL teams
Already have a subscription? Log In