Many veteran quarterbacks are set to hit the open market this offseason, and a few others will likely be on the move via trade or through roster cuts. And while we all love the chaos and the "what-ifs," we still have to be realists and recognize what truly makes the most sense.
That being said, here, using PFF's advanced database that is used by all 32 NFL teams and 71 FBS programs, we break down the most likely quarterback moves and stays this offseason.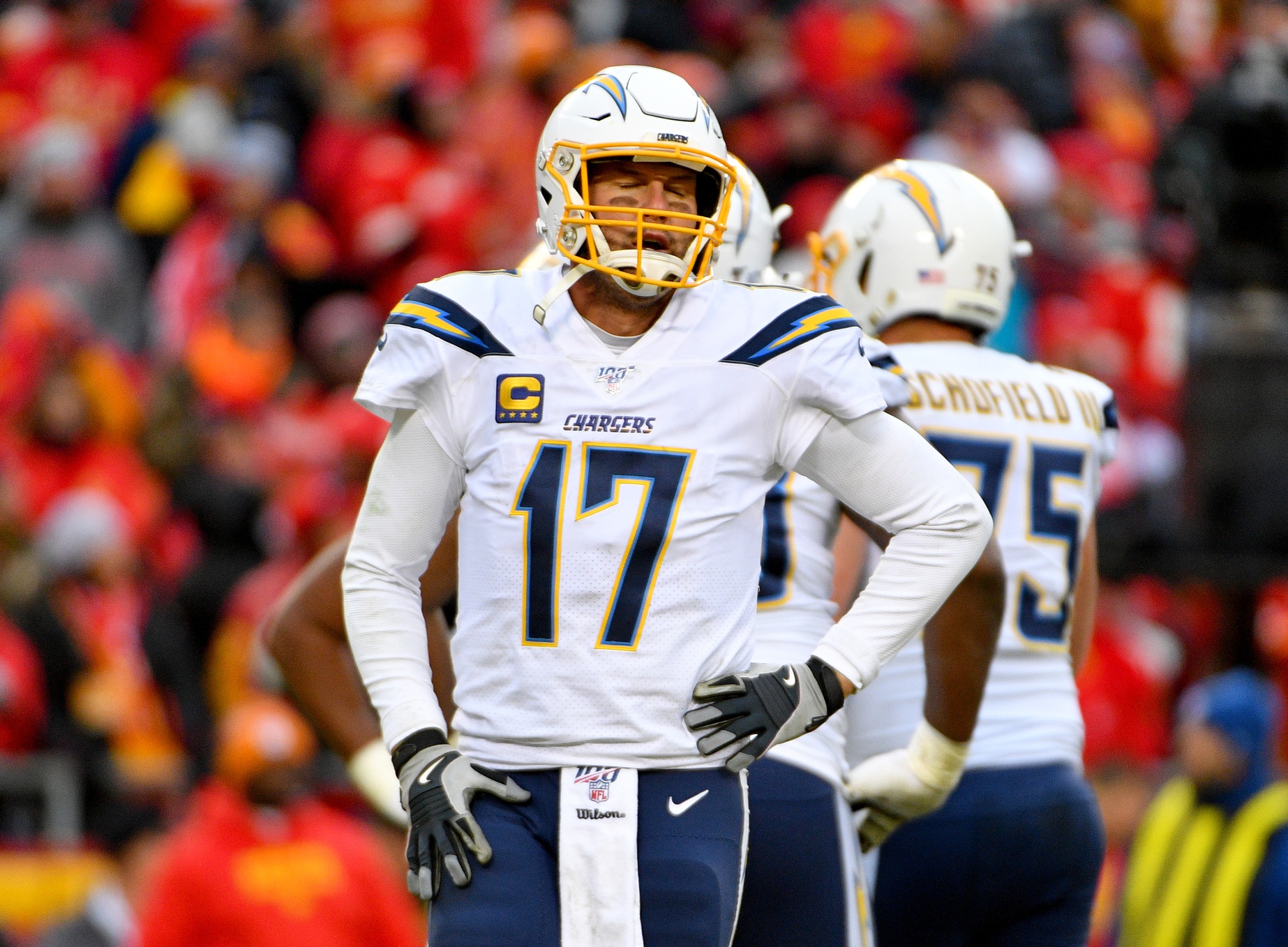 After leading the team to a 5-2 record to start the year, many Colts fans and folks in the media were quick to name quarterback Jacoby Brissett as an MVP candidate. The Colts then went on to lose seven of their next nine, and now all those people are ready to bench Brissett and bring in a new starter.
The reality is that he was a backup quarterback the whole time. Brissett produced a PFF grade above 60.0 in only five of his 15 games played in 2019, paving the way to just a 59.3 PFF grade on the year that ranked 29th of 32 quarterbacks — a mark that was actually worse than his 2017 62.4 PFF grade when he had to step in for an injured Andrew Luck.
Over the 2019 season, Brissett produced the position's second-lowest big-time throw rate and the second-lowest rate of "accurate plus" passes (perfectly placed throws) on 20-plus yard targets, highlighting his limitations as a passer.
The Colts are in a really good situation to make some plays this offseason. They already owned the 15th most valuable roster, per PFF WAR, when taking quarterbacks out of the question, and they currently possess the second-most cap space as we head into free agency. With all that being considered, Philip Rivers should be at the top of their wish list.
Rivers didn't have his best season in 2019 by any means, but it certainly wasn't his worst, either. His 74.3 PFF grade in 2019 was the 10th best of his 14 seasons in the PFF era, but it still ranked 17th in the NFL. He was in Jameis Winston's realm as far as generating positive and negative plays by ranking in the top 10 in big-time throws and bottom three in turnover-worthy plays, but his accuracy remained sharp. On throws targeted 10-plus yards downfield, Rivers produced the eighth-highest rate of accurate passes thrown, which is a statistical category that Brissett ranked second to last in. Let's also not forget that Indy head coach Frank Reich was Rivers' quarterback's coach and then offensive coordinator from 2013-15 in San Diego, too.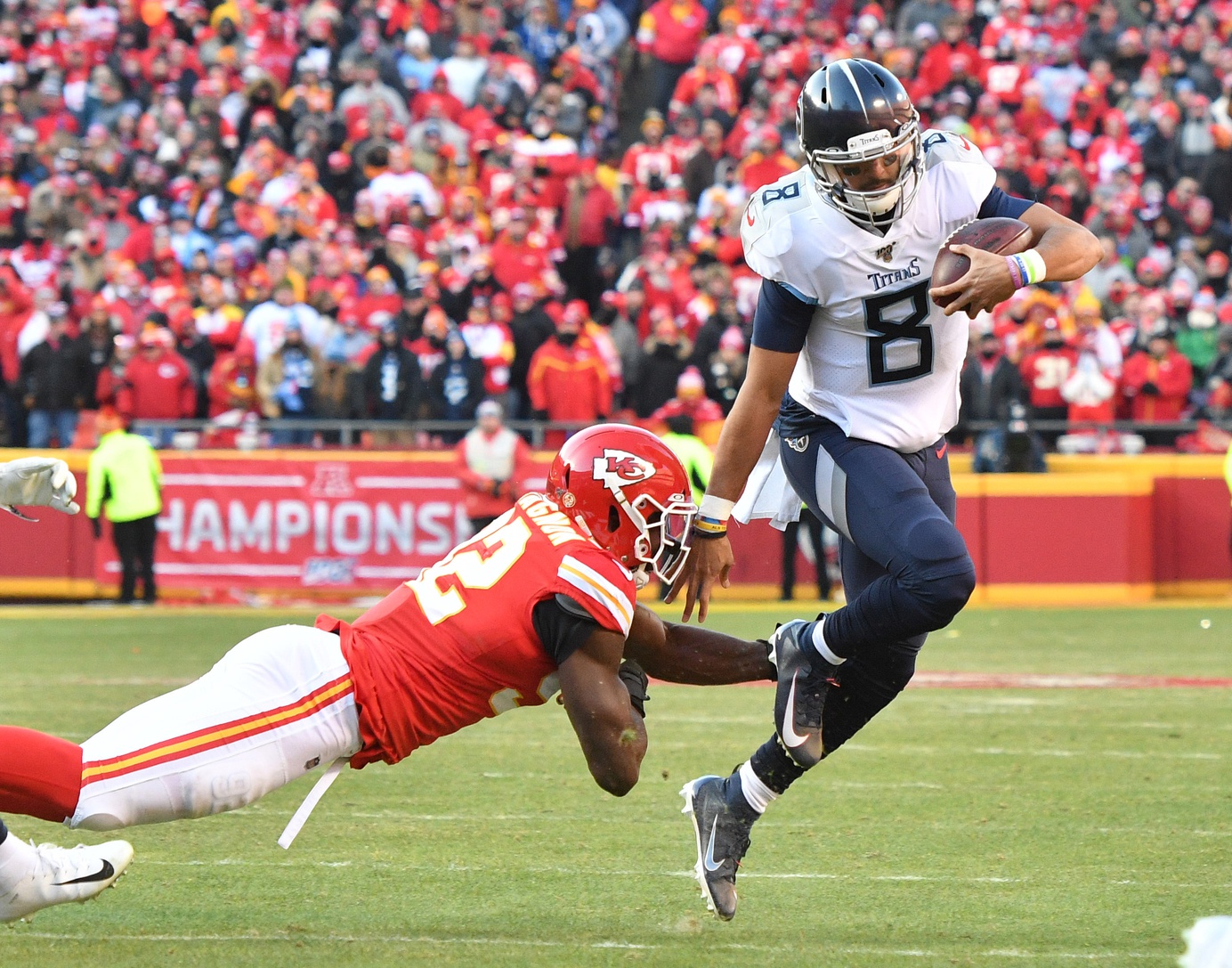 Marcus Mariota's time in Tennessee has so evidently come to an end, and he will almost certainly be looking for a new home this offseason. It's tough to see a scenario where he'd be called on to be a team's starting quarterback long-term, so a scenario where he mentors a young rookie and starts maybe a few games before then being benched makes a lot of sense.
In Mike Renner's most recent mock draft, he had Oregon quarterback Justin Herbert going sixth overall to the Los Angeles Chargers, and that might be the perfect landing spot for Mariota, as well.
Mariota, who is a former Oregon Duck himself, has had a relatively consistent yet underwhelming five-year career thus far in the NFL: His career-high PFF passing grade came in 2017 when he had a 72.1 grade, and his two most successful years in the NFL came in 2017 and in 2018 when his rushing grade ranked in the top five in each season. Chargers head coach Anthony Lynn worked closely with Tyrod Taylor in Buffalo during his career seasons and brought him to Los Angeles this past season to be Philip Rivers' backup. Using Mariota like he did Taylor in those two seasons may help resurrect the former second overall pick's career, and he'd give Los Angeles a bridge quarterback to Herbert.
It's officially Joe Burrow season in Cincinnati, and with their former franchise quarterback Andy Dalton being on the books for over $16 million next year, a trade or cut is almost guaranteed. The Bengals have been vocal about how they want to put Dalton in a good situation, and the best all-around team that needs a reliable signal-caller is the Chicago Bears. Mitchell Trubisky has ranked 25th or worse among the 32 starting quarterbacks in PFF overall grade in each of his three seasons, and he has been wildly inaccurate over that stretch. His percentage of accurate passes thrown 10-plus yards downfield since coming into the league ranks dead last among qualifying quarterbacks over that span.
Dalton has had an up-and-down career with the Bengals. He's produced PFF passing grades as high as 83.6 (2015, seventh among QBs) to as low as 65.9 (2019,  22nd). Regardless, Dalton has had to deal with one of the worst situations in the league throughout his career in Cincinnati, and while he had a down year this past season, he still showed to be accurate, which is a trait that's perhaps the most important for quarterbacks and something Trubisky doesn't particularly have.
Dalton still posted the third-highest "accurate plus" pass rate in the NFL, behind only Ryan Tannehill and Russell Wilson. The more concerning aspect of play for Dalton, however, was the errant throws that'd seemingly come out of nowhere. When given a clean pocket in 2019, Dalton had the third-most turnover-worthy plays in the NFL, and that's obviously not good. However, his high-end, and even his low-end, has still shown to be better than Trubisky's, and reuniting him with Bill Lazor, the Bears' new offensive coordinator who helped Dalton produce three of his four best seasons in the NFL from 2016-18 as his QB coach and OC, could give Chicago the final piece to their playoff puzzle.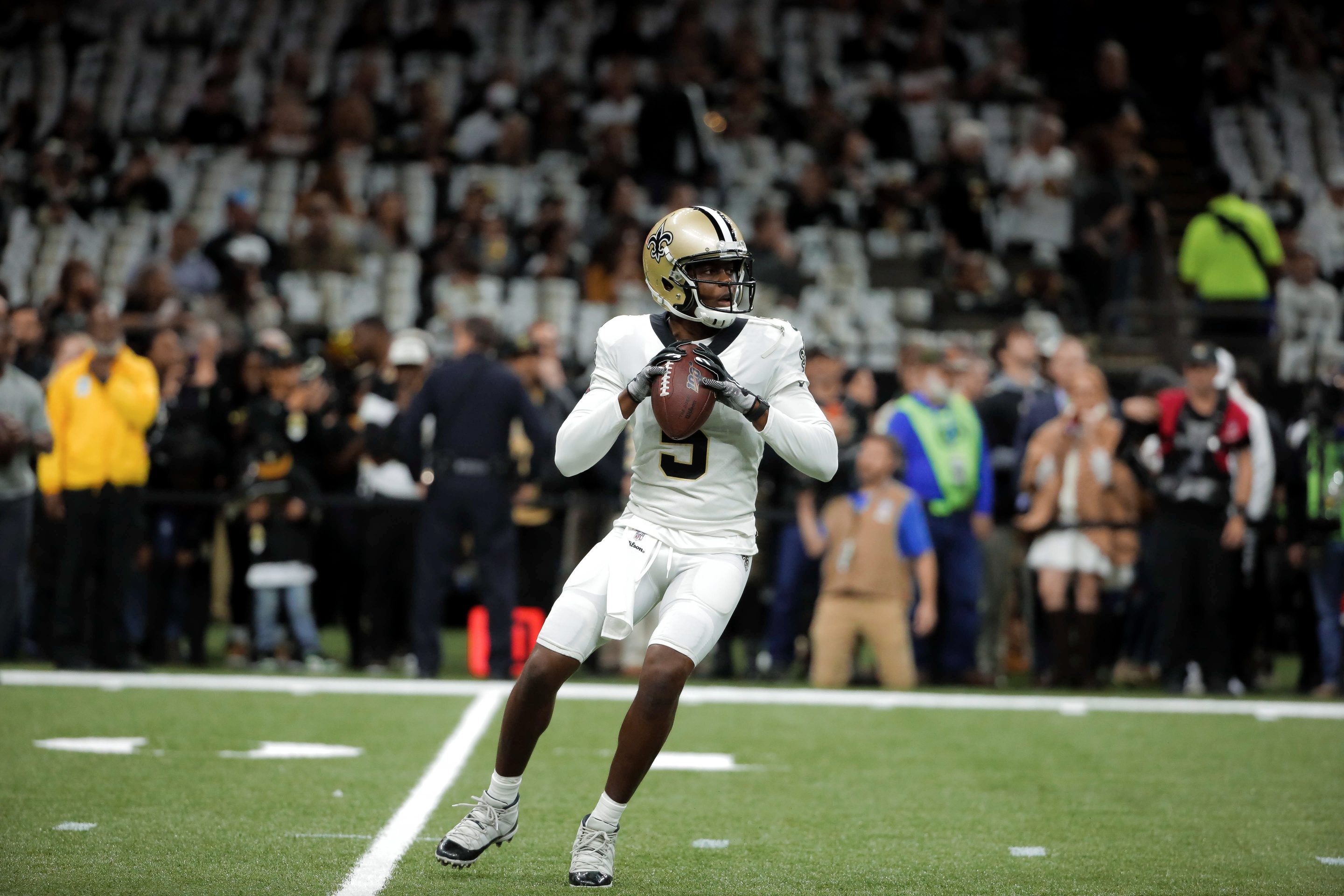 A healthy Cam Newton is a solid option at quarterback; he proved that in 2015 when he was the fifth-highest graded in the NFL. That being said, it's hard to tell how healthy he'll actually be at the start of the 2020 season, and reports that the Carolina regime could be looking to move on from him are circling. Kyle Allen's audition for the starring role fell flat last year with Newton out, as Allen was the lowest-graded qualifying quarterback in the NFL, and Will Grier's produced a grade far lower on his limited time on the field.
Teddy Bridgewater might just be the answer for Carolina. Bridgewater came in and started five games for an injured Drew Brees from Weeks 3-7 and was the fifth-highest graded quarterback in that span. He doesn't have a big arm by any means, and you're not going to see a high volume of big-time throws, but he limits mistakes better than most, evidenced by the fact that he recorded the seventh-lowest rate of negatively graded throws on the year. Bridgewater might not be a long-term solution for the Panthers, but he would provide a good bridge if they decide to move on from Newton and opt to shoot their shot either in the 2020 or 2021 NFL Draft.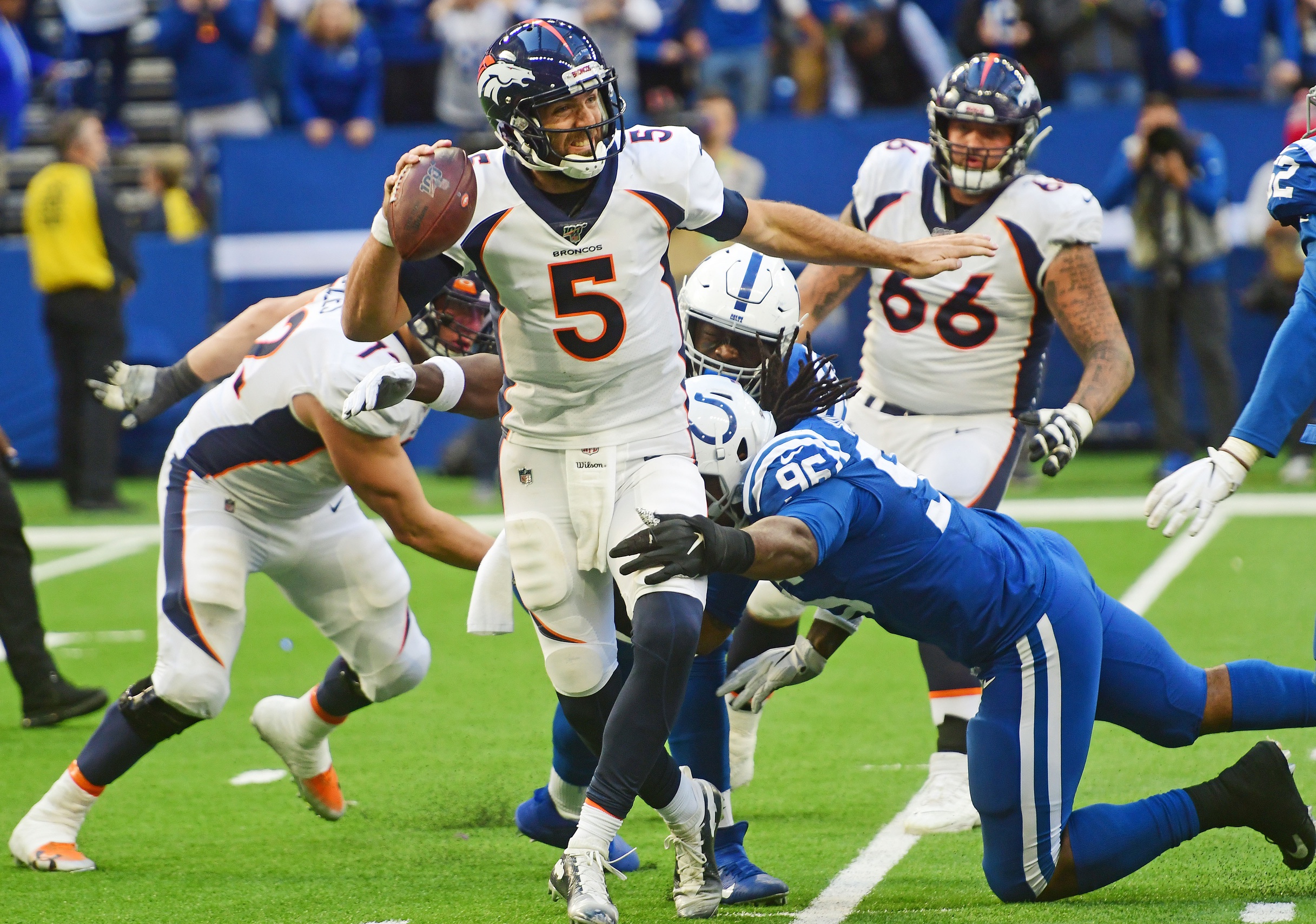 Joe Flacco accounts for nearly 12% of Denver's cap space next season if he remains on the roster. If cut before June 1, he'd still be a $13.6 million cap hit in dead money from his $23.65 million total cap number, but a post-June 1 release would reportedly drop the dead money to $6.8 million. Since Drew Lock has all but locked up the starting job, the writing seems to be on the wall for Flacco in Denver.
Assuming Bruce Arians rides the Jameis-coaster for one more season, a likely scenario is that he'll bring in an established veteran to compete with the former first overall pick. This would also give Arians a viable option to turn to if Winston continues his endless string of turnovers. Flacco fits this type of role, and he has the type of arm Bruce Arians loves.
Flacco has always been a quarterback who thrives in a clean pocket and collapses under pressure, and his 2019 is a testament to that. When free from pressure, Flacco produced the 10th-best PFF passing grade. When he was under duress, Flacco's grade rank dropped to second to last, with zero big-time throws and seven turnover-worthy plays. He isn't a consensus starting quarterback anymore, but he can certainly bring some competition to the volatile Jameis Winston.
And now for the uneventful and most-likely moves…
There hasn't been a more talked-about story this offseason than the future of Tom Brady. The six-time Super Bowl champion has been connected with various teams, with the Las Vegas Raiders leading the pack.
Let's be realistic, though: Is Las Vegas really an upgrade over New England? Removing quarterbacks, the Patriots had the most valuable roster in the NFL in terms of PFF WAR, and the Raiders were 29th (New England drops to 12th and Las Vegas jumps one spot to 28th when looking at just the offensive side of the ball). Not to mention, he'd be in a division with reigning Super Bowl MVP Patrick Mahomes as opposed to Josh Allen, Sam Darnold and (maybe) Ryan Fitzpatrick and/or Tua Tagovailoa. Is it possible that Brady is using this whole free agency stunt as leverage to get himself more money as well as to scare New England into investing in his receiving arsenal? Maybe, maybe not.
We all know 2019 was far from Brady's best season. He posted a 76.0 passing grade, his lowest-graded passing season since 2006. That being said, this was still good enough to rank 12th among all quarterbacks in the NFL; he finished ninth in negatively graded play rate, and his accuracy remained elite, as he posted top-10 marks in accuracy rate on passes thrown both 10-plus yards downfield and 20-plus yards downfield.
It's no secret that he needs more receiving talent around him. Their unit from 2019 barely cracked the 25th percentile in receiving grade and in the percentage of catchable passes caught. Perhaps he and Bill Belichick can convince tight end Rob Gronkowski, who was named to PFF's all-decade team, to come out of retirement and use their 23rd overall pick on a receiver like Henry Ruggs or Tee Higgins, if they fall that far, that is.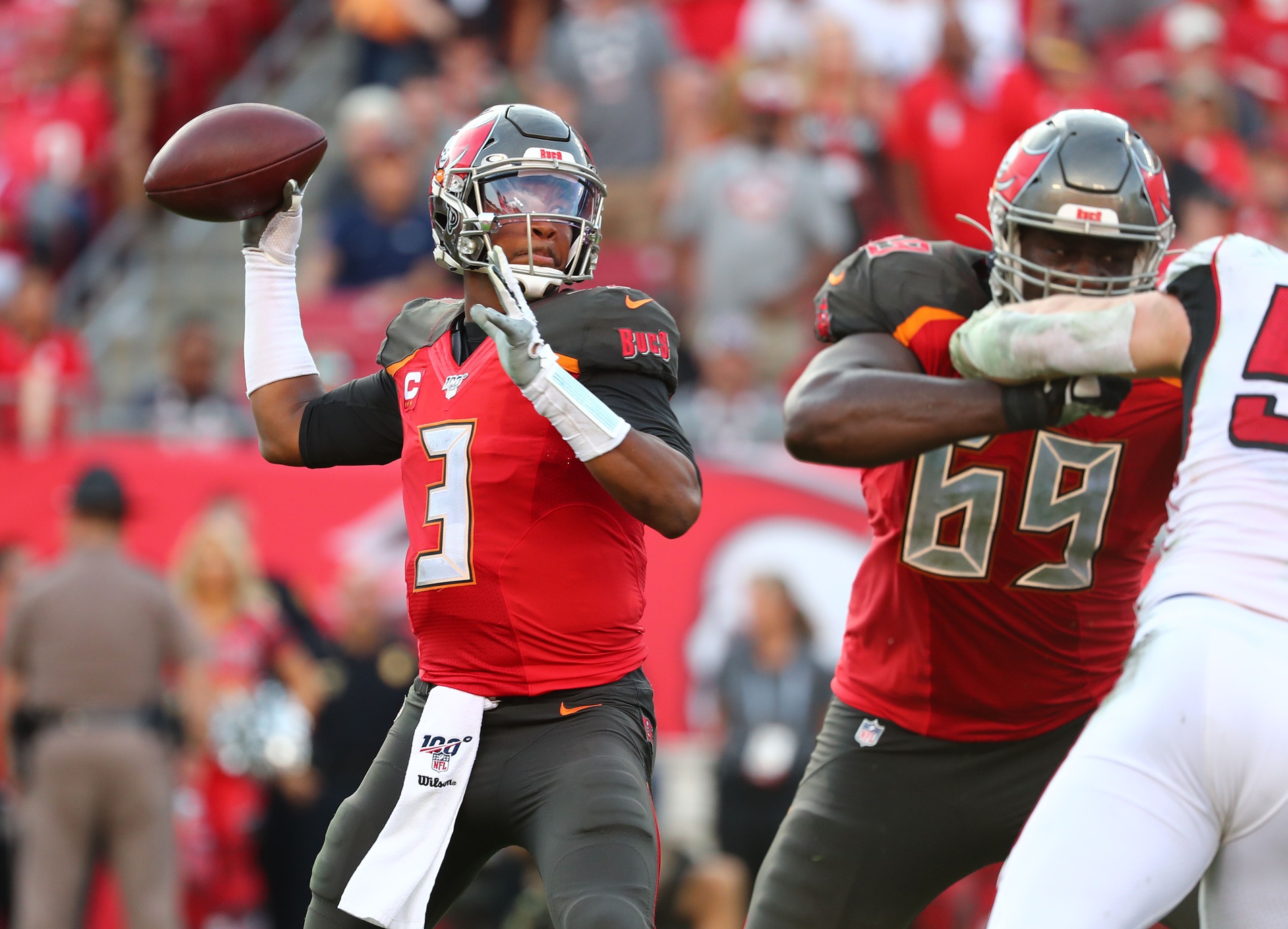 Jameis Winston has finished with one of the five highest marks in both positively graded and negatively graded throw rate in four of his five seasons in the NFL, and in the one season he didn't, he had the second-highest positively graded throw rate and eighth-highest negatively graded throw rate. That's an impressive feat.
Winston has a career-low PFF grade of 68.4 and a career-high of 73.7. The biggest flaw in Winston's game is clearly his decision-making, and it's almost as if defenses are invisible to him at times on short, quicker throws. Winston had the fifth-worst PFF grade on passes thrown shorter than 19 yards downfield, and his 27 turnover-worthy plays on such throws were eight more than anyone else. On throws 20-plus yards downfield, Winston improved to 13th in PFF grade and had the fifth most big-time throws. The good is undoubtedly there, evidenced by the fact that he's been among the five best quarterbacks in positively graded play rate in each of his five seasons, and that makes it seem likely that Bruce Arians, the quarterback whisperer, will want at least one more season to attempt to coax the very best out of him.
Ryan Tannehill had one of the most improbable turnarounds that PFF has ever seen this past season. After producing the third-worst passing grade in the PFF era with Miami in 2018 (42.4), Tannehill was the NFL's highest-graded passer in regular-season play in 2019, at 91.0. Tennessee used play-action extensively with Tannehill, and it paid dividends, as he produced the highest passing grade while averaging 13.6 yards per attempt on those play-action dropbacks, over a yard higher than second place and over four yards higher than the NFL average. Tennessee was 2-4 through the first six weeks of the season; they made Tannehill the starter in Week 7 and finished the season 7-3 to make the playoffs. It'd be a shock if they didn't keep the Tannehill train going.