How do you define clutch? Often it comes down to one or two plays made in pivotal moments, but the data that we collect here at PFF can give us a broader picture of how well a player performed over a subset of plays in a given season. That was precisely what I set out to capture last season when I looked at the inaugural PFF NFL Clutch Team, selecting the players who graded the best in the fourth quarter and overtime of one-score games (within eight points).
This is a small sample, with the minimum threshold set to just 75 snaps, so it's hard to take too much from one season of data. Nonetheless, it's a fun exercise, and the numbers on the 2019 iteration of the team are in. Here are the players who rose to the challenge when it mattered most last season.
[Editor's note: Subscribe to PFF ELITE today to gain access to PFF's Premium Stats and new Player Grades experience in addition to the 2020 NFL Draft Guide, 2020 Fantasy Rookie Scouting Report, PFF Greenline, all of PFF's premium article content and more.]
Watson didn't skate by on one or two plays here. He was dragged through the fire during the 2019 season, playing more snaps than any quarterback in the NFL in this subset across the regular season and postseason (214) and coming away with the league's best grade on those plays (88.6). His stat line simply conveys dominance — 66 for 88, 909 yards, eight touchdowns and just one interception. There's a sense when watching Watson play quarterback that he is going to find a way to pull it out down the stretch, and the numbers bore that out last season.
Jones put up some decent numbers as a runner in clutch time last season (241 yards on 50 attempts with 3.7 yards after contact per rush), but it was his work as a receiver that earned him first-team honors here. On 71 routes, he earned a 93.6 receiving grade and brought in 12 of his 15 targets for 167 yards and a touchdown. Jones produced a few big-time daggers as both a runner and a receiver, as well. He scored the go-ahead touchdown reception from 67 yards out against the Kansas City Chiefs in Week 8 and a long touchdown run that put the Packers out of reach of the Minnesota Vikings in Week 16.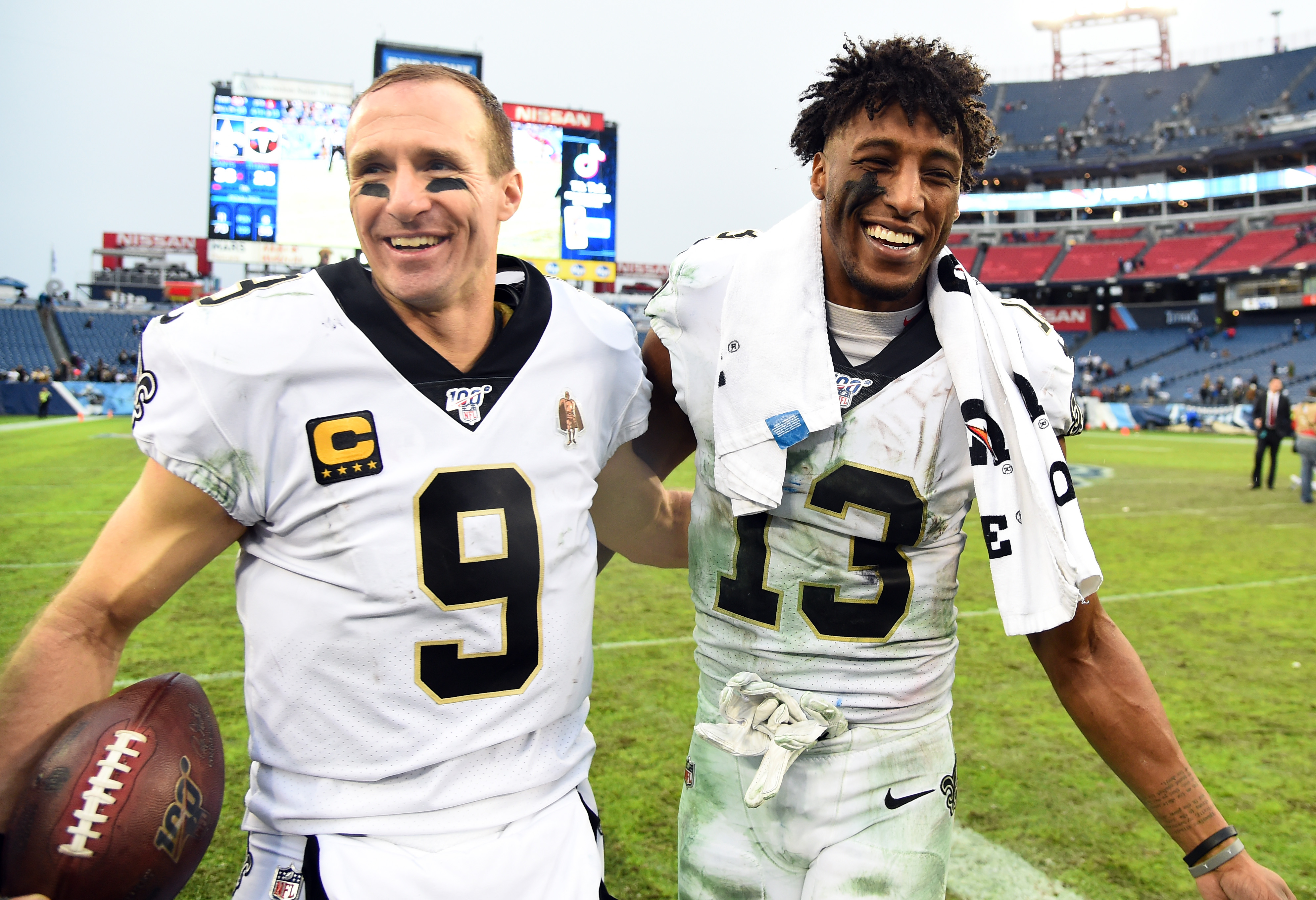 Given Watson's success in the clutch, it shouldn't come as a surprise to see his former right-hand man, Hopkins, also on this list. Hopkins caught 24 passes for 384 yards and a touchdown without any drops, commanding the football with the game on the line. Thomas, meanwhile, simply did what he did all season and brought in 22 of his 24 targets for 213 yards and two touchdowns across the fourth quarter and overtime of one-score games. That kind of efficiency is something we've come to expect from the Drew Brees-to-Thomas connection, but it's still worth pointing out that connecting on 22 of 24 targets is not normal.
Nothing changed for Kittle when things were tight late in the game. He was still the best player at the tight end position after the catch (position-high 113 yards after the catch and 8.7 yards after the catch per reception) and a nuisance to bring down in the open field (four missed tackles forced). As good as he was as a receiver, Kittle was equally as effective as a blocker in the run game. His run-blocking grade in the fourth quarter and overtime of one-score games ranked second at the position among qualifiers — a throwback when it comes to a tight end position that has shifted more towards big slot receivers in recent years.
Peters may remain a free agent, but this man can still play at 38 years old. His overall grade of 83.4 in 2019 ranked second among all left tackles, and no player graded out better in the clutch than Peters did. It was a balanced effort with grades of 77.0 or higher as both a pass-protector and run-blocker. Peters allowed just five pressures in 114 pass-blocking snaps across these plays. His continued availability as a free agent presents an ideal opportunity for a team that needs stability up front, particularly if the current plan is rushing along a young tackle who may not be ready to step in and start right away.
Rookie offensive linemen generally don't impress out of the gate, so when they do, it's a reason to take notice. That's exactly what Jenkins did, finishing the 2019 season as PFF's 10th-highest-graded left guard in the NFL. His overall grade even increased to 71.6 across a healthy 172-snap sample on these plays — a bump that was driven by very impressive results in pass protection. Jenkins allowed just one pressure on over 100 clutch pass-blocking snaps all year. That display is only one more reason for Green Bay to get excited about their second-year guard and his future in the NFL.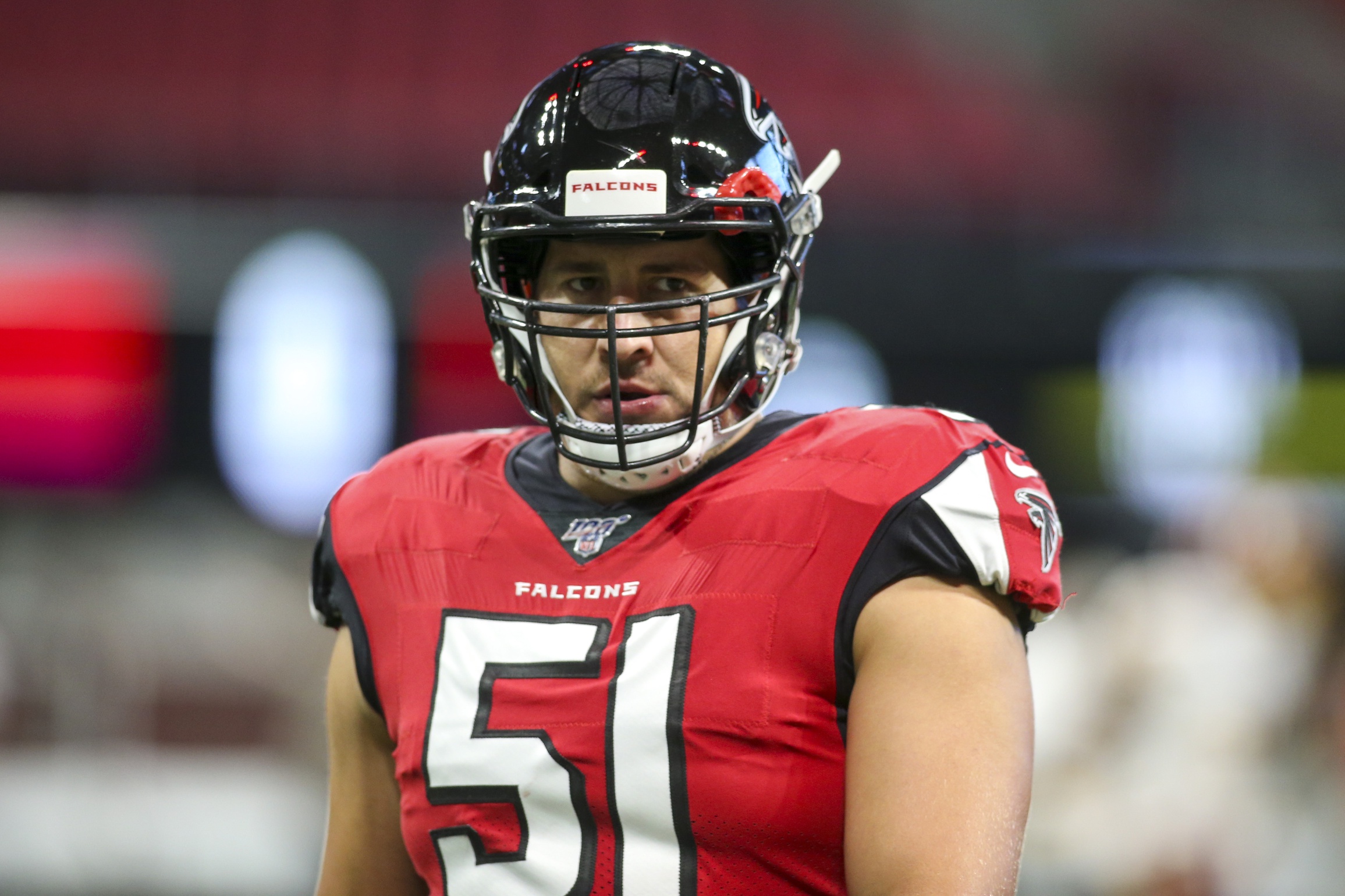 Mack has been one of the best centers in the NFL for over a decade. Even on an Atlanta offensive line that was in disarray last season, he remained a constant for Matt Ryan and company. In this subset of plays, specifically, Mack allowed just one pressure on 59 pass-blocking snaps, good for a pass-blocking grade north of 80.0. Questions remain about how the young pieces like Kaleb McGary and Chris Lindstrom will progress, but Mack remains in Atlanta as an anchor that can be relied upon up front.
No surprise here — the two highest-graded right guards in the NFL last season came in at No. 1 and No. 2 on this list, as well. Martin played 126 snaps that met the criteria we're looking at for clutch performance, but over 100 of those were pass plays. He certainly delivered in pass protection, as he allowed just three total quarterback pressures. His elite play along the offensive line is only part of the ideal offensive environment that has been built around Dak Prescott in Dallas. It's an environment that should continue to put him in good positions moving forward.
Massie missed several games last season with injury and put up a 63.2 grade in total, but he graded out better than any other qualifying right tackle in the fourth quarter and overtime of one-score games. Even then, his performance in pass protection was serviceable rather than stellar. Actually, it was the several nice blocks that moved defenders on double teams in the run game that boosted his overall grade to the top of the top right tackle position. Next year is a big opportunity for Massie to show that he can be an above-average starter on that Chicago offensive line, capable of marrying the improved pass protection he showed in 2018 with the run-game ability he has flashed at times throughout his career.
Name a list for interior defenders, and Donald is probably at the top. That was no different in the fourth quarter and overtime of one-score games, as Donald put up a 90.9 pass-rushing grade with 12 pressures on 60 pass-rushing snaps. Harris wasn't quite as effective as Donald in the pressure department, but he provided strong play against the run (84.3 run-defense grade) and got his hands on a position-high three batted passes in the clutch.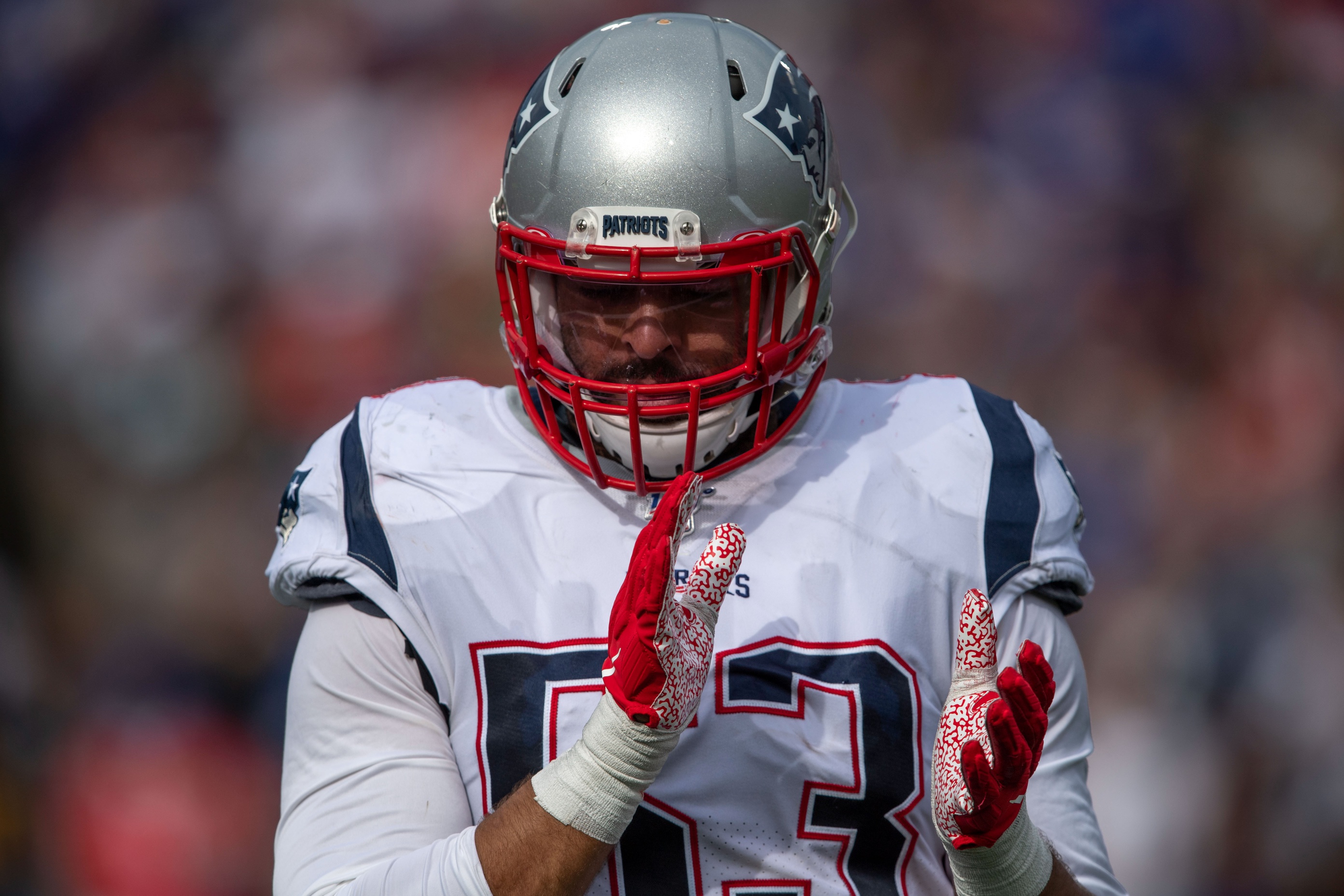 Van Noy had the best year of his career with the Patriots in his first year in a full-time edge role, and 12 of his career-high 60 pressures came on this subset of plays. In all, he had grades of 75.0 or higher against the run and as a pass-rusher across 132 total snaps. Van Noy's fellow first-teamer, Landry, also put up grades of 75.0 or higher against the run and the pass. A PFF favorite coming out of Boston College, Landry hasn't quite lived up to our expectations in his first two years in the NFL, but his 87.9 grade in high-pressure situations last season could bode well for a corner being turned in 2020.
If you look at the linebackers listed here, there is a pretty clear theme — these are players who make their name in coverage. Both first-team selections (Jones and Schobert) earned 90.0-plus coverage grades in the fourth quarter and overtime of one-score games, and they combined to allow one first down/touchdown on 10 targets with Jones intercepting a pass and Schobert forcing an incompletion. When the game is on the line and opposing offenses are marching, you want linebackers who can limit after-the-catch opportunities and make plays on the ball in coverage. That's something all four of these linebackers can do.
Oddly enough, the two first-team selections at cornerback will both be calling new cities home next season. Bouye had easily his worst season overall since breaking out with the Houston Texans in 2016, but he was able to produce in the clutch. In 42 coverage snaps, Bouye was targeted five times, allowing just one first down while intercepting a pass. Waynes, meanwhile, forced incompletions on three of his seven targets in this sample of plays while picking up a run stop, as well. The Denver Broncos and Cincinnati Bengals will be hoping that their play in close games carries over to the 2020 season.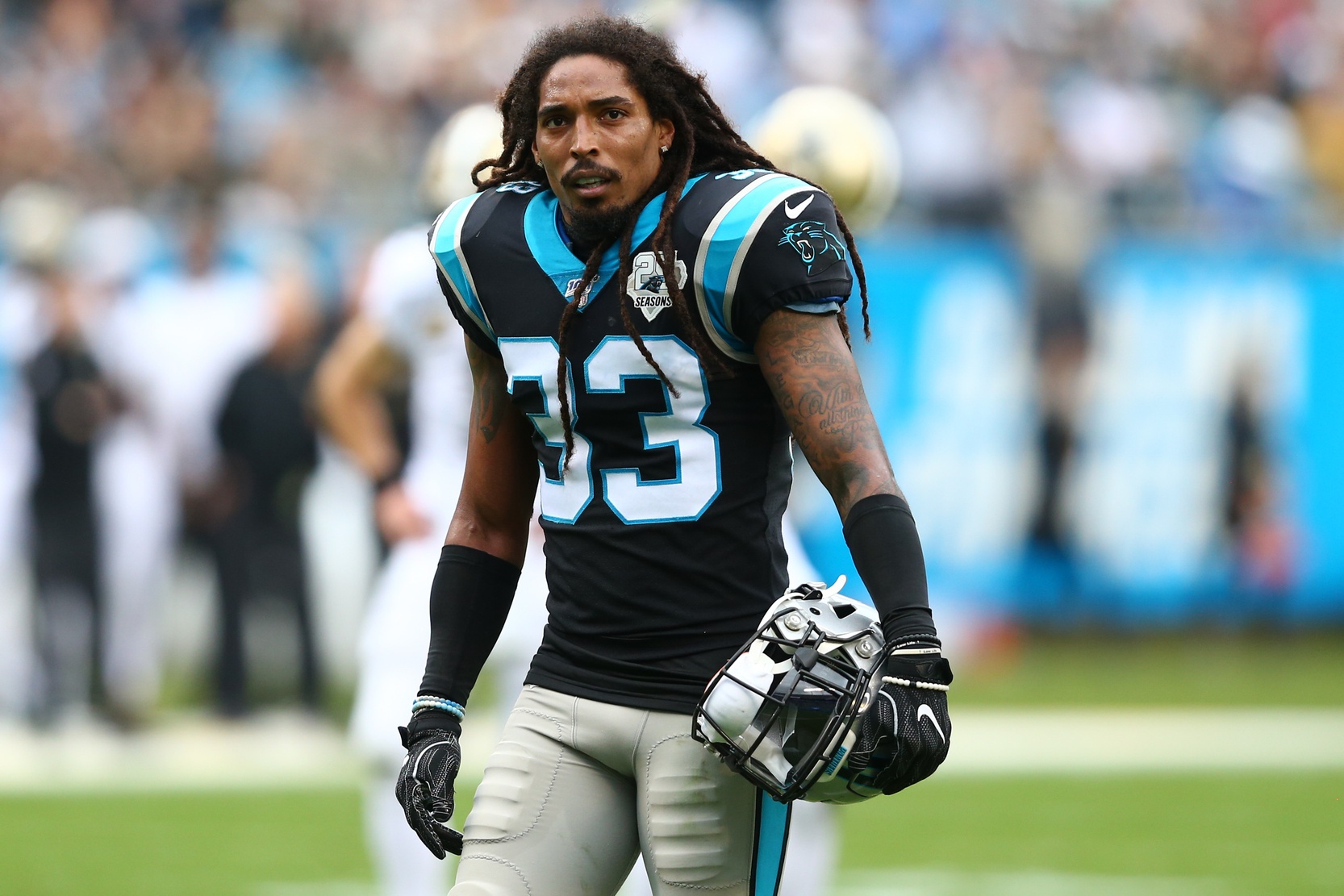 The job of a free safety can be without glamour and hard to judge at times. If they're doing their job well, the ball isn't going to come their way all that often, leaving them with fewer opportunities to make the splash plays on the ball that bring the recognition. Both Hooker and Boston did excellent jobs of both limiting throws into their coverage and making plays on the ball when passes did come their way. Boston was targeted as the primary coverage defender just once in this sample, but he came away with one forced incompletion and one interception anyway. Likewise, Hooker was targeted only four times with two interceptions to his name. It's hard to get much better than that.