If you're a twentysomething Seattle Seahawks fan, part of your childhood died Tuesday night.
The Seahawks traded Russell Wilson to the Denver Broncos in the afternoon. By 9:15 p.m., they released the last player on their Super Bowl XLVIII-winning roster in All-Pro linebacker Bobby Wagner. In the early-2010s, the Seahawks had an exciting new coach in Pete Carroll, the NFL's best defense and one of the best draft picks in NFL history in Wilson, a 2012 third-round pick who won a Super Bowl in just his second pro season. The Seahawks seemed destined for a dynasty, but then the New England Patriots got in the way in Super Bowl XLIX and went on another run while Seattle never even made it back to another NFC Championship Game, let alone a Super Bowl.
Click here for more PFF tools:
Draft Guide & Big Board | Mock Draft Simulator
Dynasty Rankings & Projections | Free Agent Rankings | 2022 QB Annual
Player Grades
---
Now head coach Pete Carroll and general manager John Schneider remain, but none of the players.
Many Seahawks fans and Seattleites had talked themselves out of Wilson being traded as a possibility as recently as last week, and messaging from Wilson and Carroll didn't help. Wilson said at the end of the season that he planned on staying in Seattle and winning multiple Super Bowls. Carroll said at the combine that he had "no intention" of trading Wilson. Those statements clearly held no weight. The Seahawks decided to trade Wilson to the Broncos, and Wilson waived his no-trade clause to go to Denver.
It all first came to a head last offseason when Wilson's agent provided ESPN's Adam Schefter with four teams to which the QB would accept a trade. Wilson still stuck in Seattle for the season, but then he got hurt and the Seahawks bottomed out. If the relationship was struggling in the 2021 offseason, then clearly nothing happened during the season to fix it.
I asked a source in December if Wilson would force his way out of Seattle. He said, "I don't think he has to force his way out. I think he will be traded because they don't want him around."
Another source Tuesday afternoon indicated that Seattle wanted Wilson gone. At the very least, it was a mutual parting of ways and not one that Wilson forced. That was evidenced by the fact that Wilson had to accept the trade and waive his clause for it to even go through.
So, where do the Seahawks go now with Drew Lock and Jacob Eason as the only quarterbacks on their roster? After trading Wilson and releasing Wagner, one source believes the Seahawks are looking to rebuild and bought themselves two years to try to find the next quarterback. Still, there's some doubt around the team that Carroll is really looking for a hard reset at 70 years old, and who could blame him?
After acquiring two first-round picks, two second-round picks and three players, it's possible that Seattle could enter the Deshaun Watson sweepstakes. Watson is younger than Wilson, but he's facing 22 sexual assault lawsuits and will cost more to acquire from the Houston Texans than the Seahawks gained by dealing Wilson. Seahawks fans might have a hard time accepting that scenario even if Watson is a better quarterback on the field to plan around for the future.
There's also the possibility, though it's been described to me as "doubtful," that Minnesota Vikings quarterback Kirk Cousins, who has one year left on his current contract, could come available in a trade if he's not extended. Carroll "loves" Cousins, according to one source. Cousins spent the 2016 season in Washington with Seahawks offensive coordinator Shane Waldron. And he'd be cheaper to acquire than Wilson was for the Broncos.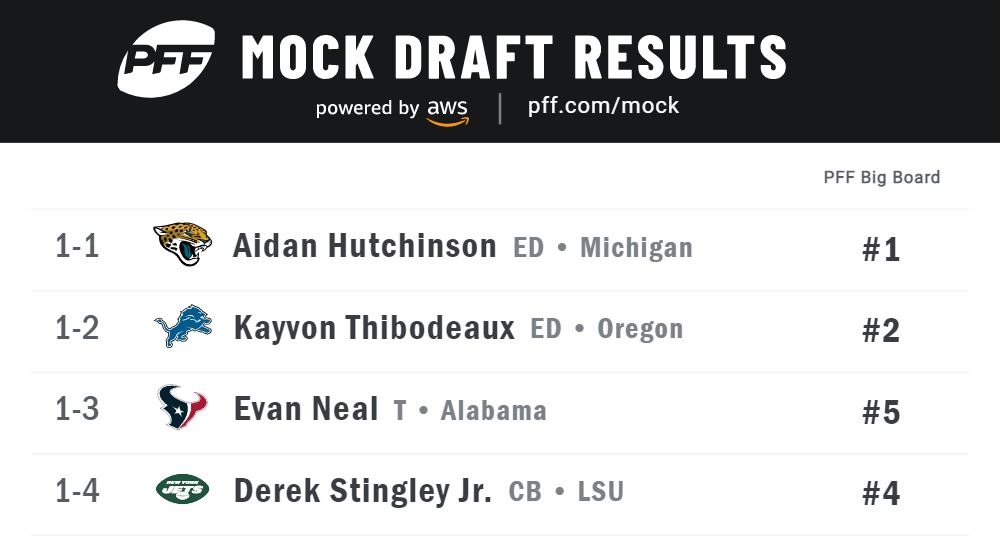 Other veteran quarterbacks who could be acquired via trade or free agency include Sam Darnold, Jimmy Garoppolo, Marcus Mariota, Gardner Minshew and Mitchell Trubisky.
If the Seahawks really are set for a true rebuild, then they don't necessarily need to draft a quarterback in 2022. If Malik Willis is available at No. 9 overall then maybe they'd pull the trigger, but it seems like the Liberty product could be gone by then. It's possible that Seattle could fall in love with Matt Corral or Desmond Ridder and trade down or take one of those quarterbacks in the top 10, but that ultimately seems doubtful. It's entirely possible that one of those QBs would even be there at No. 40 or 41 overall when the Seahawks are picking again. 
The Seahawks will have two first-round picks and the ability to move up higher in the draft next spring when players like Bryce Young and C.J. Stroud could be better prospects than anyone in this current class. In that scenario, the Seahawks might be better off just rolling with Lock and Eason and truly bottoming out to get the best quarterback possible in 2023.
---
2022 NFL Draft position rankings:
Top 10 players at every position
QB | RB | WR | TE | iOL | OT | DI | EDGE | LB | CB | S
---
Young Seahawks fans have only known Wilson and winning. Older ones remember Stan Gelbaugh, Kelly Stouffer and Dan McGwire and 1990s irrelevance. If the goal is to draft a quarterback, then they need to find their next Russell Wilson, not a Rick Mirer. And if they're going to add a veteran, they better hope it's Matt Hasselbeck and not Charlie Whitehurst.
It's the end of an era in Seattle. And, unfortunately, it's not a great year to need a quarterback.