It's time to overreact to 2022 NFL free agency now that the new league year has officially begun and we have three days worth of moves to analyze.
From the Los Angeles Chargers making a run at the Kansas City Chiefs in the AFC West to the Dallas Cowboys feeling the constraints of the salary cap, here are some early winners and losers of the 2022 free agency period.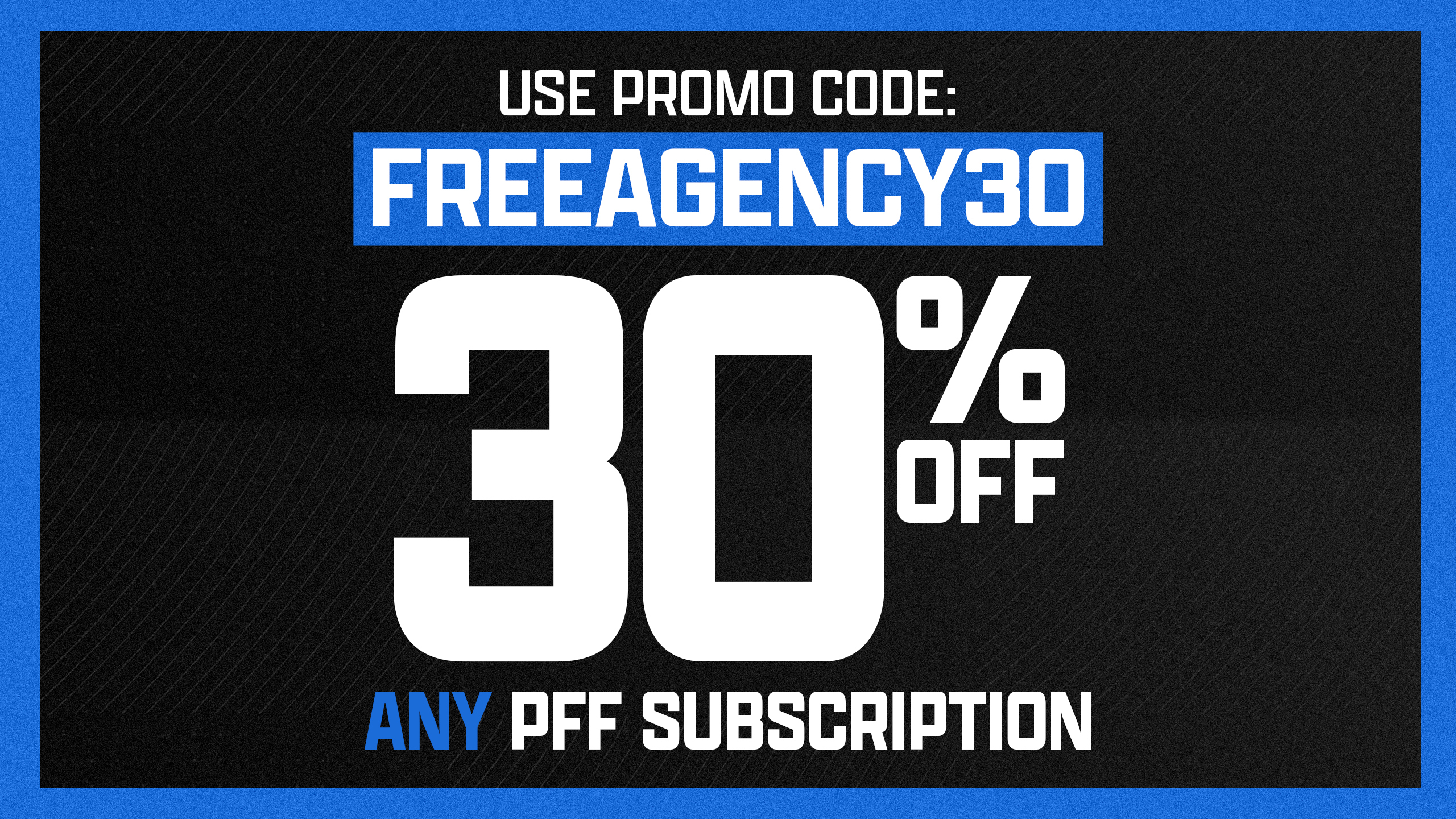 Having a quarterback like Justin Herbert on a rookie contract provides a massive amount of roster-building flexibility. And the Chargers have done an excellent job of taking advantage of that.
Los Angeles kept its highest priority free agent (Mike Williams) in-house with a three-year extension, and the additions of Khalil Mack and J.C. Jackson on defense offer two more elite talents to pair with Joey Bosa and Derwin James.
With all that money being thrown around, it's easy to overlook the smaller moves along the defensive line. The way in which Tom Telesco went about bolstering the Chargers' run defense by bringing in Austin Johnson and Sebastian Joseph-Day shouldn't be overlooked. Joseph-Day ranked second among all interior defensive linemen in run stops (30) in his last season with Brandon Staley in 2020. He was a big reason why the Rams had a top-five run defense despite playing with light boxes (six or fewer defenders) at a top-three rate.
Yes, the Jaguars' receiving corps improved. That's going to happen when you dump over $100 million dollars into something. The concerns lie with the return Jacksonville is going to get on that investment and how all the pieces currently on the roster fit together.
Christian Kirk does fill a complementary role as a vertical slot threat, but he's getting paid more like a No. 1 option — something he's decidedly not. The deal can essentially be reduced to a two-year, $37 million contract with the guarantees, but that still looks unfavorable in hindsight to trading a fifth-round pick for Amari Cooper and his $20 million per year over the next three years.
Jacksonville has created somewhat of a logjam in the slot, as well. That's where Kirk and fellow free agent signing Evan Engram are at their best. It's where Laviska Shenault Jr., who now finds himself embroiled in trade speculation, spent 55% of his offensive snaps last season. And that's before throwing Jamal Agnew and his $5 million-plus cap hits in each of the next two seasons into the mix. It will be interesting to see how this group shakes out.
The last addition to this unit may be the most puzzling. Zay Jones is coming off the highest PFF receiving grade of his career (70.6) last season in Las Vegas, but he doesn't project as much more than a No. 3 option. Yet, he is now making $8 million per year with $14 million fully guaranteed at signing.
There's more talent at Lawrence's disposal, but the Jaguars are still missing a No. 1 X receiver after all that spending. It's not all that dissimilar to New England's investments in Nelson Agholor, Jonnu Smith, Kendrick Bourne and Hunter Henry last offseason, which didn't produce the anticipated results in 2021.
---
Click here for more PFF tools:
Draft Guide & Big Board | Mock Draft Simulator
Dynasty Rankings & Projections | Free Agent Rankings | 2022 QB Annual
Player Grades
---
It's easy to fall in love with the Terron Armstead and Brandon Scherff types in free agency, but ensuring that there are no major holes is a top priority when it comes to overhauling an offensive line. The signings of Alex Cappa to step in for Hakeem Adeniji at right guard and Ted Karras to start at one of the other two spots are the kind of mid-tier moves that a team in Cincinnati's situation should be making.
Karras has started at center and left guard over the past two seasons with Miami and New England. He has proven capable of providing competent starting play at either position depending on what Cincinnati decides on free agent left guard Quinton Spain and what other moves the team make throughout the offseason.
Cappa's PFF grade has improved every season in the NFL, culminating in a 71.9 PFF grade (10th among qualifying right guards) with Tampa Bay last year. He's at his best getting downhill in the run game and does a good job of eliminating power rushes.
There's nothing flashy there, but Joe Burrow should feel better about the guys blocking for him at two of the five offensive line spots now. That's a win for Cincinnati without breaking the bank.
All signs were pointing toward Rudolph getting the first opportunity to win the Steelers' starting quarterback job in a competition with Dwayne Haskins and a rookie taken in the 2022 NFL Draft. That rookie may still be coming, but Pittsburgh won't be entering a competition with Rudolph as the front runner any longer. Instead, it will be Mitchell Trubisky in the QB1 slot following the two-year, $14 million deal he agreed to on the first day of the legal tampering period.
That doesn't mean Rudolph won't have an opportunity. The only qualifying quarterback to earn a lower PFF grade than Trubisky from 2017 to 2020 was Sam Darnold. There's always the chance that Trubisky is a different quarterback after stepping back for a year and working behind Josh Allen in Brian Daboll's offense. But if that same starter we saw in Chicago comes out in training camp and the preseason, Rudolph could very well still win the job. His chances just took a big hit this week.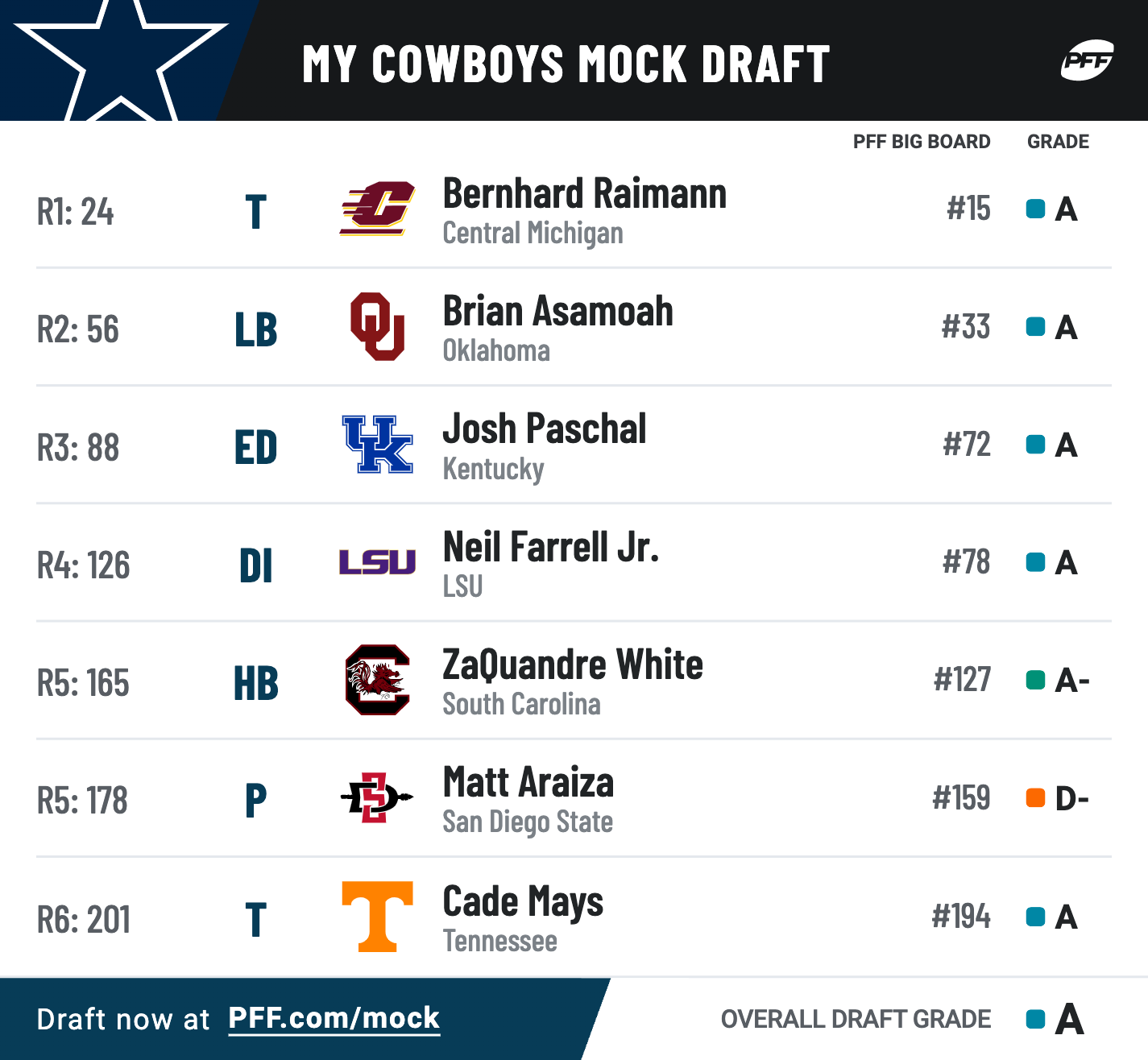 Tampa Bay may be the biggest winner of the week, simply because Tom Brady decided to unretire and return to the team. That opened the floodgates.
Ryan Jensen (three years, $39 million) and Carlton Davis (three years, $45 million) both returned on "Above Average" deals from Tampa Bay's perspective, given what they were expected to earn on the open market. The Buccaneers also added former NFC South foe Russell Gage to step in for Antonio Brown as the clear-cut No. 3 option at wide receiver behind Mike Evans and Chris Godwin back on the franchise tag. Gage has had success lined up in the slot and out wide for Atlanta. Tampa Bay can feel comfortable moving both him and Godwin around the formation.
However, general manager Jason Licht's best move this week was a trade. The Buccaneers wasted no time in finding their right guard replacement for Cappa after he decided to sign with the Bengals. Tampa Bay sent a fifth-round pick for Brady's former teammate Shaq Mason, who has earned 85.0-plus PFF grades in three of the past four seasons. The only qualifying right guard to earn a higher overall grade than Mason over that four-year stretch is Zack Martin.
The Buccaneers' fortunes made a full 180 from Kyle Trask or Blaine Gabbert or  *insert quarterback here* as the starter and a roster heading toward a retooling, and now the team is once again at the forefront of the NFC favorites conversation.
Anyone pushing "the salary cap isn't real" propaganda need look no further than Dallas this week to realize that poor salary cap decisions do come with consequences down the road. The deals to keep wide receiver Michael Gallup and edge defender Demarcus Lawrence in Dallas were good, but the Cowboys have also been forced to part ways with several high-impact players.
That started with the Amari Cooper trade to Cleveland, netting the Cowboys just a fifth-round pick. The compensation may seem low, and that's because it is. Dallas lost leverage because the acquiring team needed to take on Cooper's hefty contract. The Cowboys chose to prioritize keeping Gallup and Dalton Schultz on the franchise tag, but their receiving corps took a significant hit with the losses of Cooper and Cedrick Wilson, who signed with the Miami Dolphins.
Cooper and Wilson aren't the only cap casualties, either. Dallas thought it had a Randy Gregory deal done before he jumped ship to Denver due to a dispute over the language in the contract. A three-headed pass-rush monster with Lawrence, Gregory and Micah Parsons … gone.
Meanwhile, it looks like they will have to replace both La'el Collins and Connor Williams along the offensive line. Collins (80.0-plus PFF grades in his past two seasons) is being actively shopped, and his departure will create a clear need at tackle — especially given Tyron Smith's recent injury history. And Williams already signed with the Dolphins on a two-year, $14 million deal to bolster their bottom-of-the-league unit.
Dallas has lost a lot of talent from the 2021 iteration of their team already and is planning to lose more.
With all the focus on optimal roster building and grading moves from a team's perspective, it's easy to lose sight of the coolest part of free agency — talented players signing contracts for life-changing money. Gregory is one of the better examples after what he's overcome to get to this point.
The Athletic's Dan Pompei wrote an excellent feature last offseason that provided a look at the first six years of the oft-suspended Gregory's career in which he barely cleared 1,000 defensive snaps total and how he had managed to turn a corner in his life.
"I've kind of beat myself up for the opportunities and money that was lost over the years. This is a way to recoup some of that money and validate me," Gregory said in that piece on his upcoming contract year and impending free agent status.
Gregory proceeded to earn a career-high 84.7 PFF pass-rushing grade in 2021. That landed him a five-year, $70 million contract with the Denver Broncos — a well-deserved payday after grading out in the 93rd percentile among edge defenders as a pass rusher since returning from suspension in 2020.
The Las Vegas Raiders, and specifically Carr, are the biggest losers in the AFC West arms race that has seen both the Chargers and Broncos rosters make massive strides in recent weeks.
The Russell Wilson trade in Denver now makes Carr — who is a fringe top-10 starting quarterback in the NFL — the worst quarterback in his own division. The division has also added two more high-level pass rushers in Khalil Mack and Randy Gregory to go up against an offensive line that currently projects to start Alex Leatherwood at right tackle. Leatherwood earned a 28.1 grade at right tackle in 2021 before kicking inside to guard and led all offensive linemen in total pressures allowed (65).
With Zay Jones signing in Jacksonville, Carr's top outside wide receivers now consist of Bryan Edwards and Tyron Johnson. His supporting cast of receiving talent and pass protectors aren't close to where they need to be for Las Vegas to make it back to the postseason in 2022 in the most competitive division in the NFL.
It seems as if the Ravens make their way onto these lists offseason after offseason, which is a testament to the way they do business. It's hard to find faults with any of the three major moves they've made over the past three days.
Marcus Williams has been one of the more underrated free safeties in the NFL since entering the league in 2017, and now he joins a defense that clearly values the position given the moves to bring in players like Eric Weddle and Earl Thomas over the past decade. Williams' 91.7 PFF grade over the past five years ranks third among qualifying safeties.
Baltimore then proceeded to secure a middle-of-the-road starting right tackle in Morgan Moses for $5 million per year on a three-year contract. Moses is coming off back-to-back seasons with PFF grades above 70.0 and provides another option at right tackle to compete with Ja'Wuan James, who is working his way back from injury.
The Ravens were saving the best for last on Wednesday, bringing Za'Darius Smith back to where his NFL career started for less than $10 million per year — one of the best moves in free agency so far.
Only edge defenders with a higher @PFF pass-rushing grade than Za'Darius Smith in his last two healthy seasons (2019-20):

T. Watt
M. Garrett
J. Bosa
K. Mack

4 years, $35M is outstanding value for Baltimore assuming Smith is anywhere close to that guy coming back from injury.

— Ben Linsey (@PFF_Linsey) March 16, 2022
Smith was among the best pass rushers in the NFL in his two healthy seasons with Green Bay in 2019 and 2020. His addition solidifies an edge group that already had Odafe Oweh and Tyus Bowser under contract.
The Ravens have positioned themselves well to reclaim the top spot in the AFC North after a 2021 season devastated by injuries.
This can all be prefaced by the fact that we're still just three days into free agency. There is still time to make moves, and the Bears still have the cap space to act in free agency. They fall into the early "loser" category because what they've done thus far has been underwhelming, particularly when it comes to building around quarterback Justin Fields.
Their free agency period began by dealing Khalil Mack to the Los Angeles Chargers for a 2022 second-round pick and a 2023 sixth-rounder. Obviously, losing Mack makes it more difficult to win games in 2022, but it's not hard to see the rationale behind the deal. That second-round selection helps make up for the missing first-round pick that was handed over in the trade-up for Fields last offseason. Chicago also clears up a whole lot of future cap space to build out its roster.
The Bears haven't done much to build around Fields as of yet, though. Their biggest move by far was to make Larry Ogunjobi, who hasn't earned a PFF grade above 60.0 since 2018, a top-15 paid interior defensive lineman on a per-year basis. The only notable offensive free agent signed has been Lucas Patrick — a starter in each of the past two years for Green Bay across all three interior offensive line positions. In terms of net talent added on the interior offensive line, Patrick represents a downgrade from the departing James Daniels.
Offensive line and wide receiver are both still clear areas of need, and free agent options are dwindling by the hour as the Bears sit by and remain patient.