The Los Angeles Chargers' hype is reaching dangerous levels, which means the NFL offseason must be in full swing. 
Even though there is a mountain of evidence over the past decade telling us to lower expectations, there is still plenty of reasons to be excited about the way that Chargers general manager Tom Telesco and head coach Brandon Staley have started to shape this roster around their young rising star at quarterback, Justin Herbert.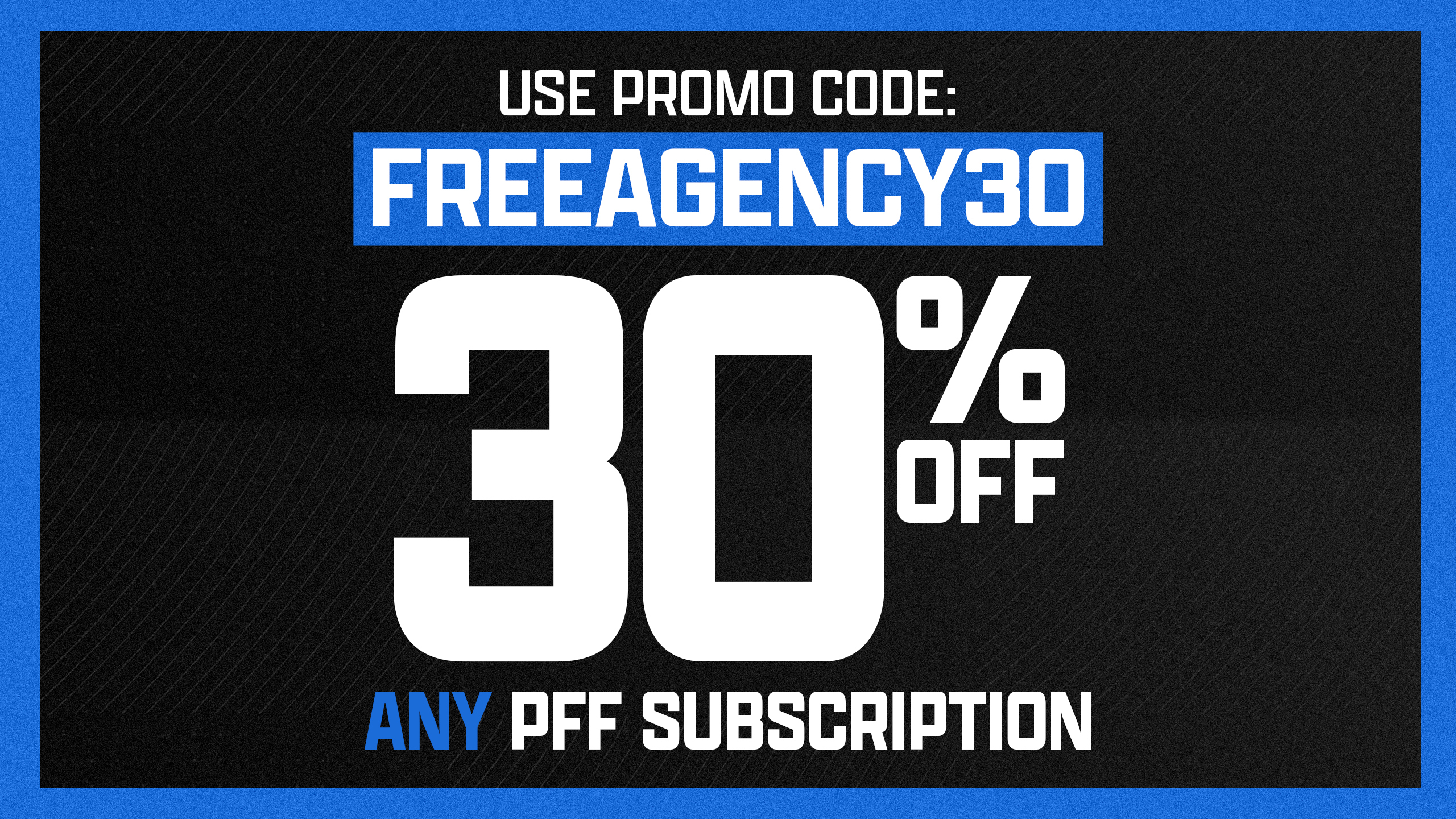 Click here for more PFF tools:
Draft Guide & Big Board | Mock Draft Simulator
Dynasty Rankings & Projections | Free Agent Rankings | 2022 QB Annual
Player Grades
---
Getting elite quarterback play out of a player on a rookie contract is a cheat code under the current constraints of the salary cap and NFL Collective Bargaining Agreement, which is exactly what Los Angeles will have in 2022. 
2021 Wins Above Replacement (WAR) leaders at QB and their 2022 cap hits
*Salary cap data provided by Over the Cap
The table above doesn't truly do justice to the gap between top-end quarterback salaries and rookie-scale contracts. Brady and Stafford are both on team-friendly deals relative to their production, and Allen is in the final year before his big extension kicks in, as his cap hit jumps all the way to $39.8 million in 2023. 
The going rate for an elite quarterback nowadays is $40-plus million dollars per year. If you can get that same elite play, as Burrow and Herbert provided in 2021, for under $10 million, it allows teams to allocate resources elsewhere and aggressively chase a Super Bowl before it has to offer an extension to its star quarterback. 
The Chargers have followed that blueprint to a "T" in how they've built around Herbert and positioned themselves in the AFC West arms race. 
2021 offseason: Chargers fix one of the NFL's worst offensive lines 
Herbert's rookie season was promising, but the Chargers had to make sure that he was a quarterback capable of changing the course of their franchise in 2021. And in order to do that, they needed to tighten up his protection. The collective 48.8 overall PFF grade from Los Angeles' offensive line in 2020 was the second-worst mark of any team in the previous five seasons — narrowly edging out the 2019 Miami Dolphins. The unit clearly needed an overhaul, and that's exactly what it got. 
Rashawn Slater was the 2021 NFL Draft cornerstone for the Chargers at left tackle. Matt Feiler, Corey Linsley and Oday Aboushi were all brought as free agents to start on the interior, and Bryan Bulaga was slated to return from injury and reclaim the starting job at right tackle. It was arguably the most improved position group in the NFL last offseason. 
Injuries to Aboushi and Bulaga didn't allow that group to play the entire season at full strength, but the additions of left tackle through center still paid major dividends. Slater, Feiler and Linsley were all top-six players at their position last year according to PFF grade. 
That improvement helped Herbert make the jump from a promising rookie season to an elite sophomore campaign.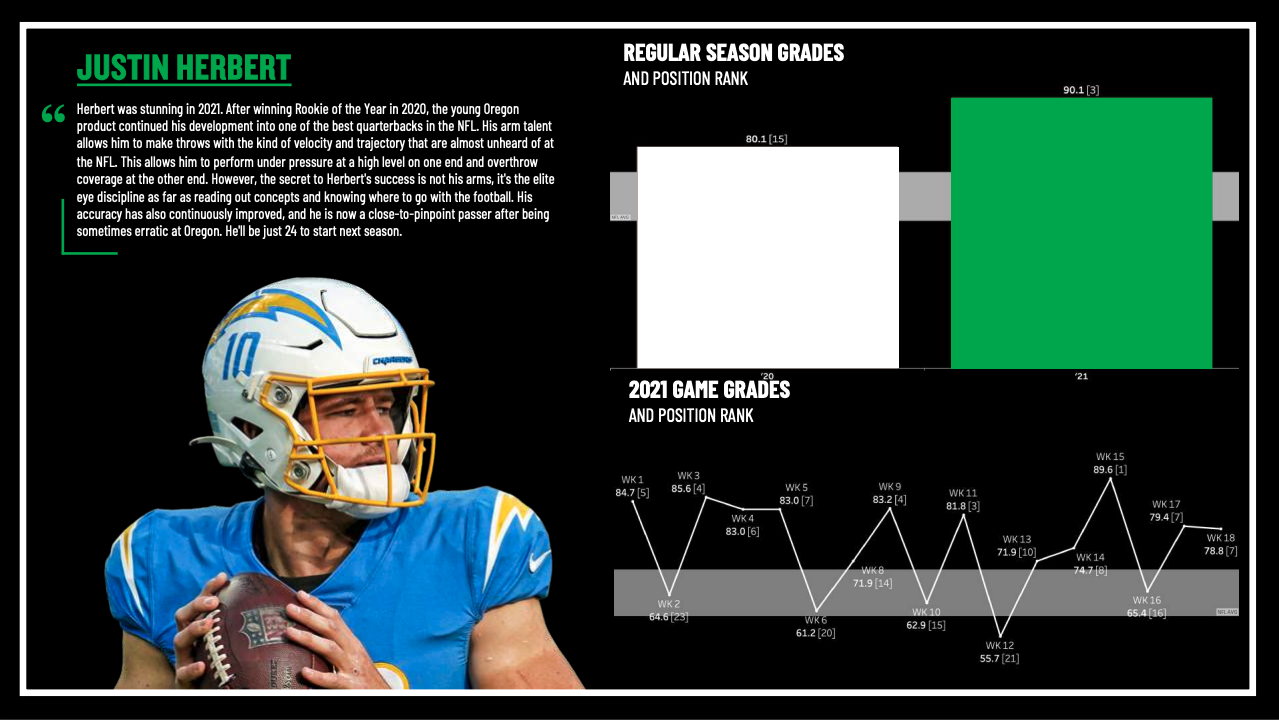 It's hard to understate how valuable it is for the Chargers to know that Herbert is unquestionably "the guy" following his second season, as it has allowed Los Angeles to attack free agency with the comfort of a clear-cut top 10 quarterback making less than $10 million per year to fall back on. 
2022 offseason: Chargers keep Mike Williams with a three-year extension
On the surface, the three-year, $60 million contract extension that Williams signed with Los Angeles prior to free agency was a very favorable deal for the former first-round pick. 
It makes him the fourth-highest paid wide receiver in the NFL on a per-year basis, per our friends at Over the Cap. And as PFF's Arjun Menon pointed out in a recent piece on the extension, it's also very likely that Williams sees the entirety of that contract because 67% of the contract is guaranteed at signing while there is a $7 million dead cap charge in the third and final season of the deal. 
Williams is a dangerous downfield threat and "jump ball" receiver who is coming off a 2021 season where he finished among the top-15 receivers in the NFL in PFF's Wins Above Replacement (WAR) metric. Yet, this deal was probably still an overpay in a vacuum. 
The thing is Herbert's rookie contract allows and incentivizes Los Angeles to overpay for a No. 2 receiver such as Williams to maintain a strong receiving corps. There's no reason to cut costs only to open up a massive hole at wide receiver. The Chargers can afford to pay a premium on Williams over the next three years.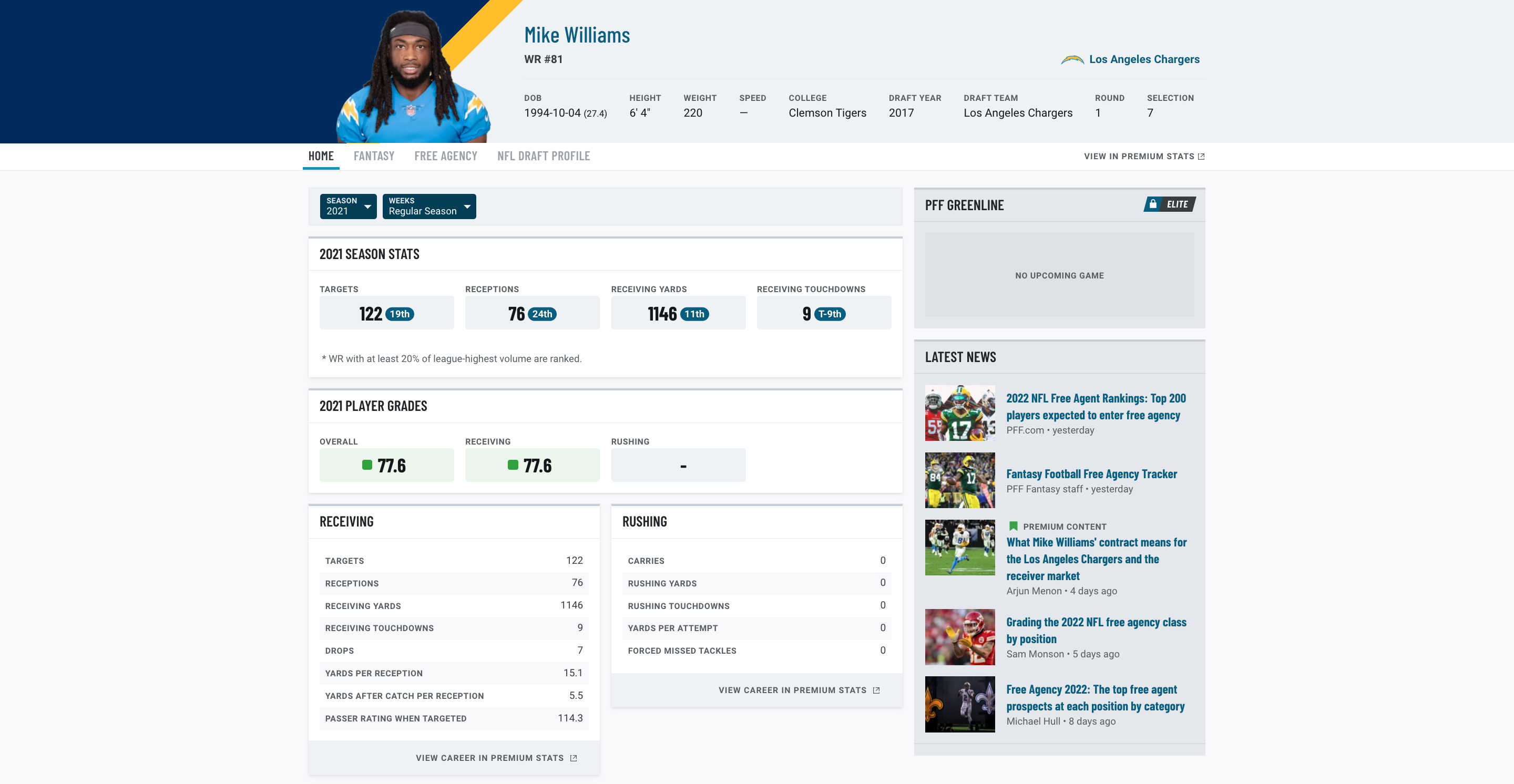 2022 offseason: Chargers re-tool defense with high-end talent and interior DL help
The Chargers' biggest swings to begin the 2022 offseason have come on defense, and they've been hefty swings of the bat. 
Khalil Mack and J.C. Jackson are defense-changing players who are added to a unit that already had two of those guys in Joey Bosa and Derwin James. Mack has been the NFL's most valuable edge defender since 2016, per PFF WAR. 
Most valuable edge defenders since 2016, per @PFF WAR

1. Khalil Mack: 2.93
2. Cameron Jordan: 2.83
3. Von Miller: 2.66
4. Joey Bosa: 2.45

— Anthony Treash (@PFF_Anthony) March 10, 2022
Coming off an injury at 31 years old, Mack might not quite be at his peak anymore, but he still profiles as one of the most impactful players at the position against the run and in the passing game. Now, he gets to pair with another top-five player at the position in Bosa, as well. 
Jackson, meanwhile, signed to a five-year, $82.5 million contract with $40 million guaranteed — a relative steal compared to recent deals signed by Jalen Ramsey, Marlon Humphrey and Marshon Lattimore — to step in as Los Angeles' top cornerback. He offers the Chargers the flexibility to play more man coverage due to his ability to stick with No. 1 wide receivers, and he's shown throughout his career that targeting him doesn't end well. No cornerback has allowed a lower passer rating into their coverage than Jackson (45.7) since he entered the league in 2018. 
Those two players stand as significant upgrades over Los Angeles' in-house free-agent options at those positions (Uchenna Nwosu and Chris Harris Jr.), and they were made possible by Herbert's rookie deal. Nonetheless, they didn't address the Chargers' biggest area of need defensively. 
There weren't many more popular mock draft pairings than Georgia's mountain of a nose tackle, Jordan Davis, to Los Angeles at No. 17 overall. It's no mystery why that has been the case. The Chargers 31st-ranked run defense by expected points allowed (EPA) per play needed a spark. Staley and company are banking on Austin Johnson and, more importantly, Sebastian Joseph-Day to provide it. 
Joseph-Day, in addition to the obvious benefit of employing Aaron Donald, was a massive reason why the Rams had a top-five run defense in 2020 despite running more defensive snaps with six or fewer defenders in the box than every defense except the Denver Broncos. Joseph-Day's 30 run stops during the 2020 regular season ranked second among interior defensive linemen.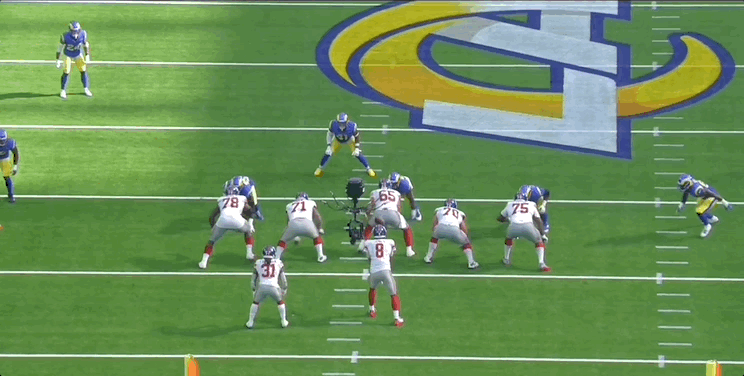 Those free-agent additions don't exclude the Chargers from adding Davis in the first round should he fall to their pick, but they give Los Angeles the freedom to go elsewhere if there's a better option on the board. Use free agency to fill needs and plug holes, and draft for value.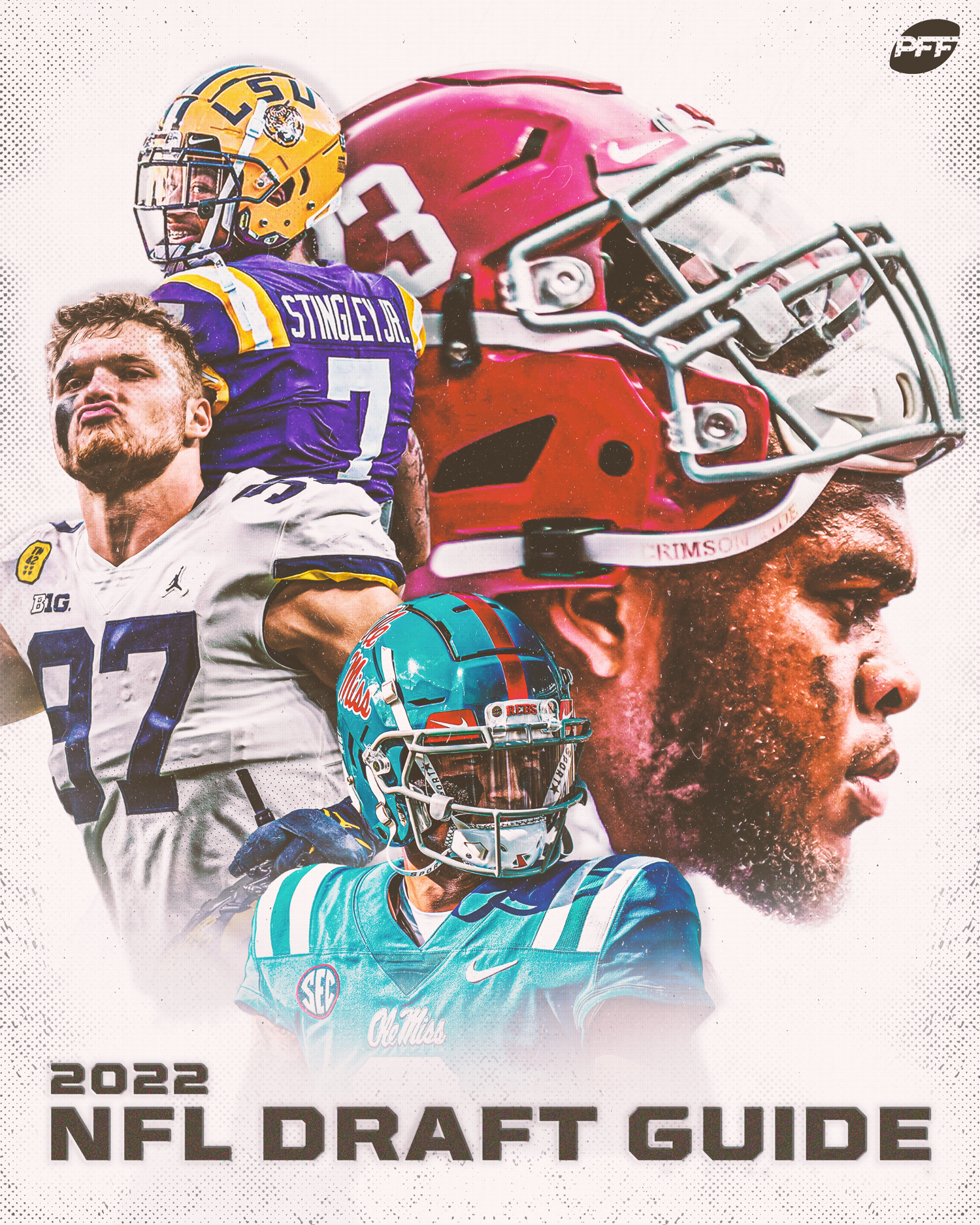 What still needs to be done for the Chargers to be Super Bowl contenders in 2022?
Even after all that praise, the Chargers still have just the third shortest odds to win their own division behind the Kansas City Chiefs and Denver Broncos, per DraftKings. That's the unfortunate reality that comes with residing in the most competitive division in the NFL. Los Angeles still has a reasonable shot at making it out of the AFC, as it has the fourth-best odds to win the conference (+800) behind the Buffalo Bills (+330), Chiefs (+400), and Broncos (+700). 
The Chargers aren't necessarily done adding to this team around Herbert. They still have over $10 million in effective cap space to go along with a (nearly) full assortment of draft picks, excluding the second-rounder sent back to Chicago in the Mack trade. 
The Chargers should prioritize adding a vertical threat at wide receiver such as Jameson Williams via the draft, competition at inside linebacker and additional defensive depth across the board. The right side of the offensive line could also be addressed, particularly if Bryan Bulaga ends up becoming a cap casualty. 
The road to a Lombardi Trophy is difficult. Kansas City has been the standard in the AFC since Patrick Mahomes took over as the starter in 2018. Denver filled its biggest roster hole with Russell Wilson and added a very difficult blocking assignment in Randy Gregory. Las Vegas projects as a comfortable fourth in the AFC West, but even they knocked the Chargers out of playoff contention just a few months ago. 
Despite the path in front of them, it's hard not to feel optimistic about this team's chances at contending for a Super Bowl in 2022. Most of that stems from Herbert developing into a superstar, but a lot of credit should also go to the Chargers front office for how they've built around their franchise quarterback.