Not a single down of football has been played since the Kansas City Chiefs hoisted the Lombardi Trophy 24 days ago, but the NFL still dominates the topic of conversation at this time of year thanks to the madness of free agency and the NFL Draft.
Most fans are eager to "build the trenches" this offseason, primarily due to the undeniable presence of flashy and productive edge defenders like Chase Young, who seems all but set to become the second overall pick of the 2020 NFL Draft, and Jadeveon Clowney, who's expected to cash in big as a free agent this offseason.
However, as enticing as some of the available pass-rushers are, PFF data studies have concluded that coverage, and therefore the secondary, is far more important than pass-rush.
With that in mind, let's take a look at some of the best secondary options available via the draft and free agency.
THE BLUE CHIPS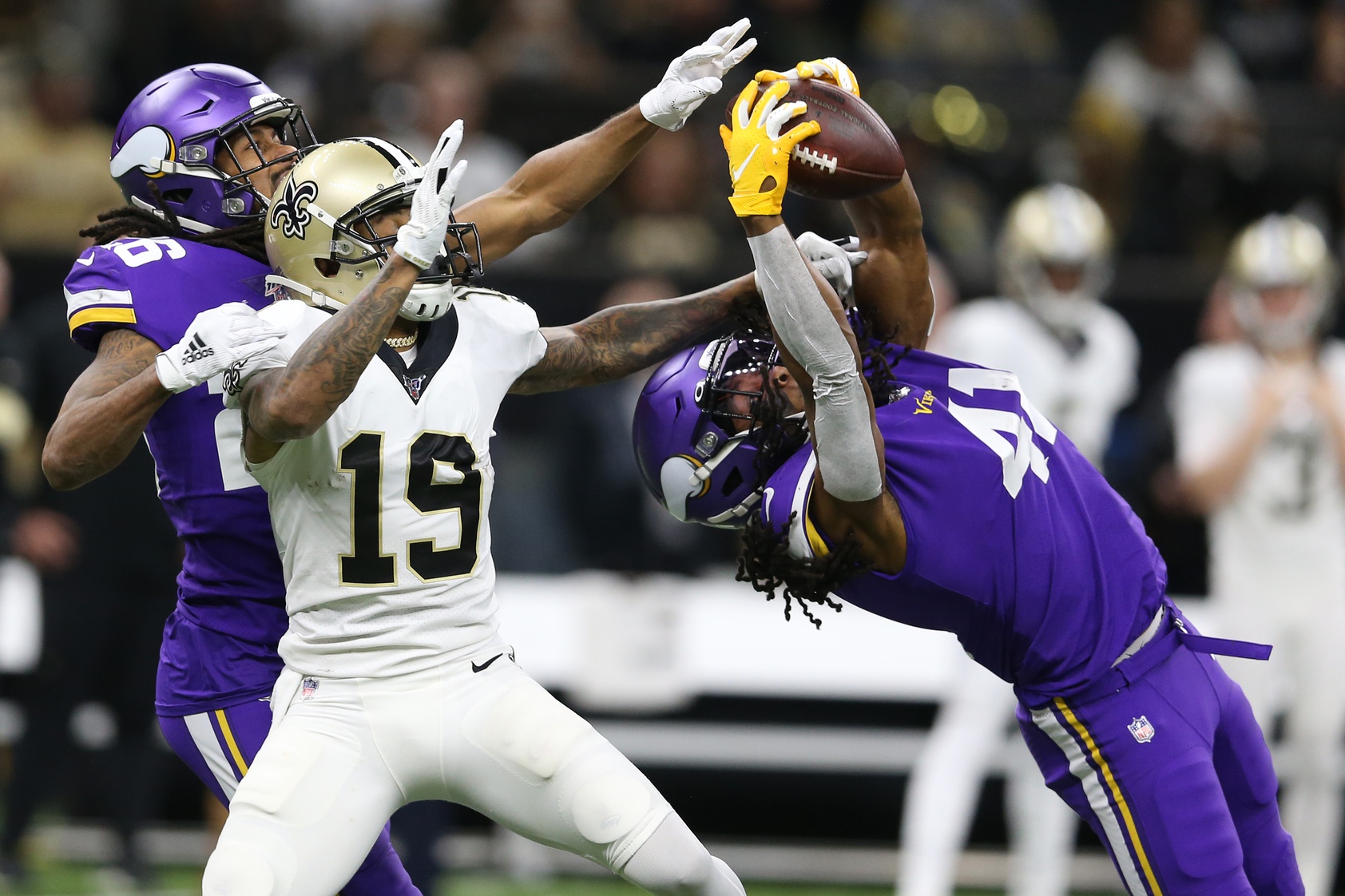 There hasn't been a better deep safety in the NFL over the last couple of seasons than Anthony Harris. He's played 980 coverage snaps in that span and was responsible for only 216 yards; he didn't allow a single touchdown, and he also added 17 combined pass breakups and interceptions. He isn't limited to only free safety, though, as he played over 41% of his snaps either in the box or in the slot in 2019, and he remained a high-level player at those alignments. PFF ranked Harris as the eighth-best available free agent, and given Minnesota's cap situation, it seems likely that he hits the open market.
Potential landing spots: Tampa Bay Buccaneers, Cleveland Browns, Washington Redskins
If you're in need of a great man-coverage corner, Jeff Okudah is your man. This past season, Okudah allowed just 0.49 yards per coverage snap when in press coverage, which was the second-lowest mark in the nation and well over a half yard lower than the FBS average. On 29 such targets, he allowed just four first downs and not a single explosive play, and he forced eight incompletions and tallied one interception. Among all Power-5 corners who played in at least 15 games over the last two years, Okudah is the only one not to allow any more than 50 yards in a single game. Those are lockdown numbers. It seems highly unlikely that Okudah escapes the top five in April, and he seems to be a perfect fit for the man-coverage-heavy Lions.
Potential landing spots: Detroit Lions, New York Giants
If you're a team in need of an outside corner who can consistently win in single coverage, Byron Jones is your man. After manning the safety position over his first three seasons, Jones moved to the outside in 2018 and has since blossomed into one of the five highest-graded players at the alignment.
Dallas' cap situation is far from ideal, especially when you consider the talent they're set to lose as impending free agents. They own over $77 million in open cap, but they have their three most valuable players from last year hitting the open market in Dak Prescott, Amari Cooper and Byron Jones, who combine for a projected salary of $69 million per year. One of the three will almost certainly be hitting the market, and Jones will likely be the odd man out, which bodes well for teams like the Raiders and Dolphins, who both need help at the outside cornerback position and won't be within reach of Okudah in the 2020 NFL Draft.
Potential landing spots: Las Vegas Raiders, Miami Dolphins 
Kristian Fulton is PFF's second-ranked cornerback in the class and a top-20 prospect overall. After playing just 13 snaps in his first two seasons, he was thrown into the starting role in 2018 and made an immediate impact. Over the last two years, Fulton strung together the second-best PFF coverage grade in college football, and he did it in the SEC, the nation's toughest conference.
He's been one of the best at the catch point over that stretch, posting a forced incompletion rate of 29% and allowing just 23.7% of his contested targets to be caught. There are questions about his speed and whether or not he'll be able to make up ground when needed, but he's still a top-tier option for teams this offseason.
Potential landing spots: New York Jets, Denver Broncos, Atlanta Falcons
After a one-year experiment playing exclusively outside corner, Chris Harris Jr. will almost certainly be finding a new team. Harris had the worst year of his career in 2019 from a PFF grading perspective, but he still managed to be among the 30 most valuable cornerbacks in the NFL, per PFF WAR. Throughout his career, Harris has allowed the fourth-fewest yards per coverage snap in the slot, and he's just one year removed from earning the NFL's third-best slot coverage grade.
Potential landing spots: Houston Texans, Cleveland Browns
Simmons' well-timed breakout year means that he'll almost certainly receive a hefty pay rise in 2020. After posting a 51.2 coverage grade in 2018, 85th of 91 qualifying safeties, Simmons came back in 2019 and earned a 91.1 coverage grade that ranked second among his peers to go with a second-ranked figure in terms of PFF WAR. Given that his breakout year coincided with Vic Fangio's first year in Denver, it seems likely that Simmons is brought back ahead of 2020.
Potential landing spots: Denver Broncos, Las Vegas Raiders
THE MIDDLE TIER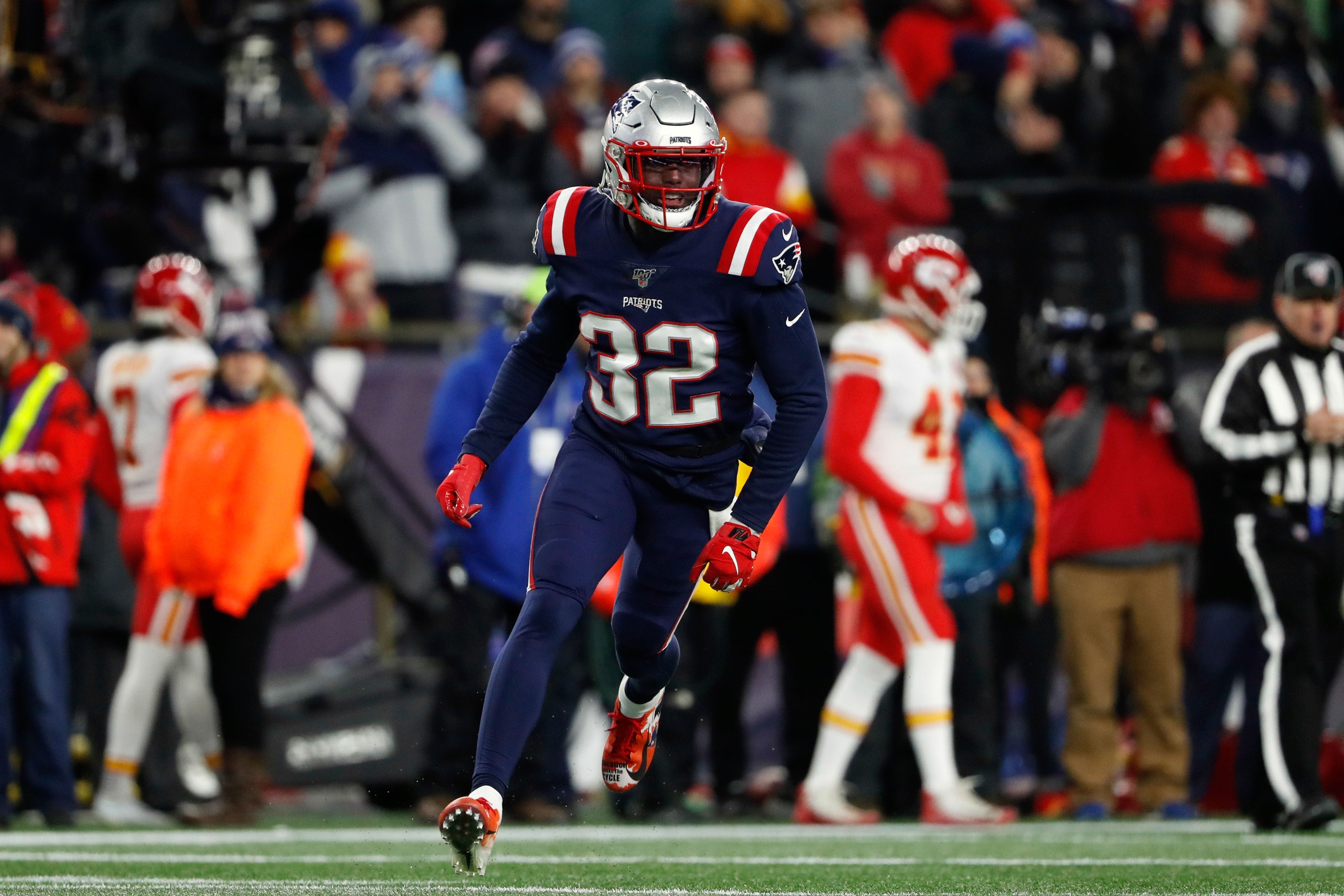 While playing in Bill Belichick's scheme, McCourty has consistently been one of the league's best safeties. Dating back to 2012, McCourty has recorded a top-12 or better PFF coverage grade in all but one season. Even though it was his age-32 season, McCourty still managed to have one of his best years in coverage by intercepting five passes and allowing just one touchdown in 2019. McCourty finds himself in the mid-tier category due to his age as well as the unknowns that will accompany him outside of the Patriots' scheme.
Potential landing spots: New England Patriots, New York Giants
Delpit is notorious for his tendency to miss tackles in open space — in his career at LSU, he missed 44 of his 225 tackling attempts. That being said, his coverage ability is easily the best in this safety class, as he routinely affects the catch point with his length. Rarely will he lose in tight coverage. In fact, over the course of his career, Delpit allowed just five first downs on tight-coverage targets while intercepting five passes and forcing 10 incompletions (he also dropped four interceptions). He won't be for every system, given his tackling woes, but those who can deal with it will be getting PFF's top-ranked safety.
Potential landing spots: Dallas Cowboys, Miami Dolphins
Like Okudah and Fulton, Diggs is an elite man-to-man corner who is seemingly a first-round lock. In 2019, he posted a 90.1 coverage grade in single coverage, the highest in the 2020 NFL Draft class. He allowed just a 22.6 passer rating on those reps and forced more combined interceptions and incompletions (28) than catches allowed (11). The questions with Diggs will be will centered around how he fares when playing off-man coverage. Regardless, he's a reliable option for teams in the back half of the first round.
Potential landing spots: Seattle Seahawks, Miami Dolphins
THE UNDERVALUED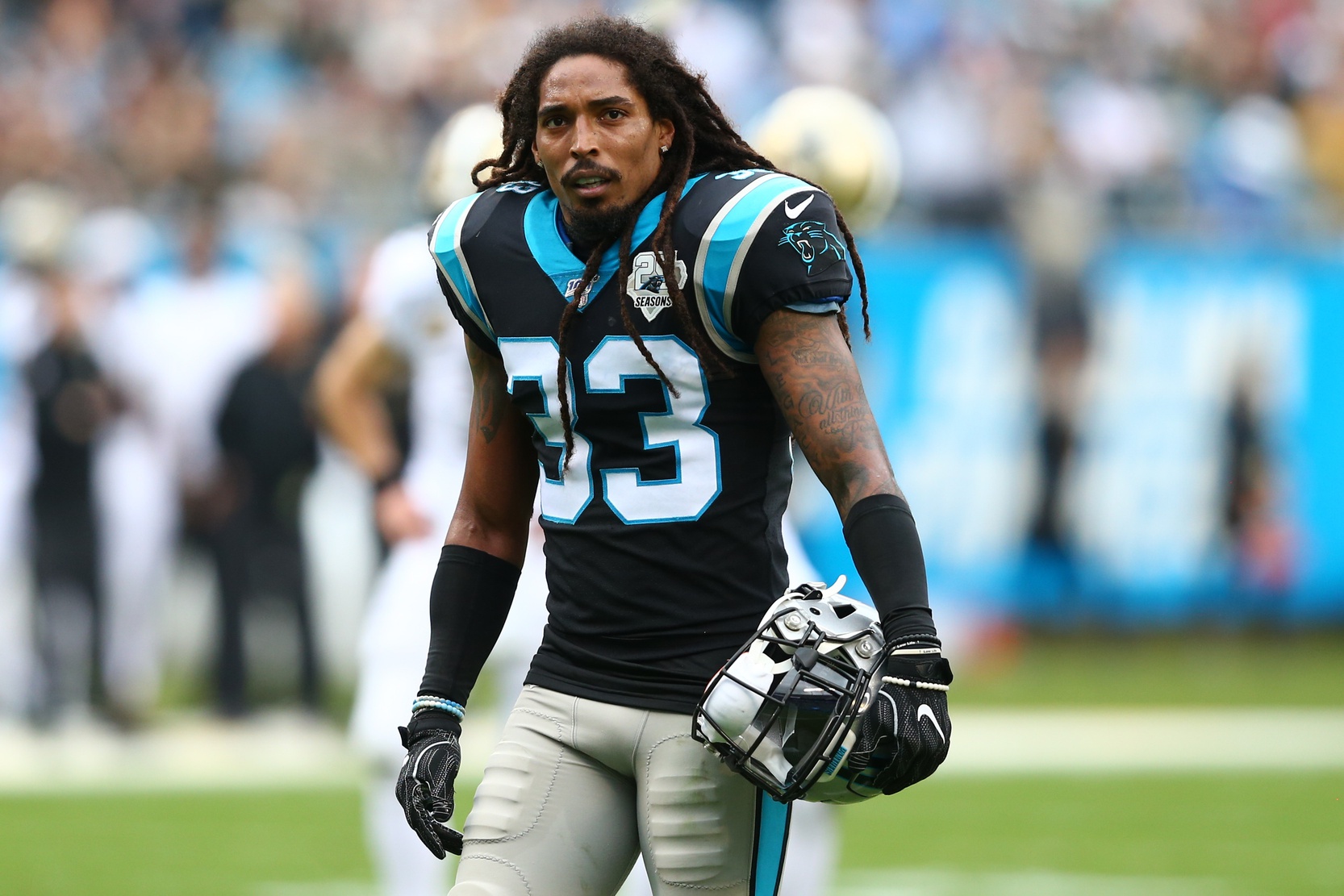 Boston has played for three different teams over the last three seasons, but he's still produced the best PFF coverage grade by a free safety over that stretch. How he continues to go unsigned long-term is beyond us, but teams in dire need of help at that position would do very well to call his number in the coming weeks, especially since he's projected to cost only $8 million per year. Since 2017, Boston has intercepted 10 passes when playing free safety, and he's forced another 14 incompletions. Oh, and he's allowed only 13 catches from 35 targets in primary coverage.
Potential landing spots: Carolina Panthers, Cleveland Browns, Philadelphia Eagles
Jaylon Johnson has been one of the Pac-12's top defensive backs over the last few years, but he really raised his draft stock with a great 2019 season. His 84.4 coverage grade in 2019 was the 12th-best mark among Power-5 cornerbacks. His aggressive style of play — which might hurt him early at the next level — saw him force tight coverage at an incredibly high rate. Johnson forced tight coverage on 69% of his targets, the sixth-best mark among qualifiers and 20 percentage points above the NCAA average.
Potential landing spots: Tennessee Titans, Minnesota Vikings
Clinton-Dix flew under the radar somewhat during his one-year stint with the Chicago Bears. He finished the season owning one of the 20 best PFF grades at his position and was one of the best in a single-high role, where he picked off a couple of passes and allowed just one first down. Clinton-Dix has been among the 25 most valuable safeties in each of the last two seasons and is one of the best options at the position on the open market.
Potential landing spots: Philadelphia Eagles, Chicago Bears
Fuller hasn't quite lived up to expectations over the last few years. After posting an elite 91.2 coverage grade in 2017, Fuller was traded to Kansas City and saw that grade fall to 70.8 in 2018 before earning a grade of just 66.3 playing a mix of box, slot corner and safety in 2019. While his 2018 season was nowhere near his 2017 in terms of sheer production, it was still clear that he was one of the best slot corners in the game. And while Fuller did step up big as a safety in the Chiefs' title run, he has been a much better slot defender over the course of his career, and a move back there could bring out the best in him once again.
Potential landing spots: Cincinnati Bengals, Tennessee Titans, Arizona Cardinals
Contract projection: N/A
It's likely that Dennard isn't going to command a big chunk of change this offseason, and that's good news for a number of teams, considering Dennard's play over recent years. Since 2017, Dennard has earned a three-year slot coverage grade that is among the 12 best in the NFL, and he has been among the 30 most valuable corners in two of the last three years. He's allowed very little downfield and was somewhat forgotten about as he lay stranded on a lowly Cincinnati Bengals team in 2019.
Potential landing spots: Cincinnati Bengals, Washington Redskins
There's a concern with his frame and how he'll handle NFL receivers, but the elite speed and ability to stay step for step with any college receiver he faced is too good to ignore. Over the last couple of seasons, Gladney has forced the second-most contested targets, and on those 46 targets, he allowed just 10 to be caught while forcing 27 incompletions.
Potential landing spots: Kansas City Chiefs, Cincinnati Bengals
Dantzler saw 96 targets over the course of his college career, and he allowed just 41 catches and only one touchdown while tallying 20 combined interceptions and pass breakups. In PFF's 2020 NFL Draft Guide, lead draft analyst Mike Renner stated that if Dantzler were to add 15 pounds of muscle, he'd likely be the second cornerback on our draft board. That's something to keep in mind for teams picking late in the first or early in the second.
Potential landing spots: Minnesota Vikings, Miami Dolphins
BUYER BEWARE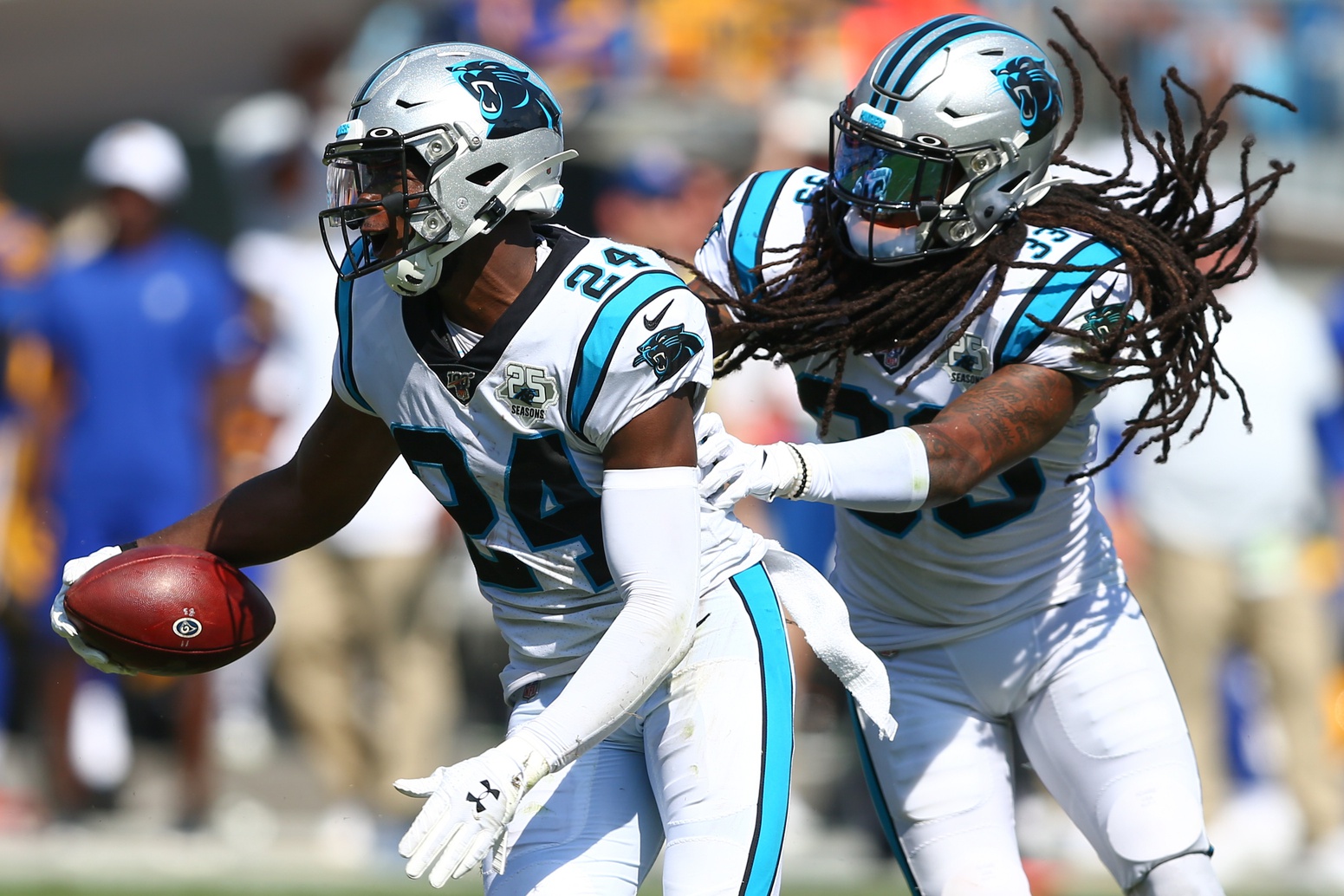 Considering the price tag that'll come with him, Bradberry is one of the biggest "buyer beware" free agents this year. Bradberry has failed to eclipse a 65.0 coverage grade in each of the last three seasons, and he was 62nd at his position in terms of PFF WAR last year. That kind of performance doesn't particularly deserve the projected contract.
First and foremost, Jimmie Ward had an exceptional 2019 season — he finished as the sixth-highest graded safety in the NFL and was also among the 10 most valuable players at the position. However, we must consider the supporting cast around him, as well as his previous seasons. No thanks to injury, he's played all of 3,472 snaps in six years, and he produced a coverage grade below 70.0 in all five of his seasons prior to 2019.
Holmes had one of the most disappointing seasons of this draft class, and it's taken a big hit on his stock — he was looking like a potential late first-round pick entering the year but now finds himself as a third-round prospect. Holmes earned a coverage grade of 61.8 in 2019; he allowed five touchdowns and made just a handful of plays on the ball. He has the athleticism that some teams will want to invest in, but you are only investing in potential at that point — which is the definition of a "buyer beware" prospect.