The Carolina Panthers and wide receiver Robby Anderson have agreed to terms on a new contract extension that will lock the veteran receiver up through the 2023 NFL season.
Anderson has reportedly signed a two-year $29.5 million contract with $20.5 million guaranteed, putting him around players such as Minnesota Vikings' Stefon Diggs and Green Bay Packers' Davante Adams in terms of per-year salary.
Sources: The #Panthers and WR Robby Anderson have agreed to terms on a 2-year, $29.5M extension to hand Anderson more guaranteed money and keep him in a Carolina uniform. He'll be eligible for a fourth contract at age 30. The former undrafted WR cashes in again.???? ???? ????

— Ian Rapoport (@RapSheet) August 24, 2021
Before both sides agreed to this deal, Anderson was playing on the back half of a two-year $20 million contract. Head coach Matt Rhule is now able to keep his former Temple star in Carolina for an additional two years following the 2021 NFL season.

Click here for more PFF tools:
PFF Betting Dashboard | PFF Fantasy projections | PFF Draft Kit 
PFF Fantasy Rankings  | NFL Premium Stats | Win totals tracker
---
Anderson enjoyed a career year in 2020, setting career highs in receiving yards (1,114), receptions (99) and PFF receiving grade (76.0).
The 6-foot-3, 190-pound wideout was mainly utilized as a deep threat before joining the Panthers, as evidenced by his 15.9 average depth of target (aDOT) from 2016 to 2019. This was the role that he was expected to play in Joe Brady's offense, but Anderson ended up playing the same role Justin Jefferson played during Brady's tenure with LSU. As a result, Anderson's aDOT dropped to 9.8 yards, and he lined up in the slot on 32.6% of his snaps, the highest rate of his career.
Anderson was one of the NFL's best wide receivers when it came to receptions in the short passing game (1-9 yards) last season. He was also one of the premier receivers after the catch, racking up the fifth-most yards after the catch among wideouts last year.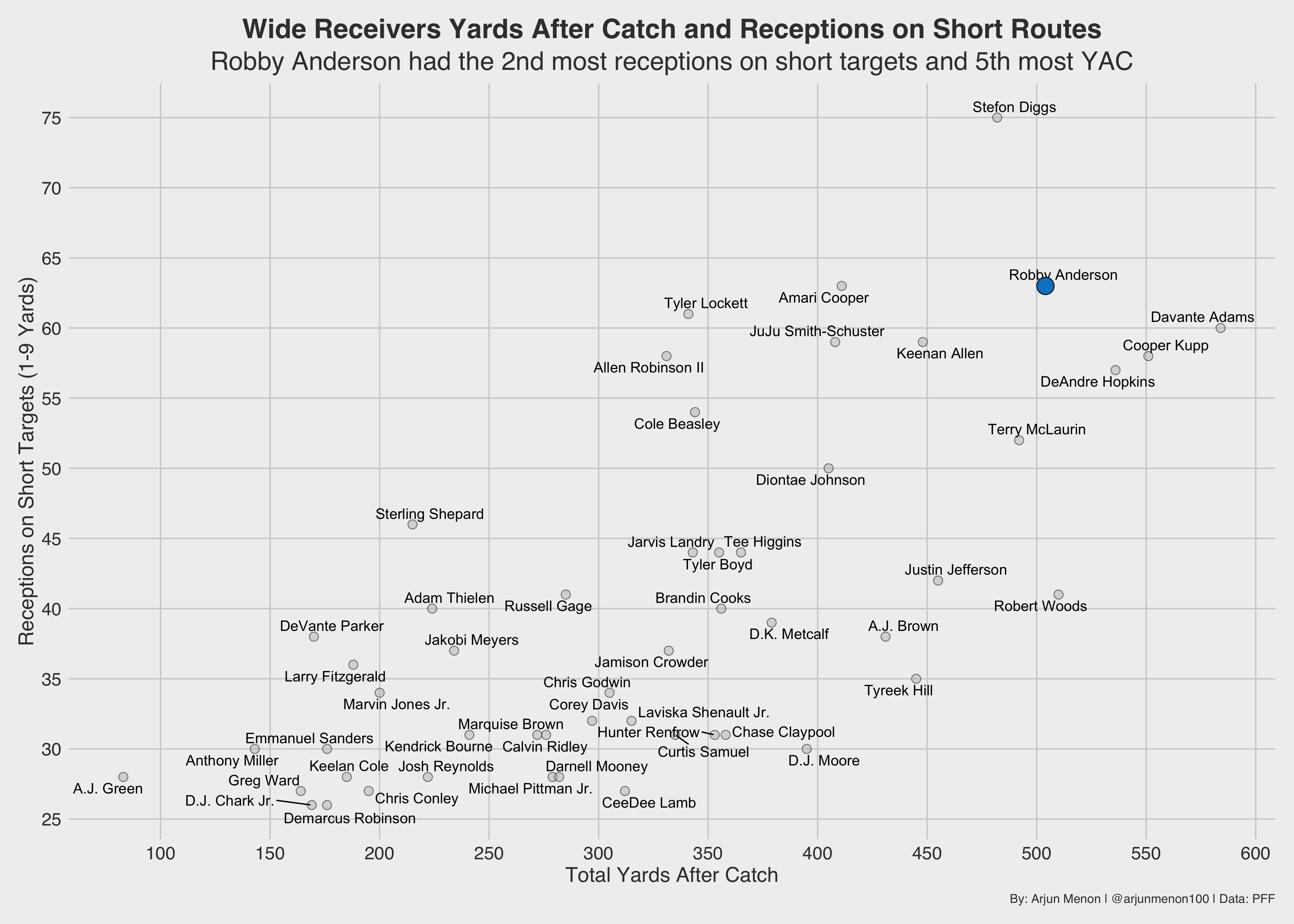 Panthers quarterback Sam Darnold now has the benefit of throwing to Anderson, D.J. Moore and Christian McCaffrey — a considerable step up from the receiving corps he was left to work with in New York. And based on how Anderson was used in 2020, it appears Darnold will be throwing to Anderson more often, and less so downfield.
The next step in the process is seeing what D.J. Moore will cost first-year general manager Scott Fitterer. Having already locked up Anderson for $14.5 million a year, it will be interesting to see whether he is willing to spend over $10 million for another receiver who has increased his receiving yardage total every year since he was drafted in 2018.
There are only four teams — the Cleveland Browns, Los Angeles Rams, Tampa Bay Buccaneers and Miami Dolphins — who have multiple receivers with an APY over $10 million.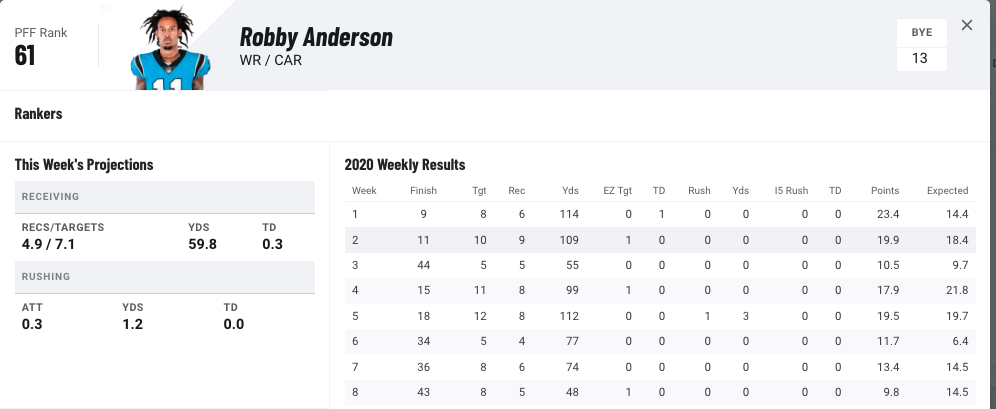 Moore is already eligible for an extension, but those extension talks will likely happen next offseason. Because the Panthers picked up Darnold's fifth-year option, they lose the advantage of a rookie quarterback contract when Moore's deal expires.
If they decide to pivot in another direction and draft a quarterback after Darnold's contract ends in 2023, they could potentially support two big receiver contracts, just as the Browns and Dolphins are able to do.
Outside of Moore, players such as Mike Williams, JuJu Smith-Schuster and Calvin Ridley could look to Anderson's deal as a negotiating point for future extensions. All three receivers have hit over 1,000 yards at some point in their career and could cash in next year if they produce in 2021.