The unveiling of the annual NFL Top 100 Players list, which is voted on by the players, has finally come to a close. As always, when it comes to rankings like this, there are snubs in addition to underrated and overrated players. 
Here is a look at some of the NFL's talents that fall into those categories and remember — just because PFF sees some as overrated on this list obviously does not mean that they aren't good at their job. Rather the hype needs to be tempered just a bit.
---
Click here for more PFF tools:
Fantasy Draft Kit | PFF Betting Dashboard | PFF Fantasy Rankings
PFF Fantasy Projections | NFL Premium Stats | Win Totals Tracker
---
Biggest Snubs
It's not a surprise to see Callahan out of the top 100. He's always been an under-the-radar talent because he had resided in the slot. That is until this past season when he played both inside and outside. He was one of the five highest-graded slot corners for Chicago in 2018 and 2019, went with Vic Fangio to Denver in 2019, missed that entire season with an injury then proceeded to be the third-highest-graded corner overall in 2020.
Smith has consistently been a difference-maker, as he processes the game at an extraordinary level, and it doesn't matter where he is at or what his job is on a given play. Over the last decade, he ranks top three among safeties in pressures generated (75), pass breakups plus interceptions (58) and tackles for loss or no gain against the run (47). Smith is also one of the five highest-graded safeties of the last decade when in the box, at free safety and when at corner whether it be inside or outside. Last season was Smith's second-lowest-graded season of his career and yet, he was one of the 10 most valuable players at the position. He might not be in his prime, but he still is a top-100 player entering the year.
Johnson is arguably the biggest snub on this list. He is capable of playing any role in any scheme. Johnson had the green dot (called the plays) for Brandon Staley's No. 1-ranked Los Angeles Rams defense in 2020, when he was the fifth-most valuable defensive player in the NFL, according to PFF WAR. That success has been a common theme for him when healthy. Johnson has recorded PFF grades above 80.0 in three of his four seasons, all of which ranked 11th or higher at the position. The one season he didn't was in 2019 when he was limited to only six games due to injury. 
Ramczyk's 90.8 overall grade in 2019 ranked first among tackles, but he took a small step back in 2020, as his grade dropped to 81.6. Still, since entering the league in 2017, Ramczyk has been the most valuable tackle by a substantial margin. He has generated 1.38 WAR in his four years, over four-tenths better than second place. Among every tackle since 2006 (when PFF began grading), only legendary Cleveland Brown Joe Thomas produced a higher PFF grade in his first four NFL seasons than Ramczyk.
Williams has established himself as one of the top cover safeties in the game since he entered the league as a second-round pick out of Utah in 2017. His PFF grade over the last four years is the fourth-best at the position and the total WAR Williams has accumulated in that span is also the fourth-most on the entire defensive side of the ball. There's a reason the Saints went out of their way to place the franchise tag on him this past offseason.

Most Underrated
Bates proved last season that he is one of the best free safeties in the NFL. He was the highest-graded player overall at the position (90.1). Bates was a true ballhawk on the back-end, notching 15 combined pass breakups and interceptions, which also led the position. For a safety who played almost exclusively at deep safety, that's bananas. There's an argument to be made that he could be in line to regress some in 2021 given the immense jump in play he had, but he still should have been higher than 90th.
Robinson still managed to generate a top-five PFF grade and PFF WAR total by a wide receiver in 2020 despite dealing with one of the worst quarterback situations in the NFL. He tied for the most contested catches (21) and posted a 1% drop rate that ranked third among receivers with 100-plus targets. Since joining the Bears in 2018, Robinson ranks fifth in drop rate (2.2%), first in contested catches (61) and sixth in WAR generated. He has made a killing adjusting to inaccurate balls and in contested scenarios all throughout his career. Robinson came in at No. 4 in PFF's latest wide receiver rankings, but the players didn't place him inside the top 10 at the position.
Martin was hindered by injuries for the first time in his seven-year NFL career in 2020. He played 618 snaps and only eight full games. Still, the Cowboys guard had the highest-graded season of his career. His 91.3 PFF grade beat out his previous career-best by a couple of grading points and also came in at No. 2 among all guards. That made it seven straight years — the entire span of his career — that he's finished inside the top five at the position in regular-season PFF grade.
Kittle was only able to play half a season in 2020. He had an uncharacteristic drop problem when on the field and wasn't the same kind of tackle breaker after the catch. Neither of those problems should have slid him out of the top 10, though. He still managed an 87.7 receiving grade and 2.84 yards per route run in his eight outings, ranking third and first respectively among qualifying tight ends. It's entirely fair to rank Travis Kelce — the NFL's most valuable tight end since 2018 — ahead of Kittle as the players did, but not placing him in the same stratosphere is questionable.
No corner earned a higher PFF grade last season than Alexander. He did laps around his counterparts when it came to single coverage performance. The only outside corners who have earned a higher coverage grade through their first three seasons in the NFL are Richard Sherman, Darrelle Revis and Jalen Ramsey. No. 41 is still good, but Alexander is a player who should be flirting with the top 10.
Nelson is the definition of nasty. He came in at No. 4 in the annual PFF50 this summer and has been one of the NFL's five most valuable offensive linemen over the last five seasons, according to PFF WAR. Keep in mind, he only played in three of those five seasons. He was the most valuable among the group in both the 2019 and 2020 seasons. The players did vote him the top offensive lineman in the league, but he's not just the best among that group, he's one of the best regardless of position.
Most Overrated
This has nothing to do with positional value, as it's more about Robinson being considered a top-10 running back and top-100 player overall. There is no doubt that the 2020 undrafted rookie far exceeded expectations, but it wasn't a "special" year by any means. He ranked 23rd in PFF grade, 14th in explosive run rate, tied for 30th in missed tackles forced per attempt and didn't even generate positive WAR.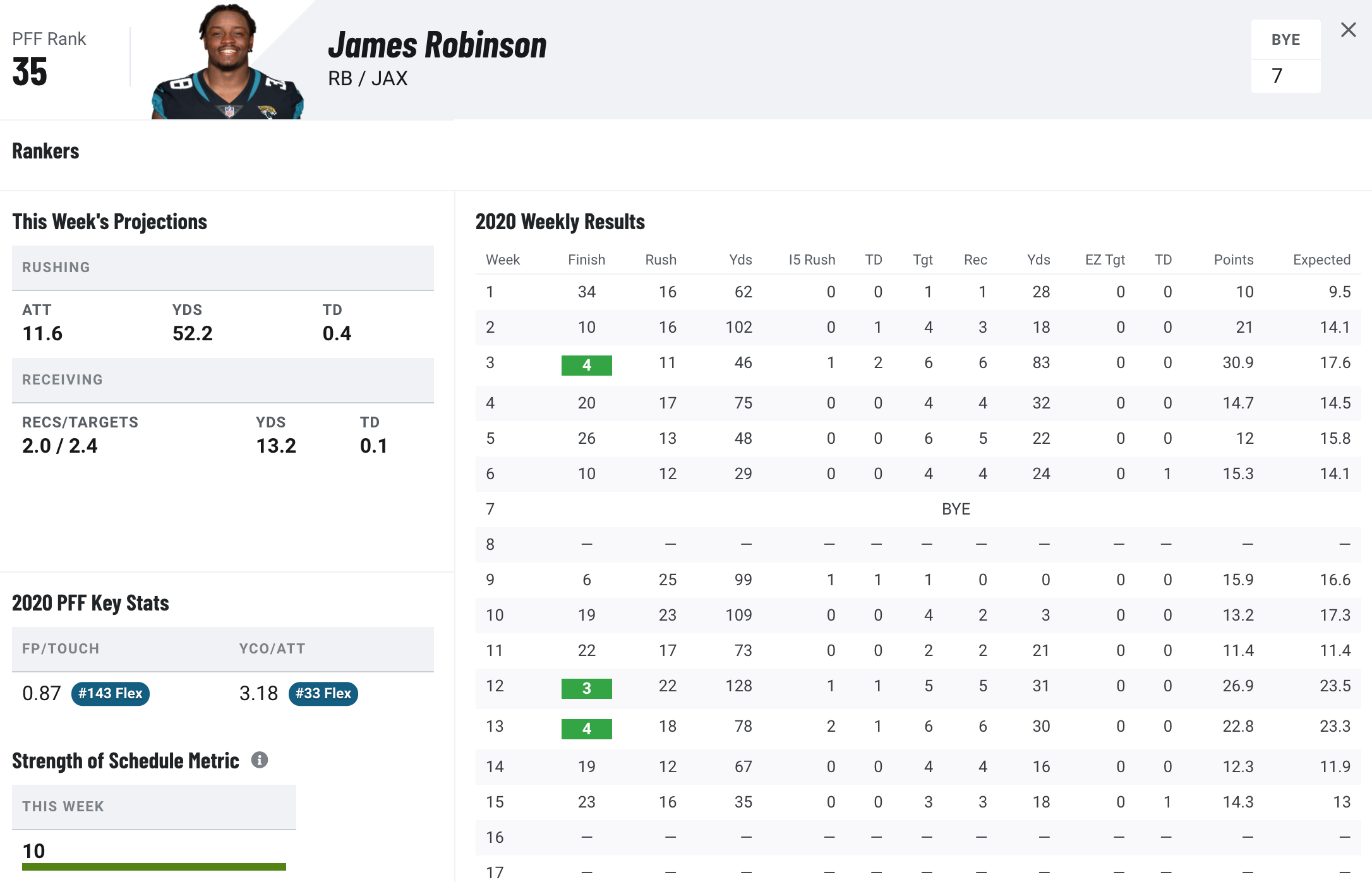 This ranking places Hockenson as the fourth-best tight end in the league in the players' eyes. While Hockenson made strides in his 2020 sophomore season, he didn't play at a top-100 level from start to finish. He finished ninth at the position in PFF grade (75.5) and tied for 12th in yards per route run generated (1.57). When lined up in the slot or out wide, Hockenson's play took an even steeper hit, as his 67.2 receiving grade fell short of the 50th percentile at the position and was double-digits lower than Kelce, Kittle and Darren Waller — the only other tight ends to make the top 100.
Hendrickson coming in at No. 73 isn't much of a surprise given the lofty sack total in 2020 that earned him a big pay day. He notched 14 sacks last year, the second-most at the position, behind only T.J. Watt; however, 11 of those sacks were in either a cleanup or unblocked situation, which is the most PFF has recorded in a single season over the last decade — hence why he ranked only 16th at the position in pass-rush grade.
The players voted Chubb the 40th-best player overall and a top-five edge defender in the NFL. Chubb is coming off a good season all things considered. A year removed from a torn ACL and having to deal with being "the guy" with Von Miller injured, Chubb went on to earn a 79.4 pass-rush grade in 2020, which ranked 13th at the position. His run defense and tackling, however, were on the poor end of the spectrum for the position, which is why he only ranked 22nd at the position in PFF's edge defender rankings entering 2021.
While Chubb came in at No. 22 in PFF's edge rankings, Pierre-Paul didn't even make the top-32 list. Yet, he was named the eighth-best player at the position and ranked well ahead of his teammate Shaquil Barrett (88th). Pierre-Paul only ranked 38th in PFF grade last season and generated a quarter of the amount of WAR that Barrett did.
White was voted as the NFL's third-best off-ball linebacker, even over his teammate Lavonte David (43rd). He is one of the most explosive players at the position and an elite blitz weapon, but there have been too many mistakes made to warrant such a ranking. White is coming off a Super Bowl run in which he earned a 38.3 run-defense and 49.6 coverage grade. He is a volatile player by nature. He ranked top 10 among linebackers when in the box in tackles for loss or no gain against the run, but also in the bottom 10 in negatively graded play rate. He had the fourth-most passing stops but also the third-most catches allowed over 10 yards downfield. That all being said, it wouldn't be a surprise to see him get to this level of play eventually given the physical skill set he has.