Before we get underway laying out the best and worst contracts currently on each NFL team's books, there are a few important things to consider. We are analyzing from the perspective of the franchise, so the "best" contracts are those where the team is getting great on-field value as compared to compensation. However, we're only looking at veteran contracts because all 32 teams have a rookie contract that provides tremendous surplus value. And that's not because they negotiated a great deal, even if they did make a great draft pick. 
Subscribe to
A bit more in the minutiae of looking at contract value is the difference between absolute value and relative value. For our purposes, an example of strong absolute value would be a contract that simply does not take up a lot of a team's salary cap, regardless of the player's position. Fullbacks are the league's lowest-paid position in terms of players at the top of the market, but if the best fullback in the NFL were on a deal for $1 million a year, then that would be a good absolute value.
If an elite quarterback was making $30 million per year, with where the market is at this point at quarterback, that's great value relative to the position market. Examples of both types of value are present in the article (for best and worst contracts).
Editor's note: Click here to see the best and worst NFL contracts for every AFC team
ARZ | ATL |  CAR | CHI |  | DAL | DET | GB | LAR | MIN |  NO |
NYG| PHI | SF | SEA | TB | WFT
Best: Edge Markus Golden — Two years, $5 million ($2.5 million total guaranteed)
J.J. Watt was one of the biggest free-agent signings of the entire offseason, but the value of the Markus Golden signing is undeniable.
Golden is the type of edge rusher PFF cautions against overvaluing. His 10 sacks in 2019 might have been tied for 14th among edge rushers, but his 59th-ranked pass-rush win percentage of 12.8% meant that they were misleading. But following a midseason trade back to the Cardinals in 2020, Golden was retained on a true bargain-bin contract.
During his time with the Giants, Golden was relied upon to be the top edge rusher. Now, he'll be the No. 3 option behind Chandler Jones and Watt (who may kick inside at times so the team can get all three on the field at once).
Three other edge rushers signed for $2.5 million this offseason, and none recorded more than 67 total pressures over the 2019-20 seasons. Markus Golden put up 119 pressures and led the group in pressure rate (14.5%) by a full four percentage points.
Worst: Edge Devon Kennard — Three years, $20 million ($4M in remaining guarantees)
On the other side of the coin, Kennard was brought in last offseason to bolster a lackluster edge defender group outside of Chandler Jones. Kennard, a Lions cap casualty entering the 2020 season coming off back-to-back seven-sack seasons, still commanded a respectable contract from the Cardinals.
The Lions smartly recognized that the sacks were misleading. Among the 50 edge rushers who put up at least 12 sacks over the 2018-19 seasons, Kennard was one of just two edge rushers who managed a PFF pass-rush grade below 60.0. The other was Vic Beasley Jr., who remains unsigned after a nightmarishly brief 2020 campaign with the Tennessee Titans. 
Best: T Jake Matthews — Five years, $72.5 million ($11.925 million in remaining guarantees)
If you're looking for another reason why the Falcons recently moved on from wide receiver Julio Jones, it's because the Falcons arguably have the fewest veteran contracts currently providing value to a franchise.
Interior defender Grady Jarrett and Jake Matthews are very good players at premium positions with some surplus value compared to their contracts, especially with the recent explosion of the left tackle market, but the list pretty much ends there.
Matthews has played 4,357 snaps over the last four seasons, the most of any tackle in the NFL. His 84.1 grade is eighth-best among all left tackles since 2017. You can't ask for much more from your blindside protector, and the former No. 6 overall pick of the 2014 draft still has three years remaining on his contract, with a total cash flow of $39.5 million.
The cap-strapped Atlanta Falcons restructured his contract this offseason to clear room, but an extension for the 29-year-old could be coming in the not-so-distant future.
Worst: Edge Dante Fowler Jr. — Three years, $45 million ($6 million in remaining guarantees)
Fowler agreed to revise his contract this offseason after signing for three years, $45 million during the 2020 offseason, turning the 2022 year into a void year and reducing his 2021 base salary by $7 million down to $6 million. His situation could have potentially served as a cautionary tale for the Rams with respect to edge defender Leonard Floyd, but Fowler's success alongside DI Aaron Donald in Los Angeles was unsurprisingly not replicated on a poor defensive line in Atlanta.
Fowler's 8.1% pressure percentage in 2020 tied for 119th among edge rushers with at least 25 pass-rush snaps.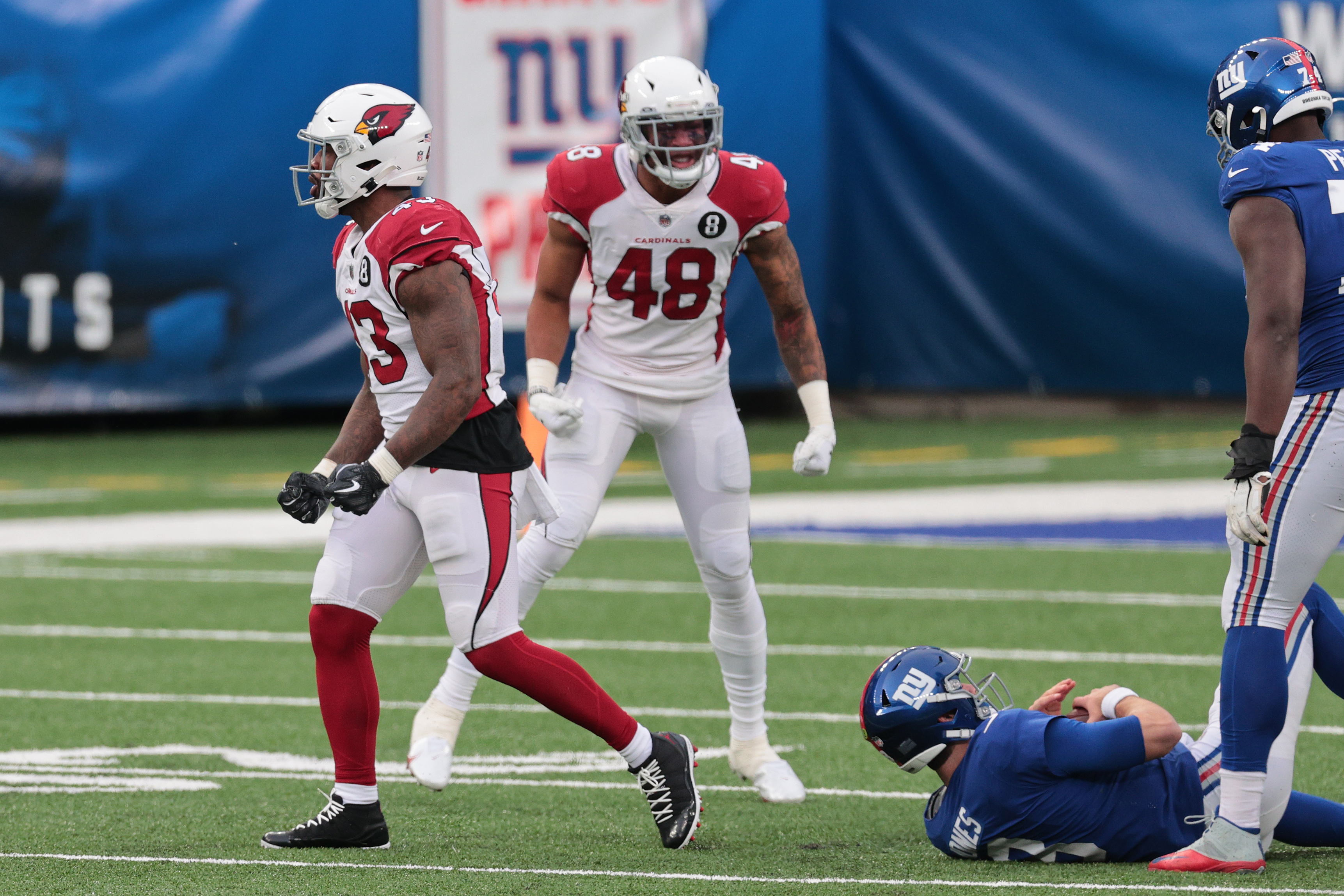 Best: Edge Haason Reddick — One year, $6 million (fully guaranteed)
Reddick finally made the full-time switch to edge rusher after Arizona experimented with him as an off-ball linebacker, and while the sample size is small, his 90.3 pass-rush grade from Week 10 to Week 17 was the top mark in the NFL over that period.
Reddick registered five sacks and a 97.1 pass-rush grade in Week 14 against the Giants and followed that up with a 10-pressure outing against Philadelphia. He now reunites with his college coach, Matt Rhule, in Carolina on a modest one-year flier to see if he can replicate an outstanding stretch of play. For a former first-round pick coming off a tear, this was great value for first-year general manager Scott Fitterer.
Worst: G Pat Elflein — Three years, $13.5 million ($6 million total guaranteed)
The Vikings were comfortable waiving Elflein in the middle of the 2020 season despite their guards combining for a dreadful 37.2 pass-blocking grade. Following the season, the position arguably most affected by the salary cap crunch was at guard — with players such as Kevin Zeitler, Andrew Norwell and Trai Turner either outright cut or approached for a pay cut  — yet Elflein got a solid contract immediately in the first wave of free agency. The move just seems like a bit of a panic signing for one an offensive line that ranks 31st in the league ahead of the 2021 season.
Elflein finished 2020 with a 30.5 pass-blocking grade, the fifth-worst among all guards who registered at least 100 snaps. He allowed pressure on 10.0% of his reps in pass protection, the fourth-worst among that same group of guards.
Best: DI Mario Edwards Jr. — Three years, $11.66 million ($5.5 million total guaranteed)
Edwards will miss the first two games in 2021 because of a suspension, but Chicago is clearly very high on the former second-rounder. The Bears let Roy Robertson-Harris walk, signing with Jacksonville on a strong three-year, $23.4 million deal, and even entertained the idea of trading/releasing Akiem Hicks. 
Edwards has been a rotational piece thus far in his career but is coming off his best season, putting up an 88.6 grade and a 12.1% pressure percentage that tied for 10th among interior defenders in 2020. 
Worst: TE Jimmy Graham — Two years, $16 million ($9 million guaranteed)
Graham was a cap casualty of the division rival Green Bay Packers after the 2019 season, with his 53.6 grade ranking 57th among tight ends with at least 100 snaps that year. The Chicago Bears inexplicably signed him to a top-of-market contract that included a no-trade clause as they continued their quest to rectify a position group that has given them headaches for years. 
While Graham delivered in the red zone to the tune of eight touchdowns in 2020, he played fewer than 35 snaps in every game from Week 10 on, including just 13 snaps in the playoff game against his former team, the New Orleans Saints. He caught a completely meaningless — albeit impressive — touchdown in the game's final seconds from the eventual NVP Mitchell Trubisky. Still, his continuing presence on the Bears roster while cornerback Kyle Fuller and tackle Charles Leno Jr. were cut for cap reasons is one of the biggest head-scratchers of the offseason.
Best: T Tyron Smith — Eight years, $97.6 million ($8.9 million in remaining guarantees)
The near-decade-long extension Smith signed back in 2014 has become quite possibly the most team-friendly non-quarterback contract of the decade. Injuries have slowed him down a bit, but at just 31 years old — which has become pretty youthful for the tackle position over recent years — he is still comfortably one of the league's best tackles when healthy.
His $12.2 million per year average is now over $10 million less annually than Trent Williams and David Bakhtiari, which is a crazy value, even if per-year averages aren't everything. Smith's 91.3 grade since signing the deal in 2014 is the sixth-best mark among all tackles over that span, two of whom don't play anymore (Joe Thomas, Joe Staley) and one of whom is now 40 years old (Andrew Whitworth).
At this point, rough estimates suggest that Dallas has saved in the neighborhood of $40-$50 million in cash compared to if Smith had signed a more common four- to six-year extension. 
Worst: LB Jaylon Smith — Five years, $63.75 million ($7.2 million in active guarantees, $9.2 million 2022 salary guarantee vests March 2022)
The downside of this contract now largely stems from the fact that there is an absolute logjam of players at the off-ball linebacker spot in Dallas, even though Smith, who was pegged as the starting WLB for 2020 before Leighton Vander-Esch got injured, may once again play more MLB if Leighton Vander-Esch cannot stay healthy for the duration of the season.
Dallas added safety-turned-linebacker Keanu Neal in free agency and then drafted Penn State's Micah Parsons and LSU's Jabril Cox. While all players present different skill sets, the point remains that there is likely someone that can give Dallas what Smith brings to the table at a greatly reduced price.
Best: T Taylor Decker — Four years, $59.65 million ($11.15 million in remaining guarantees)
The Lions selected left tackle Taylor Decker with the No. 16 overall pick of the 2016 Draft, three picks after Laremy Tunsil was taken by the Miami Dolphins and 10 picks after Ronnie Stanley was taken by the Baltimore Ravens.
Here is how the three stack up from their rookie seasons in 2016 through the 2019 season before signing their respective extensions:
| | | | | |
| --- | --- | --- | --- | --- |
| Player | Overall grade | Pass-block grade | Run-block grade | Pressure percentage |
| Ronnie Stanley | 84.3 | 89.0 | 72.4 | 4.4% |
| Laremy Tunsil | 72.2 | 85.0 | 63.0 | 4.9% |
| Taylor Decker | 78.5 | 82.0 | 65.9 | 6.3% |
Is it pretty much a consensus opinion that Stanley and Tunsil are more talented players? Sure. Are they $5 million-plus dollars per year better than Taylor Decker? Absolutely not.
Contracts are not as simple as that by any means, but the point remains.
Worst: OL Halapoulivaati Vaitai — Five years, $45 million ($9 million in remaining guarantees)
In the same season the Lions beat the Ravens to the table on Decker's extension, they also jumped the gun on Vaitai.
The veteran tackle was coming off his best season as a pro, having earned a 72.8 grade with the Philadelphia Eagles in 2019. He had logged roughly 400 snaps as the starting right tackle to close out the season following an injury to Lane Johnson. Detroit paid him like they projected him to be a top right tackle going forward (his $9 million per year average is still top-10 at the position). 
Nevertheless, he belongs at right guard, where he'll return following the draft selection of Penei Sewell. But that would make him tied for the fifth-highest-paid right guard in football on a multi-year deal, which is still above his on-field value. If Vaitai can play up to the level of his contract with the aforementioned Decker at left tackle, center Frank Ragnow now deservedly the highest-paid player at his position and two promising young players in Sewell and LG Jonah Jackson, the Lions may have one of the best offensive lines in the NFL the next few years.
Jared Goff and his $30.5 million in remaining guarantees could have easily been the winner here, as well, but considering Goff was traded effectively as a salary-dump move, this reality was understood by all parties involved.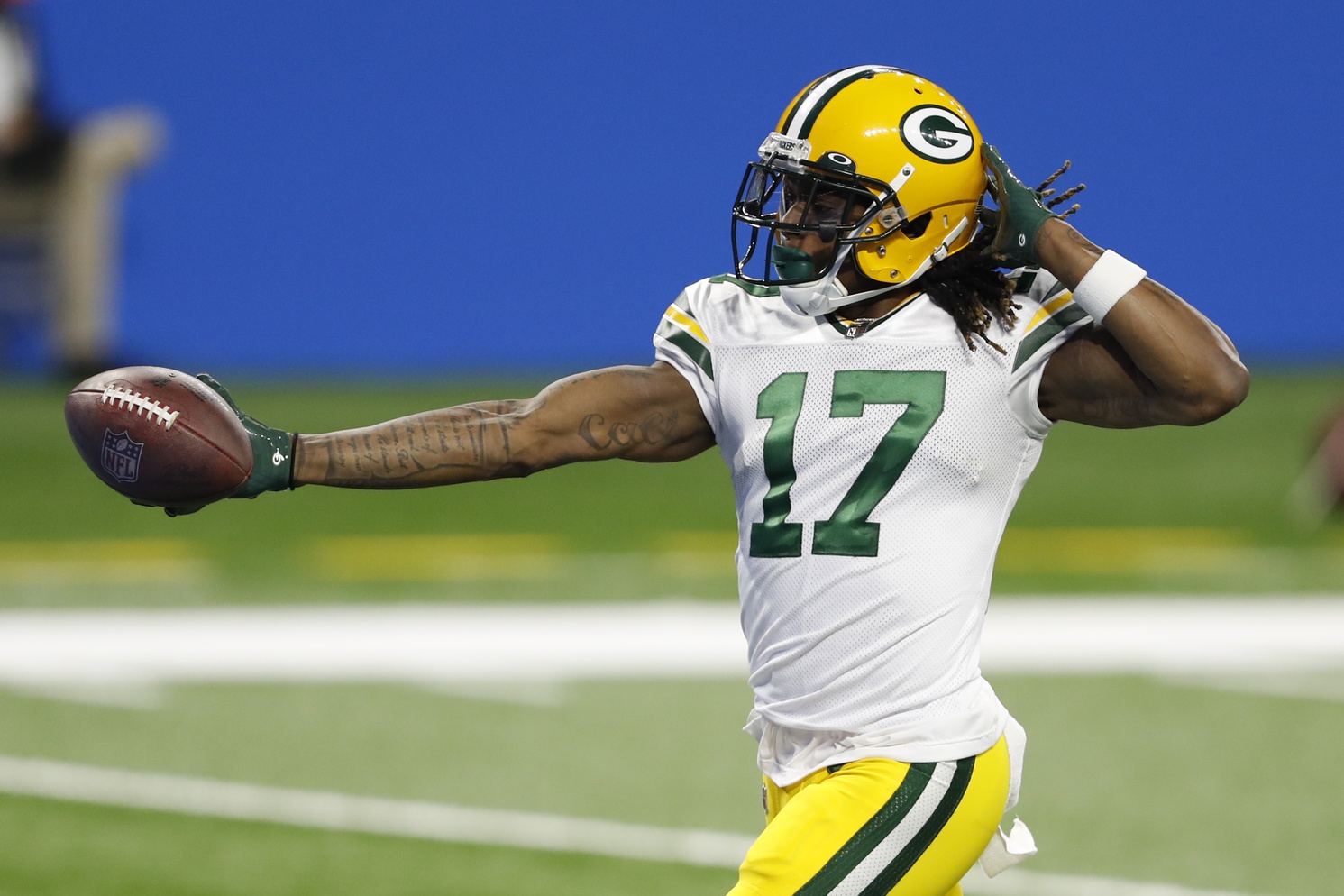 Best: WR Davante Adams — Four years, $58 million ($0 in remaining guarantees)
This recent quote from Davante Adams on showing up to camp without an extension must have been music to the Green Bay Packers front office's ears, especially considering the ongoing Aaron Rodgers saga. Nevertheless, Adams is more than deserving of a massive extension in the near future as he heads into the final year of his contract. A potential franchise tag in 2022 would be at least $20.145 million for Adams, and given that the Packers are already projected to be $34.5 million over the 2022 cap ceiling of $208.2 million, that may not be very feasible. 
Adams' 2020 season was nothing short of remarkable. His 2.96 yards per route run was a full third of a yard better than the second-best wide receiver. Adams has every right to demand an extension at least in the ballpark of DeAndre Hopkins' $27.5 million per year range, but for now, it appears he'll let his agent sort that out while he hopes to continue a dominant stretch, perhaps with a new quarterback in Jordan Love throwing him the ball in 2021. 
Worst: Edge Preston Smith — Four years, $52 million ($6.5 million in remaining guarantees)
Another contract listed here that has already been altered in order to keep Smith on the Packers' roster for 2021, this deal has not aged particularly well after a strong first season. Smith's 54.1 pass-rush grade in 2020 ranked tied for 127th among edge rushers with at least 100 pass-rush snaps, and only 148 such players existed. 
The reworked contract will almost certainly make Smith a free agent following the 2021 campaign, as he currently stands to have a $19.75 million 2022 cap hit. He'll likely leave Green Bay with $7.25 million in 2022 dead money.
Best: DI Aaron Donald — Six years, $135 million ($19.892 million in remaining guarantees)
Again, much like with the Patrick Mahomes analysis, this may seem crazy. Even though Donald does not play a position as important as quarterback, we're arguably witnessing the greatest defensive career of all time right at this very moment. He impacts opposing team's quarterbacks more than anyone: Since signing his record-breaking extension in 2018, Donald has 284 total pressures, 79 more than the next-highest player (T.J. Watt), and his 24.1% pass-rush win percentage is also tops in the NFL by 1.6 percentage points. 
Worst: Edge Leonard Floyd — Four years, $64 million ($32.5 million total guaranteed) 
Floyd's 2020 season was a textbook example of misleading sack numbers, as he actually had a lower pass-rush win percentage in 2020 (10.8%) than he did in 2018 or 2019 with the Chicago Bears (11.2% and 12%, respectively). Floyd put up 10.5 sacks in 2020 vs. seven total the prior two seasons, but odds are that number will regress back to the mean. At the end of the day, Floyd is a solid all-around player, adding value against the run and on the occasional coverage snap, but he got above average pass-rusher money, and he isn't that.
A 35-year-old DeSean Jackson, who has played in eight games the past two seasons combined, landing a one-year, $4.5 million deal will also likely not look all too great when the season is done. Jared Goff's $24.7 million in dead cap left behind was also a contender.
Best: Edge Danielle Hunter — Five years, $72 million ($8.9 million in remaining guarantees)
There's a reason Hunter waited to report to the Minnesota Vikings facility this offseason, even following a season-ending injury in 2020. It's this contract. Hunter and Stefon Diggs signed identical deals back in 2018, and both were extremely underpaid within a matter of snaps.
According to NFL Network's Ian Rapoport, the Vikings and Hunter struck an agreement on Monday that converted $5.6 million of Hunter's 2021 salary into a signing bonus, while also adding an $18 million roster bonus that becomes due on the fifth day of the 2022 league year next March. The roster bonus will effectively serve as a trigger date (read: ultimatum) for Minnesota to either give Hunter a new long-term extension or let him test free agency. Even following this update, Hunter's deal is still an incredible value, and the restructuring of his salary into a bonus appears to have enabled Minnesota to sign Sheldon Richardson in the process.
Minnesota's edge rushers ranked 29th as a collective unit in 2020 with a 57.2 cumulative grade, and they desperately need Hunter back in the fold. From 2018-19, Hunter's 154 pressures ranked first among players at the position.
Worst: LB Anthony Barr — Five years, $67.5 million ($10 million in remaining guarantees)
Yet another contract that has since been revised ahead of the 2021 season, with Barr now set to become a free agent after agreeing to a pay cut to stick around for one more year. Barr had reportedly agreed to terms with the New York Jets on a free-agent deal in the 2019 offseason, but just before the ink had dried, the Vikings swooped in at the eleventh hour to bring him back to Minnesota. They certainly regret that decision in hindsight and have now cut his deal short to get out from under it sooner.
Best: T Terron Armstead — Five years, $65 million ($10.567 million in remaining guarantees)
Both Armstead and right tackle Ryan Ramczyk are looking for big-time new deals heading into contract years in 2021, with it being a third NFL contract for Armstead as opposed to Ramczyk's first major payday.
Since Armstead signed his original extension in 2016, all he's done is earn PFF's third-best grade among left tackles with a 91.5 mark and a 91.7 pass-blocking grade that ranks fourth. He has a case for being one of the more underrated players of the last half-decade, as he's protected Drew Brees' blindside for the back nine of his career that saw him stand comfortably in the pocket, sometimes seemingly forever, before finding the open receiver. 
Armstead's 3.6% pressure percentage allowed since 2016 also ranks second among left tackles over the span. Whatever metric you want to look up, you'll find Armstead's name near the top. 
Worst: QB/RB/TE Taysom Hill — Two years, $21 million ($12.159 million in remaining guarantees)
This deal just wasn't necessary and continues to provide headaches in New Orleans. Whatever position you want to call Hill — and there are many to choose from — the cumulative value of all of them still doesn't add up to this contract. For starters, Hill was a restricted free agent when he signed this contract after the Saints placed a first-round tender on him, even though there was no chance any team was going to part ways with a second-round pick for the right to pay Taysom Hill. 
The other puzzling thing about this contract is that New Orleans has drafted two Taysom Hill types in consecutive years since it was signed, first trading up for Mississippi State quarterback Tommy Stevens in 2020 and then selecting Notre Dame quarterback Ian Book this past year.
Sean Payton is a certified genius who should go down as one of the greatest offensive minds in the history of the sport, but his obsession with quarterbacks that cannot throw is one of the stranger developments in recent years.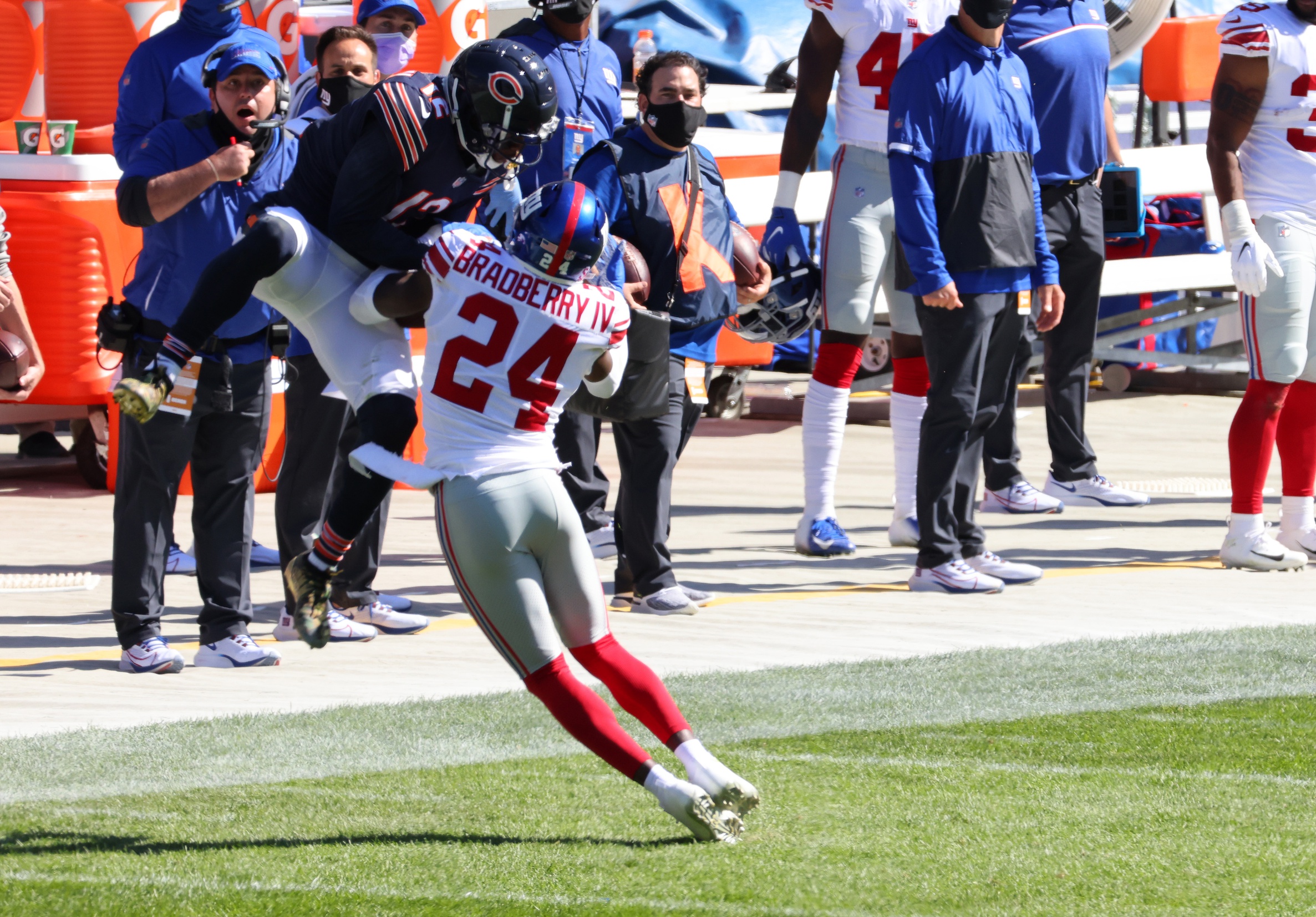 Best: CB James Bradberry — Three years, $43.5 million ($5.9 million in remaining guarantees)
General manager Dave Gettleman hit a much-needed home run last offseason by bringing Bradberry to the Big Apple after trading up for DeAndre Baker and releasing him shortly thereafter. Gettleman played a role in drafting Bradberry with the Carolina Panthers when he was the general manager, and he knew Bradberry still had a lot of high-level play in him. 
Bradberry earned the fifth-best PFF grade among all cornerbacks in 2020 with an 83.9 mark, and he led the NFL with 17 forced incompletions. His 21.8% forced incompletion rate was third-best among all cornerbacks with at least 10 targets.
Worst: K Graham Gano — Three years, $14 million ($6.5 million in remaining guarantees)
Gano was one of several street free-agent kickers who were brought in last offseason just days before training camp and went on to sign large extensions, with these clubs seemingly not understanding why they were street free agents in the first place.
The kicker position is extremely finicky year to year, and the 34-year-old Gano is no exception. He missed the entire 2019 season with an injury, and from 2017-18, his 91% extra-point percentage ranked 36th among 43 kickers with at least 10 extra-point attempts.
Gano had ties to Gettleman because of his time spent in Carolina, but the longtime GM got ahead of himself with the extension, making Gano the second-highest-paid kicker in the NFL in November of last season.
Every year we see a handful of these deals turn into mid-season cuts. We're not saying that will happen here, but the very real risk of that possibility should have precluded a top-of-market extension.
Best: S Anthony Harris — One year, $4 million (fully guaranteed)
Harris had a down 2020 season playing on the franchise tag, but the swing from a one-year, $11.441 million contract to a one-year, $4 million pact seems like an overreaction that Philadelphia capitalized on.
Over the 2018-19 seasons, Harris earned PFF's top grade among all safeties, at 91.6, with his 93.5 coverage grade also the best mark in the league. 
With the safety market experiencing a lull over the past few offseasons, it's not shocking he didn't sign a substantial multi-year deal like we originally predicted he might have, but a cheap one-year flier represents a robbery for a Philadelphia defense in dire need of safety help. 
Worst: K Jake Elliott — Five years, $20.15 million ($990K in active guarantees, $2.25 million 2022 salary guarantee vests in March of 2022)
We already discussed one NFC East kicker above, and the precautionary tale is likely served by Jake Elliott here. Philadelphia was extending anyone and everyone in their building as they looked to get back to Super Bowl form after 2017, and that included Jake Elliott. 
Among the extensive list of issues plaguing the Eagles' 2020 campaign, Elliott going 14-for-19 on field goals en route to a 40.5 kicking grade — good for 32nd out of 34 qualifying placekickers — was certainly not helpful. Philadelphia is cutting contracts left and right this offseason but would lose cap space via an Elliott release, so he'll have an opportunity to earn the organization's trust once more.
Best: CB Jason Verrett — One year, $5.5 million ($4.5 million total guaranteed)
Verrett played a career-high 803 snaps in 2020 and allowed a passer rating of just 76.3 as the NFL continues to throw the ball more and more. Because of Verrett's extensive injury history, his market is capped a bit, but this deal still represents a great value even after factoring that risk into the cost equation. Verrett finished top-25 among all cornerbacks with at least 100 snaps in both overall grade (76.7, 19th) and coverage grade (75.2, 25th). Now, coming off a fully healthy season for the first time in a long time, there's reason to believe he may only take his game up another notch. If he does, this contract will be a steal.
Worst: QB Jimmy Garoppolo — Five years, $137.5 million ($0 in remaining guarantees)
Following the blockbuster trade of the 2021 Draft, with San Francisco moving all the way up to the No. 3 overall pick from the No. 12 slot, it's surprising to many capologists that Garoppolo hasn't been approached for a pay cut.
The casual fan may look at San Francisco's $17.75 million in 2021 cap space — eighth-most in the NFL — and think the 49ers don't "need" to reduce Garoppolo's salary. That doesn't mean they won't, and the odds are that conversation is still looming this offseason if it hasn't already begun behind closed doors.
That's just not how it works, for several reasons. First, teams are not more or less willing to pay a player more than his perceived worth just because they do or don't have a lot of cap space at their exposal relative to the rest of the league. Look no further than the New York Jets, who just negotiated a pay cut with wide receiver Jamison Crowder even though they don't exactly have the deepest WR group and they had the third-most 2021 cap space. Secondly, the salary cap is a multi-year consideration, and every dollar that San Francisco saves in 2021 on Garoppolo's $24.1 million salary can be carried over into 2022. 
We know the 2022 salary cap has a ceiling of $208.2 million, so there isn't some massive explosion in the salary cap next year. Of course, San Francisco is aware of all of this, and they're also likely in the middle of negotiations with star Fred Warner, who will likely become one of the league's highest-paid off-ball linebackers. 
This deal makes the list for now, and certainly would remain on it barring a reworking of Garoppolo's contract, but we'd bet that happens before Week 1. Even if Trey Lance doesn't start Week 1, this is his football team now.
Best: DI Poona Ford — Two years, $12.345 million ($7.5 million total guaranteed)
Ford Ford tallied just nine total pressures in 2019 but more than tripled that number in 2020 to the tune of 28 pressures. Getting after the quarterback is not his game, but it's a welcome development for one of the league's stoutest young nose tackles. Ford has three straight seasons of 73.5 or better run-defense grades, and his ability to clog the interior enables Seattle's playmakers to operate in space.
Though Ford was a restricted free agent heading into 2021, this early extension is great value for Seattle, effectively serving as a one-year, $9 million extension for 2023 before the two sides return to the negotiating table in a better financial environment.
Worst: RB Rashaad Penny — Four years, $10.765 million ($580K remaining guarantees)
The Seahawks are top-heavy as currently constructed, with Russell Wilson, Bobby Wagner, Duane Brown and Tyler Lockett commanding top dollar and then a bunch of rookie contracts and low-end veteran deals filling out the rest of the roster. The final year of Penny's deal, while a rookie contract, represents the 11th-largest cap hit on the club's books.
Penny has yet to play 200 snaps in a season, with injuries plaguing him and then with Chris Carson squarely ahead of him on the depth chart. Anything he provides in his final year is just gravy at this point.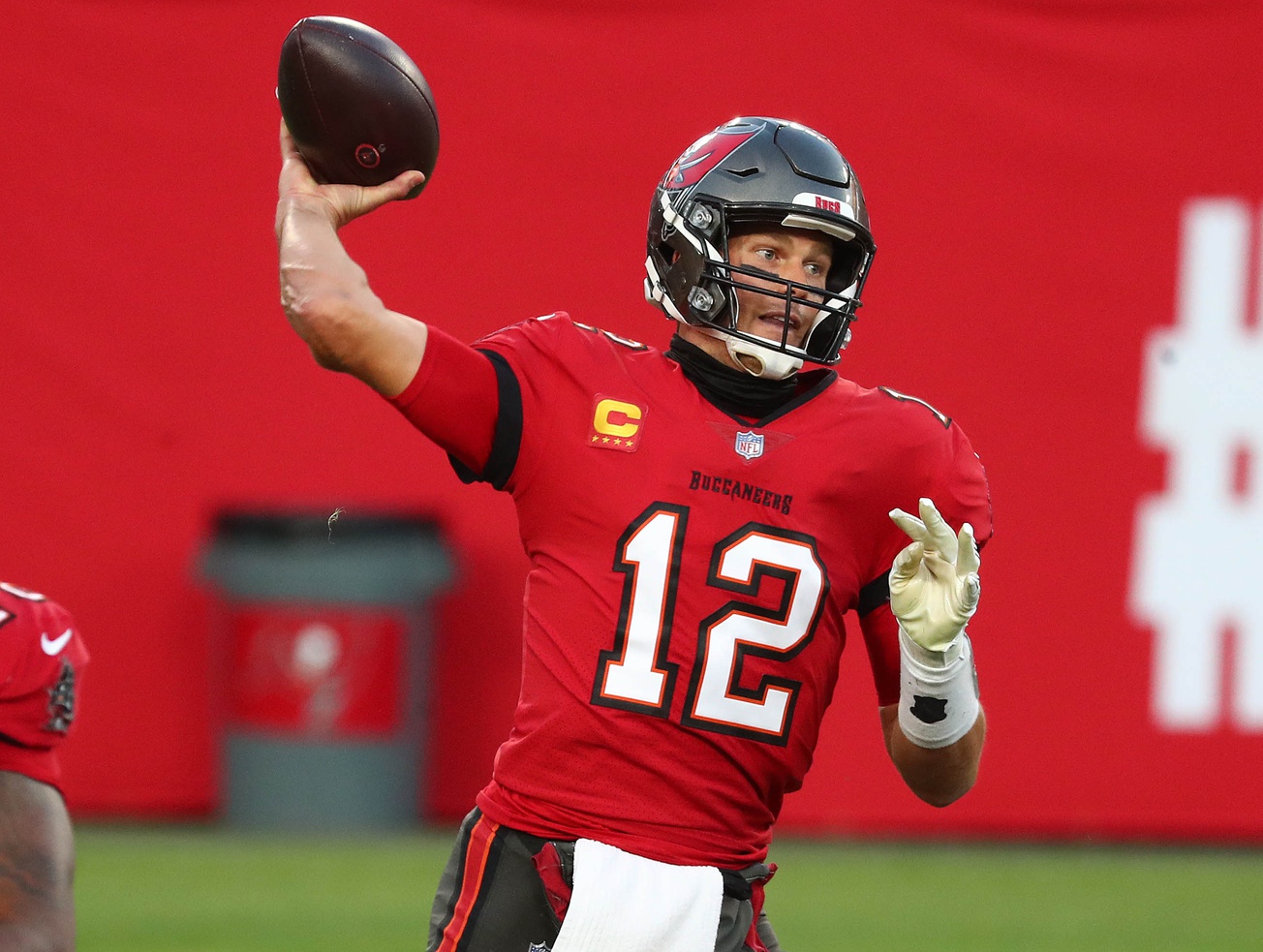 Best: QB Tom Brady — Two years, $50 million (fully guaranteed)
Brady is famous for a grocery list of things, and among them is his willingness to take team-friendly contracts for the benefit of his club. While this reality was a bit overblown during his tenure in New England — sure, he could've asked to become the highest-paid quarterback at any time, but he was still right up near the top in most seasons — he's definitely now providing solid value to the Buccaneers entering his age-44 season. 
Brady put up the fourth-most big-time-throws in 2020 with 40, and his 1.6% turnover-worthy-play percentage was the lowest among all quarterbacks with at least 100 attempts. He is undoubtedly still one of the best quarterbacks in the NFL and now finds himself earning the 14th-most in terms of per-year average. Odds are he may drop outside the top 15 with looming extensions for Baker Mayfield, Josh Allen and Lamar Jackson.
Worst: K Ryan Succop — Three years, $12 million ($6.25 million total guaranteed)
We had to pick someone here, as the Buccaneers' front office has done an excellent job in recent years of avoiding giving out bad contracts. Even while returning the entire Super Bowl roster from 2020, a potentially risky proposition, they managed to avoid overpaying anyone. We aren't necessarily suggesting Succop's deal is an overpay either, but perhaps they could've let someone leave Tampa in an effort to recoup some money. 
In their defense, when you consider the complete disaster that was the Roberto Aguayo trade and draft pick, followed by the smaller disaster that was the Matt Gay draft pick, locking up a kicker that didn't make them nervous every time he stepped on the field in 2020 is more reasonable. 
Best: CB Kendall Fuller — Four years, $40 million ($10 million in remaining guarantees)
Fuller was traded to the Kansas City Chiefs as a part of the package that brought Alex Smith to Washington, but the Football Team was wise to bring Fuller right back into the fold following his 2019 season. He is a man of many hats, and his versatility is a big component of his value. 
After starting his NFL career playing primarily in the slot, Kansas City started to experiment with him outside a bit and even had him log 100 playoff snaps in 2019 at free safety. 
Upon returning to Washington, he's assumed a role as an outside corner and performed admirably in his first season in a full-time capacity. Fuller's 72.9 grade at wide corner ranked 25th among all cornerbacks with at least 100 snaps on the outside. His 0.8 yards per coverage snap allowed ranked 12th, and his 7.1% interception rate per attempt into his coverage tied for fifth.
Worst: S Landon Collins — Six years, $84 million ($12.5 million in remaining guarantees)
Collins' enormous extension signed in 2019 didn't have a high probability of aging well in Washington, as his 78.4 coverage grade from 2017-18 ranked 35th among all safeties with at least 100 coverage snaps over the span. He's a solid box defender who isn't a liability in coverage by any means, but that's not the type of safety you pay top-of-market money to.
Brandon Scherff playing on an $18 million second consecutive franchise tag is also just a bad spot for Washington. They should've made Scherff the highest-paid guard in the NFL before Joe Thuney signed in Kansas City; now they may get beaten to market by Colts Quenton Nelson, who will undoubtedly push that market to even loftier heights.