Before we get underway laying out the best and worst contracts currently on each NFL team's books, there are a few important things to consider. We are analyzing from the perspective of the franchise, so the "best" contracts are those where the team is getting great on-field value as compared to compensation. We're only looking at veteran contracts, however, because all 32 teams have a rookie contract that provides tremendous surplus value. And that's not because they negotiated a great deal, even if they did make a great draft pick. 
Subscribe to
A bit more in the minutiae of looking at contract value is the difference between absolute value and relative value. For our purposes, an example of strong absolute value would be a contract that simply does not take up a lot of a team's salary cap, regardless of the player's position. Fullbacks are the league's lowest-paid position in terms of players at the top of the market, but if the best fullback in the NFL was on a deal for $1 million a year, then that would be a good absolute value.
If an elite quarterback was making $30 million per year, with where the market is at this point at quarterback, that's great value relative to the position market. Examples of both types of value are present in the article (for best and worst contracts).
BLT | BUF | CIN | CLE | DEN | HOU | IND | JAX
KC | LVR | LAC | MIA | NE | NYJ | PIT | TEN
Best: Guard Kevin Zeitler — Three years, $22.5 million ($16 million total guaranteed)
Baltimore has become known for moves like the Zeitler signing. The Ravens smartly added a quality offensive lineman who did not count against them in the compensatory pick equation following his release by the New York Giants. Zeitler's 72.4 grade over the 2019-20 seasons ranked 16th among all guards with at least 300 total snaps. While his above-average play didn't justify being one of the highest-paid guards in the NFL for the Giants, it's certainly worth $7.5 million per year over three years.
Worst: Safety Earl Thomas III — Four years, $55 million ($10 million in 2021 dead money)
On the other end of the spectrum, the Ravens generally try to avoid signings like the big splash they made for safety Earl Thomas, and there's no question that this move's outcome will only bolster the perceived efficacy of that approach. The end to Thomas' tenure in Baltimore was an unmitigated disaster, the ramifications of which are still negatively impacting the Ravens' salary cap.
There's a $10 million dead cap charge in 2021 for Earl Thomas as the grievance process over his release for conduct detrimental plays out, which represents the fifth-largest cap allocation on Baltimore's books for the upcoming season.
Best: Wide receiver Stefon Diggs — Five years, $72 million ($11 million in remaining guarantees)
This was perhaps the most difficult choice of any, as Bills general manager Brandon Beane has put on a master class in contract negotiations and the timing of his extensions. However, the Vikings did the exact same thing when they signed Stefon Diggs to his extension before the 2018 season, and he quickly became frustrated with his lack of pay, leading to the trade that put him in Buffalo.
The Bills have moved some money around to accommodate Diggs already. and surely extension talks have been broached, but until that deal is inked, he provides one of the best values in the NFL. Diggs' 36 plays of 15 or more yards in 2020 ranked second among wide receivers, his 20 forced missed tackles ranked second and his 2.51 yards per route run ranked sixth. He's a big play waiting to happen every time he steps on the field.
Signing cornerback Tre'Davious White before Jalen Ramsey and Marlon Humphrey, and left tackle Dion Dawkins before Ronnie Stanley were both immediate wins for the team. The list doesn't end there, either.
Worst: Edge defender Mario Addison — Three years, $30.45 million ($4.75 million in remaining guarantees)
The aforementioned Brandon Beane was the assistant general manager in Carolina before landing the top job in Buffalo, and he's certainly maintained his Rolodex from those days. While Beane hit a home run in bringing former Carolina Panthers tackle Daryl Williams back to Buffalo, the Mario Addison reunion hasn't been as successful. 
Addison agreed to revise his contract before the 2021 season, taking a $2 million pay cut after recording a 56.9 grade in 2020, his worst mark since 2014. Even still, with Addison bringing on a 2021 cap hit of over $8 million, Buffalo's first two 2021 draft picks (edge defenders Gregory Rousseau and Carlos Basham) will likely be vulturing his snaps as the season progresses.
Best: Tackle Riley Reiff — One year, $7.5 million ($5.5 million total guaranteed)
Reiff has been a model of consistency throughout his NFL career, with an admittedly limited ceiling but a respectably high floor as a blindside protector. He's graded out at 69.0 or better in all but one of his nine NFL seasons, earning 60.0-plus marks in both pass blocking and run blocking every season except for a 59.8 run-blocking mark in 2017.
Reiff had one year remaining on his deal in Minnesota, but the Vikings were presumably looking to work out a short extension to reduce his cap hit once more and keep him on board for the next few years. He opted for a fresh start elsewhere following a strong recruiting effort from quarterback Joe Burrow, and he'll slot in as the starting right tackle in Cincinnati opposite 2019 11th overall pick Jonah Williams. Part of the value here is that if Williams does get injured again in 2021, Reiff can slide right back to his more natural position. His addition also enabled Cincinnati to take the top wide receiver in the 2021 NFL Draft, a potential All-Pro talent in LSU wideout Ja'Marr Chase.
Worst: Cornerback Trae Waynes — Three years, $42 million ($2 million in remaining guarantees)
The Bengals for a very long time tended to sit out the first wave or two of free agency, waiting in the wings for some value additions once other clubs had expended much of their budget. Cincinnati departed from this approach last offseason, with Waynes being one of their major signings. Unfortunately, an injury knocked him out for the entire 2020 campaign, so he'll make his debut in a new uniform Week 1 of this year.
While Waynes is a very solid outside cornerback, earning grades of 63.4 or better in each of his five NFL seasons, he also has just one season in which he earned a 70.0-plus mark (2017). This deal felt a bit like paying a premium for a former No. 11 overall pick with prototypical size, and now it will be even harder to justify the price point.
Best: Safety John Johnson III — Three years, $33.75 million ($24 million total guaranteed)
Johnson's deal was easily one of the best signings of the 2020 offseason, as it was the only multi-year contract that received an "elite" grade in PFF's free agency grades. The value of this contract is tremendous both in an absolute sense — his average per year of $11.25 million would rank 22nd among wide receivers — but also relative to the safety market. Johnson's deal makes him the eighth-highest-paid safety in the NFL.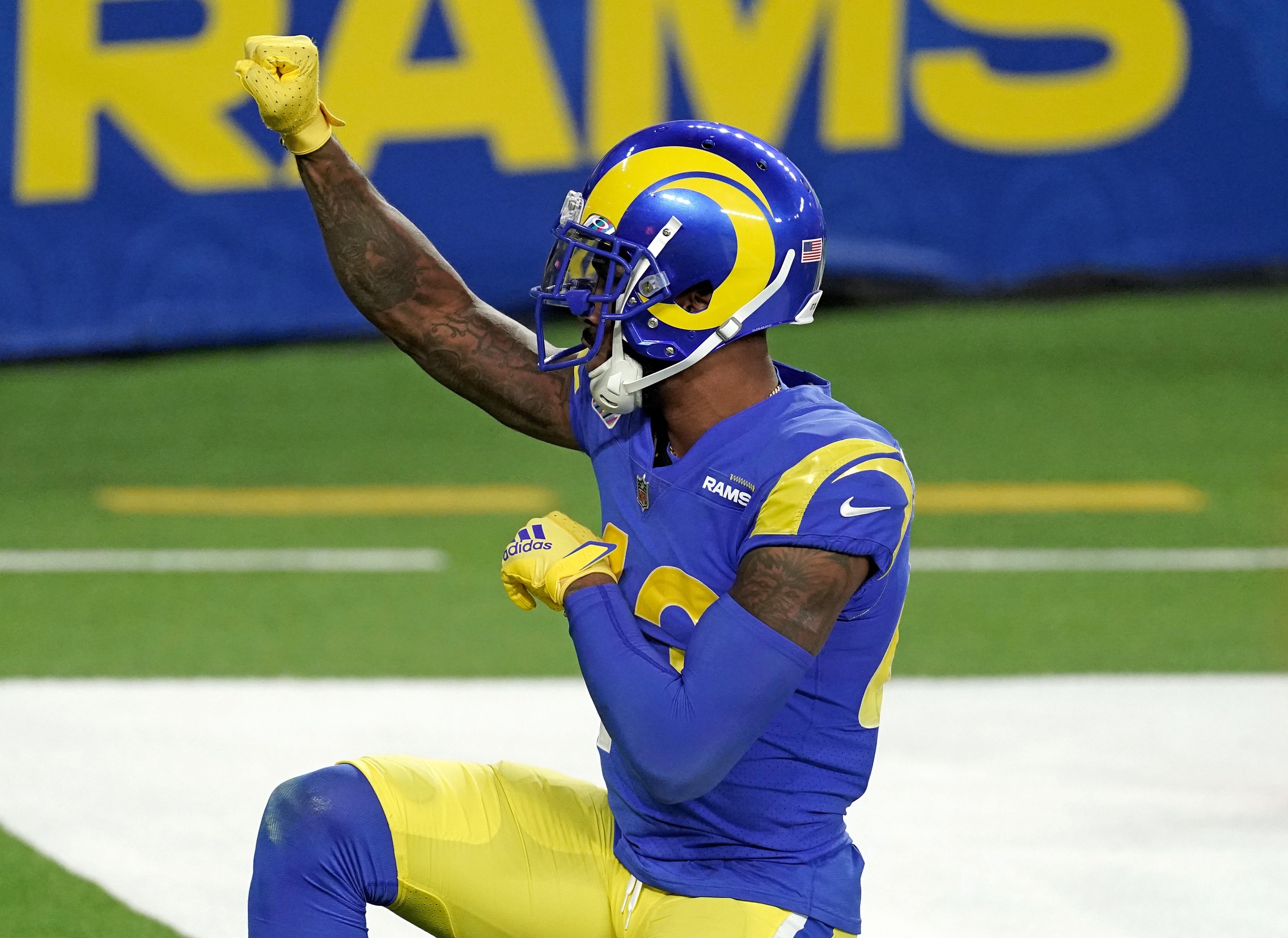 Johnson's 23 forced incompletions since entering the league in 2017 rank second among all safeties, and his seven interceptions lead the pack.
Worst: Tight end Austin Hooper — Four years, $42 million ($4.5 million in remaining guarantees)
Hooper's deal really isn't all that bad, especially on a team that runs two tight end sets so often. The reality is that new general manager Andrew Berry and company haven't handed out any bad deals so far in their short tenure. Nevertheless, the deal that briefly made Hooper the NFL's highest-paid tight end was probably more reflective of the high-octane passing attack that he came from in Atlanta as opposed to his individual pass-catching prowess.
This is an example of a deal that in an absolute sense is completely reasonable — $10.5 million per year isn't going to hamstring a team from doing much of anything — but can be viewed as subpar in a relative sense, even if Hooper got what the market dictated he deserved. His 70.1 grade in 2020 was good for just 27th among all tight ends who played at least 200 snaps. He benefited from reaching free agency at a time when available talent was scarce, and he was the top option at a thin position.
Best: Safety Kareem Jackson — One year, $5 million ($4.75 million in total guarantees)
The Broncos were able to convince Kareem Jackson to return after making him a cap casualty this offseason, a huge accomplishment considering he was PFF's sixth-highest-graded safety in 2020 (80.4 overall grade) and earned the sixth-best coverage grade (81.3). One aspect of the great value here is that Denver made fellow safety Justin Simmons the highest-paid player at the position in the NFL this offseason following a franchise-tagged campaign, so pairing that contract with the value of Jackson's goes a long way in efficient roster construction. 
The Broncos may very well have the best secondary in the NFL in 2021, and Jackson is the steadying veteran presence that could hold all the pieces together.
Worst: Running back Melvin Gordon III — Two years, $16 million ($4.5 million in remaining guarantees)
Gordon's tenure with the Los Angeles Chargers came to an anticlimactic end after he held out for the first few weeks of the 2019 season to no avail, clearing the way for Austin Ekeler to emerge as the top backfield option. The division rival Broncos then felt the need to bolster their running back room of Phillip Lindsay and Royce Freeman by bringing in Gordon, which promptly led to Lindsay requesting his release this offseason. 
Denver ultimately traded up in this year's draft to the No. 35 overall pick, leapfrogging the Miami Dolphins so they could snag North Carolina running back Javonte Williams. While PFF is very high on Williams as a pro prospect, he'll have to hit the ground running (literally) in 2021 to justify the trade up and early selection, much like Gordon did after the Chargers traded up to No. 15 to take him in 2015. Williams should be the No. 1 running back before the 2021 campaign ends, even if the Broncos' backfield operates as a true committee with Gordon.
Best: Wide receiver Brandin Cooks — Three years, $29.8 million ($0 in remaining guarantees)
In 2020, Brandin Cooks became just the second wide receiver in NFL history with a 1,000-yard receiving season for four different teams, joining Brandon Marshall. He continues to produce no matter the circumstances, and while he has dealt with injuries here and there, it never keeps him down for too long.
This contract is the remaining money from his five-year, $81 million pact signed with the Los Angeles Rams. Now operating as the clear No. 1 option in Houston following the departure of Will Fuller V, Cooks is a great value no matter who will be throwing him the ball in 2021 and beyond. New Texans general manager Nick Caserio was in New England when the Patriots sent a first-round pick to New Orleans to acquire the wide receiver, and Cooks played his lone season in Foxborough before being subsequently traded to Los Angeles. Perhaps this time he sticks around a bit longer as they try to rebuild the franchise.
Worst: Wide receiver Randall Cobb — Three years, $27 million ($8.25 million in remaining guarantees)
This deal made zero sense from a market perspective when it was signed, giving significant guarantees to a 30-year-old slot receiver who had failed to earn a 70.0 grade in any of his past five seasons. Cobb did in fact top that mark in 2020 over the 10 games he played in, but he had fewer than five receptions in seven of those outings and just isn't going to make an on-field impact worthy of this dollar amount before the deal is done.
Best: Slot cornerback Kenny Moore II – Four years, $33.3 million ($3.5 million in remaining guarantees)
PFF's No. 1 slot cornerback in the NFL heading into the 2021 season, Moore has been a star in Indianapolis the past three seasons, earning the second-best overall grade (87.8) and coverage grade (87.5) among slot cornerbacks. This is a prime example of a deal that provides exceptional value in an absolute sense. Even with Moore being one of the highest-paid pure slot corners in the NFL, his contract provides tremendous value at just $8.325 million per year, which ranks 23rd among all cornerbacks.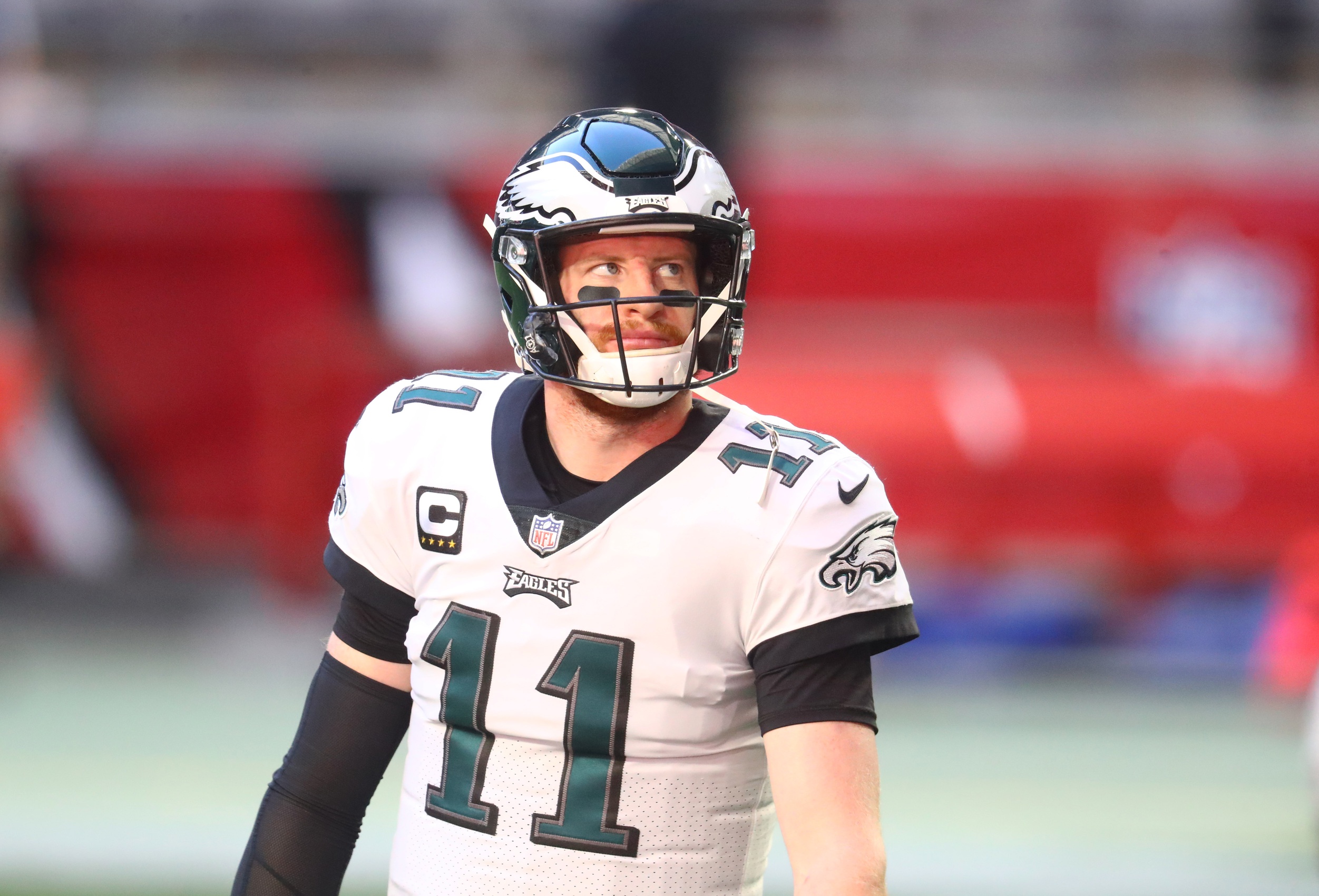 Worst: Quarterback Carson Wentz — Four years, $98.4 million ($35.4 million in active guarantees, $7 million remaining 2022 salary guarantee vests March 2022)
Wentz's $33.8 million in 2021 dead money left behind with the Eagles arguably makes him the worst contract for them too, but we'll stick with his current team for now. It's not Wentz's fault that the Eagles structured his extension the way they did, but nevertheless, the Indianapolis Colts still inherited quite a hefty deal in their own right.
No matter which metric you choose, Wentz was one of the league's worst signal-callers in 2020. His 24 turnover-worthy plays and 50 sacks taken were both the most in the NFL, and he was benched for the final four games of the season. A change of scenery will hopefully get him back on track, but if it doesn't, the Colts did the Eagles a huge favor here by absorbing the remaining years of this deal.
Best: Wide receiver Marvin Jones Jr. — Two years, $12.5 million ($9 million total guaranteed)
Jones was incredibly reliable in his stint with the Detroit Lions, earning PFF grades between 71.9 and 76.3 in all five seasons with the team on at least 500 offensive snaps each year. His 59.1% contested catch rate since 2018 ranks fourth among 32 wide receivers with at least 50 such targets over that span. After serving as a consistently reliable go-up-and-get-it receiver for quarterback Matthew Stafford, he'll look to do the same for 2021 No. 1 overall pick Trevor Lawrence in Jacksonville.
Jones also brings an important veteran presence to a wide receiver room led by D.J. Chark (24 years old) and Laviska Shenault Jr. (22).
Worst: Wide receiver/Cornerback/Special teamer Jamal Agnew — Three years, $14.25 million ($4 million total guaranteed)
While it remains to be seen if Agnew will once again be a backup wide receiver like he was in 2020 (after years serving as an end-of-depth-chart cornerback), his main contributions will likely be on special teams. Agnew ranks fourth in punt return grade (79.2) since he came into the league in 2017 and ninth in kick return grade (69.4) among qualifiers. However, $4.75 million per year is a rather hefty sum for an above-average return man, especially considering the initial reports of the deal from NFL Network's Mike Garafolo characterized the incentives that could push the value to $21 million in total as "reachable." 
That said, the guarantees are not particularly substantial. The choice here for the Jaguars could have been a number of players, as they seemed to pay a bit more than they probably needed to for a handful of 2021 free agents, including safety Rayshawn Jenkins, among others.
Best: Quarterback Patrick Mahomes — 10 years, $450 million ($141 million total guaranteed at signing, rolling guarantee structure)
It may come as a bit of a surprise to see the largest contract in NFL history listed as the best value deal for the Kansas City Chiefs, but it's frankly not even close. To get 10 years of cost control on your franchise quarterback — a player who already looks to be one of the best to ever do it — provides a value that is hard to express a blurb. 
Each offseason, much like they did this past offseason, the Chiefs can lump sum money into a signing bonus and clear the necessary cap space to make moves. This year, it was signing guard Joe Thuney to the richest deal for the position in NFL history. The flexibility and certainty provided with this mega-contract will lead to more restful nights among Kansas City front office staff than any other contract for a very long time.
Worst: Edge defender Frank Clark — Five years, $104 million ($18.5 million in remaining guarantees)
Trading for Clark in addition to handing him this humongous extension makes the contract even more of a flop, with his $20.8 million per year average ranking fifth among edge rushers. Clark's 59.6 pass-rush grade since signing the deal in 2019 ranks 117th among edge rushers with at least 100 pass-rush snaps. The other four edge rushers making at least $20 million per year over that same span?
Best: Wide receiver John Brown — One year, $3.75 million ($3.24 million total guaranteed)
The Las Vegas Raiders used wide receiver Nelson Agholor in a capacity we've become accustomed to seeing Brown deployed in, stretching the defense on deep routes while occasionally attacking the intermediate parts of the field once defenders start giving him a nice cushion. While the Raiders let Agholor sign with New England — a deal that almost landed him on this list — they smartly waited for the Bills to part ways with Brown and landed him for great value.
Brown produced 41 explosive plays from 2019-20, good for 29th among wide receivers. 
Worst: Running back Kenyan Drake — Two years, $11 million ($8.5 million total guaranteed)
This deal was arguably the worst contract given out this offseason, as it just demonstrated no examination of the market. The Raiders get plenty of flack during the draft when they take players way before consensus, and the same principle manifested with this deal. We touched on the theme of absolute value versus relative value throughout this piece, and the overarching point that smart teams understand is simple: You're trying to beat 31 other clubs at roster construction, not the prior-year version of your own roster.
Drake played the 2020 season on the transition tag and finished with a 60.9 overall PFF grade, the lowest mark of his career. At 4.0 yards per carry, he was a full half yard lower than any other season of his career and backup running back Chase Edmonds. Edmonds looked like a better player for much of the season, but Las Vegas still signed Drake to the second-biggest running back contract of the offseason, giving him even more than Seattle's Chris Carson. Their line about using him as a wide receiver isn't a good thing. If anything, it's further bad news considering they have a dearth of slot receiver types already who should be better than a running back.
Best: Offensive lineman Matt Feiler — Three years, $21 million ($13 million total guaranteed)
New Chargers center Corey Linsley and first-round tackle Rashawn Slater were the flashy additions that many will point to when discussing the dramatically improved Los Angeles Chargers offensive line, but Matt Feiler was a big addition in his own right. Feiler has extensive starting experience with the Pittsburgh Steelers at both right tackle and left guard, logging 900 snaps at each spot the past two seasons and earning a 75.9 grade in 2019 followed by a 65.0 grade in 2020.
While Feiler likely projects as the starting left guard for now, Chargers right tackle Bryan Bulaga missed six games in 2020, and if he were to go down again, Feiler would be right there to fill in. These types of moves are how an offensive line truly goes from one of the league's worst to an above-average unit — not just bringing in one or two big names.
Worst: Wide receiver Mike Williams — One year, $15.68 million (fully guaranteed)
This was a tough call, as Williams' fifth-year option isn't a terrible value at $15.68 million, but it represents a difficult crossroads in Los Angeles where there's little upside.
Williams is probably too good to have been released before this option became fully guaranteed this offseason, especially considering the Chargers' lack of depth at wide receiver, but he's also not played up to his No. 7 overall pick billing in order to justify an extension. Williams has never had 50 receptions in a season, and while his game is more feast or famine strategy with acrobatic diving catches using his exceptional athleticism, it'd still be nice to see both quality and quantity. 
That leaves Los Angeles to let Williams play on a really big single-year salary in 2021. And if he has a breakout 2021 campaign, he'll command top dollar. Top dollar this past offseason at wide receiver was significantly cut back compared to prior offseasons, with Kenny Golladay the only free agent to sign a multi-year deal for more than $12.5 million. Williams may now have perfect timing to cash in on a much stronger market, and the Chargers may have no choice but to give in to keep him around for quarterback Justin Herbert.
Best: Wide receiver Will Fuller V — One year, $10 million (fully guaranteed)
Fuller does have to sit on the sideline for one game to start the 2021 season following a six-game PED suspension at the end of 2020, but if the Dolphins felt comfortable with everything from that perspective, then this is a slam-dunk signing.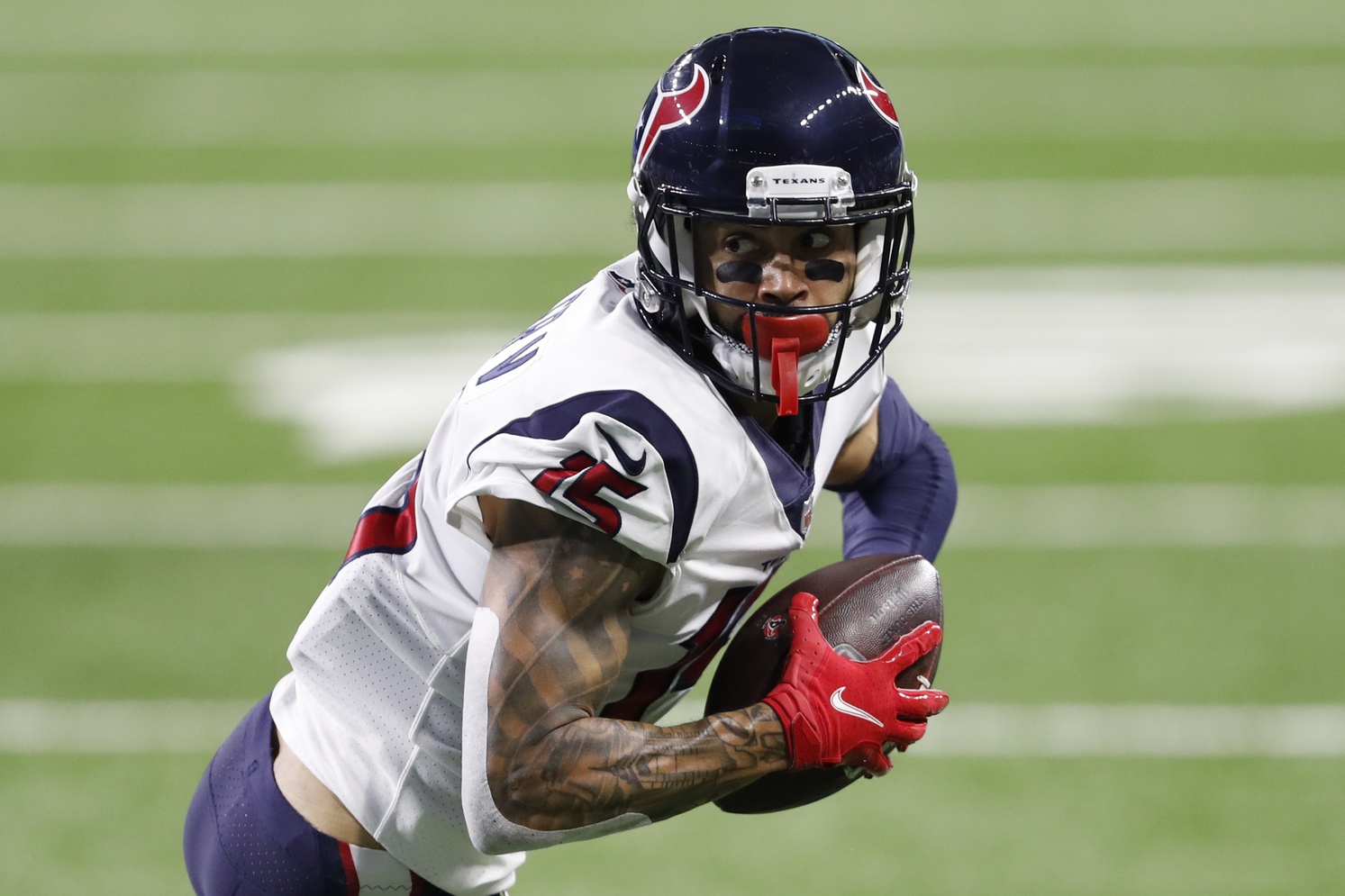 The 2016 first-rounder stepped up as the WR1 in Houston following the departure of DeAndre Hopkins, with his 21 explosive plays through Week 12 ranking tied for ninth among all wide receivers. Miami gets him on a very modest one-year flier, in turn going from one of the league's weaker wide receiver groups to one that now boasts Fuller and No. 6 overall pick Jaylen Waddle wreaking havoc on opposing defenses with their elite speed.
Worst: Linebacker Benardrick McKinney — Three years, $26.937 million ($0 in remaining guarantees)
Miami traded edge defender Shaq Lawson to the Houston Texans for linebacker Benardrick McKinney and doesn't don't look like the winners in that transaction. The Dolphins addressed a positional need at off-ball linebacker but now have two of the top 15 contracts among off-ball linebackers on their books following the extension for Jerome Baker.
Neither player ranked inside the top 50 in PFF grade among off-ball linebackers with at least 100 snaps in 2020.
Best: Tackle Trent Brown — One year, $9 million ($6.5 million total guaranteed)
Trent Brown signed a record-shattering four-year, $66 million contract at right tackle with the Las Vegas Raiders following a Super Bowl run with the New England Patriots, but he didn't live up to the billing on the West Coast. The two clubs were able to work out a trade that sends Brown back to New England in exchange for a 2022 pick swap. The Raiders get the Patriots' 2022 fifth-rounder, and the Patriots get the Raiders' 2022 seventh-rounder. And Brown has a modest one-year contract before hitting free agency once more before the age of 30.
Brown is one of two players who awarded the Patriots a compensatory pick in recent years and now finds themselves back in Boston, with linebacker Kyle Van Noy the other.
The Patriots could have the best offensive line in football in 2021, especially if Brown returns to his former Patriots form.
Worst: Interior defender Davon Godchaux — Two years, $15 million ($9 million total guaranteed)
The Patriots were not their usual selves during this year's free agency period, doling out $171 million in total guarantees — $25 million more than any other club. While no individual move is a complete backbreaker by any stretch of the imagination, a handful of them are clearly overpays, including Godchaux's deal.
Interior defender Dalvin Tomlinson earned a two-year, $21 million deal from Minnesota coming off a 2020 campaign in which he earned a 74.7 overall grade and an 81.0 pass-rush grade lined up as a 0-, 1-, 2- and 2i-technique. Godchaux, who appeared in just five games in 2020, finished with 55.9 and 59.9 marks from the same alignments (both players logged between 60%-70% of snaps in these alignments). 
The Patriots and head coach Bill Belichick prioritize stopping the run up front as much as any team, but there's a bit of a logjam of players along the defensive interior at this point, and it's hard to envision Godchaux making a huge impact.
Best: Interior defender Sheldon Rankins — Two years, $11 million ($5.75 million in total guarantees)
The Jets have the makings of a potentially dominant defensive interior for 2021, with a lot of talented young players propping up the unit. Edge defender Carl Lawson was the big-name free agent acquisition, and for good reason, but Sheldon Rankins could prove to be the best value signing.
Rankins landed on the tail end of PFF's top interior defender rankings list because, when healthy, he can be a force. He seemed headed for a bright future after notching 44 pressures in his sophomore season, followed by 46 pressures in his junior season, but injuries have since delayed his ascension. Healthy once more and operating alongside interior defender Quinnen Williams could be the recipe for a breakout in 2021.
Worst: Linebacker C.J. Mosley — Five years, $85 million ($14 million in remaining guarantees)
C.J. Mosley absolutely blew the doors off the off-ball linebacker market when he signed an extension during the 2019 offseason that paid him $17 million per year with a whopping $43 million in fully guaranteed money. It made him the highest-paid off-ball linebacker until he was surpassed by the Seahawks' Bobby Wagner ($18 million per year).
Now two years later, the two players are still the only off-ball linebackers to ever top the $15 million per year mark. Mosley was coming off three straight Pro Bowl appearances as a member of the Baltimore Ravens, but he has played just over 100 snaps since, with an opt-out in 2020 following a season-ending injury in 2019.
Even if Mosley hadn't missed essentially two full seasons, he would likely find himself on this list. The Jets were a completely non-competitive team and gave premium edge rusher money to an off-ball linebacker who had one season with a PFF grade above 72.2. Because of how the position market has since played out, there's virtually no path forward to play up to this contract.
Best: Interior defender Stephon Tuitt — Five years, $60 million ($0 in remaining guarantees)
Cameron Heyward is the interior defender with name recognition in Pittsburgh, and for good reason, but Stephon Tuitt is a star in his own right. Since signing this extension in 2017, Tuitt has earned an 89.0 PFF grade (16th among interior defenders) with an 81.5 pass-rush grade (11th among interior defenders). His 29 tackles for loss or no gain also rank 11th among interior defenders, and his 170 pressures rank 10th.
Worst: Fullback Derek Watt — Three years, $9.75 million ($0 in remaining guarantees)
This is one of those contracts that falls in the poor relative value category. Watt is the second-highest-paid fullback in the NFL, at $3.25 million per year — one of just seven fullbacks making more than $1 million a year. In his first season in Pittsburgh in 2020, he finished with the 16th-best grade (42.0) among 19 fullbacks who played at least 25 offensive snaps. He does provide special teams value, but that's probably not enough to justify this contract.
Best: Tight end Anthony Firkser — One year, $3 million (fully guaranteed)
Anthony Firkser's 78.8 overall grade in 2020 ranked 13th among tight ends, his 78.2 receiving grade ranked 14th and his 1.67 yards per route run ranked seventh. Those are all based on a relatively small sample size, but he did garner 50 targets in 2020 in a run-first offense.
Firkser was a restricted free agent this offseason, but the Titans inked him to a one-year, $3 million deal to avoid having to deal with any potential restricted free agent offer sheets (though not a likely threat this offseason), and he figures to have a larger role in 2021 following the departure of tight end Jonnu Smith to the New England Patriots.
An underrated impact on his production may also be the Titans moving on from slot receiver Adam Humphries. Firkser saw 71.5% of his snaps from the slot, which led all tight ends with at least ten targets. He could be the big slot guy with Julio Jones and A.J. Brown dominating on the outside. Firkser posted the highest receiving grade among tight ends over the past two seasons when targeted in single coverage, and odds are he'll be seeing a lot of single coverage going forward.
Worst: Right tackle Isaiah Wilson — Four years, $11.568 million ($4.48 million 2021 dead money)
Rarely do first-round picks flame out as quickly as tackle Isaiah Wilson did, playing just three career snaps as a Titan before his eventual release. Tennessee effectively threw a first-round pick in the garbage with this selection, a really tough thing to do when in the midst of a competitive window with the need for surplus-value contracts wherever possible. Their offensive line, which was once a strength, has some vulnerabilities heading into 2021.