Everyone likes to think they know how good each NFL team will be entering a new season, including Vegas.
Projected win totals provide one of the cleanest ways of comparing and contrasting all 32 NFL teams. For example, the Kansas City Chiefs' win total sits at a league-high 12.5, while the Houston Texans bring up the rear at just 4.5 projected wins. But the truth is that there will likely be some (very small) overlap between those two teams' range of outcomes. 
With the help of a large number of simulations of the 2021 season, PFF can attempt to capture some of that variance by highlighting best- and worst-case scenarios for all 16 AFC teams. Those scenarios are accompanied by theoretical avenues to those records based on some of the questions surrounding each team this offseason.
The potential win-loss records highlighted in this piece aren't truly the extremes. Rather, they're the 10th- and 90th-percentile outcomes, meaning that 80% of that team's simulation results fall somewhere between those two records. Inevitably, there will be teams that fall outside these parameters in 2021. The first team on our list was an overperformer in 2020, beating their 10-6 "best-case scenario" by three wins.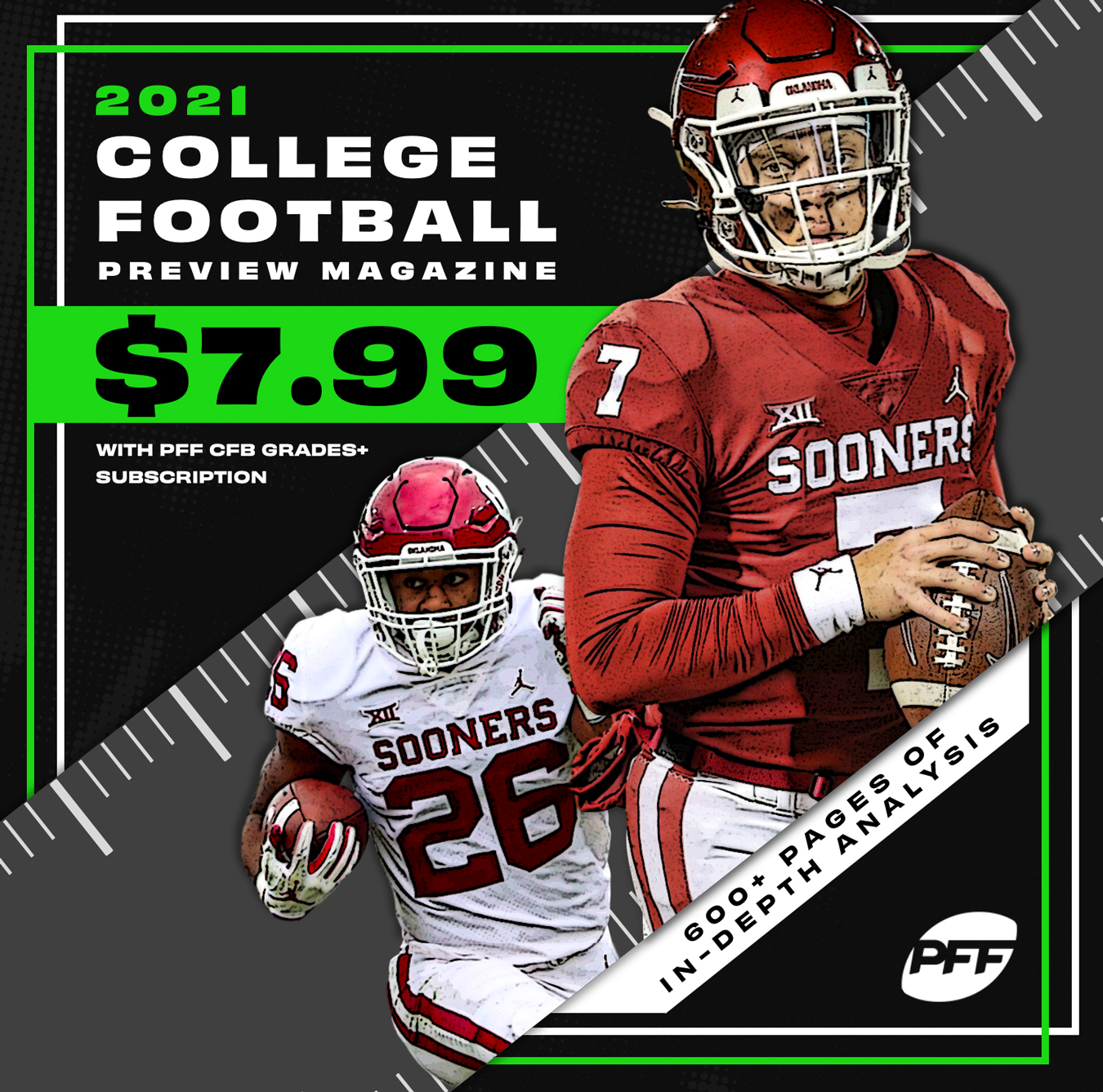 AFC East
10th percentile outcome: 8-9 
How they get there: Josh Allen's tendency to put the ball in harm's way has a bigger impact on Buffalo's offense than it did last season. Despite his career year, his 23 turnover-worthy plays in 2020 still ranked second among all quarterbacks behind only Carson Wentz. 
Jerry Hughes and Mario Addison lose a step with age, and the Bills' younger group of edge rushers isn't ready to step up. Buffalo's 36.9% pressure rate from a season ago (sixth in the NFL) takes a hit as a result. 
90th percentile outcome: 13-4
How they get there: A passing attack featuring a much-improved Allen and a strong quartet of wide receivers atop the depth chart — Stefon Diggs, Cole Beasley, Gabriel Davis and offseason addition Emmanuel Sanders — is once again one of the best in the NFL. The Bills ranked fourth in expected points added (EPA) per pass play a season ago.
Zack Moss and Devin Singletary also spearhead a more effective run game than Buffalo showcased in 2020 when they finished 28th in EPA per run play. The competition between Levi Wallace and Dane Jackson on the other side of the ball leads to quality play at the second outside cornerback spot. 
10th percentile outcome: 5-12
How they get there: Tua Tagovailoa doesn't take the step forward Miami hopes for after underwhelming with a 65.4 PFF grade across nine starts as a rookie in 2020. Free-agent addition Will Fuller cannot stay on the field, and the Dolphins can't get much going offensively with one of the worst offensive lines in the league and little threat on the ground (30th in EPA per run play in 2020). One of the top cornerback tandems in the league isn't enough on defense to overcome some of those offensive deficiencies.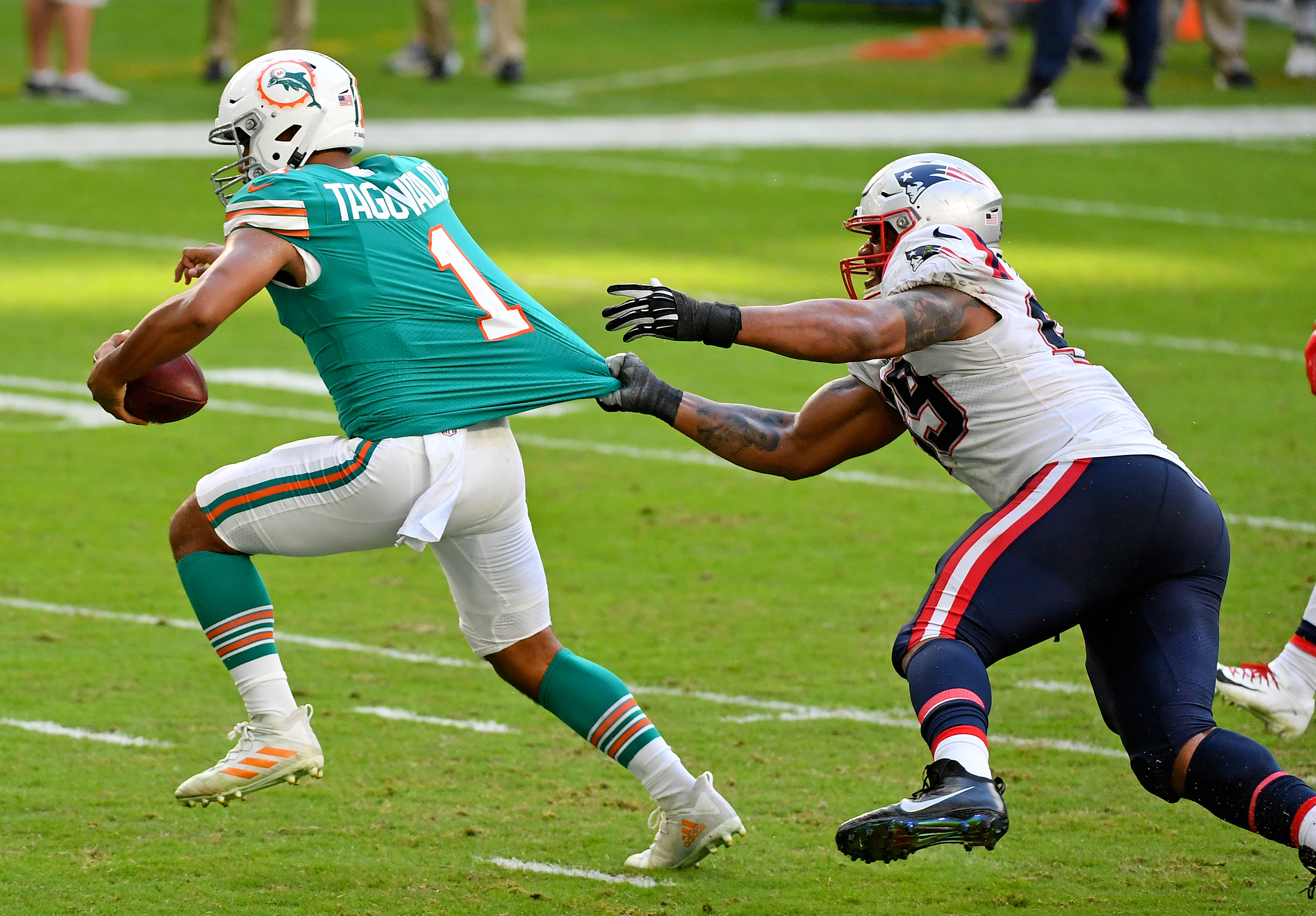 90th percentile outcome: 11-6
How they get there: Miami's young offensive line takes a step forward as a unit, with noticeable improvements from second-year players Austin Jackson, Solomon Kindley and Robert Hunt. That provides more clean pockets for Tagovailoa, a welcomed sight, given that he earned just a 39.5 passing grade when under pressure as a rookie, ranking 28th among 32 qualifying quarterbacks. The speed that Jaylen Waddle and Fuller bring to the table also provides more open targets downfield for Tagovailoa. That offensive improvement paired with another strong defensive performance gives Miami a shot at a playoff berth in 2021. 
10th percentile outcome: 5-12 
How they get there: New England's passing attack isn't all that much more effective than it was a season ago despite the offseason additions to the receiving corps. Cam Newton continues to deliver accurate passes at one of the lowest rates in the NFL following a 2020 season in which his 55.8% accurate-pass rate ranked 26th among qualifying quarterbacks. And first-round pick Mac Jones doesn't provide a better option as a rookie. 
The tension between Stephon Gilmore and New England over his contract results in a trade, leaving the Patriots without the personnel in the secondary to find success with their man-heavy scheme. 
90th percentile outcome: 11-6
How they get there: Newton remains healthy and looks much more comfortable as a passer with Hunter Henry, Jonnu Smith, Nelson Agholor and Kendrick Bourne added to the fold. New England's tight ends and wide receivers combined for just a 66.6 receiving grade in 2020 (30th in the NFL). 
The return of Dont'a Hightower and a bounce-back campaign from a healthy Gilmore also play a big role in stabilizing a defense that took a sizable step back last season. The Patriots finished the 2020 regular season ranked 26th in EPA allowed per play.
10th percentile outcome: 5-12
How they get there: Zach Wilson isn't provided nearly the same kind of pockets to step into that he was during his breakout season with BYU in 2020. Corey Davis more closely resembles the player we saw in 2019 (70.4 PFF grade) than in 2020 (85.3 PFF grade) with no A.J. Brown alongside him to threaten defenses downfield. Robert Saleh's defense isn't able to overcome New York's lack of proven depth at cornerback in his first year with the team.    
90th percentile outcome: 11-6
How they get there: The Jets' offseason additions on offense all come together. Morgan Moses gives them a stable veteran presence at right tackle. Alijah Vera-Tucker looks NFL ready next to a dominant Mekhi Becton in his second season out of Louisville. Elijah Moore makes people wonder how he lasted until the second round after posting a 91.2 PFF grade last season at Ole Miss, and Corey Davis shows that his impressive 2020 performance was no fluke. All of that creates a better offensive environment for Wilson as a rookie than Sam Darnold ever had.   
AFC South
10th percentile outcome: 3-14 
How they get there: Things are even bleaker than they currently appear. Davis Mills quickly replaces Tyrod Taylor because Houston needs to evaluate the rookie before the 2022 NFL Draft. Mills doesn't appear to be the answer at quarterback as pre-draft concerns over his lack of mobility, decision-making and lack of experience only gain validity. The Texans defense doesn't have the talent to run defensive coordinator Lovie Smith's Tampa 2 scheme, either. Notably, a defensive line that collectively ranked dead last in PFF grade last season (47.0) only gets worse after losing J.J. Watt. 
90th percentile outcome: 8-9
How they get there: The combination of Taylor and a crowded running back room gives the Texans a surprisingly competent rushing attack. Buffalo ranked third in EPA per run play with Taylor at quarterback from 2015 to 2017. Meanwhile, Brandin Cooks quietly puts up another 1,000-yard season at wide receiver. 
The offseason additions of Desmond King and Terrance Mitchell help provide some more stability at the cornerback spots alongside Bradley Roby on defense. And young players along the defensive line, such as Charles Omenihu (52.1 PFF grade in 2020) and Ross Blacklock (30.2), take a step forward. 
10th percentile outcome: 6-11
How they get there: The change of scenery doesn't do Carson Wentz any good. He once again resembles the quarterback we saw in 2020 — the one who led the NFL in turnover-worthy plays (24) and ranked last in the league in accurate-pass rate (46.8%). 
A young edge defender rotation cannot replace the production from Justin Houston and Denico Autry, either. That gives opposing quarterbacks more time to find receivers working against Xavier Rhodes and Rock Ya-Sin, with the latter coming off a 48.2 coverage grade in 2020.  
90th percentile outcome: 11-6
How they get there: Frank Reich is once again able to bring out the best in Wentz, who at least looks more like the 2019 version of himself, if not the MVP candidate he was in 2017. Offseason signing Eric Fisher comes back healthy and maintains stability at left tackle after Anthony Castonzo's retirement, leaving Indianapolis with one of the best offensive lines in the NFL. 
First-round selection Kwity Paye is able to provide an instant impact along the defensive line alongside DeForest Buckner. The former San Francisco 49er ranked seventh among interior defenders in pressures (53) in his first year with the team last season. 
10th percentile outcome: 5-12
How they get there: Trevor Lawrence looks more like a typical rookie quarterback than the "generational" prospect he was billed as coming out of Clemson. Part of that stems from an offensive line that struggles to provide clean pockets for him. Cam Robinson (61.7 PFF grade in 2020) and Jawaan Taylor (56.5) don't show the signs of improvement that Jacksonville is hoping for at tackle in 2021. 
Meanwhile, the offseason additions of Shaquill Griffin, Rayshawn Jenkins, Tyson Campbell and Andre Cisco in the secondary aren't as impactful as the investment in those players would suggest.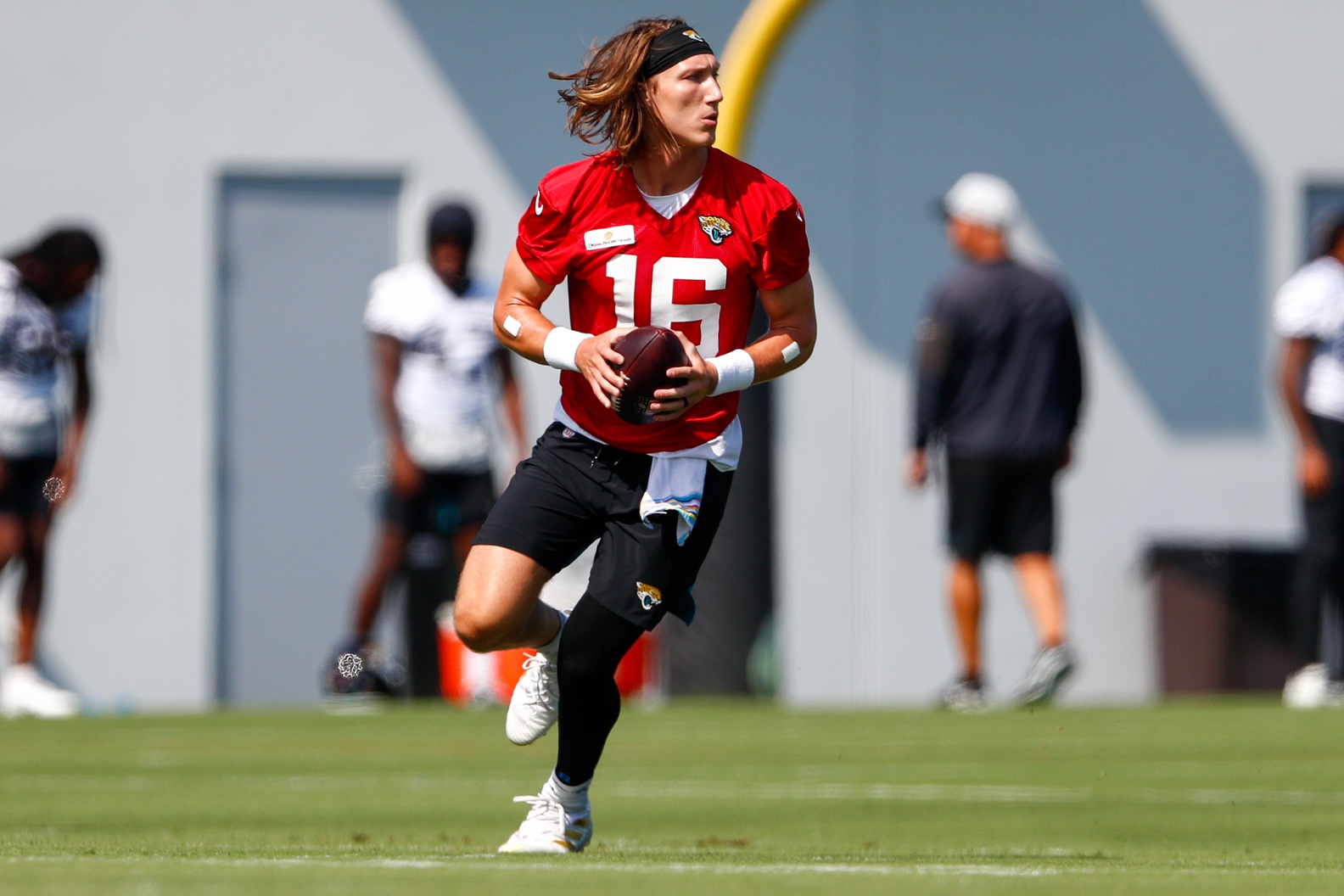 90th percentile outcome: 11-6
How they get there: The above-average offense Jacksonville flashed early in the 2020 season is back with Lawrence, Marvin Jones Jr. and Travis Etienne added to the mix. Laviska Shenault Jr. is much more than a "gadget" receiver in his second season out of Colorado after seeing an average depth of target of just 6.6 yards downfield as a rookie. 
New defensive coordinator Joe Cullen is able to bring some elements from Baltimore's defense with him to Jacksonville, as well. That, along with improvement from second-year edge rusher K'Lavon Chaisson, keeps the Jaguars from having one of the league's worst defenses again in 2021. 
10th percentile outcome: 7-10
How they get there: The loss of Arthur Smith calling plays proves to be a significant one, and Ryan Tannehill takes a step back from the 90.0-plus PFF grades he's earned in each of the past two seasons. Injuries limit major offseason acquisition Julio Jones for the second straight season, making depth at receiver a concern. To make matters worse, Derrick Henry slows down from the superhuman pace he's been on the past two years. His 2,758 rushing yards after contact since 2019 are nearly 1,000 more than the next closest running back. 
90th percentile outcome: 12-5
How they get there: A.J. Brown, Jones and Henry physically impose their will on every defense they face next season. Tennessee remains one of the league's most efficient offenses, even after losing Arthur Smith. 
Free-agent additions Bud Dupree and Denico Autry bolster a pass rush that finished the 2020 season ranked 29th in team pressure rate (25.3%). And first-round pick Caleb Farley shows no lingering effects from the back injury that led to him sliding in the 2021 NFL Draft, looking like the player who allowed just 36% of the passes into his coverage to be completed in 2019.      
AFC West
10th percentile outcome: 5-12
How they get there: Denver's deficiencies at the quarterback position are too much to overcome, whether Drew Lock (29th out of 32 quarterbacks in PFF grade last season) or Teddy Bridgewater (26th) end up drawing the start. Courtland Sutton, Jerry Jeudy and company continue to see inaccurate passes at one of the highest rates in the NFL — only the Eagles had a higher percentage of their passes charted as uncatchable than Denver last season. That's difficult for a team to overcome, even with talent elsewhere on the roster.  
90th percentile outcome: 10-7
How they get there: The influx of new talent at the cornerback position and the return of Von Miller from injury push the Broncos defense toward the elite tier in 2021. But more importantly, Denver receives better injury luck and quarterback play than they did last season. The latter portion of that statement stems from more consistent play from Lock, whose 6.8% big-time throw rate in 2020 was a top-five mark at the quarterback position. It's been his accuracy and carelessness with the football, not his ability to hit the occasional impressive throw, that has been the issue thus far. 
10th percentile outcome: 9-8
How they get there: The top-heaviness of Kansas City's roster rears its head. An injury to Patrick Mahomes, Travis Kelce, Tyreek Hill, Chris Jones or Tyrann Mathieu leaves the Chiefs scrambling for solutions. Can anyone step up as a legitimate receiving threat behind Kelce and Hill? Will Frank Clark look closer to the player Kansas City traded for two offseasons ago, or will Jones continue to carry a heavy load along that defensive line? Did the Chiefs do enough at cornerback after Bashaud Breeland walked in free agency? Unfortunately, there's a real possibility that all of those answers are no. 
90th percentile outcome: 14-3
How they get there: An improved offensive line elevates what was already one of the best offenses in the NFL. According to PFF's wins above replacement metric, Mahomes has been the most valuable quarterback in the NFL over the past three seasons by more than a full win. Kelce comfortably ranks first at the tight end position, and Hill comes in at fourth among wide receivers. Those three are better than ever in 2021.
L'Jarius Sneed, Charvarius Ward and Rashad Fenton reward the Chiefs' confidence in them with solid seasons on defense.
10th percentile outcome: 6-11  
How they get there: Andre James, Denzelle Good and Alex Leatherwood underperform for Las Vegas in 2021 in their first season replacing Rodney Hudson, Gabe Jackson and Trent Brown along the offensive line. The Raiders continue to misuse Henry Ruggs III, who has another disappointing year, leaving Las Vegas with few high-impact receiving threats behind Darren Waller. Derek Carr plays closer to how he did in 2017 and 2018 (23rd in PFF grade) than the version we've seen the past two years. And Gus Bradley's appointment as defensive coordinator isn't enough to overcome an overall lack of talent defensively.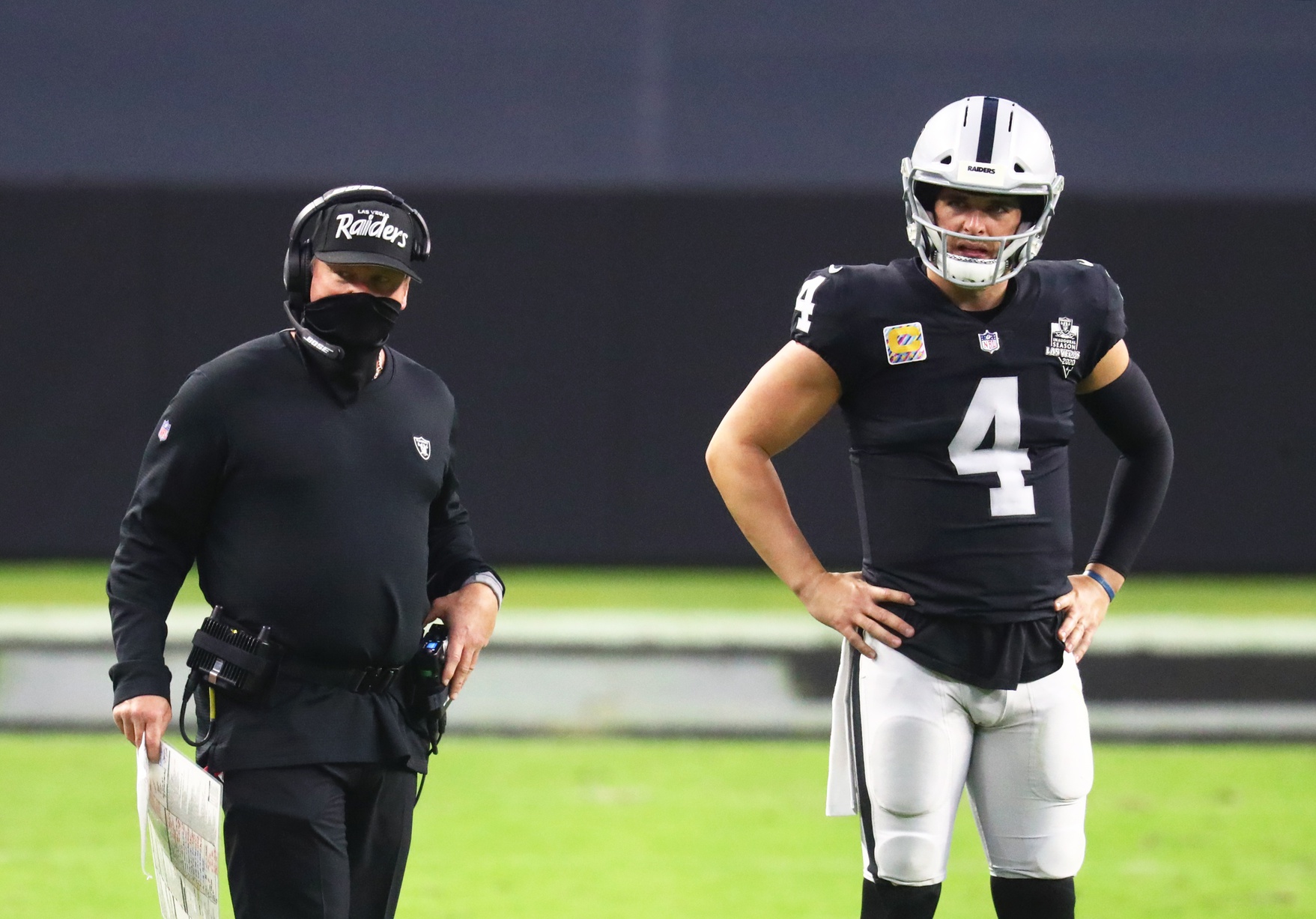 90th percentile outcome: 12-5
How they get there: The Raiders defense sees improvement at all three levels to complement what has been a solid offense the past few years. The edge-rushing trio of Yannick Ngakoue, Clelin Ferrell and Maxx Crosby provides Las Vegas with a respectable pass rush. Cory Littleton once again looks like one of the best coverage linebackers in the NFL in his second season with the Raiders after earning coverage grades of 87.2 and 82.3 in his final two seasons with the Rams. Lastly, young defensive backs such as Jonathan Abram and Trayvon Mullen take well to Las Vegas' new defensive scheme and show signs of growth in 2021.   
10th percentile outcome: 5-12
How they get there: Chargers fans don't want to hear it, but there is potential for Justin Herbert not to be quite as impressive as he was in his rookie year. Herbert's 75.4 passing grade under pressure led all quarterbacks in 2020, and he actually averaged a half-yard more per pass attempt under pressure (7.6) than he did from a clean pocket (7.1). That's a pretty strong indicator of potential regression. Herbert taking a step back, in conjunction with depth concerns surfacing defensively, could lead to a disappointing season for Los Angeles. 
90th percentile outcome: 11-6
How they get there: First-year head coach Brandon Staley works his magic on a second Los Angeles defense. The return of Derwin James from injury gives the Chargers a difference-maker to move across the defensive formation. James earned 80.0-plus PFF grades as a run defender, pass-rusher and coverage man as a rookie in 2018. 
A much-improved offensive line also means that Herbert isn't forced to improvise as much on the other side of the ball. The new anchor of that unit, Corey Linsley, was PFF's highest-graded center in 2020. 
AFC North
10th percentile outcome: 7-10
How they get there: Baltimore's offense doesn't evolve, and opposing defenses are better prepared to force the Ravens to win through the air. The carelessness with the ball that Lamar Jackson showcased early on last season, when he ranked third in the league in turnover-worthy play rate through his first eight games, extends over the course of the entire 2021 season. 
The loss of Yannick Ngakoue (74.5 pass-rush grade in 2020) and Matthew Judon (67.0) are felt on defense, as well. The Ravens struggle to generate consistent pressure, even with the league's highest blitz rate.
90th percentile outcome: 12-5
How they get there: The best receiving corps of Jackson's career following the offseason additions of Sammy Watkins, Rashod Bateman and Tylan Wallace helps him get back toward his 2019 output as a passer (82.5 passing grade). The offensive line additions of Kevin Zeitler, Alejandro Villanueva and Ben Cleveland and the return of a healthy Ronnie Stanley more than make up for the Orlando Brown Jr. trade, improving a unit that finished the 2020 season ranked 23rd in overall grade. 
Meanwhile, one of the best secondaries in the NFL maintains Baltimore's spot as an upper-tier defense.   
10th percentile outcome: 5-12
How they get there: Free-agent tackle Riley Reiff and rookie guard Jackson Carman aren't enough to give Cincinnati an average offensive line. That means more of the same for Joe Burrow in his second season after being sacked 32 times (second in NFL) and hit 43 times (fourth in NFL) before his season-ending injury. 
Trey Hendrickson cannot match his breakout 2020 campaign as a pass-rusher, leaving the Bengals thin on players capable of consistently getting after the quarterback on defense. In turn, plenty of pressure is placed on Cincinnati's new-look cornerback group.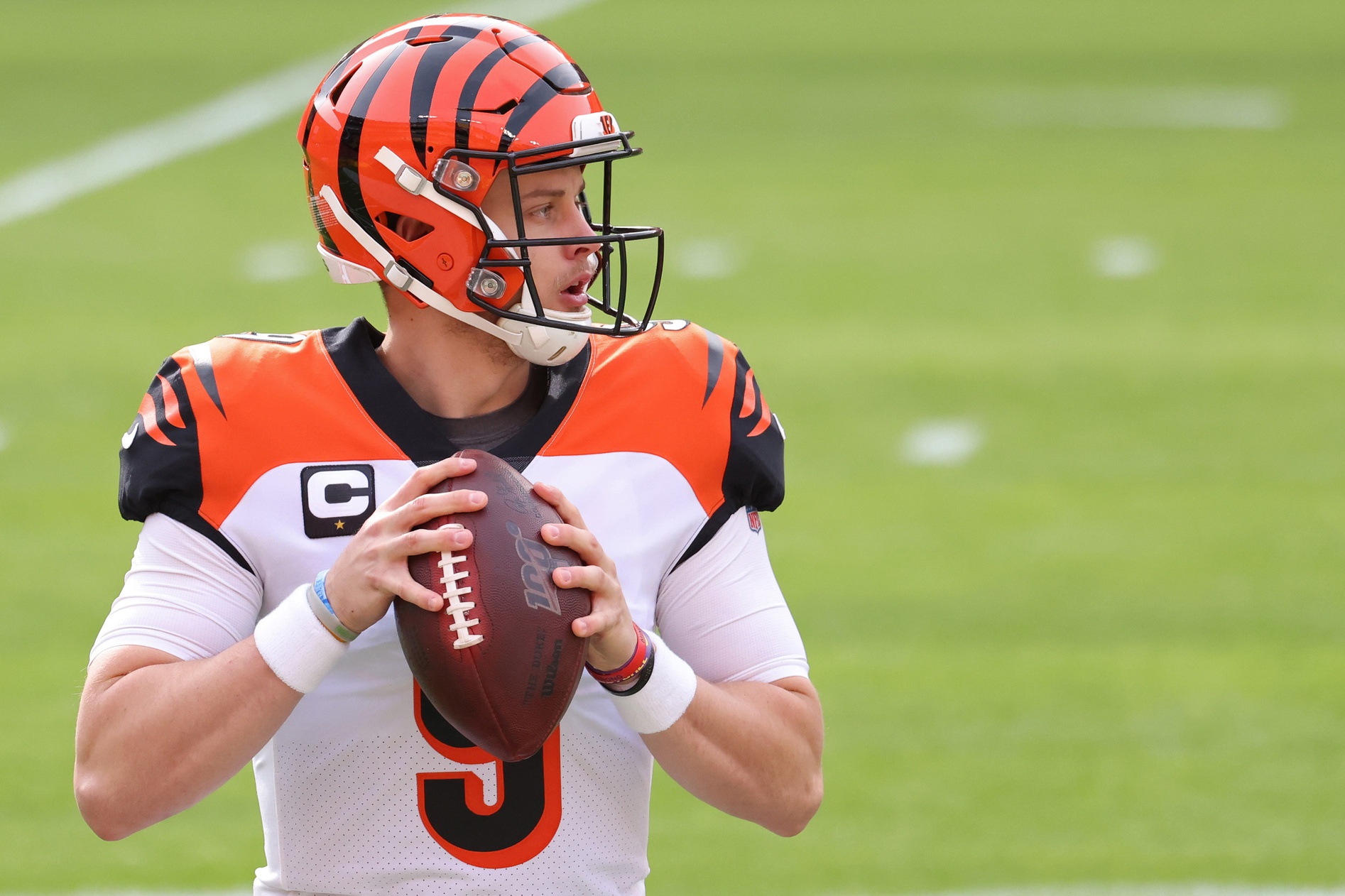 90th percentile outcome: 10-7
How they get there: The moves the Bengals made to solidify their offensive line are good enough to let Burrow and a strong supporting cast shine in 2021. Burrow and Ja'Marr Chase rekindle the special connection they had with LSU in 2019, particularly deep downfield, where Cincinnati struggled last season. Chase caught 24 of his 36 20-plus-yard targets from Burrow in his final season with the Tigers. 
The return of D.J. Reader and Trae Waynes from injury, along with the free-agent additions of Hendrickson, Chidobe Awuzie and Mike Hilton this offseason, leaves the Bengals' defense in a much better spot.   
10th percentile outcome: 8-9
How they get there: Cleveland's 2021 season is reminiscent of the 2019 season in terms of failing to live up to lofty preseason expectations. Baker Mayfield and Odell Beckham Jr. still can't get on the same page after the connection recorded just a 72.4 passer rating across its first two seasons. 
The highly praised defensive additions look better on paper than they do in reality. Jadeveon Clowney battles injury for a third straight season, and secondary acquisitions such as John Johnson III and Troy Hill aren't quite as effective in a new defensive scheme. 
90th percentile outcome: 13-4
How they get there: Baker Mayfield plays like he did to close the 2020 season over the entire year. From Week 7 through the end of the postseason, Mayfield's 91.7 PFF grade ranked fourth in the NFL behind only Aaron Rodgers, Deshaun Watson and Tom Brady. 
A well-rounded offense with the best offensive line and running back group in the NFL is complemented by a much-improved defense. Clowney remains healthy and forms one of the best edge defender tandems in the league with Myles Garrett. And Cleveland's secondary isn't only aided by newcomers such as Johnson, Hill and Greg Newsome II, but also by Grant Delpit and Greedy Williams returning from injury.   
10th percentile outcome: 5-12
How they get there: The Steelers limping across the finish line in 2020 turns out not to be an aberration. Rather, it's a sign of things to come. A shaky offensive line hinders Pittsburgh's efforts to commit to the run game, and Ben Roethlisberger doesn't have the mobility to maneuver collapsing pockets. That forces the Steelers to rely once again on a heavy dose of short, quick passes. 
Pittsburgh isn't quite as dominant defensively, either. The offseason losses of Bud Dupree, Steven Nelson and Mike Hilton leave them thin up front and in the secondary.
90th percentile outcome: 10-7
How they get there: The Steelers embrace change offensively under first-year offensive coordinator Matt Canada. Players such as Kevin Dotson (92.3 run-blocking grade at Louisiana Lafayette in 2019) and Kendrick Green (88.6 run-blocking grade at Illinois last season) add a more physical element to their offensive line. Roethlisberger looks more comfortable one year removed from major elbow surgery, and Pittsburgh leans into the variance that a downfield passing attack brings after Roethlisberger posted a career-low 7.4-yard average depth of target in 2020. 
The Steelers defensive front continues to make life difficult on opposing offenses, as well. Their 45.1% pressure rate last season led the NFL.