The "bell cow" running back is on the way out.
In 2021, Najee Harris was the only running back who played on over 70% of his team's offensive snaps (83%), and just five running backs cleared the 60% threshold. That represents a noticeable shift from 2006 — the first season that PFF began collecting NFL data.
| | | |
| --- | --- | --- |
| Season | RBs to play at least 70% of offensive snaps | RBs to play at least 60% of offensive snaps |
| 2006 | 8 | 18 |
| 2021 | 1 | 5 |
Teams are looking for complementary skill sets and running backs that can split the workload at a position that has tended to have a short shelf life.
That makes this list of the top-20 running backs entering the 2022 season an interesting mix of the few remaining three-down backs and players who have been efficient in more balanced committees. Only projected starters were considered for the rankings while the most notable "backup" omissions given an honorable mention at the end.
Tier 1: Elite
Derrick Henry's midseason injury paved the way for Taylor to stake his claim as the NFL's most valuable running back last season. Taylor's 87.0 PFF grade led all players at the position, and he finished the year tied for the most wins above a replacement-level running back despite Indianapolis missing the playoffs. Considering those results came at 22 years old with plenty of offensive line shuffling in front of him, there's little reason to expect Taylor to slow down in 2022.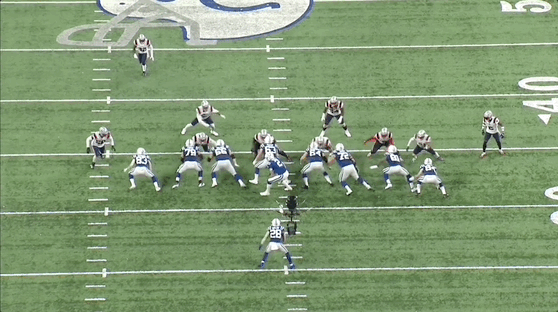 Taylor's vision allows him to explode through small creases in the line of scrimmage, and he has legitimate breakaway speed at over 220 pounds. That's not something any defensive back wants to see in the open field.
---
Chubb hasn't shouldered the same workload as some of the other names joining him atop this list, but he has a case as the best pure runner in the NFL since he was drafted in 2018.
Over the last four seasons, Chubb ranks first among all qualifying running backs in PFF rushing grade (93.1), yards after contact per rushing attempt (4.1) and missed tackles forced per rushing attempt (0.25). Chubb is coming off a career-worst 80.6 PFF rushing grade in a 2021 season was marred by injuries, but there's little reason to expect he won't return as one of the NFL's most difficult tackling assignments in 2022.
---
Tier 2: Elite when at full strength but slowed by injuries
If this were simply a list of the top running backs in the NFL over the last three seasons, Henry would find himself at the top. He's been the most valuable running back in the league according to PFF's wins above replacement (WAR) metric, and his 4,503 rushing yards are over 600 more than the next closest back despite him missing roughly half of the 2021 season. However, there is some reason for concern pertaining to Henry's ability to maintain that level of play moving forward.
Only three of the 30 running backs who had at least 150 regular season carries last year were in their seventh season or higher: Melvin Gordon III, Mark Ingram II and Cordarrelle Patterson. Meanwhile, Henry is set to enter his seventh season while coming off a foot injury and multiple years with a heavy workload.
Most carries since 2016 (inc. postseason)
| | |
| --- | --- |
| Player | Carries since 2016 |
| Ezekiel Elliott | 1,730 |
| Derrick Henry | 1,557 |
| Melvin Gordon III | 1,319 |
There is evidence that running backs start to regress after clearing 1,500 career carries — an unfortunate reality of the beating that their bodies take during the season.
Henry is not a typical running back. At 6-foot-3 and 247 pounds, he is actually "built different," but his return from injury and historical data pointing to a potential plateau are enough to keep him behind Taylor and Chubb heading into 2022.
---
McCaffrey earned an 86.5 PFF grade in 2019 — third among qualifying running backs — on over 1,000 snaps. He almost never left the field and was integral to everything Carolina did on offense, ranking eighth in the league in rushing conversions (56) and ninth in receiving conversions (58) across players at all positions. That campaign marked three straight seasons with at least 800 snaps played and a PFF receiving grade north of 84.0 to begin his NFL career.
The problem with including McCaffrey in Tier 1 is that we haven't seen him fully healthy in two-plus years, as the sixth-year running back has played fewer than 300 offensive snaps in each of the last two seasons. He played well in limited action last season (80.7 PFF grade), but the Panthers need him to remain on the field in 2022.
---
Cook missed time in 2021 due to ankle and shoulder injuries. Neither injury kept him out for an extended period of time, but their impact shows in Cook's 2021 rushing numbers. He earned a sub-70.0 PFF rushing grade for the first time in his NFL career last year, and his 22% of carries that resulted in first downs or touchdowns was nearly seven percentage points lower than his career-best 29% in 2020.
Highest zone rushing grades since 2017
At full strength, Cook is one of the best zone runners in the NFL. First-year head coach Kevin O'Connell and the rest of the Vikings coaching staff just have to hope that Cook can remain at full strength throughout the 2022 season.
---
Kamara quickly emerged as one of the best all-around running backs in the NFL, earning 75.0-plus PFF rushing and receiving grades in three of his first four seasons. Nonetheless, the passing game is really where he separated himself. His 29% target rate since 2017 leads all receivers regardless of position, and he's one of just two running backs to average over 2.0 receiving yards per route run over that stretch.
The former third-round pick not only dealt with injury in 2021 but also with a Taysom Hill, Jameis Winston, Trevor Siemian and Ian Book quarterback rotation. The result was a career-low 63.2 PFF grade and his lowest output as a receiver (47 receptions for 439 yards) in five NFL seasons.
Drew Brees and his accurate deliveries to Kamara underneath aren't coming back, but the Saints need to find a way to keep Kamara involved as a receiving weapon in a receiving corps that has added some talent this offseason.
---
Tier 3: Good starters
Jones has been one of the most productive runners in the NFL since Green Bay took him in the fifth round of the 2017 NFL Draft. He is one of just two running backs who have 75.0-plus PFF rushing grades on at least 50 attempts in each of the last five seasons.
Number of seasons with PFF rushing grades above 75.0 in last five years
A lot of focus gets placed on how running backs perform after contact, but Jones has consistently ranked among the top backs in the league in yards before contact per attempt thanks to efforts like this.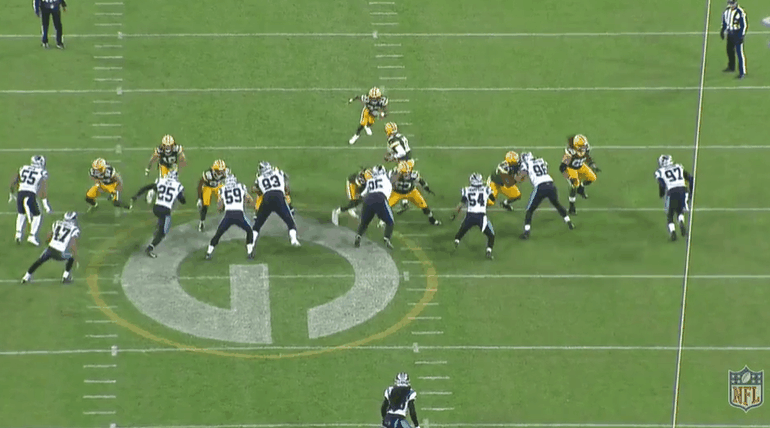 Add in the increased role that Jones has filled in the passing game for the Packers, and he's right on the border of the elite tier at the position.
---
Ekeler's value lies in his ability to be a legitimate value addition as a receiver while not profiling as only a receiver out of the backfield. Three different running backs have recorded at least 75 conversions — first downs and touchdowns — as a rusher and receiver over the last three seasons: Ekeler, McCaffrey and Kamara.
It is worth noting that while Ekeler enjoyed the highest PFF rushing grade of his career in 2021 (79.9), he did fall below 80.0 in PFF receiving grade for the first time in his career (62.6). He'll look to turn that around in 2022.
---
Mixon's first season following his four-year, $48 million extension from Cincinnati in 2020 could be classified as a disappointment. He earned just a 65.3 PFF grade over the first six weeks of the season before a foot injury sidelined him for the rest of the year.
The 2021 season provided an opportunity for Mixon to bounce back, and he answered the call. His 0.2 PFF WAR finish last season was tied with Jonathan Taylor for the highest in the NFL, driven by a significant role in a Cincinnati offense that made it to the Super Bowl. Mixon's 886 offensive snaps (postseason included) were second most at the position, and his 82.1 PFF rushing grade in that time on the field marked a career high.
---
Tier 4: Elusive backs on rookie deals
Las Vegas' decision not to pick up Jacobs' fifth-year option is more an indictment of the process that went into making him a first-round selection in 2019 rather than Jacobs' on-field performance.
The Alabama product has been one of the most elusive backs on the ground since entering the NFL three seasons ago, recording 177 forced missed tackles as a runner since 2019. The only running back in the league with more is Chubb (181). And Jacobs also showed that he could take on a larger role as a receiver in 2021 with a career-high 54 receptions.
---
Harris' efficiency numbers from last season aren't as impressive as some of the other names around him on this list, but it's reasonable to expect efficiency to decline when you're on the field for nearly every snap and playing in one of the NFL's least efficient offenses.
The Steelers offense asked a lot of Harris as a rookie, and he largely made the most of a bad situation. Harris ranked third at the position in PFF WAR and forced more combined missed tackles as a rusher and receiver (92) than any other player in the NFL.
Most combined missed tackles forced as a runner and receiver last season

Najee Harris: 92
Jonathan Taylor: 75
Javonte Williams: 71 pic.twitter.com/fiovz40thc

— Ben Linsey (@PFF_Linsey) May 16, 2022
Hopefully he won't be asked to force quite as many in 2022 in a Steelers offense that invested in improvements in both free agency and the draft this offseason.
---
Williams has taken PFF's missed tackles forced statistic and made it his own at the college level and now in the NFL.
In his final season at North Carolina in 2020, Williams forced 76 missed tackles on the ground in just 157 carries. That 0.48 forced missed tackle per attempt rate led all FBS running backs. Fast forward to his rookie season in 2021, and Williams once again led his peers in missed tackles forced per rushing attempt with 63 broken tackles on 203 carries (0.31 per carry).
Missed tackles forced is just one metric, and it's far from the only measure of running back success over expectation, but it does highlight just how difficult Williams is to tackle.
---
Tier 5: Can they bounce back from injury?
Barkley's rookie season in 2018 showed a glimpse of what the Giants thought they were getting when they drafted him second overall in the 2018 NFL Draft. He earned 83.0-plus PFF rushing and receiving grades en route to an 85.2 overall grade that ranked first among all running backs who played at least 500 offensive snaps.
Injuries have kept Barkley from being able to build on that impressive rookie campaign, as he's missed time in each of the three seasons and has played through injury for the majority of his time on the field. The talent is still there, but Barkley is now in a position where he has to prove he can stay on the field as he plays the 2022 season on his fifth-year option.
---
I considered leaving Carson off this list completely given the uncertainty surrounding his injury status and 2022 return. The Kenneth Walker III addition early in the draft and re-signing Rashaad Penny only further fuels speculation that Carson returning from neck surgery is no sure thing.
Carson would likely find himself in Tier 3 if he didn't have the injury concerns. He ranked eighth in PFF rushing grade from 2018 to 2020, and his average of 3.4 rushing yards after contact per attempt since 2017 ranks fourth among running backs with at least 500 carries over that five-year stretch.
---
All the concerns listed above about Derrick Henry's career workload and effectiveness coming off injury are only amplified when looking at Elliott. Including the postseason, Elliott has carried the ball a league-high 1,730 times since he was drafted in 2016. That's a lot of wear and tear, but the 26-year-old Elliott actually looked spry early in the 2021 season before a knee injury in Week 4 against the Panthers slowed his hot start.
Elliott before and after initial knee injury during the 2021 season
| | | |
| --- | --- | --- |
| Statistic | Weeks 1-4 | Weeks 5-WC |
| PFF rushing grade | 82.1 | 69.0 |
| Yards after contact per attempt | 3.4 | 2.4 |
| % of runs going for first down or touchdown | 29.7% | 21.6% |
That's pretty strong evidence pointing to the idea that the partially torn PCL that Elliott played through impacted his performance.
While there are plenty of valid arguments pointing to the idea that Tony Pollard is currently the more effective back and should be the starter, a healthy Elliott performing like he was at the start of last season is still a valuable piece of an offense, but it just remains to be seen if he can get back to that point.
---
Tier 6: Solid starters
Conner showcased that he has a legitimate, three-down skill set in his first season with the Cardinals. The fifth-year back out of Pittsburgh earned 84.0-plus PFF receiving and pass-blocking grades, flashing soft hands throughout the year for Arizona.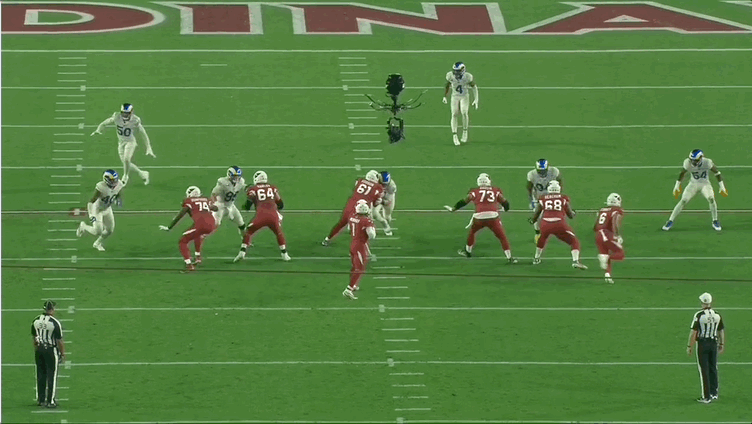 One area where Conner has had a lot of success throughout his career has been in short-yardage situations, as his 90.7 PFF rushing grade with two or fewer yards to go since 2017 ranks third among 21 running backs with at least 100 such carries. That was a contributing factor to his career-high 15 rushing touchdowns in 2021.
---
Harris falls into the "uber efficient in a limited role" category after earning 85.0-plus PFF grades in each of the last two seasons on between 250 and 450 offensive snaps. He's been particularly effective in the gap rushing schemes that the Patriots favor, grading out in the 82nd percentile of all qualifying running backs in rushing grade in those schemes. Harris should continue to split the work with Rhamondre Stevenson, James White and rookie addition Pierre Strong Jr. in 2022.
---
Sanders is an interesting evaluation from a numbers standpoint because he ranks well in metrics such as EPA per rush and rushing yards over expected, but his PFF grading profile isn't nearly as impressive. Part of that can be attributed to an offensive line that Philadelphia has invested heavily in making life easier on the ground for Sanders.
Sanders did improve his overall PFF grade to a career-best 70.2 in 2021, but that still ranked just 27th at the position among qualifiers. This ranking leaves some room for a healthy Sanders to continue improving in 2022.
---
Montgomery was college football's premier tackle breaker across his 2017 and 2018 seasons at Iowa State, as no running back in the FBS forced more missed tackles on the ground than Montgomery's 185 in those two seasons.
That's a skill that tends to translate nicely from college to the NFL, and it has for Montgomery. He ranks in the 76th percentile of all qualifying backs in missed tackles forced per rushing attempt and the 85th percentile in missed tackles forced per reception across his first three NFL seasons.
The Bears will be looking for Montgomery to get back to his 2020 level of play (80.2 PFF grade) next year to help support Justin Fields, who can use all the help he can get on a barren offense entering his second season.
---
The last two offseasons have been filled with rumors of Buffalo looking to add talent to their running back room, and the Bills did decide to add James Cook to the backfield with their second-round pick in the 2022 NFL Draft. However, Singletary still profiles as the lead back heading into next season.
Like Montgomery, Singletary is difficult to bring down. He ranks fifth in rushing yards over expected over the last three seasons to go along with a 86.2 PFF rushing grade (11th among running backs with at least 300 carries). Singletary may not be a threat to break off many 50-yard runs or hurt a defense as a receiver out of the backfield — which is why they added Cook — but he is more than capable of moving the chains on the ground.
---
None of these three start or carry the majority of the workload for their respective teams, but they've been among the most productive running backs in the NFL when they have found the field. The only reason that they haven't emerged as a starter is the presence of a well-established veteran (Elliott, Chubb and Jones) in front of them on the depth chart.