• Best Bet Parlay: Jaguars to win AFC South and Trevor Lawrence Over 4,000.5 passing yards, +1400 on DraftKings
• While the support around Lawrence as a rookie couldn't have been worse, the top overall pick excelled in one fascinating metric
• PFF explains the effect of perfectly-covered plays on NFL offenses  
Most bettors place wagers in multiple markets — spreads, totals, teasers, props, etc. — where they generally get oriented by following a bottom-up approach: "Which spreads do I like?" "Which totals stand out this week?"
But the goal in this space is to articulate my process for bets by following a top-down approach. We will consider how a specific thesis on a team, player, or trend is best applied and capitalized on the proper market. Some bets will track more traditional markets, but more often we will look to maximize our upside in the multitude of different markets offered by sportsbooks — dependent on finding the right market for the thesis! Let's dive in.
---
PRICED AS INDEPENDENT EVENTS, IF THE JAGUARS WIN DIVISION, QB TREVOR LAWRENCE WILL SURPASS EXPECTATIONS
Best Bet Parlay:
Jaguars to Win AFC South and Trevor Lawrence to throw for Over 4,000.5 Yds, +1400 on DraftKings
Bottom line
This bet is rooted first and foremost in a market inefficiency that is pricing in the Jaguars winning the AFC South (+800) and Trevor Lawrence surpassing 4000.5 yards (-110) as independent events. Now, of course it goes without explaining that if the Jaguars win the AFC South, it will be because Lawrence exceeded expectations (their win total is 6.5). But even considering the obvious value in the market, this bet still requires Jacksonville to win the division in order to hit — and we're bullish on the Jaguars this season.
---
Considering the turmoil and overall environment that defined the Jaguars last year, there isn't a ton to glean from Lawrence's rookie season. The situation could not have been worse for any QB — let alone a rookie. New Jaguars HC Doug Pederson brings stability to a team desperately needing it. In other words, we'd rather put our stock in Lawrence's prior three years, after which PFF's 2021 draft annual declared him "the best quarterback prospect we have ever scouted," than a season in an environment where no quarterback would likely succeed. 
If there is any signal to glean from Lawrence's 2021, it was how well he played when the defense perfectly covered a play — when every defender performed at expectation by PFF coverage grades — and how few "coverage sacks" he took.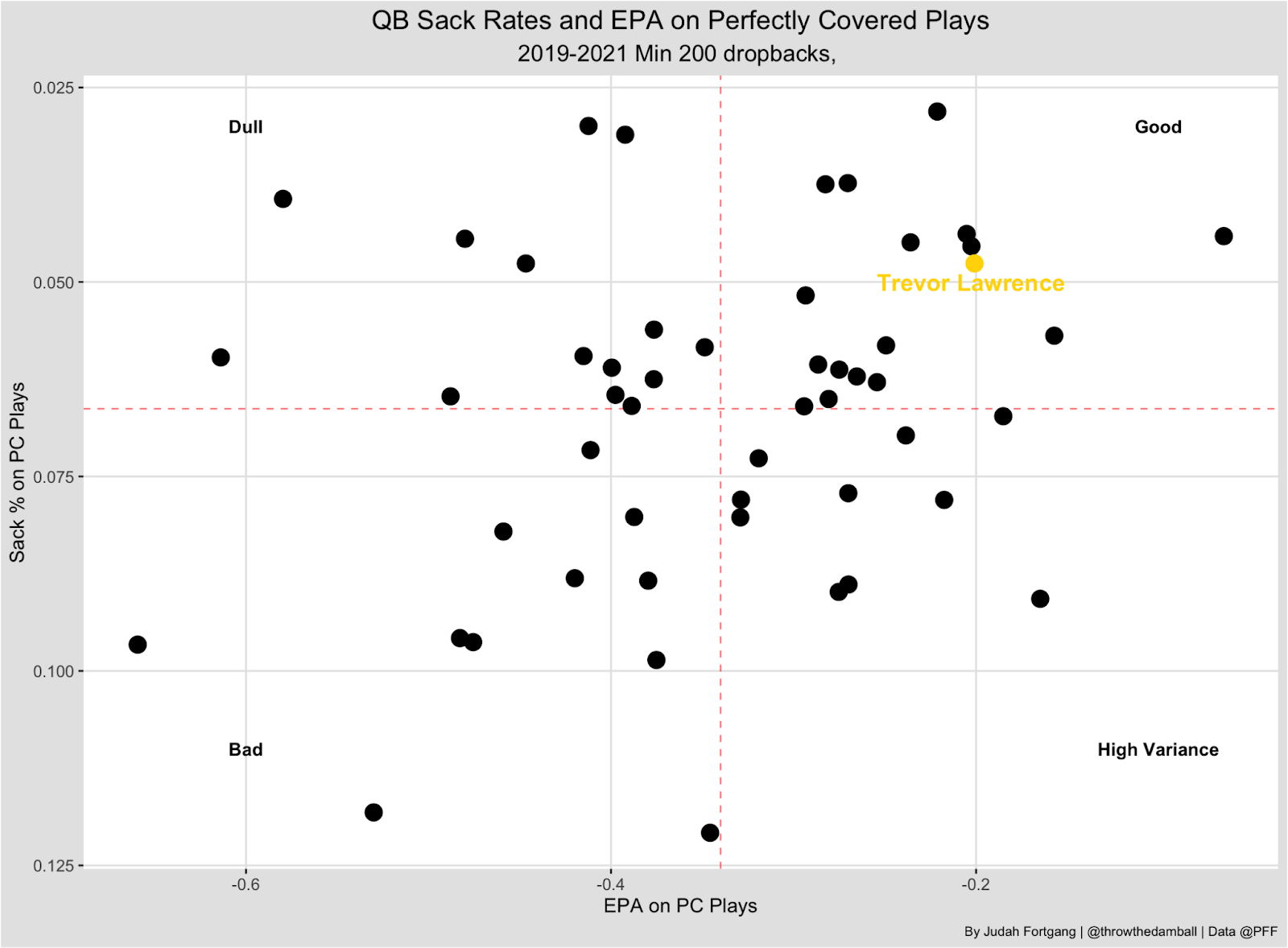 Lawrence was firmly in our "good" tier, sharing the top right with established star QBs Patrick Mahomes, Aaron Rodgers, Josh Allen, and Dak Prescott. The list is itself revealing, but something our research at PFF suggests is that QB play on perfectly covered plays is more revealing of an individual quarterback's talents than on plays when a defender messes up. That Lawrence avoids sacks and minimizes the damage when the defense executes its assignments bodes well in deciphering his overall talent and projecting his future output. 
But what about the rest of the division? The Texans hold the NFL's lowest win total, and we've already established that we're selling the Titans. Although the Colts are the rightful favorites, they've shown signs of potential decline: Indy's O-line quietly struggled last year; longtime stout DC Matt Eberflus is now in Chicago; the Colts lost more than half their starters from last year; and despite being the favorites seemingly every season, they haven't won the AFC South since 2014.