• Bettors can find plenty of interesting prop playoff bets at Caesars Sportsbook
• A $20 bet on the Tennessee Titans to miss the playoffs would return $42
• PFF premium stats are designed to help bettors profit
Most bettors place wagers in multiple markets — spreads, totals, teasers, props, etc. — where they generally get oriented by following a bottom-up approach: "Which spreads do I like?" "Which totals stand out this week?"
But the goal in this space is to articulate my process for bets by following a top-down approach. We will consider how a specific thesis on a team, player, or trend is best applied and capitalized on in its right market. Some bets will track more traditional markets, but more often we will look to maximize our upside in the multitude of different markets offered by sportsbooks — it only depends on finding the right market for the thesis! Let's dive in.
---
While many AFC teams improved this offseason, the Tennessee Titans' 2022 outlook worsened
Best Bet: Tennessee Titans to miss playoffs, +110 at Caesars
BOTTOM LINE
Betting the Titans to miss the playoffs accounts for the possibility that even if they continue to overachieve to a 9-8 or 10-7 record, in such a competitive AFC, there's a strong likelihood they'll still fail to return to the postseason.
---
Let's begin with a brief overview of the Titans 2021 season. Choose your preferred efficiency metric — PFF grade is 13th, yards per play 22nd — and the story is essentially that Tennessee was smack in the middle of our graphs. Despite entering the playoffs as the No. 1 seed, the offense produced like a fringe playoff team.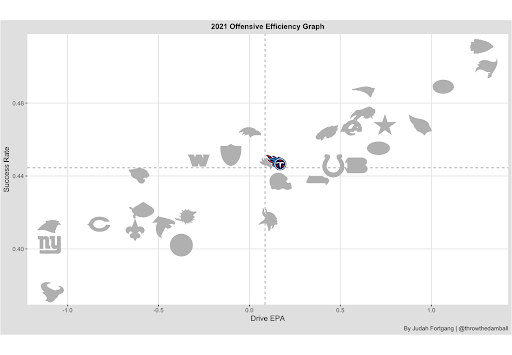 The defense was good, but not great. We know defense fluctuates year-to-year, and with the Titans returning most of their stop unit, there is little reason to project it will move much either way. I'm expecting a neutral unit, and won't put too much stock in it when projecting.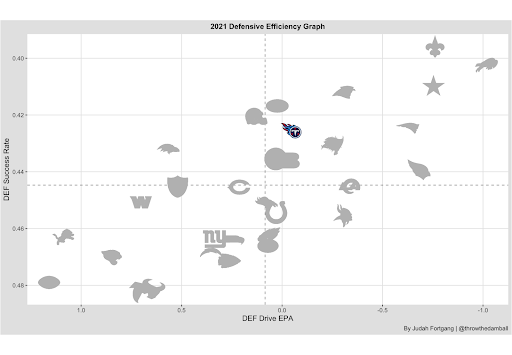 But the 2022 version of this team overall is not the same as in 2021. Most notably in my view, the Titans will need to replace AJ Brown — who accounted for 89 percent of their EPA on passing plays. On passing plays not to Brown, the Titans only added three expected points, which would have left them as the 21st-most-productive offense last season. Even with the additions of first-rounder Treylon Burks — whose rookie offseason has left a lot to be desired — and 30-year-old Robert Woods, coming off a torn ACL suffered last November, Tennessee's trade of Brown worsens the offense from last year. Add in a shaky offensive line that had no lineman block above expectation last year and received no meaningful upgrades, and the fact that Derrick Henry is on the wrong side of the 1500-rush curve, and this offense projects to be noticeably worse than last year's mediocre output. 
Why the playoff market? 
• The Titans' win total (9.5) is tied as the ninth-highest in their conference. This is just a data point to tell us what we already know (and I could spend thousands of words illustrating in depth): the AFC is absolutely stacked this year. The AFC West — the division Tennessee plays this season — has the Chiefs and three teams all vastly improved from last year. Within the division, I think it is fair to project that each team upgraded at QB, with Matt Ryan replacing Carson Wentz in Indianapolis, and projected improvements in Year 2 from Trevor Lawrence and Davis Mills. In other words, all of the Titans' competitors for playoff spots improved, while Tennessee noticeably worsened. A plus-money bet on seven of those teams beating out a Titans team trending the wrong direction? Especially when factoring in the fact that Tennessee was  -105 to miss the postseason as recently as May, count me in. 
• You might be asking (as you should): why not bet the under win total or alternate under here? Fair question. Since Mike Vrabel took over as coach, Tennessee has always had a better record than its statistical profile would indicate. I think that is mostly a product of randomness and playing in a weak AFC South. But it should not be fully dismissed, as the reason for the Titans' success could be missed by statistical profiles. 
— Judah Fortgang