Actual NFL news is happening, players around the league are reporting to training camp and NFL betting and fantasy draft guides are flying off the shelves. Football is nearly back.
The dawn of a brand-new NFL season gives us a chance to preview the upcoming campaign and make predictions on who may win awards at the end of the year. Here is a short watchlist for all of the major NFL and PFF awards as we head toward the regular season.
Subscribe to
2021 MVP AWARD
The starting point for all seasons of greatness has to be with Mahomes, which will likely be the case for the foreseeable future. The Chiefs' leading man represents the best fusion of high-end plays, consistency, risk aversion and situation of any quarterback in the league. Since becoming the starter, only Russell Wilson has more big-time throws than Mahomes, and appearing in three consecutive AFC championships and two Super Bowls speaks for itself. Mahomes has earned overall PFF grades above 90.0 in each of his three seasons as a starter.
Honorable mentions: Tom Brady, Aaron Rodgers, Josh Allen
---
OFFENSIVE PLAYER OF THE YEAR
There's a lot of redundancy in the Offensive Player of the Year Award, but it typically opens up space for non-quarterbacks. And in today's NFL, that likely means wide receiver. As phenomenal as Travis Kelce was last season, some regression seems likely, but Kittle was second in the league at any position in yards per route run in his injury-shortened year. Kittle is still arguably the game's most complete tight end and is still capable of huge numbers within Kyle Shanahan's offense. 
Honorable mentions: Patrick Mahomes, A.J. Brown, Stefon Diggs
---
DEFENSIVE PLAYER OF THE YEAR
The Defensive Player of the Year conversation starts with Donald vs. the field, and you should take Donald most years. Voter fatigue is the single biggest thing working against him because he is simply peerless when it comes to on-field performance. Donald led the league in total pressures again last season (98) and remains the only interior lineman to lead the league in pressure over the PFF era. He is currently enjoying an incredible run of play that will see him move further up the all-time rankings with each season he can maintain it. Donald has seven straight seasons with a PFF grade above 90.0 and has never earned one lower than that.
Honorable mentions: Myles Garrett, T.J. Watt, Jalen Ramsey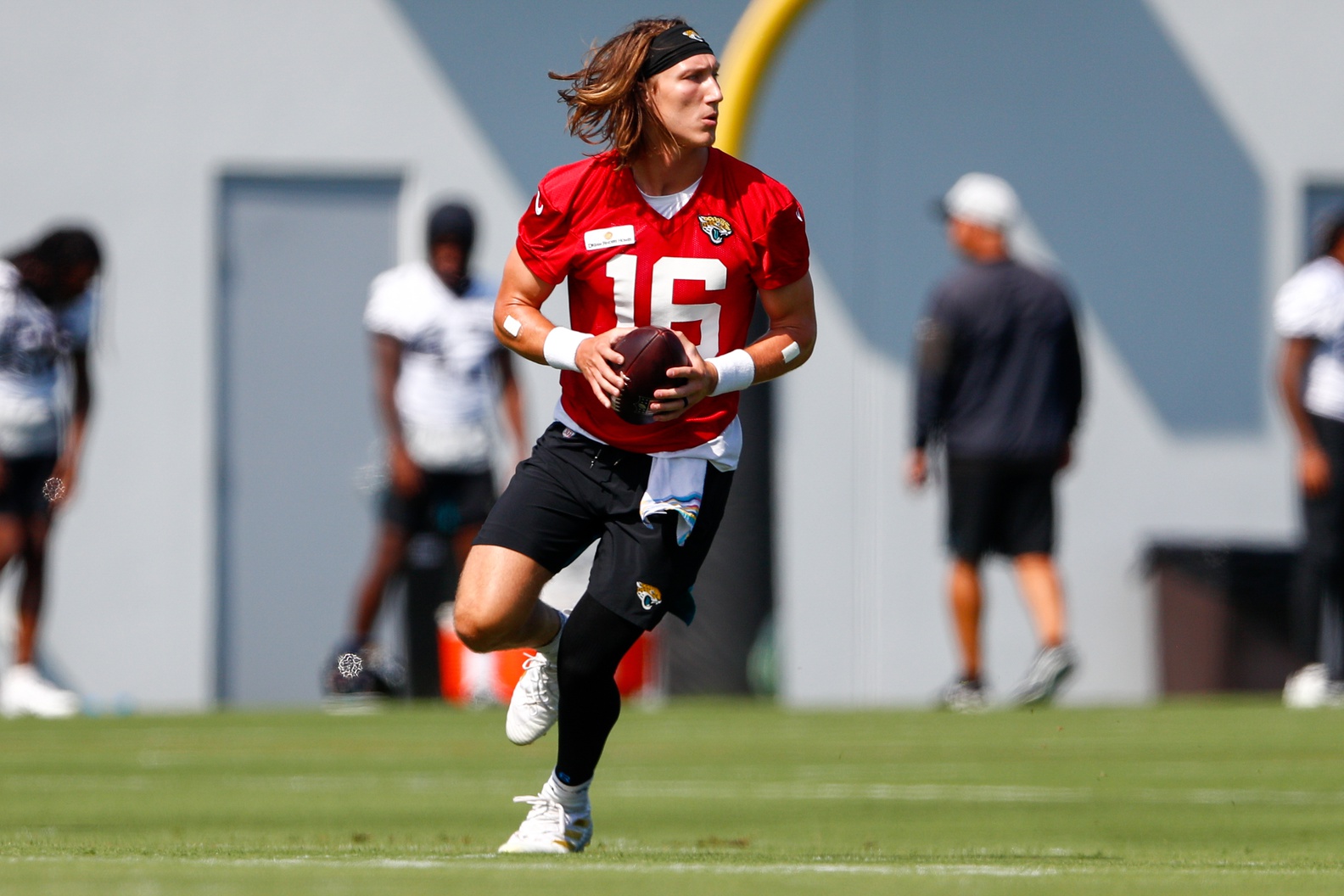 ROOKIE OF THE YEAR
Quarterbacks will always have the inside track on the Rookie of the Year Award, and Trevor Lawrence is one of the best prospects to come into the league in a long time. Jacksonville wasn't as bad as they showed last season, losing an improbable volume of close games, and they have made major improvements almost across the board, including with their new coaching ticket. Recent history shows quarterbacks can succeed right away at this level, and if Lawrence does so, he will take some beating for Rookie of the Year honors. 
Honorable mentions: Zach Wilson, Trey Lance, Kyle Pitts, Ja'Marr Chase
---
PFF's Stephenson Award
The Dwight Stephenson Award — given by PFF to the best player in the NFL regardless of position or positional value — should be a straight shootout between Donald and Patrick Mahomes, the two best players in the league. What gives Donald the edge in the contest is just how far clear of anybody else at his position he is — the next-best interior defender had 27 fewer total pressures in 2020. In contrast, Mahomes may not necessarily be the best-graded quarterback in any given season. One year an up-and-coming star will topple as the best player in the league, but you wouldn't bet on it being 2021.
Honorable mentions: Patrick Mahomes, Tom Brady, George Kittle
Comeback Player of the Year
Dak Prescott's form before his injury in 2020 sets him up as the obvious Comeback Player of the Year front-runner. In four-and-a-bit games, he recorded the same number of touchdowns as Daniel Jones managed all season, and he was on pace for an absurd passing yard mark. The pieces are all still in place for the Cowboys offense to be excellent this season. If Prescott can get back to the level that generated an overall PFF grade of 85.2 last season, it will be quite the comeback story.
Honorable mentions: Joe Burrow, Nick Bosa, Derwin James
---
Best Receiver 
There is a rich vein of talent at the receiver position in today's NFL, so predicting which superstar will have the best season is always tricky. One player who could be poised to dominate is Tennessee's A.J. Brown, who now has Julio Jones on the other side of the field taking attention away from him, not to mention Derrick Henry in the backfield keeping defenses honest.
Brown put up an overall PFF grade of 90.4 last season, and he has averaged more than 2.50 yards per route run over his career. Opportunity is the only thing that has held him back from being seen as one of the game's very best, so if he sees an uptick on the 109 targets he saw last year, he could well be the best receiver in the game in 2021.
Honorable mentions: Stefon Diggs, Justin Jefferson, George Kittle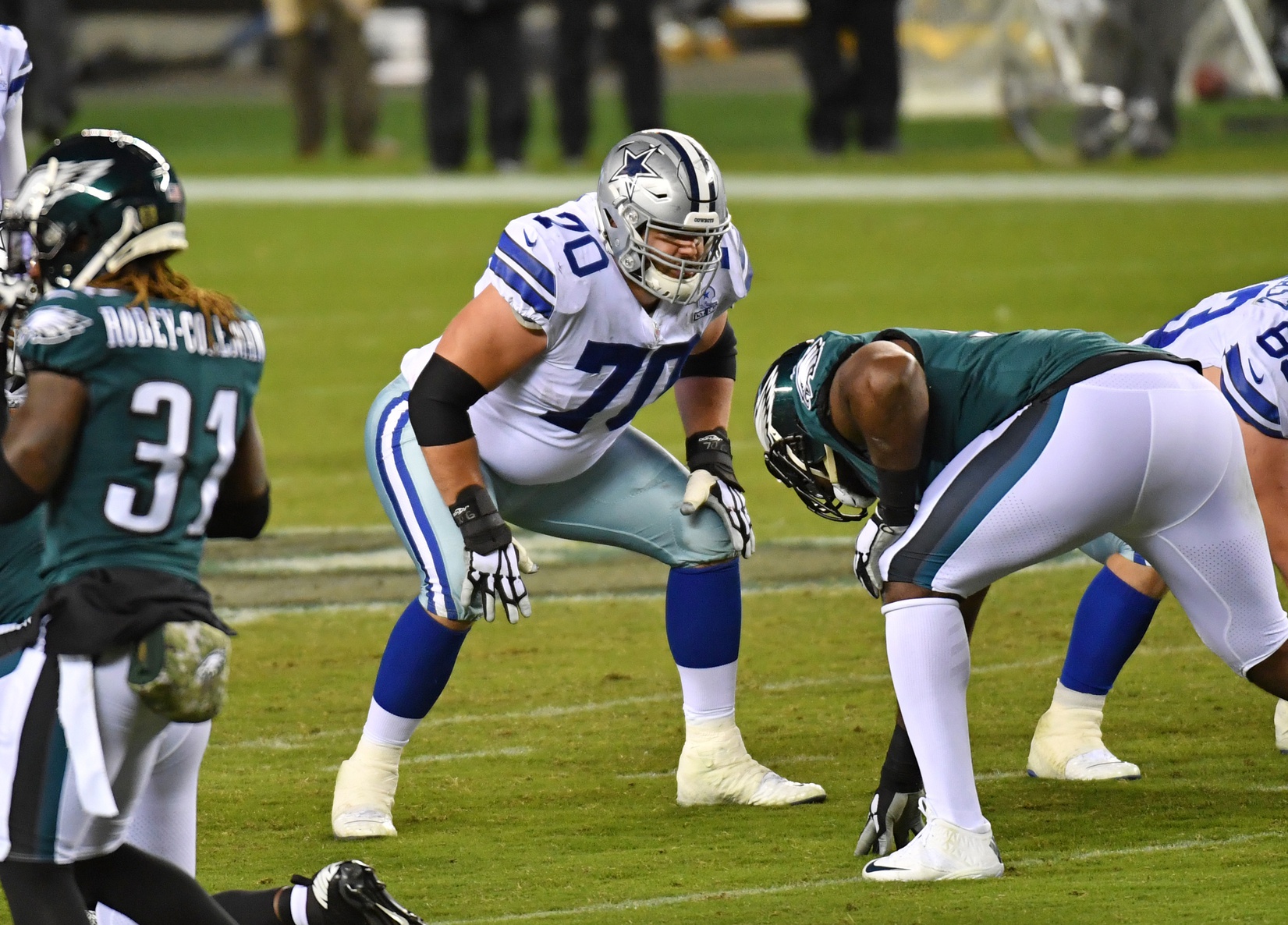 Best Offensive lineman
Despite considerable upheaval around him on the Dallas line, few offensive linemen have been more consistent than Martin over the last few seasons. He was on his way to another great season last year (91.3 PFF grade), even after being asked to kick out to right tackle and help out due to injuries on the line before he succumbed to a season-ending calf injury. Martin has now allowed just one sack over the last two years and has never graded lower than 79.6. He is one of the best and most consistent offensive linemen in the game.
Honorable mentions: David Bakhtiari, Quenton Nelson, Tristan Wirfs
---
Best Pass-Rusher
This is another award that begins with Aaron Donald, but he will face stiff competition this year, particularly from Myles Garrett, who has been close to putting together a truly Donald-esque year in each of the past two seasons, only to see it derailed for various reasons.
Garrett has generated 112 total pressures over the last two seasons despite being suspended half of one year and hampered by Covid-19 for part of the other. Donald remains the most likely winner here, but a peak year from Garrett or Watt could see him toppled.
Honorable mentions: Myles Garrett, T.J. Watt, Joey Bosa
---
Best Run Defender
Run defense isn't the specialty it once was, but there are still some elite run defenders at different positions throughout the NFL. There is arguably none better than Mack, who may be the most complete edge defender in the league because of it.
The Chicago Bears edge has never earned a PFF run-defense grade lower than 83.5 and has three seasons with a mark above 90.0 in his career. Mack has also put up 19 tackles for loss of no gain over the past two years to go with 67 defensive stops.
However, spare a thought for Folorunso Fatukasi, a true run defending throwback along the defensive line for the New York Jets. 
Honorable mentions: Folorunso Fatukasi, Bobby Wagner, Aaron Donald
---
Best Coverage Defender
Coverage is so volatile and unpredictable from year to year, so trying to identify the players primed for that elite coverage year similar to the one Stephon Gilmore enjoyed in 2019 or Jaire Alexander had in 2020 is extremely difficult. The only thing we can say with a fair amount of confidence is that starting with the guys who did it last year is probably not a great starting point.
Ramsey has one of the toughest roles in football, and his PFF grades have been good but not spectacular because of it. Still, Ramsey is capable of having one of those seasons when it all comes together. Eric Kendricks has been the best coverage linebacker in the league over the past few seasons and has a good chance just in terms of long-term consistency.
Honorable mentions: Eric Kendricks, Justin Simmons, Fred Warner
---
Best Offensive Line
The Browns have the best offensive line in the league on paper as we head into the season. Still, it's close at the top, and the likes of Indianapolis, New England, New Orleans or even Tampa Bay could easily rival them if injuries break their way.
Wyatt Teller was the best run-blocker in football last season at right guard for the Browns, putting up a PFF grade of 93.6 in that area. Maintaining that absurd level would be an impressive achievement. Jedrick Wills was solid as a rookie at left tackle, allowing 18 total pressures on the season, but a step forward in Year 2 would be a big boost to this unit as a whole.
Honorable mentions: Indianapolis Colts, New England Patriots, New Orleans Saints, Tampa Bay Buccaneers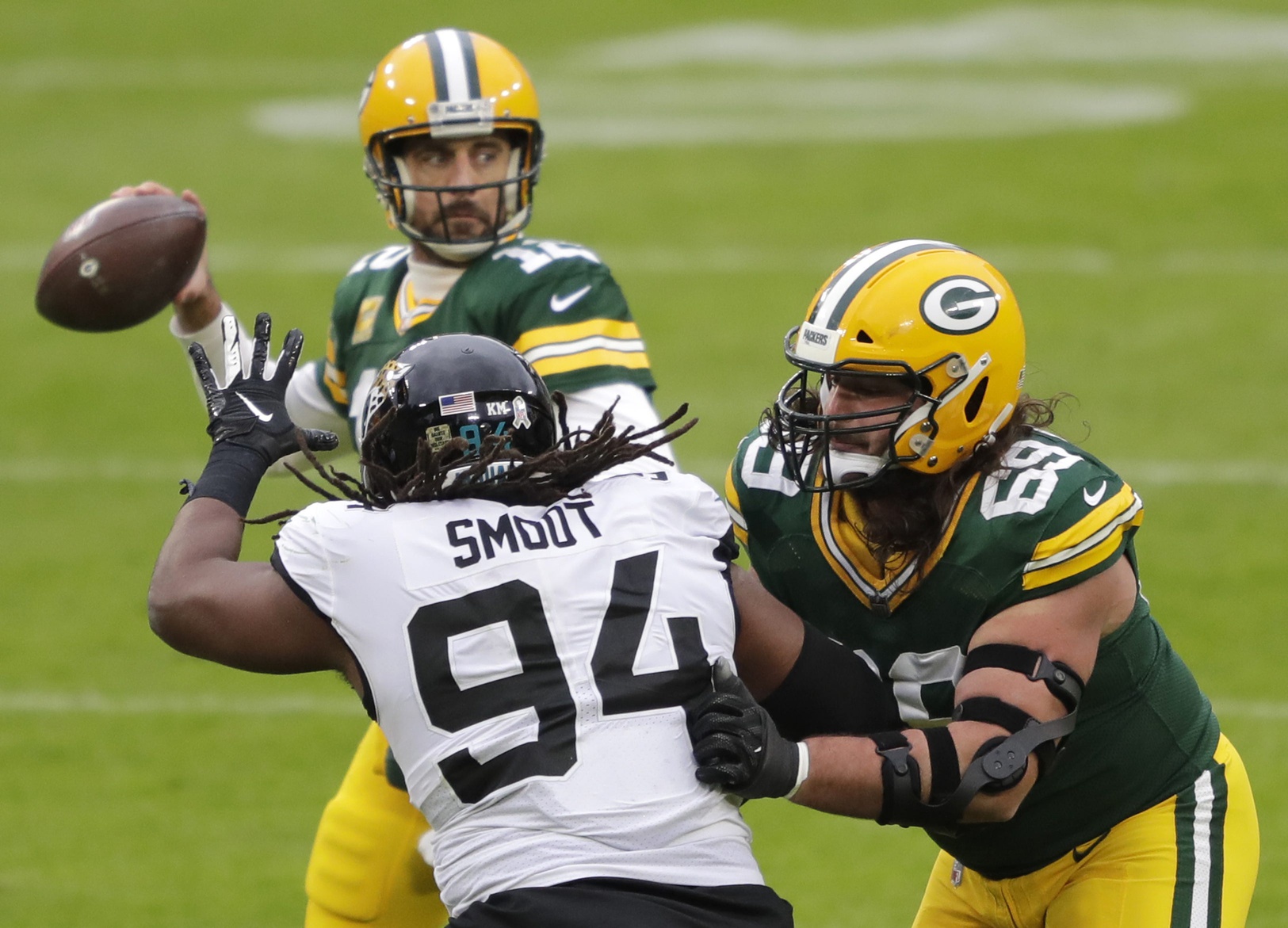 Best Pass-Blocker
Bakhtiari has been the gold standard at pass blocking in the NFL since Joe Thomas departed into retirement. Making this achievement more impressive is the fact that the Packers stalwart has had to block for Aaron Rodgers — a player who holds onto the ball on average longer than most — for his entire career, yet he's consistently graded among the game's best.
The veteran tackle once again led the NFL in pass-blocking grade (91.6) last season, and he allowed just nine total pressures on 446 pass-blocking snaps in an injury-shortened year. There are other great pass-blockers out there, but Bakhtiari remains the standard to beat.
Honorable mentions: Rodney Hudson, Ronnie Stanley, Joel Bitonio
---
Best Run-Blocker
The NFL may be a passing league, but there are still offensive linemen out there who will bulldoze a path for their back in the running game. Few players are built for it like Mason, the Patriots guard who came into the NFL from a triple-option offense in college that allowed him to line up in a four-point stance most of the time and just obliterate anything in front of him. Mason now gets to plow a lane for whatever two-tight end offense the team will be running in 2021. Mason is coming off a season with an 88.1 PFF run-blocking grade and will be more at home than ever within their offense this coming season.
Honorable mentions: Zack Martin, Mike McGlinchey, Ryan Ramczyk
---
Best Special Teams Player
There are few more consistent players at their positions than Tucker and Cordarrelle Patterson; it's just that their position sees the field far less often than others. Tucker isn't coming off his best year, but you would bank on him setting that right next season.
Honorable mentions: Cordarrelle Patterson, Jack Fox