Needs — every NFL team has them, and every fan wants them addressed. Come training camp, however, not every roster will have quality options at all 22 starting positions. Such is life in the NFL. Not every franchise has both the cap space and the draft capital to get it done. 
Here at PFF, we like to say that free agency is for need and the draft is for value. Sometimes, however, the positional strength in a certain draft class makes you feel good about your chances of securing value at a certain position come draft day.
Let's take a look at the biggest needs for each team and decide which ones they should be looking at in free agency and which ones can wait until the draft.
ARZ | ATL | BLT | BUF | CAR | CIN | CHI | CLE | DEN | DAL | DET | GB | HOU | IND | JAX | KC | LVR | LAC | LAR | MIA | MIN | NE | NO | NYG | NYJ | PHI | PIT | SF | SEA | TB | TEN | WFT
ARIZONA CARDINALS: WIDE RECEIVER, TIGHT END, INTERIOR DEFENSIVE LINE
With just over $12 million in cap space even after the J.J. Watt deal, Arizona can make some plays in free agency. The Cardinals are in luck no matter where they turn with the wide receiver talent that should be available. Even a mid-tier guy like Breshad Perriman could pay massive dividends via free agency.
That's not as much the case with the tight end or defensive tackle positions. Arizona is unlikely to have Florida's Kyle Pitts fall into its lap, and there aren't many difference-makers at tight end after him. In free agency, it's seemingly Hunter Henry or nothing. The team may just have to go with Dan Arnold yet again. At defensive tackle, the Cardinals are unlikely to lay out money after Jordan Phillips' deal a year ago. Look for them to be in the mix for a run-stuffer on Day 2, when a player like LSU's Tyler Shelvin should be on the board. 
ATLANTA FALCONS: CORNERBACK, SAFETY, EDGE DEFENDER
This is not the Falcons' year to be players in the free agency market. As it stands, they're still nearly $20 million over the cap. If there is a silver lining, though, it's that corner, safety and edge defender all have value into Day 2. That won't be where the Falcons go with the No. 4 overall pick, but if they trade down, Virginia Tech's Caleb Farley and Alabama's Patrick Surtain II should be in the mix at corner.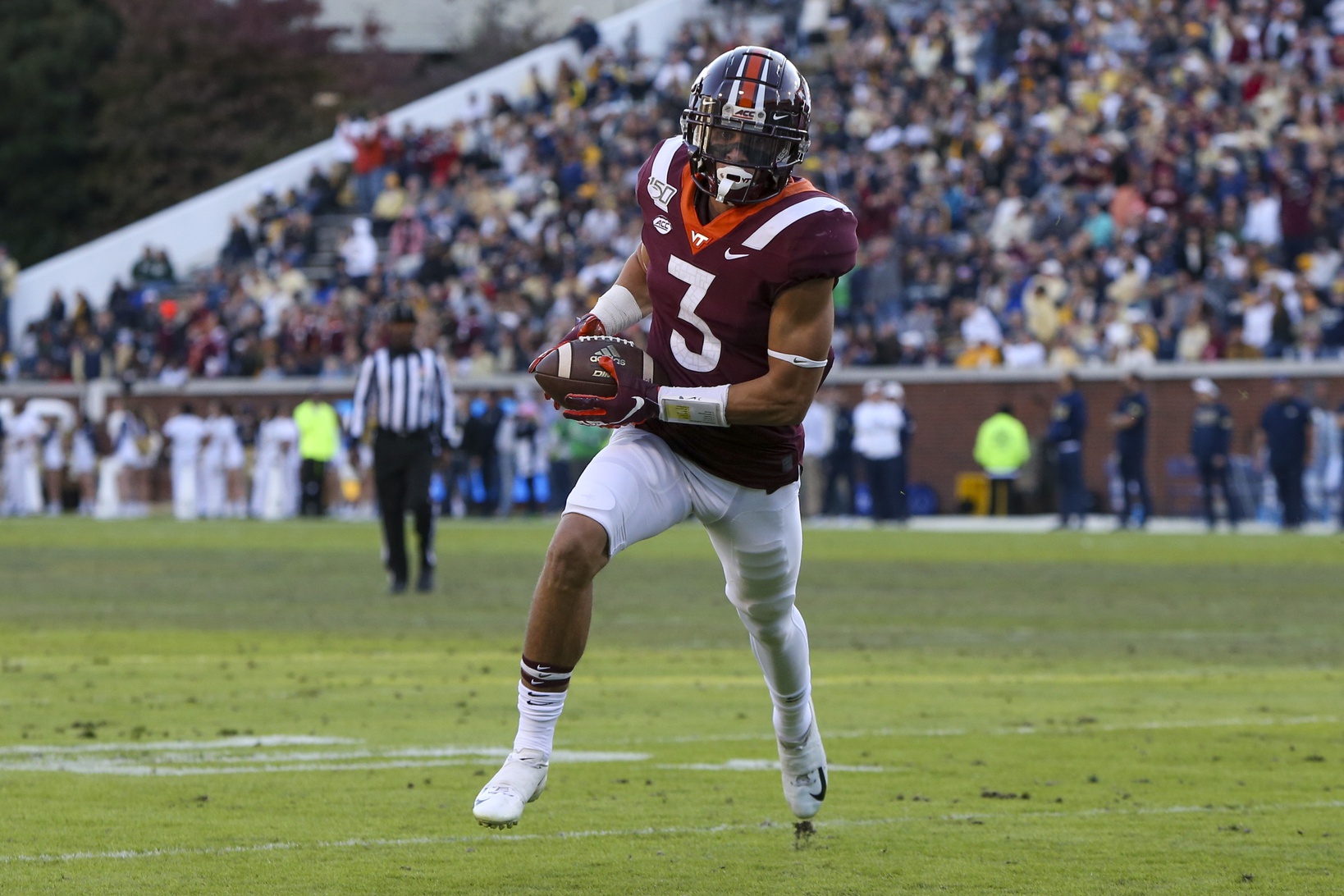 In the second round, they could very easily take advantage of the edge depth at Pick No. 35. With seven edge defenders likely to be among the top 40 on PFF's next draft board update, it's hard not to see one falling to the top of Round 2. I'm sure Falcons fans would love for that to be Georgia's Azeez Ojulari after his 91.7 pass-rushing grade in 2020.
BALTIMORE RAVENS: WIDE RECEIVER, INTERIOR OFFENSIVE LINE, SAFETY
One could very easily add edge defender to this list, as well, with Matthew Judon, Yannick Ngakoue, Pernell McPhee and Tyus Bowser set to hit the market. But with the way Baltimore has found and developed edge talent, they could choose to prioritize weapons for Lamar Jackson in free agency.
They're unlikely to be involved in the top trio of Chris Godwin, Allen Robinson II and Kenny Golladay (who went untagged) due to cost, but even a Corey Davis or Marvin Jones Jr. could provide an upgrade. If the Ravens wait until the draft, a big body, such as Minnesota's Rashod Bateman (18th on PFF's draft board), would be an ideal fit.
The Ravens' plan for their offensive line revolves heavily on what happens with Orlando Brown Jr., who has asked for a trade to play left tackle. While we aren't super high on the interior draft class, with only four such players in the top 100, there are a number of guys with tackle/guard versatility — such as Alabama's Alex Leatherwood or Clemson's Jackson Carman — who can possibly be had in the second round to protect against a Brown departure.
BUFFALO BILLS: OFFENSIVE TACKLE, CORNERBACK, INTERIOR DEFENSIVE LINE
After years of plugging through mid-tier free agents, this might be the Bills' offseason to relax. With only $1.9 million in cap space currently, their free agency period could be as simple as retaining tackle Daryl Williams and linebacker Matt Milano.
In the draft, the Bills seem to be in prime position to upgrade at either guard or cornerback. Oklahoma State tackle Teven Jenkins would be ideal to start inside, and he could possibly be a tackle of the future. On the other side of the ball, there are a number of talented zone corners who could slip to the back end of Round 1. Northwestern's Greg Newsome II and Florida State's Asante Samuel Jr. both fit that bill.  
CAROLINA PANTHERS: LINEBACKER, OFFENSIVE LINE, TIGHT END
With Taylor Moton recently getting the franchise tag, the Panthers will be low on cap space unless they work out a long-term deal with him. Of the above needs, the only pressing one is offensive line because the Panthers will almost assuredly be involved in this year's quarterback class. Maybe they can lure Russell Okung back to town with the price of Bitcoin skyrocketing.
That means the Panthers might have to wait until Round 3 to get a linebacker or a tight end. The latter doesn't seem ideal from a value perspective, whereas there are some intriguing names in the former position group. The name I'd keep an eye on is LSU's Jabril Cox. He fits the Panthers' defensive mold of a versatile coverage defender, as he covered the slot a good deal last year for the Tigers.  
CHICAGO BEARS: QUARTERBACK, OFFENSIVE LINE, WIDE RECEIVER
The Bears fall in that no man's land of lacking cap space and draft capital to make their desired moves. Ultimately, I expect them to be in the budget free agent/trade quarterback market because 1) they have -$7 million in cap space, and 2) Ryan Pace and Matt Nagy need to win now. That means Cam Newton, Jameis Winston, Sam Darnold and Jimmy Garoppolo will all be in play.
Offensive tackle subsequently looks like the most likely avenue in Round 1, where Virginia Tech's Christian Darrisaw will continue to be mocked because of the confluence of need and value he represents. With how deep the receiver class is, the Bears can wait for a player like North Carolina's Dyami Brown on Day 2.
CINCINNATI BENGALS: INTERIOR OFFENSIVE LINE, OFFENSIVE TACKLE, CORNERBACK
The blue-chip offensive line talent that the Bengals were thought to be in play for is all of a sudden drying up after franchise tags. However, spray and pray could be a better strategy for a line with multiple holes than signing a guard — such as Joe Thuney from New England. 
I'd rather the Bengals prioritize their home-grown talent for big-money deals with their $40 million in cap space. Letting corner William Jackson III and defensive end Carl Lawson walk is going to leave a fairly bare-bones defense. 
As far as the draft goes, the Bengals should take Oregon tackle Penei Sewell or trade back at No. 5 overall. The tackle talent will likely spill into the second round if Sewell isn't on the board, and Texas' Sam Cosmi or North Dakota State's Dillon Radunz, among others, could step in and start right away.   
CLEVELAND BROWNS: SAFETY, LINEBACKER, INTERIOR DEFENSIVE LINE
While everyone keeps penciling in a linebacker to the Browns in the draft, it shouldn't cost them too much to maintain the status quo at the position and re-sign B.J. Goodson. With $20 million in space to work with, they could easily be in the market for a top edge defender, as well. Shaquil Barrett, Carl Lawson, Jadeveon Clowney, Yannick Ngakoue, Melvin Ingram III, Bud Dupree, Matthew Judon and Aldon Smith make this easily one of the strongest classes in all of free agency. That type of talent is rarely available, and the Browns should take full advantage. 
Come draft time, expect Cleveland to be a player in this safety class. TCU's Trevon Moehrig is the dream on Day 1, but there are a number of intriguing options on Day 2. Oregon's Jevon Holland and UCF's Richie Grant would be similar dream scenarios in Round 2.
DALLAS COWBOYS: INTERIOR DEFENSIVE LINE, SAFETY, OFFENSIVE TACKLE
Dak Prescott's deal essentially started and ended the Cowboys' free agency period. They'll now have to shed to just get themselves back under the cap. That means defensive needs galore are priorities come draft time.
While Pick No. 10 holds some value at the cornerback position in someone like Virginia Tech's Caleb Farley, the Cowboys have to be hoping a team is desperate to trade up. Coming away with TCU safety Trevon Moehrig later in the first, and then being able to add a couple of corners in the second, such as UCF's Aaron Robinson and Georgia's Eric Stokes, and a defensive tackle in the third, such as N.C. State's Alim McNeil, sounds far more appealing. 
DENVER BRONCOS: QUARTERBACK, CORNERBACK, INTERIOR DEFENDER
The Broncos are finally in striking distance of getting "their guy" at the quarterback position in the draft, but it sounds as if moving up isn't their plan of attack. If that's the case, we'll likely know well before late April, as they'll have added a veteran to the mix with Drew Lock. 
If I were the Broncos, I'd quietly be plugging holes in the defense with $30 million of space to play with in free agency. And come draft time, they can play the board as it falls. Cornerbacks Xavier Rhodes and Chidobe Awuzie would be good scheme fits and won't be too expensive. It would also save the Cowboys from pigeonholing themselves into a cornerback at Pick No. 9, as you see in every mock. 
However, Dallas won't be able to wait until the draft to address the defensive tackle position. There are only two in PFF's top 50, and neither really makes sense in the top 10. Shelby Harris is a key piece to retain.
DETROIT LIONS: LINEBACKER, EDGE DEFENDER, WIDE RECEIVER
This is really not the year for the Lions to be major players in free agency. While their decision not to tag Kenny Golladay was certainly a surprise, he'll almost certainly net them a future third-rounder as long as they stay away from adding anyone.
This appears to be the beginning of a mini-rebuild, with the Lions over the salary cap as it stands. That means that the needs above are meaningless come draft time. Detroit isn't in a position to force anything at certain positions. The Lions simply have to play the board, which likely means picking for value with a wide receiver — or a quarterback — at No. 7 overall. 
GREEN BAY PACKERS: LINEBACKER, INTERIOR DEFENSIVE LINE, CORNERBACK
With enough cap magic, the Packers could sneak in a free agent or two despite being $11 million over the cap. They should prioritize interior defensive line in free agency, as it's a weak class in the draft. Taking on an aging veteran and hoping they can rekindle some magic could be their most feasible option. Jurrell Casey, Tyson Alualu, Kawann Short or even Geno Atkins, if the Bengals part ways, fit that bill.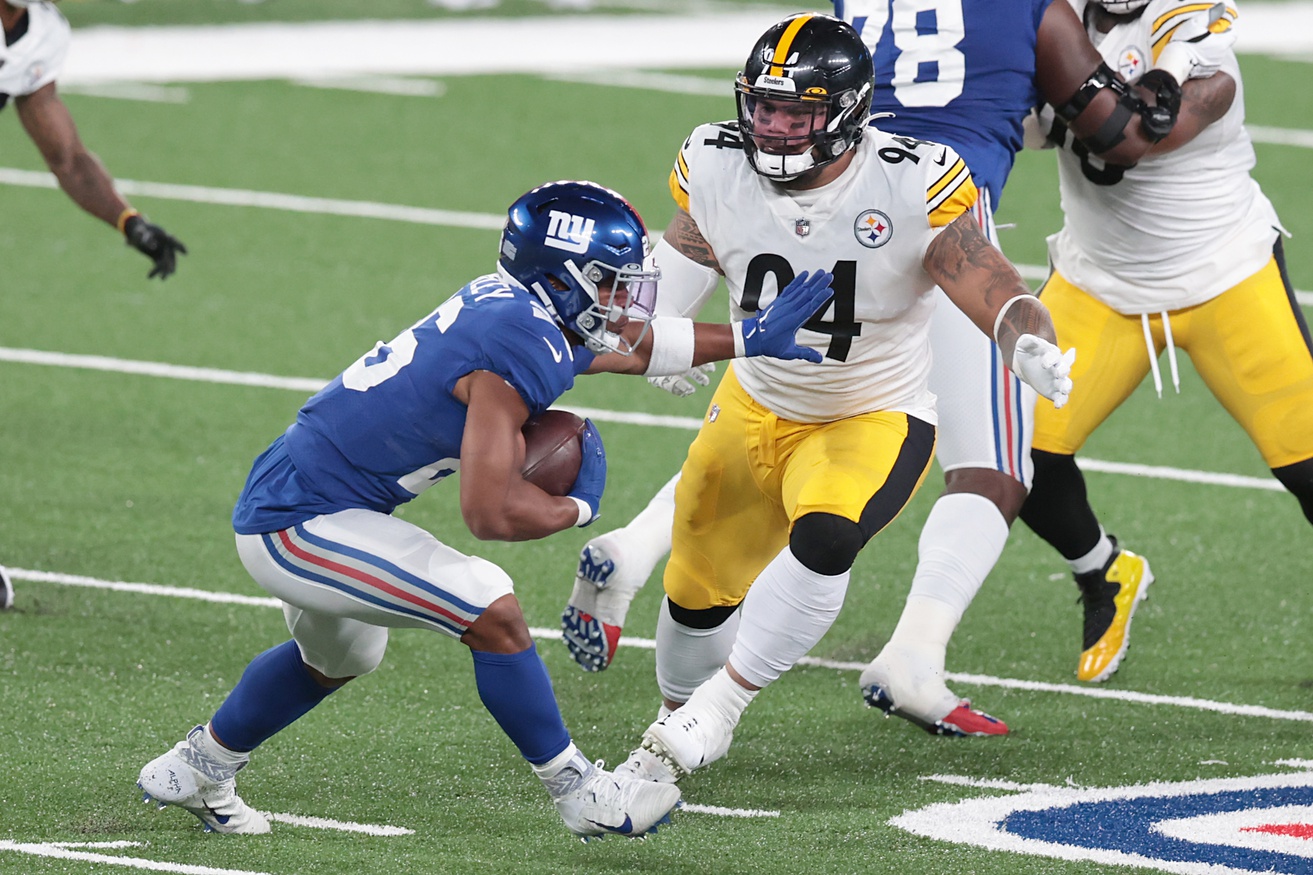 That means the Packers need to look toward the 2021 NFL Draft for their remaining needs. I wouldn't be surprised if they left the linebacker position untouched after how rookies Krys Barnes and Kamal Martin looked last year combined with their relative importance in new defensive coordinator Joe Barry's scheme (the Rams linebackers were among the lowest-graded in the NFL).
That leaves cornerback circled in red sharpie as a likely position for the Packers to address. It's difficult to see Northwestern's Greg Newsome II making it past Pick No. 29 if still available, and Florida State's Asante Samuel Jr. would be an ideal scheme fit, as well.
HOUSTON TEXANS: CORNERBACK, EDGE DEFENDER, SAFETY
I get that the Texans have $17.6 million in cap space, but they are decidedly NOT a destination free agents will willingly head to with the Deshaun Watson situation. Until that's resolved, Houston should stay out of the free agent market. 
With a distinct lack of talent and draft picks, this is the year to part ways with some bloated contracts and draft purely for value.
INDIANAPOLIS COLTS: LEFT TACKLE, EDGE DEFENDER, WIDE RECEIVER
With $44 million in cap space, this is a career-defining offseason for general manager Chris Ballard. He already made a massive splash with the Carson Wentz trade. Now, will he also do it when free agency opens?
When looking at the players available, Trent Williams — PFF's top-graded offensive tackle in 2020 — makes almost too much sense after Anthony Castonzo's retirement. The plethora of edge talent also looks ripe for the picking for Indianapolis, which has struggled to hit on the position in the draft. Bringing back Justin Houston could be the team's first option here, as well.
With the top free agent wide receivers all franchise-tagged at this point, Indianapolis will likely need to address that need in the draft. The good news is that there are seven receivers on the next PFF draft board update that we see as first-round values. That's a good place for the Colts to be at Pick No. 21.
The quarterback position is a clear need for Jacksonville — one that will be addressed in the draft. The other two positions could very well be left for then, as well. That's because the Jaguars are still in the early stages of their turnaround.
It's difficult to see owner Shad Khan allowing the Jaguars to fall victim to the same mistake they made back in 2017 by blowing through their league-leading cap space overnight. I'd anticipate a fairly modest free agency period for the Jaguars as they attempt to replenish that roster with their plentiful draft capital.
KANSAS CITY CHIEFS: OFFENSIVE GUARD, EDGE DEFENDER, LINEBACKER
Nearly $23 million over the cap at the moment, the Chiefs won't have much to offer in free agency. Unless they can convince some veterans to chase a ring, this isn't their year to add talent on the market.
The Chiefs look very much in play for an offensive lineman or an edge defender at Pick No. 31 with the depth in both of those classes. If they are looking for immediate impact, the tackle and guard class has a number of likely Day 1 starters. But if they are looking for a splash, there's a ton of high-level athletes in the edge class. Penn State's Jayson Oweh and Michigan's Kwity Paye are physical freaks who lack polish and could still be on the board when the Chiefs' pick rolls around.
LAS VEGAS RAIDERS: EDGE DEFENDER, INTERIOR DEFENSIVE LINE, SAFETY
After the way the Raiders' recent free agent signings have gone — with Lamarcus Joyner, Trent Brown and Tyrell Williams all parting ways with the team this offseason — this might be the year for Las Vegas to reel in the spending a tad.
If the team is going to splurge anywhere, defensive line feels like the place to go. Pass rush is a must in Gus Bradley's scheme, and a player like Carl Lawson, Yannick Ngakoue or Trey Hendrickson would provide a speed-rushing threat the Raiders don't have.
The edge class is deep in the draft, too, but Las Vegas doesn't quite have the time to wait for someone in the raw class to develop. The only safety we see as worthy of the 17th overall pick is TCU's Trevon Moehrig, and he'd be a strong upgrade over the Raiders' current safeties. It's the interior defensive line class where the Raiders may be out of luck, with only four players at the position ranking among the top 70 players.
LOS ANGELES CHARGERS: INTERIOR DEFENSIVE LINE, TIGHT END, INTERIOR OFFENSIVE LINE
The Chargers, with $24.7 million in cap space, are in a great situation to go hole-plugging in free agency. I would expect them, at the very least, to add a defensive tackle and an interior lineman to the roster prior to the draft, if not multiple. They simply have to protect Justin Herbert better than last year, when they fielded the third-worst pass protecting offensive line in the NFL.
That said, I don't think that precludes them from drafting offensive line help, as well. Northwestern's Rashawn Slater and USC's Alijah Vera-Tucker are two of the most technically sound and versatile linemen in the draft. Both would be massive upgrades wherever they're plugged in for the Chargers.
Tight end looks like it will be left to the draft, as well, with Hunter Henry not getting franchise-tagged. The Chargers are probably too far out of the Kyle Pitts sweepstakes, but they could find Penn State's Pat Freiermuth and Boston College's Hunter Long on Day 2. Both are prototypical inline guys who can replicate Henry's role in the offense.
LOS ANGELES RAMS: LINEBACKER, SAFETY, EDGE DEFENDER
It might be a while before the Rams are players again in the free agent waters. With $35 million in cap space that they need to clear before even getting under the cap and no first-round pick, the Rams' are pretty close to set for 2021.
If they were to prioritize a position at Pick No. 57, it could be linebacker. Kentucky's Jamin Davis would be an ideal fit at that spot with his length and athletic profile. He's used to spot dropping in coverage, but the Rams' coverage scheme from a year ago often asked their linebackers to just come up and make the plays in front of them.
MIAMI DOLPHINS: INTERIOR OFFENSIVE LINE, EDGE DEFENDER, WIDE RECEIVER
As much as the Dolphins have invested in their offensive line of late through the draft, I'd still love to see them add some proven talent. That's because they ranked as PFF's 28th overall offensive line at the end of 2020. That has to change if they are committed to giving Tua Tagovailoa a chance to succeed. The offensive line free agent class isn't terribly deep after franchise tags, but proven center Corey Linsley would be an upgrade over Ted Karras in the middle.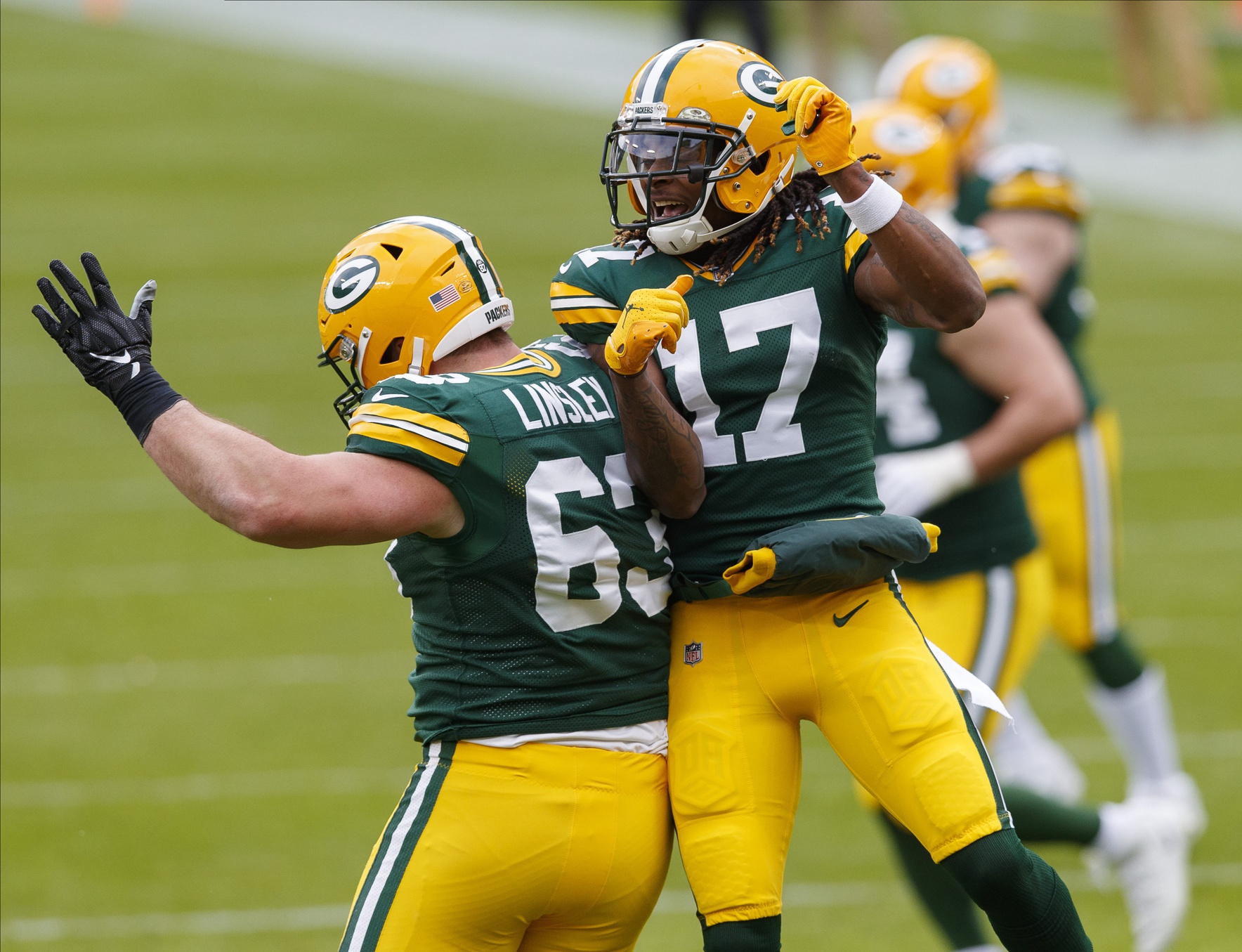 While we can, have and will continue to debate what the Dolphins will do with Pick No. 3 until we are blue in the face, I'm more intrigued about where they go at Pick No. 18. The good news is that it doesn't look like they can go wrong with either edge defender or wide receiver at that spot due to how deep the classes are.
MINNESOTA VIKINGS: OFFENSIVE GUARD, INTERIOR DEFENSIVE LINE, EDGE DEFENDER
The Vikings are very much up against a wall cap-wise. Barring a Hail Mary Kirk Cousins trade, I'm not sure how they even become players in this deep edge class in free agency. That means they'll have to wait until the end of April, when it's very likely they'll have their pick of the litter for the entire defensive line class.
While edge defender may present more value, the Vikings could choose to take Alabama defensive tackle Christian Barmore at Pick No. 14, as he's the only interior defender we've given a first-round grade to. The depth of this edge and interior line class make those positions more attractive than defensive tackle in Rounds 2 and 3.
The Patriots are in a no-man's land where they 1) don't have a quarterback, and 2) don't have a lot of young talent on rookie deals. But they're too well-coached and still have enough talent defensively not to bottom out completely.
I think the fact New England didn't tag guard Joe Thuney means the team won't be players in this year's free agency period because of how well it plays the compensatory pick game. If the Patriots are interested, it'll be in guys who were cut — such as Kyle Van Noy.
That means all eyes have to be on the draft. With how many valuable positions they could still use, I wouldn't even start plugging holes if I were them. They should make a big play for one of the top quarterbacks or take a flier later on and build out that roster wherever they can find value.
NEW ORLEANS SAINTS: QUARTERBACK, CORNERBACK, WIDE RECEIVER
Still the single most over-the-cap team in the NFL, the Saints need to sit this free agency period out and find building blocks in the draft. That may not happen at quarterback with Pick No. 28, but wide receiver and cornerback should be in play with how strong those respective classes are. With how much dead money the team is set to carry, trying to kick the cap hits down the road again to compete in 2021 doesn't seem wise.  
NEW YORK GIANTS: OFFENSIVE GUARD, EDGE DEFENDER, WIDE RECEIVER
After last offseason's spending spree transformed their defense, the Giants are in no cap situation to make another such run in 2021. They are currently $11 million over the cap and made their free agency "play" already by tagging defensive tackle Leonard Williams.
Now, the team has to provide Daniel Jones enough help to prove — or disprove — that he's the franchise guy. The Giants will be in luck at Pick No. 11, as it's a near certainty that at least one of the top four receiving options — Florida's Kyle Pitts, LSU's Ja'Marr Chase, Alabama's Jaylen Waddle and Alabama's DeVonta Smith — will be on the board. Any will do. 
Day 2 will be crucial, though, as the Giants' second-to-last ranked offensive line may get even worse if guard Kevin Zeitler ends up a cap casualty. If that's the case, I'd expect Ohio State guard Wyatt Davis to be the pick at the top of Round 2 with his plug-and-play ability.
NEW YORK JETS: QUARTERBACK, CORNERBACK, EDGE DEFENDER
We expect the Jets to address the quarterback position in the draft, but I don't think fans would be too upset if it's dealt with via trade beforehand. The cornerback and edge defender needs are question marks, though.
Yes, the Jets have the second-most cap space in the NFL. But general manager Joe Douglas has yet to tip his hand in terms of roster building. If he's learned from the Jets of years past, a modest approach could be in the works. That being said, this free agent edge class — with 10 of PFF's top 75 available free agents at the position — is too fruitful for them to ignore with their complete despair at the position.
At cornerback, the Jets have to be crossing their fingers and praying that South Carolina's Jaycee Horn falls to Pick No. 23. He's too ideal a fit in Robert Saleh's defense, but his physical playstyle may be a little too coveted around the league for that to come to fruition.
The Eagles are among the many teams that need to take a breather this offseason. After playing fast and loose with money in recent years, it's time to pay the bills. With Carson Wentz taking up more than $30 million of Philadelphia's cap after being sent to the Colts, the Eagles have no way of realistically building a truly competitive roster.
To prep for another Super Bowl window, the Eagles should try and get whatever they can in return for players who won't be viable then — even if it's just cap space. And in the draft, they should prioritize value over need with every pick.
PITTSBURGH STEELERS: QUARTERBACK, INTERIOR OFFENSIVE LINE, RUNNING BACK
Pittsburgh addressed its quarterback need already … kind of. With Ben Roethlisberger coming off his lowest-graded season since 2006, I could see the Steelers still taking a quarterback in the draft if the value presents itself.
Due to limited cap space and a mostly veteran roster, though, they are all-in on 2021, for all intents and purposes. That means you shouldn't be surprised if they "find" more cap space with contract restructures to try and make upgrades or even retain someone like Alejandro Villanueva along the offensive line.
Come draft time, that offensive line will almost assuredly be the focus once again. Oklahoma State's Teven Jenkins and North Dakota State's Dillon Radunz are crushing run blockers who could even start their career at guard for the Steelers.
While the 49ers didn't franchise-tag Trent Williams, their easiest path to addressing left tackle is obviously retaining him. Otherwise, they may be out of luck due to the lack of talent at the position and desperation around the league. At that point, Northwestern's Rashawn Slater — the 12th-ranked player on PFF's draft board — may be their only hope of finding a competent left tackle in 2021.
Of course, none of that means anything without a quarterback. San Francisco is within striking distance of this elite quarterback class, and it'd be silly not to explore options there. Jimmy Garoppolo will assuredly be a cap casualty, subsequently providing the team with a ton of cap room to work with.
The 49ers could then bring back Jason Verrett and Richard Sherman at corner if they wanted to. But they won't find a difference-maker at quarterback sitting on the street. It's going to take a move up in the draft to do so, and this looks like the year where they might pull the trigger.
SEATTLE SEAHAWKS: CORNERBACK, EDGE DEFENDER, INTERIOR DEFENSIVE LINE
If the Seahawks let Shaquill Griffin walk, they might have the worst cornerback group in the NFL — at least on paper. I know Russell Wilson said he wanted protection, but the Seahawks simply have no shot in today's NFL with their current corners. Signing Griffin or another corner is a must with the team's $18 million in cap space.
And that shouldn't stop them from doing the same come draft time. While I'd imagine Seattle will take advantage of the deep offensive line class, as well, the team has to add another corner if it has any hopes of slowing down even the offenses in its own division. Day 2 corners who fit their long mold are Syracuse's Ifeatu Melifonwu and Minnesota's Benjamin St-Juste.
TAMPA BAY BUCCANEERS: LINEBACKER, INTERIOR DEFENSIVE LINE, EDGE DEFENDER
The Buccaneers have such a solid young defensive core that even if they simply retain their impending free agents, they could be even better in 2021. They already franchise-tagged receiver Chris Godwin and re-signed linebacker Lavonte David, leaving edge defender Shaquil Barrett on the outside looking in for now.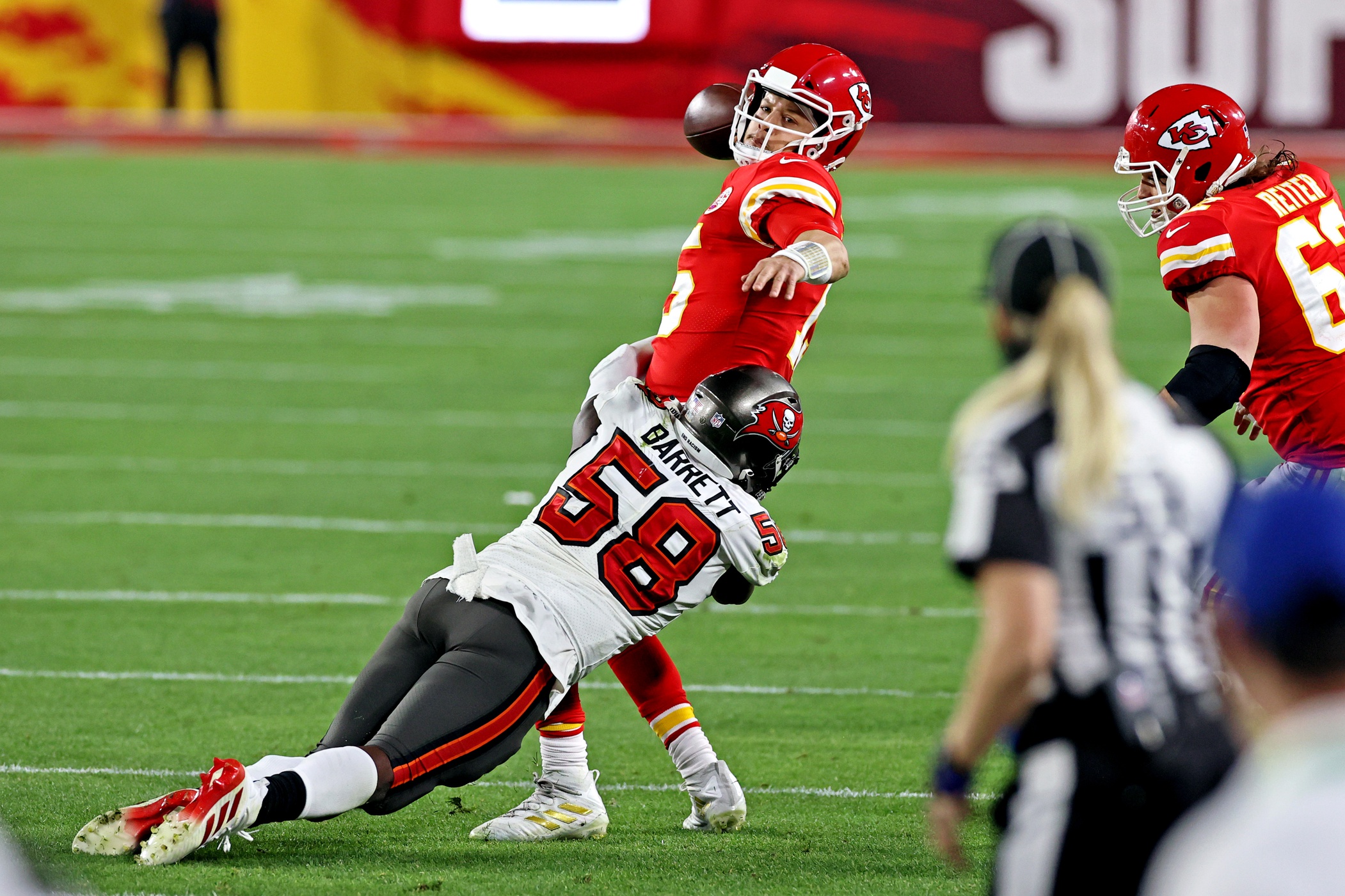 Even though Tampa Bay is technically over the cap at the moment, it could fit all three under the constraints with long-term extensions that feature low Year 1 cap hits. I'd be surprised if they went outside the organization for improvements.
The 2021 NFL Draft is an intriguing conversation here. Obviously, if the Buccaneers can't retain one of those big three, that position becomes a priority. Value-wise, the Bucs could look at edge defenders even if they get a deal done with Barrett. Jason Pierre-Paul is under contract for only one more year, and an edge rusher would almost certainly see the field in sub-package situations.
With how much money Tampa Bay is doling out at the position, getting someone productive there on a rookie deal like, say, Oklahoma's Ronnie Perkins would be a cap-savings move at a valuable position.
TENNESSEE TITANS: EDGE DEFENDER, WIDE RECEIVER, OFFENSIVE TACKLE
The Titans are right up against the cap, and while they could create some space with cuts, they can't necessarily afford to bleed talent to do so. Their free agency may just be trying to catch lightning in a bottle with a cheap veteran pass-rusher, as they've attempted with Cameron Wake, Vic Beasley Jr. and Jadeveon Clowney in recent years with little success.
That need looks destined to be fully addressed come draft time, though. If one of the long, freaky Miami edge rushers — Gregory Rousseau and Jaelan Phillips — falls to the Titans, they'll be hard-pressed not to pull the trigger. If not there, the receiver and tackle classes are exceedingly deep to where they should get good value at either.
Washington has the cap space to make some big plays in free agency, and I fully expect one at the wide receiver position to pair with Terry McLaurin. Will Fuller V, JuJu Smith-Schuster and Corey Davis are all quality options to play second fiddle for whoever starts at quarterback. 
With even below-average starters getting the franchise tag at the tackle position, such as Cam Robinson, the Football Team should think long and hard about Virginia Tech's Christian Darrisaw in Round 1. If not, I'd strongly consider getting on the phone with the Ravens to see what it would take to pry away disgruntled left tackle Orlando Brown Jr. Free agency simply may not be an option to address that need.
The unaddressed elephant in the room, obviously, is quarterback. There's no great answer there. Washington will be in the Cam Newton, Jameis Winston and Sam Darnold sweepstakes, but that's not a great place to be.