Continuing on our series of 2020 NFL position rankings, we turn our attention to the pass-catchers. Wide receiver is the most valuable position on the field after the quarterback, and it also elicits a hotly contestable debate as to who the best really is. But with the help of PFF's advanced database — which is also used by all 32 NFL teams — we can help to shed some light here. So, without further ado, let's dive into our top 25 wide receivers ahead of the 2020 NFL season.
Subscribe to PFF's EDGE or ELITE subscriptions to get access to the following tools, charts, etc. 
– All Premium Article Content
– Fantasy Football Rankings & Projections
– Fantasy Football Draft Guide, Cheat Sheets & Advanced Stats
– Fantasy Football Mock Draft Tool (DraftMaster)
– Fantasy Football Strength of Schedule Matrix
– NFL Player Grades
– NFL Premium Stats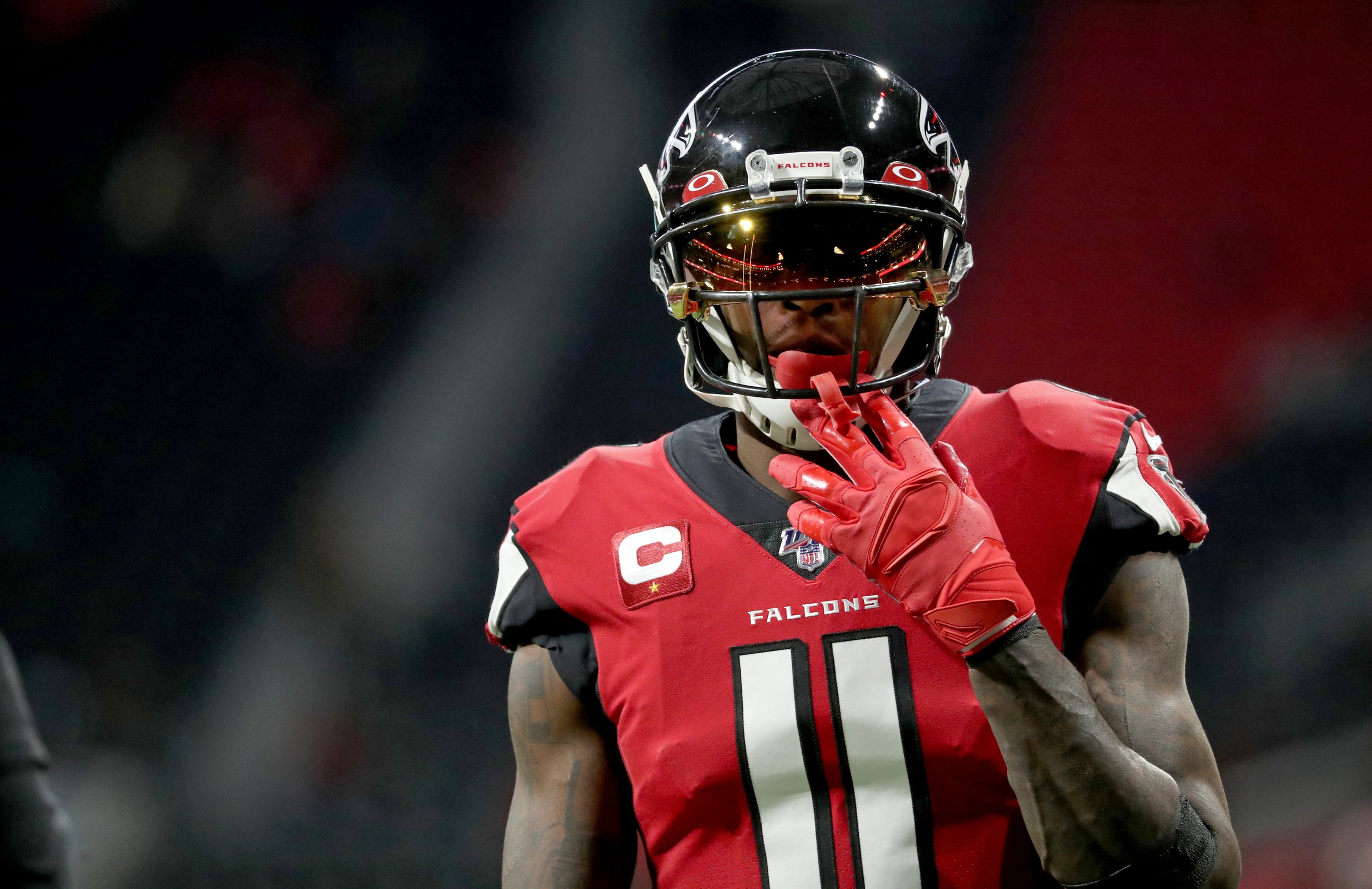 Julio Jones is excellence in its truest form. He has been one of the NFL's three highest-graded wide receivers in each of the past five seasons, with multiple first-place finishes. In that five-year span, Jones has produced 225 receptions that resulted in a 15-plus yard gain, which is 50 more than any other wide receiver. I'm not sure you'll find a more dominant stat than that in our database. He's the league's best all-around receiver as we head into 2020 and has already solidified himself as one of the best in NFL history.
We respectfully disagree with the narrative that Drew Brees and the Saints' system makes Thomas seem better than he actually is. Since Thomas entered the league in 2016, his receiving grade is the best we have recorded in the PFF era (since 2006) among wide receivers in their first four years. Three of those four seasons ended with Thomas earning a receiving grade above 90.0. The only other player to have more than one of their first four seasons reach that mark was Odell Beckham Jr., who had two. Thomas is the definition of a possession receiver, and we'd love to have that on our team any day of the week.
So many corners have tried to go one-on-one with Hopkins. He's had the second-highest rate of routes against press coverage over the past three years (only Antonio Brown is higher) and has exposed several corners. No other wide receiver has produced a higher grade against single coverage since 2017 than Hopkins. And against tight coverage in that same span, he remains the highest-graded receiver. His ball skills are also as good as it gets for the position, as he's caught 58 balls within a yard of the sideline — 22 more than anyone else — since entering the NFL. He'll be an asset to the development of Kyler Murray in Year 2.
It's no secret that Hill is one of the most electric receivers in the game. His deep speed is a huge strength, and when it's paired with Patrick Mahomes, Hill becomes a game-wrecker. Since coming into the league in 2016, Hill has earned the highest receiving grade on 20-plus yard targets and has recorded 1,964 deep yards (over 300 more than anyone else). He has caught 17 deep receiving touchdowns in which he had at least a step of separation — four more than the next best player. He performs far better at the catch point than most receivers his size, too, and remains No. 1 in deep grade on contested balls, hauling in 13 of 24.
After back-to-back years of PFF grades just above 80.0, Godwin catapulted himself into the elite tier in 2019, earning the best PFF grade at the position (90.7). As PFF's Sam Monson said in the PFF50, PFF grades take into account the difficulty of catches, and Godwin had a remarkable amount of tough snags in 2019. He caught 51.2% of his targets that weren't deemed accurate, according to our ball-charting process, the third-best rate in the NFL. Not to mention, he is explosive and shifty after the catch, breaking 17 tackles (third-most) and generating at least five yards after the catch on 19 of his catches (four more than any other wide receiver).
Adams is arguably the best route-runner in the entire game and has some nasty double moves. Since 2018, he has recorded 27 catches against single coverage in which he was deemed open (more than a couple of steps), tying for the third-most in that span. Adams is coming off back-to-back career years, earning a two-year grade that ranks seventh at the position — and he did that while missing some time due to injury. He has been far and away the Packers' top receiving option, and he's proven to handle that role just fine.
Evans has had an excellent grading profile all throughout his career, and that's helped him rank as the fourth-most valuable receiver in the NFL since he entered the league in 2014. With his 6-foot-5, 231-pound frame, Evans is a monster in contested situations. His 37 contested catches that came 10-plus yards downfield since 2017 lead all wide receivers. Interestingly enough, defenses have intercepted 40 passes on targets meant for Evans in his career, which is eight more than any other receiver in that span. Tom Brady should certainly help snap that trend.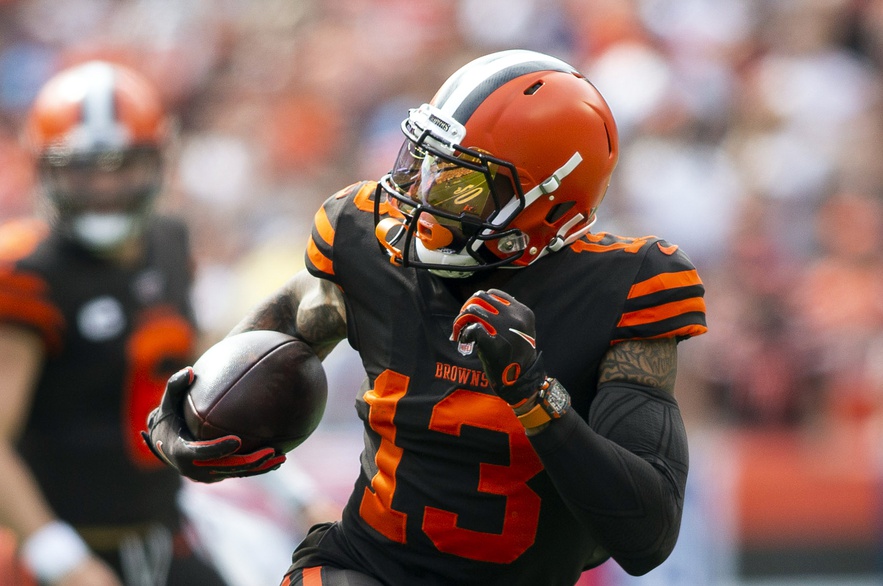 Beckham's first season in Cleveland was completely underwhelming. The entire offense was out of sync, including the connection between Baker Mayfield and Beckham. This past year, he saw 28.8% of his targets past the sticks result in a QB-fault incompletion, the eighth-highest rate in the NFL, and he earned a middling 69.4 receiving grade. New head coach Kevin Stefanski should help get Beckham closer to his elite form and improve the communication between him and Mayfield. In four of Beckham's five years with the Giants, he ranked sixth or better in receiving grade.
Cooper has helped transform Dallas' passing attack since arriving in the midst of the 2018 season. In his time as a Cowboy, he has produced the ninth-best receiving grade in the NFL and 2.2 yards per route run, which ranks tied for seventh. Cooper routinely gets open downfield for Dak Prescott — his 39 targets of 10-plus yards downfield in which he had a step or more of separation are the fifth-most by an outside receiver since he joined the team. Dallas ranks fourth among the 32 teams in expected points added per pass in that span, and Cooper is a big reason why.
While Tyreek Hill, Chris Godwin and Mike Evans are all higher than Allen, he's still very much a top-10 receiver in the NFL because of his route running. That trait of his is easily in the conversation for best in the league. Allen has generated open separation (more than a couple of steps) against single coverage on 48 targets since 2017 — five more than any other receiver in the league. His receiving grade took a bit of a dip in 2019 after back-to-back years in the top five, but it was still good enough to rank 11th in the NFL. 
There's no doubt Robinson has battled through poor quarterback play all throughout his career. With the Bears, specifically, just 37.7% of his targets past the sticks have been deemed accurate. For perspective, Michael Thomas' rate in that same span was 30 percentage points higher. Still, Robinson has managed to produce the 19th-best receiving grade in that span. Very few defenders can beat Robinson for a catchable contested ball. He has posted the second-best receiving grade on contested targets with Chicago and caught the third-most such targets (40). Nick Foles' accuracy is considerably better than Mitchell Trubisky's, so a career year could be in the works for Robinson.
Buffalo's receiving unit got a big boost with the addition of Diggs' savvy route running and strong play on contested balls. His 58% contested catch rate over the past three years ranks second in the NFL, and his 119.1 passer rating generated on said targets is by far the best. While John Brown and Cole Beasley are good receiving options who help form a top-five receiving unit in the NFL, that's an area they massively struggled in. Diggs can't fix Josh Allen's downfield accuracy issues, but he'll certainly do his part if delivered a catchable ball.
McLaurin had one of the biggest surprise rookie seasons in recent memory last year. The former third-round pick earned an 86.5 receiving grade, sixth in the league, but it was also the second-best grade we have ever given to a rookie wide receiver. He is an advanced route-runner who can separate downfield at a high rate — he generated separation at the sixth-highest rate in the league on targets of 10-plus yards downfield against single coverage last year. McLaurin averaged 2.05 yards per route run last year, 14th among wide receivers, and he did that despite seeing the second-lowest rate of accurate targets among rookie wide receivers. If Dwayne Haskins can take that next step forward, McLaurin figures to be a force to be reckoned with in Washington.
Thielen had a down year in 2019 as he battled injuries throughout. He still earned a respectable 78.0 receiving grade that ranked 22nd at the position, but it was far from his 2018 effort when he produced a seventh-ranked grade of 89.4. Thielen's releases are still some of the best you'll see, and he can separate against the best of them. In 2018, Thielen had the fourth-highest separation rate (step or more) against single coverage, at 65% — over 20 percentage points higher than the NFL average.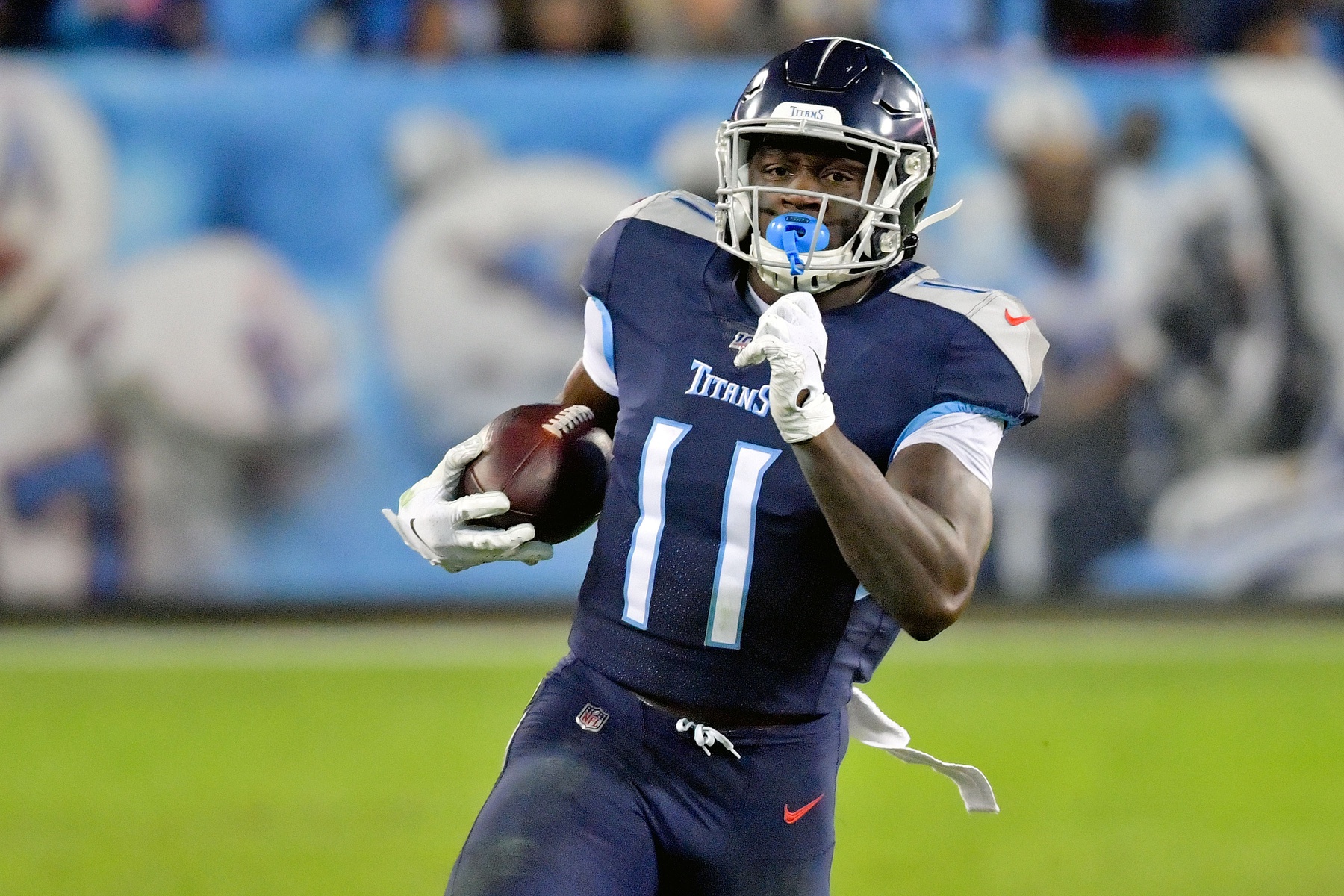 Very few would have predicted that Brown would end up one of the NFL's best receivers right out the gate, but here we are. The Ole Miss product produced 2.70 yards per route run, the third-best we have seen from a rookie wide receiver and the third-best rate of the 2019 campaign. Brown is a monster after the catch; he broke 16 tackles on 52 catches (second-best rate) and averaged 8.9 yards after the catch (first). He's a star in the making.
After a fairly poor rookie campaign in 2018 that saw him earn a 63.8 PFF grade that ranked 72nd among 100 qualifying wide receivers, Sutton improved that mark to 83.1 (11th) in Year 2. He's strong at the catch point and isn't an easy receiver to bring down, as he broke 16 tackles on 72 catches in 2019. And he did most of that as Denver's only receiving threat on the field after the departure of Emmanuel Sanders. Now, the Broncos welcome in rookies Jerry Jeudy and K.J. Hamler, who will be great complements to Sutton.
Woods has thrived in his three years with the Rams, earning the 11th-best receiving grade at the position since 2017. He has dropped just seven of his 259 catchable targets in that span, though the best thing he brings to the table is his route-running. He generates an exceptional rate of separation, and that's helped him pick up the sixth-most explosive plays of 15-plus yards since 2017 (86). Woods has been a consistently great receiving option for the Rams, and that should continue in 2020.
Golladay is an exceptional vertical threat, and he will benefit from a healthy Matthew Stafford and his aggressive playstyle in 2020. With Stafford under center in 2019 (through Week 9), Golladay saw 22 deep targets, three more than any other receiver in that span. He hauled in eight of those for 306 yards and three scores and would go on to finish the year tied for the most deep catches, with 16. Golladay is strong at the catch point with his 6-foot-4 frame and won't lose many contested balls — his PFF receiving grade on such targets over the last two years is the best in the NFL.
There's no question that Hilton has struggled with Jacoby Brissett under center, but the veteran pass-catcher still ended an injury-riddled 2019 season with the 27th-best receiving grade in the NFL. In the year prior, with Andrew Luck leading the offense, Hilton finished 10th. He's a reliable deep threat on the outside, and his 3,125 receiving yards on 20-plus yard targets since entering the league in 2012 (second over that span) back that up. The ball is in Philip Rivers' court now, and while his arm certainly has taken a step back, he should help Hilton put up better numbers going forward.
Lockett has produced the 14th-best receiving grade at the position over the past two seasons and has generated a league-leading 147.6 passer rating when targeted over that span (over 20 points higher than any other wide receiver). He's played exceptionally well against single coverage, routinely generating separation and picking up 13 yards per target on such plays, the highest in the NFL. Russell Wilson and Lockett form one of the top QB-WR connections in the NFL, just as you saw last year in their TNF matchup against the Rams on the toe-tapping touchdown in the corner of the end zone.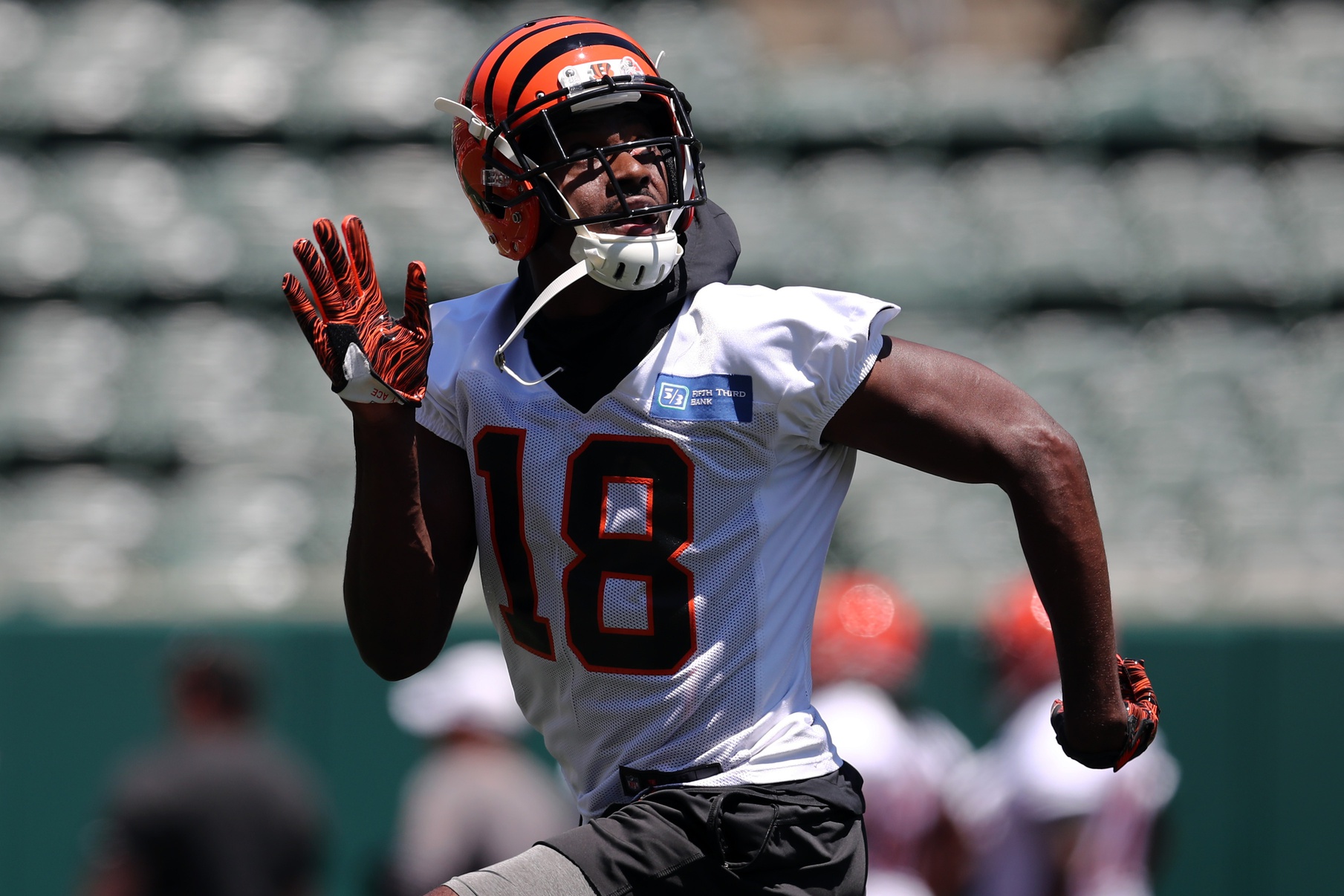 The 32-year-old wide receiver has struggled with injury as of late, but his routine dominance when healthy gives him a spot in the top 25. In fact, if you could guarantee Green plays 2020 fully healthy, he'd be significantly higher on this list. He ranked 11th or higher in seven of his eight seasons from 2012 to 2018, and in the one season he didn't, he was still 22nd. He will be one of the NFL's greatest downfield threats for Joe Burrow.
We finally got the breakout year we have been waiting for from Parker, as the former first-rounder posted a 79.2 PFF grade that ranked 17th in the NFL last year. He made several highlight-reel plays against single coverage on deep balls — he hauled in nine catches 20-plus yards downfield, tying for the third-most in the NFL. Parker finally looked like the first-round pick we all knew him to be, and he should shine again in 2020.
Moore is a playmaker in traffic — he has earned a 92.5 receiving grade (eighth among 88 qualifying wide receivers) on in-routes, slants and crossers over his career, with 16 broken tackles (first) on 60 catches. He took a big step forward in his sophomore campaign by raising his rookie PFF grade of 71.8 to 82.3. He is poised for another big year in 2020 with his playmaking ability and Teddy Bridgewater's playstyle.
After cementing himself as one of the most productive wide receivers in the NFL in his first two years in the league (2.10 yards per route was 12th among 70 wide receivers in span), Smith-Schuster took a huge dip in 2019, in large part due to the Steelers' poor quarterback play. Just 31% of Smith-Schuster's targets 10-plus yards downfield were deemed accurate last year, the 64th-lowest rate of 71 qualifying wide receivers. That, coupled with the fact that he played through injury for a large part of the year, certainly played a part in his yards per route run average dipping to 1.50, which ranked 54th. With a clean bill of health and Ben Roethlisberger returning to lead the offense, Smith-Schuster is primed for a bounce-back in what will be an important year for the fourth-year wideout.
Fitzgerald still has some gas left in the tank as he enters his 17th career season. And he could put up serious numbers in 2020 with defenses having to worry about DeAndre Hopkins. He might be coming off his second-lowest-graded season he's had in the PFF era, but Fitzgerald still produced at a top-25 level in regard to PFF WAR. With his sure-fire hands (had the most catchable targets without a drop in 2019, at 75), he helps make this Arizona receiving unit one of the best in the NFL.