The Saints have built a well-rounded roster in recent years and are once again among the best teams in the NFC. The past three seasons have ended in playoff disappointment — whether through miracles, missed calls or untimely turnovers — but New Orleans has the pieces to be right there in the mix as long as the players stay healthy. The roster is strong in the right places, as the Saints can pass the ball, stop the pass and rush the passer. Now it's just a matter of some of those breaks going their way in crunch time. Time may be running out on quarterback Drew Brees' career, and the Saints' attempt to win one more Super Bowl with him under center is one of the big stories of the 2020 NFL season.
Subscribe to PFF's EDGE or ELITE subscriptions to get access to the following tools, charts, etc. 
– All Premium Article Content
– Fantasy Football Rankings & Projections
– Fantasy Football Draft Guide, Cheat Sheets & Advanced Stats
– Fantasy Football Mock Draft Tool (DraftMaster)
– Fantasy Football Strength of Schedule Matrix
– NFL Player Grades
– NFL Premium Stats
ADDITIONS/SUBTRACTIONS
Additions/players brought back:
QB Drew Brees (re-signed for two years, $50 million)
QB Taysom Hill (first-round tender)
S Malcolm Jenkins (signed for four years, $32 million, $16.25 million guaranteed)
DI David Onyemata (re-signed for three years, $27 million)
G Andrus Peat (re-signed for five years, $57.5 million)
WR Emmanuel Sanders (signed for two years, $16 million)
OT James Hurst
Losses:
CB Eli Apple
LB A.J. Klein
QUARTERBACK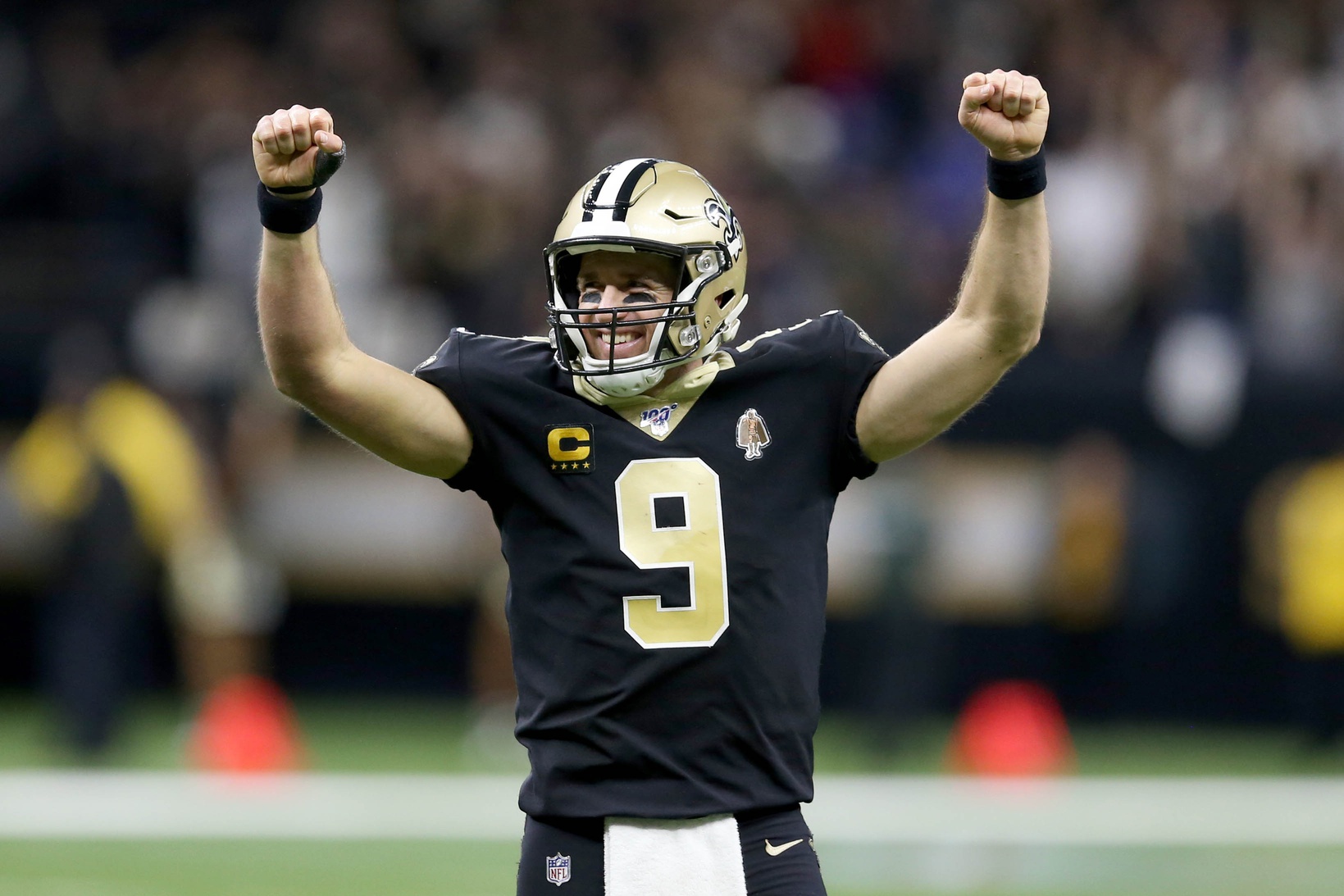 Here's what I said about Drew Brees after the 2019 season:
A thumb injury cost Brees a chunk of the season, but he once again showed that he could spread the ball around accurately while consistently making good decisions. Brees earned his second straight 90.0-plus grade, avoiding negatives better than any other quarterback in the league. He did see a downtick in his big-time throws, and despite strong stats in the last two games of the season, he forced multiple passes down the field that should have been intercepted but didn't show up on the stat sheet. That's the big question moving forward, as Brees still has the ability to lead an offense with his quick decision making and accuracy, but the downfield passing game was inconsistent this season. As such, there are concerns about Brees' age and if he'll be limited in the next year or two.
As we saw last season, Brees' accuracy remains top-notch. And there's not much he hasn't seen from under center, so that baseline already gives him a good chance of success in 2020. However, the Saints' downfield passing attack remains a question mark, and it's concerning that Brees has taken fewer deep shots while his game has regressed down the stretch in each of the past two seasons.
At this point, Brees is looking for that one last ring. And in the midst of playing with the best supporting cast of his career, that door hasn't quite closed. It's safe to predict that Brees will rank among the league's best at avoiding negatively graded throws once again, but keep an eye on the positively graded throws and the downfield passing, as that will determine how much success the Saints have during the stretch run this season.
RUNNING BACK
The Saints have successfully run a two-back system in recent years, with Alvin Kamara the star, especially in the passing game. Kamara has been the second-most valuable running back in the NFL since 2017, and his 59 receiving first downs rank fourth over the past two years. 
Kamara finished 10th in elusive rating last season after ranking first in 2017, which shows just how much he can create above and beyond what his teammates provide. He'll once again be joined by Latavius Murray, who graded at 73.9 last season while averaging a career-high 3.2 yards after contact per rush. Murray provides a nice change of pace from Kamara, and he even got in on the action with 14 missed tackles forced on 35 receptions last season. 
The wild card could be Ty Montgomery, a wide receiver/running back hybrid set to join an offense that knows just how to make the most out of a versatile skill set. Montgomery's best season came in 2016 when he graded at 76.0 overall while averaging 5.4 yards per carry and adding 425 yards through the air. His production has declined in recent years, but he's worth a look as a mismatch weapon in the Saints offense. 
Even with Kamara slowing down a touch over the past two years, this is one of the best running back rooms. They have a fine mix of talent to work into the offense in a variety of ways.
WIDE RECEIVER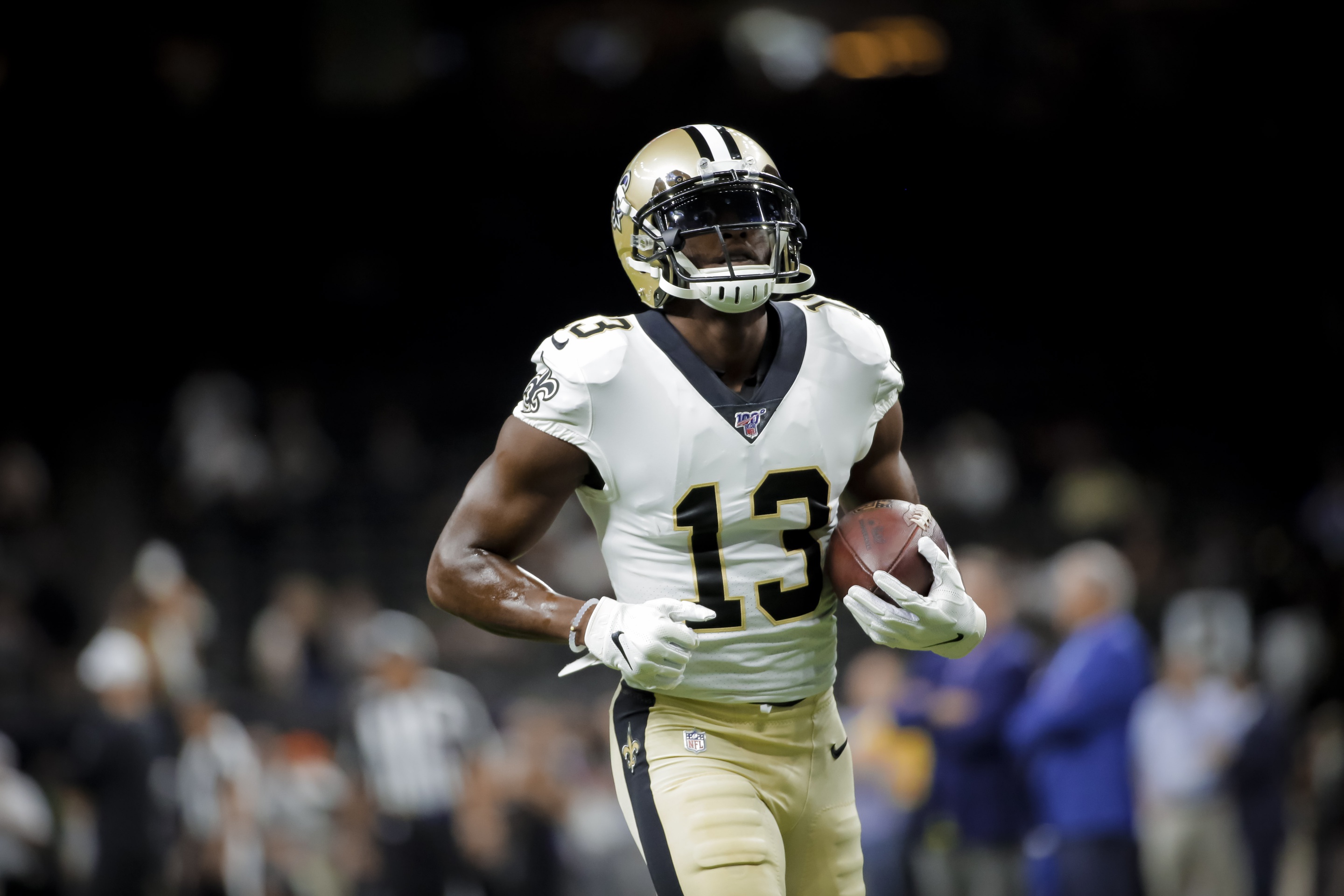 Last season, Michael Thomas picked up 92 first downs — 16 more than second-place finisher Julio Jones and 24 more than third-place finisher DeAndre Hopkins. Thomas finished the year with an NFL record 149 catches and has become the premier move-the-sticks option in the league. He does most of his damage up to 20 yards, but that doesn't take away from his efficiency; he had the third-highest percentage of open targets last season (75.2%).
On the other side, the Saints signed Emmanuel Sanders, another outstanding route runner who does his best work in the short and intermediate range. Sanders was a catalyst for the 49ers during their 2019 Super Bowl run on his way to the No. 18 receiving grade during the regular season (79.3). Tre'Quan Smith is a solid No. 3 option  — 10 of his 48 career receptions have been touchdowns. He adds size and speed on the outside, though the Saints are lacking a true burner after Ted Ginn Jr. joined the Chicago Bears this offseason.
We could see more of punt return sensation Deonte Harris, who caught all seven of his targets for 74 yards last season, including a 50-yarder in the playoff loss to the Vikings. The only remaining battle is the No. 5 spot, where the Saints have a plethora of big-bodied possession options to choose from. This is one of the league's best receiver groups, and the addition of Sanders makes it even more difficult to defend.
TIGHT END
After nine years in the league, Jared Cook put together the two best seasons of his career in 2018 and 2019. Cook's 80.8 receiving grade ranked sixth among qualifying tight ends, and he scored a career-high nine touchdowns while Saints quarterbacks produced a 142.4 passer rating when throwing his way.
Josh Hill returns for his eighth year with the Saints as a capable backup. They like to get the ball to Hill in space, where he's averaged 6.5 yards after the catch per reception during his career. The Saints also drafted Adam Trautman in the third round, and he was one of the most complete tight ends in the draft. Trautman is a sure-handed, physical player who posted a 94.3 receiving grade at FCS Dayton last season — he adds immediate depth and an option for the future for New Orleans.
The Saints have a good balance of current and future talent. Another strong year from Cook puts this group among the best tight end units in the league.
OFFENSIVE LINE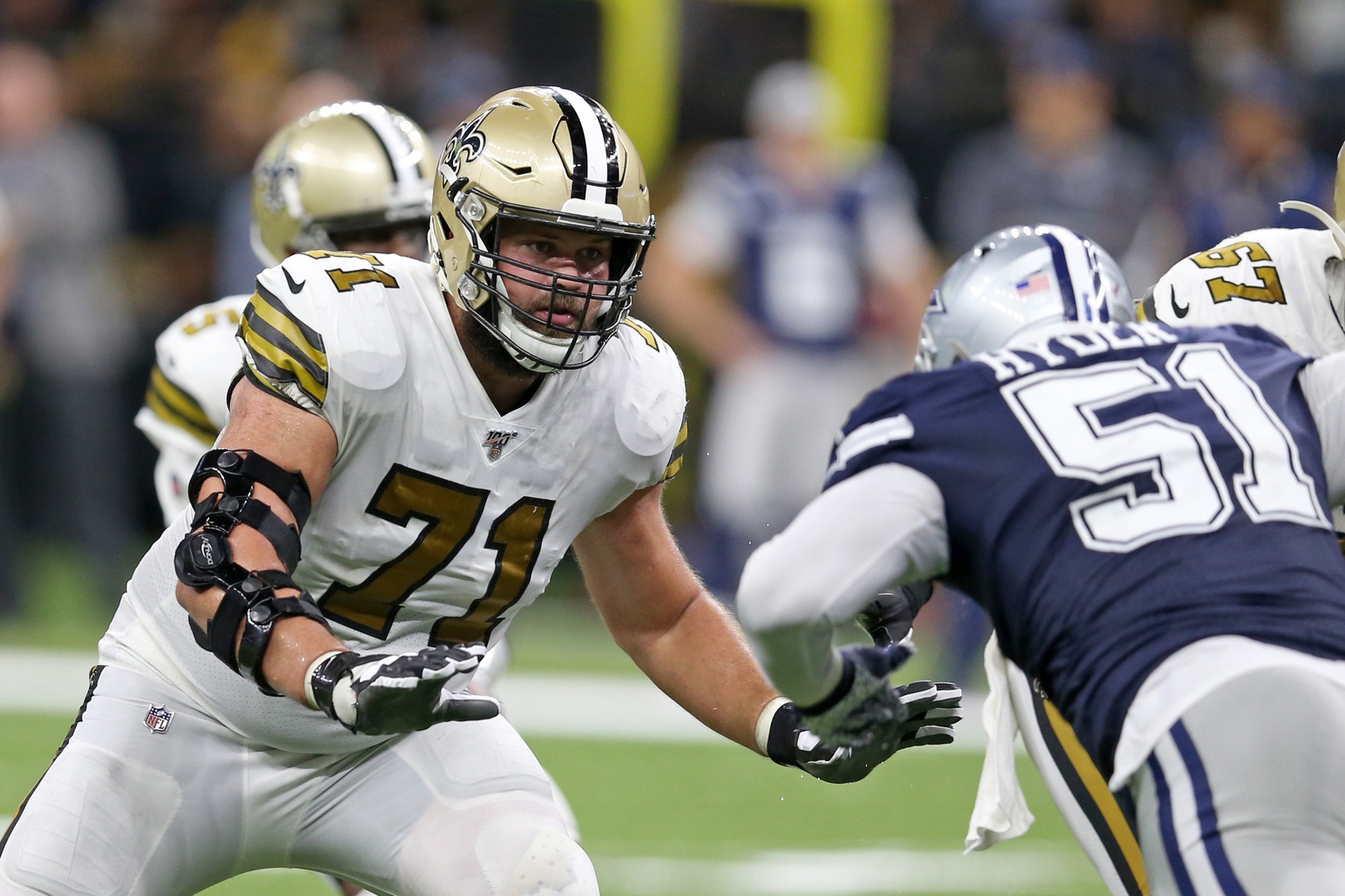 The Saints finished with the No. 5 offensive line last season, and they'll be right back in the mix at the top with four returning starters. They have the best tackle duo in the league in Terron Armstead and Ryan Ramczyk, who rank sixth and second, respectively, in grade since 2017 among tackles. Armstead's 89.9 pass-blocking grade over the past three years is second only to David Bakhtiari, and he has the power and quickness to make any block in the run game. Ramczyk has a 90.2 grade in his first three years in the league, a mark bested only by Joe Thomas and Jake Long during the PFF era (since 2006). Ramczyk also boasts a 90.2 run-blocking grade since 2017 that ranks second at the position.
The Saints' interior features a few more question marks, especially after Larry Warford's release this offseason. Warford will be replaced by first-round pick Cesar Ruiz, who played center at Michigan and shined in pass protection, earning an 86.5 grade and allowing only nine pressures last season. Ruiz looked like a luxury pick during the draft, but Warford's release shows just how much the Saints believe in Ruiz's ability. New Orleans had great success last season with rookie center Erik McCoy, who posted a 78.0 grade that ranked fourth in the league and a 77.6 run-blocking grade that ranked third.
Left guard Andrus Peat is coming off the two lowest grades of his career, and his 48.5 mark last season ranked just 79th out of 90 qualifiers. Peat had three straight 68.0-plus grades to kick off his career, and if he can get back on track, the Saints will be competing to rank as the best offensive line in the league.
DEFENSIVE LINE
Cameron Jordan is the star of this group and one of the most underrated players in the league despite near-universal agreement that he is an excellent lineman.
Jordan posted 83 total pressures last season, the fifth-straight year he has topped 70 and the fourth-straight season his PFF pass-rushing grade has been 80.0 or higher. Over the past five years, only Khalil Mack and Von Miller have a higher overall PFF grade among edge rushers than Jordan — he is one of the most complete edge defenders in the game.
On the other side of the line, Marcus Davenport continuing his development will be critical to the unit's success. Davenport has seen his pressure total, pressure rate, pass-rushing and overall PFF grade improve from his first to his second season in the league, and while he was good in 2019, he could become great in 2020. If he does, the Saints will have one of the best edge rusher tandems in football.
The return of a fully healthy Sheldon Rankins would be a huge boost to the Saints. Rankins got back on the field after Week 4 last season but didn't show his best play until Weeks 13 and 14 before being shut down again. He had just emerged as a really impressive force in 2018 before injuries started to derail his development. The Saints will be in good shape inside if they can get that player back.
David Onyemata is the other critical piece of the puzzle and, like Rankins, had his best season in 2018. Unlike Rankins, he doesn't have the excuse of injuries to explain the significant decline last season. Onyemata saw his PFF grade drop more than 25 points and his pass-rushing grade sink from 75.8 to 61.7. The Saints need him to find his best form again or his playing time may be under threat from veteran additions like Malcom Brown or Margus Hunt.
LINEBACKER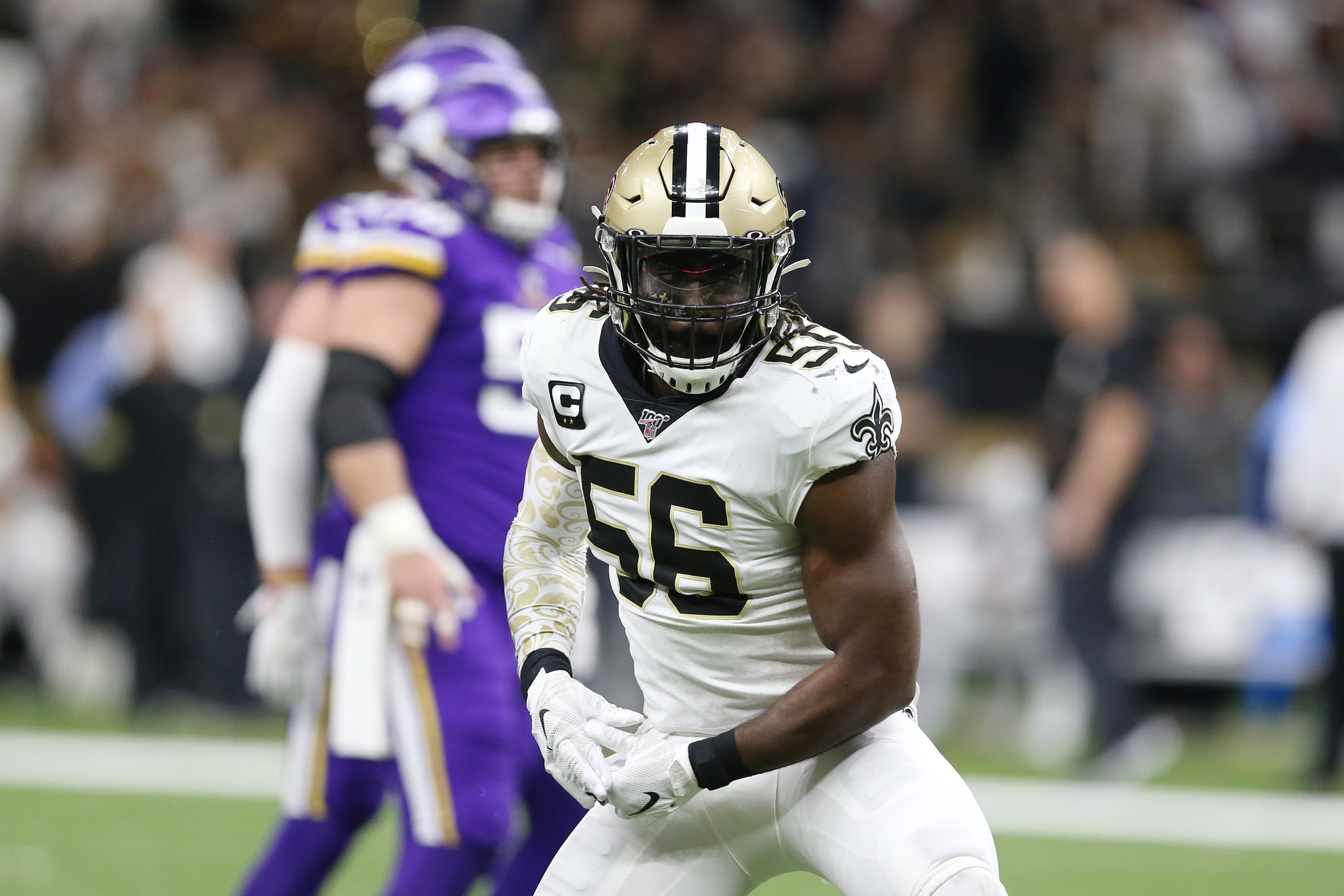 Few players have turned their careers around in recent years quite like Demario Davis, who had never graded above 62.6 in his first five years in the league but posted 70.0-plus marks in back-to-back years before a 90.3 grade last year. That grade led all linebackers when including the playoffs, and Davis' emergence has helped turn a weakness into a strength in the middle of the field for the Saints. Last season, Davis made plays in all phases, including eight pass breakups (ranked tied for second) and 57 defensive stops (ranked second).
Kiko Alonso is slated to start next to Davis despite being limited to just 296 snaps a year ago. Alonso has struggled in his past two full seasons with grades in the 40.0s, but he was off to a good start with a 69.5 overall grade last year. Oft-injured Alex Anzalone was also limited to just 46 snaps last season, but he had a strong 2018 that included a 67.8 coverage grade and 16 pressures on just 72 rushes.
Just getting Alonso and Anzalone healthy should give the Saints a solid trio along with Davis, but New Orleans also has strong depth, starting with third-rounder Zack Baun. An edge rusher at Wisconsin, Baun has excellent agility and graded at 80.0-plus in coverage in each of the last two seasons, albeit on small samples. Baun adds versatility to sub packages, given his ability to rush the passer or cover running backs out of the backfield. Craig Robertson also returns for his fifth year with the Saints to add depth, grading out at 60.0-plus in four of his six qualifying seasons.
The Saints have one of the best mixes of production and depth, so a healthy unit in 2020 should rank among the best in the league.
SECONDARY
The Saints may have the NFL's best roster from top to bottom, and that remains true when focussing just on the secondary. Marshon Lattimore and Janoris Jenkins are two very solid starters, but the depth extends to Patrick Robinson in the slot and P.J. Williams behind them.
Lattimore hasn't quite hit the heights of his rookie season, but playing in the NFC South means that he has one of the toughest assignments of any corner in football. Despite this, he has still allowed just a 75.7 passer rating on 246 targets over his three years in the league. And while Jenkins can be a rollercoaster in coverage, he has playmaking ability and has recorded double-digit pass breakups in five of his eight NFL seasons.
At safety, Marcus Williams had the best PFF overall grade of any member of the secondary a season ago (86.5). He also earned the best coverage grade (89.2). Williams has become an elite safety after the disaster that was the "Minneapolis Miracle" play early in his career, and he will again be an impact player on the back end.
Next to him will be a new face in Malcolm Jenkins, who is returning to New Orleans after six seasons with the Eagles. Jenkins is a versatile safety who can move around the secondary and answer some of the matchup problems that NFL offenses can cause now, and that will be particularly valuable in a division that contains players like Christian McCaffrey and Rob Gronkowski in 2020. Depth is strong at safety, too, with D.J. Swearinger and Chauncey Gardner-Johnson both capable of strong play if called into action.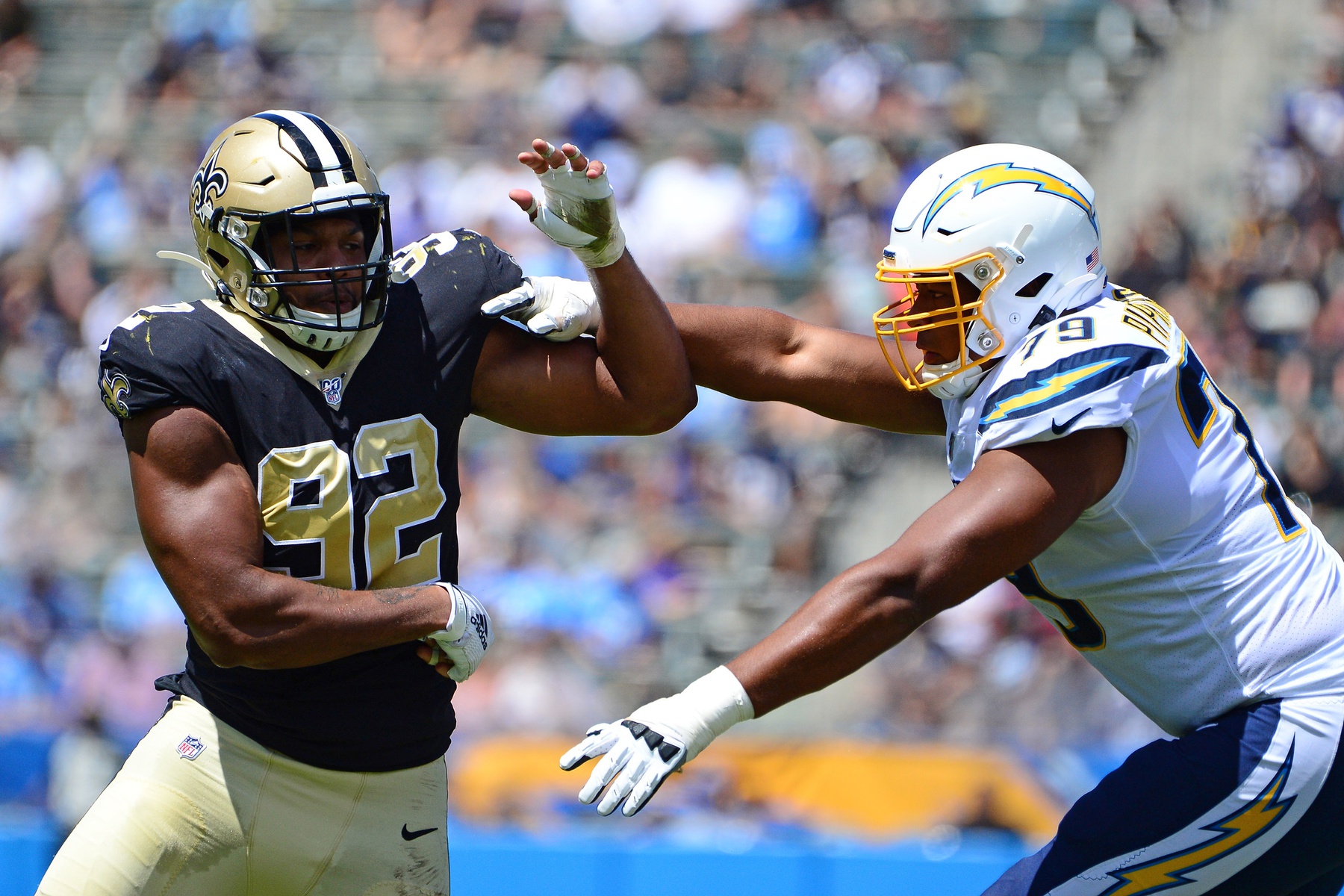 This may be unfair to Davenport, who has progressed nicely and graded at 84.1 last season, but given the investment made by the Saints to trade up to get him in 2018, expectations are extremely high. Davenport graded at only 73.6 as a pass-rusher, and that's the part of his game that needs to take a step forward in 2020. Davenport came out of UTEP as a power player who needed to develop his repertoire of moves, and while the grades have improved, he's still picking up a large percentage of his pressures on bull rushes (11 out of 31 pressures that defeated a blocker). If he can advance the move set this year, the Saints are dangerous with the way they use three defensive ends — moving Davenport, Cameron Jordan and Trey Hendrickson moving around the defensive formation.
DRAFT CLASS REVIEW
It was just a four-player class for the Saints, with first-round guard Cesar Ruiz the clear most important player after Larry Warford's release. Ruiz will step in and replace last year's No. 9-graded guard in Warford, so expectations are high. Third-rounder Zack Baun brings front-seven versatility as an edge rusher-to-linebacker conversion. The Saints traded four picks to get third-round tight end Adam Trautman, who was one of the most complete tight ends in the draft. 
BEST BET
Continuity is king in the NFL, and no team has had it for longer and better than New Orleans. The Saints actually saw their win total increase by half a game to 10.5 since the opening print despite Tom Brady now being on their schedule twice. They now have sixth-most difficult overall schedule in 2020, according to our ELO rankings. Our simulation shades under on all of their future bets, but since we expect them to be in more competitive games, a possible play on Drew Brees' over yardage looks enticing given our current fantasy projections. There is risk associated with individual player props due to COVID-19, but Brees offers considerable value on this depressed total.