As the 2020 NFL Draft highlighted — with five offensive tackles coming off the board over the first 18 picks of the first round — teams are always searching for viable bookends along the offensive line. It's not high-level football analysis to say that clean pockets significantly aid quarterbacks and create lanes that propel running backs into the open field. There are few quicker ways to derail a talented offense than to have sieves at the left and right tackle positions — something that the 2019 Cleveland Browns can attest to.
[Editor's note: Subscribe to PFF ELITE today to gain access to PFF's Premium Stats and new Player Grades experience in addition to the 2020 NFL Draft Guide, 2020 Fantasy Rookie Scouting Report, PFF Greenline, all of PFF's premium article content and more.]
Despite that reality, few teams have one tackle who can stonewall the best pass-rushers in the NFL and consistently moves bodies in the run game, let alone two. Thus, the teams that do boast a pair of high-level tackles are at a decided advantage on offense. Using PFF's play-by-play grading and statistics that can be found in Premium Stats 2.0 as a guide, these are the five best tackle duos in the NFL heading into the 2020 season.
It's hard to find many faults in Ramczyk's game. He recently ranked 26th on this year's edition of PFF50 — highlighting the 50 best players in the NFL heading into the 2020 season — and there's a real case for him being the best tackle in the NFL just three years into his career. No tackle had a higher PFF grade than Ramczyk this past regular season (90.9), and he has yet to record a pass-blocking or run-blocking grade below 75.0 for a season since the Saints drafted him in the first round out of Wisconsin. He figures to be among the best at the position for years to come in New Orleans.
Armstead joins him as one of the best pass-blockers in the NFL. Over the past five regular seasons, the only three tackles with 2,000 or more offensive snaps and a better pass-blocking grade than Armstead (91.4) are David Bakhtiari, Joe Thomas and Andrew Whitworth. He has recorded pass-blocking grades of 80.0 or higher in each of those seasons, including 85.0 or higher in four of five years. That kind of stability is easy to take for granted, but it shouldn't be. The Saints, without question, have two of the best tackles in the NFL.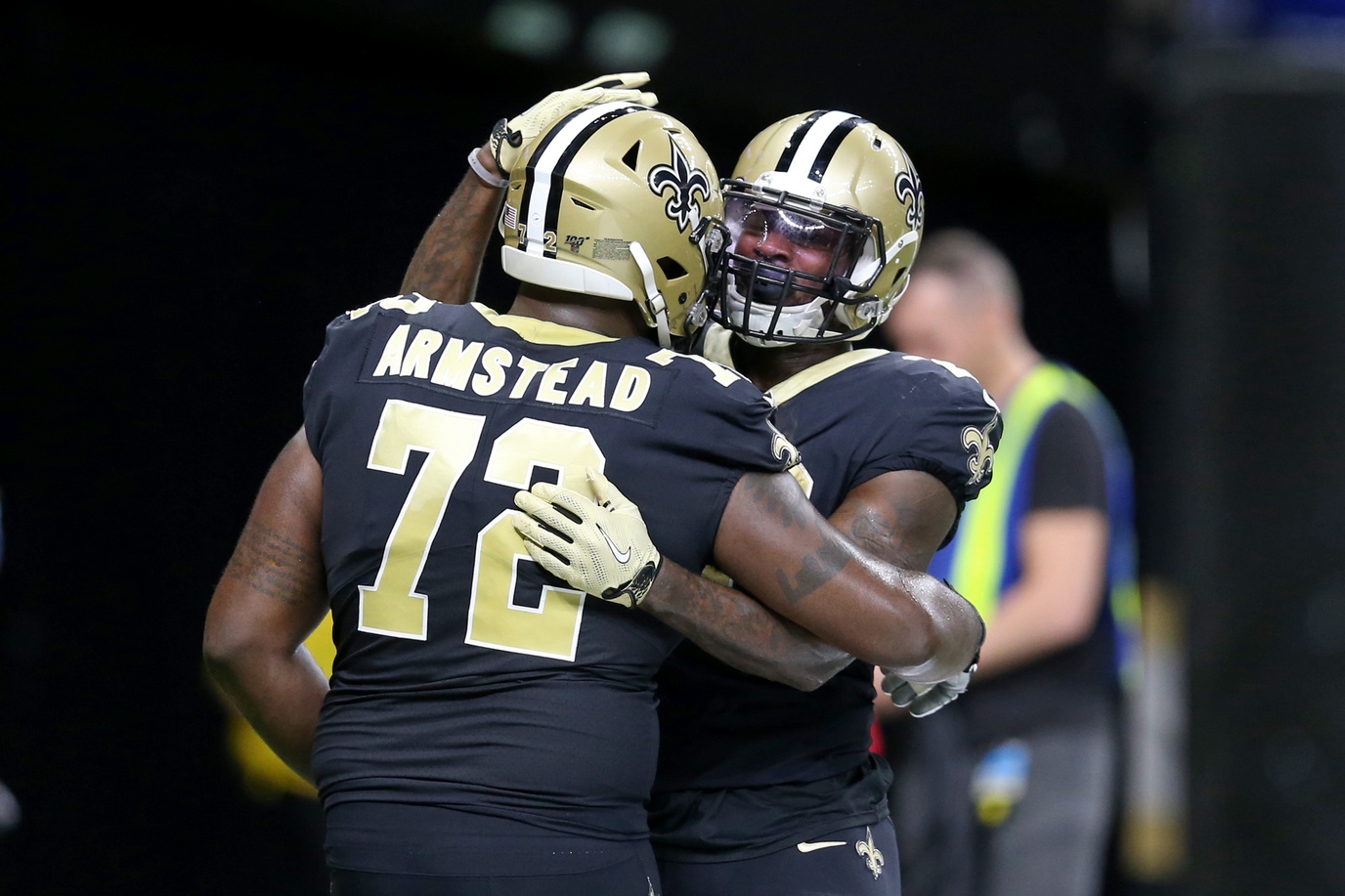 Injuries have slowed Smith from the breakneck pace he was setting from 2013 to 2016, putting up overall PFF grades of 85.0 or higher in each season and trailing only Joe Thomas in overall grade over that four-year stretch (94.1). Make no mistake about it, though — Smith still stands as one of the better left tackles in the NFL. Since 2017, Smith has earned a top-10 overall grade at the left tackle position among qualifiers and has allowed just four sacks on 1,385 pass-blocking snaps. That mark of 346 pass-blocking snaps per sack allowed sits behind only Trent Williams among left tackles with 500 or more pass-blocking snaps. Taking his injuries into account, that's not too shabby.
On the other side, Collins' 2019 campaign qualified as a breakthrough in his career. Prior to this past season, Collins had reached a career-high PFF grade of 72.5 in 2018, but that number jumped all the way up to 86.0 in 2019 — ranking fourth in the entire NFL behind Ramczyk, Lane Johnson and Ronnie Stanley. Though he did improve as a pass protector this past season, raising his pass-blocking grade to a career-high mark of 75.2, it was really in the run game where Collins had the most impact (88.6 run-blocking grade in 2019). On tape, you see more of Collins' defenders on the turf than most offensive linemen, and he does a good job of working up to the second level. It may have taken a few years, but Collins' talent is starting to result in high-level play at right tackle.
Stanley came away from last season as PFF's Pass-Blocker of the Year, and no matter which way you cut it, his numbers were elite. Stanley led the way at the tackle position with a 93.3 pass-blocking grade — the only tackle above 90.0 last season — and his pressure rate of 1.3% was a comfortable first for the position as well. The next closest tackle with 250 or more pass-blocking snaps (Taylor Lewan) had a rate of more than double (2.9%) Stanley's. As PFF's Sam Monson pointed out in the piece naming revealing the pass blocker of the year, Stanley stood out as elite even in tougher pass-blocking situations (extended dropbacks, plays without help, plays with no play action or rollouts, etc.). Quite simply, he's one of the best young tackles in the NFL.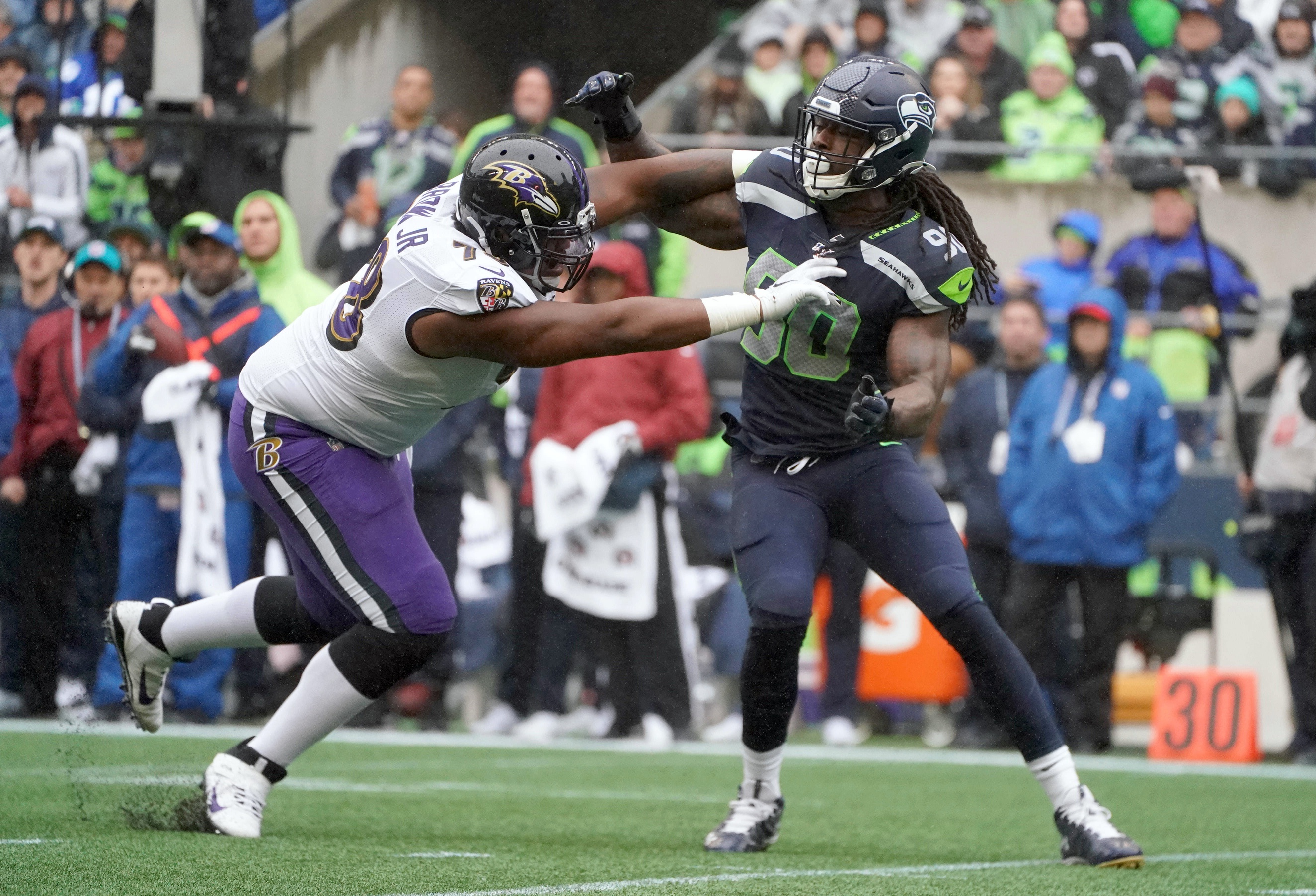 Brown's 72.0 overall grade in 2019 was an improvement over what we saw from him as a rookie in 2018, but it's also not a number that blows you away. Brown's 82.5 pass-blocking grade in 2019, though, is very impressive for a player as young as he is. It was underlined by a 78.4 pass-blocking grade in true pass sets — plays that are more indicative of an offensive lineman's true pass-blocking performance — which ranked among the top 10 tackles in the NFL. With pass protection like that from Stanley and Brown, opposing edge defenders should once again be in for tough sledding against Baltimore in 2020. At least they're rewarded with the task of tackling Lamar Jackson if they do get past Stanley or Brown.
One of the more underrated developments this offseason was Castonzo's decision to hold off on retirement and return to what has become one of the better offensive lines in the NFL. Castonzo hasn't been selected to a Pro Bowl in his nine-year NFL career, but he has consistently been one of the better pass-blocking left tackles in the game while still providing solid play in the run game. He has finished with an overall grade below 76.9 only once in his career, his rookie 2011 season, and he's one of just eight tackles to put up pass-blocking grades of 80.0 or higher in each of the past two seasons on 250 or more pass-blocking snaps. His return is big for the Colts in their pursuit of an AFC South title.
Smith, meanwhile, impressed from a grading perspective in his second season out of Auburn this past season. He still has some things to work on in pass protection — finishing the 2019 season with a 68.1 pass-blocking grade — but his 86.4 run-blocking grade was one of the best marks in the NFL. Considering young tackles generally don't reach their peaks until three or four years into their careers, Smith's improvement from 2018 to 2019 bodes well for his prospects in 2020. The results we saw from him as a run-blocker certainly bode well for Marlon Mack and the newly acquired Jonathan Taylor on the ground, too.
I mentioned at the top of this piece that Ramczyk could be considered the best tackle in the NFL, but it was Schwartz who actually took home that honor in our list of the NFL's 50 best players heading into the 2020 season. Schwartz came in at 23rd overall on the list — three spots ahead of Ramczyk and higher than any other tackle. His postseason run provides an idea of the kind of level he's been playing at in recent seasons. On 142 pass-blocking snaps, Schwartz allowed just one hurry. His 3.2% pressure rate allowed during the regular season trailed only Stanley and Lewan among all tackles with 250 or more pass-blocking snaps. There are few tackles, if any, who have been more reliable than Schwartz in recent seasons.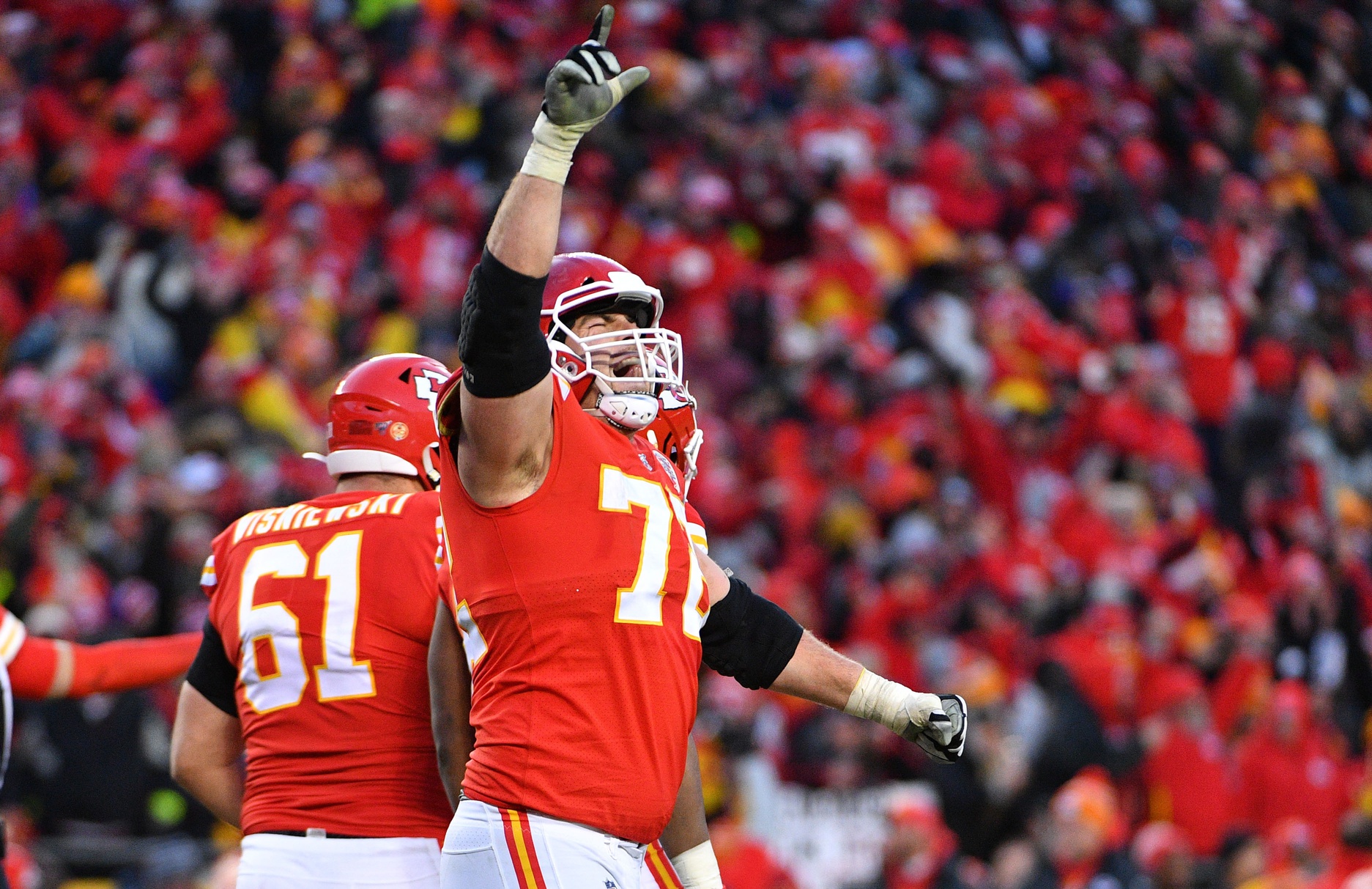 His running mate, Fisher, hasn't quite been the Canton-bound player that the Chiefs were hoping for when they selected him first overall in the 2013 NFL Draft, but he has been solid at the left tackle spot. Fisher graded out at 69.0 or higher in each season from 2015 to 2018, with pass-blocking grades of 72.0 or higher in all four seasons as well. His 2019 season was shortened by injury, but Fisher still produced a 74.2 pass-blocking grade during the regular season, a figure that doesn't include strong performances against the Houston Texans and Tennessee Titans in the postseason.
The new-look duo in San Francisco has the potential to be one of the best in the NFL, but there are some questions surrounding Williams and McGlinchey. What will Williams look like after several injuries and an entire year away from football in 2020? Will he come out right away and look like the elite left tackle he has been for nearly his entire career? As for McGlinchey, can he build on his improvement as a pass-blocker from 2018 to 2019? And can he consistently dominate in the run game, which he proved capable of early on as a rookie and in this past postseason? The talent is there for this to be a top-tier tackle duo, and they were close to cracking the top five on this list, but there is reason to be hesitant with some of the questions surrounding Williams and McGlinchey.