With Week 17 wrapped up, the 2019 season is done and dusted, and it's time to reward the players who really stood out over the full year.
Unlike the AP's All-Pro team — which is voted on by a collection of journalists — this team has been assembled thanks to the data gleaned from watching and analyzing every player on every play of the NFL season.
So, here's the 2019 PFF All-Pro Team in its entirety.
Lamar Jackson is the presumptive league MVP, and his development this year has been phenomenal, but what Russell Wilson has been able to do while dragging a sub-par offense has been remarkable. Wilson's grade and PFF WAR has been incredible all season long, and even when the offense cooled down the stretch, he was still making big plays only to be let down by his supporting cast. Wilson finished the year with six more big-time throws than any other quarterback, and he had just 11 turnover-worthy plays to balance those high-end plays.
Nick Chubb was about the only thing that functioned on a disastrous Cleveland Browns offense. As one of three players to top 1,000 rushing yards after contact, Chubb was consistently able to back up his impressive rookie season and did it on an increased workload for the Browns. Chubb averaged almost four yards after contact per carry and broke 64 tackles on the ground, narrowly edging the work Christian McCaffrey was able to do as a receiver to snag the place as our first-team All-Pro.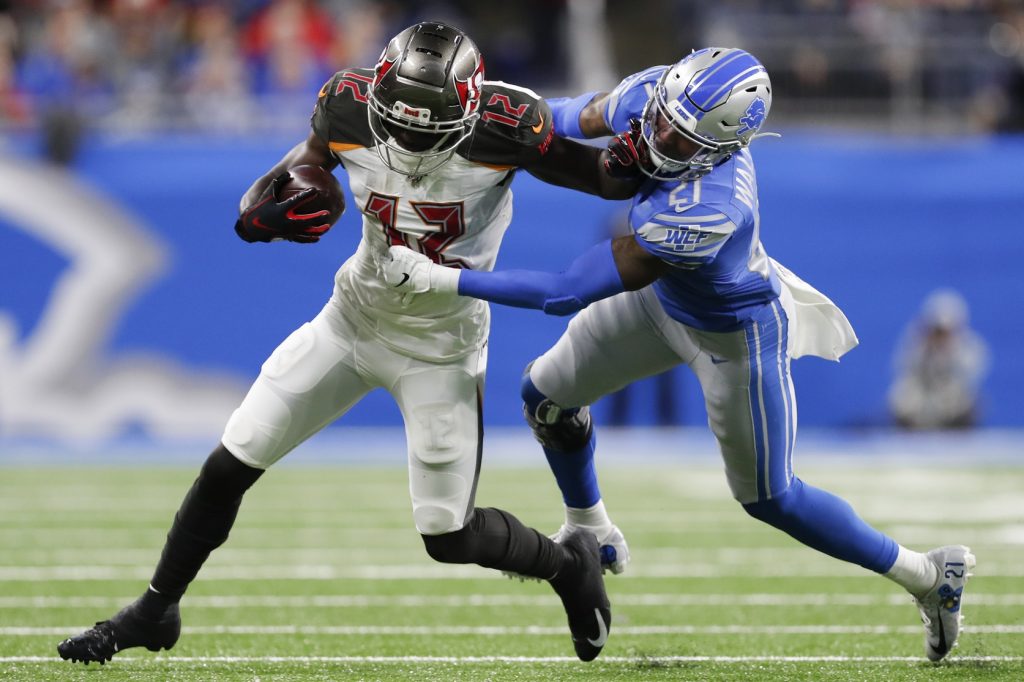 © Raj Mehta-USA TODAY Sports
One of the breakout stars of the 2019 season, Chris Godwin became the best receiver in the game for the majority of the year. Godwin has a lengthy highlight reel of spectacular catches and put them together while catching the easy passes as well. He had just one drop to his name across 114 targets, giving him not only a top-20 yards per route run figure but also the best drop rate among receivers not named Larry Fitzgerald.
A receiver breaking the all-time single-season reception record speaks very much for itself, and even though he had the lowest catch total of his season in Week 17, he still ended up with 149 for the season, 45 more than any other receiver. Thomas is by far Drew Brees' favorite target over his career in terms of target share, and despite teams knowing exactly how the Saints want to use him in the passing game, they have yet to find a good way of slowing it down.
You could make a convincing case that George Kittle was the best player in the NFL this season — at any position. He picked up where he left off a season ago, topping 1,000 yards receiving for the second consecutive season and building on his blocking to rival Rob Gronkowski's best seasons in terms of being an all-around weapon with no weaknesses to his game. Kittle caught 90.9% of passes thrown his way from the slot, which is more than 10 percentage points higher than any other tight end.
Somehow, one of the most dominant receivers the game has ever seen is getting consistently underrated and overlooked as of late. From being snubbed on the NFL's 100 team to having one of the quietest 1,394-yard seasons in NFL history, Julio Jones remains an elite talent and playmaker despite the Falcons' poor season. For the first time in five seasons, Jones did not lead the NFL in yards per route run, but he still ranked third despite his team's offensive woes.
Baltimore's Ronnie Stanley emerged as the best pass-blocking tackle in football this season, anchoring the blind side of the Ravens' offensive line all season long. It's definitely true to say that he was aided by the unique offense the team runs with quarterback Lamar Jackson under center, but that doesn't explain just how good he was as a pass blocker when those advantages weren't a factor. Stanley ended the year having surrendered only six total pressures, and he recorded the best pass-blocking efficiency of any tackle (99.3).
By the end of his rookie season, Quenton Nelson was already playing like the best guard in football, and this year he backed that up with an entire season of stellar play. Nelson didn't give up a sack all season despite blocking for a quarterback with a tendency to hold onto the ball too long and invite more pressure than he should. His run blocking was also as dominant as you would expect, and the Colts should expect a series of All-Pro spots over the coming years.
In what may not have been the best year we have ever seen for centers, Philadelphia's Jason Kelce was once again the best on display for most of the season. Kelce is one of the most athletic and mobile run-blocking centers in the NFL, and he comfortably owns the best PFF run-blocking grade at the position (82.4). He has allowed more pressure than is ideal this season (two sacks and 34 total pressures), but in a down season at the position, this is still enough to get the nod as our All-Pro.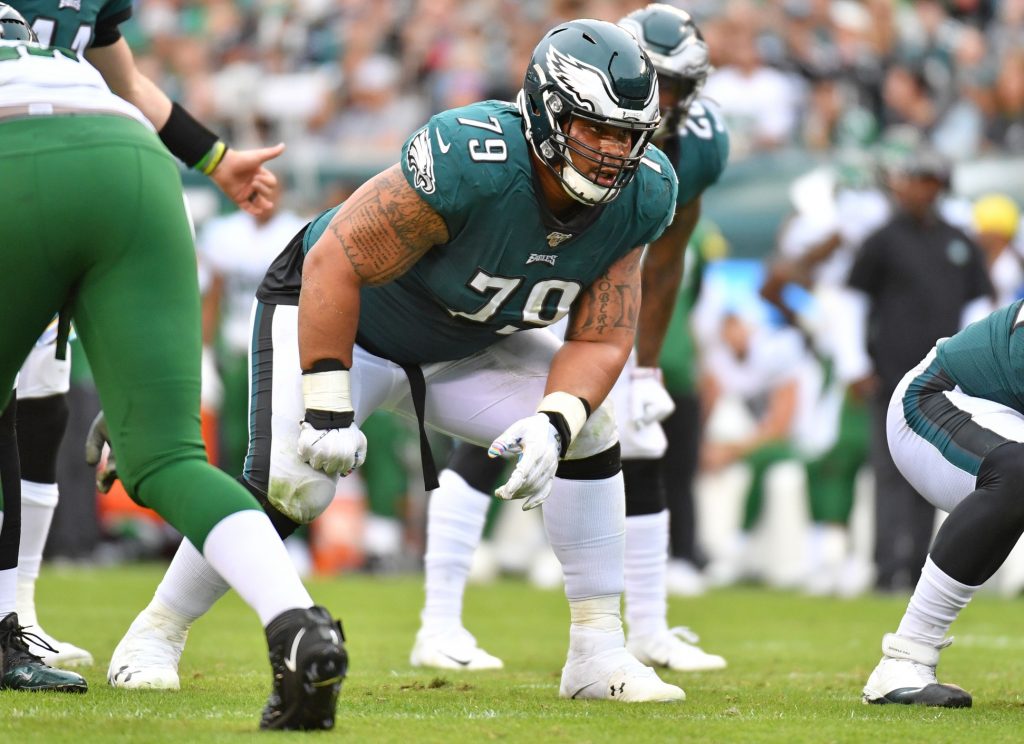 © Eric Hartline-USA TODAY Sports
A perennial top-five player at the position, Brandon Brooks put together a career year in 2019 for the Eagles, posting the best grade we have seen from him and his first season grade above 90.0. Brooks allowed just one sack and 19 total pressures across more than a thousand snaps for the Eagles and was a dominant force as a run blocker. Brooks has always been an underrated player, but this year he earned his spot on PFF's All-Pro team.
Ryan Ramczyk is a true road grader in the run game for the New Orleans Saints, but unlike most right tackles who earn that description, he has also shut down a sequence of top-level pass-rushers, including completely blanking J.J. Watt from recording any pressure when they met early in the season. Ramczyk didn't surrender a sack all season, and he allowed just 20 total pressures while being flagged only three times for penalties (the one holding call against Watt was his lone blemish in that battle).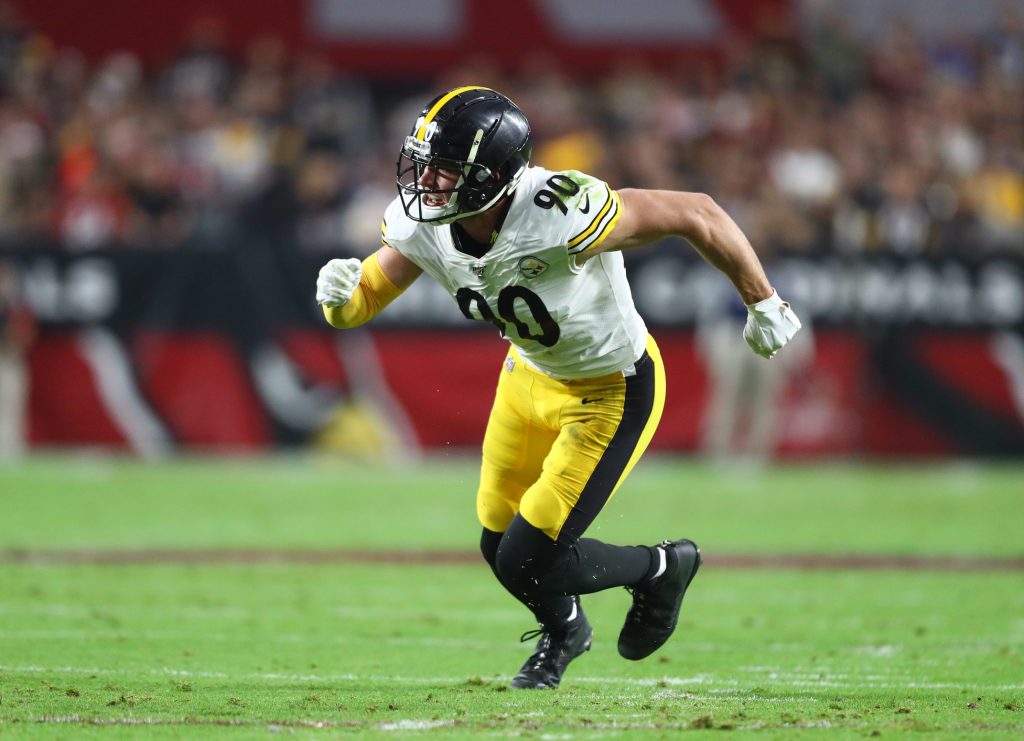 © Mark J. Rebilas-USA TODAY Sports
With big brother J.J. sidelined through injury, T.J. Watt picked up the slack and became a true game-changing force for the Pittsburgh Steelers this season. Watt ended the year with 81 total pressures but also tied for the league lead in forced fumbles with eight. Watt had already taken steps towards being a top-level pass-rusher, but his ability to make impact plays and create turnovers took him to another level in 2019 and earned him a spot on PFF's All-Pro team, with a very real case for Defensive Player of the Year.
A late-season surge, including laying waste to the Minnesota Vikings offensive line in Week 16 during Monday Night Football, saw Za'Darius Smith force his way onto the PFF All-Pro team in his first season in Green Bay. Smith finished the year with 93 total pressures, the most in the NFL, and he was one of the most versatile and destructive pass-rushers in the game. He lined up all over the defensive front, logging at least 50 snaps both inside and outside the tackles from the left and right side of the defensive front.
The Rams weren't nearly as good as a year ago, and Aaron Donald wasn't chasing the sack record all season long, so his casual dominance barely registered in the NFL this season. But make no mistake, he was still among the best players in football. His final grade of 93.7 is still the fourth-best grade we have given an interior defender over the past decade, and it just falls short of the 95.6 he earned this time a season ago. Teams were better at mitigating his impact, but Donald still finished with 80 total pressures and 32 defensive stops.
With Aaron Donald around, one spot on the All-Pro team effectively becomes the best interior defender in the NFL outside of Aaron Donald. This year, that was Pittsburgh's Cameron Heyward. One of several players who have been very good for a very long time but put forward a true career year in 2019, Heyward posted the most defensive stops in his career (44), as well as registering 59 total pressures and missing just four tackles on the season. He was a force inside for the Steelers, who were able to complement him with a real pass-rush on the edge this year.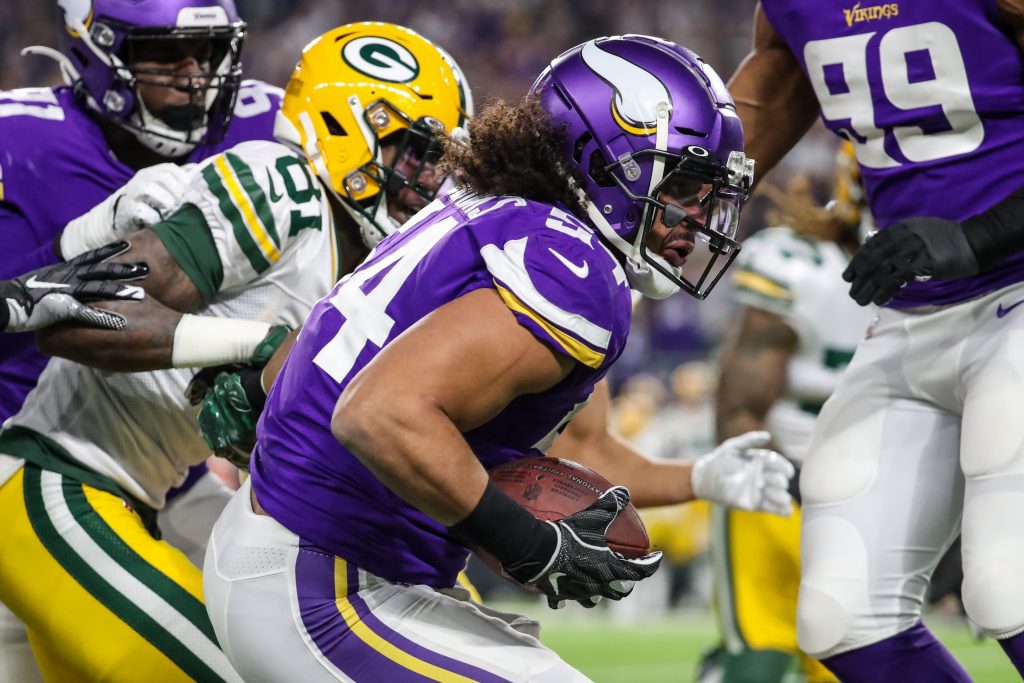 © Brace Hemmelgarn-USA TODAY Sports
A player with legitimate Defensive Player of the Year credentials, Eric Kendricks was one of the best coverage players in football this year. You wouldn't know it if all you were focused on was the interception total, but Kendricks had a ludicrous 12 pass breakups and allowed a passer rating of just 83.0 when targeted, which was more than 20 points lower than the league average when throwing at linebackers. Few linebackers can match up in coverage the way he did this season, both in man coverage against backs and tight ends but also in zones across the middle and even deep down the field.
There wasn't a whole lot pointing to an All-Pro caliber season coming from Demario Davis heading into this season. His previous two seasons were the best of his career, but neither had even topped 76.0 overall. This year, he has broken the 90.0 mark in overall grade and has grades of at least 80.0 in every facet of play PFF measures. Davis set or matched career-best marks for total pressures (28), pass breakups (8), passer rating allowed (87.9) and yards per reception allowed (6.2) and made significant impact plays for the Saints in some of their biggest games this season.
Another year removed from a blown Achilles, Richard Sherman, the best cornerback of the decade, was back to his best for the 49ers, and he was a big reason why their defense has been so much better in 2019. Sherman surrendered a passer rating of just 46.8, the third-best mark of any cornerback this season, and he coughed up only one touchdown across 51 targets over the year. Only Casey Hayward went more snaps in coverage between receptions allowed than Sherman's 19.1.
A Week 17 struggle against Miami's DeVante Parker took some of the gloss off Stephon Gilmore's campaign, potentially even wrecking his Defensive Player of the Year candidacy, but looking beyond that final matchup shows an incredible season. Gilmore allowed just 49% of passes thrown his way to be caught, and those yielded a passer rating of 47.4. Gilmore had six interceptions and 13 pass breakups over 96 targets.
The best-graded safety in the NFL this season, Denver's Justin Simmons has been a stellar performer in all areas. Simmons wasn't in primary coverage for any touchdowns given up in coverage but had four interceptions and 11 pass breakups. He also ranked 11th in terms of defensive stops among all safeties, showing his ability to make plays all over the field. Whether he was lined up deep in the secondary or close to the line in the box, Simmons was making plays all year.
A player who excelled across a limited sample size in the past, Anthony Harris has stepped into a full-time role for the Vikings and continued to perform at an extremely high level. Harris leads all safeties with six interceptions but also has five pass breakups and several other plays that escape the box score.
Trading for Marcus Peters was one of the moves of the season by the Baltimore Ravens, who doubled down on their approach of collecting talent in the secondary by acquiring a true ballhawk. Though he has given up some scores and yardage, Peters has five interceptions and eight more pass breakups and can create a game-changing play at any time.
SPECIAL TEAMS