The race for Defensive Player of the Year feels more open this season than it has in the past — due in large part to Aaron Donald not threatening the all-time single-season sack record this time around — but a player with a legitimate case for the award is being practically ignored league-wide: Minnesota Vikings linebacker Eric Kendricks.
Let's start with the most basic point: he's the highest-graded linebacker in the NFL in overall PFF grade (90.7), which is a figure we come to after an exhaustive play-by-play grading of every player in the NFL. Obviously, we trust the process of how those grades are arrived at and the fact that they consider every play of NFL action — not just the ones that produce box-score stats for people to reflect on after the fact.
Kendricks has one of the best coverage grades of any linebacker (85.9), but he hasn't registered a single interception — the facet many people equate directly to coverage play. On the surface, it doesn't look great for Kendricks, but we know that isn't the best way to measure coverage.
Interceptions are unreliable and transient. It's not that they're 'lucky' plays, but being presented with the opportunity to make those plays — particularly for a linebacker — does rely on fortune. Think of the many plays where a quarterback simply doesn't see the underneath linebacker sitting in a zone or dropping to a spot underneath a pass pattern and tries to put the ball right through him to his intended receiver. The linebacker makes a good play to locate it and pick it off, but the opportunity to make that play can be completely dependent on a mistake from the quarterback, and other players simply don't get that chance.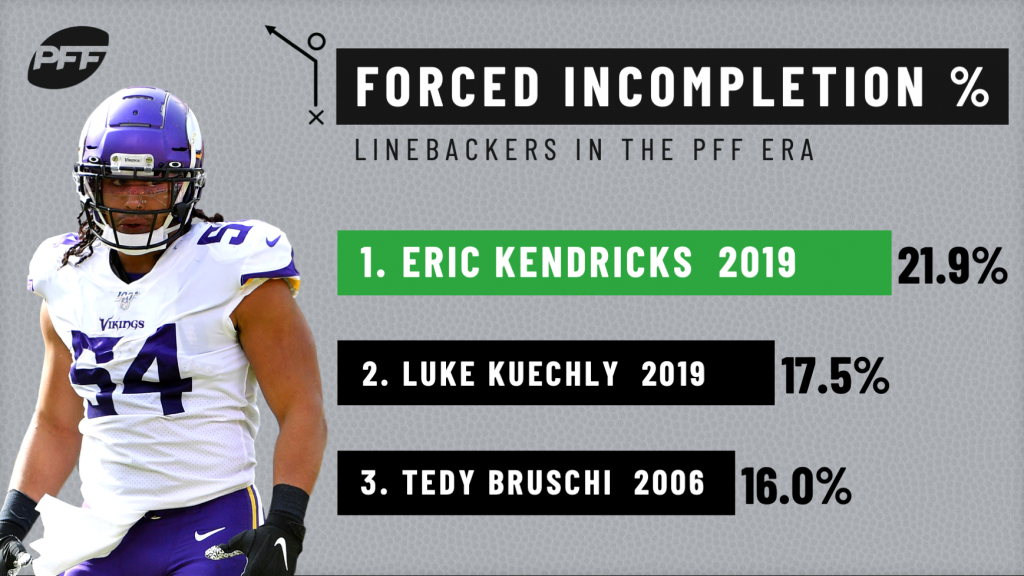 Fortunately, even statistically, we can show coverage prowess in other ways. Kendricks leads all linebackers with 12 pass breakups. That's three more than any other player at the position, the most we have ever seen from a linebacker with two games still to play, and actually ranks fourth league-wide behind three cornerbacks.
Pass breakups are a particular statistical category that necessitates contact on the football, but there are other ways of directly breaking up a pass that we also track. If we roll up all of these plays in coverage, we create a statistic known as 'forced incompletions.' Kendricks leads all linebackers in forced incompletion (FINC) rate at 21.9%, more than four percentage points higher than any other linebacker. Again, this is the best mark we've ever seen from a linebacker. And among all defenders this season Kendricks ranks fourth, behind three cornerbacks all enjoying excellent seasons.
One of the most impressive things about all these plays in coverage is the variety of situations they're coming from. Kendricks has done it all, whether it's tracking a running back deep down the sideline on a wheel route, covering a zone across the middle against a top wideout, or even splitting to the slot in a one-on-one matchup with a back. That was the exact scenario where Kendricks notched a pass breakup to ice the game for the Vikings on fourth down against Dallas on the road.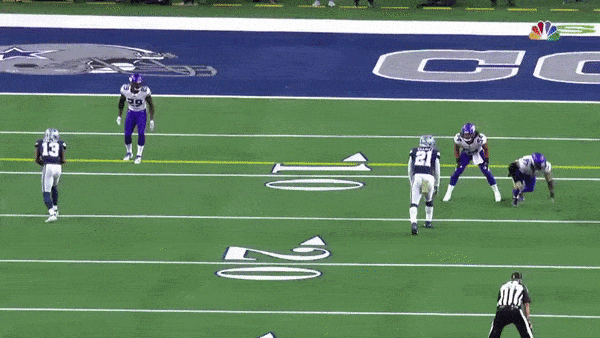 Ultimately, though, pass breakups and forced incompletions aren't the largest subset of plays for a linebacker, even one as prolific as Kendricks. We can take a look at just the overall bottom-line production when teams target him in coverage to see the influence he has on passing success. The passer rating when targeting a linebacker in the NFL this season is 104.3, more than seven points higher than the average passer rating on all throws. When teams have thrown the ball in the direction of Kendricks, the passer rating has been just 86.8, and that's despite him not picking any of them off to slash that number.
The average NFL linebacker has allowed a completion rate of 77.4% into their coverage this season, higher than the average throw, as most of their targets come at relatively short depths. Kendricks is at just 56.3%, more than 20 percentage points better. That is the best mark in the NFL among linebackers, and its another area where Kendrick stacks up pretty well against all positions. Richard Sherman is heading to the Pro Bowl allowing a completion rate of 55.1% on the season, just a fraction better.
Strong coverage play is the most valuable thing a linebacker can do, but it isn't everything. The Vikings have tasked Kendricks with blitzing at least once in every game this season, sometimes as often as 14 times in a game. He has 17 total pressures from those snaps.
He also has a top-five run-defense grade and an average depth of tackle against the run of just 3.46 yards. The two linebackers nominated to the Pro Bowl for the NFC this season instead of Kendricks (Bobby Wagner and Luke Kuechly) have tackle depth averages of 4.88 and 3.62 yards, respectively.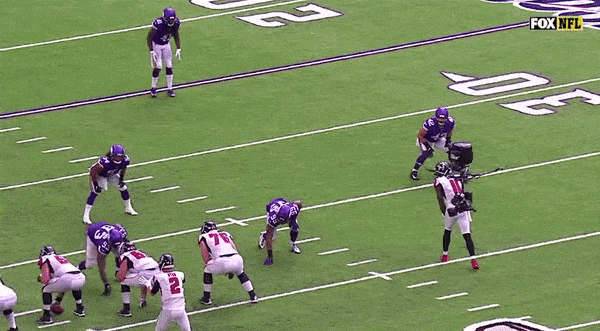 Kendricks isn't excelling in only favorable matchups, either. He's held his own against top competition, recording pass breakups against Julio Jones, Golden Tate, Dallas Goedert, Ezekiel Elliott and Austin Ekeler, among others, and has consistently shown the ability to make life tougher for opposing offenses.
The bottom line is that if you're judging Pro Bowl, All-Pro and Defensive Player of the Year solely by looking at box score numbers, Kendricks has no shot. But we know that's a flawed methodology that inevitably leads people astray. If you put on the tape and watch Kendricks throughout the 2019 season, you'll conclude he isn't just having a career year, but that he is one of the best players in the NFL this season at any position.