(All offseason long, PFF Fantasy editor Daniel Kelley will attempt to figure out the solution to some of the biggest fantasy football draft conundrums for the 2019 season. This is The Decider.)
Not many positions have ever had as obvious a fantasy tier situation as the tight ends of 2019. There's a top tier that is Travis Kelce, Zach Ertz, and George Kittle. (I will also accept it if you want to say Kelce is a tier to himself and the other two are a clear Tier 2, but the point remains the same.) There's a second tier that is (in some order) O.J. Howard, Hunter Henry, and Evan Engram. And then there's the rest.
Within the tiers, though, it's more of a question. Kelce is No. 1, we know that. And the Howard/Henry/Engram group can be shuffled like a deck of cards for all anyone cares about differentiating them (though I gave it a shot with Howard and Henry earlier this summer). But what about Kittle and Ertz? Which one should you opt for in fantasy drafts in 2019?
The contenders
Ertz is older than you probably think. He's 28 — 29 in November — and entering his seventh year in the league. He feels younger than that because he spent his first few years toiling behind Brent Celek and then was the "allergic to touchdowns" guy, so when he finally popped the last two seasons, finishing as 2017's TE3 and 2018's TE2, it felt like a young guy popping and not a veteran coming into his own.
Ertz also has the reputation as an often-banged-up guy. And while it's true he's dealt with a fair number of injuries over his career, they haven't actually kept him off the field much — he's played in 91 of a possible 96 career games, at least 14 in each of his six seasons.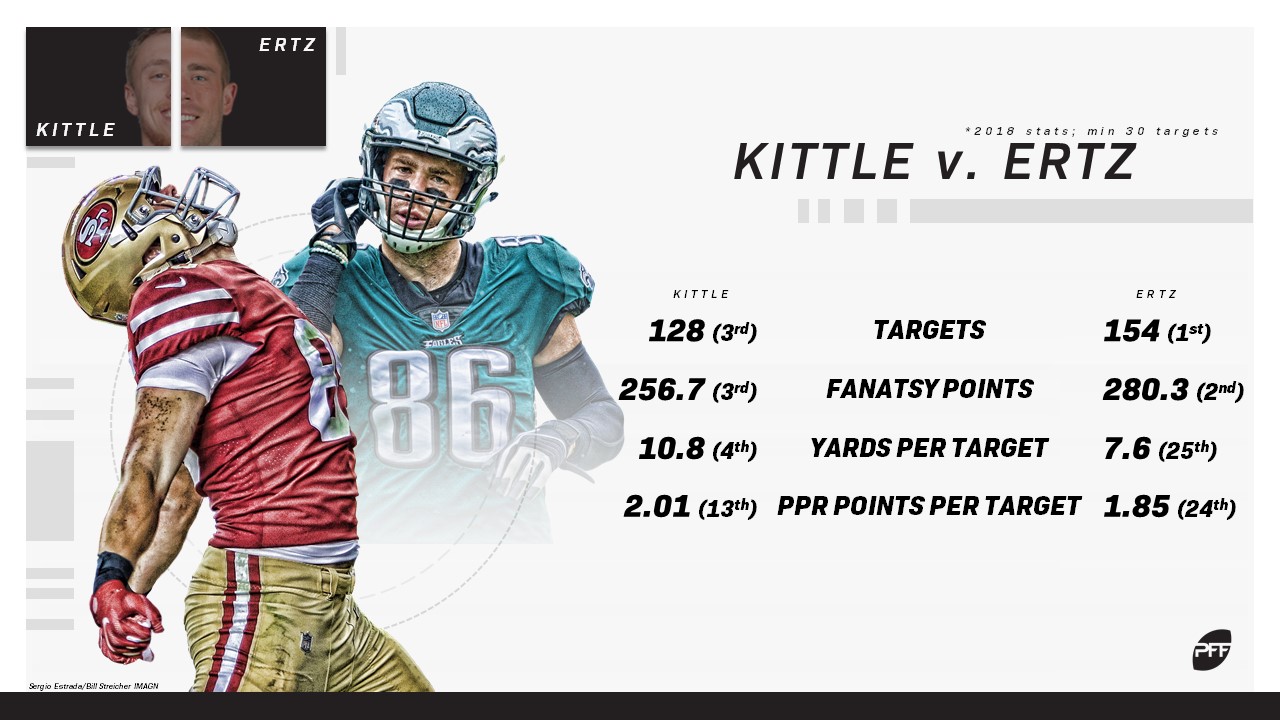 Kittle, too, is older than you probably think. He's entering his third year, but he played four years in college after not starting at Iowa until he was 19, meaning he's 25 now and turns 26 in October. After a perfectly adequate rookie year in 2017 that saw Kittle put up 515 yards and two touchdowns, he exploded in his second season for an all-time TE record of 1,377 yards and five scores, finishing as the TE3.